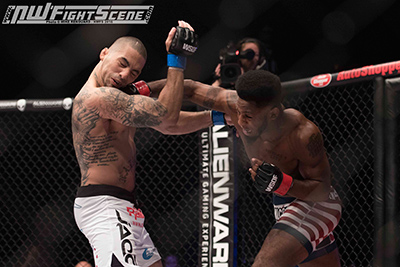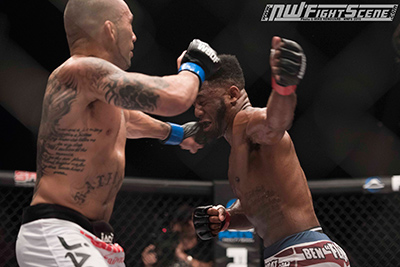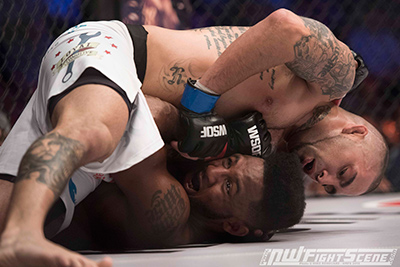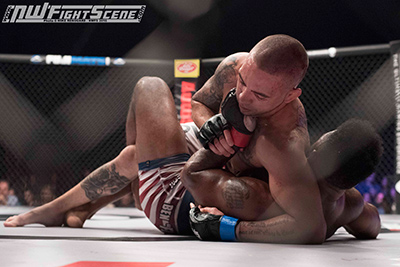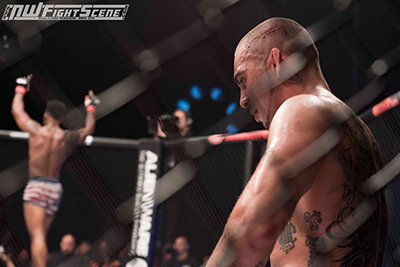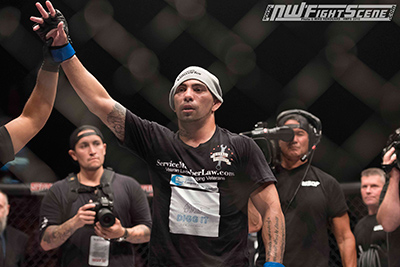 Caros Fodor beats Phoenix Jones by Unanimous Decision on the WSOF32 main card

The World Series of Fighting made their first ever visit to The Evergreen State on July 30th 2016, presenting WSOF 32: Moraes vs Hill 2 at XFINITY Arena in downtown Everett WA. A sizable crowd of NW fight fans were in the seats for the 12 professional MMA fights - including 2 WSOF Championships - which started with the preliminary card at 4 PM sharp. The first 5 fights all saw finishes from local hometown heroes with wins coming from Matt Kovacs, Brett Malone, Joey Elzea, Tycen Lynn, and Matt Coble. The early finishes made for a couple long breaks in-between bouts - due to the main card's 7:30 PM NBCSN broadcast time. But the vocal crowd stuck around and got to witness some great action inside the WSOF Decagon. This included the main card battle between local step-brothers, Caros Fodor and Benjamin Fodor; and a spectacular leg-kick knockout finish by 135lb Champion Marlon Moraes in the main event. Calling the action cage side for both the online preliminary stream and the main card TV broadcast were the dynamic duo of Bas Rutten and Kenny Rice.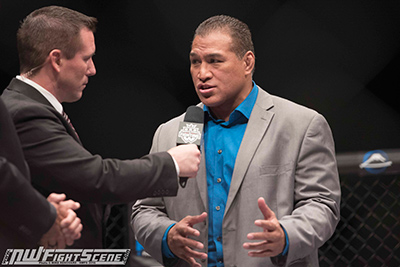 WSOF President Ray Sefo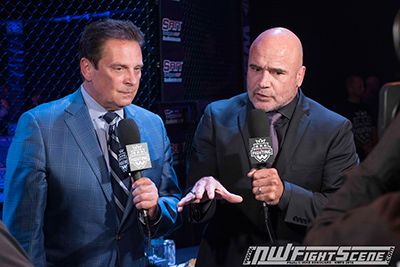 Kenny Rice and Bas Rutten breaking it down for the TV crowd

The main event was a rematch between 3x-defending WSOF 135 lb Champion Marlon Moraes (16-4-1), fighting out of Jupiter FL, taking on Team Alpha Male's Josh Hill (14-1), whose sole pro loss was a 5-round decision loss to the champ in February of last year at WSOF 18. In the first round at WSOF 32, Moraes came out firing a mix of high and lows. Hill found success with his offense as well as the round progressed, landing hard counters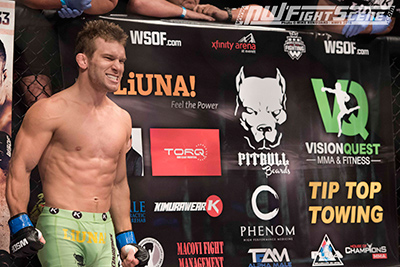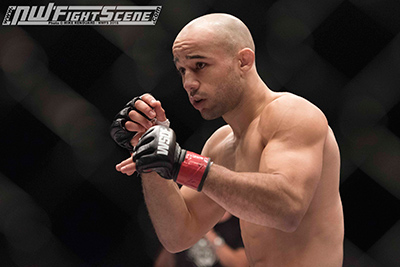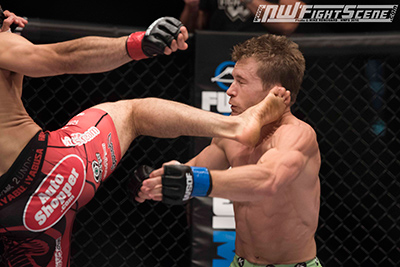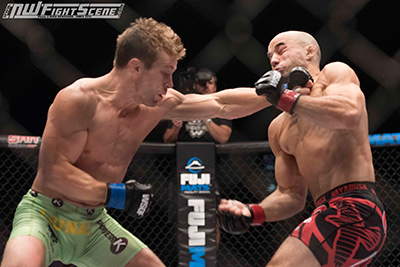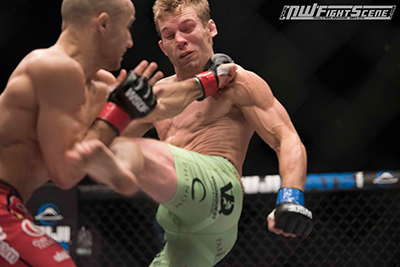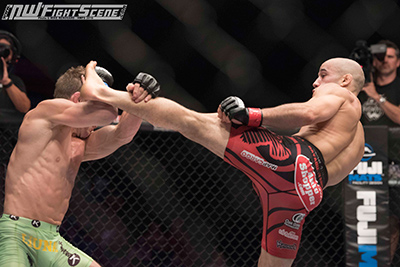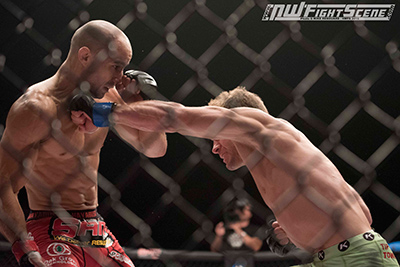 Early in the 2nd round, Moraes connected with a high kick that literally froze Hill in his tracks. A couple quick blows from the champion, and it was all over - a spectacular knockout finish at 38 seconds of round 2!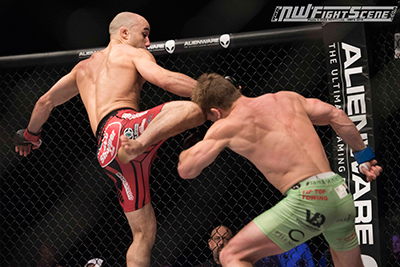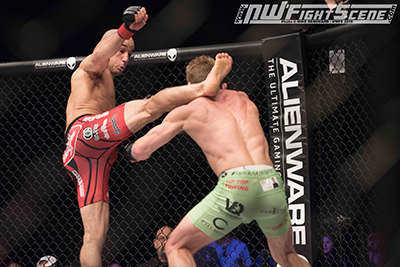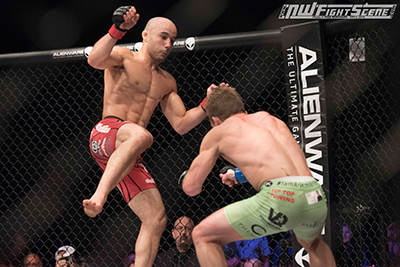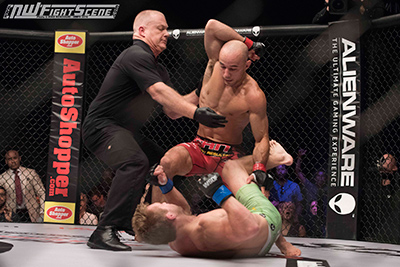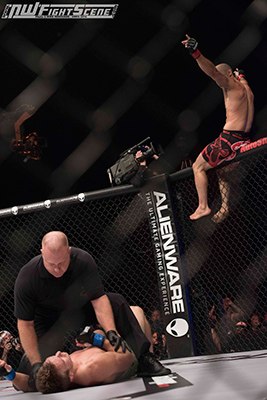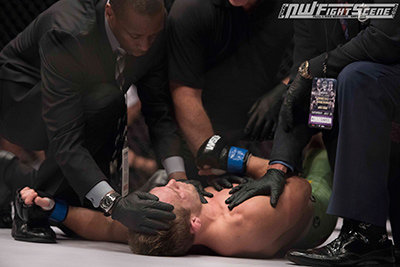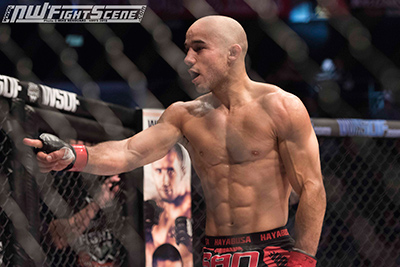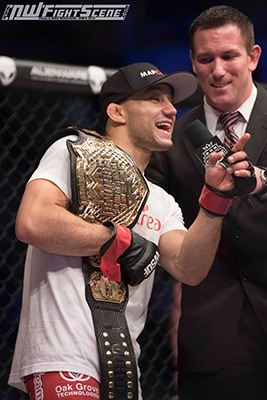 The Co-main Event was also a title fight, with WSOF 145 lb Champion Alexandre Almeida (18-5) defending his belt against the very man he won it from last December at WSOF 26: former champ Lance Palmer (10-2). In front of an appreciative Everett crowd, both men put in terrific performances with the fight ranging all over the decagon throughout 5 rounds of action. After 25 minutes of fighting, Palmer was given the nod by two judges 50-45, 49-46, while the third saw it even at 48-48, for a majority decision win by Palmer and making him the new WSOF Featherweight Champion.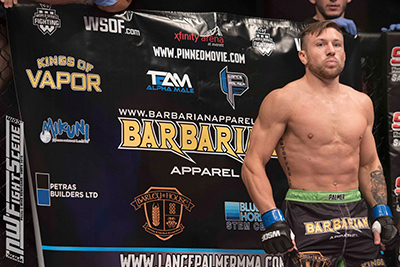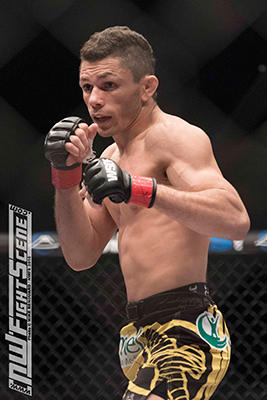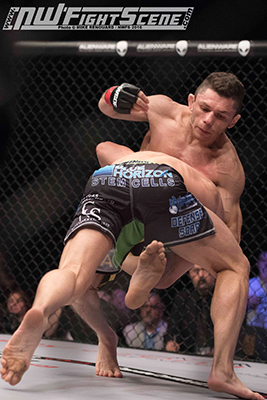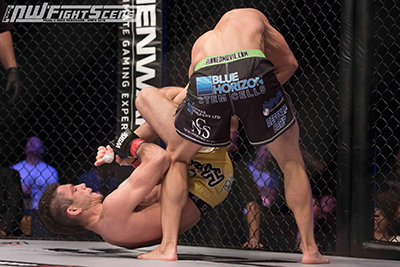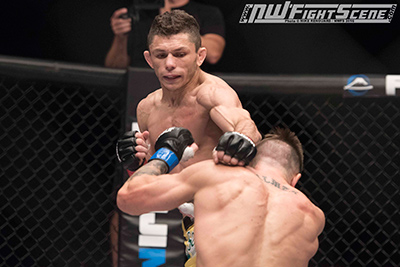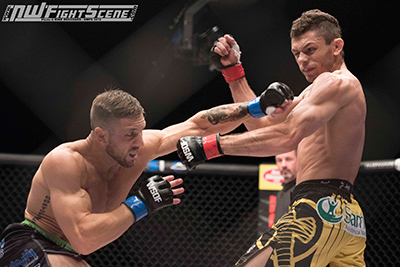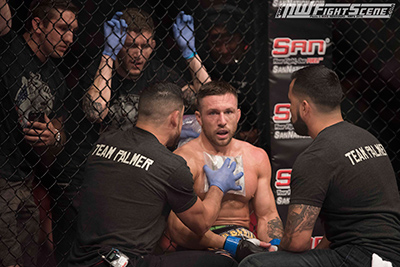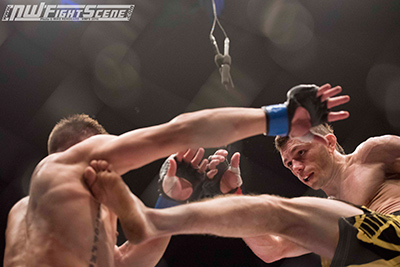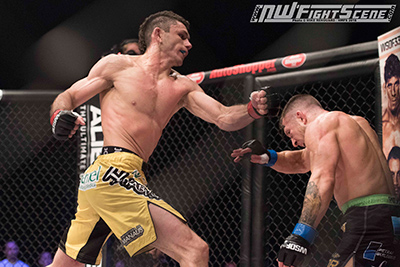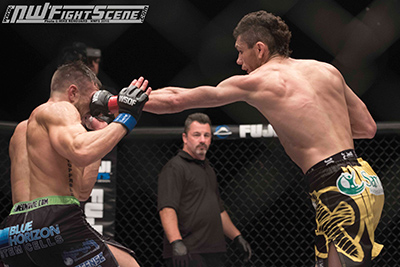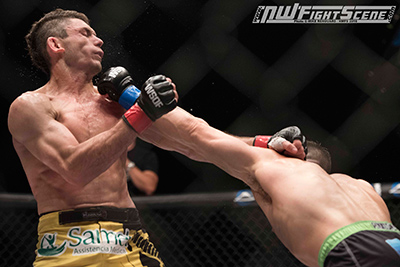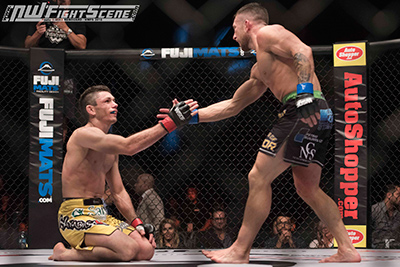 The bout with the biggest pre-fight press was the NW brother vs brother matchup between Caros "The Future" Fodor out of Matt Hume's AMC in Kirkland and Catalyst Fight House's Phoenix Jones, previously known as Ben Fodor. No secret these guys haven't gotten along in a good long while, and the feud culminated in a scheduled main-card 162 lb catchweight attraction. The two nearly came to blows at weigh-ins after Jones came in 6 lbs heavy, a shoving match ensuing. On fight night though, Fodor was all business, moving in quickly for an emphatic takedown and working top position to set up elbow strikes. Jones did well in defending and limiting damage on the bottom, but Fodor landed more and more shots at the round progressed. In the 2nd, Jones came out slinging hard leather, but Fodor got the takedown and was methodical in dishing out more punishment on the ground. In the third, Jones scrambled into top position after a Fodor takedown, but can't maintain the advantage. A brief exchange saw some more wild punches from Jones, but Fodor was unfazed and takes Jones down again to finish out the round. After 15 minutes of fighting, Caros Fodor was awarded the unanimous decision, all judges 30-26.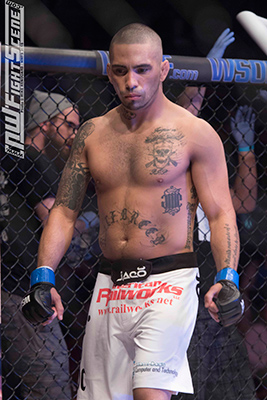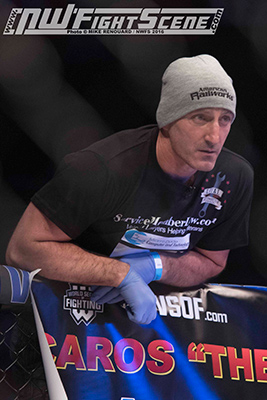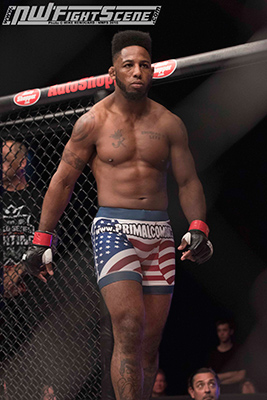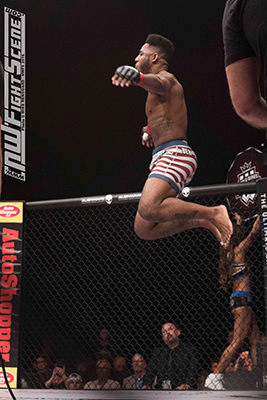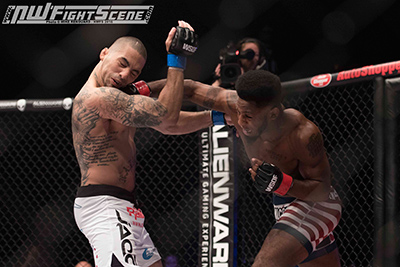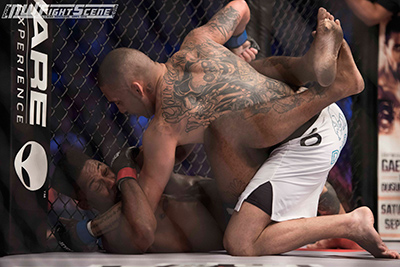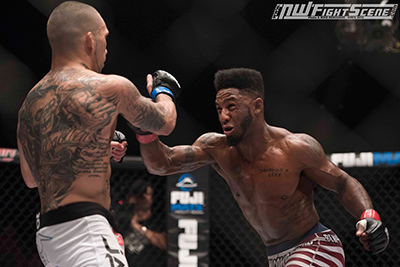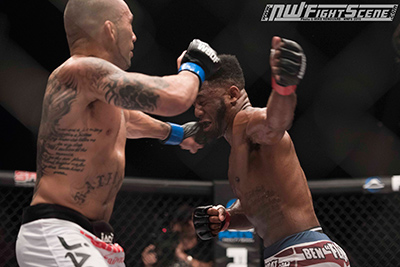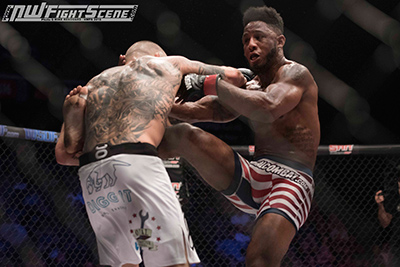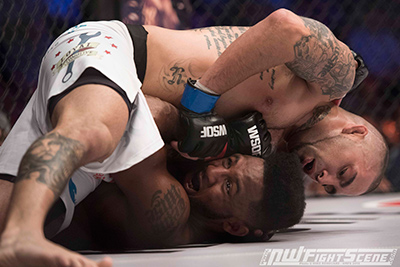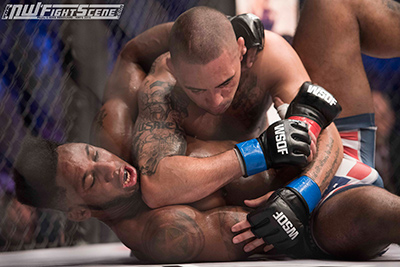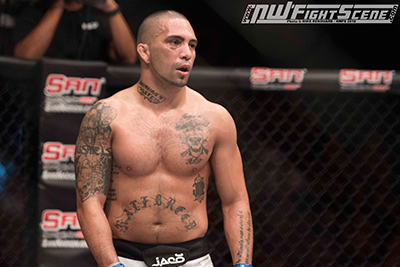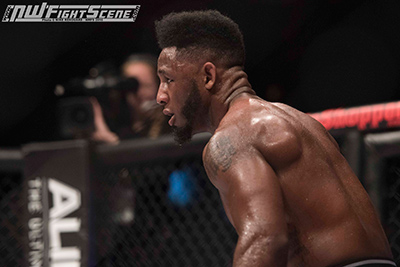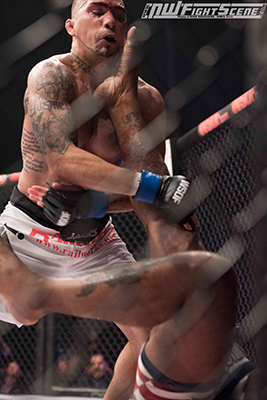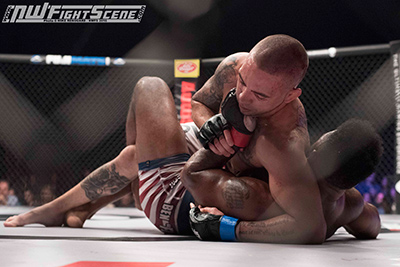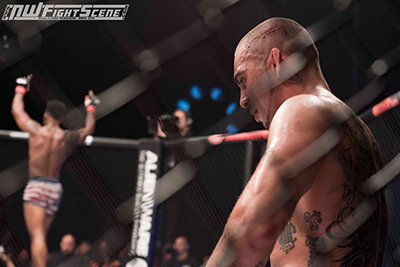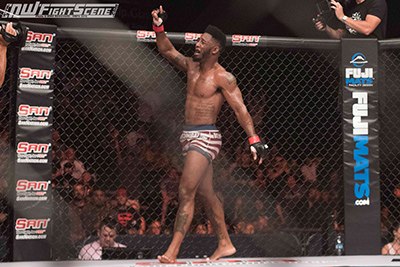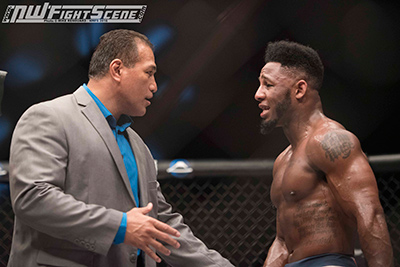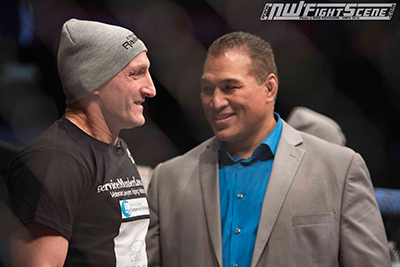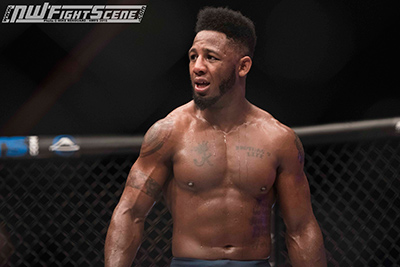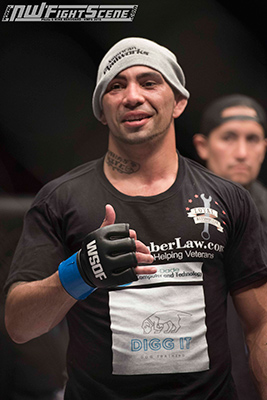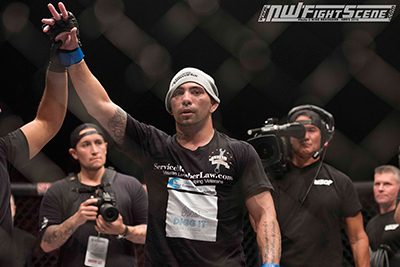 The NBCSN-televised main card kicked off with a middleweight contest between undefeated, highly-touted Phil Hawes at 26 yrs old and fighting out of Albuequerque, taking on 37 year old Strikeforce vet Louis Taylor who most recently put NW fighter Cory Devela to sleep at WSOF 29 in March of this year. Taylor seemed unfazed by any offense the wrestling-based Hawes threw at him, instead quickly finding a rhythm where he landed early and often with his striking. Hawes took him down, but Taylor was right back up and forced Hawes to stand and throw. Both fighters landed big bombs in the first, but it was Taylor who did more damage. The second saw Hawes search again for a takedown, but Taylor was ready, dropping Hawes with a short right and immediately capitalizing by sinking a fight-ending guillotine at 2:15 of the 2nd. Impressive performance from Taylor.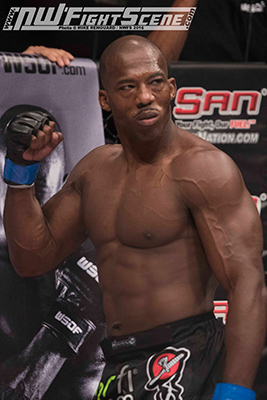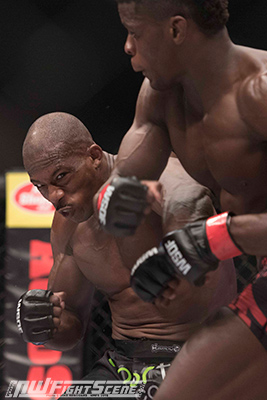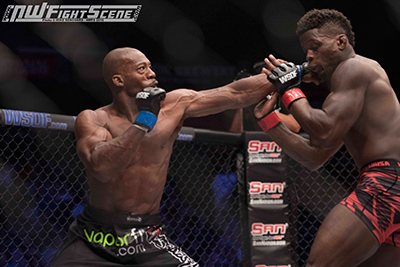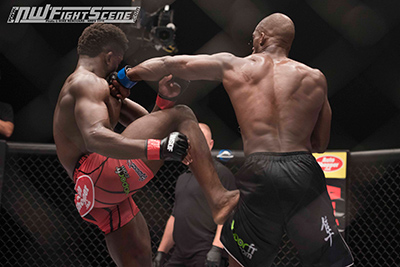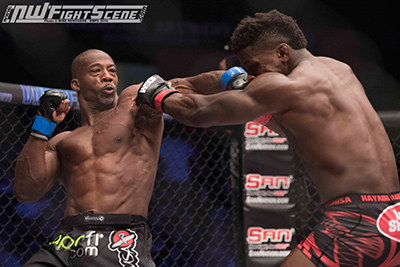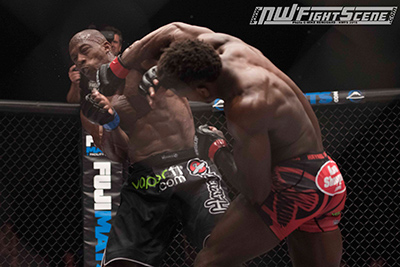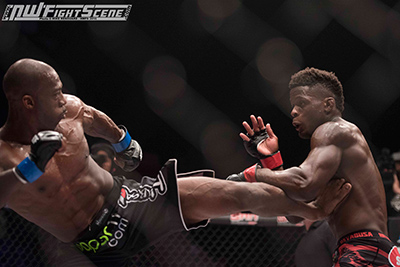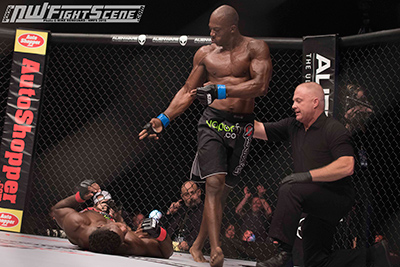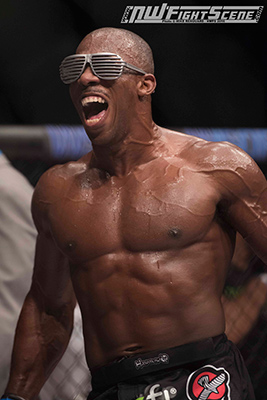 The Heavyweight showdown between Everett's Matt "The Attack" Kovacs and Redding CA's Bill Widler was two years in the making - with no love lost between the two as they waged a war of words before finally meeting on the World Series of Fighting stage. Kovacs started the offense first, connecting early with a big punch as he bull-rushed Widler. Clinching up, Widler turned Kovacs against the cage and worked long and hard for a takedown, but Kovacs eventually created space and landed a couple more big bombs in an exchange. Widler clinched up again and got the takedown he was searching for. Kovacs limited damaged from the bottom but Widler still found a home for a couple hard shots. Kovacs though broke free, stood up, and unleashed a thunderous left that dropped Wilder to the canvas. Kovacs followed with strikes, the referee intervening immediately for the TKO stoppage at 4:22 of the first.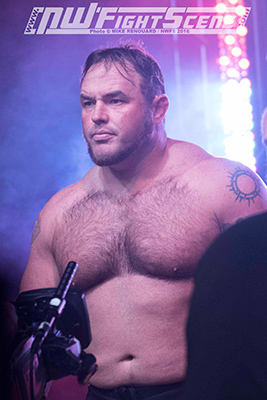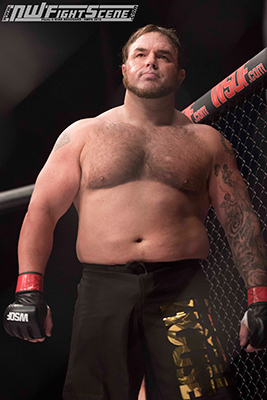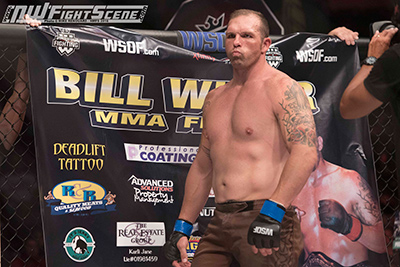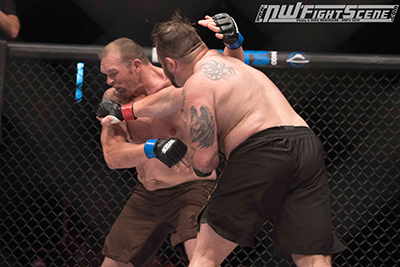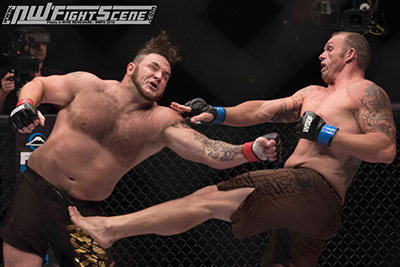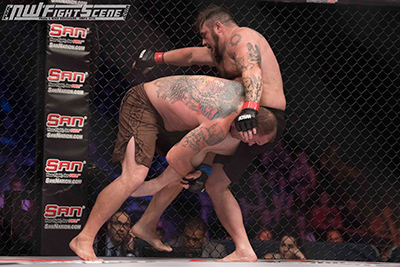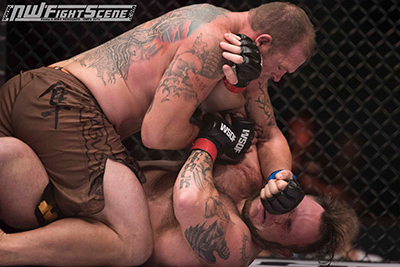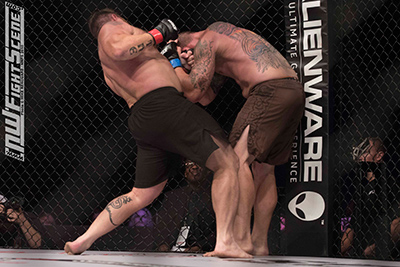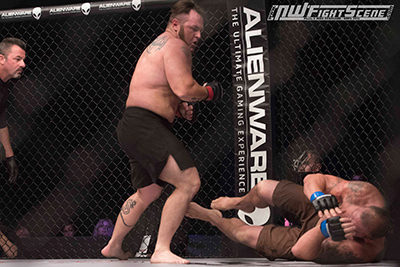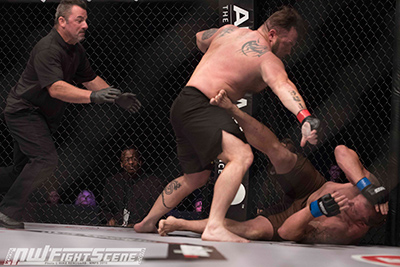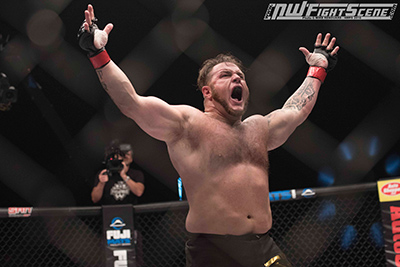 A barn-burner of a preliminary contest came from two North Sound-based fighters: Livewire MMA head Matt Coble of Bellingham WA taking on Orcas Island Fight Camp's Colt Hausauer of Eastsound WA at 155 lbs. Coble had a large contingent of fans on hand, Hausauer had his supporters as well. Both men threw everything they had into their fight inside the WSOF Decagon. Early in the first, big knees from Coble against the cage. Hausauer returns fire before a Coble takedown midway through the round. Some punishment on the ground from Coble before standing up again, and then ending the round with another takedown. In the 2nd, Coble got an immediate takedown, but had to fight through a dangerous armbar attempt from Hausauer. Once he got the advantage, Coble took Hausauer's back and sunk a nasty rear naked choke that put Hausauer to sleep at 1:52 of the round.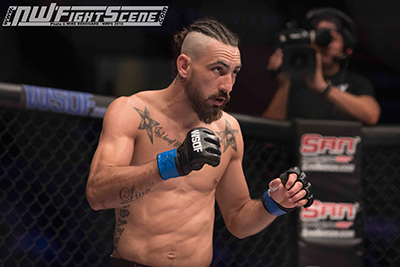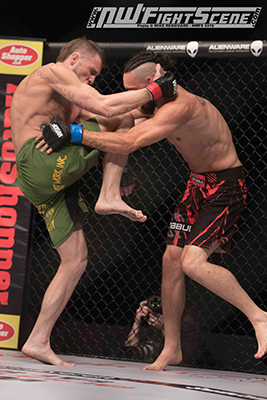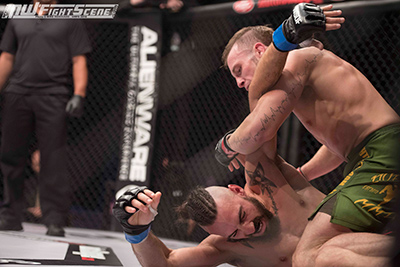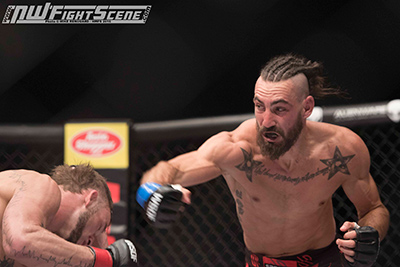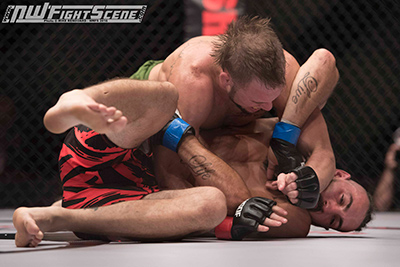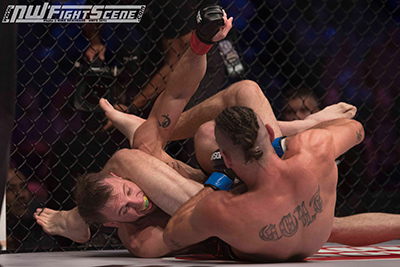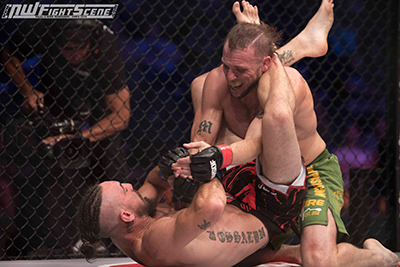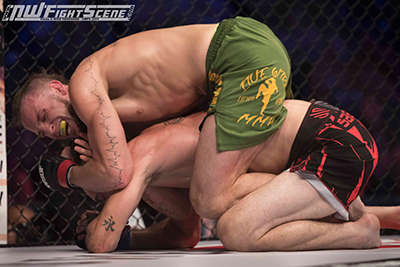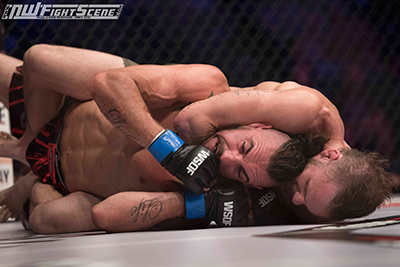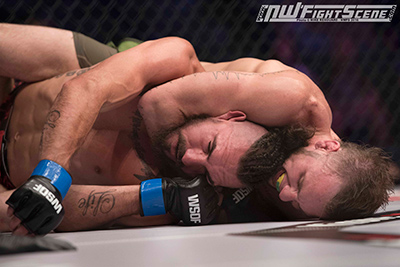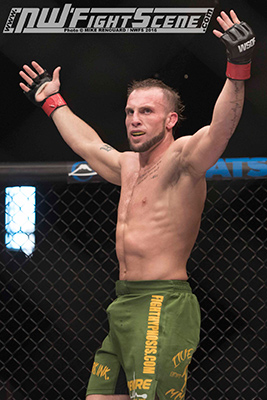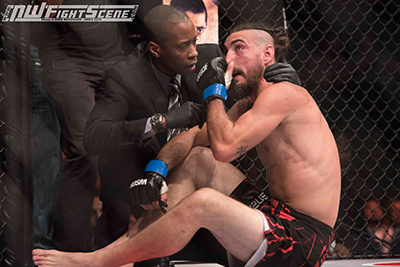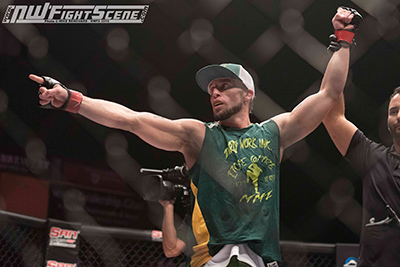 Two unbeaten NW lightweight prospects met in a preliminary bout with Patrick "The Pacific NW Bad Boy" Benson of Team SNRG going up against Brett Malone of Everett WA's Catalyst Fight House. Benson got an early takedown but had a hard time unloading strikes as Malone stymied him from the bottom. The fight went back to the feet and in an exchange, Malone wrapped himself around Benson and took him back to the mat. Moments later the fight was over, Malone submitting Benson with an impressive rear naked choke at 4:20 of the first. Malone is now 2-0 as a pro, while Benson falls to 2-1.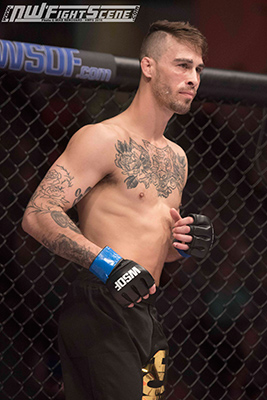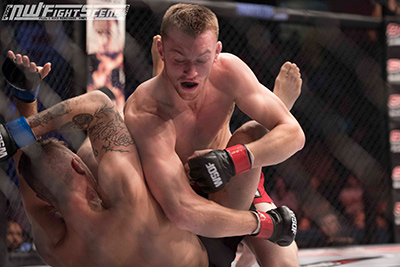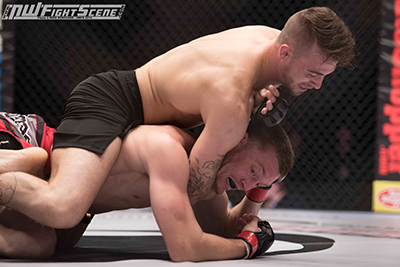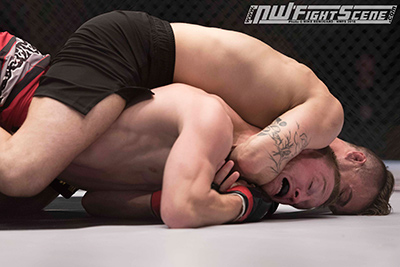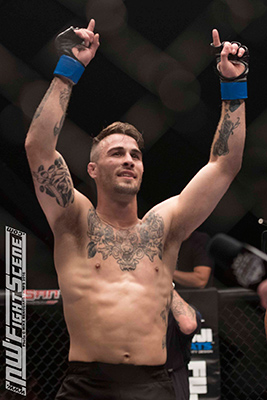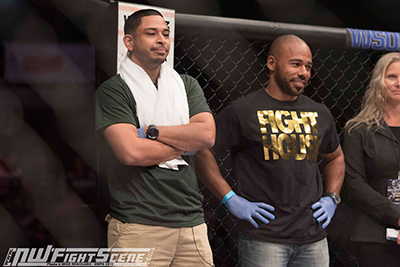 In a preliminary welterweight matchup, Veteran NW Fighter Travis Doerge - head of Renton WA's 6' Under MMA and promoter of the amateur MMA/KB show "The Redemption" - took on Brazilian fighter Andrews Nakahara, training out of Boca Raton FL. Doerge opened with a couple hard leg kicks but seconds later, Nakahara drove a flying knee into Doerge's ribcage. Doerge was hurt and defended himself on the canvas, but Nakahara was deadly accurate dropping bomb after bomb on Doerge, forcing a ref stoppage at 55 seconds into the fight.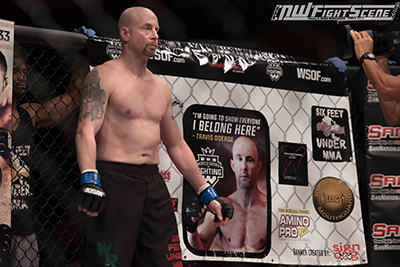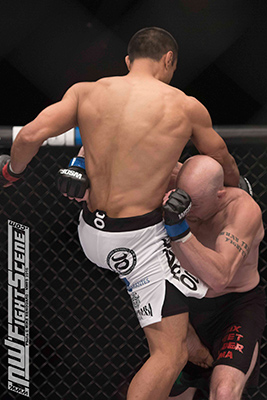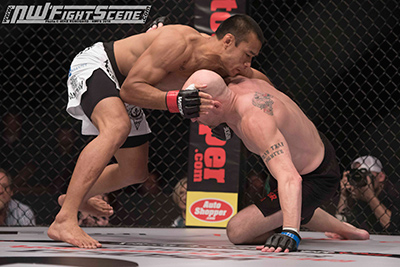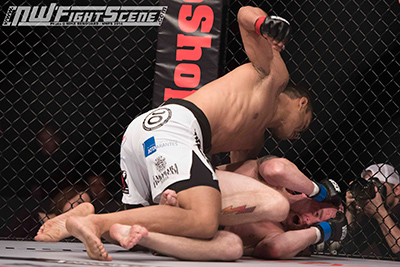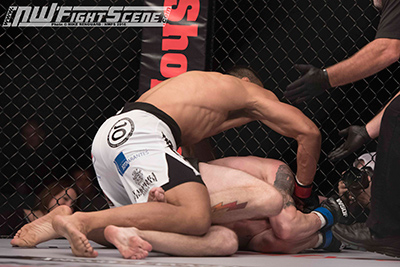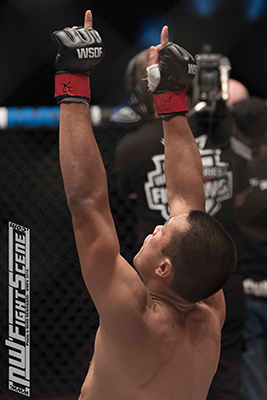 Everett's own Joe Elzea of Charlie's Combat Club (C3) made his pro debut on the big stage in front of family and friends, securing a 2nd round submission of Spokane's Marcos Lopez. A good battle in the first saw Elzea go for a RNC, following with some dangerous kicks. Lopez though kept his offensive pressure up as well, landing big shots. The fight went to the canvas in the 2nd off an Elzea trip of Lopez, with Elzea searching for another rear naked choke. Lopez was able to sweep and dropped in a couple shots from the top, but Elzea was ready with an armbar, getting the tap from Lopez at 4:34 of the 2nd.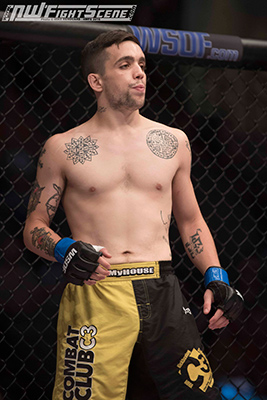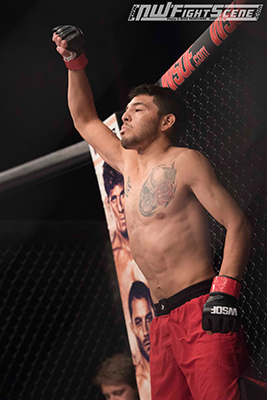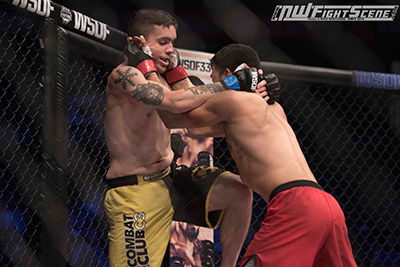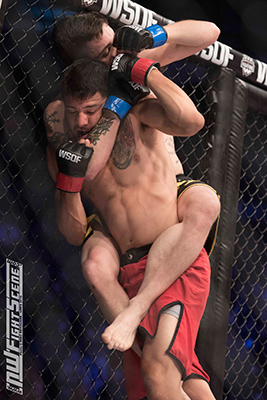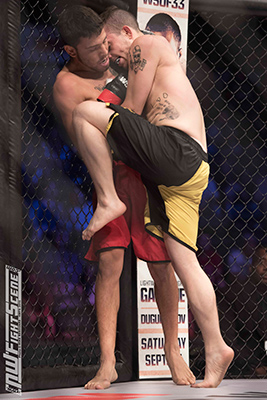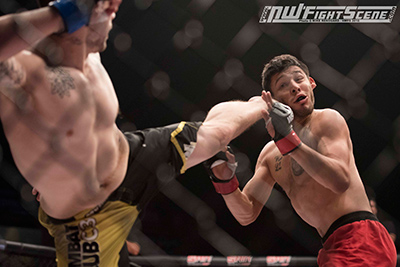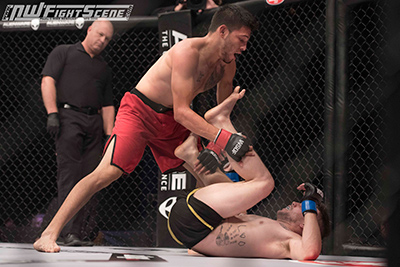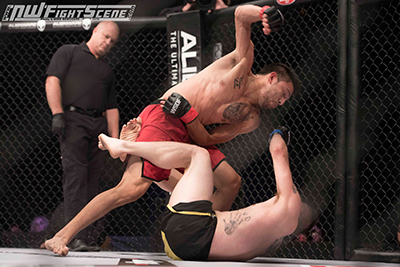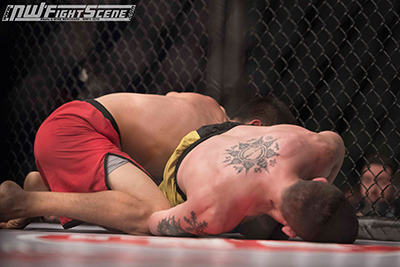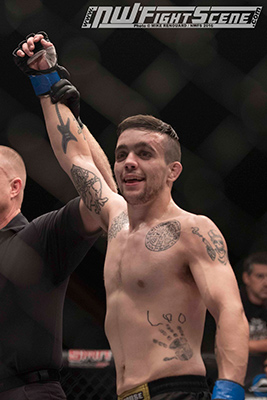 Debuting pro Tycen Lynn, at 28 yrs old, made it 2-0 for Everett WA's Charlie's Combat Club (C3) with a 1st round submission of 23 yr old Justin Hugo, fighting out of the Academy of Brian Johnson in Olympia WA. Hugo got an early takedown but within seconds, Lynn locked on a triangle from the bottom. Despite Hugo's attempts to escape, Lynn did not relinquish the choke until he elicited a tap from Hugo to end the fight at 2:17 of the first.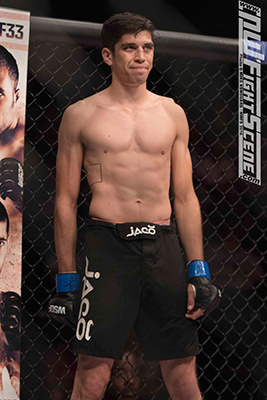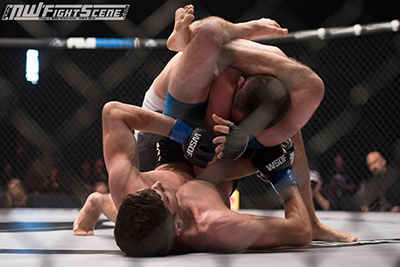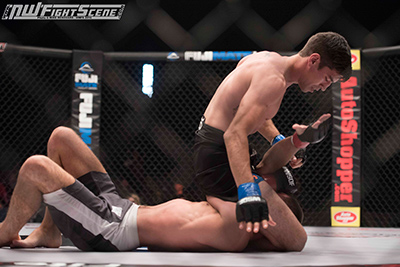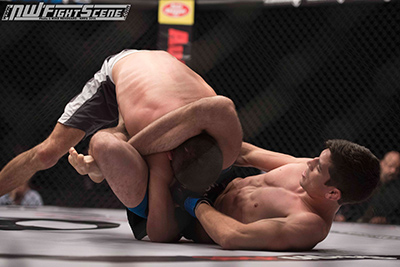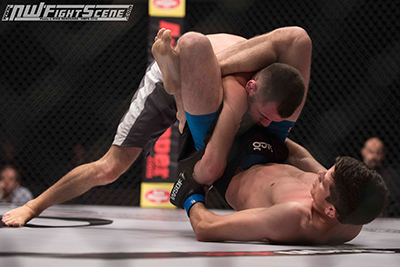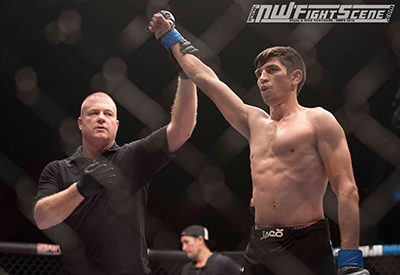 A featured preliminary contest saw middleweight Rex "T-Rex" Harris of Sawyersville PA, winning all three rounds via takedowns and top control over previously-undefeated German fighter Nicolai Salchow, all judges seeing it 30-27 for Harris.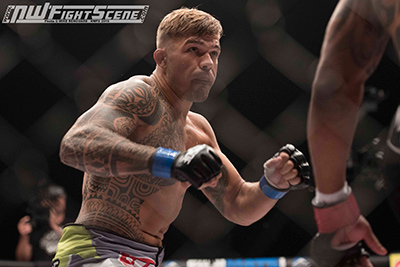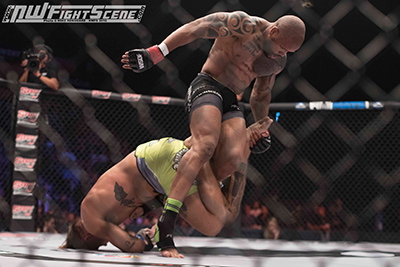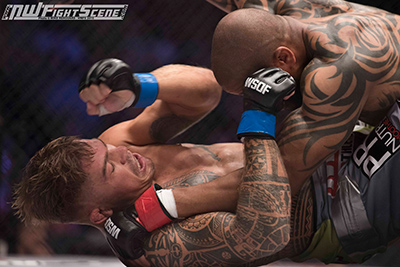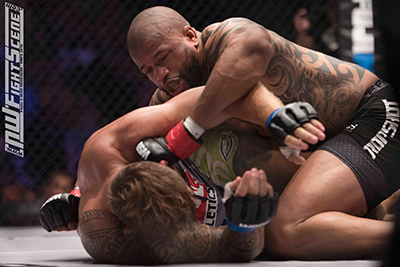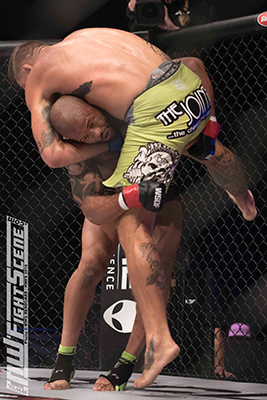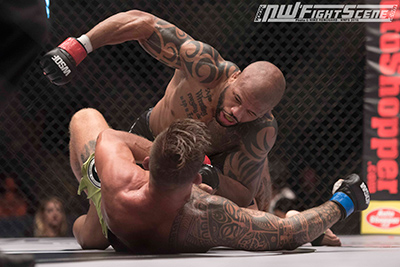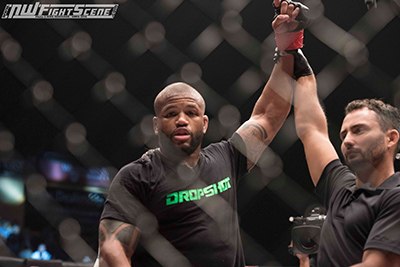 Featherweight prospect Hakeem Dawodu of Calgary rematched with Russian Marat Magomedov in the night's final preliminary bout - their first meeting at WSOF 26 ending in a majority draw. This time, Dawodu did not leave it up to the judges, instead finishing with strikes for the TKO win at 2:03 of the 2nd. Dawodu remains undefeated at 6-0-1 and is in the hunt for a future WSOF title shot.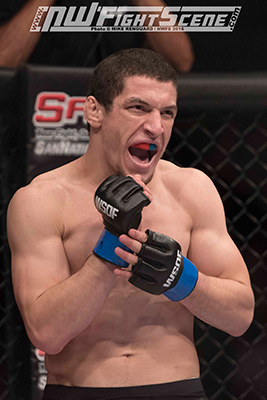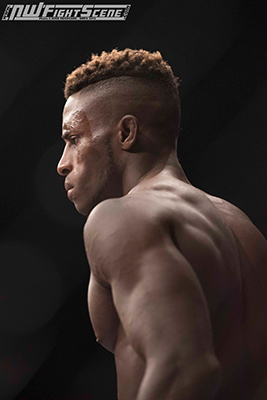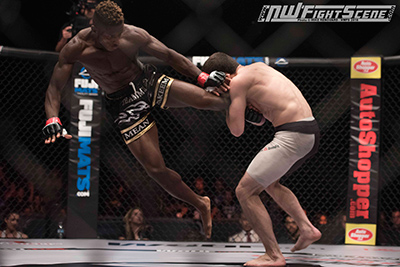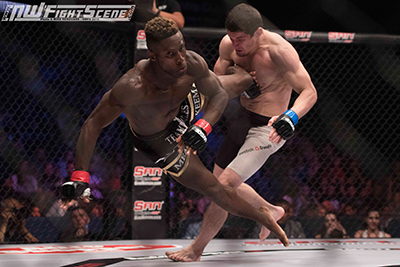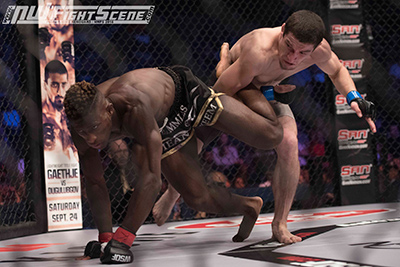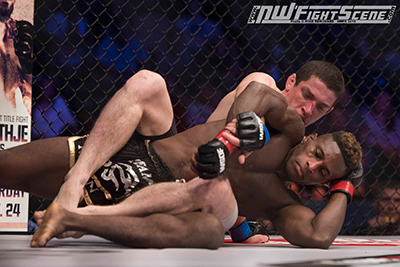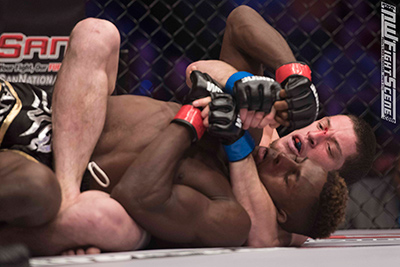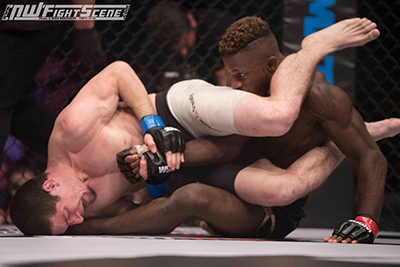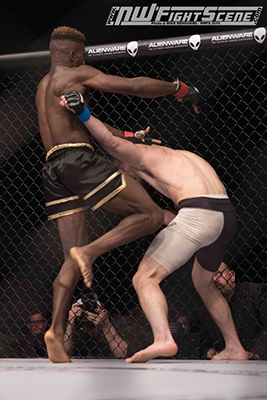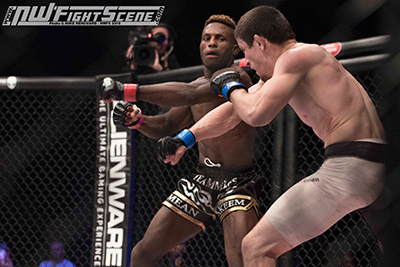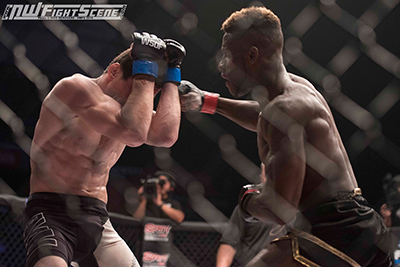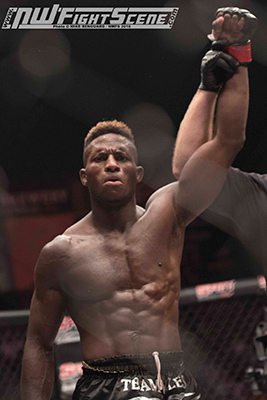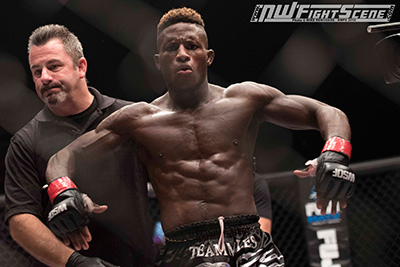 The World Series of Fighting's next event is WSOF33 - Gaethje vs Dugulubgov on September 24th in North Dakota, featuring WSOF Lightweight Champion Justin Gaethje (16-0) defending his title against Ozzy Dugulubgov (8-2). The promotion also recently announced that they will be holding a New Year's Eve show at Madison Square Garden in New York that will be broadcast live on NBC. More at WSOF.com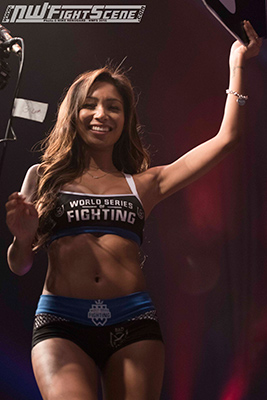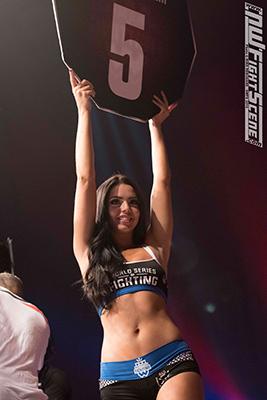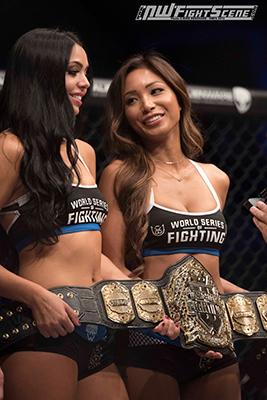 ---
WSOF 32: MORAES VS. HILL II RESULTS
Preliminary Card (Live on WSOF.com - 4 PM PT)
Bout 1 - 135 lbs
Joey Elzea (Debut - Everett WA) def Marcos Lopez (1-0 - Spokane WA)
by Rear Naked Choke @ 4:34 Rd 2

Bout 2 - 135 lbs
Tycen Lynn (Debut - Seattle WA) def Justin Hugo (1-1 - Olympia WA)
by Triangle Choke @ 2:17 Rd 1

Bout 3 - 155 lbs
Matt Coble (9-7 - Bellingham WA) def Colt Hausauer (5-4 - Eastsound WA)
by Rear Naked Choke @ 1:52 Rd 2

Bout 4 - 155 lbs
Brett Malone (1-0 - Marysville WA) def Patrick Benson (2-0 - Kent WA)
by Rear Naked Choke @ 4:20 Rd 1

Bout 5 - Heavyweights
Matt Kovacs (11-13 - Everett WA) def Bill Widler (9-6 - Redding CA)
by TKO (Ref Stop - Strikes) @ 4:22 Rd 1

Bout 6 - 170 lbs
Andrews Nakahara (4-3-2 - Boca Raton FL) def Travis Doerge (5-8 - Renton WA)
by TKO (Ref Stop - Strikes) @ 0:55 Rd 1

Bout 7 - 185 lbs
Rex Harris (9-2 - Wyoming PA) def Nicolai Salchow (7-0 - Boca Raton FL)
by Unanimous Decision (All judges 30-27)

Bout 8 - 145 lbs
Hakeem Dawodu (5-0-1 - Calgary AB) def Marat Magomedov (7-0-1 - Russia)
by TKO (Ref Stop - Strikes) @ 2:03 Rd 2

Main Card (Live on NBCSN - 7:30 PM PT)
Bout 9 - 185 lbs
Louis Taylor (12-3 - Chicago IL) def Phil Hawes (4-0 - Lakeville MN)
by Guillotine Choke @ 2:15 Rd 2

Bout 10 - 168 lbs
Caros Fodor (10-5 - Shoreline WA) def Phoenix Jones (6-1-1 - Seattle WA)
by Unanimous Decision (All judges 30-26)

Co-main Event - WSOF Featherweight Championship (5 Rounds)
Lance Palmer (10-2 - Sacramento CA) def Alexandre Almeida (17-6 - Las Vegas NV)
by Majority Decision (50-45, 49-46, 48-48)

Main Event - WSOF Bantamweight Championship (5 Rounds)
Marlon Moraes (16-4-1 - Jupiter FL) def Josh Hill (14-1 - Sacramento CA)
by Knockout @ 0:38 Rd 2