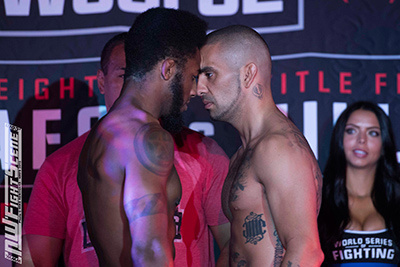 Brothers Phoenix Jones (AKA Ben Fodor) and Caros Fodor square off at WSOF 32 Weigh-ins

Fighters hit the scales tonight - including WA State step-brothers Phoenix Jones (Ben Fodor) and Caros Fodor who nearly came to blows when they sqaured off - inside XFINITY Arena in downtown Everett WA, ahead of tomorrow's WSOF 32: Moraes vs Hill 2, presented by the World Series of Fighting.

The The main event has WSOF 135 lb Champ Marlon Moraes (16-4-1) defend his belt for the second time against Josh "Gentleman" Hill (14-1).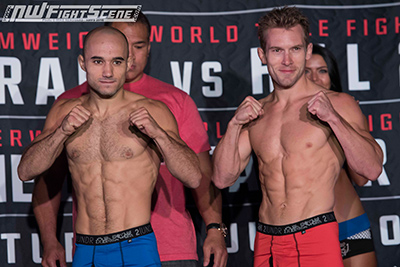 The Co-main Event is also a 5-round title fight with 145 lb Champ Alexandre "Capitao" Almeida (18-5) taking on former champ Lance Palmer (10-2).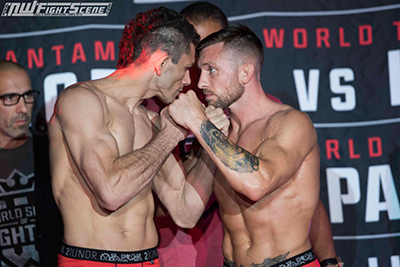 The much-anticipated grudge match is finally here as Seattle Brother's Phoenix Jones (6-1-1) and Caros Fodor (10-5) go to battle in 162 lb catchweight bout.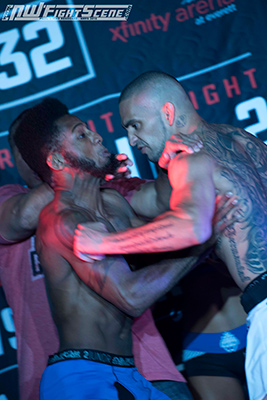 Doors for the show open at 3:30 PM, with the prelim fights starting at 4 PM PT and will stream live, in its entirety, starting at 4:00 PM PT on WSOF.com. The main card will begin at 7:30 PM PT and will air live on NBCSN.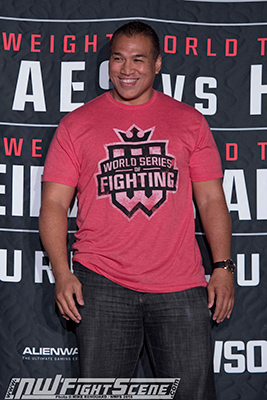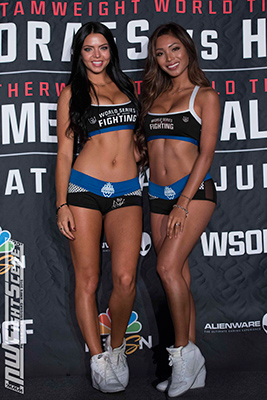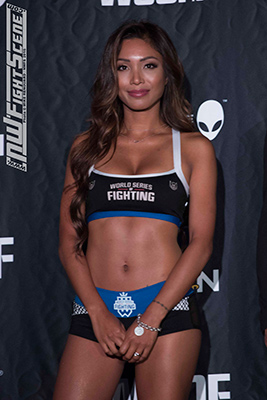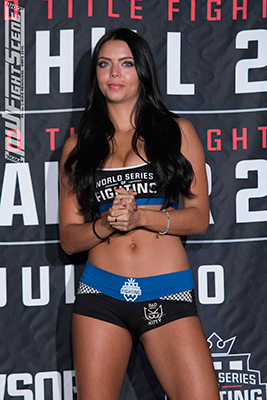 ---
WSOF 32: MORAES VS. HILL II WEIGHTS AND PHOTOS
Preliminary Card (Live on WSOF.com - 4 PM PT)
Bout 1 - 135 lbs
Joey Elzea Lynn (Debut - Everett WA) def Marcos Lopez (1-0 - Spokane WA)
by Rear Naked Choke @ 4:34 RD 2
Bout 2 - 135 lbs
Justin Hugo (1-1 - Olympia WA) vs Tycen Lynn (Debut - Seattle WA)
Bout 3 - 155 lbs
Matt Coble (9-7 - Bellingham WA) vs Colt Hausauer (5-4 - Eastsound WA)
Bout 4 - 155 lbs
Patrick Benson (2-0 - Kent WA) vs Brett Malone (1-0 - Marysville WA)
Bout 5 - Heavyweights
Matt Kovacs (11-13 - Everett WA) vs Bill Widler (9-6 - Redding CA)
Bout 6 - 170 lbs
Andrews Nakahara (4-3-2 - Boca Raton FL) vs Travis Doerge (5-8 - Renton WA)
Bout 7 - 185 lbs
Rex Harris (9-2 - Wyoming PA) vs Nicolai Salchow (7-0 - Boca Raton FL)
Bout 8 - 145 lbs
Hakeem Dawodu (5-0-1 - Calgary AB) vs Marat Magomedov (7-0-1 - Makhachkala Russia)
Main Card (Live on NBCSN - 7:30 PM PT)
Bout 9 - 185 lbs
Phil Hawes (4-0 - Lakeville MN) vs Louis Taylor (12-3 - Chicago IL)
Bout 10 - 168 lbs
Phoenix Jones (6-1-1 - Seattle WA) vs Caros Fodor (10-5 - Shoreline WA)
Co-main Event - WSOF Featherweight Championship (5 Rounds)
Alexandre Almeida (17-6 - Las Vegas NV) vs Lance Palmer (10-2 - Sacramento CA)
Main Event - WSOF Bantamweight Championship (5 Rounds)
Marlon Moraes (16-4-1 - Jupiter FL) vs Josh Hill (14-1 - Bonbrook Canada)
---