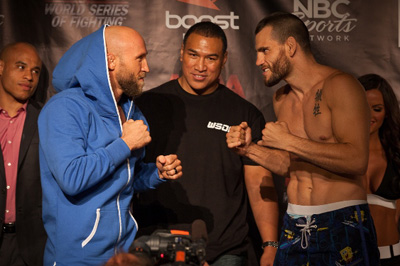 LAS VEGAS, Nev. (June 13, 2013) - Rival welterweight (170 pounds) superstars Jon Fitch (24-5) of Fort Wayne, Ind. and Josh Burkman (25-9) of Salt Lake City, Utah weighed in at 171 pounds and 170 pounds, respectively, one day before their much-anticipated Mixed Martial Arts (MMA) rematch in the main event of the World Series of Fighting four-bout telecast, live on NBC Sports Network from Hard Rock Hotel & Casino in Las Vegas on Friday, June 14.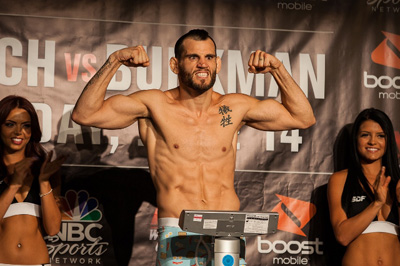 Jon Fitch

Welterweight co-main event opponents Tyson "Man of" Steele (10-1) of Saskatoon, Canada and Steve Carl (19-3) of Belle Plaine, Iowa tipped the scales at 170 pounds and 169.5 pounds, respectively.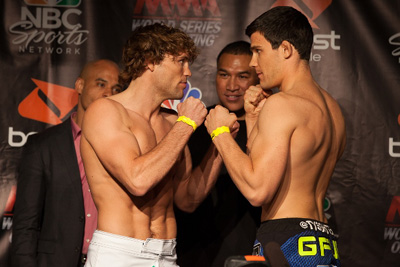 All 14 other fighters on the nine-bout card, with the exception of featherweight (145 pounds) preliminary card bout competitor Jeff Smith (10-1) of Harrisburg, Pa., made weight the first time around. Smith weighed in at 146.4 pounds, just .4 pounds over the limit, for his meeting with Jerrod Sanders (11-1) of Oklahoma City, Okla.

In other live NBC Sports Network televised World Series of Fighting action, grappling specialists Lyle "Fancy Pants" Beerbohm (21-2) of Spokane, Wash. and Jacob "Feelgood" Volkmann (15-4) of White Bear Lake, Minn. will square off at lightweight (155 pounds)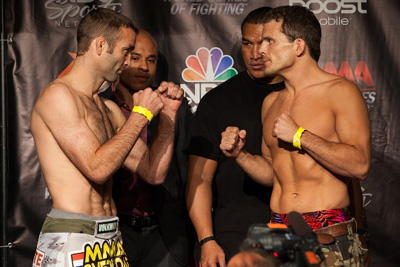 Undefeated prospect Justin Gaethje (8-0) of Denver, Colo. will collide with Brian "The Bandit" Cobb (20-7) of Bakersfield, Calif., in a lightweight contest and the first televised main card bout of the night.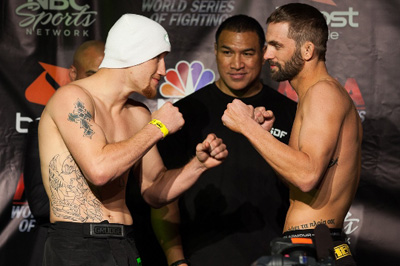 In preliminary card action, battle-tested submission specialist John Gunderson (34-14) of Houston, Tex. will be pitted against Dan "The Upgrade" Lauzon (16-4) of Bridgewater, Mass. in another lightweight tilt. All 16 of Lauzon's professional career victories have come by way of (T)KO or submission.

Carson "Little Juggernaut" Beebe (13-2) of Schaumburg, Ill. will face undefeated submission ace Joe Murphy (6-0) of Huntington Beach, Calif. in a bantamweight (135 pounds) tilt.

Jeff Smith (10-1) of Harrisburg, Pa. will take on fellow, featherweight (145 pounds) streaking star Jerrod Sanders (11-1) of Oklahoma City, Okla.

Undefeated prospects Krasimir Mladenov (9-0) of Borica, Bulgaria and Kendrick Miree (5-0) of Atlanta, Ga., will square off at middleweight (185 pounds).

Brenson Hansen (4-1) of Las Vegas will battle Josh Montalvo (2-1) of San Benito, Texas in a featherweight matchup.

\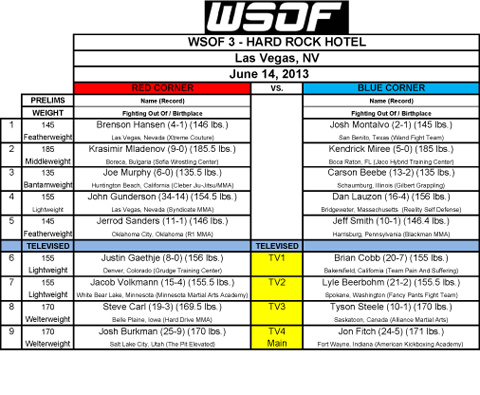 Tickets for the star-studded, nine-bout World Series of Fighting event, priced from $29 (plus applicable service fees), are on sale at the Hard Rock Hotel Box Office, all Ticketmaster locations, online at Ticketmaster.com and charge-by-phone at 800.745.3000.

The four-bout main card will air live on NBC Sports Network, beginning at 11 p.m. ET/8 p.m. PT.

Doors at The Joint at Hard Rock Hotel & Casino will open at 4:30 p.m. PT and the first preliminary card bout will begin at 5:30 p.m.
---
ABOUT WORLD SERIES OF FIGHTING
Based in Las Vegas, Nev., the fight capital of the world, World Series of Fighting is a professional Mixed Martial Arts (MMA) fight promotion dedicated to delivering an incredible, action-packed entertainment experience for fight fans by producing the best possible matchups between elite fighters from around the globe. For more information please visit WSOF.com. Follow World Series of Fighting on Twitter @MMAWorldSeries and World Series of Fighting President Ray Sefo @SugarRaySefo.
About The Joint
The Joint is a 4,000-person capacity venue that serves as a sophisticated, intimate and unparalleled entertainment destination. The Joint features seven Luxury Suites, a VIP Studio Level, state-of-the-art sound system, superior video system and a production package tailor-made for artist comfort. It has received numerous accolades including "Best Concert Venue" in Las Vegas Review - Journal's "Best of Las Vegas" awards 2010 - 2012, "Best Music Venue" in 2012 Las Vegas Weekly Awards, "No. 1 Hottest Club in America" award by Billboard Magazine in 2011, "Best Live Music Venue in Las Vegas" by MetroWize.com in 2011, "Best New Major Concert Venue" at the 2010 Pollstar Awards, and "Best Live Music Venue" in AOL City's Best 2010 awards. The Joint delivers unforgettable live music experiences with performances by both legendary and ground-breaking artists including Paul McCartney, The Killers, Bon Jovi, Kenny Chesney, Arcade Fire, Avenged Sevenfold, Rise Against, Paramore, Muse, Drake and No Doubt. The venue created the successful concept of rock 'n' roll residencies with Supernatural Santana: A Trip Through the Hits, Motley Crue in Sin City, Guns N' Roses Appetite for Democracy and Def Leppard VIVA Hysteria! as well as Tiesto In Concert, featuring the world's No. 1 electronic DJ and producer Tiesto. For additional information, visit www.thejointlasvegas.com or call 702.693.5583 or 702.693.5000.

ABOUT NBC SPORTS NETWORK
NBC Sports Network, part of the NBC Sports Group, is dedicated to serving passionate sports fans. Now in nearly 80 million homes, the network is the cable television home of the Summer and Winter Olympics, National Hockey League (NHL), Major League Soccer (MLS), IZOD IndyCar Series, Tour de France and the 34th America's Cup. In addition, NBC Sports Network features college football, college basketball, college hockey, horse racing surrounding the Triple Crown, Fight Night boxing, Ironman, the Dew Action Sports Tour and USA Sevens Rugby. The network is also home to original programs such as Costas Tonight, NFL Turning Point, Caught Looking, NBC Sports Talk, and Pro Football Talk. NBC Sports Network is distributed via cable systems and satellite operators throughout the United States.