New, Live NBCSN Start Time Of 10 P.M. ET From Greeley, Colorado
Las Vegas (February 3, 2016) –World Series of Fighting (WSOF.com) announced today the addition of three main card matchups, including a heavyweight co-main event contest between Josh "Cuddly Bear" Copeland (11-3) and Mike "300" Hayes (19-10-2), to its highly anticipated WSOF29: Gaethje vs. Foster world lightweight (155 pounds) championship event at the Bank of Colorado Arena in Greeley, Colo. on Saturday, March 12, live on NBCSN at 10 p.m. ET/7 p.m. PT.

In other action on the four-bout live telecast that will be headlined by the lightweight championship showdown between reigning, undefeated kingpin Justin "The Highlight" Gaethje (15-0) and number one contender Brian Foster (25-9), middleweight (185 pounds) standouts Cory "The One" Devela (15-6) and Louis "Handgunz" Taylor (11-3) will collide in their respective World Series of Fighting debuts.

Kicking off the live, four-fight telecast will be a welterweight (170 pounds) scrap pitting Josh Cavan (11-6) against Kris Hocum (7-4).

Priced from $39.99, tickets for WSOF29: Gaethje vs. Foster, are on sale at WSOF.com and the University of Northern Colorado's online ticketing platform.

Josh Copeland vs. Mike Hayes
The 6-foot-1 Copeland of Denver, Colo. is a former number one ranked heavyweight in his home state, and a four-time title holder since turning professional in 2010.

The 33-year-old, former Youth Ministry student at Dallas Baptist College, has earned 8 of his 11 career victories as a professional by way of (T)KO or submission, with 5 of those wins coming in less than 2 minutes.

A teammate of Gaethje's at Grudge Training Center, Copeland will look to rebound from a second round (2:50) submission (kimura) defeat at the hands of Vitaly Minakov on December 11, a result that snapped a two-fight win streak for Copeland.

During his professional career spanning eight-plus years, the 6-foot-4, 35-year-old Hayes of Redmond, Wash. has faced off with elite level competition, including former world champion Andrei Arlovski and superstar Ruslan Magomedov, both of whom he fought to a decision.

On November 2, 2013, Hayes notched his most impressive victory to date, scoring a devastating, third round (3:11) KO on decorated MMA, Brazilian Jiu Jitsu and wrestling champion Jeff "The Snowman" Monson with a head kick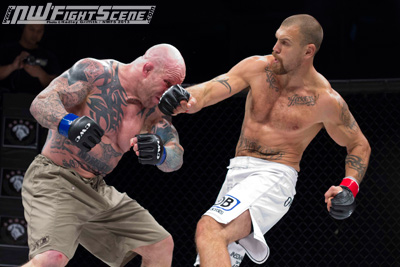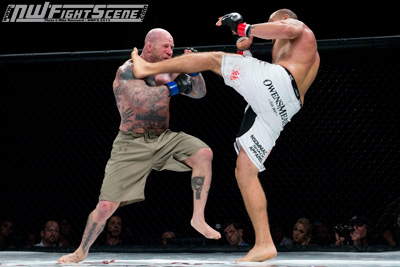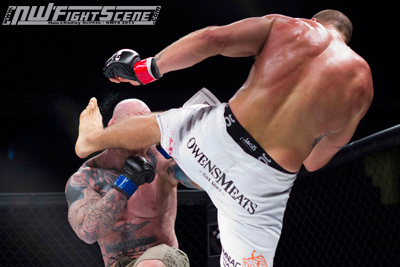 Hayes KO's Monson at the Showare Center in Kent WA
In his last start on June 4, 2015, Hayes produced another impressive result, fighting former South African national wrestling champion and four-time MMA titlist Trevor Prangley, to a draw.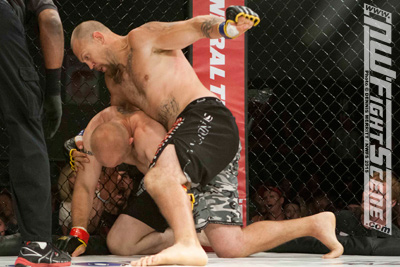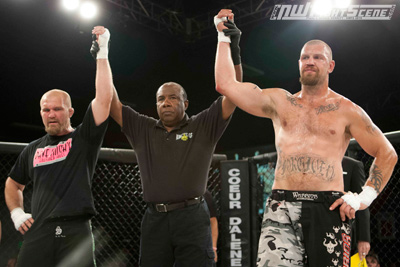 Hayes fights Prangley to a split draw at the CDA Casino in Worley Idaho
Cory Devela vs. Louis Taylor
The 6-foot-2, 31-year-old Devela of Bonney Lake, Wash., will enter the decagon cage in the midst of a four-fight win streak that includes a unanimous decision victory over superstar Nick "The Promise" Ring on June 26, 2015.

A longtime protégé of MMA superstar and submission expert Dennis "Superman" Hallman, Devela, who has notched 11 of his 16 career wins by way of (T)KO or submission, burst into the national spotlight at a Strikeforce promoted event in Tacoma, Wash. on February 23, 2008, scoring a first round (1:22) TKO on heralded superstar Joe "Diesel" Riggs with a thunderous slam that rendered Riggs unable to continue fighting.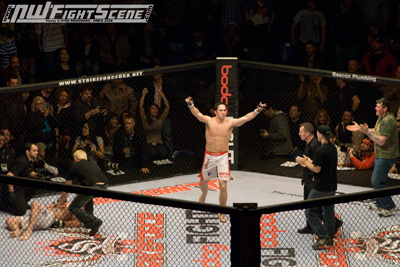 Cory Devela celebrates his victory over Joe Riggs in front of 7000+ fans at the Tacoma Dome
Devela's recent ascendance that has him knocking on the door of becoming a world championship contender again, comes after he took an extended, three-year hiatus from competition to care for a sick loved one between 2010 and 2013.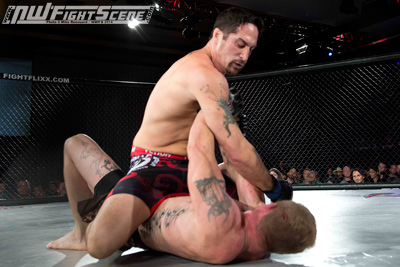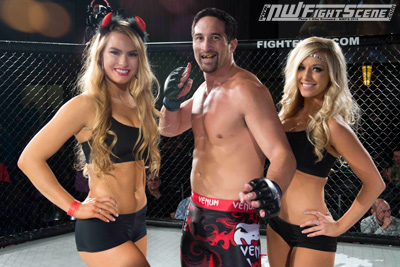 Devela started his cuurent 4-fight win streak at Rumble on the Ridge 29 in Oct 2014
Also looking to earn his fifth consecutive win, the 5-foot-11, 36-year-old Taylor of Chicago, Ill. is the number one ranked middleweight in his home state, according to the latest Tapology.com ratings

A prolific striker who has finished 10 of his 11 opponents to date by way of (T)KO or submission, Taylor's last four victories all came inside of the first round of battle.

Prior to becoming a mixed martial artist, Taylor was a wrestling standout for the NCAA Division I program at Eastern Illinois University where he benefited from training with fellow, former team member turned assistant coach Matt Hughes, who went on to become a two-time UFC champion and Hall of Fame member.

Josh Cavan vs. Kris Hocum
Fighting out of Denver, Cavan is a 5-foot-10, 32-year-old, lifelong athlete who competed at the minor league level of professional hockey before turning his attention to MMA. A winner of 9 of his 11 professional career fights by way of (T)KO or submission, Cavan will look to bounce back from a second round (1:28) TKO (punches) defeat at the hands of Joe Eichelberger on November 6.

The 5-foot-11, 30-year-old Hocum of Fort Collins, Colo. made his professional debut on October 27, 2012 as a participant in a one-night, eight-man tournament, defeating multiple opponents to emerge the victor of the grueling affair. He will look to regain momentum after back-to-back losses in his last two appearances.

The WSOF29 preliminary bout card will be announced soon.

ABOUT WORLD SERIES OF FIGHTING
"World Series of Fighting" (WSOF) is a worldwide premier professional Mixed Martial Arts (MMA) fight promotion dedicated to delivering the best action-packed fights for fight fans by producing the best possible match-ups between elite fighters from around the world. For more information please visit WSOF.com and follow "World Series of Fighting" on Twitter @MMAWorldSeries. WSOF and World Series of Fighting are registered trademarks of MMAWC, LLC.

ABOUT NBCSN
NBCSN, part of the NBC Sports Group, is dedicated to serving passionate sports fans. Now in more than 85 million homes, the Emmy Award-winning network is the cable television home of the Summer and Winter Olympics, National Hockey League (NHL) – including two games of the Stanley Cup Final -- Premier League, Formula One, IndyCar, Tour de France, the 34th America's Cup, and beginning in 2015, NASCAR. In addition, NBCSN features college football, college basketball, college hockey, cycling, outdoor programming, horse racing surrounding the Triple Crown and Breeders' Cup, Fight Night boxing, Ironman, the Dew Tour and USA Sevens Rugby. The network is also home to original programs such as Costas Tonight, NFL Turning Point, Pro Football Talk, The Dan Patrick Show, and NASCAR America. NBCSN is distributed via cable systems and satellite operators throughout the United States.