WFC 80 - September 30th 2017
Lucky Eagle Casino - Rochester, Washington
Results courtesy of Christopher Cope
---
The World Fighting Championships presented WFC 80 at the Lucky Eagle Casino tonight September 30th with 2 pro and 7 amateur MMA fights taking place, including two title bouts.

In the main event, Bad Company MMA's Nathan Stolen and United Training Center's Bobby McIntyre faced off for the vacant WFC Pro Featherweight belt. Stolen had a good first round, but McIntyre's ground game was on point in the 2nd, catching Stolen with a triangle choke 2 minutes in. McIntyre picks up his 2nd pro belt and has won 3 straight this year to move his record to 7-4. Stolen falls to 7-2 with the loss.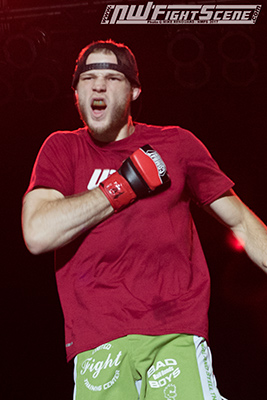 Bobby McIntyre

In the co-main event, Pro Heavyweight Paul "The Beast" Hoffman submitted Matt "The Attack" Kovacs via first round Americana.

Taylan Yuasa captured the WFC Amateur Flyweight belt via 1st round armbar of Ruben Melendrez.

Learn more about the WFC at www.wfcfights.com.

WFC 80 RESULTS
Main Event - WFC Pro 145 lb Championship
Bobby McIntyre def Nathan Stolen by Triangle Choke @ 2:01 Rd 2

Co-main Event - Pro Heavyweights
Paul Hoffman def Matt Kovacs by Americana @ 1:47 Rd 1

WFC Amateur 125 lb Championship
Taylan Yuasa def Ruben Melendrez by Armbar @ 0:56 Rd 1

Amateur 155 lbs
Byron Fernandus Jr. def Ty Orion by Unanimous Decision

Amateur 155 lbs
Donny Ennis def Sam Millard by TKO @ 1:55 Rd 1

Amateur 120 lbs
Olivia Branson def Julia Martinez by Rear Naked Choke @ 1:56 Rd 1

Amateur 125 lbs
Tyler Creech def Aidan Granquist by Rear Naked Choke @ 1:54 Rd 1

Amateur 135 lbs
Austin Vinson def Johnny Valimont by TKO @ 2:15 Rd 1

Amateur 170 lbs
Brandon Bilotta def Shane Creech by Rear Naked Choke @ 1:24 Rd 1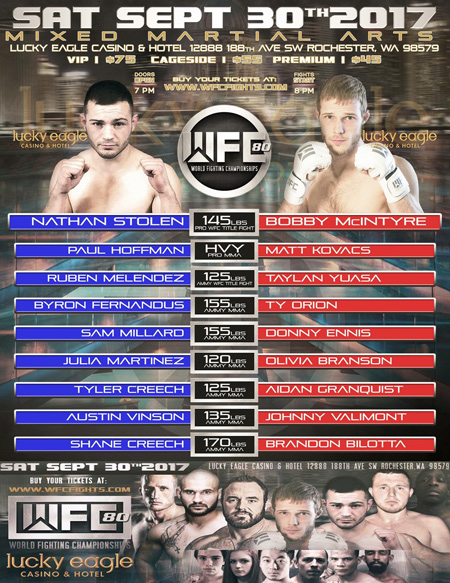 ---




All Photos, Design, and Content © 2006-2017 NW Fightscene™, unless otherwise noted.
Any usage of content on this site is strictly prohibited without the express written consent of NW FightScene™.
Report any errors to webmaster@nwfightscene.com