Vengeance in the Valley 23 - March 23rd, 2013
Spokane School of Boxing & MMA - Spokane Valley, Washington
Photos by Dennis Merritt/Big Guy Photography
---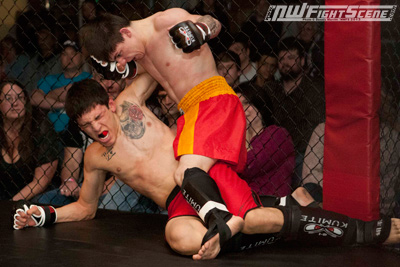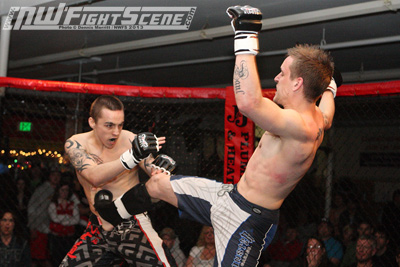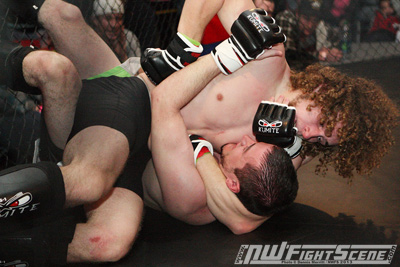 The School of Boxing & MMA in Spokane Valley WA hosted Vengeance in the Valley 23 on March 23rd with 10 ammy bouts going down, including 3 title fights. In the 170 lb Championship, Team Execution's Stephen Foster KO'd Kaduku MMA's Jon Weber just 17 seconds into their bout to take home the belt.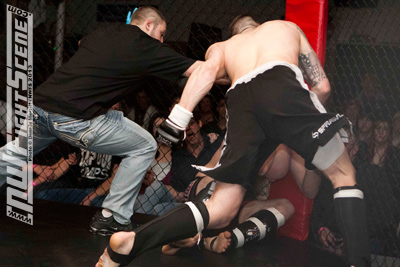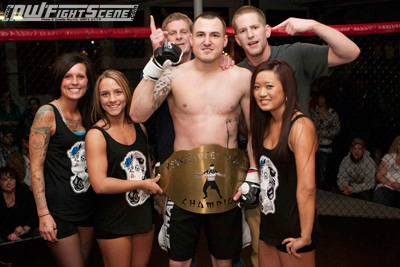 By contrast, Team Execution's CJ Delgado and independent fighter Taj Perry took all five rounds to determine a winner in the 205 lb championship which in the end was Delgado via decision.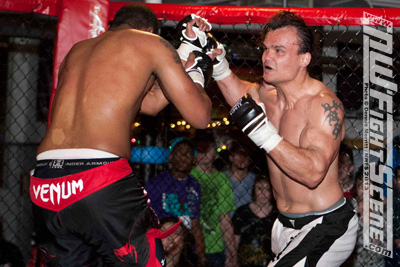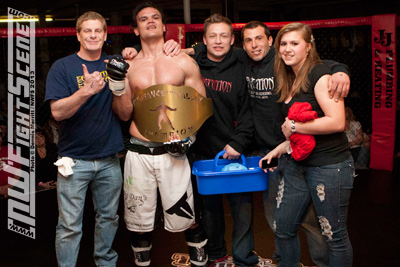 In the final title bout at 185 lbs, AKA's Tanner Weisgram submitted Ryan Rose with an armbar in the first round.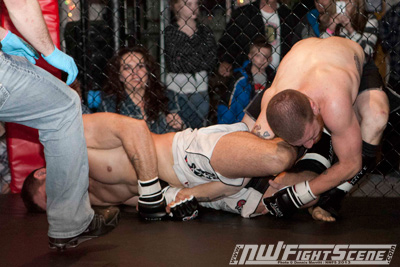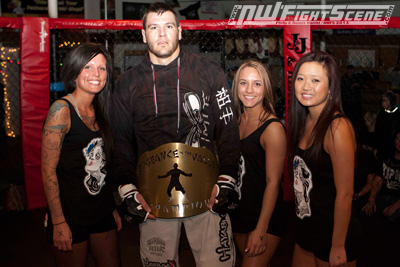 The next Vengeance in the Valley (date forthcoming) will feature a 135 lb title fight with current champ Alex Rockstrom (5-1-1, SOBMMA) taking on challenger Mark Coates (8-0, Team Execution). More info at spokaneschoolofboxing-mma.com.
---
Bout 1 - 125 lbs
Tyler Sanders (0-1, NW Elite) def Marcos Lopez (2-3, TKO Fighting Arts)
by Rear Naked Choke in Rd 2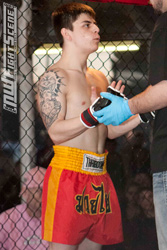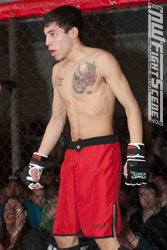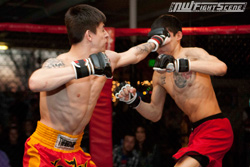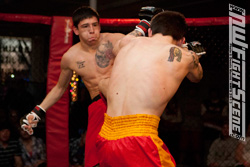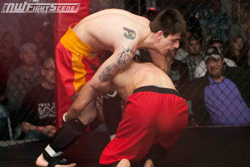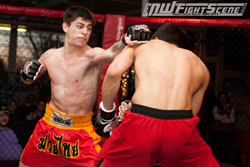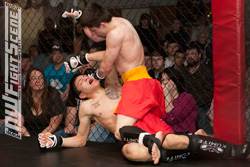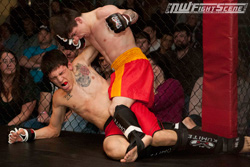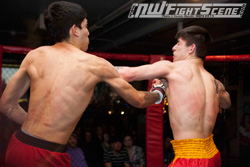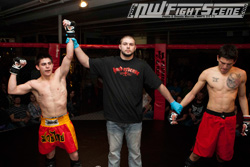 Bout 2 - 125 lbs
Zane Douglas (1-2, AKA) def Paul Polignoni (1-2, Ind.)
by Unanimous Decision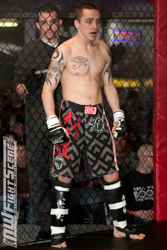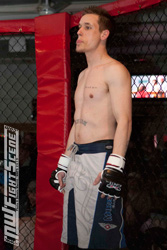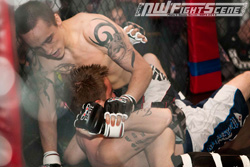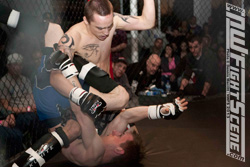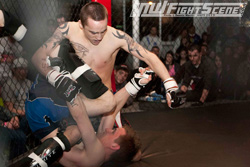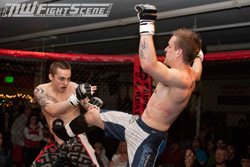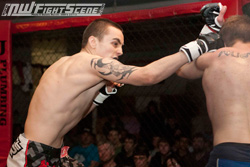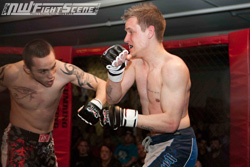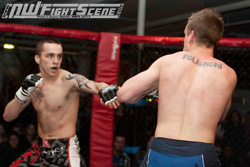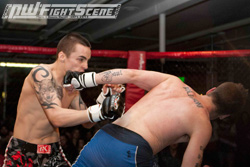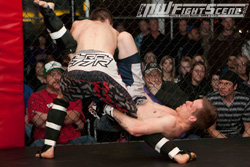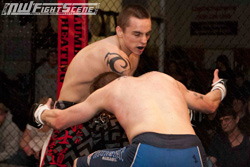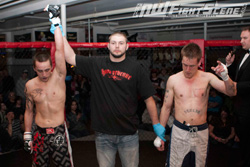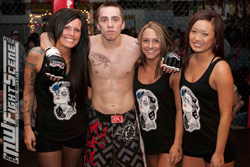 Bout 3 - 120 lbs
Jacob Romero (3-1, NW Elite) def Jake Tiffany (3-1, Ind.)
by Gogoplata @ 1:07 Rd 1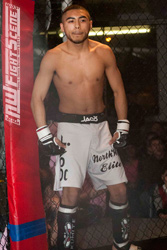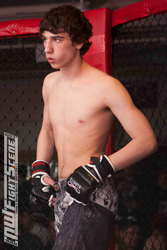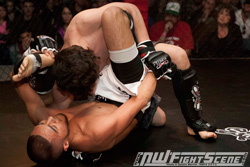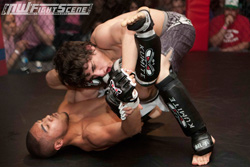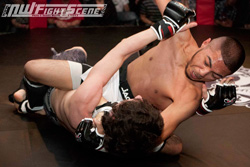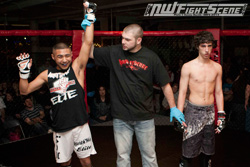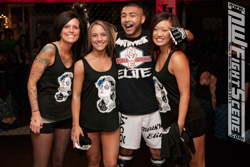 Bout 4 - 140 lbs
Brandon Sly (2-8, SOBMMA) def Nathan Blanchard (4-6)
by Rear Naked Choke in Rd 2

v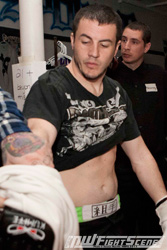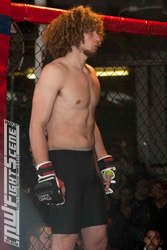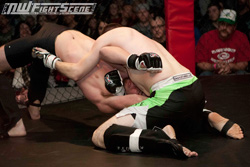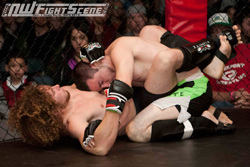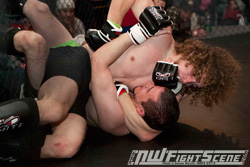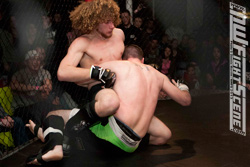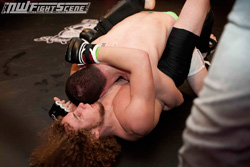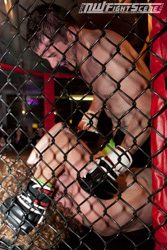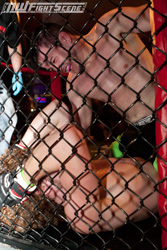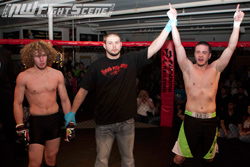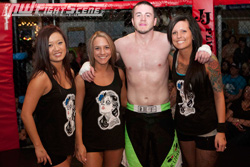 Bout 5 - 155 lbs
Elijah Ross (2-0, Ind.) def Xavier White (2-1, NW Elite)
by Rear Naked Choke in Rd 1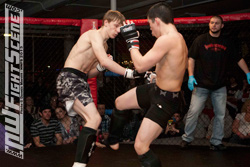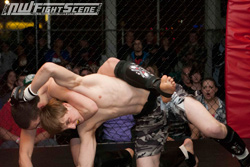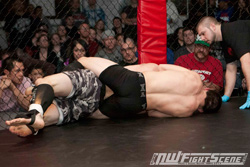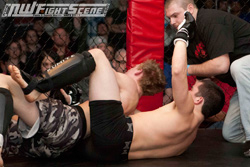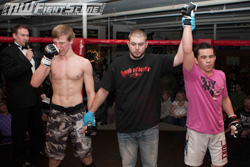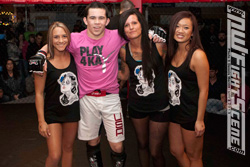 Bout 6 - 155 lbs
Eddie Valdez (3-0, NW Elite) def Adam Burrington (3-1, Ind.)
by TKO in Rd 2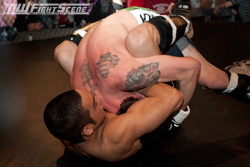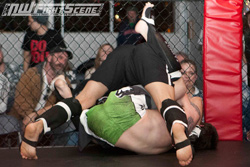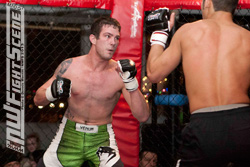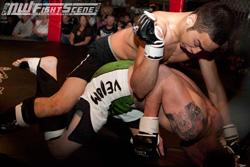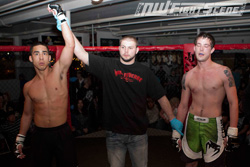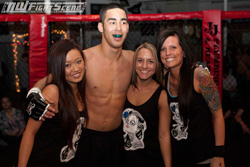 Bout 7 - 140 lbs
Justen Billings (9-6, Ind.) def Ray Tiffany (2-1, Ind.)
by Guillotine Choke in Rd 2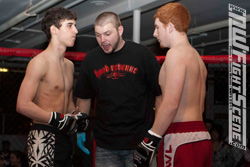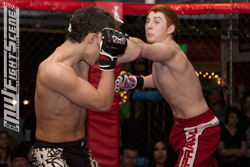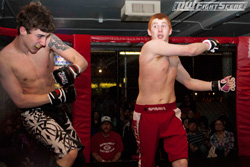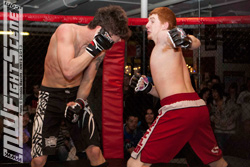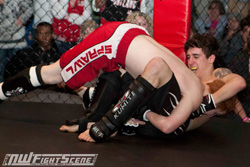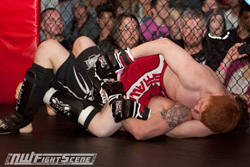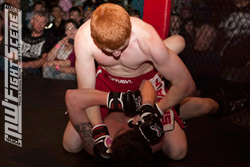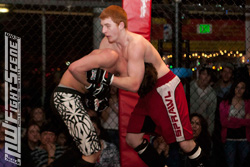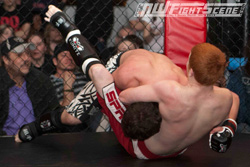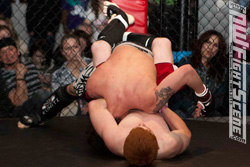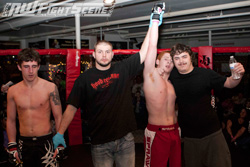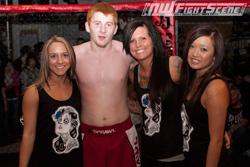 Bout 8 - 205 lb Title
CJ Delgado (3-1, Team Execution) def Taj Perry (3-2, Ind.)
by Decision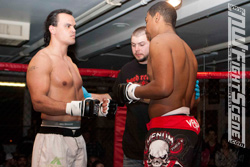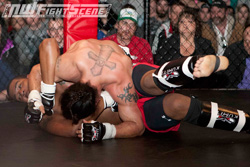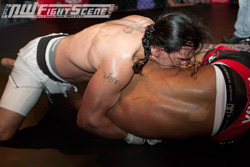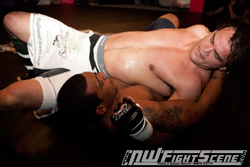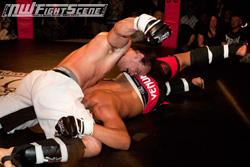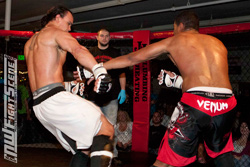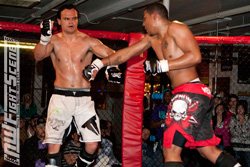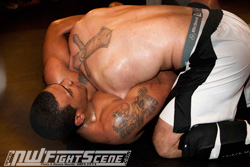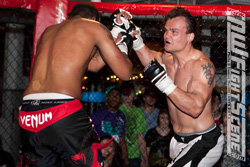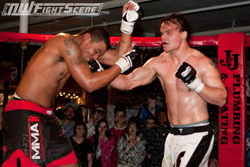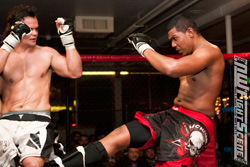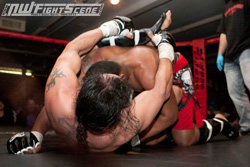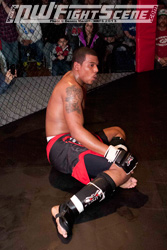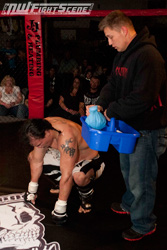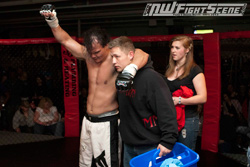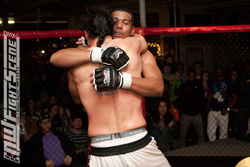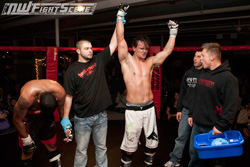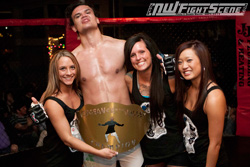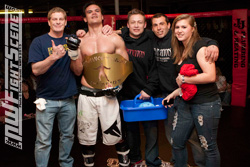 Bout 9 - 170 lb Title
Stephen Foster (3-0, Team Execution) def Jon Weber (16-9, Kaduku)
by TKO @ 0:17 Rd 1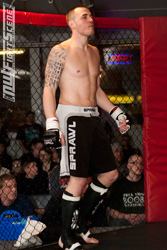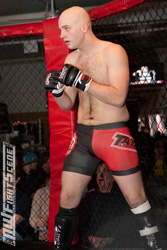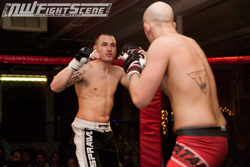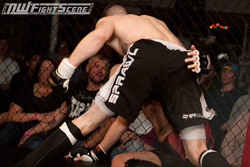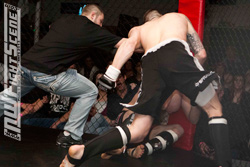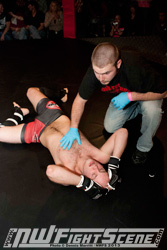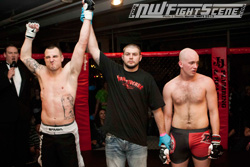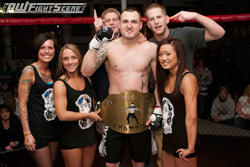 Bout 10 - 185 lb Title
Tanner Weisgram (4-1, AKA) def Ryan Rose (2-1, SOBMMA)
by Armbar in Rd 1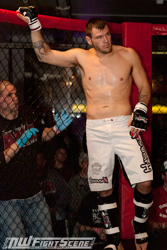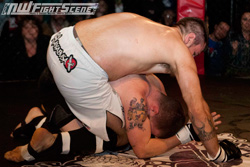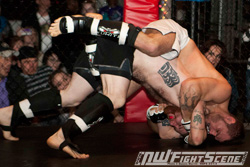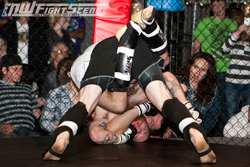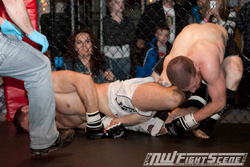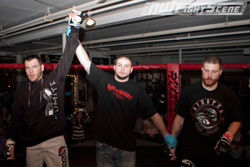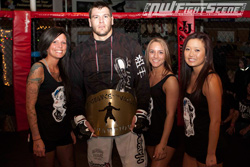 ---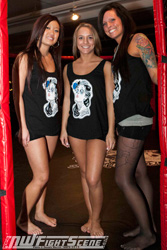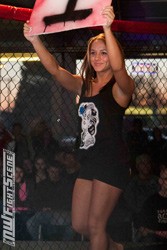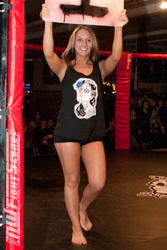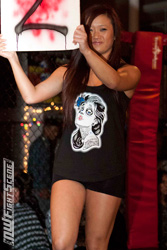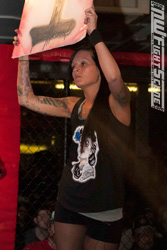 ---