Unique one round format decided fate of 16 fights

Series resumes next Friday on FX at regular time of 10 p.m. ET/PT

LAS VEGAS (March 9, 2012) - Sixteen of the best unsigned fighters in the world took their first step towards glory Friday night as they won their first round tournament fights in the fast-paced premiere of The Ultimate FighterŪ Live on FX.

The 32 UFC hopefuls arrived at the famed TUF Gym in Las Vegas ready to fight their way into the final 16, but they were met with a stunning announcement: all first round elimination bouts would consist of a single five-minute round.

The result was some of the most intense, emotional and action-packed bouts in TUF history, including a startling eight-second KO.

In addition, fighters were offered a bonus of $5,000 if they succeeded in scoring a submission or knockout in their fight. A total of $40,000 was handed out.

With the win, the victors now move into The Ultimate Fighter® Live House for the next 12 weeks as they continue to compete for a lucrative six-figure contract with the UFC®.

"One round! That's all we needed tonight. These guys came out and killed it," said UFC President Dana White. "We have some real tough guys this season and they want it bad. I guess the extra incentive didn't hurt either."

Bitter rivals and TUF Live coaches Dominick Cruz - the reigning UFC bantamweight champion - Uriah Faber - the No1 contender - both liked what they saw Friday night.

Cruz said: "We got to see some great action from these guys. They came out and showed us that they wanted it and they wanted it bad. There's a lot of good fighters to choose from and I'm going to build the best team I can."

Faber said: "My assistant coaches and I have our hands full tonight. There's a lot of talent this season and I have to weigh what I want and what's going to help me beat Team Cruz."

Friday's results:

1. Joe Proctor (8-1), Pembroke, Mass., submitted Jordan Rinaldi (5-1), Matthews, N.C., by guillotine choke at 2:08
2. Cristiano Marcello (13-3), Curitiba,Brazil, submitted Jared Carlsten (3-1), Los Angeles, Calif., at 2:42
3. Sam Sicilia (11-0), Spokane Valley, Wash., knocked out Erin Beach (3-2), San Diego, Calif., at 0:08
4. Chris Tickle (8-4), Bloomington, Ill., knocked out Austin Lyons (9-2), Cordova, Tenn., at 0:44
5. Andy Ogle (9-1), Tynemouth, England,defeated Brendan Weafer (6-4), New York, N.Y., by unanimous decision
6. Vinc Pichel (8-0), Sherman Oaks, Calif., submitted Cody Pfister (7-4), Amarillo, Texas, at 3:39
7. John Cofer (8-1), Hull, Ga., defeated Mark Glover (5-2-1), Liverpool, England, by unanimous decision
8. Chris Saunders (10-2), Long Beach, Calif; defeated Chase Hackett (4-2), Littleton, Colo., by unanimous decision
9. James Vick (5-0), Fort Worth, Texas, defeated Dakota Cochrane (11-3), Omaha, Neb., by split decision
10. Michael Chiesa (8-0), Spokane Valley, Wash., sumitted Johnavan Vistante (4-2), Pearl City, Hawaii, at 2:05
11. Mike Rio (9-1), Miami, Fla., submitted Ali Maclean (9-6-1), Belfast, Northern Ireland, at 3:32
12. Justin Lawrence (4-0), Villa Ridge,Mo., Knockedout James Krause (14-5), Blue Springs, Mo., at 1:25
13. Daron Cruickshank (10-2), Wayne, Mich.; defeated Drew Dober (8-3), Omaha, Neb., by unanimous decision
14. Jeremy Larsen (9-2), Phoenix, Ariz., defeated Jeff Smith (9-2), Mechanicsburg, Penn., by unanimous decision
15. Al Iaquinta (6-1-1), Wantagh, N.Y., defeated Jon Tuck (6-1), Hagtna, Guam, by unanimous decision
16. Myles Jury (10-0), San Diego, Calif. defeated Akbarh Arreloa (19-7-1), Chula Vista, Calif., by unanimous decision

Fighter Thoughts:

Proctor: "I'm pumped. This is the best thing to ever happen to me, so I have no complaints.''

Marcello: "I feel great. I'm so happy for me, my family, my wife, my kids and the people of Brazil who I know were up and watching. I'm very proud to be here and get the opportunity to be in the house."

Sicilia: "I came in ready to fight. I trained hard. You saw my fight. I loaded up with the right hand. My life changed in eight seconds, so I am really excited to be here.''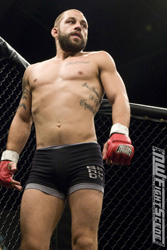 Sam Sicilia

Tickle: "I'm happy. That was my game plan, to stay in the pocket with him and punch. He was coming forward and I just stayed in the pocket and caught him.''

Ogle: "I was really excited to be in there. Just the canvas itself felt like no other canvas I had been on. This was a dream come true. It was surreal. I think knowing my Mom watched the fight back in England probably helped me.''

Pichel: "I feel great. I got my first submission so I feel good about that. He came out strong and was well prepared. It was a little nerve-racking but I started to relax and I did what I had to do.''

Cofer: "I probably could have been more active, and probably didn't display my best ability but I guess I controlled it and I won so I am ecstatic. I'm happy with the win and happy to be here.''

Saunders: "I'm happy with the win but disappointed I didn't finish. I thought I had the guillotine but he persevered and pulled through it. Still, though, I'm very happy.''

Vick: "I feel great about the win and I'm in the house. This is a dream come true. It's the first step.''

Chiesa: "It wasn't the way I wanted to win, I like to go there and bang, but I really wanted to secure my spot in the house so I just went out and put the pressure on and got him down."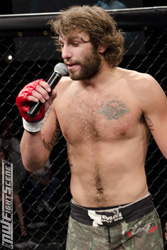 Michael Chiesa

Rio: "I wasn't trying to out-strike him. I was just trying to keep him at a distance because I knew he wanted to wrestle. Overall, I stuck to my game plan and waited for my opportunity. I did everything I needed to do to win this fight and get into the house.''

Lawrence: I just went in there and had the time of my life. That guy was the favorite and had a lot more fights than me, but stats and records go out the window when you only have five minutes to fight.''

Cruickshank: "I'm pretty excited. I worked very hard to get here. I'm ready to move on.''

Larsen: "The most important thing for me tonight was to win and to get in the house. I feel ok about my performance and I'm looking forward to getting this show started."

Iaquinta: "I worked really hard to get here and I'm happy and relieved to get the victory."

Jury: "I hadn't fought in over a year and I feel I fought one of the toughest guys here tonight. But I'm happy with the win. This is only the beginning.''

Log-on during the season and get the inside scoop through the fighter's Twitter accounts:

Al Iaquinta - @aliaquinta
Andy Ogle - @thelittleaxe
Cristiano Marcello - @CristianoBJfJ
Chris Saunders - @kidisgood
Chris Tickle - @badboytickle
Daron Cruickshank - @cruickshank155
James Vick - @JamesVickMMA
Jeremy Larsen - @jeremylarsenmma
Joe Proctor - @JoeProctor
John Cofer - @coferpottery
Justin Lawrence - @theamericankidd
Sam Sicilia - @SamSiciliaTUF
Michael Chiesa - @mikemav22
Mike Rio - @mikeriomma
Myles Jury - @FuryJury
Vinc Pichel - @FromHellPichel

For more show information, bios, videos and photos, visit ultimatefighter.com.
---
About The Ultimate Fighting Championship® - www.ufc.com
Universally recognized for its action-packed, can't-miss events that have sold out some of the biggest arenas and stadiums across the globe, the UFC® is the world's premier mixed martial arts organization. Owned and operated by Zuffa, LLC, headquartered in Las Vegas, Nevada, and with offices in London, England, Toronto, Canada and Beijing, China, UFC® produces more than 30 live events annually and is the largest Pay-Per-View event provider in the world.
In 2011, the UFC burst into the mainstream with a landmark seven-year broadcast agreement with FOX Sports Media Group. The agreement includes four live events broadcast on the FOX network annually, with additional fight cards and thousands of hours of programming broadcast on FOX properties FX and FUEL TV. This includes the longest-running sports reality show on television, The Ultimate Fighter®, which now air on FX in an exciting new live format.
In addition to its reach on FOX, UFC programming is broadcast in over 150 countries and territories, to nearly one billion homes worldwide, in 20 different languages. UFC content is also distributed commercially in the United States to bars and restaurants through Joe Hand Promotions. The UFC also connects with tens of millions of fans through its website, UFC.com, as well as social media sites Facebook and Twitter. UFC President Dana White is considered one of the most accessible and followed executives in sports, with nearly two million followers on Twitter.
Ancillary UFC businesses include best-selling DVDs, an internationally distributed magazine, the best-selling UFC Undisputed® video game franchise distributed by THQ, UFC GYM®, UFC Fight Club affinity program, UFC Fan Expo® festivals, branded apparel, trading cards, and JAAKS articulated action figures
---
FX
FX is the flagship general entertainment basic cable network from Fox. Launched in June of 1994, FX is carried in more than 98 million homes. The diverse schedule includes a growing roster of critically acclaimed and award-winning hit dramas series including Sons of Anarchy, Justified and American Horror Story, and acclaimed hit comedy series It's Always Sunny in Philadelphia, The League, Louie, Archer and Wilfred. Its library of acquired box-office hit movies is unmatched by any ad-supported television network. The network's other offerings include the acquired hit series Two and a Half Men and How I Met Your Mother, and live sports with college football and the UFC.