Semifinals this Friday on FX at 10 p.m. ET/PT

LAS VEGAS (May 24, 2012) - UFC President Dana White made it official this week, announcing that all but two of THE ULTIMATE FIGHTER® LIVE fighters, pending commission approval after the semifinals, will get one more opportunity for redemption and appear on national television during the three-hour season finale on FX, Friday, June 1, from the Pearl Concert Theater at the Palms in Las Vegas.
In addition, the winners of the semifinal bouts this Friday, May 25, live on FX (10 p.m. ET/PT, delayed on the West Coast) between James Vick (4-0), of Fort Worth, Texas, and Michael Chiesa 7-0), of Spokane Valley, Wash., and Vinc Pichel (7-0), of Sherman Oaks, Calif., and Al Iaquinta (5-1-1), Wantagh, N.Y., will clash in the final fight of the season to crown the ULTIMATE FIGHTER LIVE winner. The winner will earn a lucrative contract from the UFC and a Harley Davidson motorcycle.

Confirmed June 1 matchups include: Jeremy Larsen, Phoenix, Ariz., vs. Joe Proctor, Pembroke, Mass.; Sam Sicilia, Spokane Valley, Wash., vs. Cristiano Marcello, Curitiba, Brazil; Chris Tickle, Bloomington, Ill., vs. Daron Cruickshank, Wayne, Mich.; Myles Jury, San Diego, Calif., vs. Chris Saunders, Long Beach, Calif.; and Justin Lawrence, Villa Ridge, Mo., vs. John Cofer, Hull, Ga.

Regretfully, two of the fighters who have spent the last three months in the TUF House will be unable to participate in the season finale on FX. Mike Rio, of Miami, Fla., suffered a rib injury in training while Andy Ogle was medically suspended by the Nevada State Athletic Commission after being knocked out by Iaquinta in the quarterfinals.
Not surprisingly, the House was buzzing with excitement after the fighters learned they would be getting another shot on FX. Here's what they had to say:

---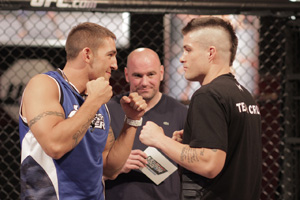 Jeremy Larsen
"I'm super thrilled about fighting Proctor. He's a tough guy who likes to fight, and that's what I like to do. I think we're going to go out there and put on a fantastic show for the fans."

Joe Proctor
"Train hard. Win easy. It's time for a war!"

---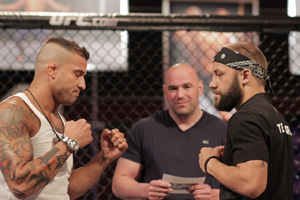 Sam Sicilia
"I think this is a huge opportunity for me. He's a legend. We'll see if I belong in the UFC right now or not."

Cristiano Marcello
"It's a great opportunity. He's a great opponent. Let's do what we need to do."

---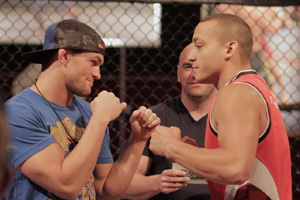 Chris Tickle
"It's going to be a great fight, fast-paced and I'm ready to bang."

Daron Cruickshank
"Hands up. Chin down. Let's bang. It's play time."

---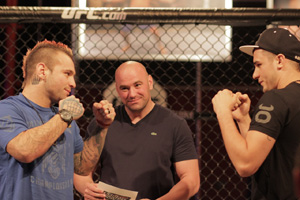 Myles Jury
"I think it's a tough fight, but it's just another chance for me to live my dream."

Chris Saunders
"I'm looking forward to this test. It should be a good fight. Tune in!"

---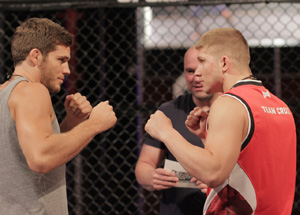 Justin Lawrence
"I think it's a good matchup for me. I think I'm more well-rounded. This is a huge opportunity and me and I'm not going to let it slip through my fingers."

John Cofer
"I'm excited for this fight and the chance at redemption after my last loss on the show. More importantly, though, is winning and landing a job fighting in the UFC."

---
Don't miss the opportunity to catch behind the scenes action by following the fighters on Facebook and Twitter. Find all these links and more on www.ultimatefighter.com.
---
The Ultimate Fighting Championship®
Universally recognized for its action-packed, can't-miss events that have sold out some of the biggest arenas and stadiums across the globe, the UFC® is the world's premier mixed martial arts organization. Owned and operated by Zuffa, LLC, headquartered in Las Vegas and with offices in London, Toronto and Beijing, UFC produces more than 30 liveevents annually and is the largest Pay-Per-View event provider in the world. In 2011, the UFC burst into the mainstream with a landmark seven-year broadcast agreement with FOX Sports Media Group. The agreement includes four live events broadcast on the FOX network annually, with additional fight cards and thousands of hours of programming broadcast on FOX properties FX and FUEL TV. This includes the longest-running sports reality show on television, The Ultimate Fighter®, which now air on FX in an exciting new live format.

In addition to its reach on FOX, UFC programming is broadcast in over 149 countries and territories, to nearly one billion homes worldwide, in 20 different languages. UFC content is also distributed commercially in the United States to bars and restaurants through Joe Hand Promotions and in English throughout Canada via Premium Sports BroadcastingInc. and in Quebec through Interbox. The UFC also connects with tens of millions of fans through its website, UFC.com, as well as social media sites Facebook and Twitter. UFC President Dana White is considered one of the most accessible and followed executives in sports, with over two million followers on Twitter. Ancillary UFC businesses include best-selling DVDs, an internationally distributed magazine, the best-selling UFC Undisputed® video game franchise distributed byTHQ, UFC GYM®, UFC Fight Club affinity program, UFC Fan Expo® festivals, branded apparel and trading cards.