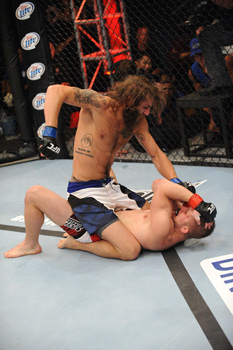 Michael Chiesa TKO's Justin Lawrence
Las Vegas, Nevada - The Ultimate Fighter® Live episode 10 - 'So Real it's Unreal' - aired Friday evening and saw both Team Cruz and Team Faber walk-away with one win apiece. In the first fight of the night Team Cruz' James Vick, of Fort Worth, Texas defeated Pembroke, Massachusetts native Joe Proctor by unanimous decision with scores of 20-18. Team Faber followed this up with a win of their own, as Michael Chiesa of Spokane, Washinton defeated Justin Lawrence of Pacific, Missouri by TKO at 1:02 of the sudden victory round.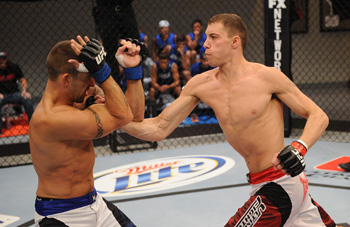 James Vick (r)

UFC President Dana White closed out the episode by announcing the next two quarterfinal match ups, which will air next Friday, May 18, at 10 p.m. ET/PT on FX.

First, Vinc Pichel (#6 Cruz) will face-off against Chris Saunders (#8 Faber) while Andy Ogle (#7 Faber) will meet Al Iaquinta (#1 Faber).

UFC President Dana White:
"I expected a lot more from Lawrence and I underestimated Chiesa. It wasn't that Chiesa's more talented or outworked Lawrence, it was the size of his heart. Lawrence defended the takedowns for a while and did a good job but then Chiesa finally got him down. There was no doubt and no denyingthat if Lawrence kept it on his feet he would have won. Lawrence basically gave up tonight. When you go to that sudden victory round you see who wants thisfight and who wants to continue in this competition - who really wants it! Chiesa went out there and took it.

"And Vick did a good job of fighting his fight tonight. He stayed outside, used his range and used his punches. What Proctor needed to do was get him to the ground to win that fight. He never gave himself a chance to win. He didn't really start fighting until the last 30 seconds of the last round. I had Vick winning both rounds. There's no doubt James Vick was an underdog in this thing when he first set foot in the gym - but now no-one seems to be able to stop him."

Michael Chiesa:
"First off let me say that Justin truly lives up to the hype. He's the toughest person I've ever fought. I'm glad I was able to get the victory. I had to dig deep down to win that fight. Sometimes I think the heart is a lot stronger then we give it credit for."

Joe Proctor:
"Sometimes you're the bug and sometimes you're the windshield. Tonight, I was the bug. It's unfortunate, but I'm going to go back to training hard and hopefully the UFC will be in touch soon."

Team Faber Coach - Urijah Faber:
"To be honest, that wasn't exactly how I thought the night would go but I'm proud of both my guys, and both the guys on the other team too. They put on great fights tonight. This sport is all about who wants itmore and implementing your offense. Tonight I felt like Chiesa won through shear will power, and Proctor lost because he wasn't able to put his offense first. Congrats to Vick and hope Justine Lawrence keeps his head up. He's a young kid with a lot of talent."

James Vick:
"That was the biggest fight of my life and I'm happy that I could come out on top. Joe's a very tough guy. I was surprised he stood up to those punches and I wish him the best. As for me, I'm now one step closer to achieving my dream."

Justin Lawrence:
"I learned a lot about myself tonight. Mike Chiesa has a huge heart and is a hell of a fighter and my hat goes off to him. My adrenaline wasn't where I wanted it to be, but that's no excuse. I still think I'm the best fighter here and I'm not going to quit until I get to the UFC. I think I deserve to be there."

Team Cruz Coach - Dominick Cruz:
"It's pretty awesome to watch Vick stick to game plan, stay composed. He fought an outstanding fight, he even got a takedown but most importantly, Vick made Proctor fight his fight. Lawrence learned an important lesson tonight about why game plans are built and it's to force your opponent to fight your fight. He didn't do that tonight, he fought Chiesa's fight on the ground and lost by fighting in the area that Chiesa had the best chance to win. In my opinion, if that fight, stayed standing like we game-planned, Justin wins three rounds to none."

Both coaches and four remaining quarterfinalists competing on May 18 - Andy Ogle, Chris Saunders, Vinc Pichel and Al Iaquinta - will be available via conference call Wednesday, May 16 at 2 p.m. ET / 11 a.m. PT.

Don't miss the opportunity to catch behind the scenes action by following the fighters on Facebook and Twitter. Find all these links and more on www.ultimatefighter.com.
---
The Ultimate Fighting Championship®
Universally recognized for its action-packed, can't-miss events that have sold out some of the biggest arenas and stadiums across the globe, the UFC® is the world's premier mixed martial arts organization. Owned and operated by Zuffa, LLC, headquartered in Las Vegas and with offices in London, Toronto and Beijing, UFC produces more than 30 liveevents annually and is the largest Pay-Per-View event provider in the world. In 2011, the UFC burst into the mainstream with a landmark seven-year broadcast agreement with FOX Sports Media Group. The agreement includes four live events broadcast on the FOX network annually, with additional fight cards and thousands of hours of programming broadcast on FOX properties FX and FUEL TV. This includes the longest-running sports reality show on television, The Ultimate Fighter®, which now air on FX in an exciting new live format.

In addition to its reach on FOX, UFC programming is broadcast in over 149 countries and territories, to nearly one billion homes worldwide, in 20 different languages. UFC content is also distributed commercially in the United States to bars and restaurants through Joe Hand Promotions and in English throughout Canada via Premium Sports BroadcastingInc. and in Quebec through Interbox. The UFC also connects with tens of millions of fans through its website, UFC.com, as well as social media sites Facebook and Twitter. UFC President Dana White is considered one of the most accessible and followed executives in sports, with over two million followers on Twitter. Ancillary UFC businesses include best-selling DVDs, an internationally distributed magazine, the best-selling UFC Undisputed® video game franchise distributed byTHQ, UFC GYM®, UFC Fight Club affinity program, UFC Fan Expo® festivals, branded apparel and trading cards.