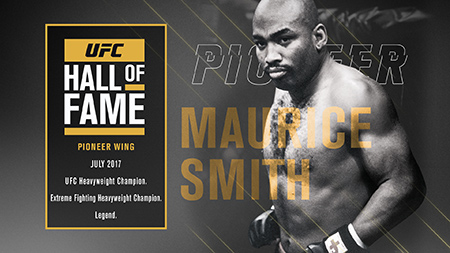 Las Vegas – UFC® today announced that former UFC heavyweight champion Maurice Smith has been named to the 2017 UFC Hall of Fame class as a Pioneer. The 2017 UFC Hall of Fame Induction Ceremony will take place on Thursday, July 6 in Las Vegas. The event will be streamed live and exclusively on UFC FIGHT PASS®.

Smith, the brand's second heavyweight champion and first to make a successful title defense, will enter the UFC Hall of Fame as a Pioneer. The Pioneers era category includes athletes who turned professional before November 17, 2000 (when the unified rules of mixed martial arts were adopted), is a minimum age of 35 or has been retired for one year or more.

"It will be an honor to be inducted into the UFC Hall of Fame and be forever connected to this sport," Smith said. "I was the first world-class striker to win a UFC title because I worked with great training partners to evolve into a well-rounded fighter. I'm proud of the titles I won in MMA, but helping advance the game towards the mixed martial arts of today is my greatest accomplishment in the sport."

Smith made his UFC debut at UFC® 14: SHOWDOWN on July 27, 1997, at the age of 35, where he upset UFC Hall of Famer Mark Coleman, who was 6-0 at the time, by unanimous decision to become the undisputed UFC heavyweight champion. UFC 14 also marked the first event where athletes were required to wear "fingerless" MMA gloves. Smith entered UFC after a brief stint with Extreme Fighting Championships, where he won and defended the heavyweight title. Following his successful defense of the EFC heavyweight title in 1996, the organization ceased operations and his fight with Coleman was deemed a "unification" of both belts, as EFC was an organization competing with UFC at the time.

Although his victory over Coleman was viewed as a huge upset, Smith entered UFC as a 17-year veteran professional of Kickboxing and Muay Thai competition, having also previously fought in Pancrase, where he faced UFC Hall of Famers Bas Rutten and Ken Shamrock. He also participated in PRIDE Fighting Championships® and Strikeforce® during his post UFC-tenure.

Following his victory over Coleman, Smith defeated Tank Abbott to defend his title at UFC® 15: COLLISION COURSE (October 17,1997) before relinquishing his championship to UFC Hall of Famer Randy Couture at UFC JAPAN: ULTIMATE JAPAN (December 21, 1997). Smith's career in the Octagon® totaled seven events with a 4-3 record.

Known primarily as a Kickboxer and Muay Thai specialist, Smith captured the World Kickboxing Association heavyweight (1983), World Kickboxing Council light heavyweight (1983) and International Sport Karate Association World Muay Thai heavyweight (1996) championships, respectively. During his tenure competing in WKA as a heavyweight, Smith spent a decade (1983-93) as the undefeated and undisputed kickboxing champion, making more than 20 successful title defenses.

A native of Seattle, Washington, Smith, while attending West Seattle High School, studied a variety of mixed martial arts disciplines, focusing on kickboxing exclusively and going pro at age 19 in 1980 by joining the World Kickboxing Council. Smith retired from professional competition in 2013 at the age of 51.

The remaining inductees of the UFC Hall of Fame class of 2017 will be announced in the coming weeks leading up to the 6th Annual UFC International Fight Week™, which takes place from Wednesday, July 5 through Saturday, July 8 in Las Vegas.

To view Smith's UFC heavyweight title win over Mark Coleman at UFC 14, please visit: https://www.ufc.tv/video/maurice-smith-vs-mark-coleman-ufc-14

To view the UFC Hall of Fame fight library, please visit UFCHOF. To see a complete list of UFC athletes and fights currently enshrined in the UFC Hall of Fame, as well as details regarding the UFC Hall of Fame format, please visit UFCHOFFAQ. For additional information, please visit UFC.com and follow UFC Fight Week on Twitter @UFCFightWeek.

UFC FIGHT PASS is available on personal computers, Xbox 360, Xbox One, Amazon Fire TV and Amazon devices, iPhone, iPad, Apple TV, Android and Android devices, Chromecast, Samsung Smart TV, LG Smart TV and Roku devices.

About UFC®
UFC® is a premium global sports brand and the largest Pay-Per-View event provider in the world. Acquired in 2016 by global sports, entertainment and fashion leader, WME | IMG, together with strategic partners Silver Lake Partners and KKR, UFC is headquartered in Las Vegas with a network of employees around the world. UFC produces more than 40 live events annually that consistently sell out some of the most prestigious arenas around the globe, while programming is broadcast in over 152 countries and territories to more than 1.1 billion TV households worldwide in 35 different languages. UFC FIGHT PASS®, a digital subscription service, delivers exclusive live events, thousands of fights on-demand and original content to fans around the world. For more information, visit UFC.com and follow UFC at Facebook.com/UFC, Twitter, Snapchat and Instagram: @UFC.