UFC 215 LIVE FROM ROGERS PLACE
IN EDMONTON, CANADA ON SATURDAY, SEPTEMBER 9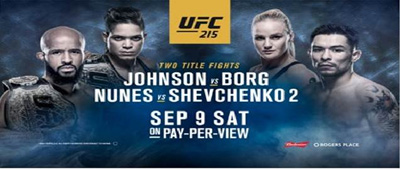 Edmonton, Canada - On Saturday, September 9, UFC® flyweight world champion and pound-for-pound great Demetrious Johnson will look to keep his belt a record 11th time and pass legend Anderson Silva in the record books for most successful title defenses. Johnson, the only champion the division has ever known, squares off against surging prospect Ray Borg who is relishing the opportunity to play spoiler on this historical evening. Adding to the excitement is a co-main matchup, which pits champion Amanda Nunes versus Valentina Shevchenko for supremacy in the women's bantamweight class. Originally scheduled to clash in July, anticipation has built to crescendo as fans finally get to see two of the most fearsome strikers go head to head. Ahead of the highly anticipated UFC® 215: JOHNSON vs. BORG, these four fighters set to feature in the headlining bouts share their thoughts and predictions: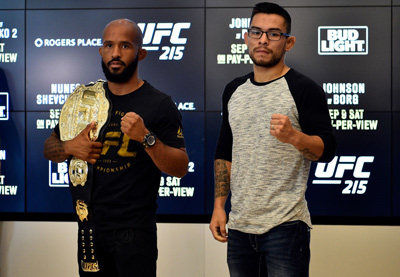 Demetrious Johnson:
"I expect a war. Ray Borg is tough, he's young and you always expect a war. I've always expected wars in any of my fights.".

On breaking the record.
"I don't think about it a lot and I don't let it weigh on me. As an athlete, you have to stay focused and you have to go out there and execute what you've been doing in the gym for eight or 10 weeks. Once I solidify that and attain it, ask me at the press conference.

It doesn't make more nerves. I've wrestled in front of people like that. I've also fought in front of sold out crowds before. But I'm absolutely grateful that the people in Canada have come out and shown their support and sold the place out.

I got my ESPY. It came that Wednesday when I got back home. I put Dave Lockett in charge and Dave got it for me. I'm happy about it. It showed up in a box, in the mail. It's right next to my Black Panther mask."

On Borg saying he wants to win more.
"I think the last 10 men have had the same mindset. See how far that got them?"

On Borg saying he'll grant DJ a rematch if he wins.
"That's very generous. Wilson Reis said the same thing."

On what fans can expect watching him fight.
"Probably one of the greatest mixed martial artists to ever do it. I'm very fluid in my transitions, I can fight anywhere and I've beat the best."

On saying DJ's run isn't as impressive as Anderson's.
"How can you say Joseph Benavidez is not better than Nate Marquardt? Kyoji Horiguchi is over there kicking ass in Japan. I think Kyoji Horiguchi has a better skill set than Dan Henderson. Dan Henderson only has a right hand bomb and wrestling. Let's go down the line. How can you say John Dodson doesn't have a better skill set than Chael Sonnen? Really? Let's not f**king kid ourselves guys. John Dodson is an amazing athlete. I could just go down the list. Like I said, that's just the public perceiving certain things.".


Ray Borg
"I think he knows it's not going to be an easy fight for him. I'm going to be in his face for 25 minutes, if it goes that long. I'm not going to stop and I'm not going to give up. It's going to be a night of hell. I think he knows I possess different strengths than a lot of his former opponents. I think he knows he's in for a rough night."

On Demetrious.
"I think what makes DJ unique as a fighter, people are going to say his cardio - which it is - but I think what people don't give him credit for, something that's hard to do in a fight, is his I.Q. He has the ability, in the middle of a fight, to change things to not lose. If he's getting taken down with single legs he has the I.Q. to fix it on the spot. It's something we've prepared for going into this fight.

I think I'm prepared for everything he brings to the table. He really isn't going to show me anything or do anything to me that I haven't seen before; that I haven't prepared for or seen in sparring or in a fight. No matter what he changes in his outlook on the fight or no matter what he does in the fight, I feel like I'll be prepared in those positions."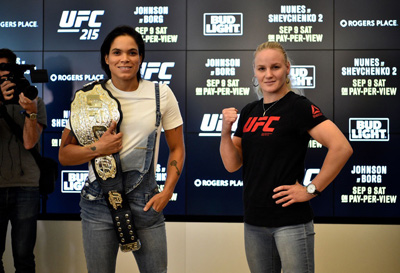 Amanda Nunes
"I don't know why people put MMA on another level or a different category. If a soccer player feel like his calf muscles (are hurt), he sits and waits until he's 100 percent. Nobody talks shit about him because they know what he's feeling. Why can't MMA be like that? This is a sport as well. We have to use our whole body. We're not only running or using just our hands or legs. I made the right decision. I'm the best on the planet right now and I'm a target for a lot of people. I'm ready to go through everything because I'm the champion.

I'm focused, I love training and I love stepping into the Octagon and doing my best. I think every time I step in there, eventually people are going to remember everything that I did. This is normal. It is what it is and you have to move forward. I always move forward, whatever happens in my career.

This fight is awesome. I think the other opponents fall into Valentina's game plan. This makes it difficult to for the other girls to beat Valentina. You have to make Valentina fight your game plan. You have to be smarter than her. I am and she knows that I am. That's why she says all those weird things. She knows I will beat her. I'm better than her everywhere and I will prove that Saturday."

On struggling later in fights.
"People who have been watching me they think this is my weakness. I fought Valentina and I beat her before. Ronda (Rousey) was the same thing and people were wrong. I can't say anything I have to show it."


Valentina Shevchenko
"Now she can find any excuse in the world. Why was she feeling so bad? She cut too much weight in 24 hours. I don't believe in this reason of sinuses or anything else. It's very unbelievable.

I have my point of view and I have my opinion. I will not change my mind because she has demonstrated a few times how easy she changes her mind. She's acting like she's dependent on the fans and what they want to hear.

Her cardio doesn't matter because I'm not thinking about this fight in that context. No, I will win this fight because of everything. I was preparing for this fight very hard. I had very great training in my preparation for this fight. I will do all my best to fight with all my heart and think about nothing more. She can be confident for now, but once the door closes in the Octagon it will be totally different.

Just one prediction: I will do everything to win this fight."


For more information or current fight news, visit ufc.com. All bouts live and subject to change.

Tickets for UFC® 215: JOHNSON vs. BORG go on sale Friday, July 28 at 10 a.m. MT and are priced at $379.75, $253.16, $126.58, $94.94, $63.29, (plus additional fees). Tickets are available for purchase via Ticketmaster.ca and limited to eight (8) per person.

UFC® 215: JOHNSON vs. BORG will be available live on pay-per-view on Saturday, September 9 at 10 p.m. ET/7 p.m. PT on UFC.TV, iN DEMAND, DirecTV, DISH Network, Vubiquity, and in Canada on BellTV, Rogers, Shaw Communications, Sasktel, and Canal Indigo for a suggested retail price of $49.99 US/CAN for Standard Definition and $59.99 US/CAN for High-Definition.

Since 2008, the UFC has staged 23 events in the Great White North, across nine different cities – Calgary, Halifax, Montreal, Ottawa, Quebec City, Saskatoon, Toronto, Vancouver and Winnipeg. Edmonton now becomes the 10th Canadian city to host a UFC card. UFC events have set single-day event gate records in five Canadian venues: Calgary's Scotiabank Saddledome (UFC 149), Montreal's Bell Centre (UFC 124), Ottawa's The Arena at TD Place (UFC Fight Night), Toronto's Rogers Centre (UFC 129) and Winnipeg's MTS Centre (UFC 161).
---
About UFC®
UFC® is a premium global sports brand and the largest pay-per-view event provider in the world. Acquired in 2016 by global sports, entertainment and fashion leader, WME | IMG, together with strategic partners Silver Lake Partners and KKR, UFC is headquartered in Las Vegas with a network of employees around the world. UFC produces more than 40 live events annually that consistently sell out some of the most prestigious arenas around the globe, while programming is broadcast in over 163 countries and territories to more than 1.1 billion TV households worldwide in 35 different languages. UFC FIGHT PASS®, a digital subscription service, delivers exclusive live events, thousands of fights on-demand and original content to fans around the world. For more information, visit UFC.com and follow UFC at Facebook.com/UFC, Twitter, Snapchat and Instagram: @UFC.