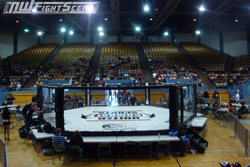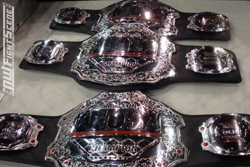 United Combat Sports - the 2x winner of the NW Fightscene MMA Pro Promotion of the Year for Oregon - took over the Salem Armory April 28th with their latest installment, dubbed "Cage Wars". The action-packed night featured 11 bouts, including three title fights. In the Main Event for the USC Pro Featherweight Title, Enoch "The Animal" Wilson out of KO Fitness/Animal House made short work of "Precious" Roy Bradshaw, finishing Bradshaw at 2:03 in the first round by armbar.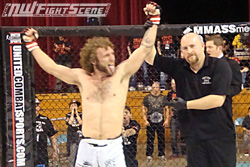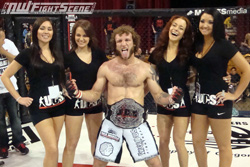 The Fight of the Night came in the co-main event for the Amateur UCS Featherweight Title, between Team Chaos fighter Andy Pickett & Universal fighter Jess Moore. Pickett came out fast, going after the takedown. But Moore wasn't going to just lie there and proceeded to fire off his back, being very active. Though Moore's gound was extremely busy and dangerous, Pickett was relentless in his ground attack and kept getting top position. This fight was one for the ages, both men giving it their 110%. Yet someone had to win and in the end, two of the three judges awarded it to Andy Pickett by split decision.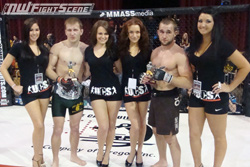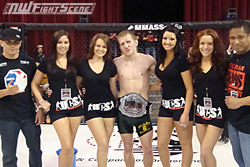 The Amateur Welterweight title was on the line and Team Quest Tualatin fighter Jose Rodriguez used his size & strength in that patented TQ ground & pound to soften opponent Ryon Harris up before sinking a triangle choke at 2:10 in the 3rd round. Jose was smart and didn't take much damage, but inflicted a ton before finishing Harris with the choke. He spoke with NWFS afterwards about his amazing story of losing weight before getting into the cage... check it out!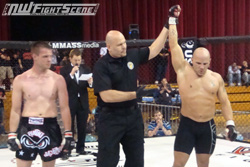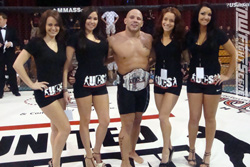 Another Team Quest fighter on the card and teammate to Rodriguez was fighter Zane Behrend, fighting at 155lbs. He had a last minute opponent change in Team Chaos fighter Chico Sosa but this didn't seem to matter to the heavy handed Behrend. He came out with seriously bad intentions and put Sosa on his back, pounding away until the referee had to step in and stop the fight at 1:52 by TKO.
My runner up for fight of the night was Art of War's Pat San Jose vs Team Chaos' Steve Lantry. This was an extremely high paced affair as is to be expected when the 125lbers throw down. Yet, it was the technicality in this fight that was something amazing to see. Lantry went right after San Jose to get him to the mat and more than once got good position in the scrambles due to his lightning quick takedowns and aggressiveness for the ground. However, San Jose's ability to land strikes while shucking a takedown, scrambling, and getting Lantry in bad positions, plus his pure ability to just get off the ground and NOT let Lantry keep him there, I believe won him the fight. In the end, two of the three judges saw it for San Jose, giving him the victory by split decision.
Learn more about UCS at unitedcombatsports.com
---
Pro Featherweight Title
Enoch Wilson def Roy Bradshaw by Armbar @ 2:03 Rd 1
Amateur Featherweight Title - "Fight of the Night"
Andy Pickett def Jess Moore by Split Decision
Amateur Welterweight Title
Jose Rodriguez def Ryon Harris by Triangle Choke @ 2:10 Rd 3
Zane Behrend def Chico Sosa by TKO (ref stop) @ 1:52 Rd 1
Dean Walters def Dakota Kamna by TKO (ref stop) @ 2:13 Rd 2
Romaine Brooke def Evan Schlechter by Standing RNC @ 0:34 Rd 1
Jason Gray def Graham Nelson by Unanimous Decision
Pat SanJose def Steve Lantry by Split Decision
Derek Clevenger def Kevin Dill by Arm-Triangle Choke @ 0:41 Rd 1
Luis Lopez def Cayler Brown by TKO (ref stop) @ 2:37 Rd 2
Jake Shelton def Josh Connelly by TKO (ref stop) @ 2:57 Rd 1
---