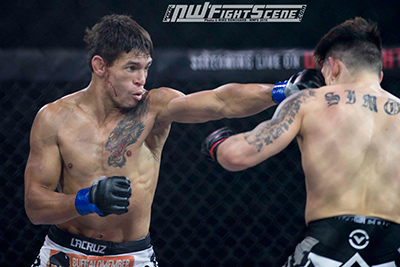 Vancouver's Ricky Simon battles Brazilian fighter Anderson dos Santos in the Main Event
TITAN FC returned to the Pacific NW for a 2nd time on March 4th, setting up shop again at the Clark County Event Center in Ridgefield WA for Titan FC 37. An excellent 10-bout pro fight card showcased top-level talent from around the country and beyond for local fight fans in the house and those watching live on UFC Fight Pass. Six of the Pacific NW's top fighters were included on the card: former Titan FC 155lb Champ Pat "Bam Bam" Healy, Jason Novelli, Austin Arnett, Gabriel Solorio, Ben Egli and Ricky Simon. In the main event, Vancouver WA's Simon put his undefeated 7-0 record on the line, taking on Brazilian fighter Anderson dos Santos in an 135lb contest.

Simon had success early with his standup, landing the cleaner punches, before taking dos Santos down midway through the round and working in some punishing shots on the ground. dos Santos scrambled to his feet and Simon came at him with some hard punches before nailing a big takedown. Simon finished out the first round connecting on the ground with big elbow strikes, punches, and a knee to the body.

In the 2nd, Simon tagged dos Santos a number of times in a wild exchange, before again taking dos Santos down, landing more elbows and then a series of knees to the body. The fight went back to the feet where Simon shot in with a flying knee to dos Santos chest. In the next exchange, dos Santos floored Simon with a hard right and then immediately took his back and sunk a rear naked choke that put Simon to sleep at 2:38 of the 2nd. Spectacular finish from dos Santos.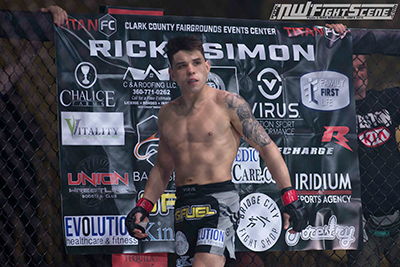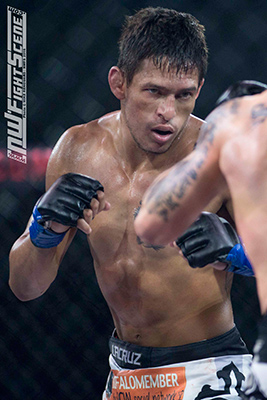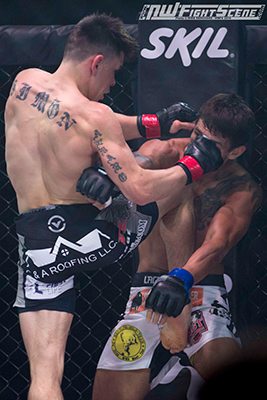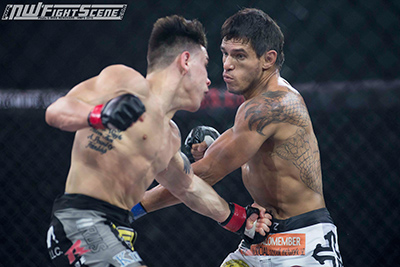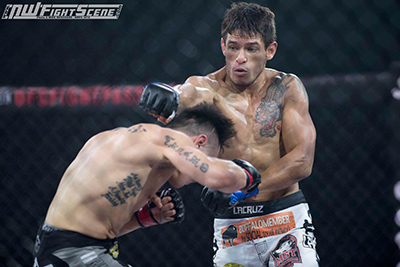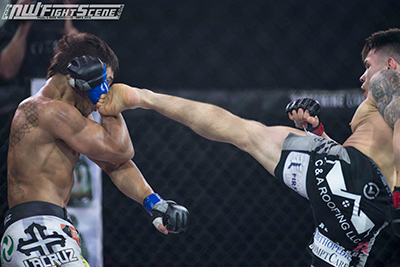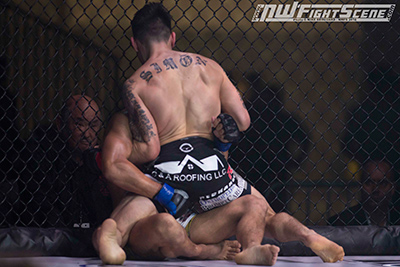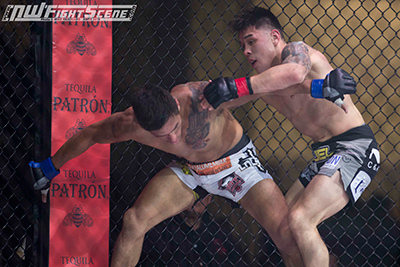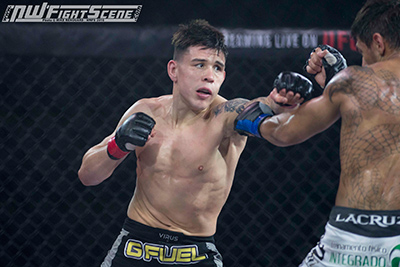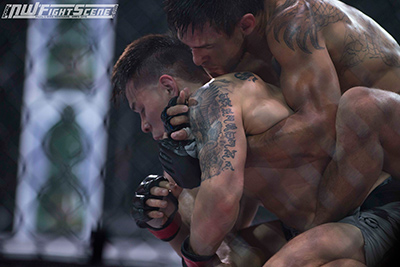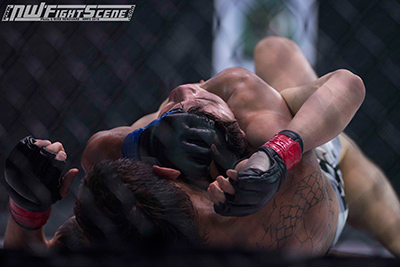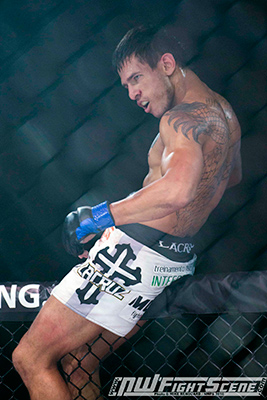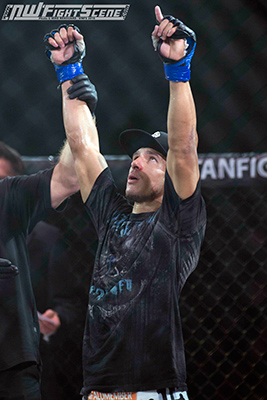 The game plan was evident for Portland's Pat "Bam Bam" Healy in his lightweight bout with Savannah Georgia's Muhsin Corbbrey: cut the angles, wade in with a hard punch or two, get an immediate takedown, and then punish his opponent with serious ground and pound. In the first round, Corbbrey was able to scramble back to to his feet on the first few Healy takedowns. But midway through the round, Healy set Corbbrey on the mat and went to work, working in hard elbows and punches as he kept Corbbrey in bad positions. In the 2nd and 3rd rounds, Healy got early takedowns and it was more of the same with his ground striking. In the final minute, Corbbrey went for an ankle lock submission, with Healy mirroring the move. After 15 minutes of fighting, Healy took home the decision with scores of 30-27 across the board.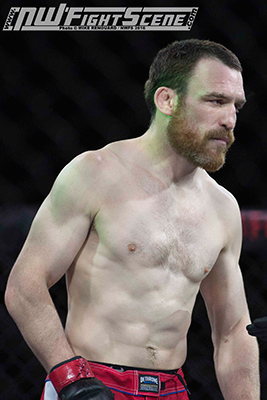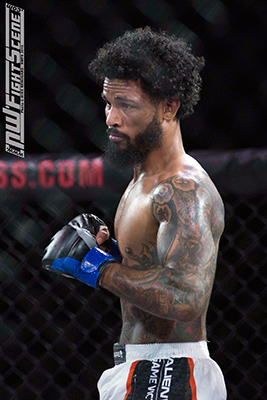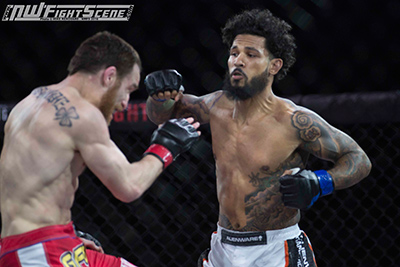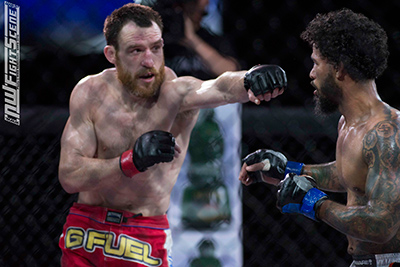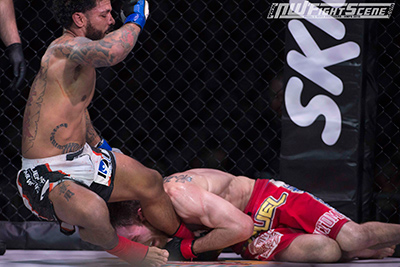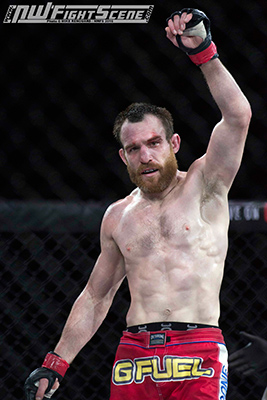 Portland's Jason "Flipside" Novelli took another big step forward in his MMA journey, beating Strikeforce vet Zak "Crash" Bucia by unanimous decision. In the first round, the fighters spent a lot of time measuring each other's defenses, dancing outside the pocket and moving forward with probing attacks. Novelli found some success with his kicks towards the end of the round. In the 2nd, Novelli held the center of the cage and turned up the heat, stalking Bucia, cutting down angles and upping his striking. Towards the end of the round, Bucia caught a Novelli front kick and skillfully took Novelli's back and got the takedown. Bucia threw numerous short punches to Novelli's head to open up the rear naked choke, but Novelli defended to the bell.

In the final frame, Novelli connected with a hard left but Bucia ducked under his next punch and took Novelli's back. Novelili defended against the cage, carrying Bucia on all fours, and then eventually scrambling his way to top position. From there, Novelli went to work, staying heavy on Bucia while dropping in punches and hard elbows to close out the fight. After 15 minutes of action, all three judges had it 29-28 for Novelli who moves to 11-1 as a pro.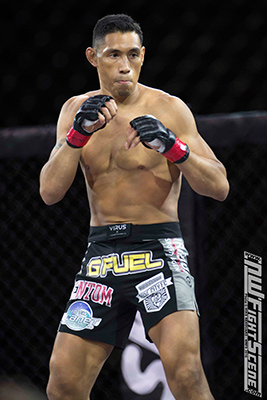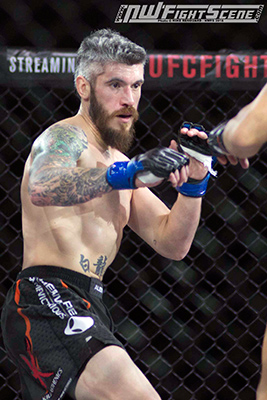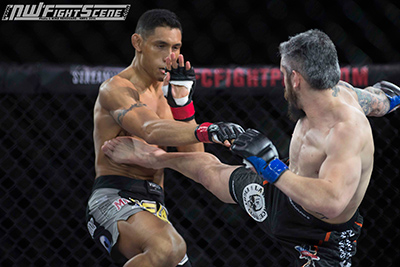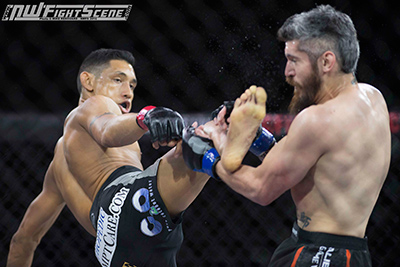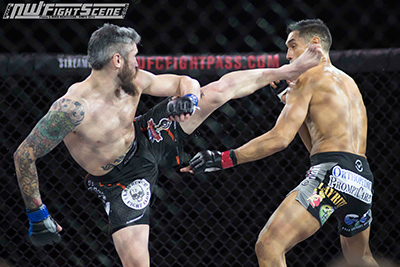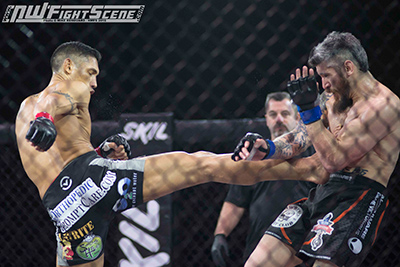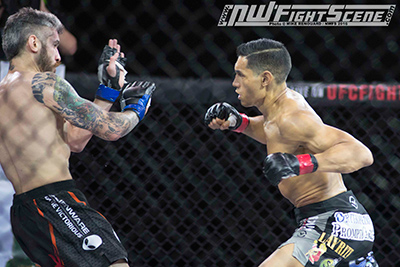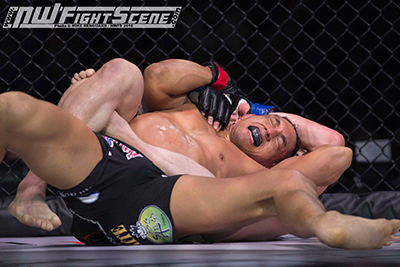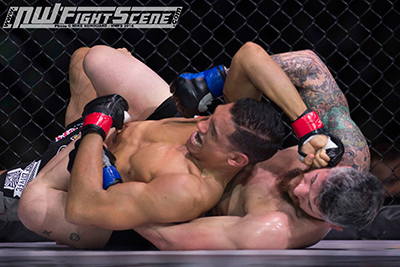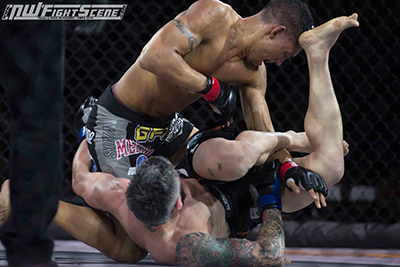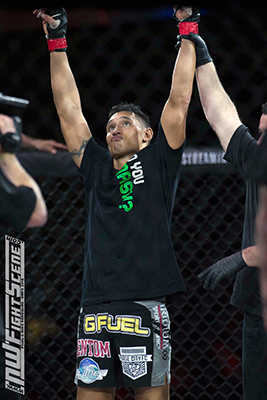 Seattle's Gabriel Solorio took advantage of his late replacement status on the big stage by getting a decision win over Anthony Gutierrez in a 143 lb catchweight bout. Solorio has a wealth of cage experience, fighting MMA professionally since 2008, and more recently has started to compete in pro boxing. This experience was on full display in the first round as Solorio battered Gutierrez with some crisp standup. Solorio was continuously coming forward and mixing up his offensive forays with big kicks, followed by a 2 or 3 punch combination. Gutierrez would counter with a single leg kick or punch thrown, but the round belonged to Solorio.

The 2nd saw an early takedown by Gutierrez and then tried to take Solorio's back for a rear naked choke. Solorio defended though and eventually stood back up, punishing Gutierrez with big shots in a couple exchanges. Gutierrez pulled guard and was active on the bottom with elbows, but Solorio stayed on top and worked in his own elbow shots. In the final round, Gutierrez got a takedown and worked his ground and pound. Solorio though, was looking for the armbar and almost nailed it with a couple minutes left in the fight. Gutierrez scrambled free and back up to top position for more striking. The round ended with both fighters scrambling for position. After 15 minutes of action, two of the three judges had it 29-28 for Solorio, and the third 29-28 for Gutierrez, giving Solorio the split decision victory.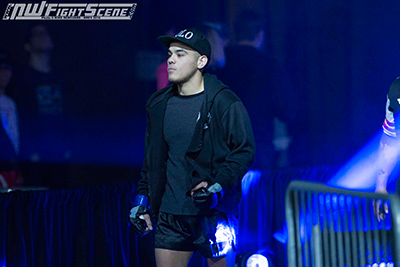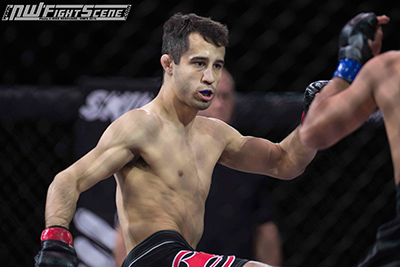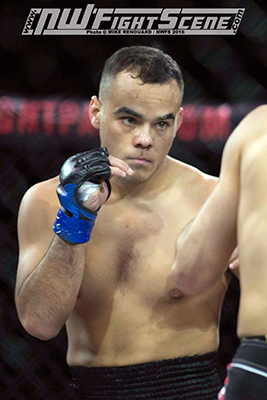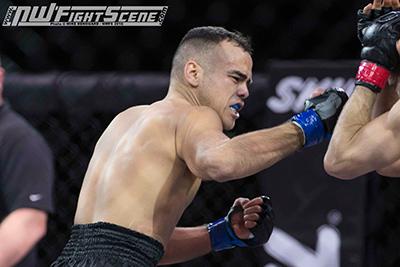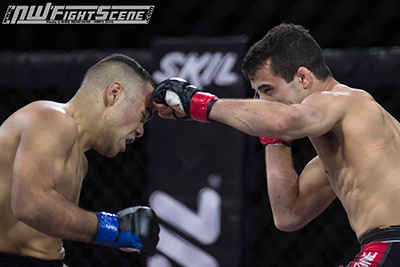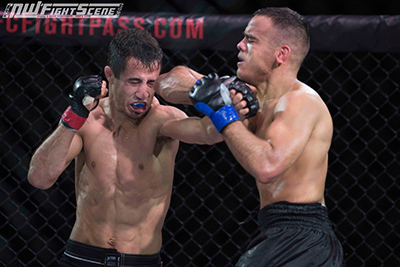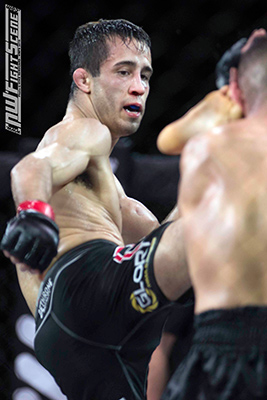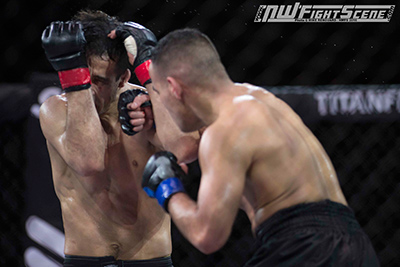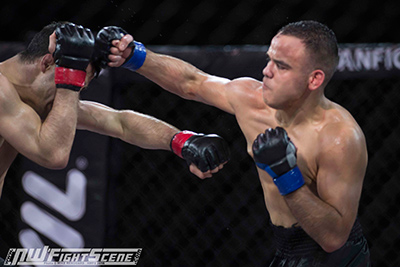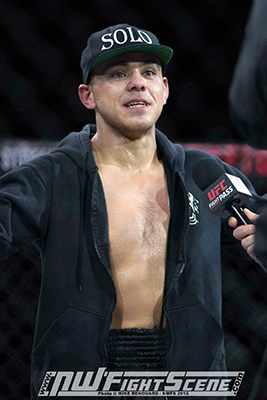 Lewiston Idaho's Austin "The Golden Boy" Arnett won his biggest pro fight to date with a solid three round performance en route to a unanimous decision over Dave Burrow. The first round started out methodically on the feet, with Arnett scoring throughout with a stiff left jab and keeping Burrow at distance with timely front kicks. Burrow found Arnett's lead leg with his kicks and later landed a nasty uppercut. Arnett countered with another hard left that staggered Burrow and followed with a flurry against the cage that opened up a cut over Burrow's right eye. Round 2 saw Arnett again utilizing his left jab. Burrow connected with a big overhand right but when he went to clinch up for a takedown, Arnett was ready, grabbed Burrow's neck and got a takedown of his own. Arnett worked in elbows to the body from side control before taking back mount and dropping in hard punches to Burrow's head. Arnett tried for the rear naked on a few occasions but Burrow defended, so Arnett kept up the punishment with his strikes.

In round 3, Burrow came out with some urgency, loading up with combos and trying to land the occasional high kick. Arnett was countering with his left hand but Burrow moved in on a clinch, landing a big knee and then scoring with short hard punches to Arnett's face. Arnett took the punishment, losing the round, but winning the war with one judge seeing it 29-27, and two calling it 29-28, all for Arnett who moves to 13-2 as pro with the win.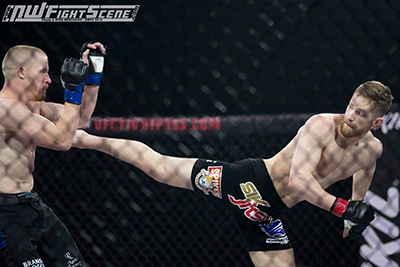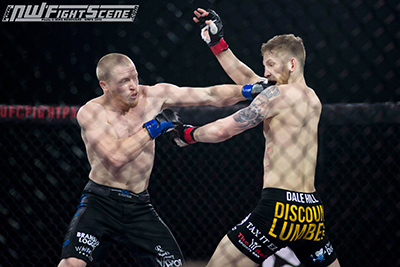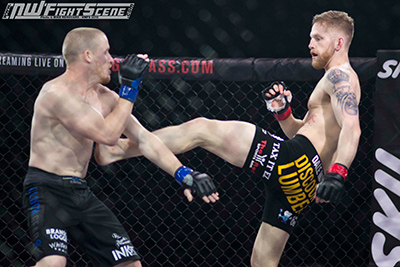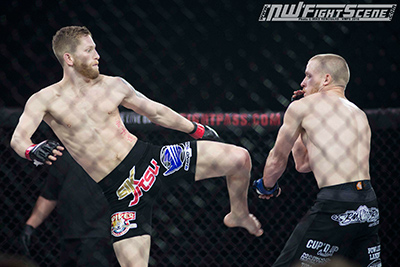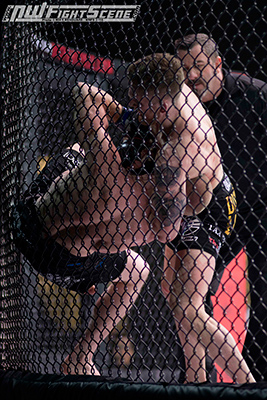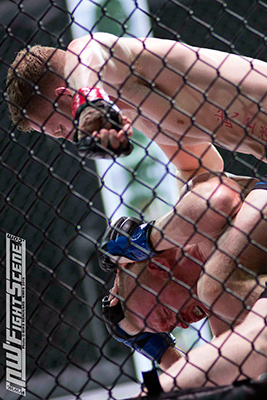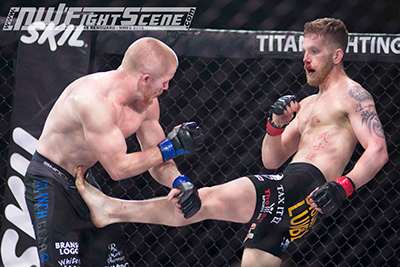 In the 170 lb weight class, Tigard OR's Ben Egli put his undefeated record on the line against Bellator vet EJ Brooks. In the first round, Egli had the edge in the standup, finding a home for his strikes. Brooks though also was mixing it up on the feet and he was able to take Egli down, though not keep him there, numerous times. In the 2nd, Egli again had the edge with the standup, but Brooks late takedown and a little more intense ground and pound sealed him the round.

In the 3rd round, Egli was unable to maintain a sustained attack against Brooks, looking a bit fatigued. About a minute in, Brooks clinched up with Egli and pushed him against the cage, utilizing foot stomps and short knees in preparation for a takedown. Egli moved away from the cage and Brooks was instantly on him, dropping to the mat, where he peppered Egli with short punches. Egli had little left in the gas tank and was unable to break the position to the end of the fight. The judges decision was announced, all three seeing it for Brooks 30-27. A tough loss for the 28-year-old Egli who moves to 6-1 as a pro.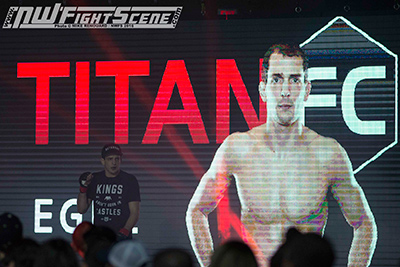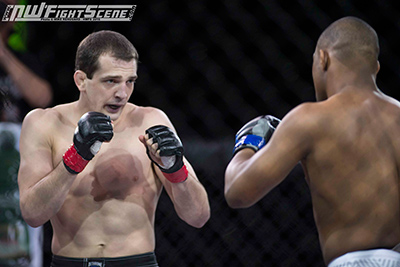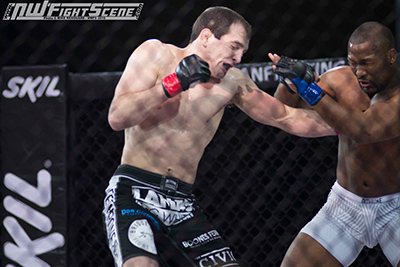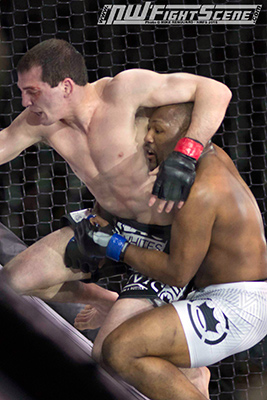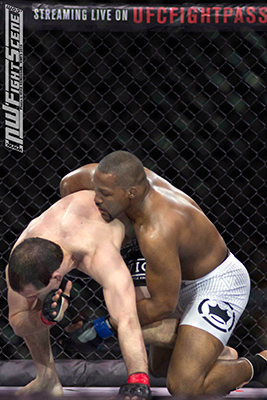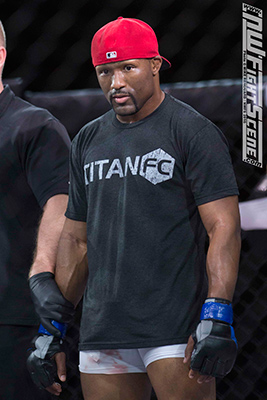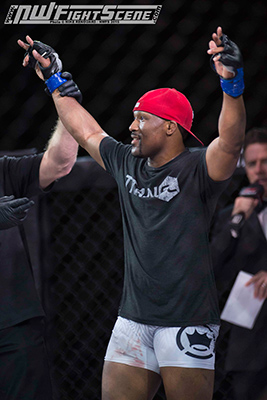 New York's Andre Harrison retained his Titan FC Featherweight title with a hard fought decision win over veteran Utah fighter Steven Siler in the closest bout of the night. Harrison's numerous takedowns and top control won him the day, but Siler stayed competitive the entire 5 rounds, attempting numerous submissions which Harrison had to battle his way out of each time. After 25 minutes of fighting, two judges saw it 49-46 for Harrison, and the third called it 48-47 for Siler, giving Harrison the split decision victory.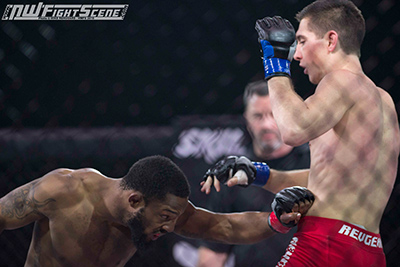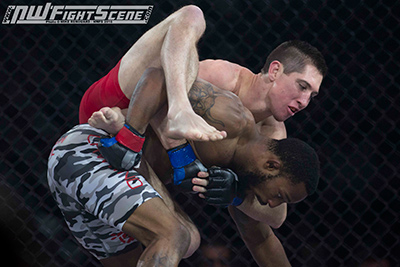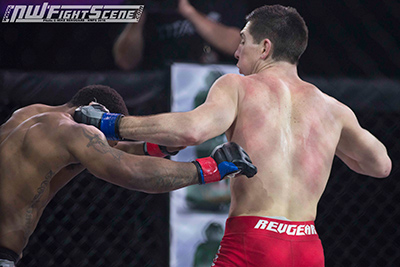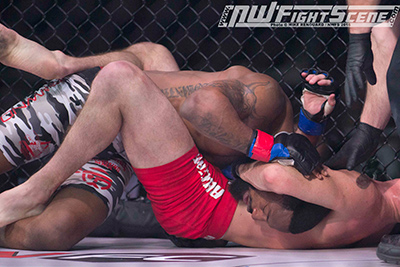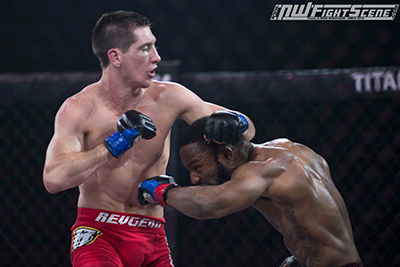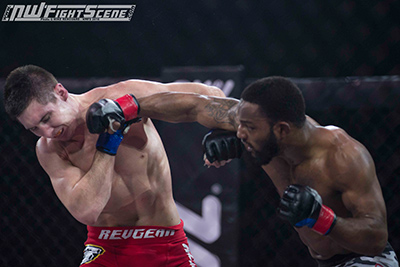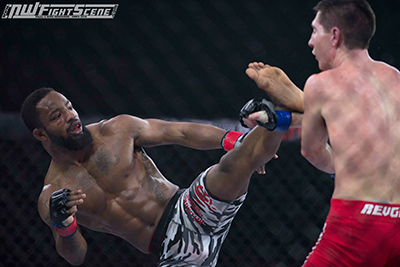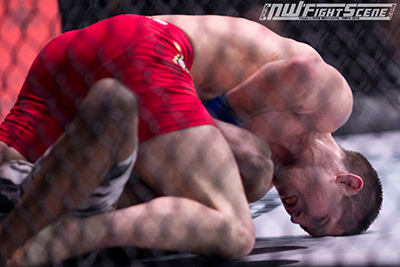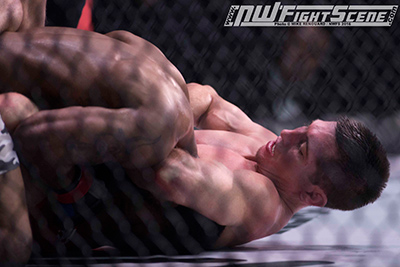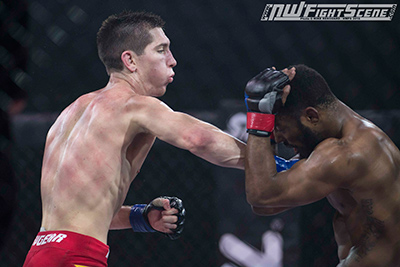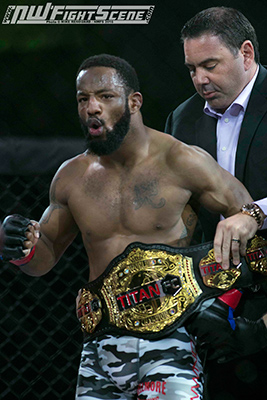 Missouri fighter Tim Elliott defended his Titan FC Flyweight Title with an impressive 5-round unanimous decision victory over Brazilian Pedro Nobre. The action was non-stop early on, with Elliott stalking Nobre around the large Titan FC circular cage with his unorthodox style, moving forward with hard left jabs and then knees from the clinch, followed by big body kicks, and a couple nice takedowns. Nobre connected on a couple of counters that seemed to stagger his opponent, but Elliott recovered quickly and went on to dominate over the rest of the fight, garnering a unanimous judges decision 50-45, 50-46, 49-46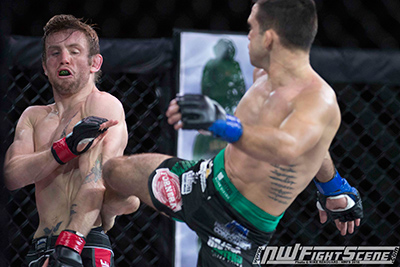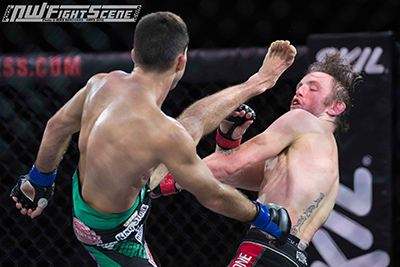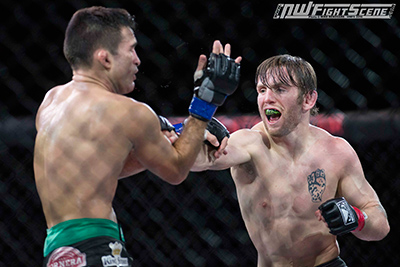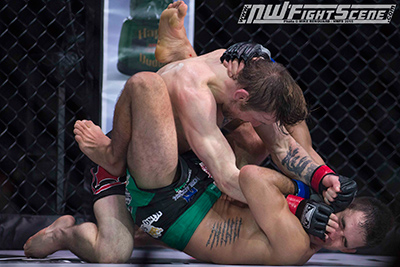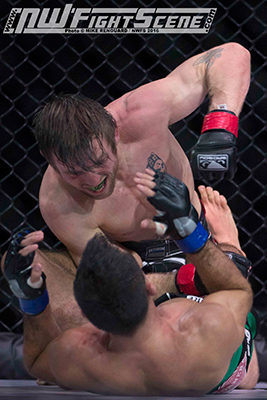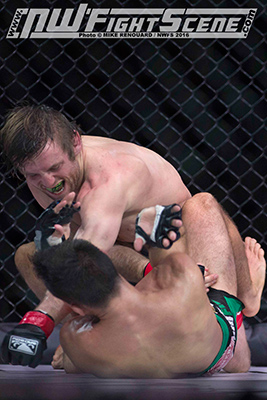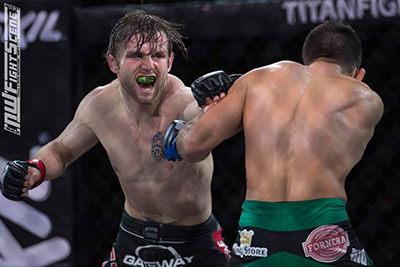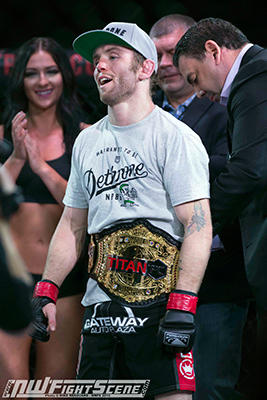 Missouri fighter Grant "The Prophet" Dawson looked impressive in beating Robert Washington of St Louis by 2nd Rd TKO to remain undefeated at 9-0. Once the fight went to the ground in the first round, Dawson absolutely punished Washington with his striking attack. Washington somehow survived but could not weather a similar storm in the 2nd, with the referee stoppage coming at the 2:08 mark.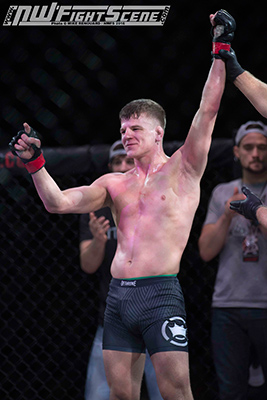 23 year old Jose Torres won his pro debut in style against Travis Taylor. The two traded hard leg kicks for a minute or so before Torres shot in and got a takedown against the cage. On the ground, Torres latched hold of Taylor's neck, stood up, lifting Taylor with him, and immediately got a tap from the guillotine at 2:09 of the first.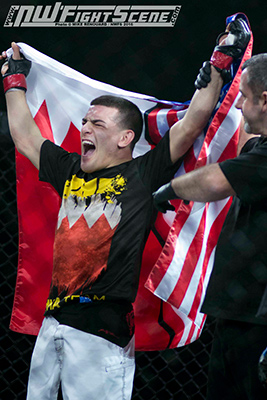 Learn more about Titan FC and their upcoming events at titanfighting.com.