NW Fight fans are in for a treat on Friday March 4th as Titan Fighting Championship returns to the Clark County Fairgrounds in Ridgefield WA, just 20 miles North of Portland, with Titan FC 37. The all-pro 10-bout card airs live on UFC Fight Pass at 5 PM PT, is absolutely stacked with top-level national talent, features 3 powerhouse title fights, and highlights the lighter weight classes with all the bouts, save one, at 155 lbs or less.

Six super-talented NW fighters - veterans and rising stars among them - feature heavily on the Titan FC 37 fight card in Ricky Simon, Pat Healy, Jason Novelli, Ben Egli, Austin Arnett, & Gabriel Solorio. The undefeated Ricky Simon will headline the event and will fight for the vacant Titan FC Bantamweight belt.
---
Ricky Simon (7-0) vs Anderson dos Santos (13-3)
The Titan FC 37 main event features Portland OR's own Ricky Simon who will fight Anderson dos Santos for the vacant Titan FC 135 lb Title. The 23-year-old Simon has amassed 7 straight wins after turning pro 2 years ago and with each fight, Simon has stepped up in competition. He was picked for the Titan FC title shot following his most recent win over Alex Soto at Titan FC 35 this past September. Simon faces a late replacement in seasoned Brazilian fighter Anderson dos Santos, who went 1-2 in 2015, most recently suffering a TKO loss in December.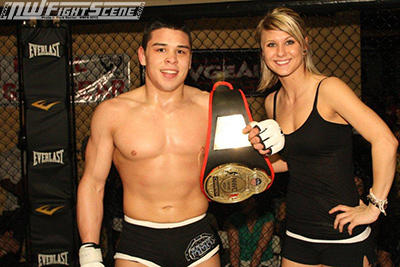 Ricky Simon wins the NWC amateur title in Vancouver WA in April 2012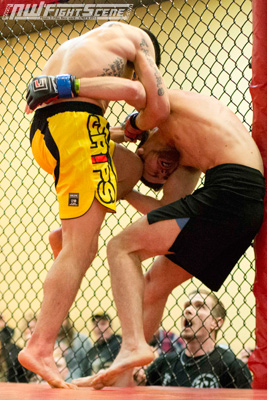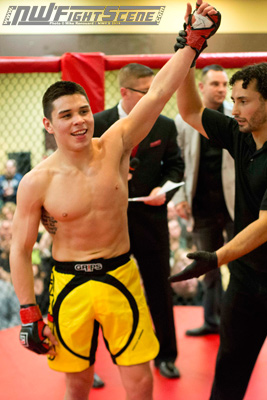 Ricky Simon winning his pro debut in Vancouver WA in Jan 2013
---
Pat Healy (32-21) vs Muhsin Corbbrey (14-8)
The always dangerous and durable Pat "Bam Bam" Healy is THE veteran on the card with over 50+ pro fights to his name, dating back to 2001, including stints with the UFC, Strikeforce, and the IFL. The 32-year-old Salem OR native has fought three times for Titan FC. He won the Titan FC 155 lb belt his first time out, defending it sucessfully once, before having the belt stripped due to missing weight in his last fight in September against Rick Hawn. Healy wound up losing the fight to Hawn by decision and looks to get back on the winning track with this fight at Titan FC 37. Healy's opponent is 37-year-old South Carolina fighter, Muhsin Corbbrey, who enters the bout on a 4 fight win streak.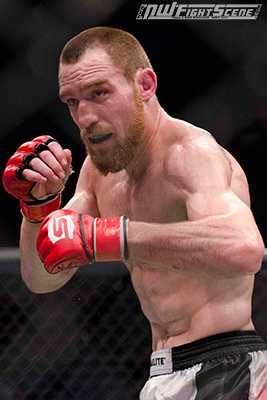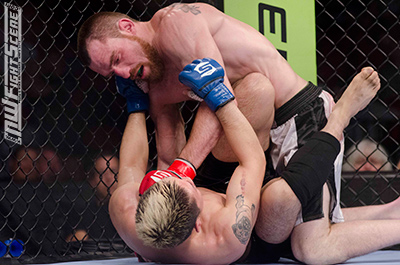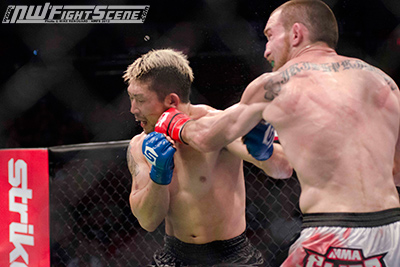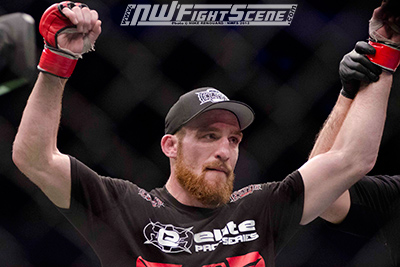 Pat Healy wins in Portland OR for Strikeforce in July 2012
---
Jason Novelli (10-1) vs Zak Bucia (15-6)
PDX based Jason "Pepsi" Novelli has been a busy fighter since turning pro in 2013, going 10-1 in that time with a mix of explosiveness, cage saavy, mad skills, and pure athleticism. Its hard to see any signs of age on the 36 year old prospect, Novelli coming to every fight in tip-top shape. Novelli will battle Kansas fighter Zak Bucia who most recently KO'd Jose Landi-Jons this past July.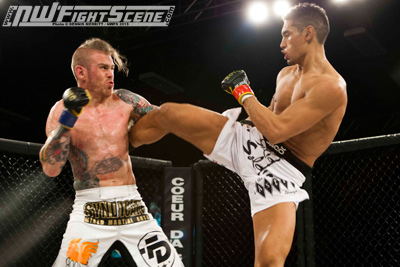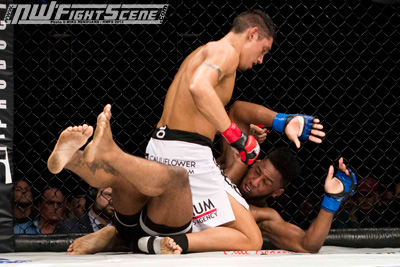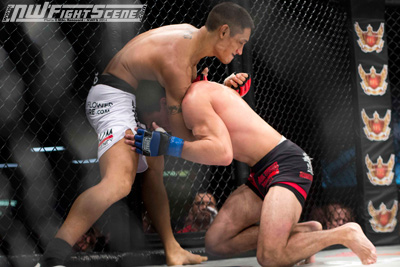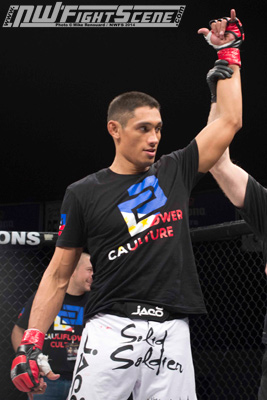 Jason Novelli in action around the Northwest
---
Ben Egli (6-0) vs EJ Brooks (8-5)
Portland's Ben Egli has been methodically picking his fights and quickly dismantling his opponents since turning pro in 2013, garnering 5 first round submission wins and most recently a 1st round KO win in June of last year. Egli will take on Bellator veteran EJ Brooks in a 170 lb contest. Brooks enters having lost 4 of his last 5 fights.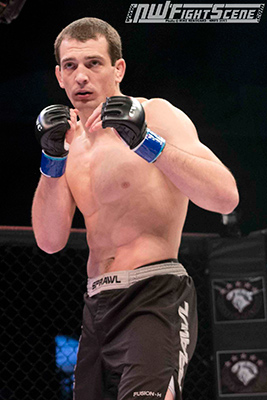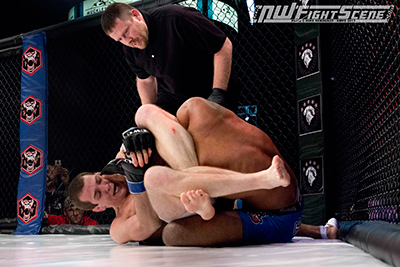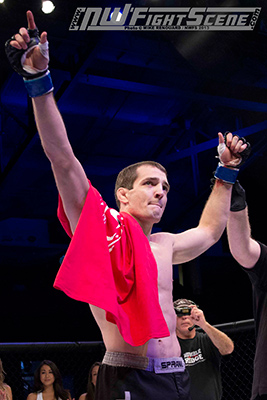 Ben Egli winning his pro debut in Kent WA in Nov 2013
---
Austin Arnett (12-2) vs Dave Burrow (14-6)
Perhaps the hottest fighter on the card in terms of victories is streaking Austin Arnett who has won 8 straight, including 2 straight title fights for ExciteFight at 145 and 155 lbs. The 24-year-old Lewiston ID fighter is dangerous whereever the fight goes and is looking for his opportunity to shine on the big stage. Arnett moves up to 155 lbs to face 24-year-old Dave Burrow out of Arkansas.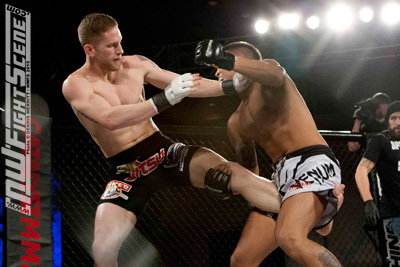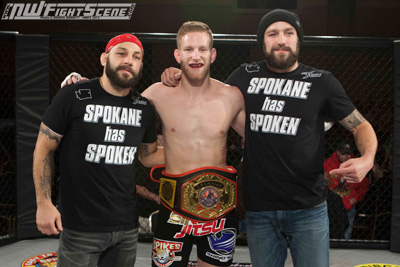 Arnett wins the ExciteFight 145 lb belt in Spokane in Oct 2015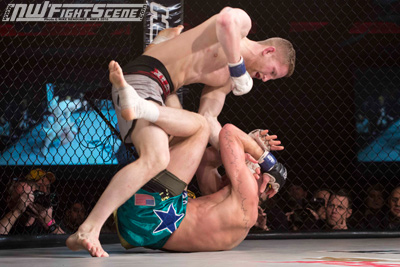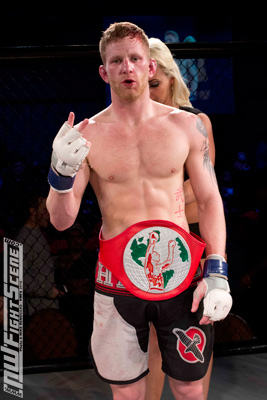 Arnett wins the ExciteFight 155 lb belt in Tulalip WA in Jan 2016
---
Gabriel Solorio (12-11) vs Anthony Gutierrez (7-2)
Veteran NW fighter Gabriel Solorio steps in as a late replacement to take on Missouri's Anthony "Sharkbait" Gutierrez in a 135 lb contest. Solorio has been fighting professionally on the West Coast circuit since 2008 and always brings an intense, entertaining style of fighting to the cage.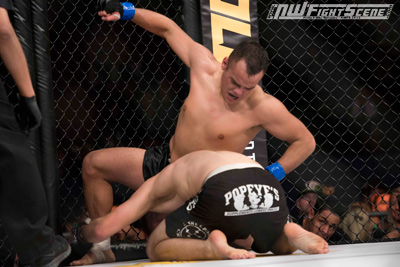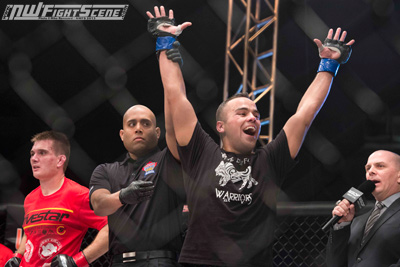 Gabriel Solorio in action

---
Titan FC 37 goes down Friday March 4th at the Clark County Event Center located at 17402 NE Delfel Rd in Ridgefield WA. Parking is $6/vehicle, cash only. Doors open at 4:30 PM, fights begin shortly after 5 PM PT, which is when the live UFC Fight Pass broadcast begins. More info at titanfighting.com.