Thunder & Lightning - October 7th, 2017
Clearwater River Casino - Lewiston, Idaho
Results courtesy of the promoter
---
Frank Arnett's Thunder & Lightning Pro/Am MMA series continued on October 7th at the Clearwater River Casino in Lewiston Idaho with a 11-bout card that included 4 pro matchups and 2 amateur title fights.

In the main event, 22-year-old Mark "Marky Mark" Coates improved his pro record to 8-4, subbing Brandon Sly with a phantom choke just over a minute into their bantamweight contest.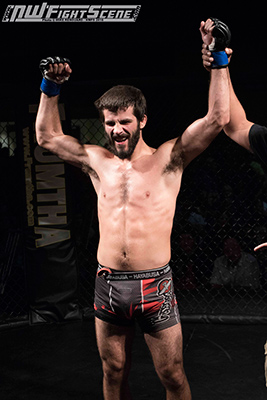 Mark Coates


In the co-main event, 6'4" welterweight Zach "The Beast" Conn of Ellensburg WA stopped Jorge Cordoba midway through the first for a TKO victory. Conn moves to 7-7 as a pro with the win.

If you survey the MMA landscape around the country, you aren't going to find many undefeated active fighters who were born in the 1960's. 47-yr-old Troy "Silverback" Berglund of Wolfpack MMA is one such fighter, staying unbeaten with a 2nd round knockout of Phil Shriver. Berglund turned pro late last year and in his 3 fights, has 3 TKO/KO finishes.

Jessee Gengler beat Chris Ensley with a first round rear naked choke in a the opening pro bout at 180 lbs. Gengler has won 3 straight and improves to 4-3.

In the amateur welterweight championship, Anthony Jones retained his title with a unanimous decision win over Connor Ashtland.

The 185 lb title fight saw Champion Chris Schell get the win with a TKO of Rocky Fisher with just 2 seconds remaining in the first round.

THUNDER & LIGHTNING - October 7th 2017 Results
Main Event - Pro 135 lbs
Mark Coates def Brandon Sly by Phantom Choke @ 1:15 Rd 1

Pro 170 lbs
Zach Conn def Jorge Cordoba by TKO @ 2:36 Rd 1

Pro 155 lbs
Troy Berglund def Phil Shriver by KO @ 3:51 Rd 2

Pro 180 lbs
Jessee Gengler def Chris Ensley by Rear Naked Choke @ 3:26 Rd 1

Amateur 170 lb Title
Anthony Jones def Connor Ashtland by Unanimous Decision

Amateur 185 lb Title
Chris Schell def Rocky Fisher by TKO @ 2:58 Rd 1

Amateur 135 lbs
Kelly Clayton def Ericka Ketchum by TKO @ 2:53 Rd 2

Amateur 160 lbs
Marshall Mohman def Joe McHale KO @ 0:22 Rd 1

Amateur 145 lbs
Jamal Davis def Cameron Johnson by Armbar @ 2:09 Rd 2

Amateur 145 lbs
Jamal Green def Sergio Alvarez by Arm Triangle @ 1:52 Rd 2

Amateur 205 lbs
Trey Moneyham def Devin Ross by TKO @ 1:48 Rd 1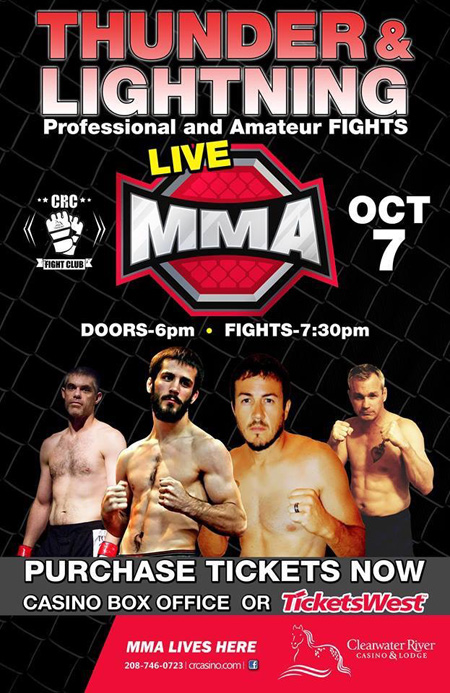 ---




All Photos, Design, and Content © 2006-2017 NW Fightscene™, unless otherwise noted.
Any usage of content on this site is strictly prohibited without the express written consent of NW FightScene™.
Report any errors to webmaster@nwfightscene.com