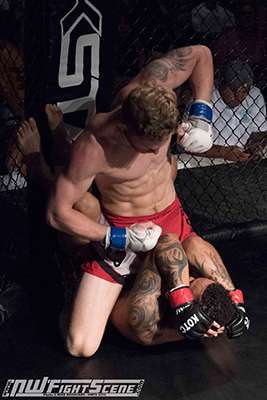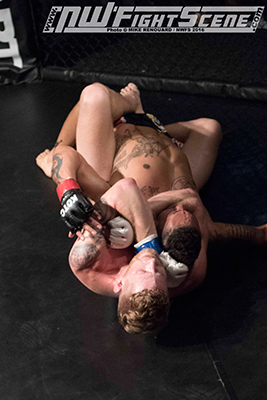 Austin Arnett beats Charon Spain by Rear Naked Choke in the Main Event

Cage fighting returned to the Clearwater River Casino on August 12th with another rendition of Frank Arnett's Thunder and Lightning MMA series. The house was packed for the 8 amateur and 3 professional fights, including a main event 155 lb showdown between fan favorite Austin Arnett and tough NW veteran Charon Spain. The crowd-noise was deafening as Arnett entered the cage, Lewiston fight fans showing their support for the talented local athlete. In the first round, Arnett moved forward with a flurry of punches that backed Spain up near the cage. Spain dropped down low for a shot, but Arnett was ready and took Spain down. From that moment to the end of the round, Arnett gave Spain no quarter, punishing the Walla Walla fighter with huge elbows and punches in an impressive ground and pound attack. Spain though is ultra-tough and made it through the round.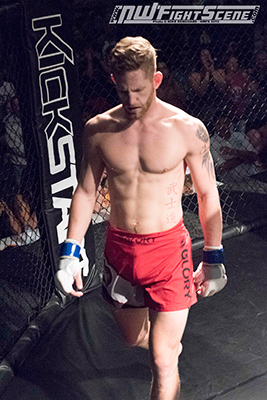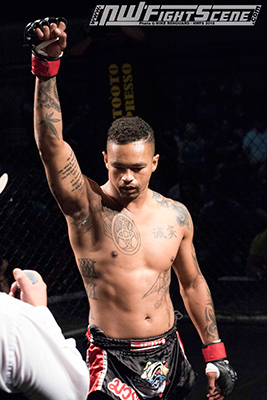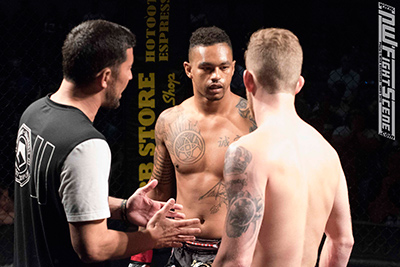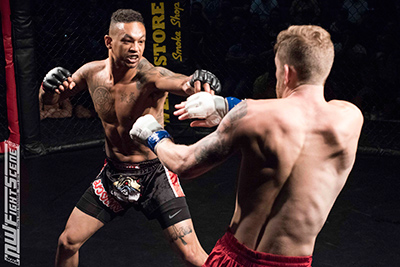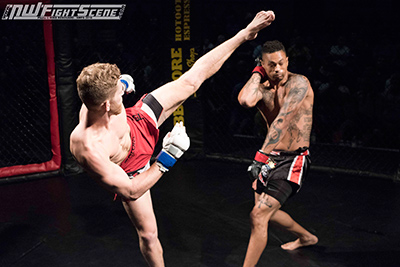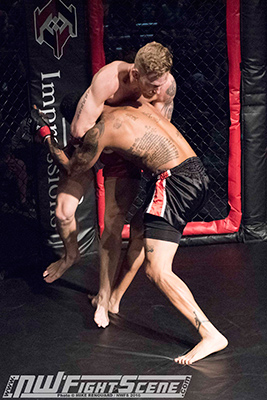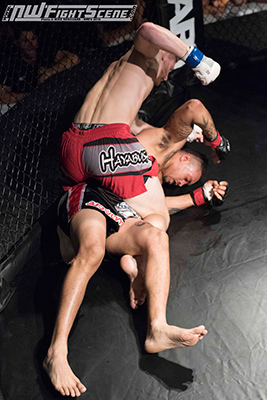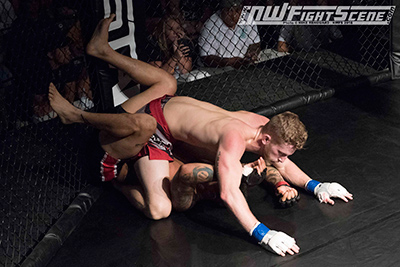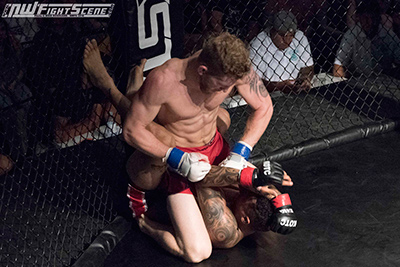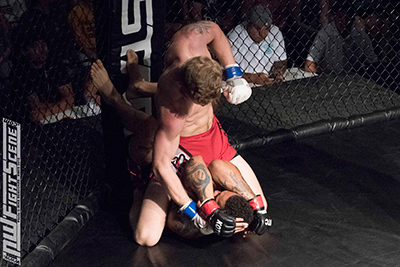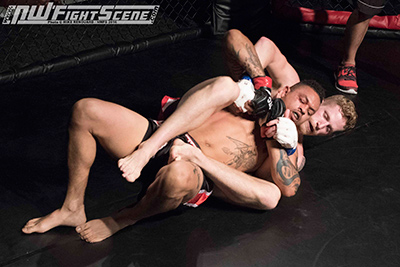 In the 2nd, Spain came out and took the back of a standing Arnett, going for a rear naked choke. Arnett though was able to shake off Spain and once again, took the fight to the mat where he maintained top position while raining down more elbows. Spain eventually gave up his back and Arnett was quick to capitalize, sinking a deep rear naked choke for the submission finish at 3:54 of the 2nd. Arnett is now a winner of 10 straight with a pro record of 12-2.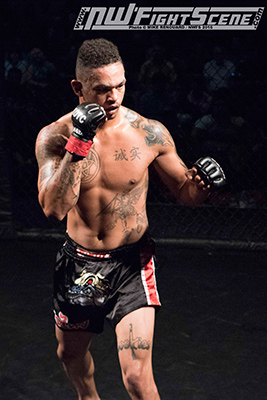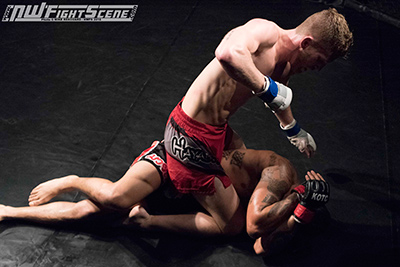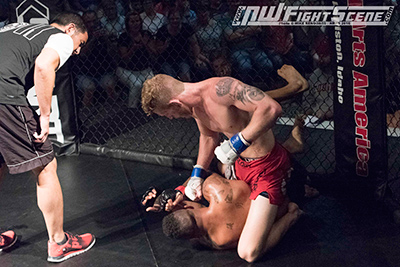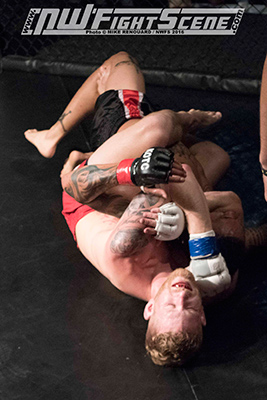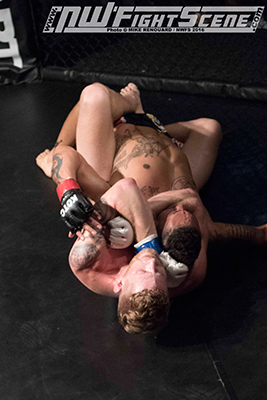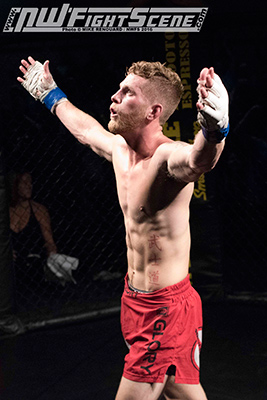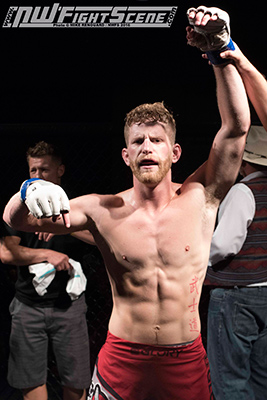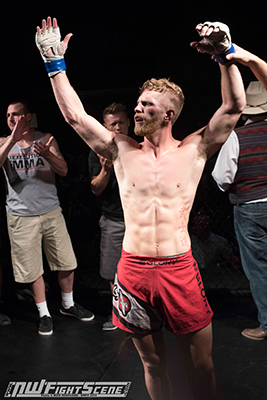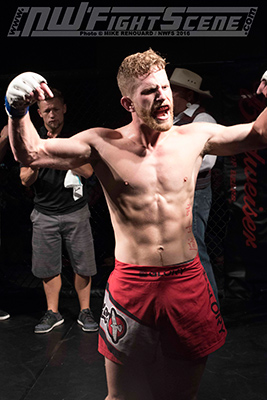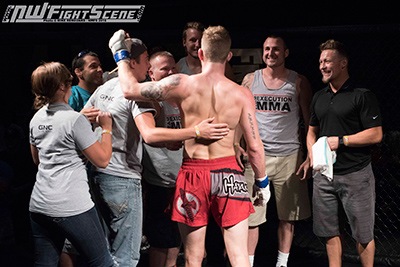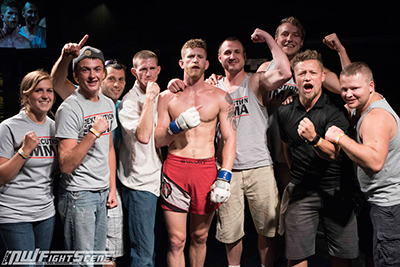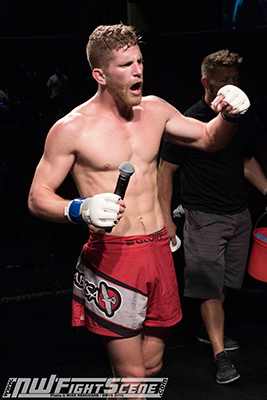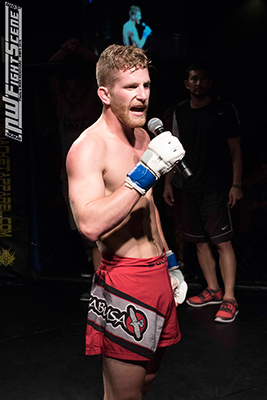 The Co-main Event was a pro 140 lb catchweight fight between Skijitsu's Jordan Mackin and Mark Coates who was repping Team Execution MMA, as well as his home gym of Warrior Camp in Spokane. The fight went to the ground early and Coates locked on an armbar from the bottom. Mackin had to defend and eventually escaped the attempt, rolling to take Coates back. This time is was Coates who had to defend a submission, with Mackin searching for a rear naked choke. Coates defended the choke, and then moments later, caught Mackin with a fight-ending kneebar at 3:20 of the first. Impressive finish from Coates who moves to 6-2 as a pro.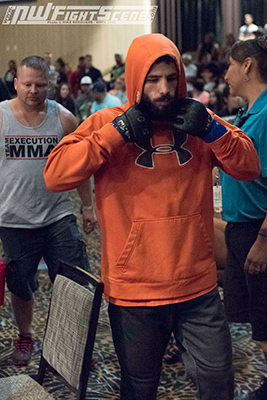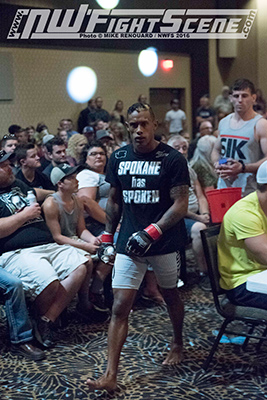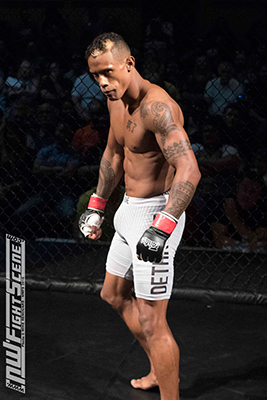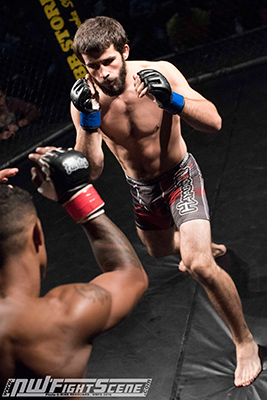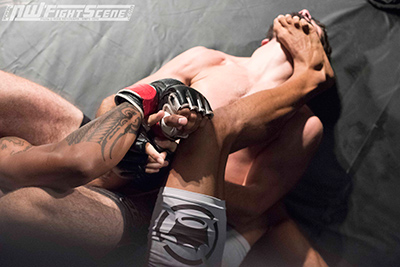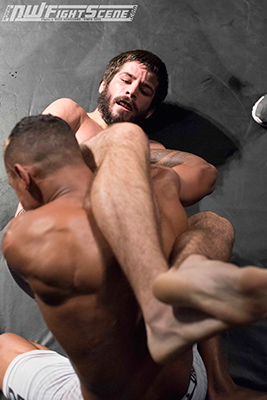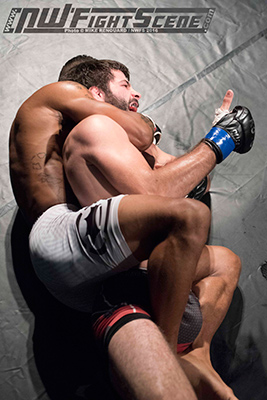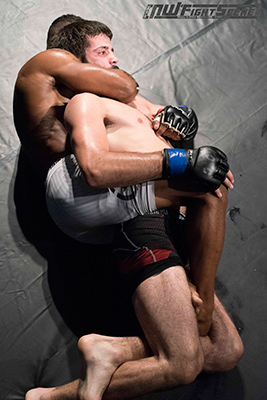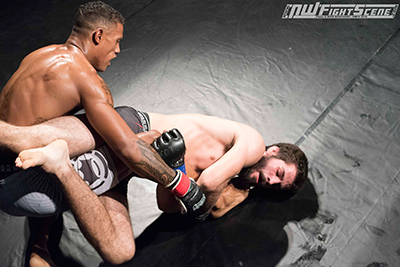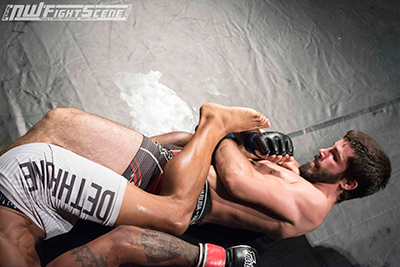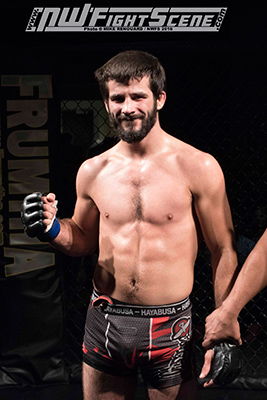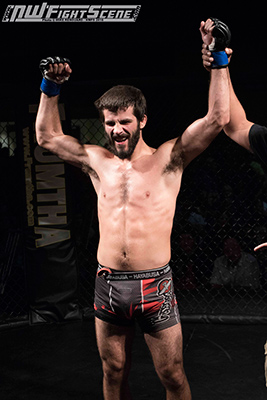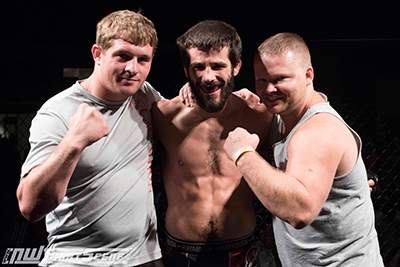 The night's first professional contest was between Gracie Barra Portland's Carson Frei and Sikjitsu's Kevin Shaw in a 150 lb catchweight bout. Frei came out aggressive, taking Shaw to the mat early and going to work, first locking on a front choke and then moments later taking Shaw's back. Frei started dropping down big bombs and was relentless in his attack, forcing a ref stoppage at 2:26 of the first. Frei's record moves to 5-1 as a pro, with 5 straight wins.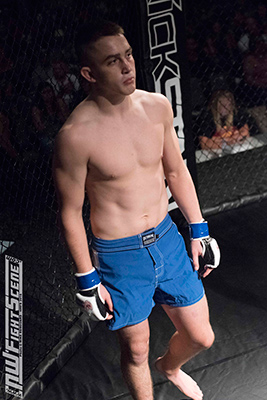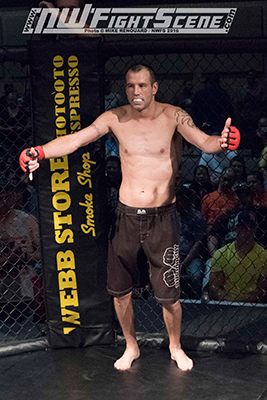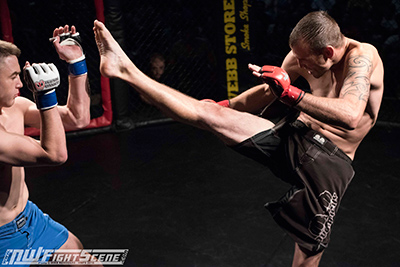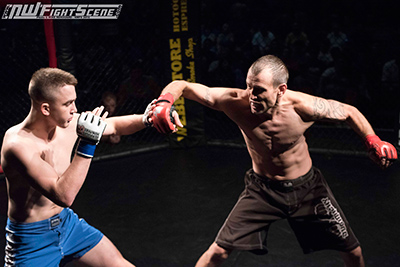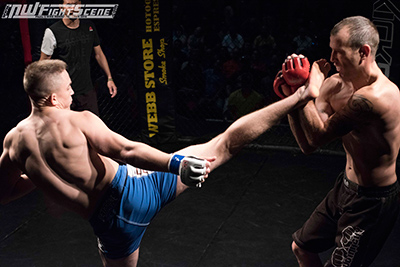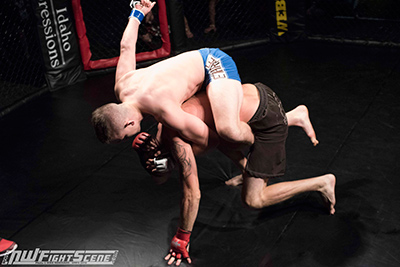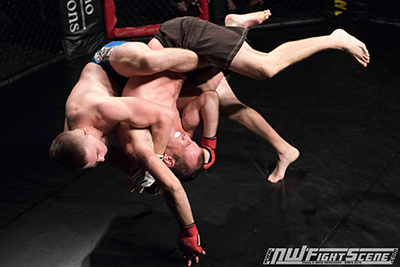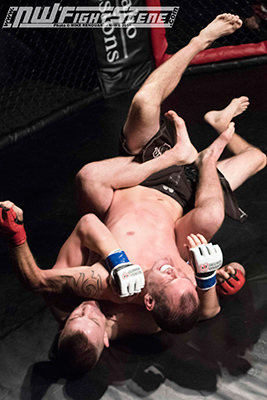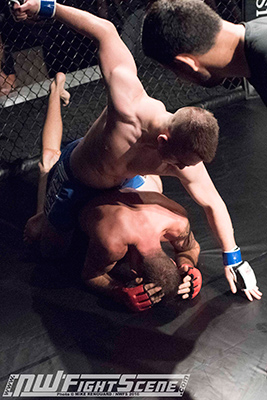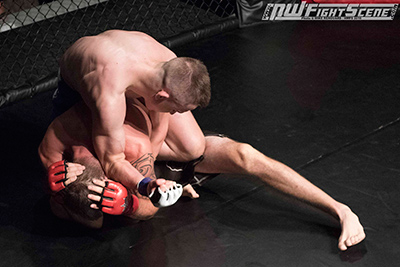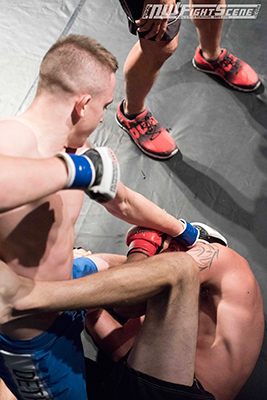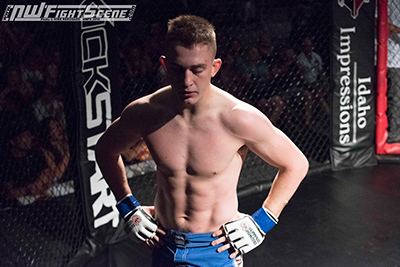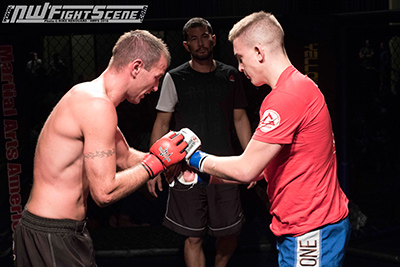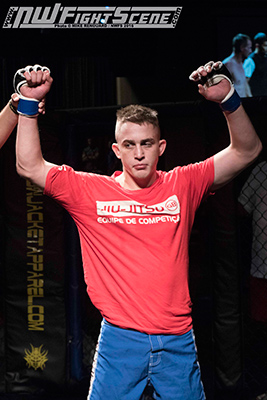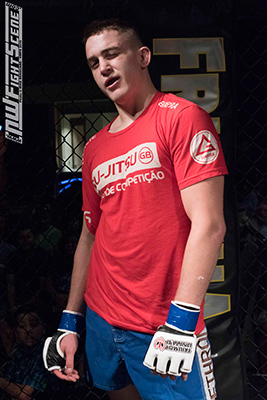 The Thunder and Lightning Amateur Heavyweight Title was on the line with David Pearson and Nick Masonholder throwing hard punches in the first round. Pearson moved in and was successful with a takedown, and within seconds, ended the fight with a nasty kimura that left Masonholder in some pain. Pearson, who fights with V7 Martial Arts in Moscow ID, is your new Thunder & Lightning Heavyweight Champion.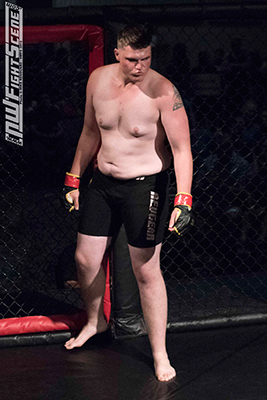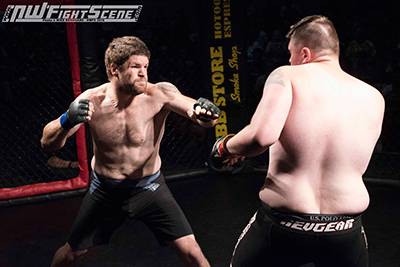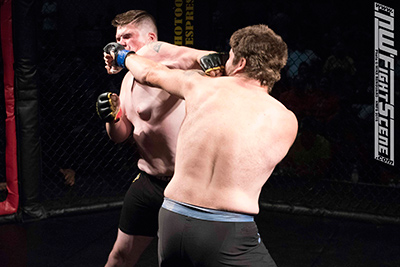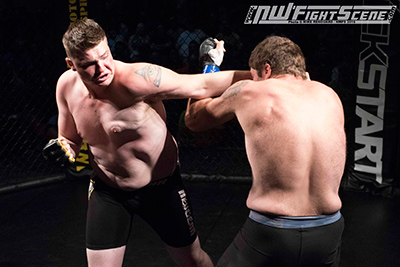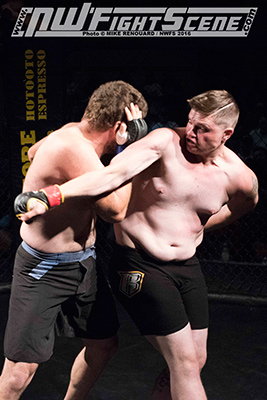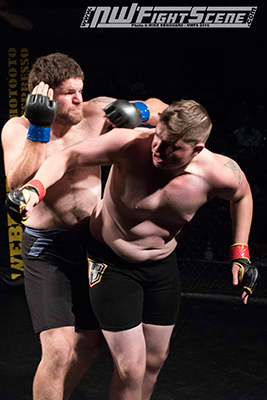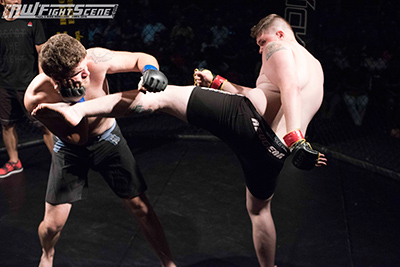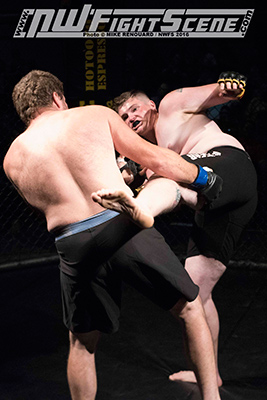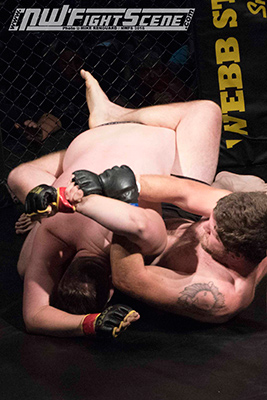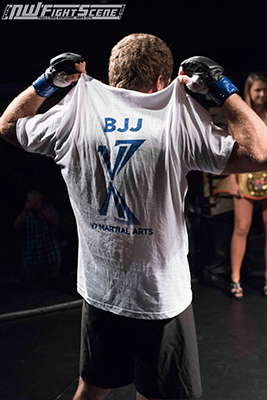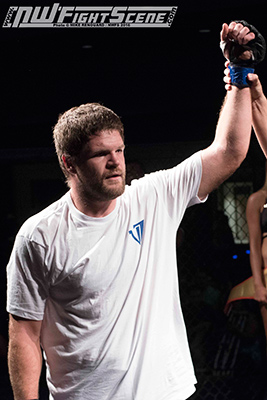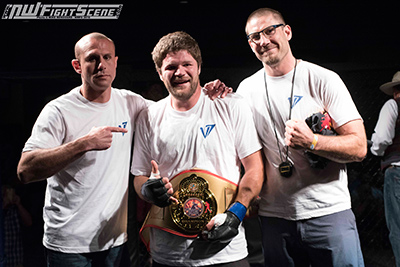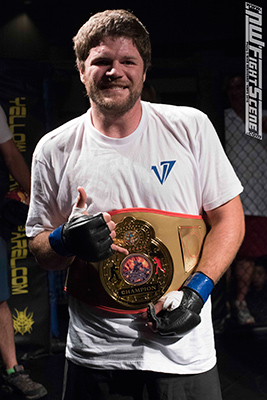 The Thunder and Lightning Amateur Featherweight Championship saw a spirited battle between Dakota Schnall and Dan Minugh. Most of the first was spent on the feet with both men looking patient and scoring in their offensive forays. Towards the end of the round, Schnall got a takedown and punished Minugh with ground and pound. In the 2nd, Schnall got a takedown, gained full mount and again found success with his ground strikes. Minugh managed to free himself and stand up, but Schnall was immediately on him for another takedown to end the round on top. In the third, both fighters moved forward and landed their shots. Schnall got hold of Minugh's neck and dropped into guard, getting the tap from Minugh to guillotine choke to win the 145 lb strap.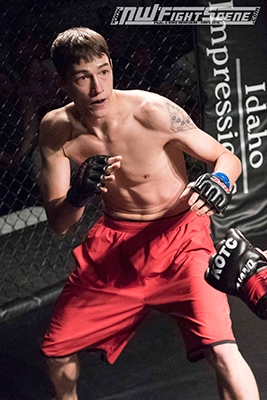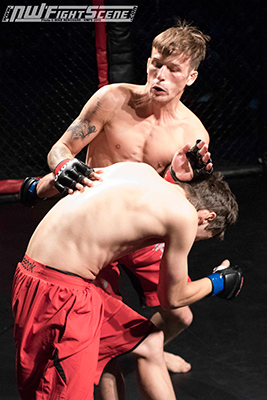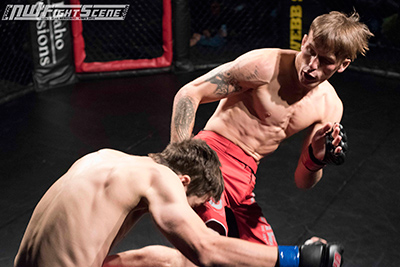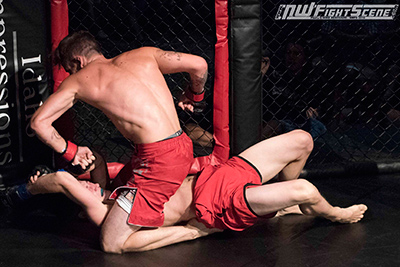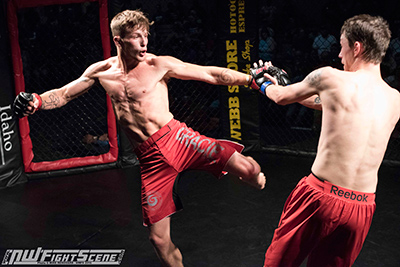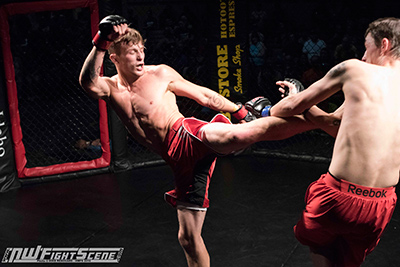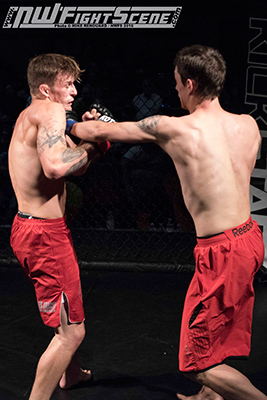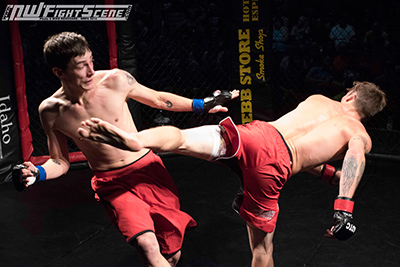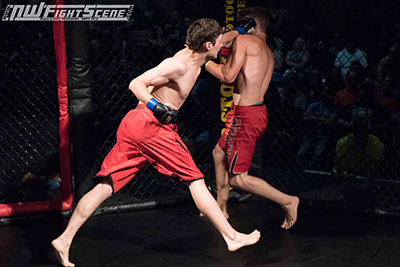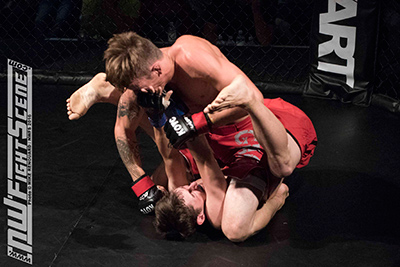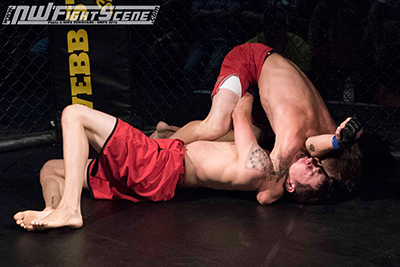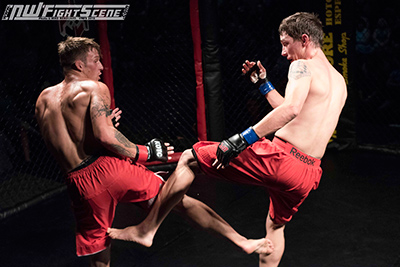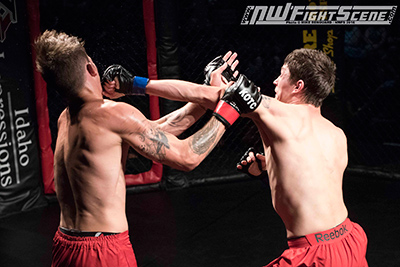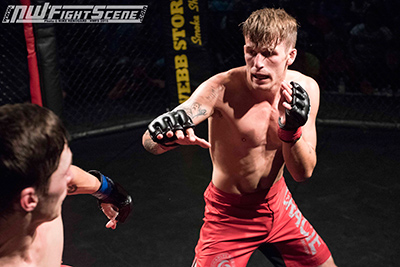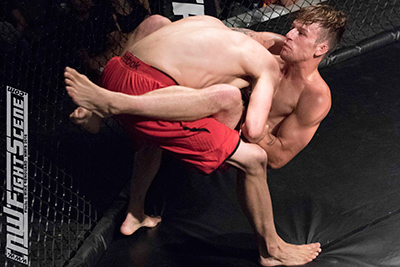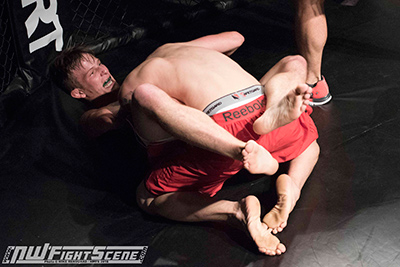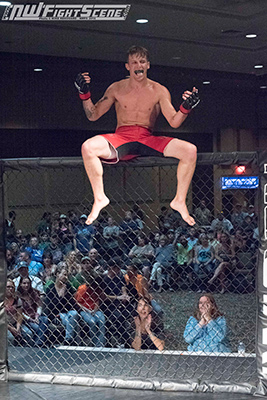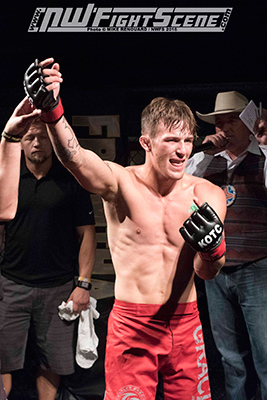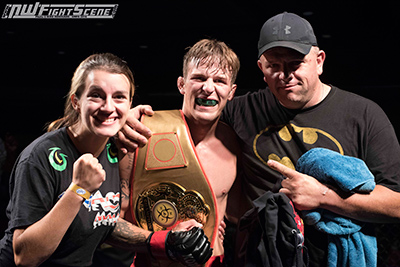 Catalyst Fight House fighter Kyle Wells scored the KO of the Night in his amateur lightweight contest with Brandon Kerbrat. The first round saw both men trade in some big exchanges. Wells moved Kerbrat against the cage in a muay thai clinch and landed hard knees to the body. When the fight went to the canvas, Wells took Kerbrat's back and threw down punches before going for a RNC. Kerbrat reversed as the round ended. In the 2nd, more good standup before a takedown from Wells. Kerbrat had his neck and worked for a guillotine finish. Wells defended and the fight went back to standing with both fighters trading body kicks. The end came in an exchange near the cage, with Wells connecting with a powerful left that floored Kerbrat at 1:48 of the 2nd.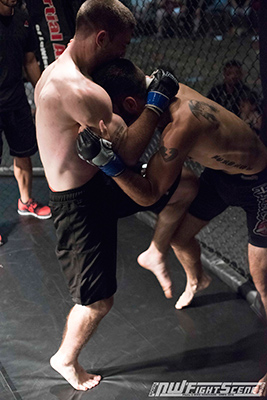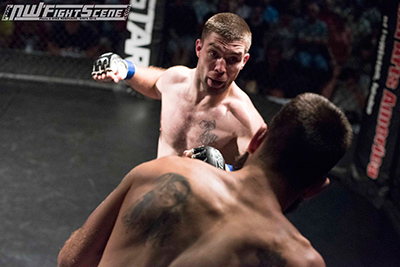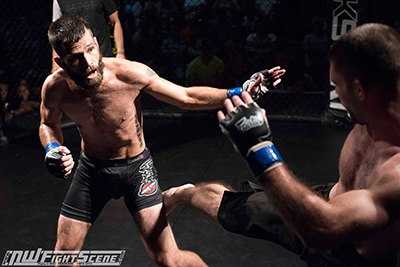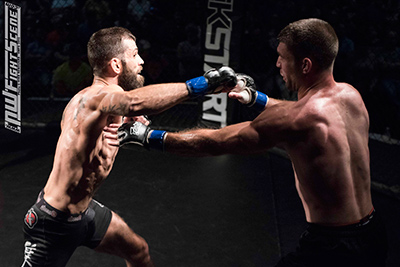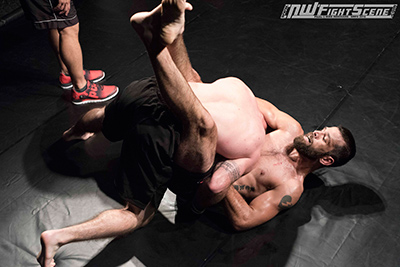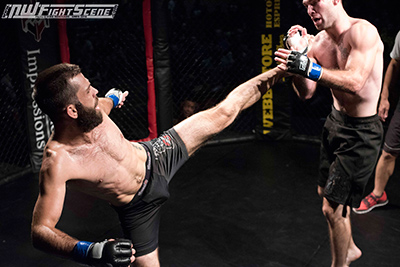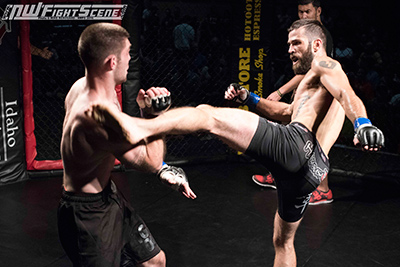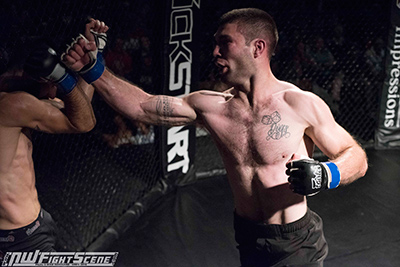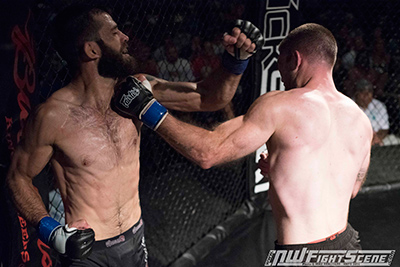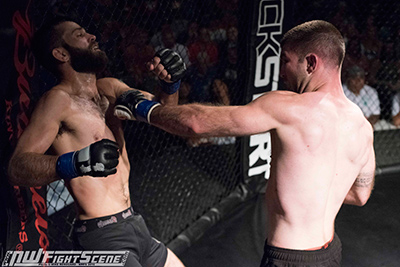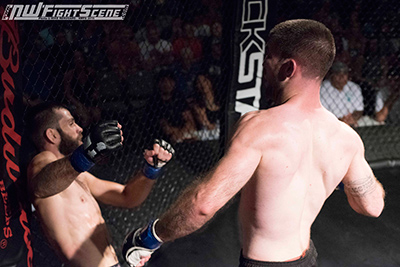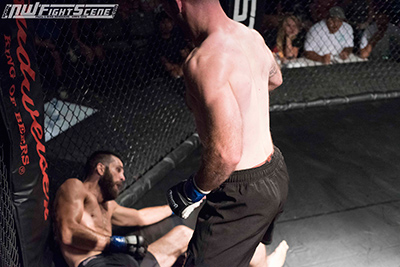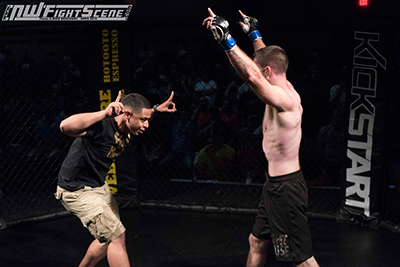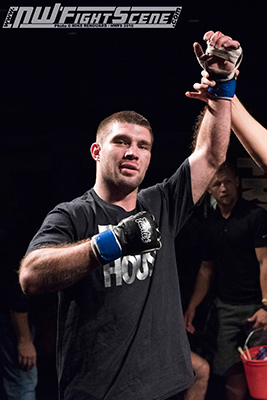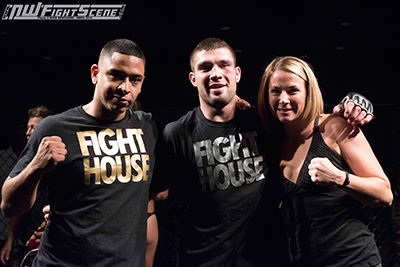 In an amateur 170 lb fight, Jared Mendez beat Stephen Gigentine by 1st round submission. The two clinched up early, and it was Mendez getting the takedown, quickly locking on an armbar. Gigentine defended, but Mendez stuck with the submission and eventually got the tap at 1:18 of the first.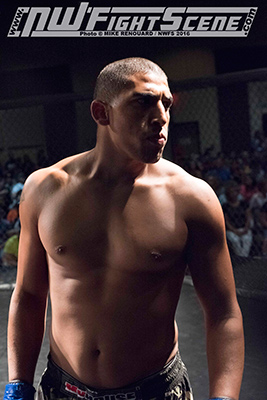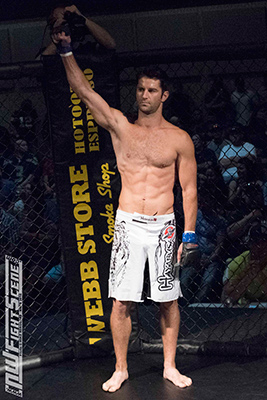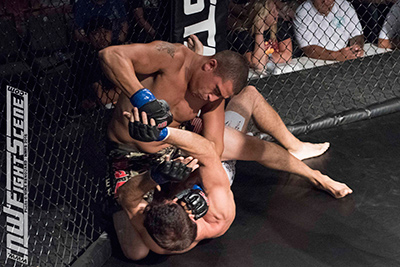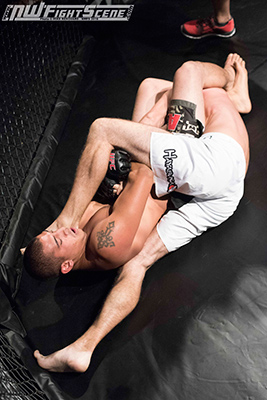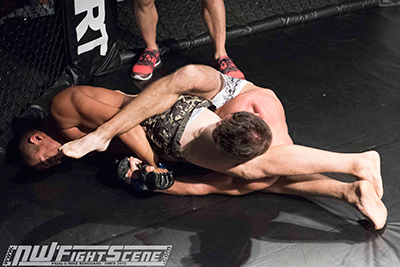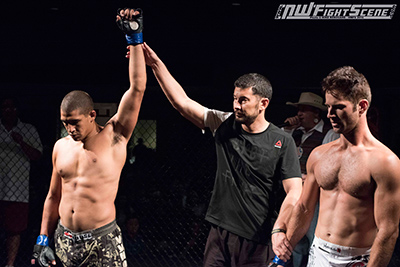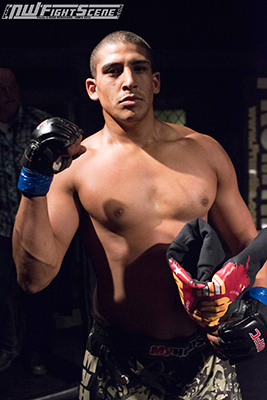 In the first round of their amateur matchup, Victoria Marquez and Piper Loop engaged in a heated battle, both ladies slinging punches at each other. The fight went to the ground and Marquez dropped down big punches to end the round. In the 2nd, again both ladies stood toe to toe, tagging each other with big shots. Marquez began to get the better of Loop, stalking her around the cage. Loop shot in for a takedown, but Marquez instinctively threw a knee that connected to Loop's head. Loop wanted to continue after the illegal blow, but referee Rick Little wisely called a stop to the contest, the end result a draw.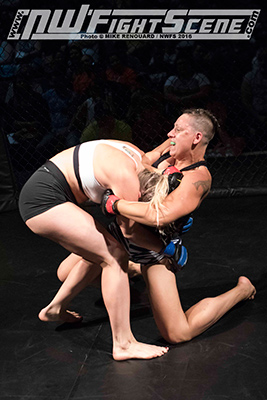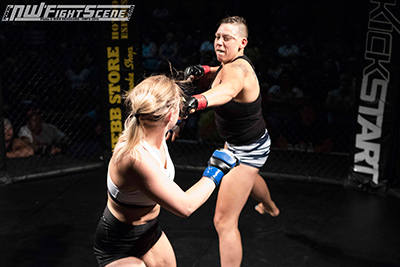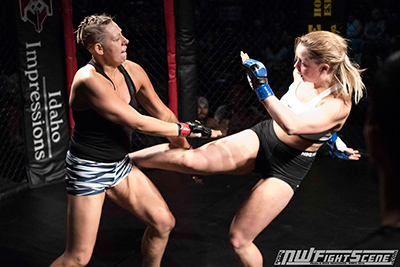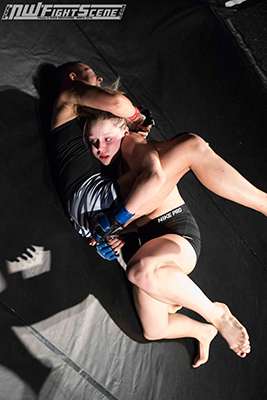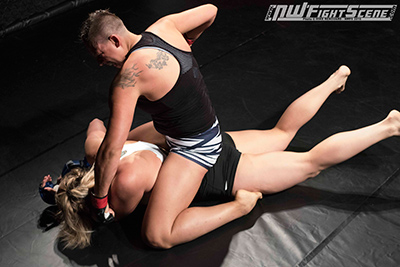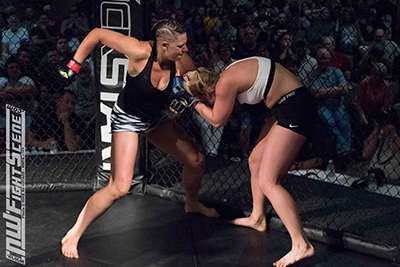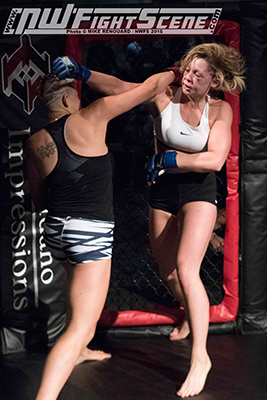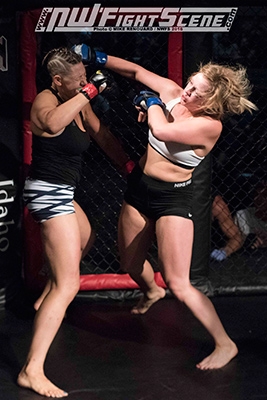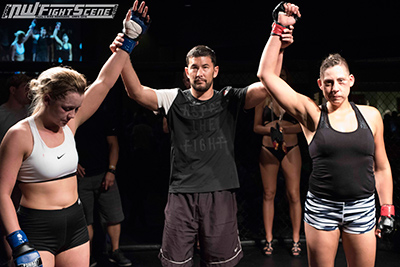 In early prelim action, Cergio Chaves defeated Dylan Swearagin in a lightweight contest, Anthony Jones beat Marshal Mohman in a welterweight matchup, and heavyweight Anthony Capetillo beat Tad Pollick. The Clearwater River Casino will host a night of professional boxing on October 15th. More info at crcasino.com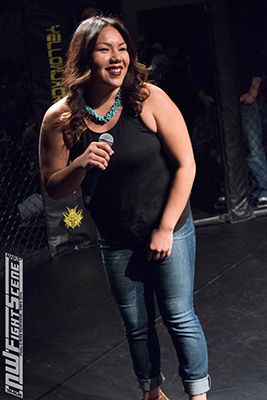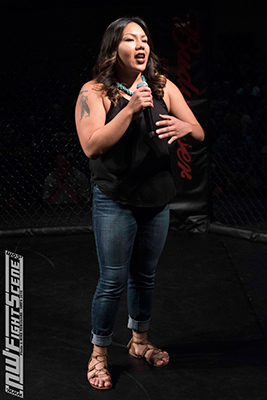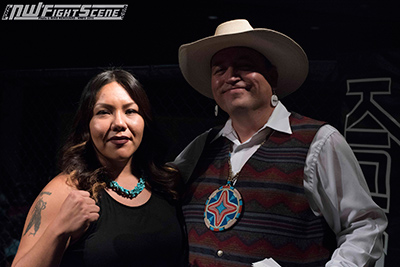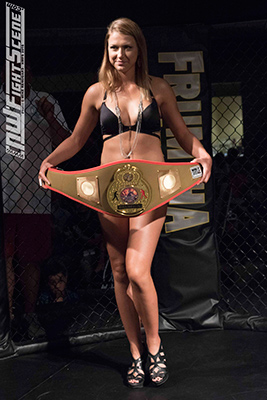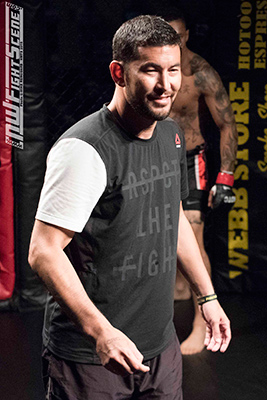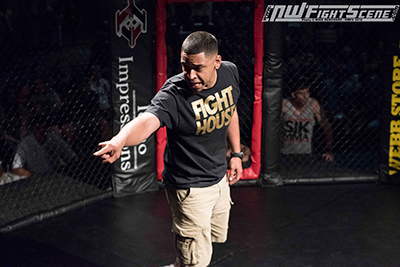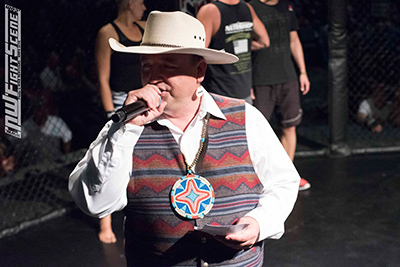 ---
Thunder and Lightning - August 12th 2016 RESULTS

Bout 1 - Amateur 155 lbs
Cergio Chavez def Dylan Swearagin

Bout 2 - Amateur 170 lbs
Anthony Jones def Marshal Mohman

Bout 3 - Amateur Heavyweights
Antony Capetillo def Tad Pollick

Bout 4 - Amateur 165 lbs
Piper Loop vs Victoria Marquez results in a Draw

Bout 5 - Amateur 170 lbs
Jared Medez def Stephen Gigentine by Armbar @ 1:18 Rd 1

Bout 6 - Amateur 155 lbs
Kyle Wells def Brandon Kerbrat by KO @ 1:48 Rd 2

Bout 7 - Amateur 145 lb Title
Dakota Schnall def Dan Turtle Minugh by Guillotine Choke in Rd 3

Bout 8 - Amateur Heavyweight Title
David Pearson def Nick Masonholder by KImura @ 2:14 Rd 1

Bout 9 - Pro 150 lbs
Carson Frei def Kevin Shaw by TKO (Strikes) @ 2:26 Rd 1

Co-main Event - Pro 140 lbs
Mark Coates def Jordan Mackin by Knee Bar @ 3:20 Rd 1

Main Event - Pro
Austin Arnett def Charon Spain by Rear Naked Choke @ 3:54 Rd 2
---