The Redmption 7 - July 16th, 2016
Washington State Fair Events Center - Puyallup, Washington
Photos by Matt Ferris, results courtesy of Chris Cope
---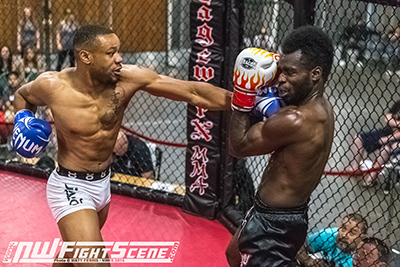 Dominque Smith connects with a punch in the Co-main Event

Travis Doerge and 6 Feet Under MMA, in conjuction with Northwest Fitness Magazine, held "The Redemption 7" last night at the Puyallup Fairgrounds events center in Puyallup WA. The all-amateur card featured 5 kickboxing and 6 MMA fights, including 2 title bouts.

In the main event, Team Damage's Larry Rodelo submitted Ruben Melendrez via 1st round triangle choke to capture The Redemption 125 lb MMA title. Rodelo is now a two-division champion, having won the 135 lb MMA belt at The Redemption 6 in May.
In the 170 lb Kickboxing Championship, Dominque Smith of Team SNRG won the belt by knocking out previous champion Eddy Stephens at 37 seconds of the 4th round.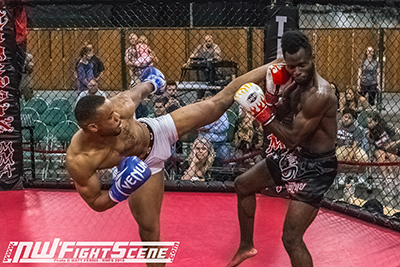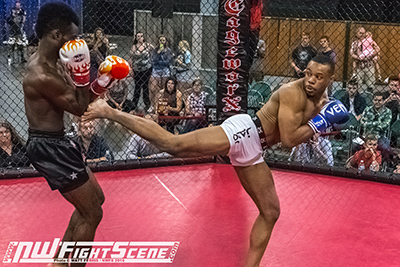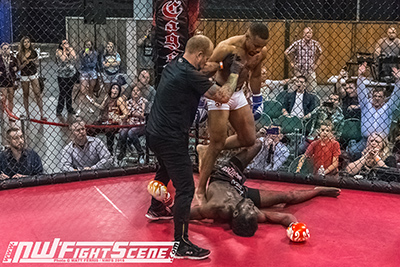 The Redemption 8 is scheduled for October 15th at Green River Community College in Auburn WA.
Photos courtesy of Matt Ferris.
Check out more of his awesome work at mattferrisphotography.com.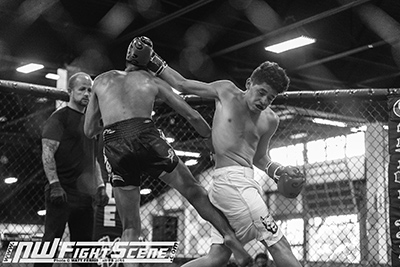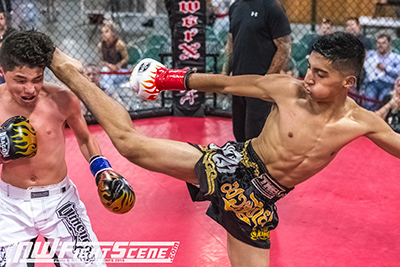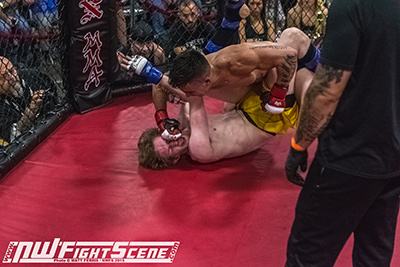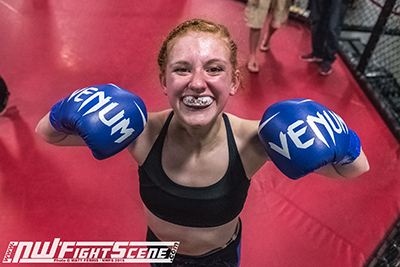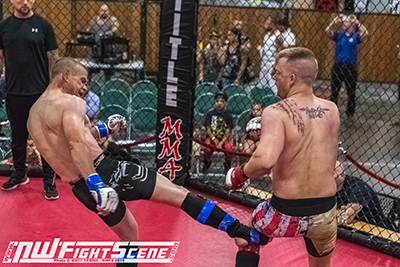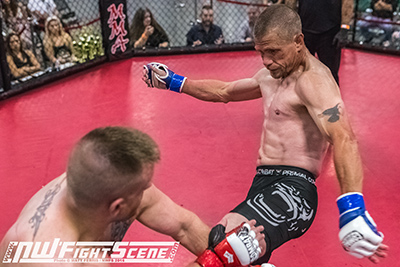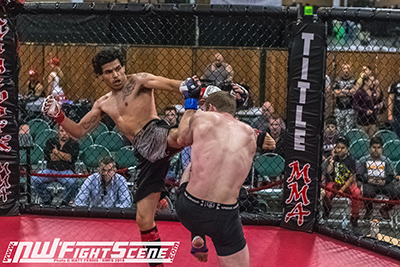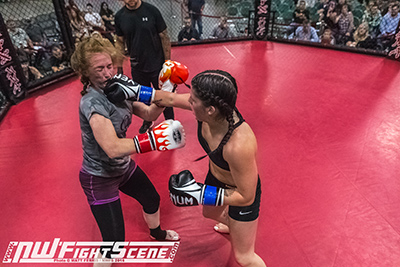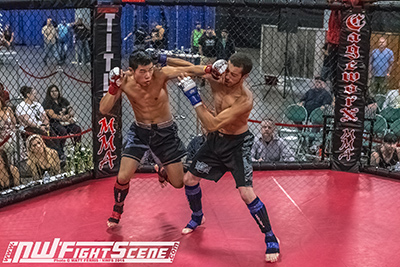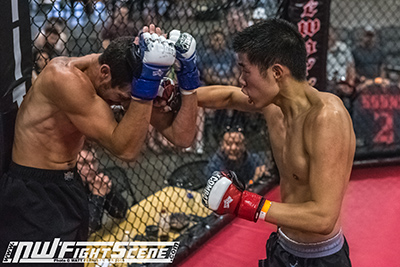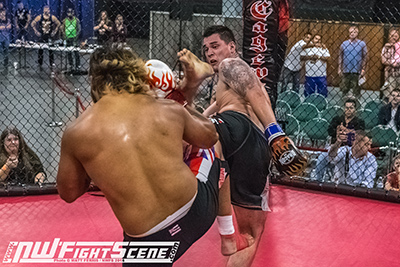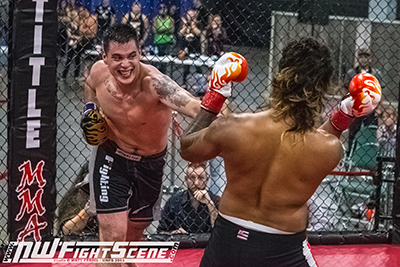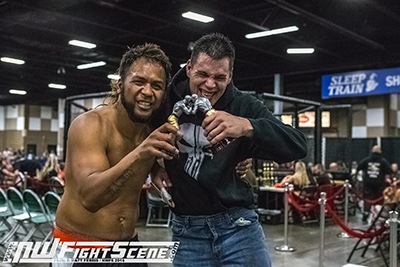 ---
The Redemption 7 Results
Bout 1 - 112 lb Kickboxing
Erik Cardenas (Lionheart Kickboxing) def Juan Geureca (Britos Kickboxing)
by Unanimous Decision (All judges 30-27)

Bout 2- 135 lb MMA
Dylan Wilson (6' Under MMA) def Daryan Hanshew (Narrows Fight Team)
by Unanimous Decision (30-27, 29-28, 29-28)

Bout 3 - 115 lb Kickboxing
Olivia Branson (Eatonville MMA) def Ryann Woods (Brian Johnson KB)
by Split Decision (29-28, 29-28, 28-29)

Bout 4- 145 lb MMA
Shaun Eastman (American Combat Academy) def James Marshall (6' Under MMA)
by Split Decision (29-28, 29-28, 27-30)

Bout 5 - 140 lb MMA
Danny Way (Legion) def Anthony Rubio (Team Damage)
by TKO (Strikes) @ 2:03 Rd 1

Bout 6 - 130 lb Kickboxing
Liz Tuani (6' Under MMA) def Stephanie Goldfine (Brian Johnson KB)
by Split Decision (30-27, 29-28, 28-29)

Bout 7 - 155 lb MMA
Dean Phillips (MABJJ) def Andrew Lander (SNRG)
by Knockout (Punches) @ 2:07 Rd 1

Bout 8 - 145 lb MMA
Kenneth Khove (Singha) def Brent Eidson (Independent)
by TKO @ 2:59 Rd 1

Bout 9 - Heavyweight Kickboxing
Kevin Shumacker (MABJJ) vs Josh Tuani (6' Under MMA)
results in a Split Draw (29-28, 28-29, 28-28)

Bout 10 - 170 lb Kickboxing Championship
Dominique Smith (SNRG) def Eddy Stephens (6' Under MMA)
by KO @ 0:37 Rd 4

Bout 11 - 125 lb MMA Championship
Leroy Rodelo (Team Damage) def Ruben Melendrez (Team Pah)
by Triangle Choke @ 1:44 Rd 1
---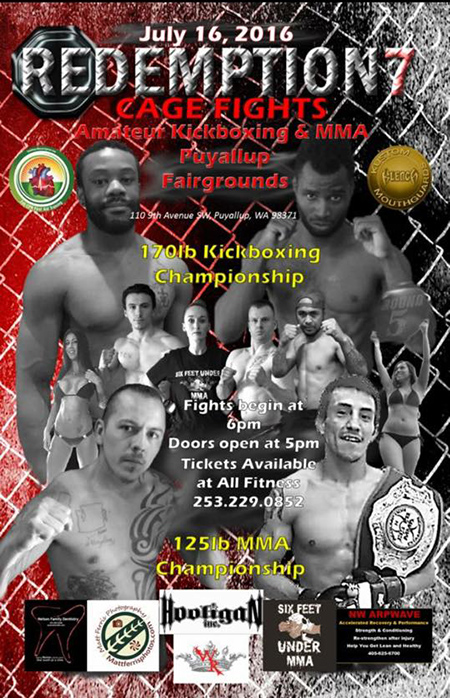 ---




All Photos, Design, and Content © 2006-2017 NW Fightscene™, unless otherwise noted.
Any usage of content on this site is strictly prohibited without the express written consent of NW FightScene™.
Report any errors to webmaster@nwfightscene.com