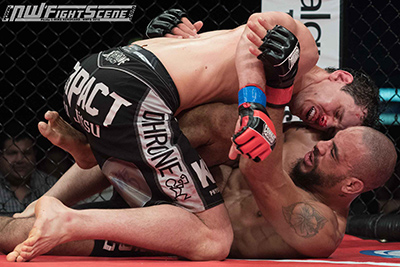 Justin Harrington beats Bryan Nuro via decision after 25 minutes of intense battle
The inaugural SFL America Team Challenge: Seattle vs Portland last night featured an incredible main event which capped off a fantastic evening of fights at the Emerald Queen Casino. 6 fighters repping Team Seattle faced off against an equal number for Team Portland, with each individual bout winner earning their respective team points based on the method of victory: 9 points for a KO, 7 for a submission, 5 for a TKO, and 3 for a decision.

Portland started out strong, getting wins from Benny Vinson (TKO) , Journey Newson (Decision), and Liz Tracy (TKO). Seattle stormed back in the next two bouts with a TKO from Joey Pierotti, followed by a big KO win from Brew Brewster. It came down to the final fight to decide the SFL America Team Challenge winner.

In the main event, Team Seattle's Justin Harrington and Team Portland's Bryan Nuro had a fight for the ages, each scrapping hard trying to put the other away for 25 solid minutes. It went to the judges, all who scored it 48-47 for Harrington, who retained his SFL America Lightweight Title and secured the victory for Team Seattle over Team Portland 17-13.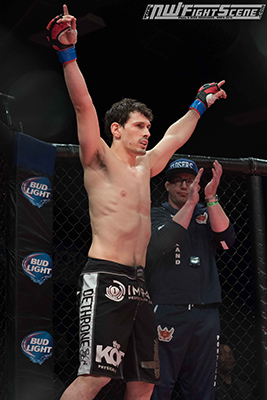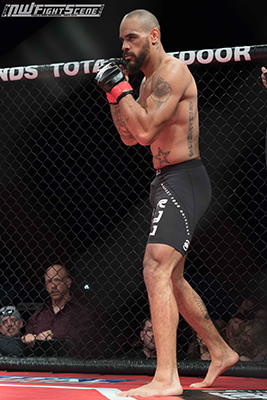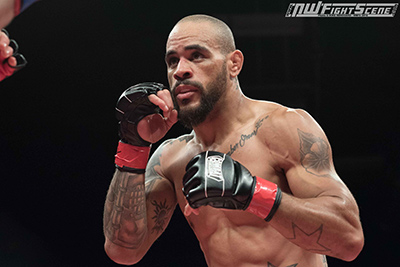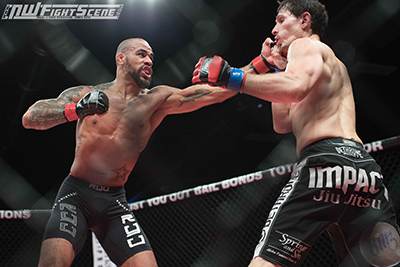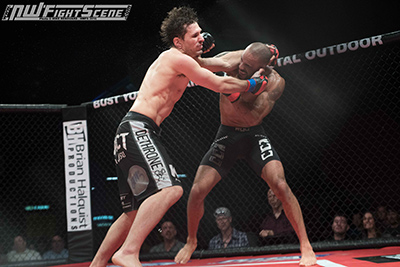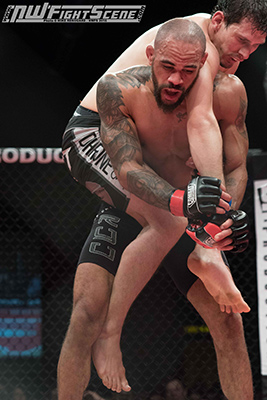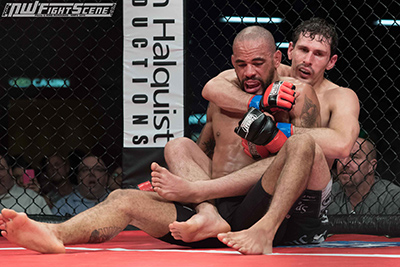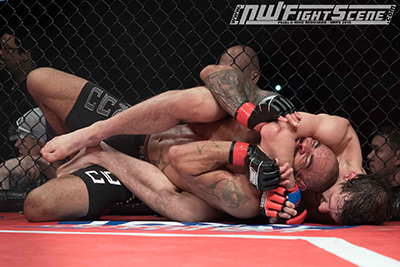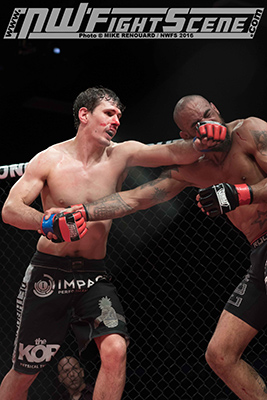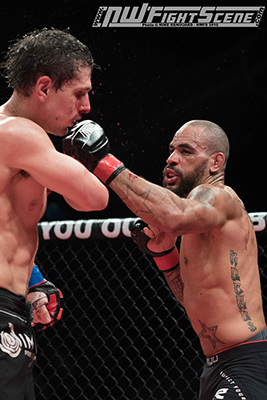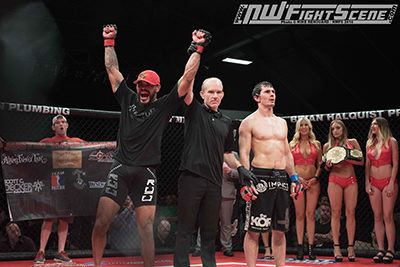 In a 190 lb Team Challenge bout, Team Seattle's Rafael Brew Brewster knocked out opponent Jose McKay Rodriguez of Team Portland early in the 2nd round to give his team a much needed 9 points. The first round saw an early clinch battle against the cage before Rodriguez took Brewster to the mat. From Brewster's guard, Rodriguez was able to deliver a few of big bombs, but Brewster scrambled to his feet. Rodriguez was ready and forced another takedown, scoring with more offense on the ground. Brewster was not passive in defense from the bottom, landing numerous elbows. However, he had a point deducted when the ref deemed one such strike to be illegal, and he likely entered the 2nd round down 10-8 on the scorecards. This point became literally moot though when Brewster found Rodriguez in range against the cage and unleashed a barrage of punches that knocked out the Team Portland fighter at the 1:35 mark of the 2nd. A big win for Team Seattle and a big win for Brewster who remains undefeated as a pro with a record of 2-0.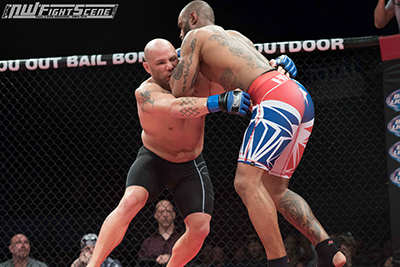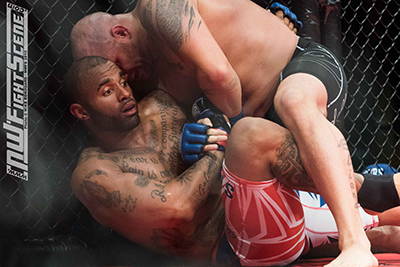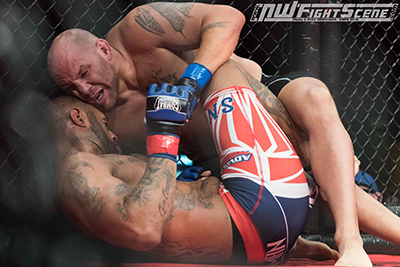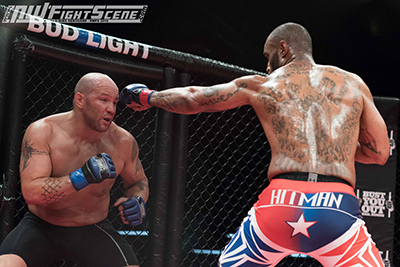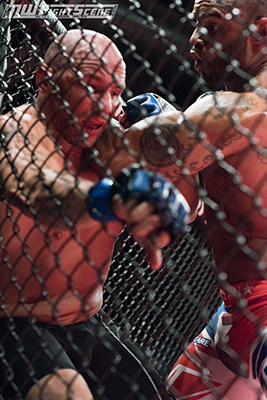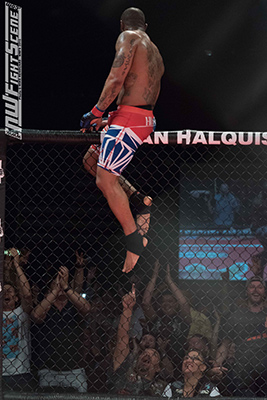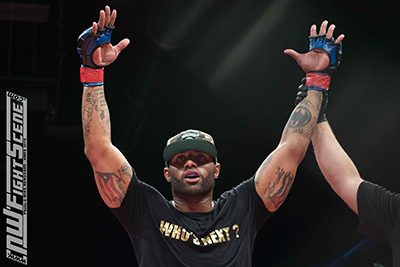 With their backs against the wall, Team Seattle needed a victory and Joey "Mama's Boy" Pierotti delivered. Fighting out of Combat Sport & Fitness, Pierotti got an early takedown of Team Portland's Chris "Minoskill" Evans and then proceeded to work over Evans on the mat, allowing Evans no respite from his ground strikes until the ref had seen enough and stopped the bout at 2:34 of the first. Pierotti moves to 2 and 0 as a professional with the victory, and gave Team Seattle 5 points with the TKO.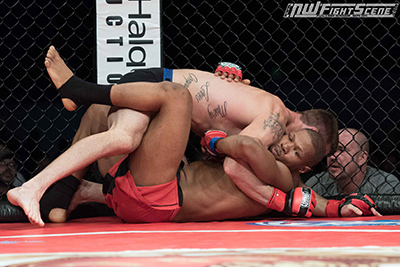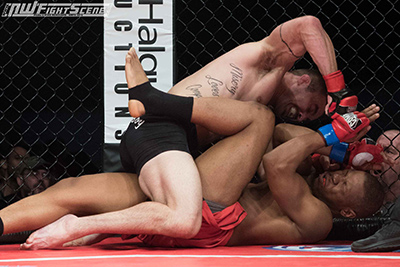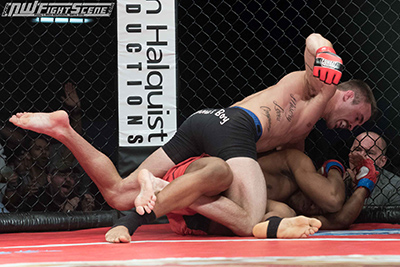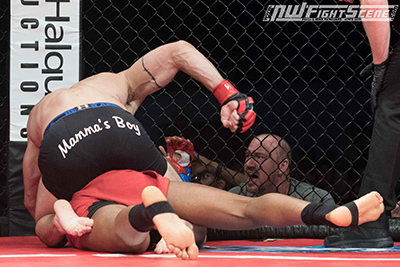 Liz "The Titan" Tracy made it three wins in a row for Team Portland winning via a 2nd round TKO to strikes, after battling through some big power punches and a dangerous first round submission attempt from Team Seattle's Cindy Hales. Coming into the 125 lb fight, it was the 41-year-old Hales who garnered high-profile media attention with in-depth stories appearing on both Vice's Fightland and on the front page of Friday's Seattle Times sports page, based on Hales' long pedigree in the BJJ/MMA world. Flying under the radar, the younger Tracy at just 27, turned pro in 2015 and entered the contest with a record of 1-1.

The first round opened with some nice standup work from Hales, finding a home for some hard punches. Tracy clinched up and found success with short punches, before Hales took it to the mat with an armlock takedown. Tracy took advantage of top position and landed a few bombs before the fight went to the feet again. A couple more exchanges, and then Hales executed a flying armbar that Tracy defended. More exchanges on the feet, - Hales still landing with power and Tracy also finding her range - before going to the mat, both fighters battling for position and Tracy finishing the round dropping elbows onto Hales' head.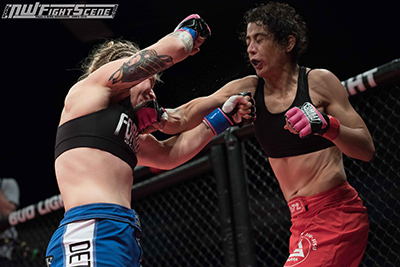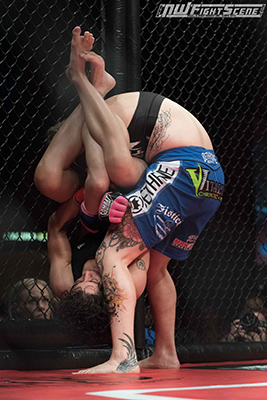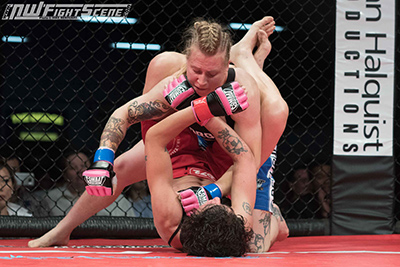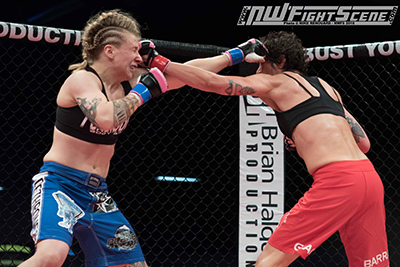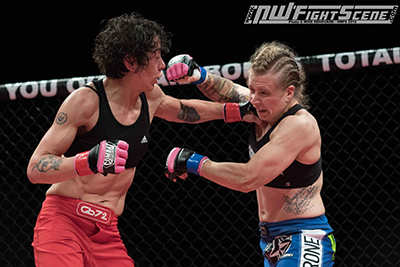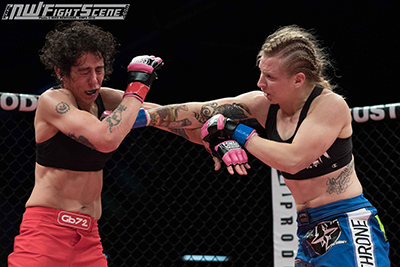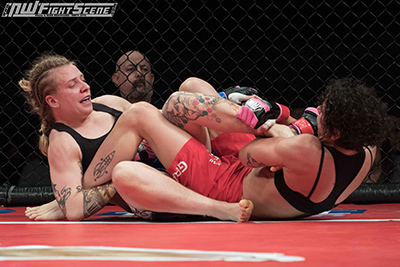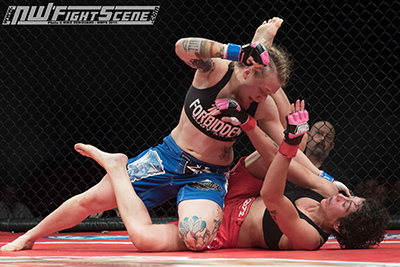 In the 2nd, both fighters displayed solid standup, but it was Tracy who had a bit more pep in her step and power behind her punching, wearing down Hales as the round progressed. Hales went to the canvas and Tracy fought through her upkicks to land in side control, battering Hales with punches and hammerfists before gaining full mount and unloading a number of unanswered punches that forced a ref stoppage at 4:11 of the round. Brutal ending!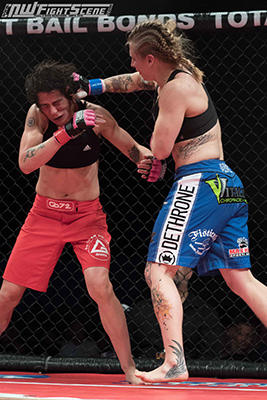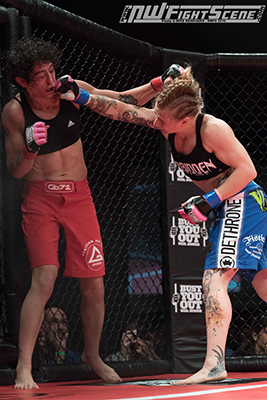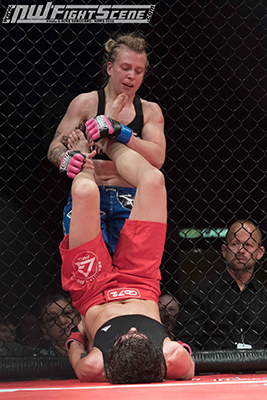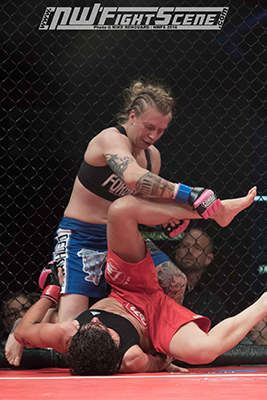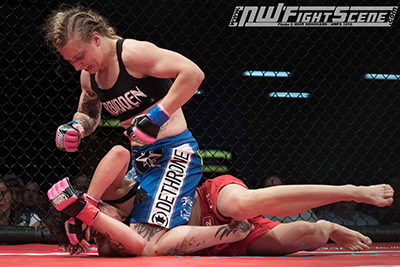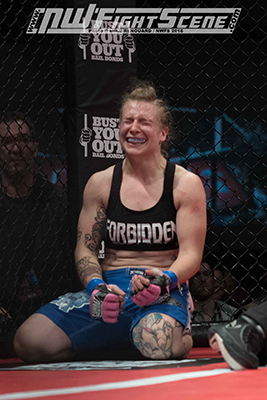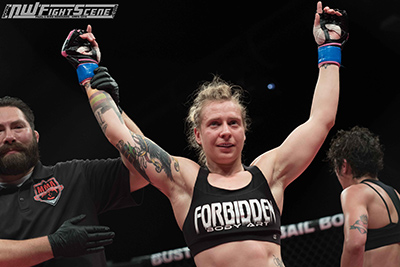 Team Portland's Journey Newson earned a hard-fought unanimous decision win over Shane Friesz of Team Seattle, giving his squad 3 points. Both combatants entered the 135lb contest undefeated after having turned pro in 2015, Newson going 2-0 and Friesz 3-0 in the time frame. The first round was a mostly standup affair, neither fighter over-committing in their offensive forays. A takedown from Newson didn't stay very long on the ground with Friesz getting it back to standing.

In the 2nd, both fighters picked up the aggression level, Newson nearly landing with a spinning back kick, Friesz attacking with a flying knee. Midway through the round, the fight went to the canvas and Newson latched onto Friesz' neck in a scramble, looking for a guillotine finish. Friesz worked his head free, but Newson went for a kimura lock, dropping in punches to the rib cage before the bell. The final frame belonged to Newson, grabbing Friesz' neck early in the round and going to work on the mat, transitioning from one advantageous position to the next, while staying heavy and not allowing Friesz any room to escape. After 15 minutes of work, Journey Newson earned a unanimous decision victory, 30-27, 30-27, 29-28.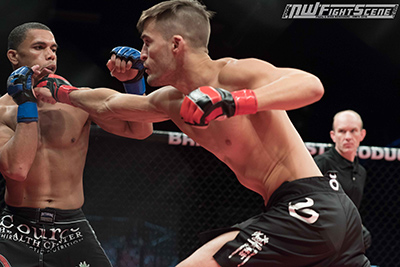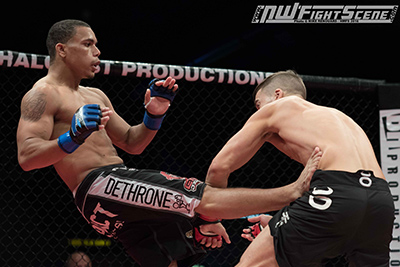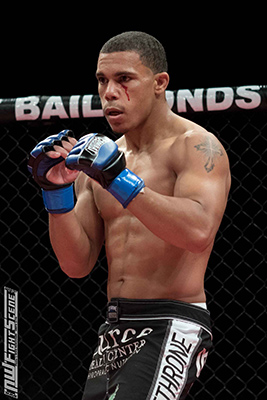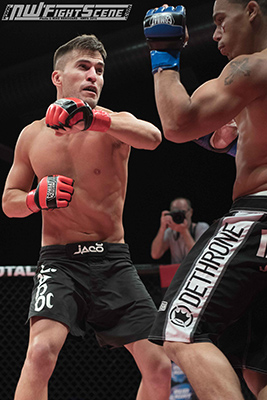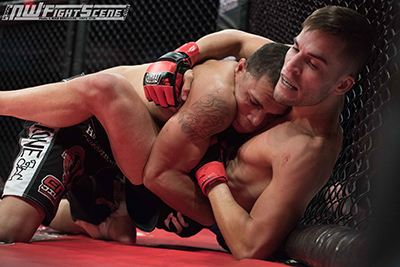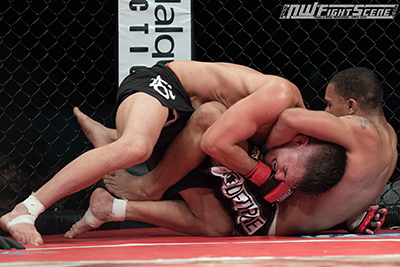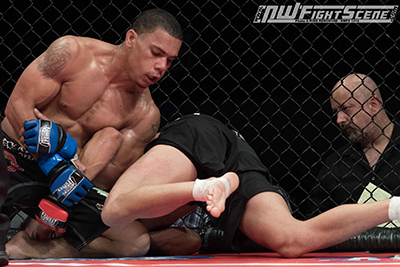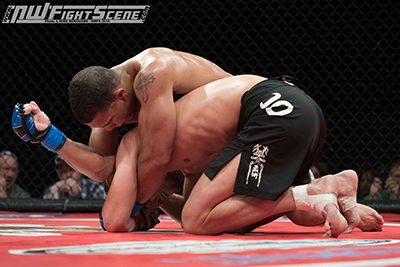 The Team Challenge competition kicked off with a Flyweight matchup between two tough NW Fighters in "Dirty" Benny Vinson of Team Portland versus Team Seattle's Zach "Skin Dog" Skinner. Vinson entered with a pro MMA record of 7-3-1, though he hadn't fought in the cage in more than a year, instead competing on a number of pro boxing cards, while honing his MMA skills. Meanwhile, Skinner has been fighting in the Pacific NW since the early 2000's and entered on a two fight win streak.

From the opening bell, the pair did not shy away from engaging, probing the other's defenses with a combo or body kick. Vinson moved in, taking hold of Skinner's neck and connecting with knees as he backed Skinner against the cage. Getting a hard fought takedown, Vinson went for a guillotine choke and while Skinner stood up against the cage, Vinson kept the hold on, finally relinquishing when it went back to the canvas. Skinner briefly had top position, but Vinson moved it back to the feet where the pair traded knees against the cage in a clinch battle. In the 2nd round, Vinson closed distance and again used knees to force Skinner backwards, eventually putting him on the ground. Skinner looked to escape, but Vinson was able maintain top control, moving Skinner where he wanted and then unleashing a vicious attack of elbows and punches that forced a ref stoppage at 2:31 of the 2nd. Impressive finish from "Dirty" Benny Vinson!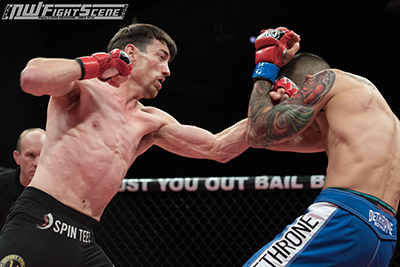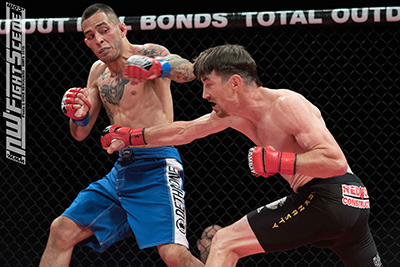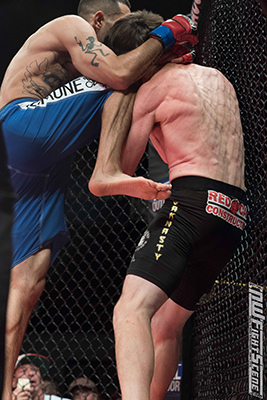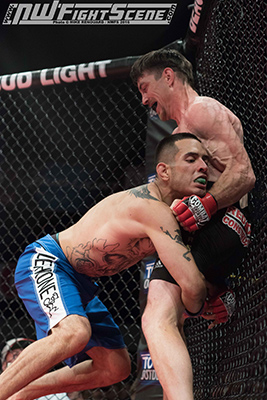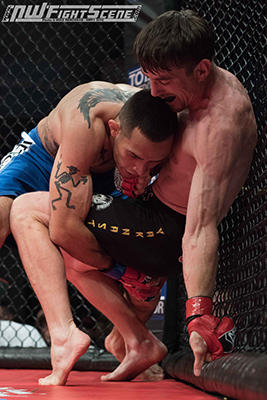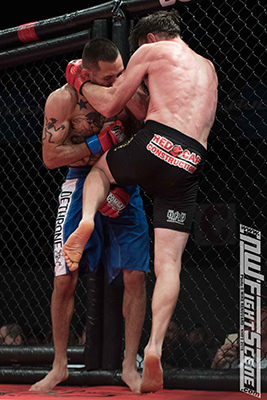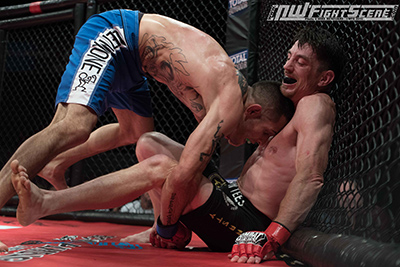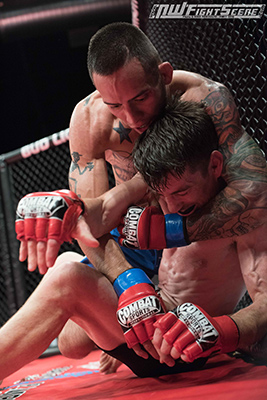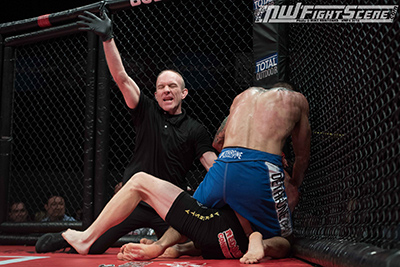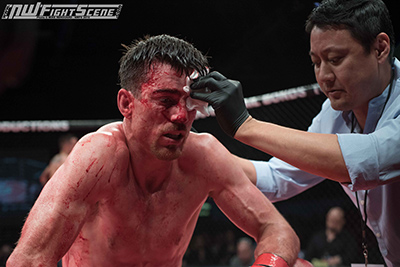 In the 2nd of two preliminary bouts, a competitive 140lb matchup between PDX Fighter Sean Gee and Brian Johnson FT's Anthony Zender went the distance. Entering the bout, "The Beast of War" Gee came in with a 1-1 record, having not fought MMA in more than a year. However, he did go 3-3 with 1 No Contest as a pro boxer, all his fights going the distance and including a bout at Madison Square Garden last October. Meanwhile, Zender came in on a 4 fight win streak after losing his first 8 pro MMA fights, attributing the win streak to moving his training to the Academy of Brian Johnson. The first round saw an opening salvo, followed by a clinch battle against the cage, neither gaining the upper hand. They broke apart and the round settled down into a striking battle, Zender showing nice form in connecting with a straight punches while Gee stayed patient, unloading with a big punch near round's end that stunned Zender.

In the 2nd round, Zender upped his ground attack, getting Gee to the mat after a minute or so of standup and keeping him there to round's end, first working a rear naked choke, and then when it looked as if Gee would scramble out and get the advantage, Zender was back on him, punishing Gee with punches and elbow strikes at the end of the round. In the final stanza, Gee came out and and dropped Zender with a big right, Zender having to utilize all his experience to defend against the finish. Recovering and getting it back to the feet, Zender moved in and got a takedown, working in some hard ground and pound. Gee tried to wall walk his way back to standing, but Zender was on him like glue, dragging him back down to the canvas and then taking his back in search of a rear naked choke. After 15 minutes of action, it went to the judges who all saw it 29-28 for Anthony Zender.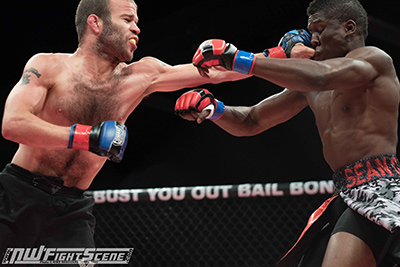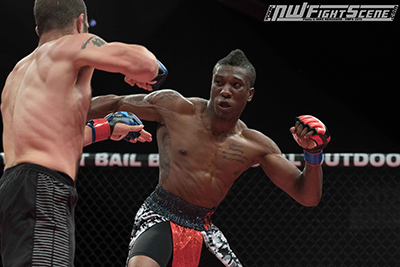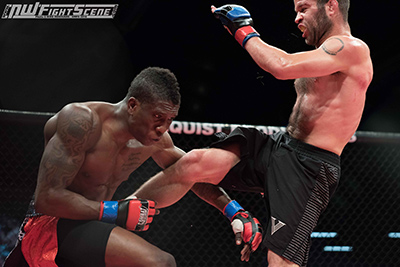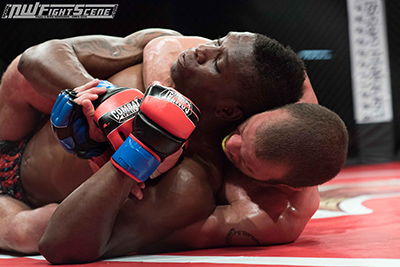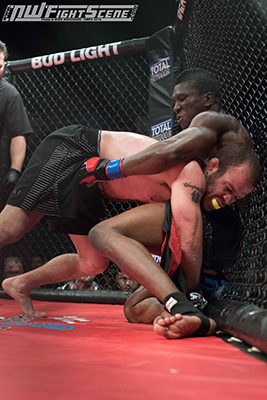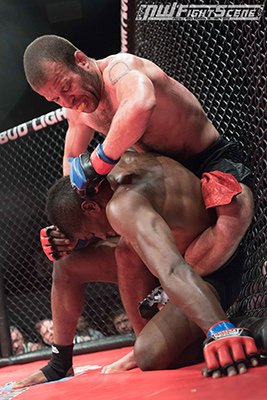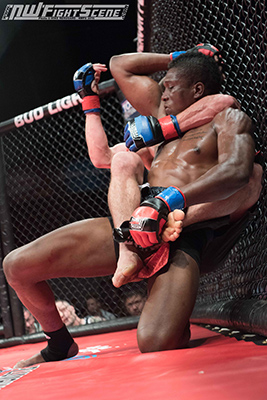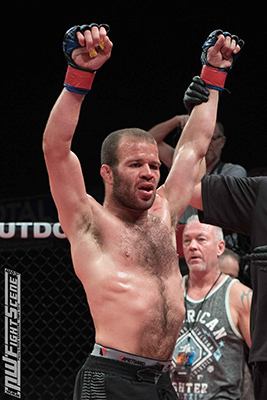 The opening prelim bout was a 160 lb catchweight fight. Gig Harbor MMA's Chris Stone entered making his pro debut after a solid run as an amateur, fighting around the South Sound. He took on Gracie Barra PDX's Kody "Krazy Legs" Hammond who has been a fixture on the amateur Oregon fight circuit and entered with a 1-0 pro record. In the first round, Stone connected in the opening exchange, Hammond responding with a takedown. Stone scrambled, went for a leg lock, landed some strikes, and followed with an armbar attempt. Hammond powered himself out, but Stone used a leg lock to bring Hammond back down to the mat and then moments later took his back, working on a rear naked choke to round's end.

In the 2nd frame, a takedown by Hammond was followed by an inverted armbar attempt by Stone. Hammond eventually worked his way free, but Stone followed with an ankle lock that again brought Hammond to the ground. Hammond mirrored Stone's attempt but Stone was the more fluid on the ground, making Hammond work hard to avoid being finished. In the final round, after an early exchange, Hammond found himself standing over a grounded Stone and tried a big ax kick that Stone turned into another ankle lock takedown. Stone again worked himself onto Hammond's back and at 2:17 of the round, finished with the rear naked choke. Impressive win from Chris Stone.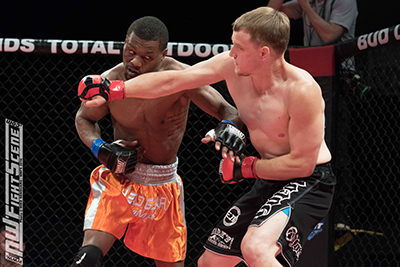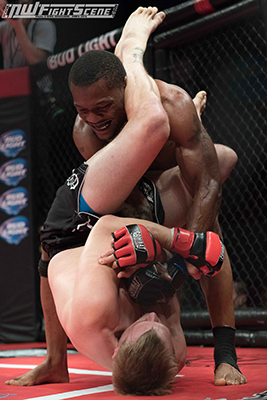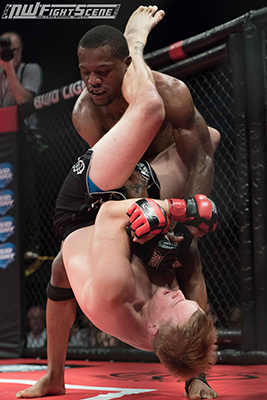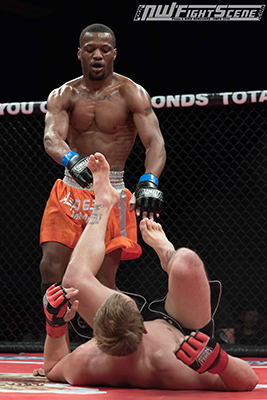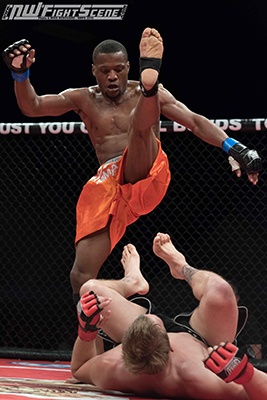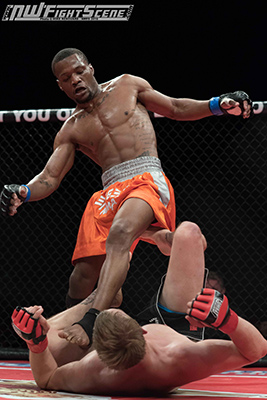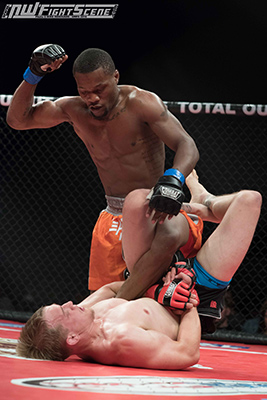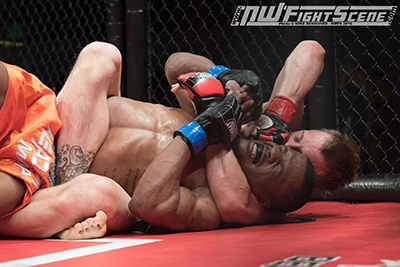 The next fight event at the Emerald Queen Casino will feature pro boxing with Battle at the Boat 106 on June 11th. MMA returns to the casino July 23rd as CageSport MMA presents another action packed SFL America. Learn more at halquistproductions.com.