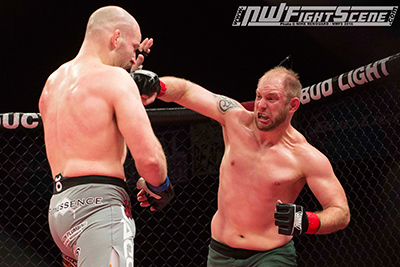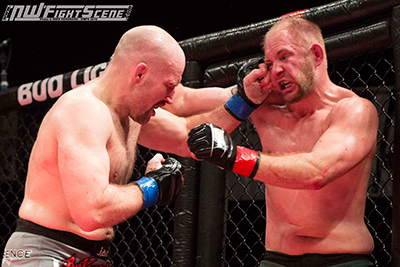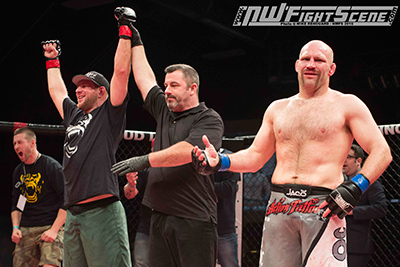 Jared Torgeson beats Brent Knopp via Unanimous Decision in the main event
Super Fight League and Brian Halquist Production's CageSport MMA presented SFL 46 on February 20th 2016 to a packed house at the Emerald Queen Casino in Tacoma. The 9 bout card featuring pro fighters from around Washington State, including a 195lb main event showdown between CageSport MMA Middleweight Champ Brent Knopp (Burien) and veteran fighter Jared Torgeson (Moses Lake). The two came out trading nasty leg kicks before Torgeson turned Knopp against the cage and landed hard body punches, while Knopp scored with knees and elbow strikes from a muay thai plum. Midway through the round, Torgeson found Knopp's head with a nice combo. The rest of the round played out against the cage with lots of work in the clinch from both fighters, Torgeson winning the battle for position, while Knopp was consistent in touching Torgeson's face with hard short elbows strikes on the inside.

In the 2nd, the pair were again content to fight up-close, Knopp utilizing a ton of knees, while Torgeson tried to move and limit the damage, scoring with some dirty boxing of his own. Numerous times in the round, the pair broke free whereupon Knopp would move straight forward to clinch up again, and Torgeson making him pay, connecting with some enormous bombs that Knopp simply ate, seemingly unfazed. In the final frame, Torgeson came out swinging and landing big shot after big shot. Torgeson went for a takedown but Knopp sprawled and put Torgeson in a bad position on the mat, landing elbows strikes and hammerfists. Torgeson stood up and again they went into the clinch, with Knopp keeping Torgeson against the cage and landing his biggest shots of the night as the fight ended. What a war! After the 15 minutes of action, all three judges scored it 29-28 for the winner, Jared Torgeson.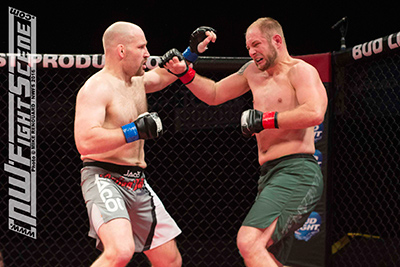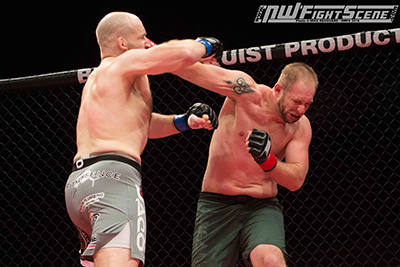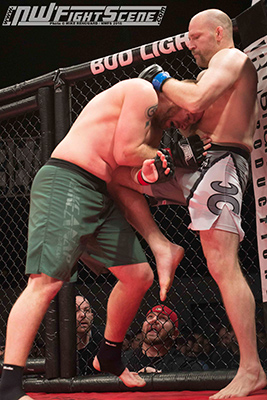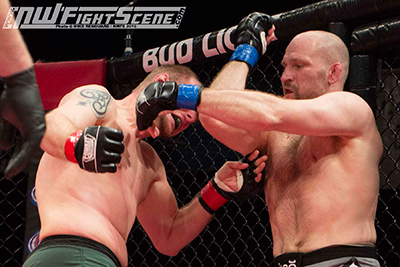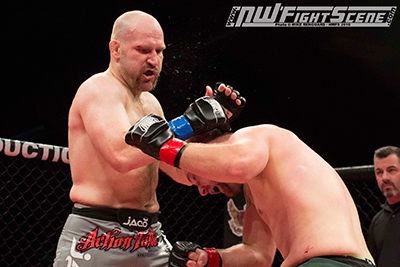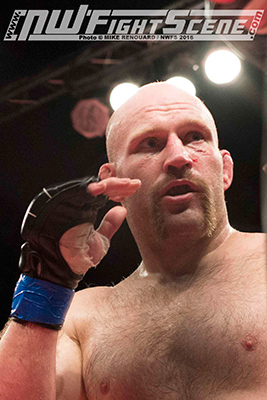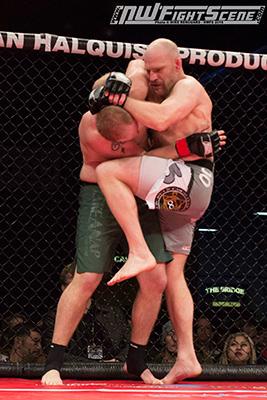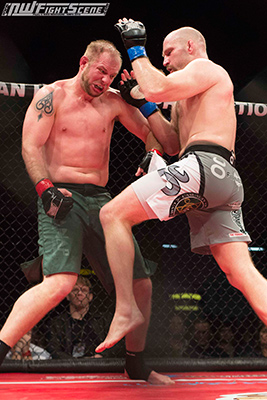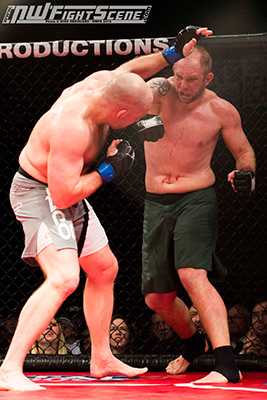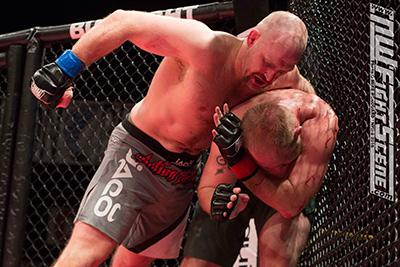 The Semi-main Event was an intriguing lightweight matchup between Jason "The Grinder" Gray taking on Patrick "The Pacific NW Bad Boy" Benson. The bout started out with Benson engaging first with flurry of punches, Gray answering with a takedown. Benson though had his neck and went for a guillotine before breaking away and getting back to standing. Gray nailed another takedown, but Benson made Gray pay for the attempt with some hard punches from his back. Gray continued with his relentless takedowns but Benson again punished Gray from the bottom with some solid upkicks and then elbows. Benson then scrambled and locked on a front choke, before beautifully transitioning to a tight triangle that forced Gray to tap at 3:23 of the first. Impressive performance from Benson who moves to 2-0 as a pro.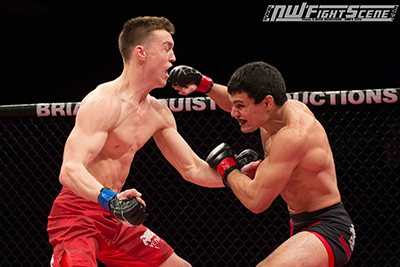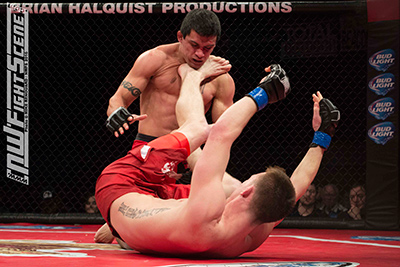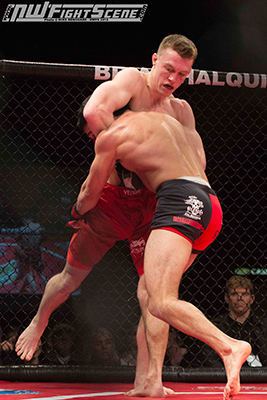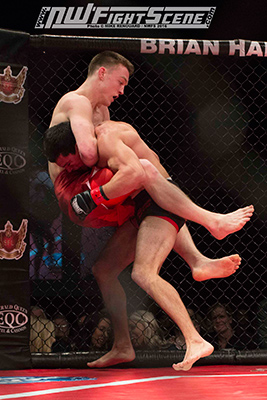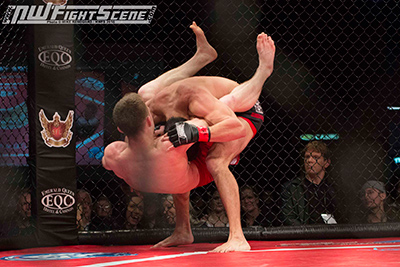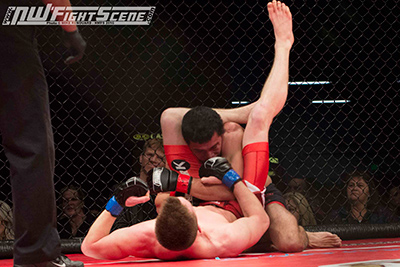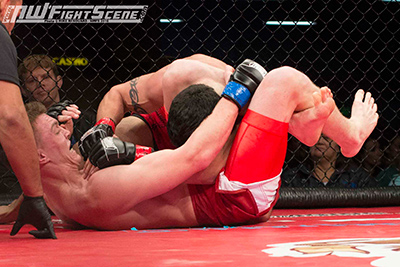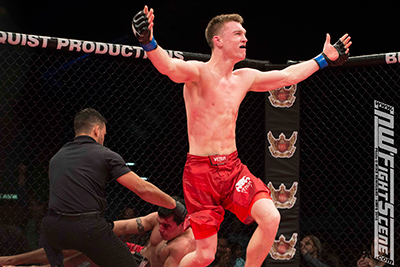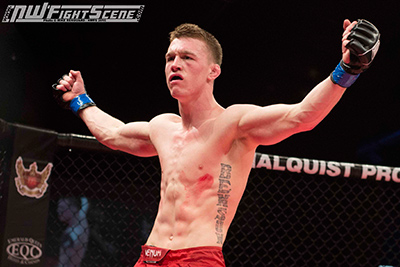 In a 145 lb matchup, Team Wise's Jeremie Montgomery moved to 2-1 as a pro with a 2nd round submission of debuting Armando Best. The pair clinched up early, dancing for position before the fight went to the mat and Montgomery locked on an inverted armbar. Best slammed his way out and moments later had Montgomery in an triangle choke attempt. Montgomery worked his way free and then in a scramble, briefly locked Best in standing guillotine before scoring with knees from clinch. Montgomery closed the round with a takedown and some elbows from side control. In the 2nd frame, the fight went to the mat early and Montgomery worked more ground and pound. Best reversed and took Montgomery's back, but the Team Wise fighter escaped and landed some big bombs before dropping into top position where he finished via d'arce choke at the 3:44 mark.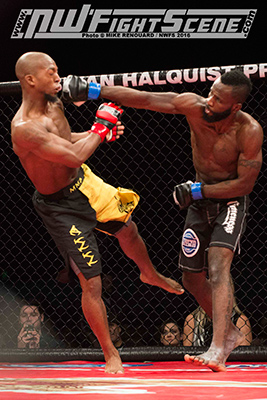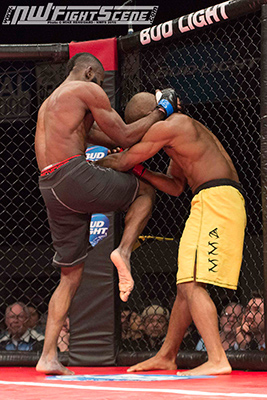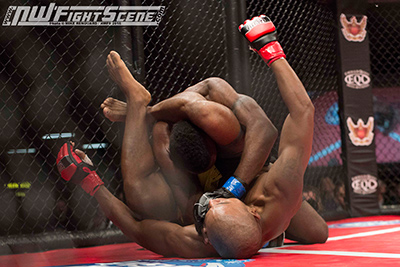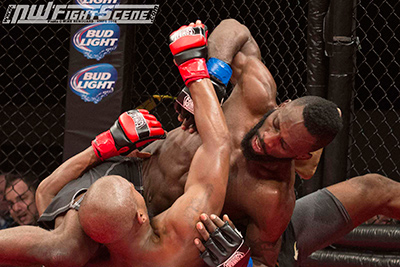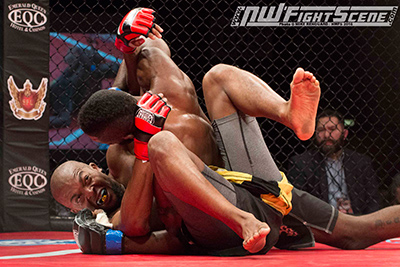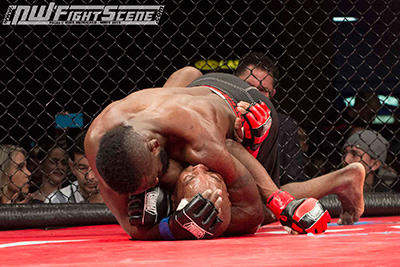 In the welterweight division, CSF's Joey Pierotti of Enumclaw won his pro debut over Ivan Salaverry's Fay Bursell via 1st round submission. At the opening bell, Pierotti came out firing, backing up Bursell against the cage before executing a nice slam. Pierotti took Bursell's back and Bursell looked to escape the choke by standing up, but Pierotti would not relinquish his hold and Bursell was forced to tap to the rear naked at 1:09 of the first.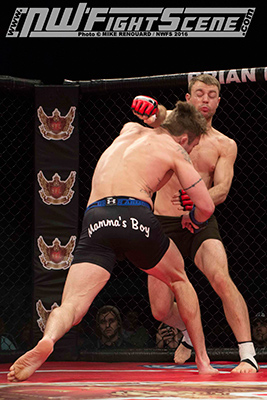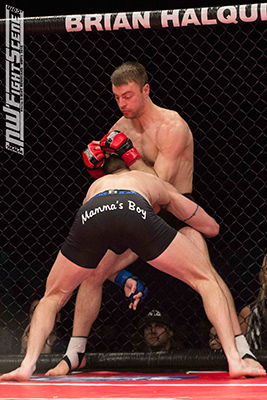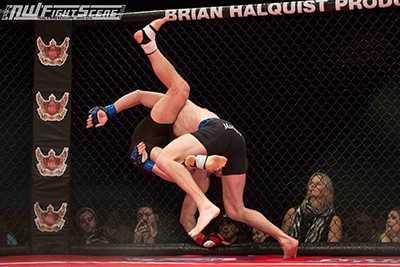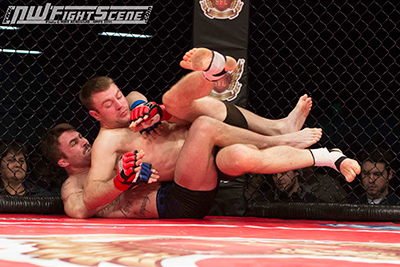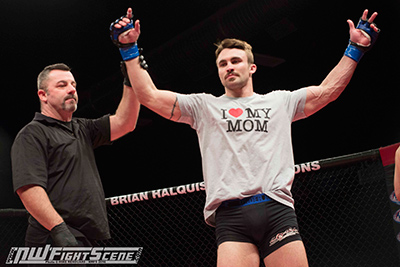 A contracted middleweight bout turned into a 195 catchweight bout when Olympia' Dylan Potter came in overweight and Puyallup's Rob Burgess agreed to take the fight irregardless. In the first round, Burgess caught a Potter kick and charged forward, clinching up and controlling Potter against the cage. The fight went to the mat where Potter did well in limiting damage from Burgess' power. Potter looked to finish, catching Burgess in a tight armbar, but Burgess did well in defending, escaping as the round ended. In the next round, the pair had some spirited standup exchanges, letting their fists fly, before Burgess executed a nice takedown against the cage. Burgess postured up to drop bombs, but Hugo was ready and locked on a tight armbar for the finish at the 2:20 mark of the 2nd. Potter is now 3-0 as a pro.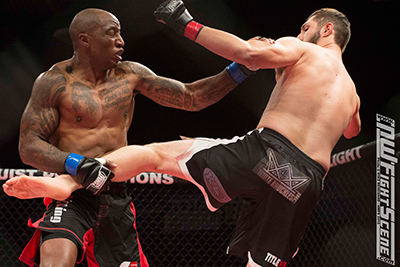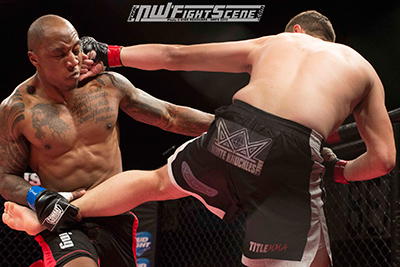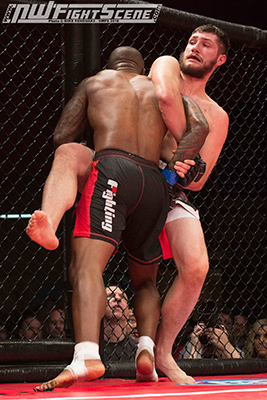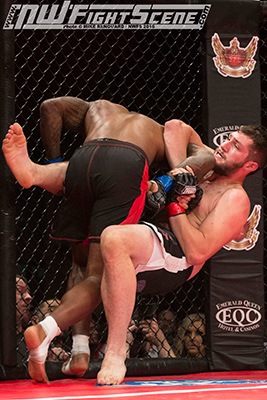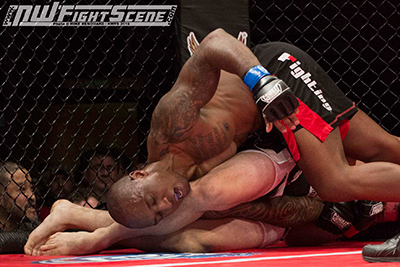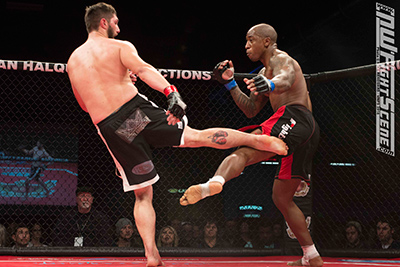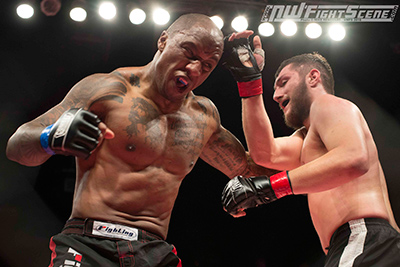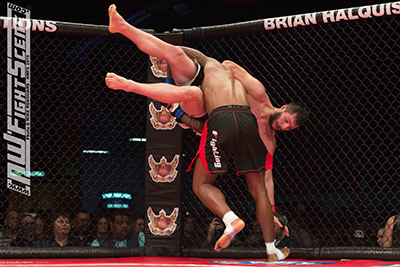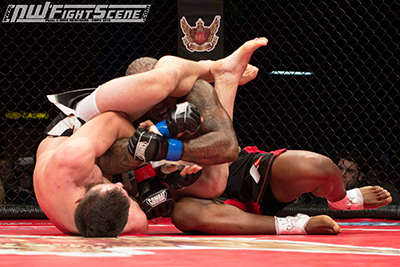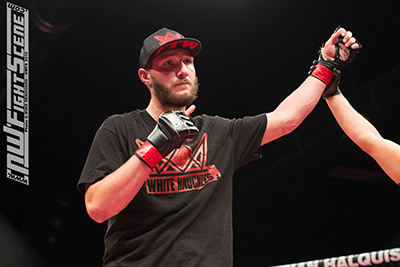 Lightweights Armando Best and Thomas James Pierce Jr had a good back-and-forth scrap going before an incidental eye poke from Best brought the doctor into the cage. Upon examination of Pierce's eye, the doc recommended the fight be stopped, resulting in No Contest at 33 seconds into the 2nd.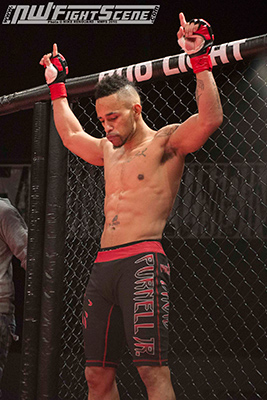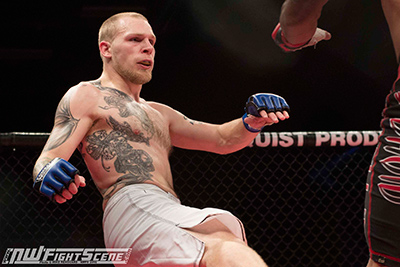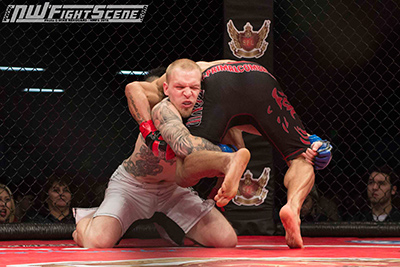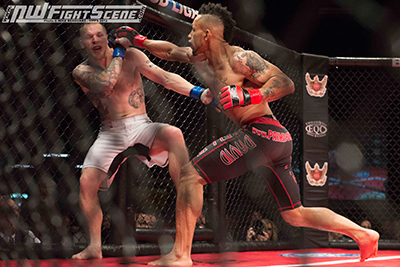 Olympia WA's Justin Hugo picked up his first pro victory via a slick 2nd round armbar of Covington's Jon Marc Cortez. Lots of action from the get-go in this 130 lb catchweight bout, Cortez coming out aggressive with kicks, Hugo responding with a takedown attempt. Cortez sprawled and found himself in good position to deliver some hammerfists to Hugo's face. Hugo scrambled and took hold of Cortez' neck, searching for a submission. Cortez though got it to standing, delivering a liver kick that put Hugo on the mat. Hugo though defended the Cortez onslaught, and later in the round nearly finished with a side choke. In the 2nd round, Hugo got an early takedown and waded through Cortez upkicks and elbows to gain full mount to deliver some some serious punishment. The pair scrambled and Cortez stood up over Hugo to deliver some strikes. But, from the bottom, Hugo attacked the left arm of Cortez and expertly adjusted and re-adjusted the hold to elicit a tap from Cortez at 4:16 of the 2nd.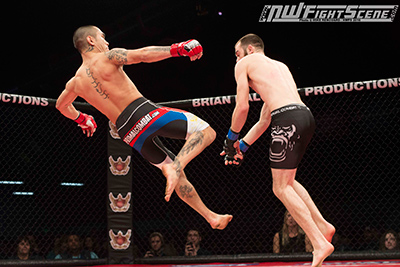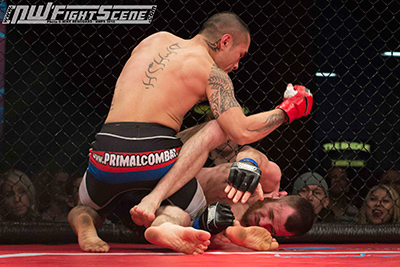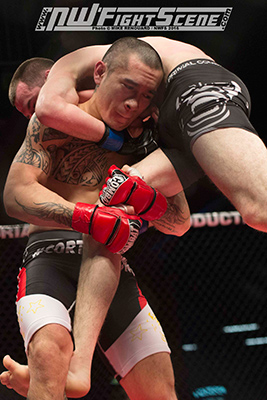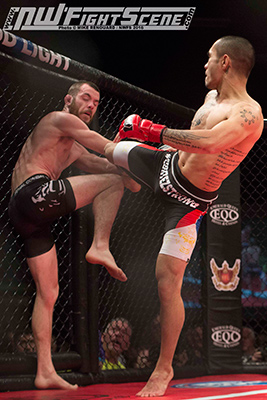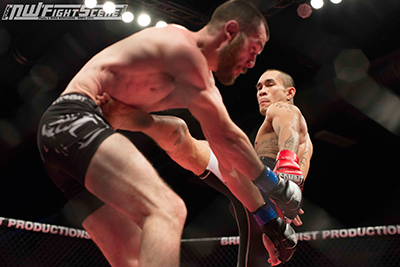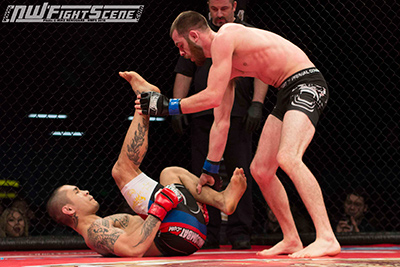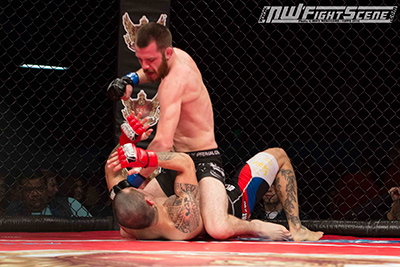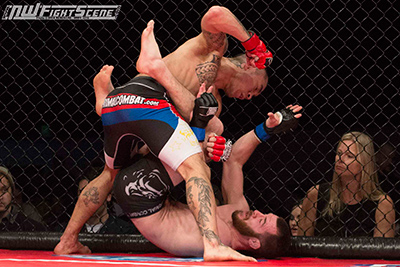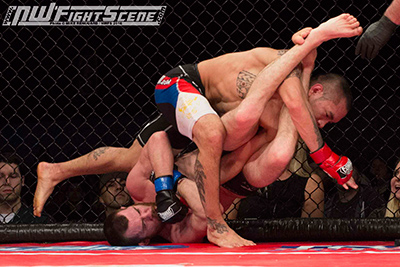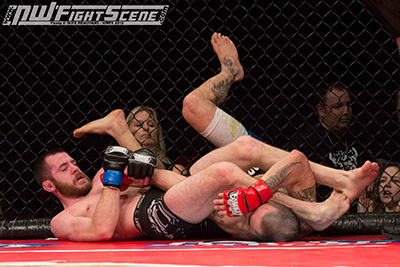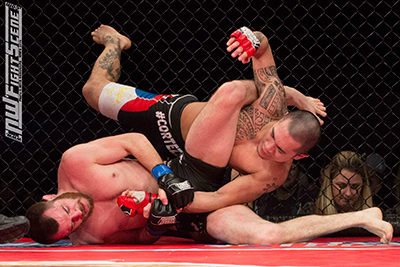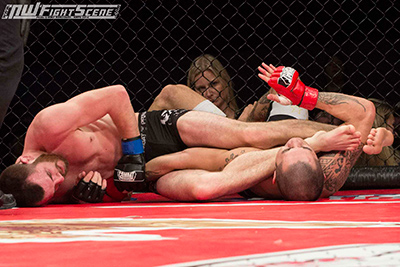 Base Fitmass MMA's Ryan Schecterson picked up his first pro win via a hard-fought decision over Nick Coughran in a 175 lb catchweight bout. The first round saw Schecterson showing some flash, mixing in high head kicks while consistently scoring with kicks to Coughran's body and lead leg. In the 2nd round, Coughran took Schecterson down early with a double leg against the cage, scoring with his ground and pound. Schecterson though brought it back to the feet and scored got a takedown of his own, punishing Coughran some hard shots to the head before attempting a rear naked choke as the round ended. In the final frame, both fighters showed fatigue but it was Coughran putting together a nice series of punches that found their target and then later nailing a takedown. On the ground, Coughran worked hard for a kimura but a slippery Schecterson got it back to standing. Coughran closed the bout with a huge crowd-pleasing slam of Schecterson. The fight came down to the judges, all three scoring it 29-28 for Schecterson.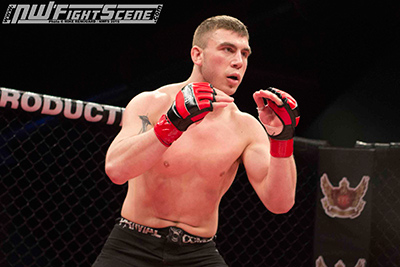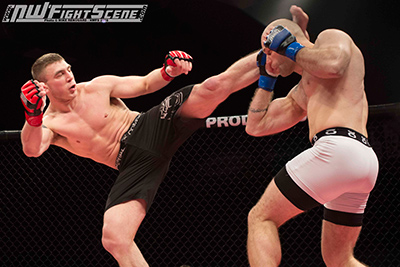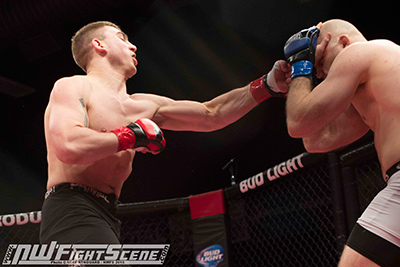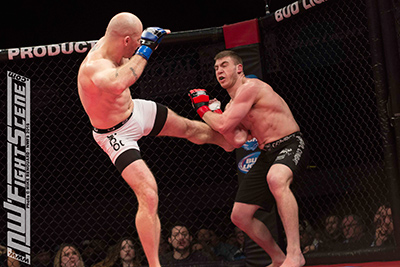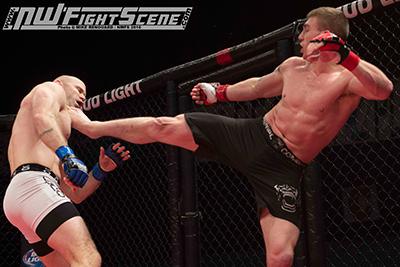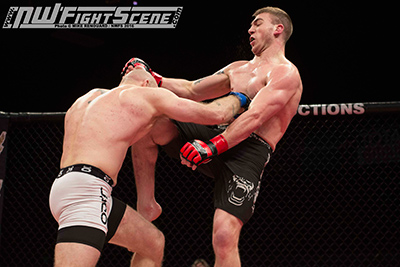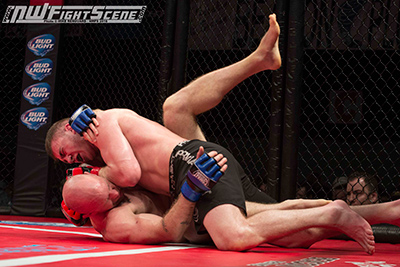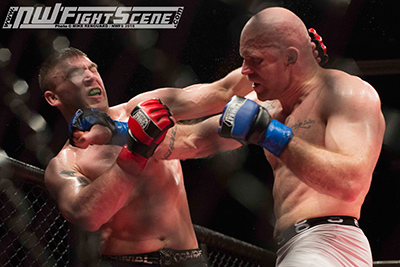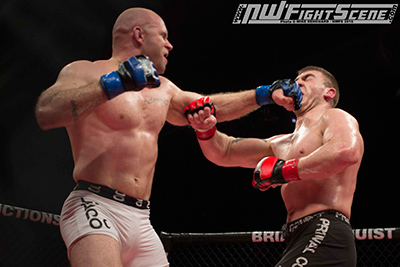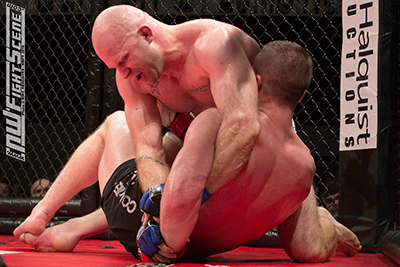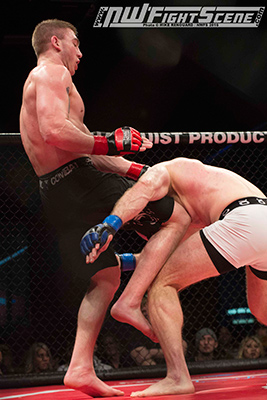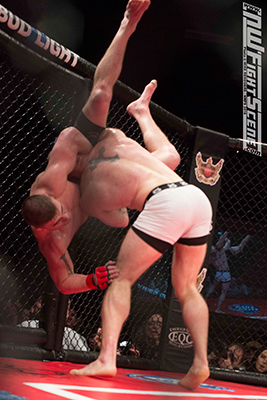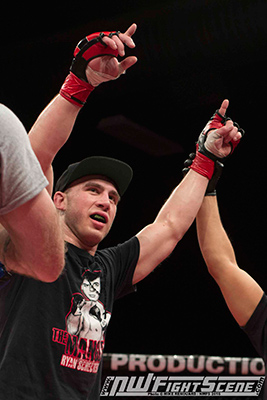 In the opening fight of the night, Anthony Zender picked up his 3rd straight pro win via a 1st round TKO of Luis Gomez in a 130 lb catch weight bout.
The next Super Fight League at the Emerald Queen Casino is scheduled for May 7th. Pro boxing will be at the casino on March 26th with Battle at the Boat 105. More information about both events can be found at halquistproductions.com.