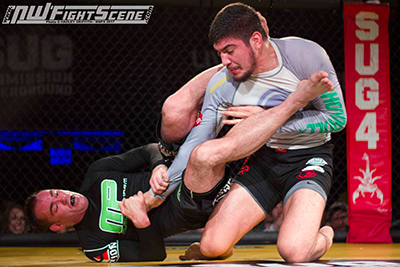 Jake Shields beats Dillion Danis in the main event of SUG 4

Chael Sonnen's Submission Underground series continued on May 14th with SUG 4 at the Roseland Theater. A full card filled with matchups between ultra-talented grapplers took place, including 12 undercard matches with athletes from around the Pacific NW as well as a 4-match main card with big names aplenty. In the main event, MMA superstar and grappling phenom Jake Shields got the overtime win over Dillion Danis. This was the match that had all the hype: Danis was very vocal about taking out Shields, about being part of the new generation of grapplers. Their match turned into a nail-biter, because the escape times for the third overtime were not announced, and Shields was behind going into the third. Shields showed why he is known for his grappling with smart and well-timed maneuvers, while Danis was focused and not getting himself into trouble. It was a good match, and the crowd went wild when Shields was able to slide past Danis' total time to win it.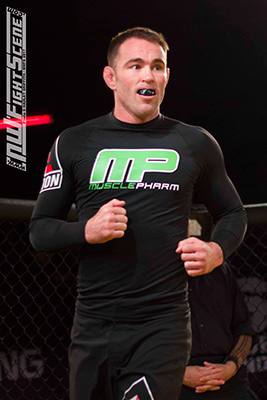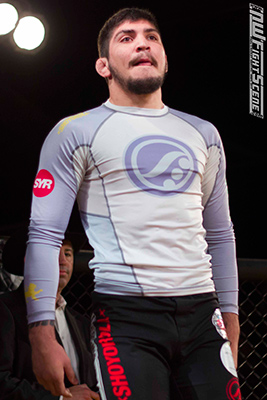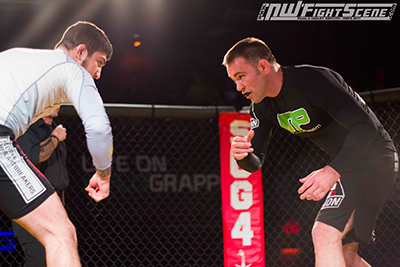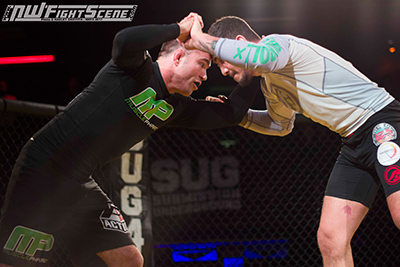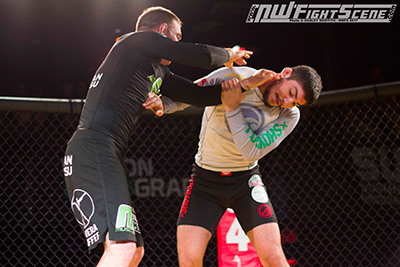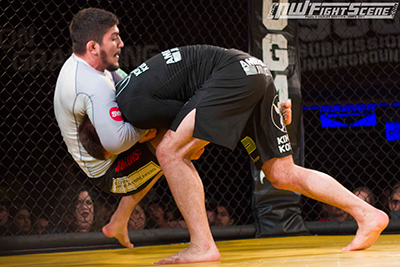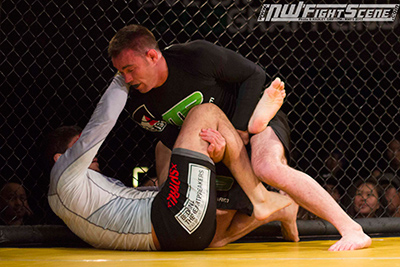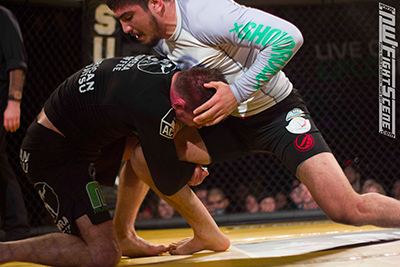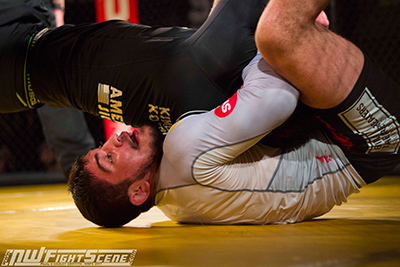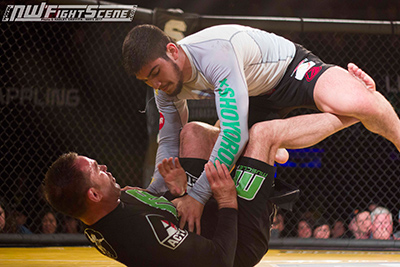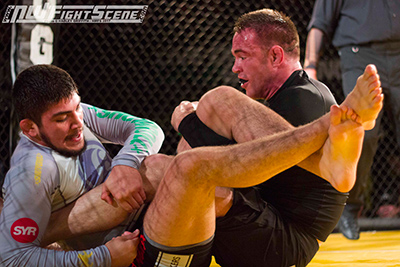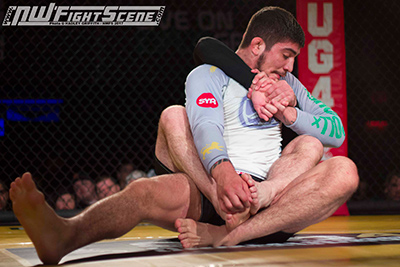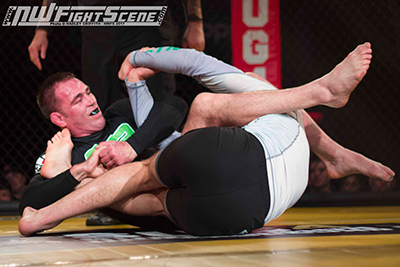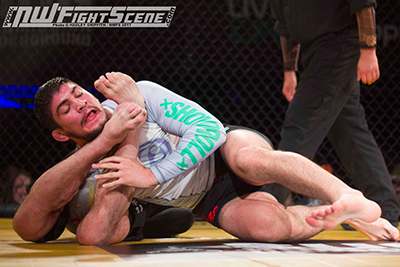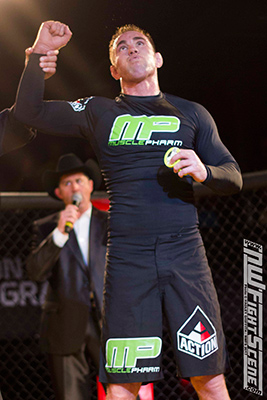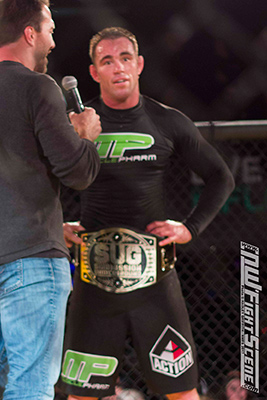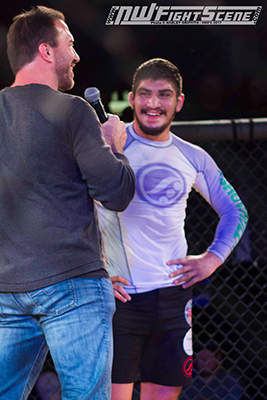 In the Co-main event, Paulo Miyao sat down and never got up, refusing to let Urijah Faber's wrestling takedowns be a factor in this grappling match. Faber stayed smart and patient, never diving into guard. Miyao would scoot close enough to capture a leg and Faber did everything right to escape. The two men made it to the overtime rounds where Miyao would aggressively take the over/under arm position, surprising Faber. Faber returned the favor, much to the crowd's enjoyment. It was Miyao that had the faster escape times against Faber in the three extra rounds, winning the match. It looked like it was difficult for Faber to transition to the Eddie Bravo Invitational style from a career where you take mount when your opponent is trying to escape the rear naked choke. That was how Miyao was able to escape faster from the back position.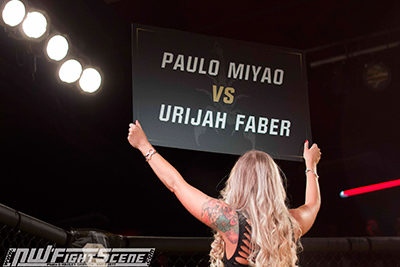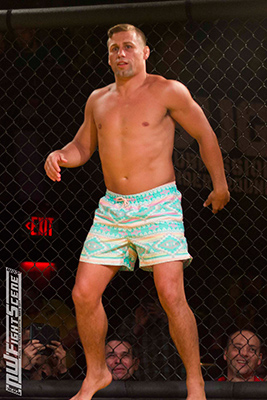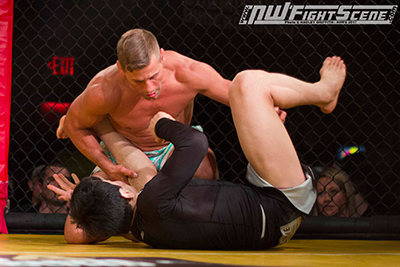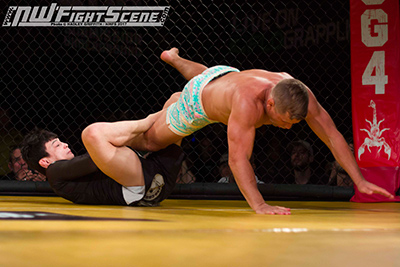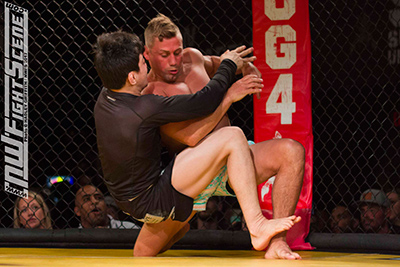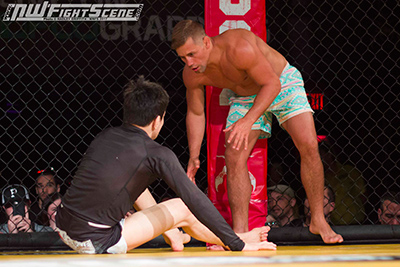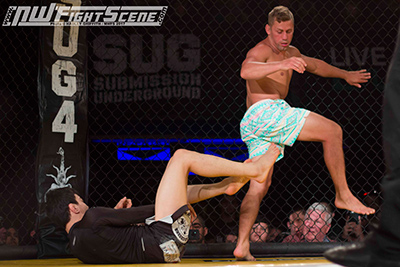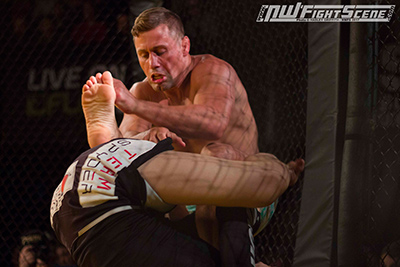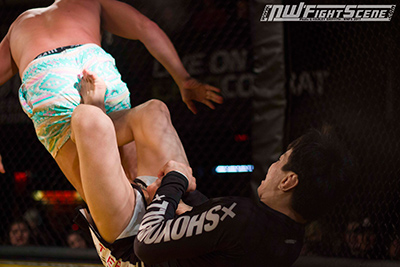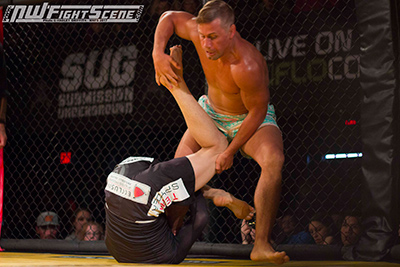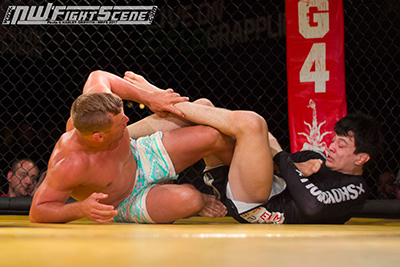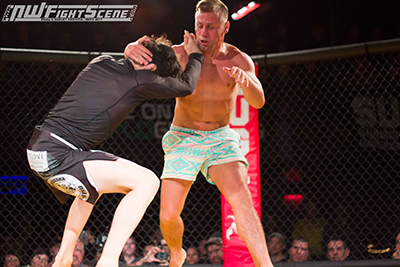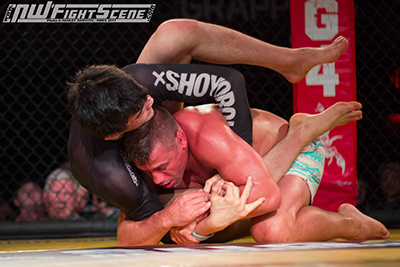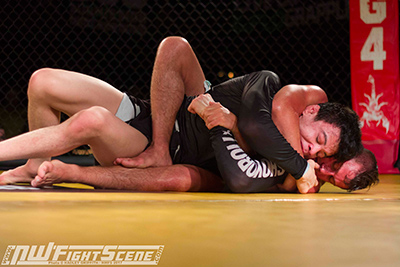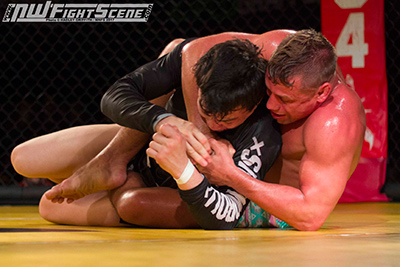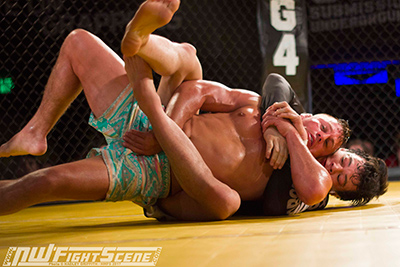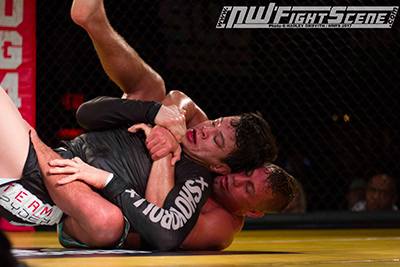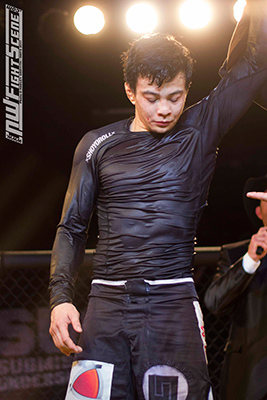 An Incredibly close match is won by Nathan Orchard, who was down on time going into the 3rd overtime and was able to hold onto Mike "El Patron" Perez's back for long enough to get the win. Orchard was fast and agile on his feet, and slow and methodical on the ground. Perez relentlessly attacked with a constant stream of submissions. These two grapplers were well matched. It finally came down to who had the faster escapes in the overtime rounds. After Nate Quarry interviewed winner Nathan Orchard, Mike Perez took to the mic to call out Dillion Danis.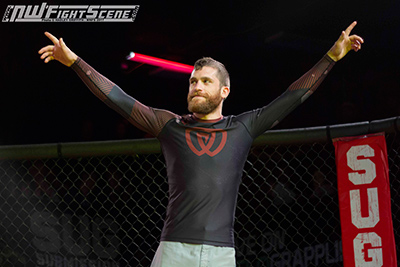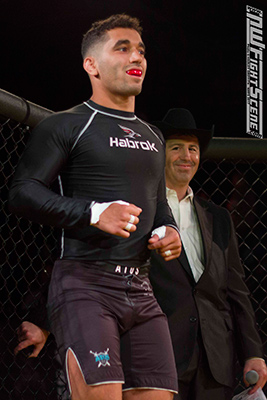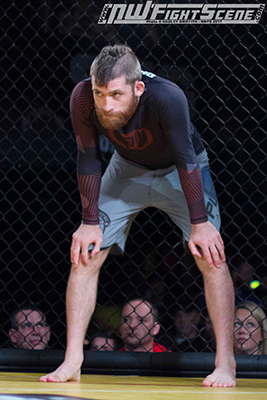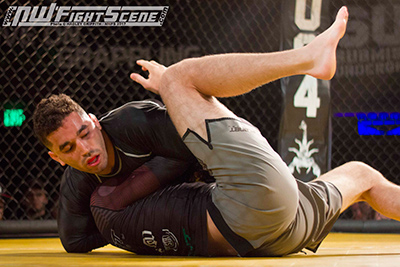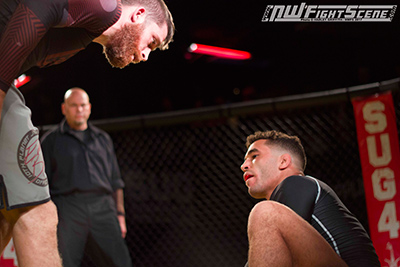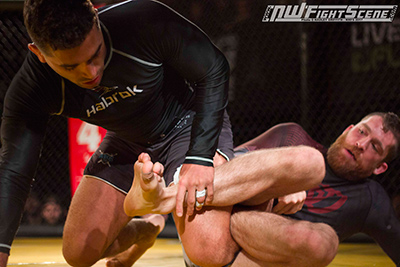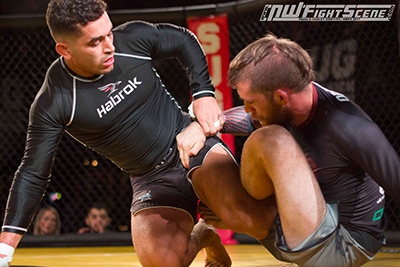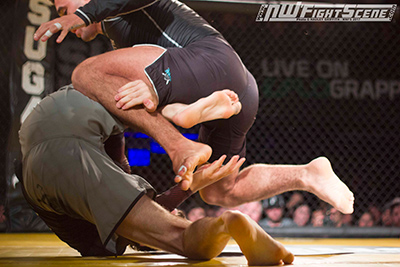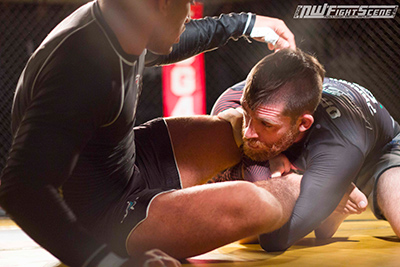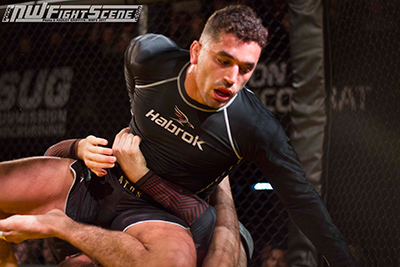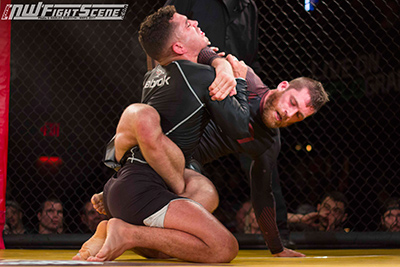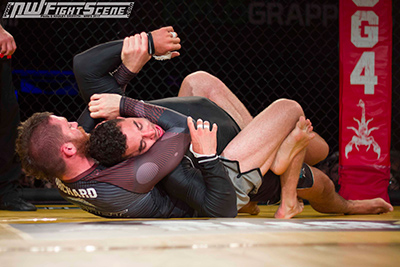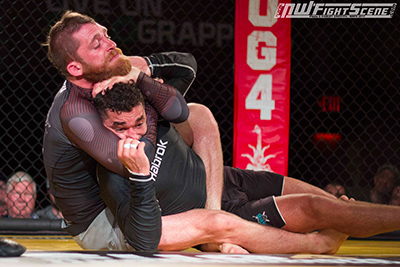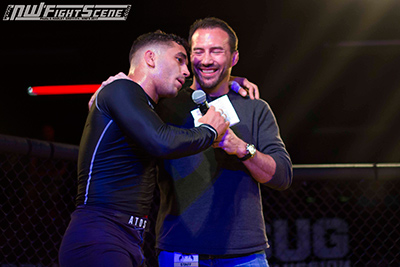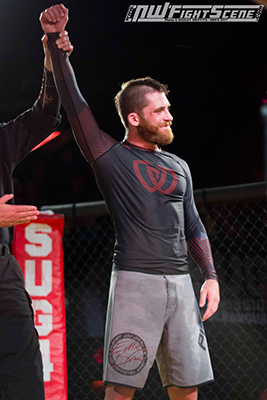 In the opening main card match, Gilbert "Durinho" Burns gets the rear naked choke of John "Comb-bi-ty" Combs in the 1st overtime. Burns was the much bigger grappler, but Combs showed incredible skill, stamina, and agility. Burns was unable to dominate him; Combs used his flexibility and skill to stay safe and maneuver well, forcing Burns into the overtime rounds. Burns was finally able to lock up a rear naked choke on Combs for the win in the first overtime round.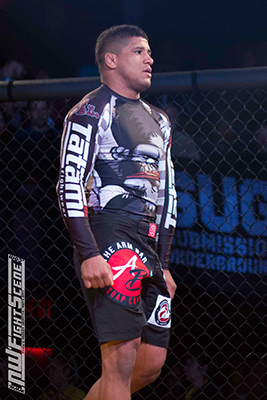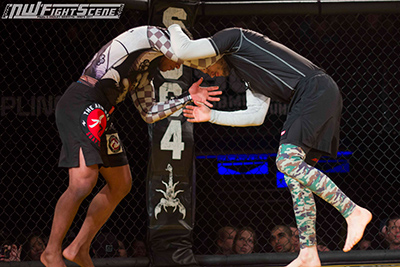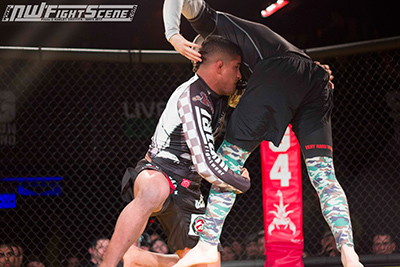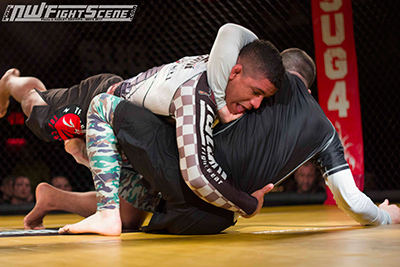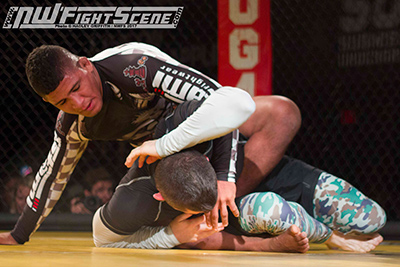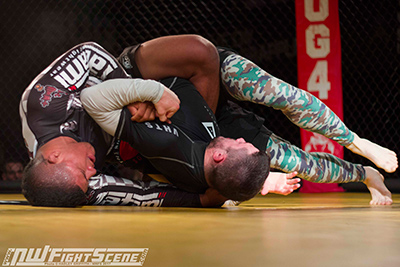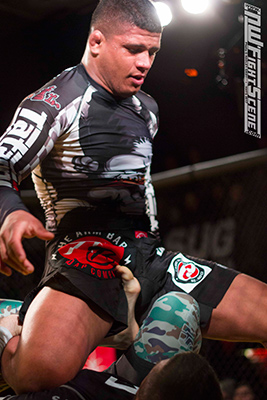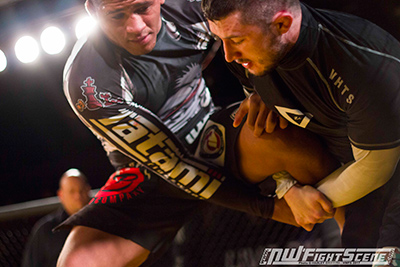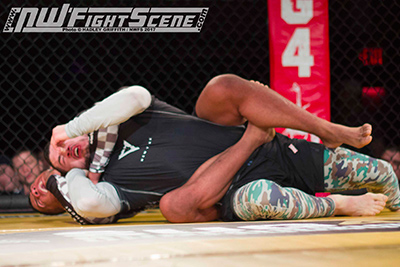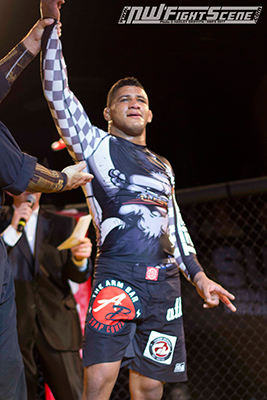 In the final undercard match - an unexpected rematch from the SUG 3 card - Alex Le was a last minute replacement for Pat Healy to take on Bryan Nuro. Both Nuro and Le stayed active through the whole regulation period, with Nuro spending most of his time on top or alongside Le, allowing him to push away and out of most of Le's numerous attacks. The match was decided by the grappler with the quickest combined escape times of the three overtime rounds, which was Nuro.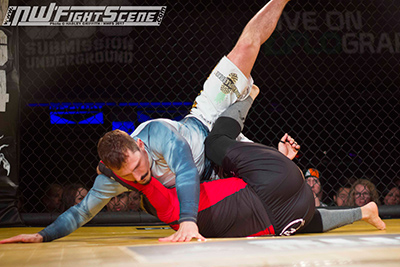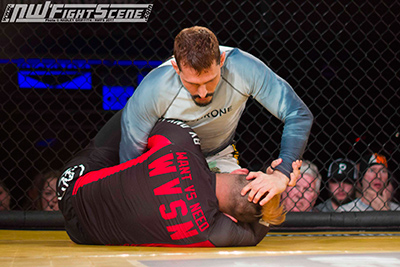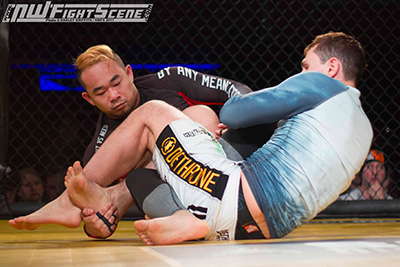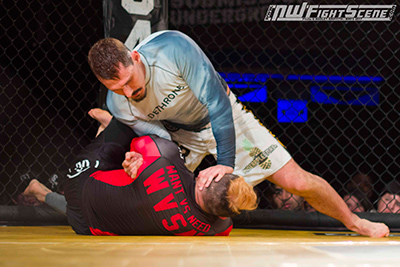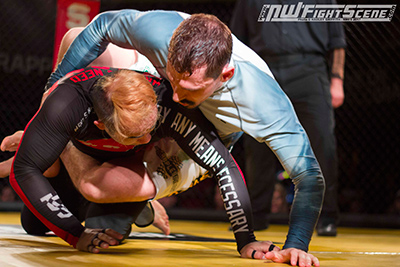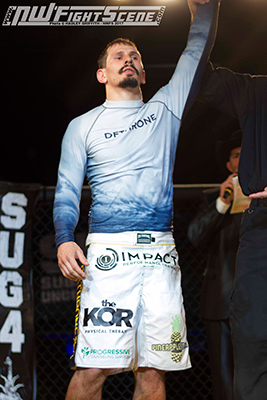 All the way from Melbourne Australia, Craig Jones was able to submit BC's Micah Brakefield via rear naked choke at 1:26. This match had the crowd engaged before it even began. When Craig Jones was announced as being from Melbourne, a fan in the audience became excited and began hollering out encouragement to the Australian. Undeterred by the announcer or the quick rule recap by the referee, the fan continued to call down to Jones, who started responding back. Both grapplers were in great humor when the match began - Jones immediately stepped to the center of the cage and sat down crossed-legged before waving Brakefield over. Brakefield was able to come down to the canvas in side control, but Jones quickly scrambled onto Micah's back for the rear naked choke. Cries of "AUSSIE AUSSIE AUSSIE - OI OI OI" came from Jones' biggest fan, who announced that he had been to Melbourne once. It came out in the post-match interview that Jones flew halfway across the world just to compete on the SUG card.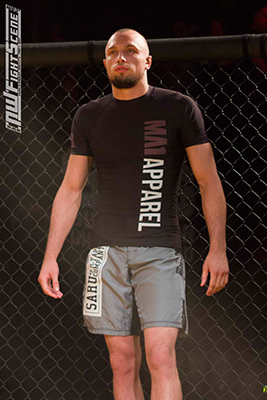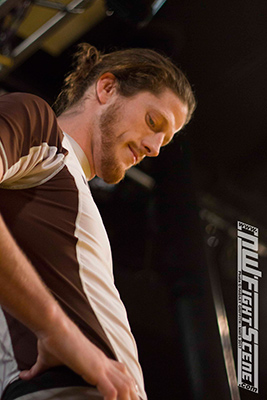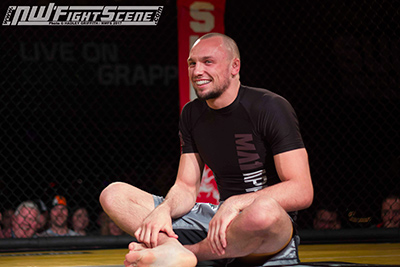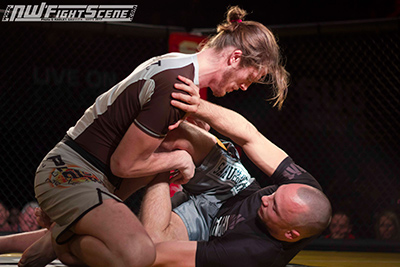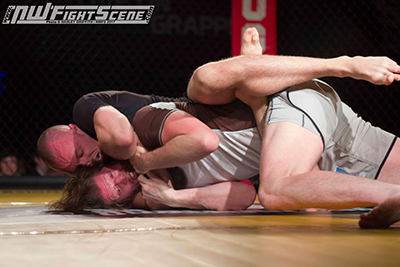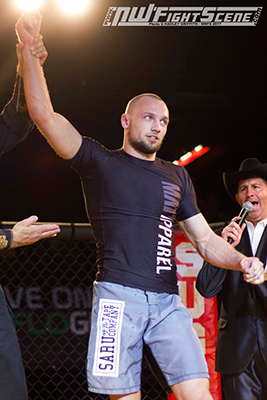 Andrew Alexander submitted Robert Wolfe in 1:52 with a heel hook. Wolfe was working with the butt-scoot attack, so Alexander answered with dive rolls of every type. Alexander spent most of his time spinning, somersaulting, and generally flying through the air, never giving Wolfe a sense of which direction Alexander would be attacking from. They finally end up in the dual heel hook attack position, but it was Alexander who finished his heel hook. When given the mic, Alexander called out the big guys: wanting Chad Mendesthe most in his next match up.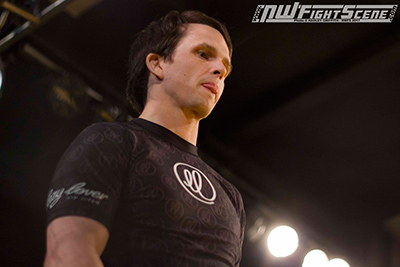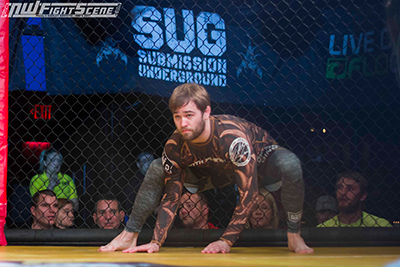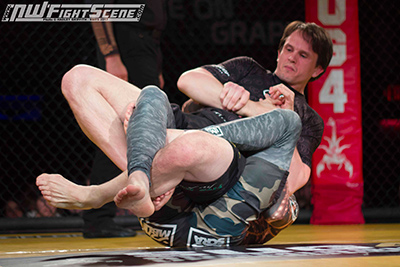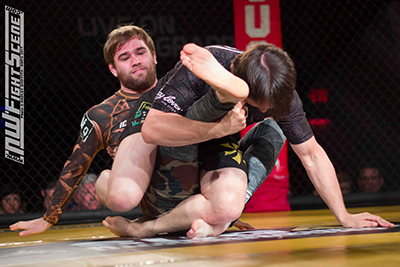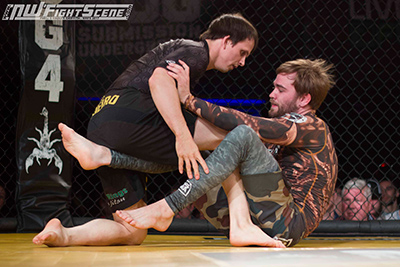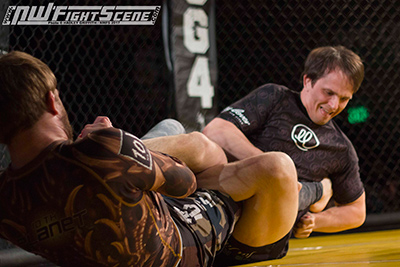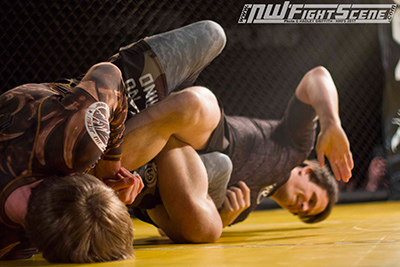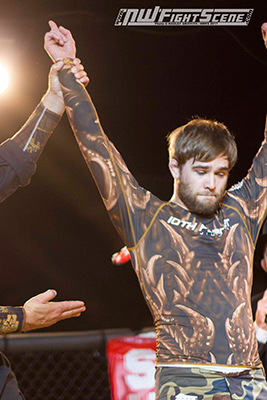 Phil Schwartz wins via armbar at 7:13 at SUG 4 against Torryn "Falcon" Heffelfinger. Heffelfinger was running good takedown strategies and defenses, while Schwartz utilized really strong hooks and ground defense against the standing opponent. Entertaining back and forth scrambles from these two men on the canvas, until Schwartz was able to catch and pull Heffelfinger into a triangle. When Heffelfinger overbalanced defending it, he was swept and Schwartz rode into a mounted triangle. Heffelfinger rolled out from under and to to his knees, but Schwartz kept his arm and Heffelfinger couldn't escape the armbar. In his interview, Schwartz made it very clear that he wants Bryan Caraway as his next opponent.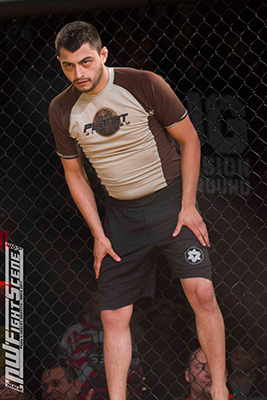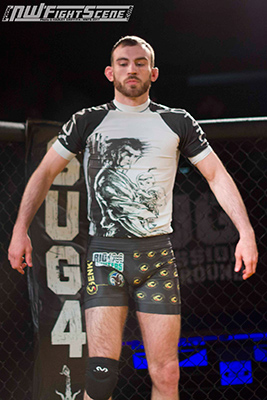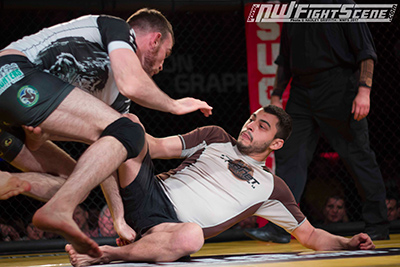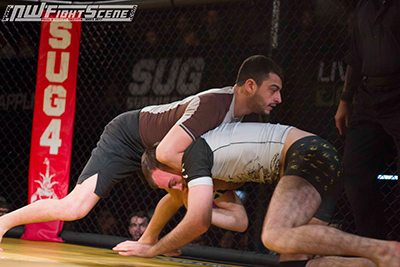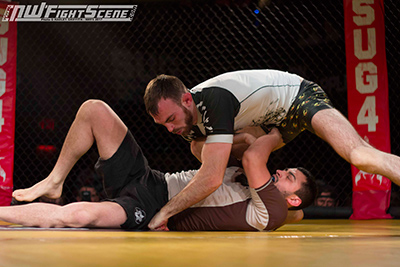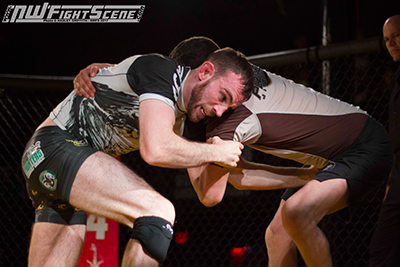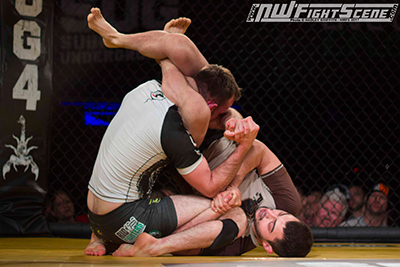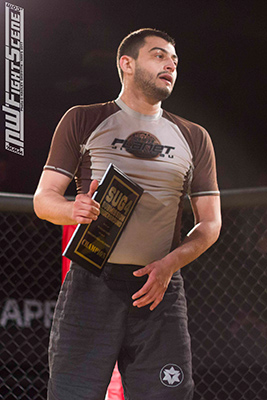 Journey Newsom submitted Kevin Hughes via heel hook at 2:45 of regulation time. Hughes immediately sat on the mat, but a patient Newson stayed on his feet, working hard to close the distance without ending up in a bad position. Newson would grab Hughes' foot, trying to swing it through so that he could pass to side control, but eventually he just attacked the foot and got the heel hook.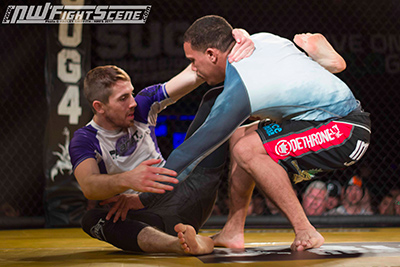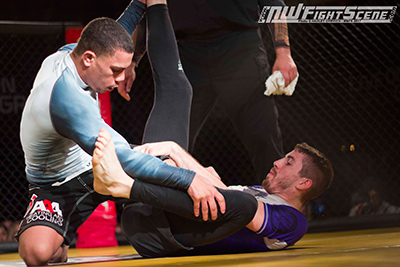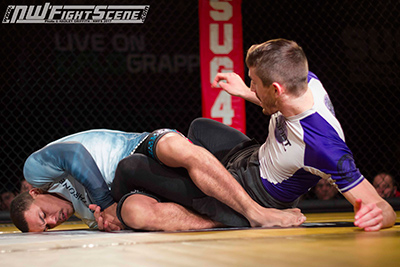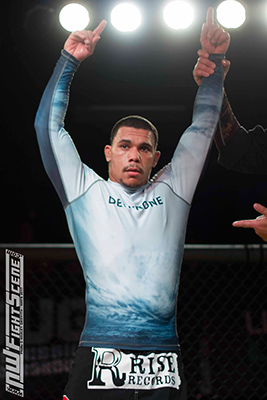 Andrew Marshall defeats Waseam "The Dream" Dannaoui in the third overtime round. Great back and forth on the ground in regulation time from these two very skilled grapplers, making it through the regulation time and in to the overtime rounds. Marshall was the first grappler of the night to utilize the spider-web start- a side control armbar position. Dannaoui defended that armbar incredibly well, but couldn't fight off the rear naked choke that came in the third overtime round.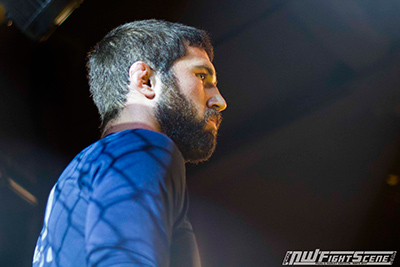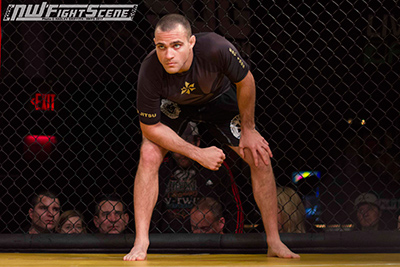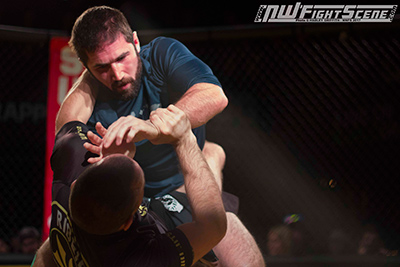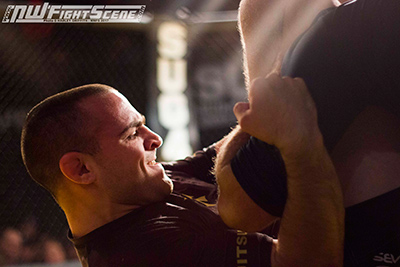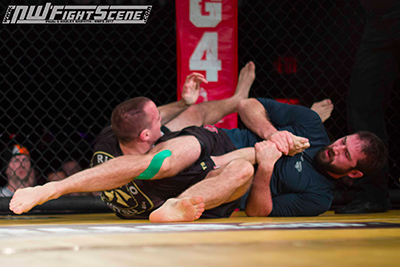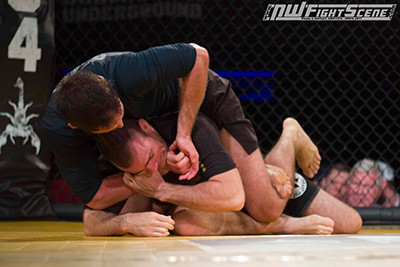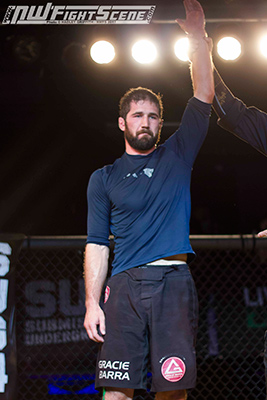 Shawn "The Gingerbread Man" Weisenburgh wins in second overtime with a rear naked choke at 0:19 against Gustavo "Bonzai" Bessa in an incredible match. Bessa was securing good takedowns, but couldn't keep Weisenburgh down. When Bessa adjusted to keep Weisenburgh tied up on the stand-up attempts, Weisenburgh was able to maneuver onto Bessa's back and sink in a rear naked choke. Bessa defended very well, and they went to the overtime rounds. Weisenburgh though got secured another rear naked choke in the second round of overtime for the win. When asked by Nate "Rock" Quarry about his nickname, Weisenburgh explained that the kids at his gym say he's really sweet, and "I'm a Ginger- so 'The Gingerbread Man'."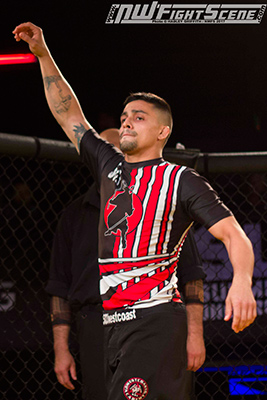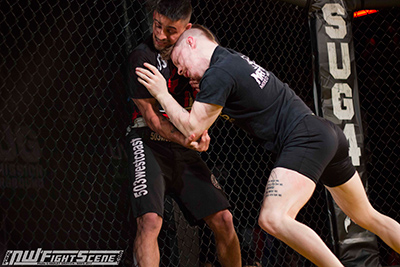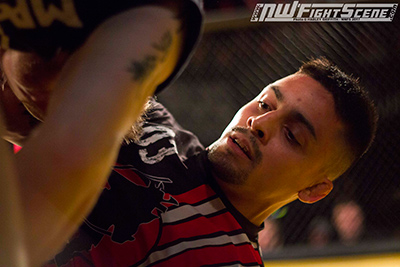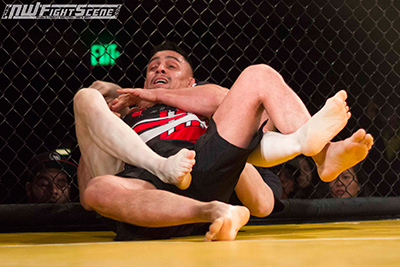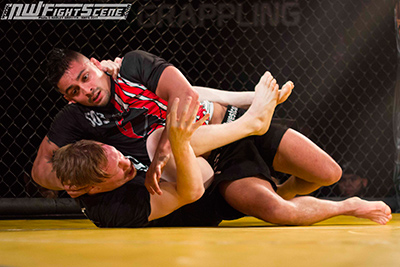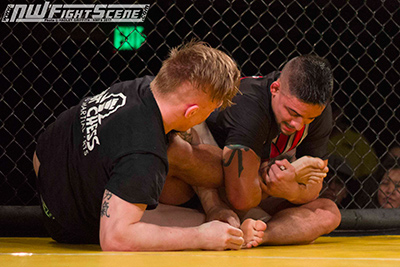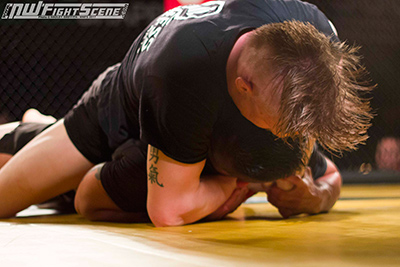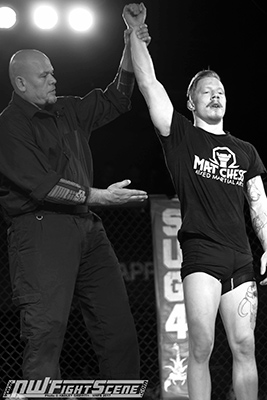 Nicholas Maximov wins via kimura against Dan "The Snuggler" Walsh. Both men looked like former wrestlers when working to take each other down, hand fighting and shooting on legs or sprawling well. They battled all over the cage and against the cage wall before scrambling on the ground. Maximov was able to secure a kimura from the bottom and hold on to it through Walsh's defense, earning the tap not long into regulation time.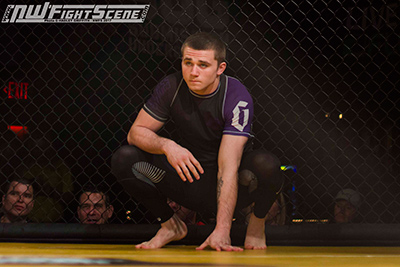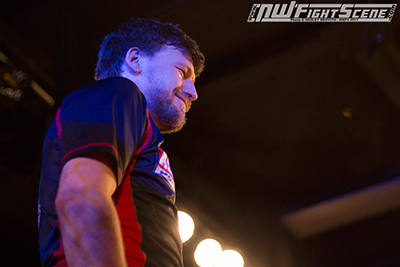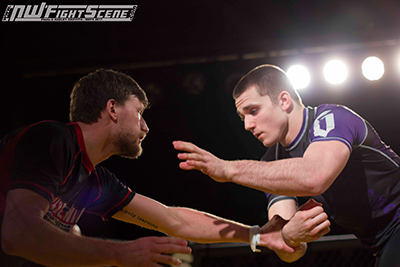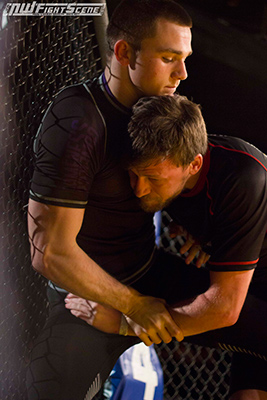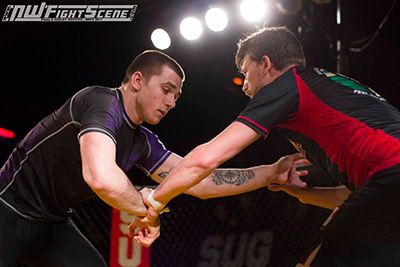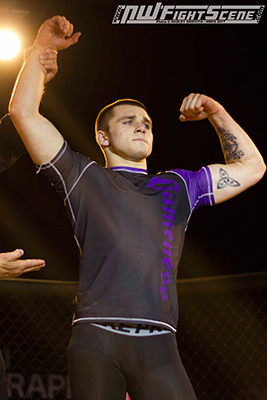 Elijah Carlton gets the armbar win over Eddie Jamrog in regulation time. Carlton went straight to the canvas forcing Jamrog to find a safe opening, but they quickly found themselves in a dual ankle lock/heel hook position. When they separated, Jamrog again had to circle the sitting Carlton, looking for an opening. Carlton was able to pull Jamrog into a triangle that Jamrog tried to defend, but he was unable to protect against the armbar while in the triangle.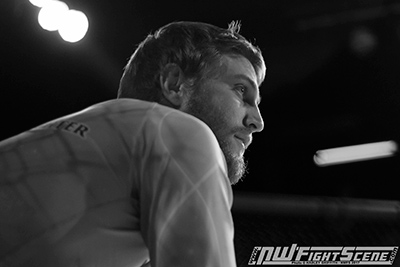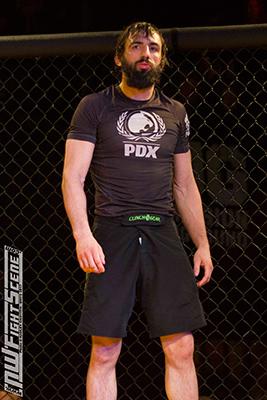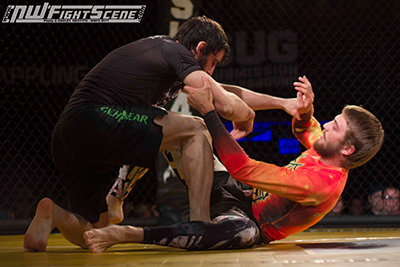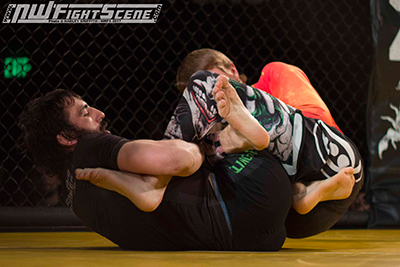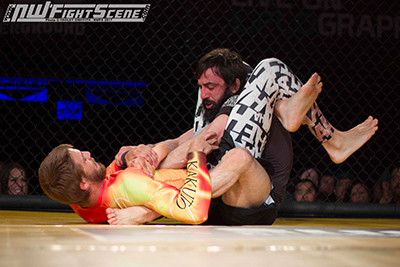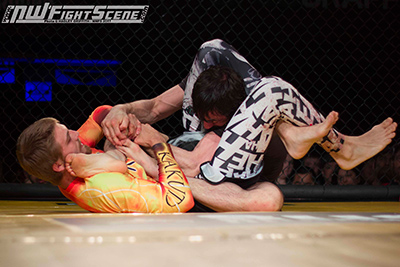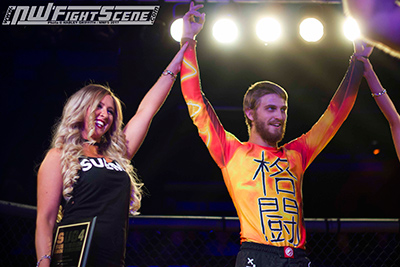 Justin Silveira won via arm triangle at the 2:06 mark. Silveira stayed patient in the scrambles, was able to take Castro's back and rode through Castro's defense to top position where he snuck in the arm triangle. Silveira then swung over the side to the mat and got the tap from Castro.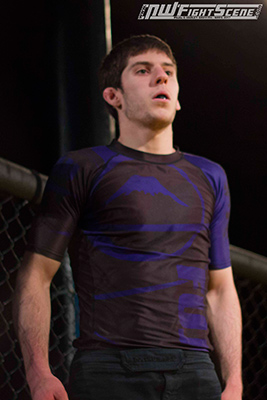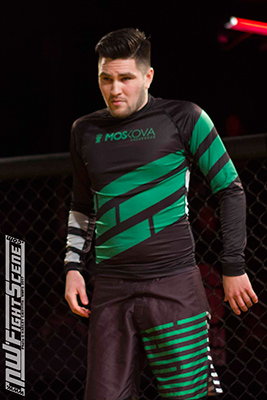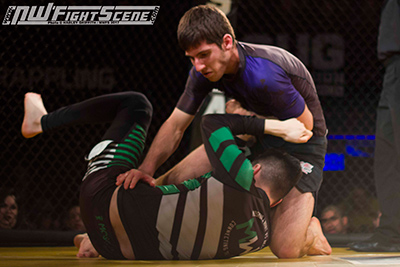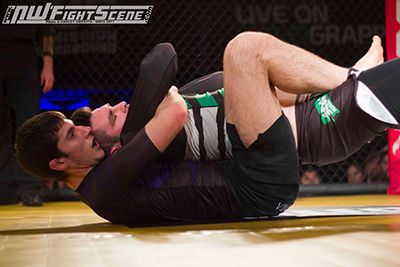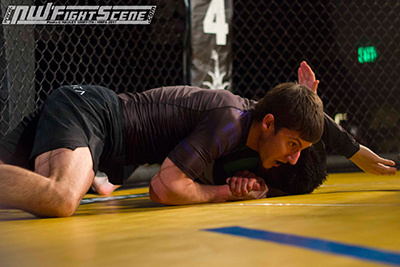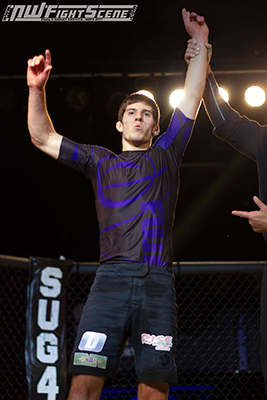 Josiah "The Joker" Iwamizu submitted Chance Stamps by heel hook at 37 seconds in. Chance landed a nice scissor sweep takedown, immediately attacked Iwamizu's ankle, but Iwamizu attacked Stamps' feet in return and sunk in the heel hook.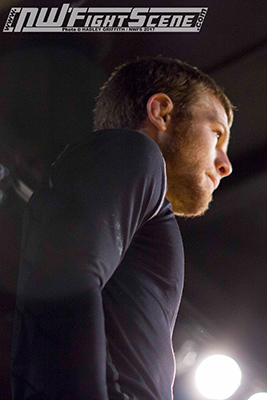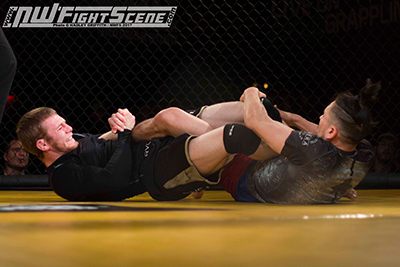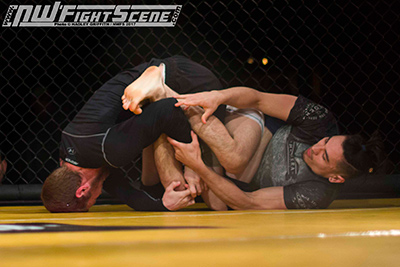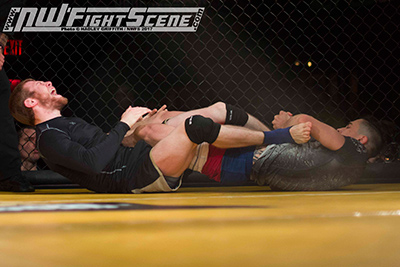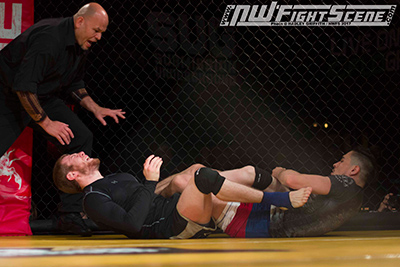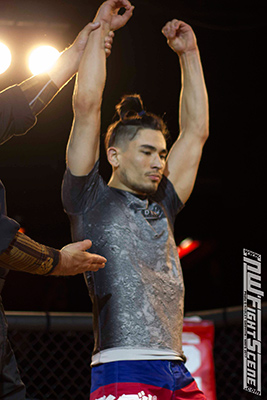 The first match went to Chris Martin by heel hook of Tyler Baysinger. Martin got the quick takedown and rolled under, grabbing Baysinger's ankle. They rolled up against the cage and Martin was able to use it to keep Baysinger from having room to maneuver and secured the heel hook and tap.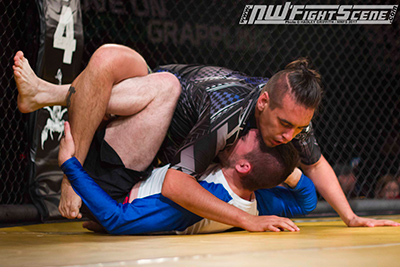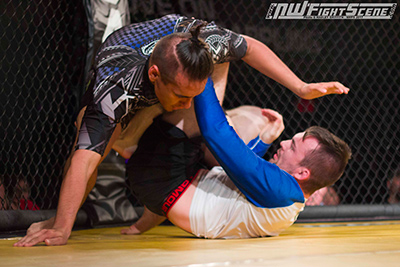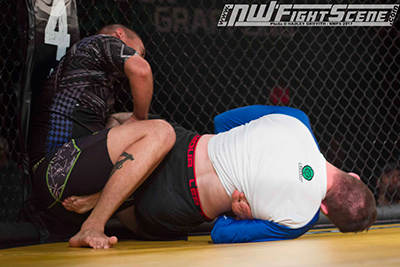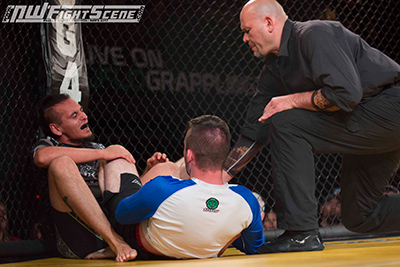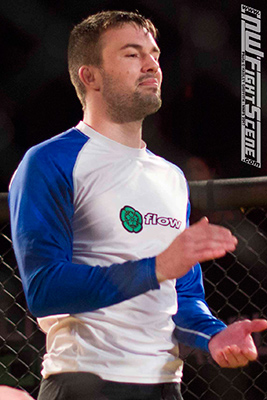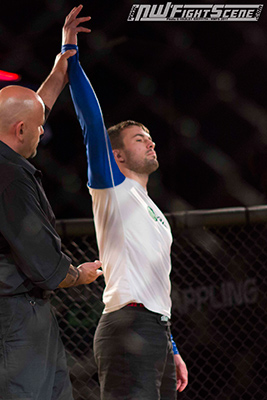 More info on Submission Underground at facebook.com/SubmissionUnderground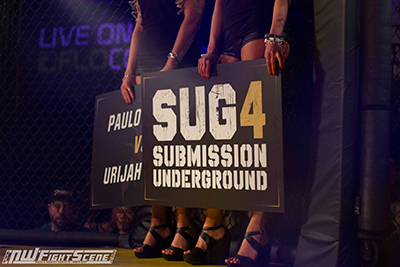 ---