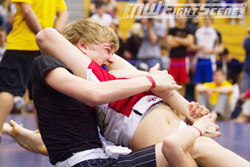 8th Annual Season Kicks off with Qualifier 1
Saturday, March 3, 2012

Sub League is gearing up for its biggest and best series of competitions yet - all culminating with the Season Championship, where the top submission experts in the Northwest are decided.
Championship winners will receive custom die cast gold, silver and bronze medals as well as other great prizes (training gear, apparel, gift certificates, etc.).
Athletes must qualify to compete in the June 2 Championship by placing first through fifth in one or both of the two Qualifier events.


Register NOW!
Register Early for Discounted Registration and a FREE T-shirt
Qualifier 1 Early Registration:
$45 Gi Only * $45 No Gi Only * $75 Both Gi and No Gi
After February 13:
$55 Gi Only * $55 No Gi Only * $85 Both Gi and No Gi
Competitor registration will close at 11:59 p.m. on Monday, February 27, 2012.
All competitors and coaches must pre-register for the event.
No late or day of registrations will be accepted.
Join our mailing list and join Sub League on Facebook to stay up-to-date.
Register NOW!
2012 Sub League Season Schedule
March 3 - Qualifier 1 - Wilsonville, OR

Registration will close Monday, February 27
April 21 - Qualifier 2 - Hillsboro, OR
Registration will open in early March
June 2 - Championship - Hillsboro, OR
Registration will open in late April

A FOOD AND FUND DRIVE FOR THE OREGON FOOD BANK
Great Jiu Jitsu for an Even Greater Cause
Come on out and watch the action and help support Oregon's fight against hunger.
Spectator Admission
$7 at the door* OR $5 (with two non-perishable food items).
Ages 9 and younger are free.
*Two dollars from every regular-priced spectator fee goes to the Oregon Food Bank. Additional food and cash donations are welcome.
Register NOW!
More info at SubLeague.com
---