Split Decision Entertainment presented Coastal Brawl 2: Legacy on Sat Jan 14th from the Clatsop County Fairgrounds in Astoria OR and held in memory of the Coastal Brawl's original promoter, Dale McGinnis. The show was a highly successful event with 16 fights taking place, including a superfight and 3 title bouts that capped off a night of great MMA action. Heavyweight Champion Damion Martindale held onto his belt with a 2nd round TKO of Corey Kelly. Anthony McDonald retained his Super Heavyweight Title with a quick 1st round TKO of Ryan Harrington. In a 155 lb Superfight, Danny Parker got opponent Travis Reiger to tap in the 2nd round for the win. And in the Split Decision 155 Championship, Ryan Truitt beat Quinten Wyland via Unanimous Decision after five rounds.
Fight of the Night honors went to Carson Cooper and Kenny Williams, with an Honorable mention going to Joey Dursse and Aaron Tanner. John Sandoval won Submission of the Night with a 1st round Peruvian Necktie of Shane Riley. Scotty Parker's KO of Derrick Hatcher won him Knockout of the Night.
Split Decision's next event will be Fight Night XXVI: Collateral Damage on January 28th at Club Zoo in Vancouver WA, followed up by Fight Night XXVII on February 18th at Inferno Fitness & Sports in Vancouver. More info on the promotion can be found on their facebook page.
---
COASTAL BRAWL 2: LEGACY RESULTS
Saul Ruiz def Chris Barker by Submission @ 1:35 Rd 1
Brandon Bumgarner def Stephan Sarmiento by Split Decision
John Sandoval def Shane Riley by Peruvian Necktie @ 2:48 Rd 1
Joe Whearty def Christian Graves by Split Decision
Jason Padrta def Scott Ferrara by Submission @ 0:46 Rd 1
Chris Terran def Justin Keffer by TKO @ 1:05 Rd 2
Joey Dursse def Aaron Tanner by Unanimous Decision
Dustin Duffy def Sean Clemons by Rear Naked Choke @ 2:27 Rd 1
Carson Cooper def Kenny Williams by Rear Naked Choke @ 2:37 Rd 2
Kyle Farris def Christopher Angle by Submission @ 0:39 Rd 2
Scotty Parker def Derrek Hatcher by KO @ 2:15 Rd 1
Emily Whitmire def Kim Picard by Unanimous Decision
155 lb Superfight
Danny Parker def Travis Reiger by Submission @ 1:12 Rd 2
Super Heavyweight Championship
Anthony McDonald def Ryan Harrington by TKO @ 0:49 Rd 1
155 lb Championship
Ryan Truitt def Quinten Wyland by Unanimous Decision (50-45, 49-46, 49-46)
Heavyweight Championship
Damion Martindale def Corey Kelly by TKO @ 2:17 Rd 2

---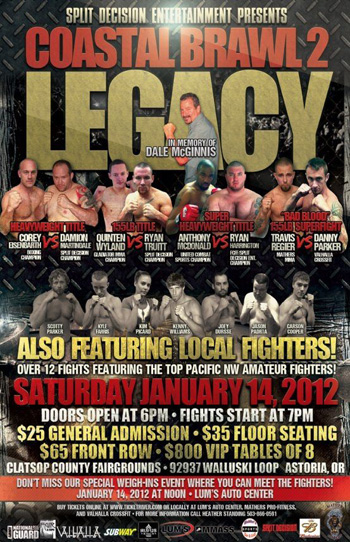 ---