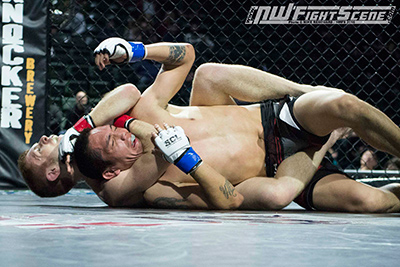 Drew Brokenshire wins the SCL Pro 145lb Title via 1st Rd submission
Colorado-based Sparta Combat League (SCL) returned to Washington State on February 27th 2016 with AVM WA 2 "Fight for our Troops" at the Xfinity Arena in Everett WA. A solid crowd was on hand for the 7 amateur and 5 professional MMA fights, with proceeds from the show going directly to benefit local US military veterans and their families. In the Main Event, Ludus FC's Drew "The Eternal Fire" Brokenshire and Yakima MMA's Delane Lamere went to battle for the vacant SCL Pro 145 lb Title. After a short feeling-out process, Brokenshire cut the angle and moved in on a clinch against the cage. Lamere turned Brokenshire against the cage and snuck in a short elbow and a nice left to the body as the pair broke apart. On the next exchange, Brokenshire landed a big right hand to Lamere's head, followed by a couple kicks to the body. They clinched up once again and a couple of knees to the midsection set up a Brokenshire takedown. Once on the ground, Brokenshire took back mount and patiently worked for the rear naked choke ending which came at 2:49 of the first.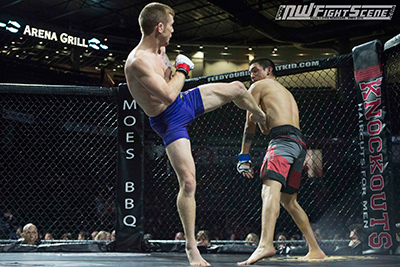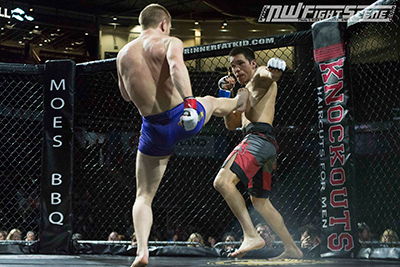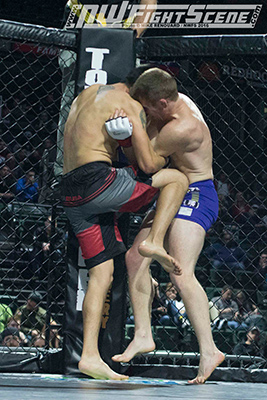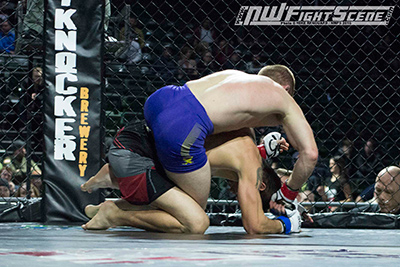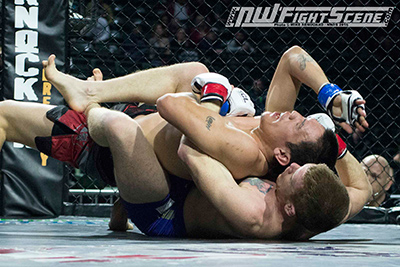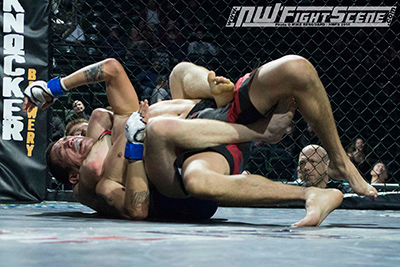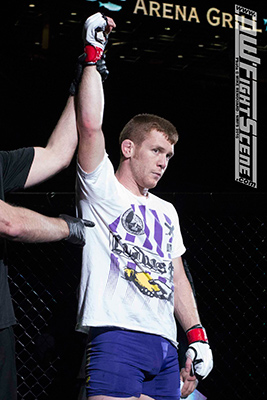 Local favorite Matt "The Attack" Kovacs took on up-and-coming Denver CO fighter Kevin Sears in a heavyweight showdown in the Co-main Event. Sears moved forward at the opening bell, searching for a single leg takedown. Kovacs made him pay for the effort with some knees to the body, and then some big punches when Sears backed away. Kovacs clinched up with Sears against the cage and followed with a slam, inflicting serious damage before letting Sears back to his feet. Sears immediately closed distance and got an eventual takedown. On the ground, Kovacs somersaulted out of a tight Sears armbar attempt, garnering a huge roar of approval from the crowd, finishing the round in top position. In the 2nd, Sears again moved in on Kovacs and this time got the takedown. Sears worked his ground and pound game, finishing with a barrage of unanswered elbow strikes for the TKO stoppage at 2:14 of the round.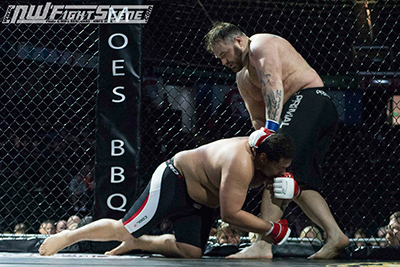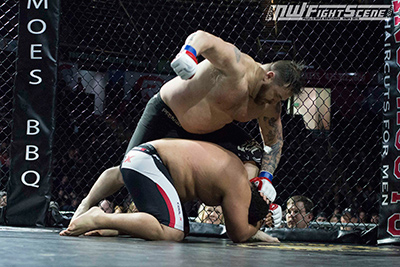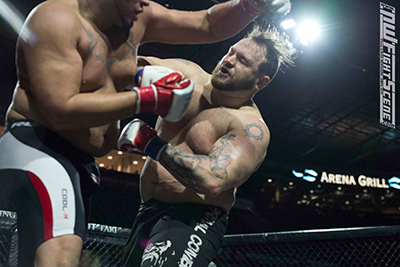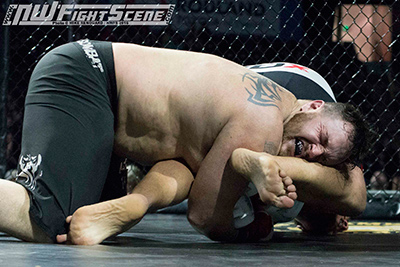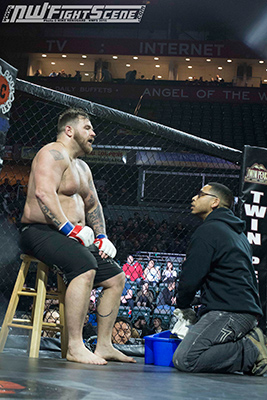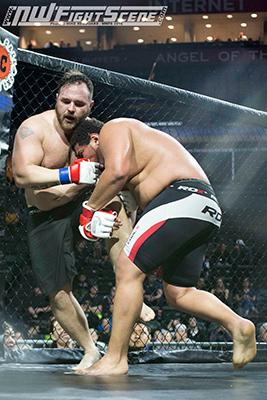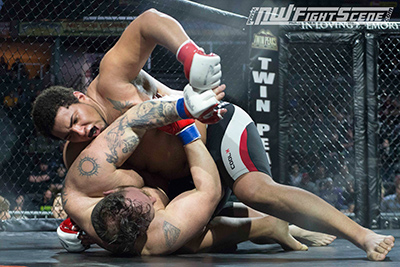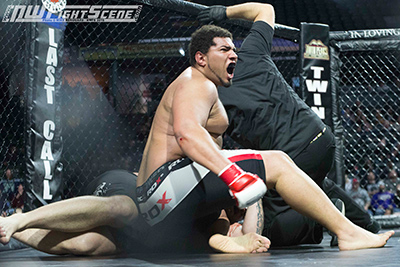 An intriguing pro featherweight matchup took place between Yakima MMA's Eduardo Torres and Gracie Barra NW's Dex Montenegro. Early on in the first, Montenegro scored with leg kicks and then went for a takedown. Torres sprawled and then drove in on a single leg takedown of his own. Montenegro exploded to standing but ate a couple knees in the process. Torres got another takedown and tried to take Montenegro's back, dropping in a couple elbows, before Montenegro got back to his feet and used some rapid-fire knees to break out of the clinch. Montenegro connected with a hard left jab followed by more hard leg kicks, answered in kind by Torres who beckoned Montenegro for more. Torres closed distance and locked Montenegro in a Muay Thai clinch and landed numerous unanswered knees before the end of the round.

In the 2nd frame, the two fighters again traded hard leg kicks before a high kick from Torres set up another Muay Thai clinch. Montenegro was ready for the knees and was able to turn Torres against the cage, but a short elbow from Torres created distance and from there Torres started teeing off with his strikes, landing shot after shot to Montenegro's head and forcing a ref stoppage at 1:53 of the 2nd. Great fight!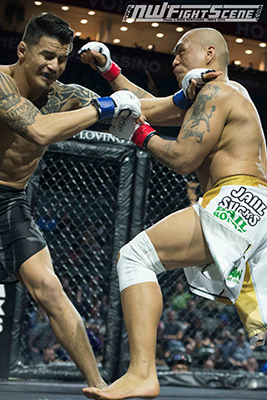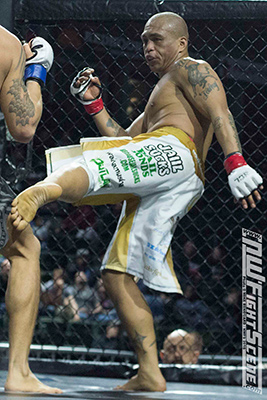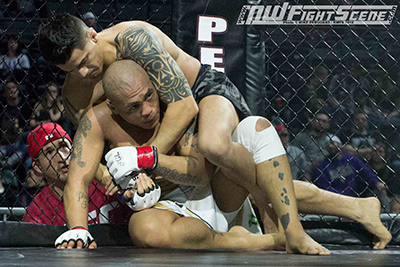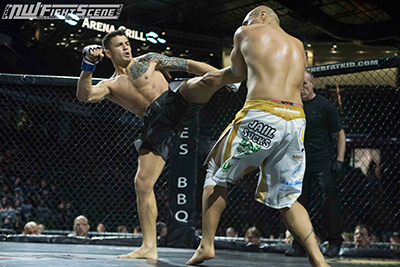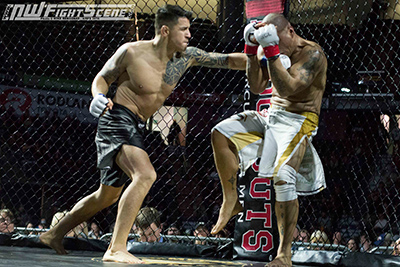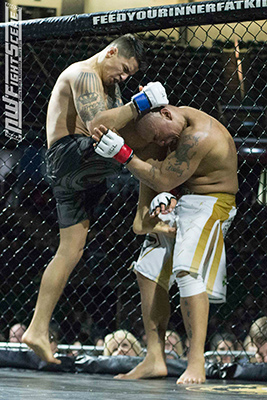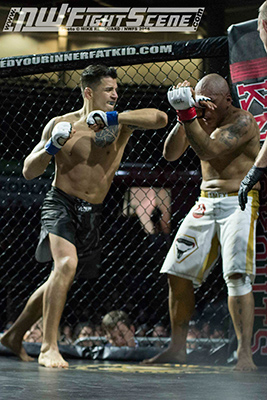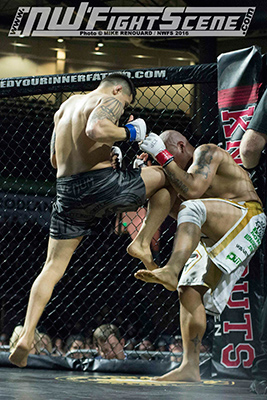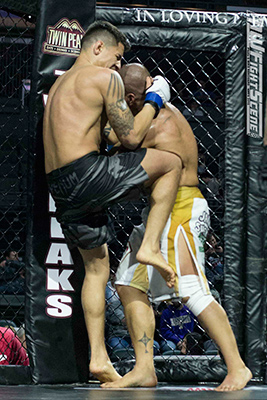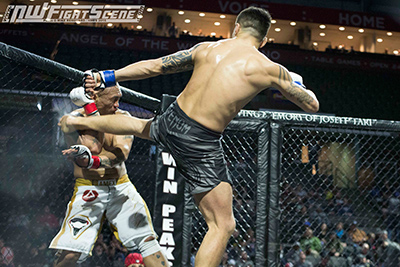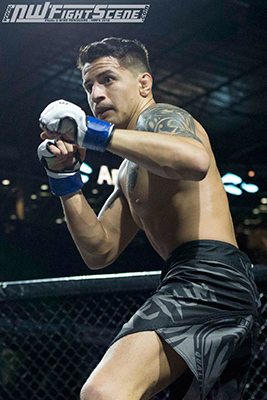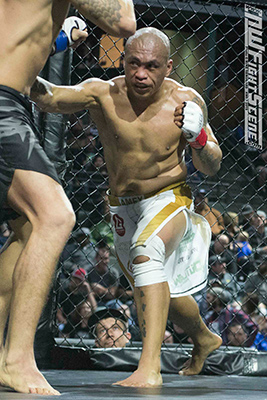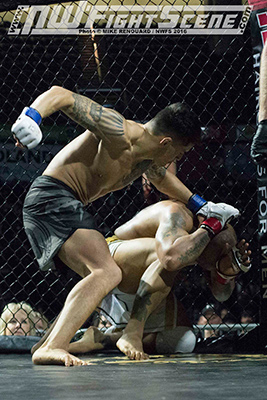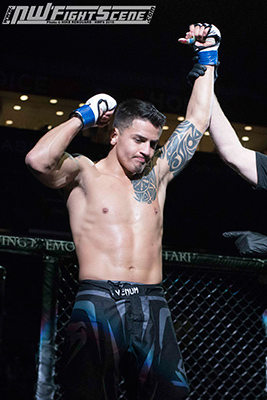 Two of the NW's top professional 170 lbrs in Albert Tadevosyan and Taki Uluilakepa met once again in the cage, their first meeting in late 2014 resulting in an unsatisfying draw. This time both fighters had an added incentive to go for the win with the vacant SCL Pro Welterweight Title on the line. In the first round, both traded big body kicks as they circled each other in the center of the cage. Tadevosyan would add a punch or combo after a kick and was displaying some crisp standup work. Uluilakepa would counter with big left hands that would keep Tadevosyan honest. Tadevosyan landed a couple big flying knees to add flash. Great first round.

In the 2nd, the round started similarly with both fighters scoring, before Tadevosyan nailed a quick takedown and took back mount, searching for the rear naked choke. Uluilakepa was able to eventually worm his way free from the body lock and reversed, but Tadevosyan soon popped back to his feet, avoiding any damage from Uluilakepa. The pair clinched up against the cage trading knees, and later both fighters were slinging hard leather before the round ended. In the final frame, Uluilakepa held the center of the cage while Tadevosyan cirlced him, still looking fresh. Tadevosyan was in a good rhythm, wading forward with a combination of kicks or kicks/punches, and then making Uluilakepa miss with his counters. The fight ended with Tadevosyan going for the takedown and Uluilakepa trying to counter with a guillotine. Great battle! After three rounds of action, 1 judge had it 30-27, and 2 had it 29-28, all for Tadevosyan.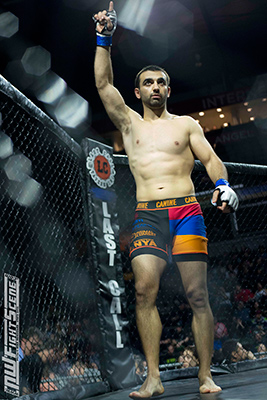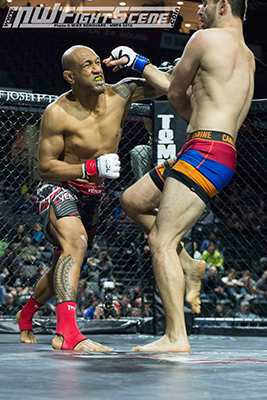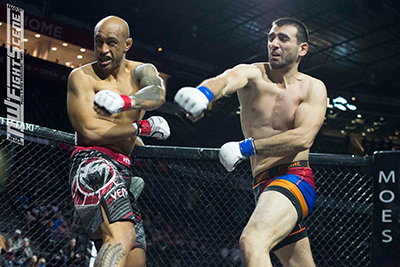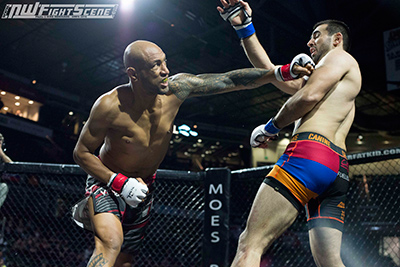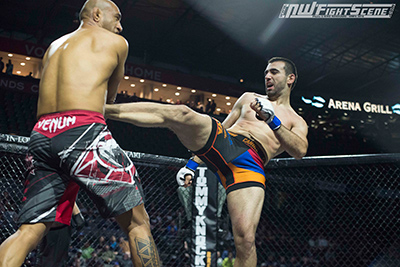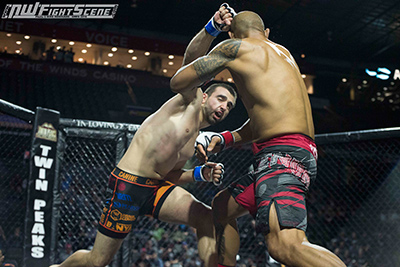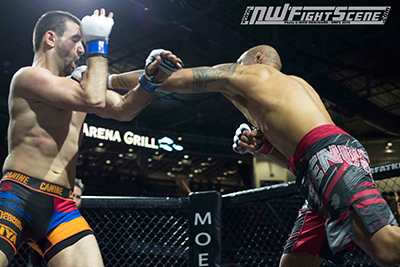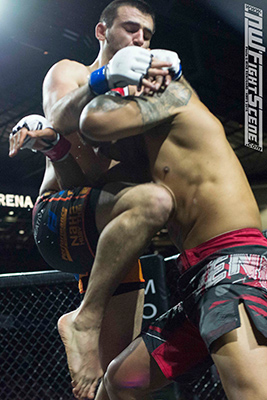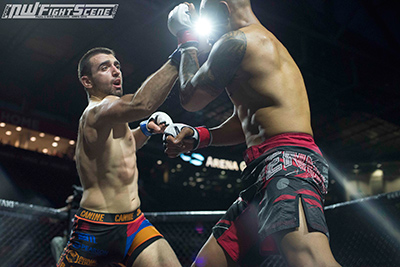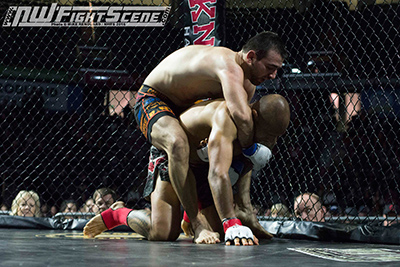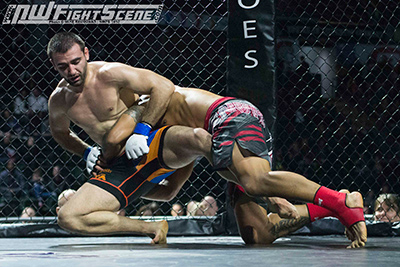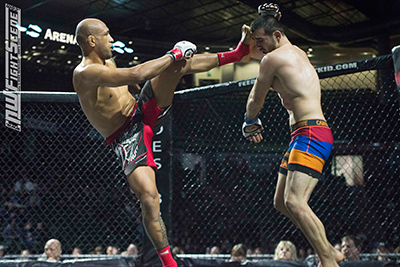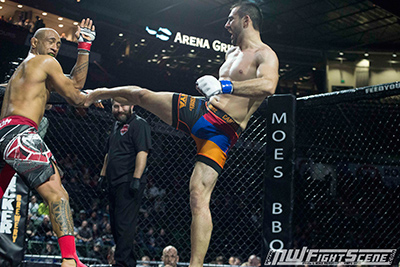 Alan Gutierrez, fighting out of the Skagit Valley with Livewire MMA, smartly handled Taylor Roberts in their 155 lb fight, coming out on the attack with vicious leg kicks and punches in bunches that had Roberts on the defensive. The hard shots from Gutierrez kept coming and Roberts was unable to answer with the ref stepping in and stopping the fight at 1:11 of the first. Afterwards, an emotional Gutierrez spoke to the crowd with his family by his side, honoring the memory of his US Marine Corp brother Devin.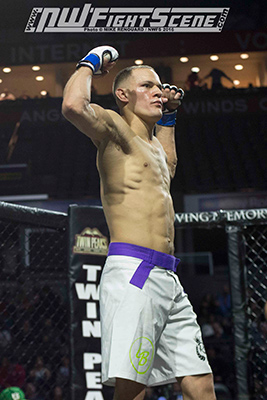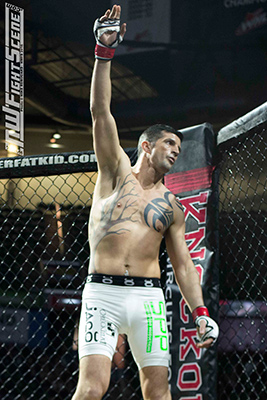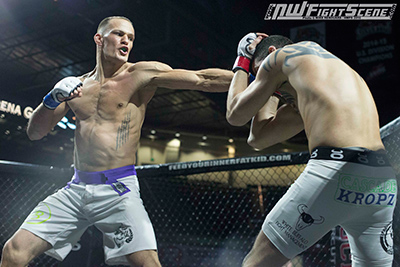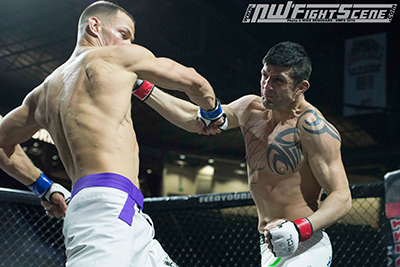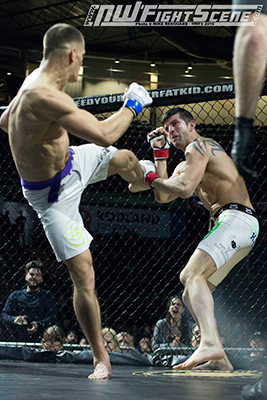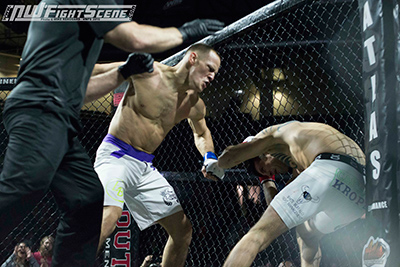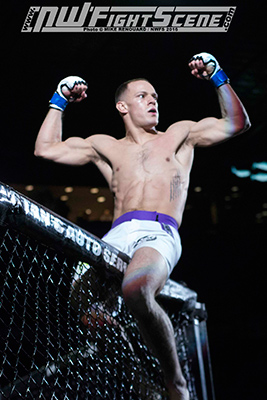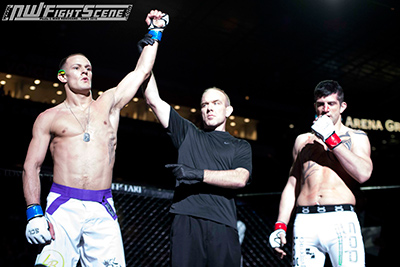 In a 200 lb catchweight bout, amateurs Tommy Chavez and Manny Mesa had a spirited 3 round battle that went the distance. At the opening bell, both men pressed forward, swinging hard. The fight went to the mat and a big scramble ensued, neither man getting the upper hand. Back on the feet, Chavez pressed Mesa against the cage and went for a standing guillotine choke but wasn't able to finish. Mesa took Chavez down and Chavez locked on an inverted head/arm triangle. Mesa escaped and made punished Chavez with hard ground strikes. The fight went back to the feet and both men landed some wild punches, before Mesa nailed a takedown at the end of the round.

In the 2nd round, Mesa went early for a takedown and the rest of the round was spent on the mat, both fighters scrambling hard for position. Chavez would gain the upperhand for a few moments with some good strikes or going for a submission, and then Mesa would reverse and make Chavez pay with hard shots of his own. Opening the final round, the two fighters had a heated standup exchange, both landing solid punches, before the fight again went to the mat. Mesa did well in keeping Chavez under him for a while, landing hammerfists and big punches. Chavez though reversed and it was his turn, finishing out the fight with solid shots to Mesa's head. It went to the scorecards, and two of the three judges saw it for Chavez, giving him the split decision win.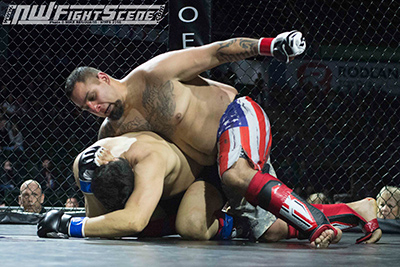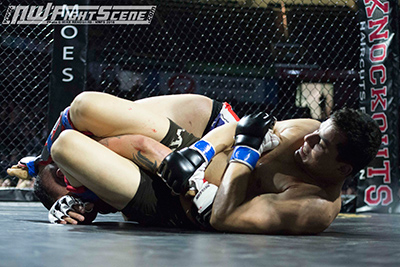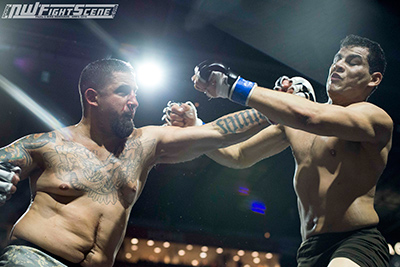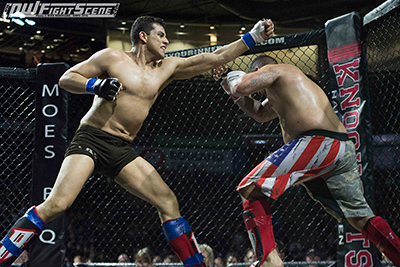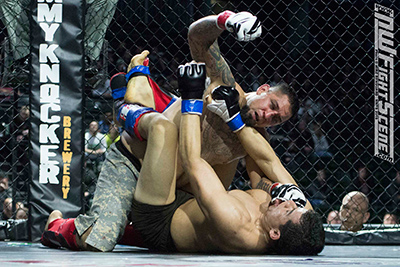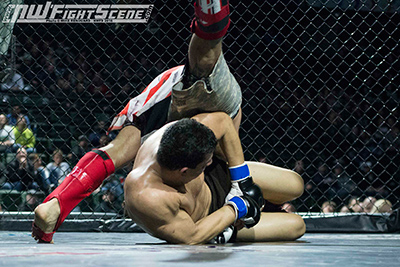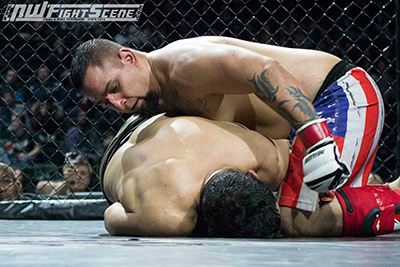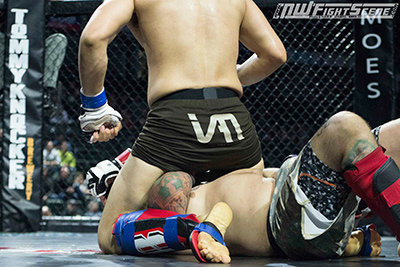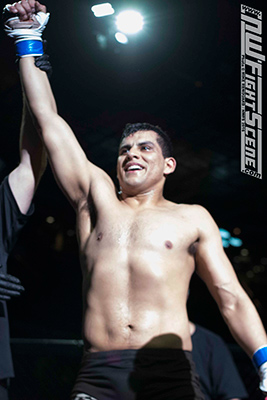 Talented Johnson "Black Lightning" Nasona won the SCL Amateur Lightweight Title with a first round submission of DJ Griffin. Much of the early offense came from Griffin who was mixing in front kicks to keep distance with powerful kicks to Nasona's legs and midsection. Midway through the round though, Griffin missed with a spinning back kick and slipped to the mat in the process. Nasona immediately capitalized by controlling Griffin on the ground, moving in to full mount to drop down some hard shots, and then finishing with a lightning-fast armbar at the 2:28 mark.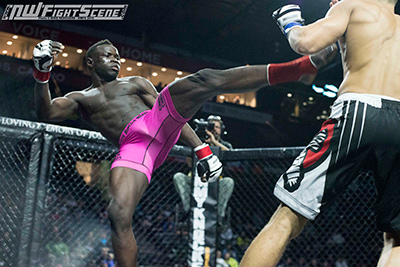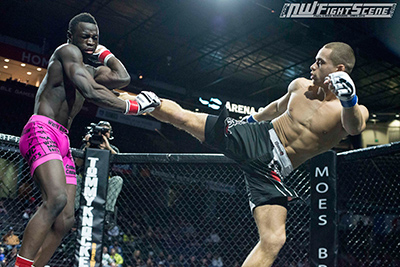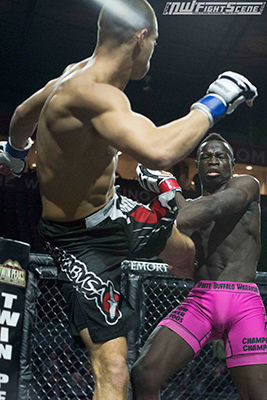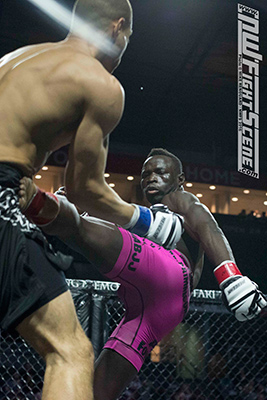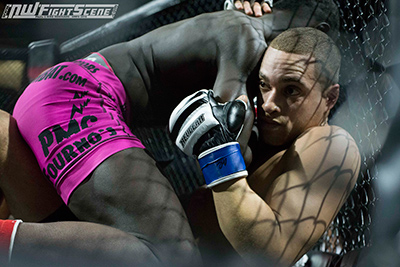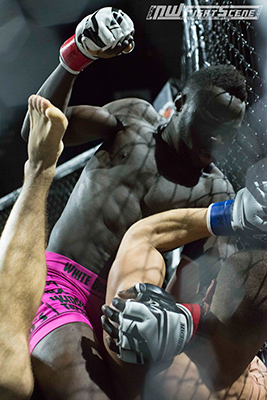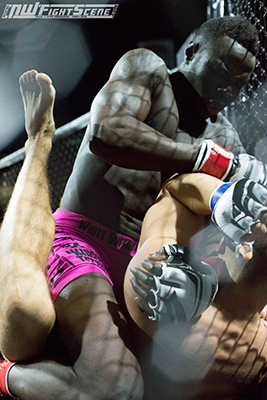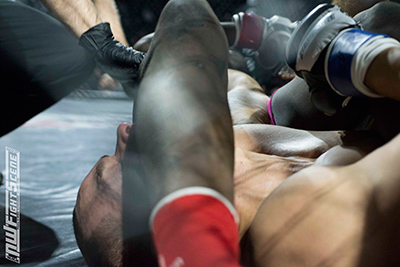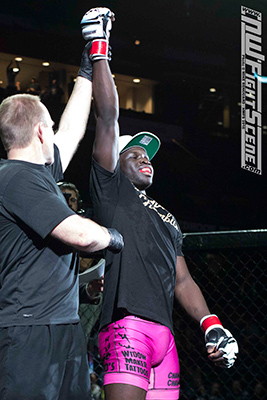 Ivan Slaverry's Kyle Deapoli and Stray Dogs MMA's Tim Weeks fought to a draw in their amateur 150 lb contest. Deapoli won the first round, executing a big slam and then working hard to keep Weeks where he wanted on the mat, scoring points with numerous punches to round's end. In the 2nd, again Deapoli went for the takedown, but Weeks defended by locking on the guillotine. Deapoli had to defend the choke and when eventually he got out, Weeks turned him against the cage in the clinch and landed knees to the body. Deapoli finally got a takedown near the end of the round, but Weeks reversed and landed a couple hard shots before the bell.

In the final frame, Deapoli pushed Weeks up against the cage and was throwing punches, but Weeks took hold in a collar clinch and fired up some knees. One such knee landed to Deapoli's head as Deapoli threw a punch, and the referee called a time-out and took a point from Weeks for the illegal blow. When the fight resumed, Weeks turned up the heat, landing more powerful knees to the body and connecting with some thunderous combinations. The point deduction hurt though, with the final judges tallies reading 28-28 on two scorecards, and the third 28-27 for Deapoli, the outcome a majority draw.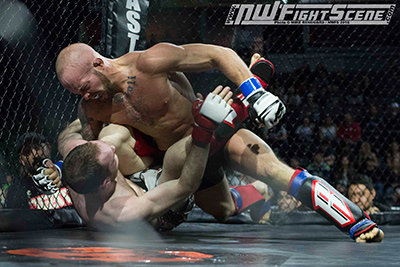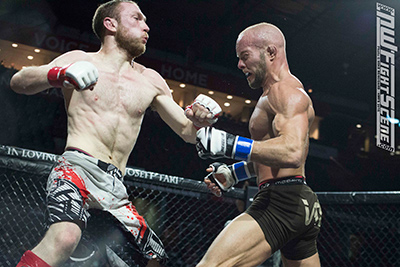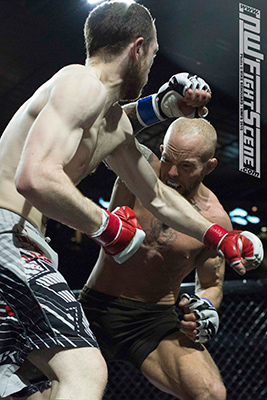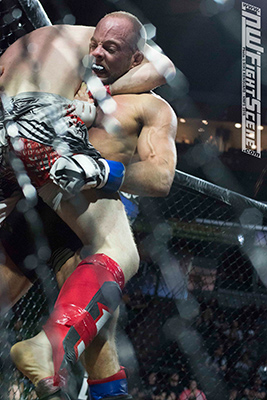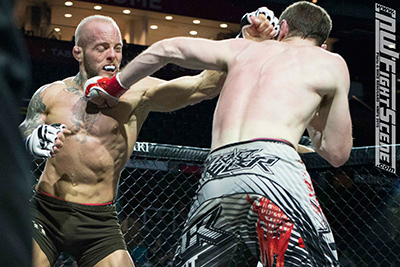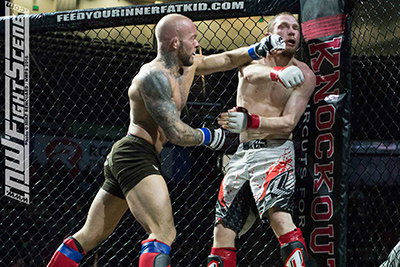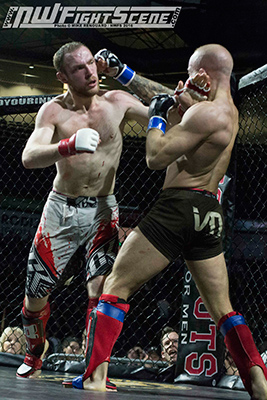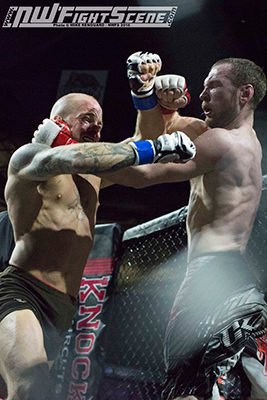 Army National Guard member Joe Carmen won via 2nd round submission over Aaron Ibanez in an amateur 210 lb catchweight bout. Carmen used his size to immediately take down and keep Ibanez on the mat. Ibanez fought hard to get it standing, firing off punches at they broke apart. Ibanez then connected with a series of shots, an uppercut stunning Carmen and putting him on the defensive. Ibanez went for the finish, connecting with some big bombs, but Carmen was able to recover and moments later, landed a hard knee to Ibanez' body. Ibanez though kept slinging punches at Carmen's head, time and time again finding his target.

In the 2nd round, Ibanez decided to take it to the mat via a single leg of Carmen. Ibanez worked his ground and pound game, connecting with strikes to Carmen's ribs from side control, and later landing some good punches in Carmen's guard. The bigger Carmen though was able to turn Ibanez against the cage, trapping Ibanez' arm in his legs, and then applying the lock for the submission finish at 2:14 of the round.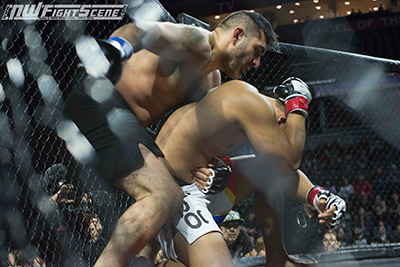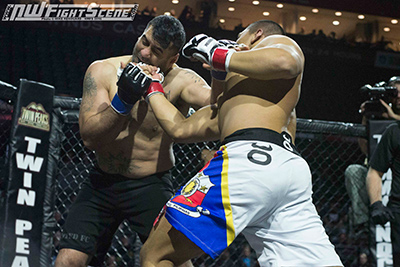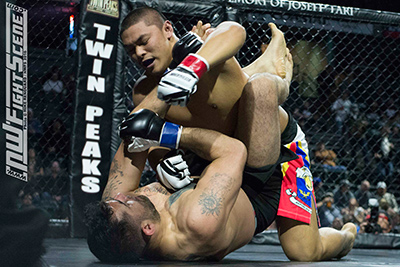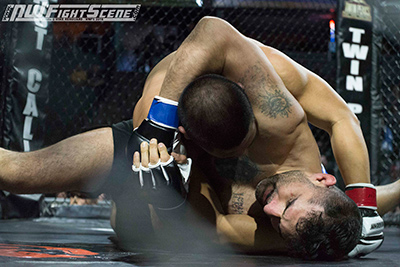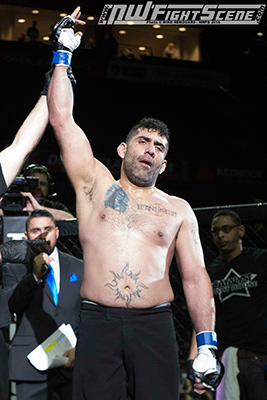 In an amateur 155lb contest, Livewire MMA's Joe Rowheder was victorious over Michael Solorio via 1st round submission. Rowheder found success early with his kicks, and later countered a Solorio jab with a takedown. On the mat, Solorio was able to tie up Rowheder and limit damage, but Rowheder kept working for better position and finally was able to posture up and unleash some big shots. Solorio turned to escape and Rowheder was ready, sinking a rear naked choke for the finish with just five seconds remaining in the round.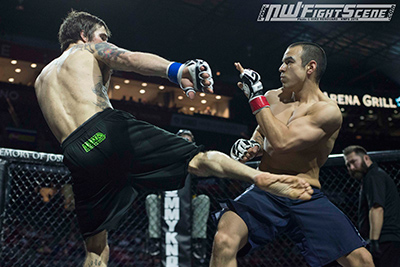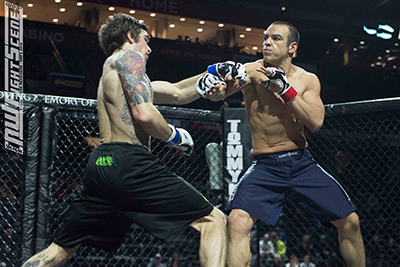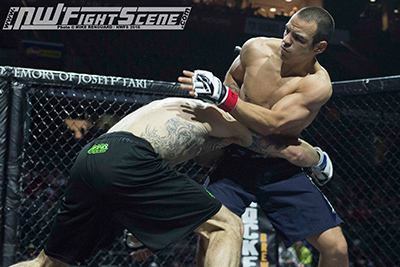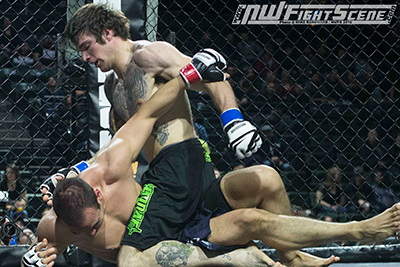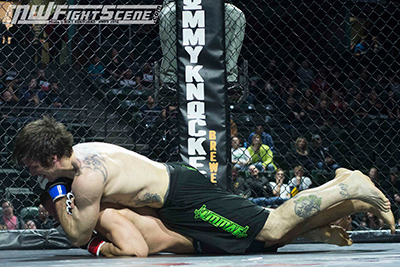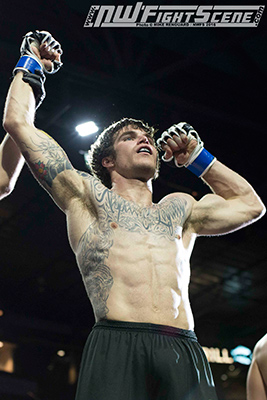 Debuting amateurs Sanny Ibanez and Terry Ng came out slinging leather at each other in a 165 lb catchweight bout. Ng put together a nice flurry, but Ibanez countered with a right hand that briefly put Ng on the canvas. Ng popped back up and Ibanez charged forward, pushing Ng against the cage and peppering him with hard punches. Ng turned Ibanez against the cage and landed hard strikes of his own. Ibanez countered with a perfectly placed right hand that dropped Ng and then followed up with strikes on the ground, knocking out Ng at 1:33 of the first.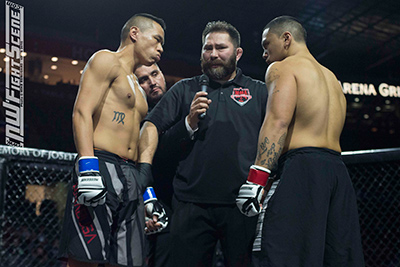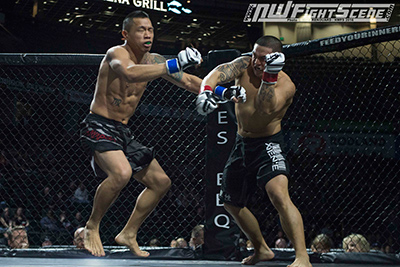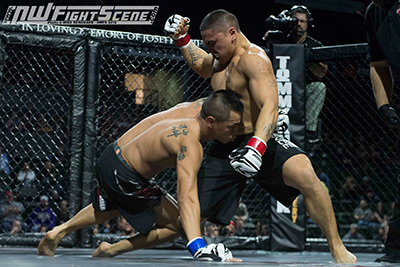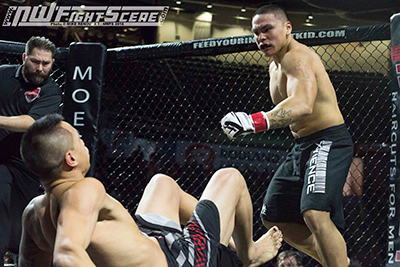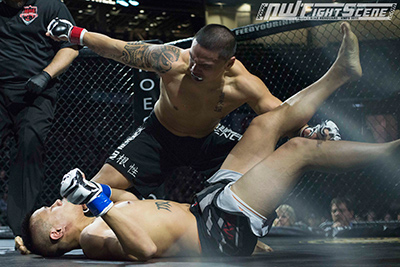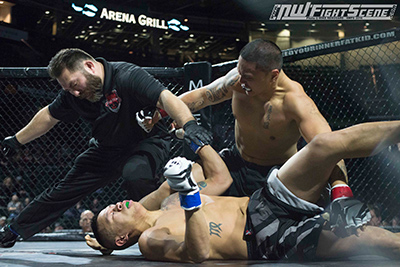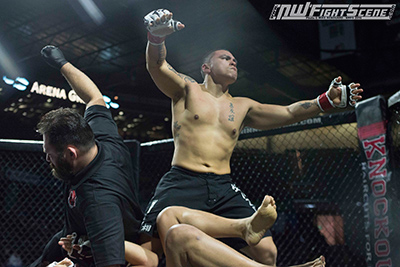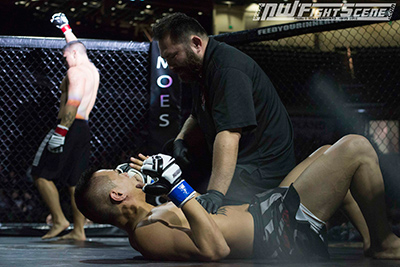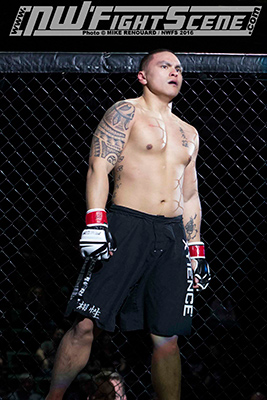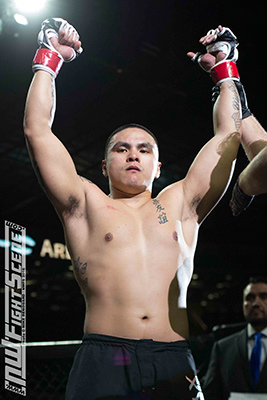 Taylan Yuasa wasted no time in getting his first amateur MMA win, coming out and blasting Tyler Jensen with a big kick to the midsection and then following with hammer strikes that Jensen tapped to at just 10 seconds into their 120 lb contest.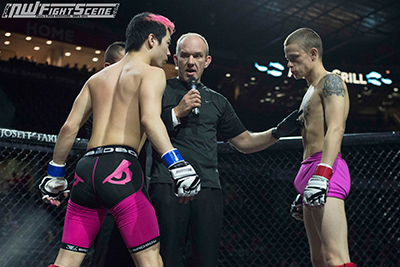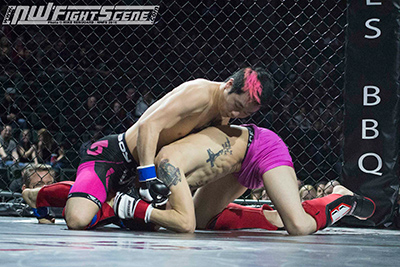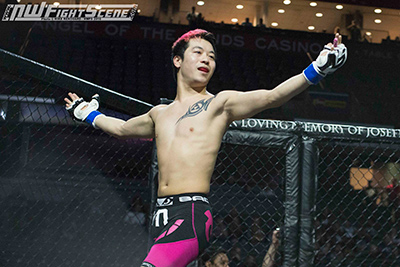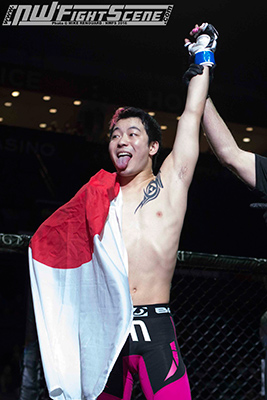 Learn more about Sparta Combat League at spartacombatmma.com.
---
Sparta Combat League "AVM WA 2" Results
Bout 1 - Amateur 120 lbs
Taylan Yuasa (Debut - Ivan Salaverry MMA, Seattle) def Tyler Jensen (2-5 - Everett)
by Tap to strikes at 0:10 Rd 1

Bout 2 - Amateur 165 lbs
Sanny Ibanez (Debut - White Buffalo Warriors, Everett) def Terry Ng (Debut - Catalyst Fight House, Everett) by KO @ 1:33 Rd 1

Bout 3 - Amateur 155 lbs
Joe Rowheder (2-3 - Livewire MMA, Burlington) def Michael Solorio (Debut - Team Solo, Seattle) by Rear Naked Choke @ 2:55 Rd 1

Bout 4- Amateur 210 lbs
Joe Carmen (1-1 - United FC, Seattle) def Aaron Ibanez (1-0 - White Buffalo Warriors, Bothell) by Armbar @ 2:14 Rd 2

Bout 5 - Amateur 150 lbs
Kyle Deapoli (1-0 - Ivan Salaverry MMA, Seattle) vs Timothy Weeks (1-0 - Stray Dogs MMA, Snohomish) results in a Majority Draw (28-28, 28-28, 28-27)

Bout 6 - Sparta Combat League Amateur Lightweight Title
Johnson Nasona (9-2 - Marcelo Alonso BJJ/White Buffalo Warriors, Seattle) def DJ Griffin (3-1 - Catalyst Fight House, Everett) by Armbar @ 2:28 Rd 1

Bout 7 - Amateur 200 lbs
Tomas Chavez (Debut - Ivan Salaverrry MMA, Seattle) def Manny Mesa (1-1 - West Coast Fight Team, Auburn) by Split Decision (30-27, 29-28, 28-29)

Bout 8 - Pro 155 lbs
Alan Gutierrez (1-0 - Livewire MMA, Burlington) def Taylor Roberts (2-9 - White Buffalo Warriors / Electric North BJJ, Snohomish) by TKO (Strikes) @ 1:11 Rd 1

Bout 9 - Sparta Combat League Pro Welterweight Title (3 rounds)
Albert Tadevosyan (6-0-1 - CSF, Enumclaw) def Taki Uluilakepa (5-2-1 - Marcelo Alonso BJJ/Srisuk Muay Thai, Tacoma) by Unanimous Decision (30-27, 29-28, 29-28)

Bout 10 - SCL Pro 145lb #1 Contender bout
Eduardo Torres (5-5 - Yakima MMA, Yakima) def Dex Montenegro (6-1 - Gracie Barra NW, Issaquah) by TKO (Ref Stop - Strikes) @ 1:53 Rd 2

Co-main Event - Pro Heavyweight
Kevin Sears (2-1 - Denver) def Matt Kovacs (10-16 - Catalyst Fight House, Everett)
by TKO (Ref Stop - Strikes) @ 2:14 Rd 2

Main Event - Sparta Combat League Pro Featherweight Title (3 rounds)
Drew Brokenshire (13-5 - Ludus FC, Tacoma) def Delane Lamere (5-1 - Yakima MMA, Hood River) by Rear Naked Choke @ 2:49 Rd 1
---