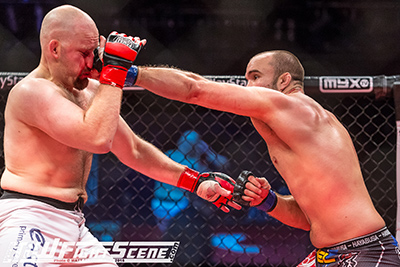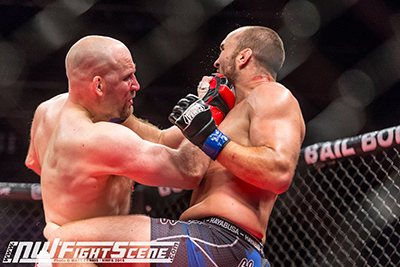 Main Event fighters Brent Knopp and Adam DeHart engaged in battle

Back in May of this year, the inaugural SFL America: Team Challenge took place at the Emerald Queen Casino, featuring six fights that pitted a tough bunch of fighters from Portland OR taking on a talented group representing Team Seattle. Each teams accumulated points based on a winning fighter's method of victory - a KO garnering the most points, then a submission, TKO, decision, and draw. Team Seattle staged a thrilling come-from-behind victory that hinged on the night's final fight - a five-round epic battle that saw Justin Harrington put Seattle over the top, as well as retain his SFL America 155 lb title, by besting Team Portland's Bryan Nuro via 48-47 unanimous decision.

On July 23rd, Halquist Productions and Super Fight League presented their 2nd Team Challenge which featured Team Seattle versus Team Los Angeles. UFC Heavyweight and MMA legend Josh Barnett was the head coach for the California fighters, while the Team Seattle squad was led by NW veteran fighter and TUF Alumni, "Fast" Eddy Ellis. The fights were broadcast live around the world with a star team of broadcasters calling the action: 710 ESPN's Bob Stelton on play-by-play, NW professional fighter Harrison "Wolverine" Bevens as color commentator, and former NFL All-pro safety and UW Husky football legend, Tony Parrish, as the third man in the press box. KISW's "Thee" Ted Smith emceed the evening and ring announcer Kenny Davis ably kept the show flowing between rounds.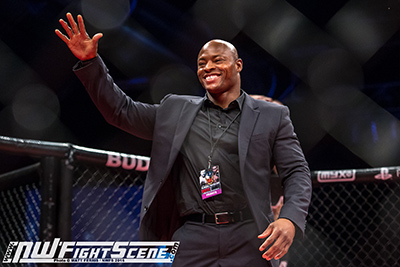 Tony Parish greets fight fans at the EQC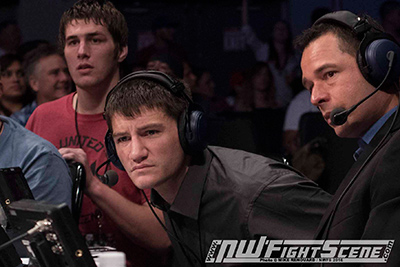 Broadcasters Harrison Bevens and Bob Stelton watching the action.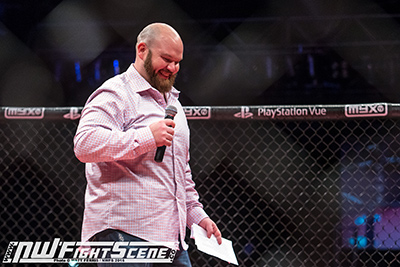 KISW's "Thee" Ted Smith!
The scoring system was tweaked a bit for this 2nd team challenge, with a KO now worth 6 points, a Submission finish 5, TKO 4, Decision 3, and a draw worth 1 point. The team challenge again consisted of 6 individual bouts and it was Anthony Zender putting Team Seattle on the board first with a hard-fought decision win over Brandon Frunk, worth 3 points. However, Team LA reeled off four straight victories to clinch the Team Challenge title, with three TKO finishes from A.J. Bryant, Shohei Yamamoto and Thomas Hoeper, respectively, and a unanimous decision win by Sarah D'Alelio. While the main event was academic in terms of the Team Challenge, with Team LA having an insurmountable lead at 15-3, the main event still delivered, going all 5 rounds in a 195 lb catchweight battle between Seattle's Brent "Mankill" Knopp (6-1) - under the tutelage of legendary Matt Hume - and Team LA's Adam DeHart (6-5), hailing from Charlotte NC.

It was the younger DeHart at 27 years old who came out connecting with a couple hard lefts, followed by a big knee. The 38 year-old Knopp though walked right through the shots and connected with a couple solid overhand lefts. Knopp patiently stalked DeHart around the cage to move in a single leg for and then an eventual takedown. DeHart though limited damage, got it back to standing and snuck through a couple more hard lefts. Knopp though put together an nice combination and then moments later backed DeHart against the cage and teed off with big bombs. DeHart defensively clinched up but Knopp broke free to fire off a high head kick that just missed to end the round.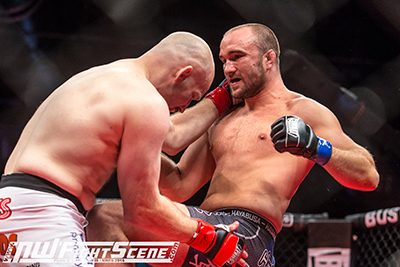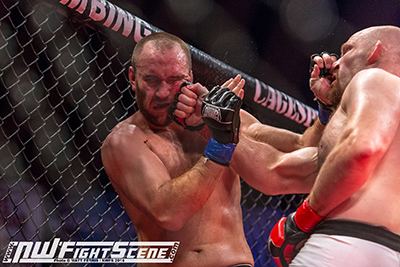 In the 2nd frame, DeHart again was effective early with straight lefts, but Knopp remained unfazed, walking forward and tagging DeHart with more stinging combos. Knopp turned up the pressure in the 2nd half of the round, tying up DeHart against the cage and punishing him with numerous unanswered blows. The third round saw Knopp moving forward early, landing 4 or 5 low leg kicks. The fight stalled for a couple of minutes in the clinch, but as soon as they broke free, both men were slinging leather. The pace picked up going into the championship rounds, DeHart landing his punches, but Knopp throwing and landing more. On numerous occasions, DeHart would turn Knopp against the cage, but Knopp would always find a way reverse the position and create space for an elbow smash or a short punch. As the 4th stanza wound down, Knopp again gained the upper hand with his sharp striking, brutalizing DeHart's face with big bombs.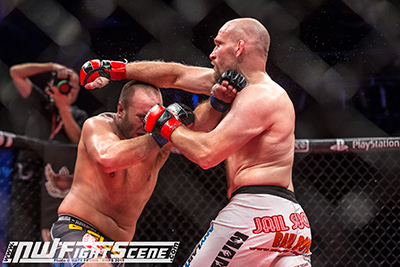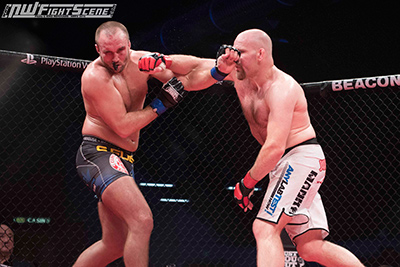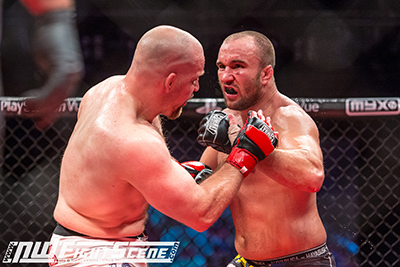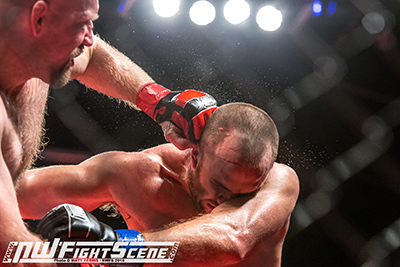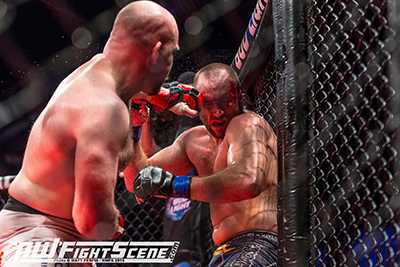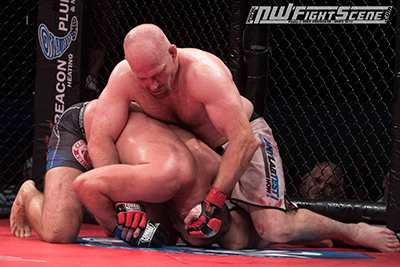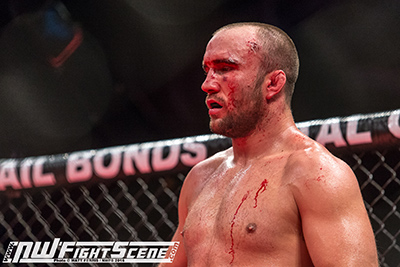 The final round saw DeHart throw everything he had into a takedown that initially looked successful but Knopp was too strong and had too much in his gas tank, and he got it back to standing. A clinch battle ensued and DeHart went for another takedown, but it was Knopp who got position on the mat and dropped down serious hurt on DeHart, controlling the Team LA fighter until the final bell. A fantastic 25 minute performance from Knopp translated into a 50-45, 50-44, 49-46 unanimous decision win for the AMC fighter, moving Knopp to 7-1 as a pro. The victory also got a little back for Team Seattle, with the final score reading Los Angeles 15, Seattle 6.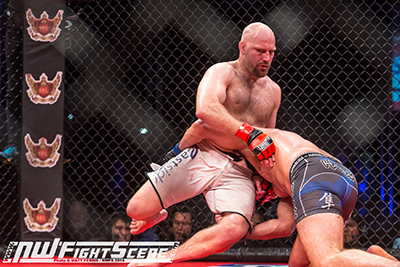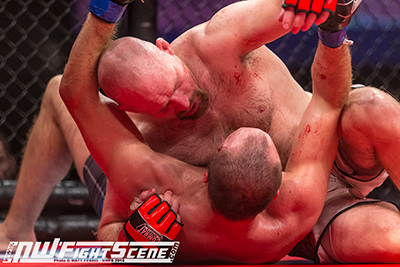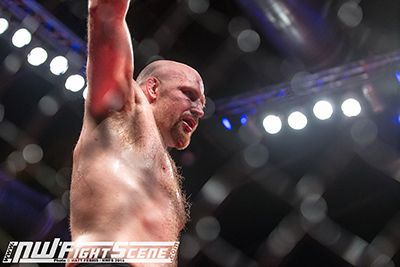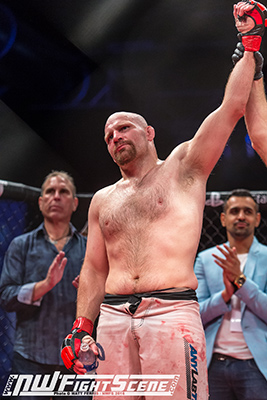 The Co-main Event was an excellent matchup at 205 lbs between two up-and-coming NW Killers. 6'2", 21 year-old Dylan Potter (4-0) of Team Seattle was originally scheduled to fight up a weight class at 205 lbs with 6'5", 42 year-old Tony "Kryptonite" Lopez - a veteran of over 65 pro bouts. However the fight fell through when the WA state officials overseeing the event decided that the gap was too big in the respective fighter's experience levels and nixed the bout. That left the slot open to 6'7", 23-year-old "Tiny" Thomas Hoeper (5-2) who was available as his June 30th WSOF fight in Everett had just fallen through.

Hoeper's height was in full evidence as he started out landing a front kick and then a thundering body kick with his long legs. When Potter fired back, Hoeper moved in on a clinch and utilized all of his frame to take Potter to the mat. Hoeper gained full mount and rained down hard, dangerous strikes that Potter had no choice but to take. Potter though was able to sweep and then scramble on to Hoeper's back. But Hoeper quickly reversed position. From the bottom, Potter fired off numerous elbows in defense, but Hoeper continued to work his ground game, first going for a guillotine choke and then transitioning to big punches that left Potter's face bloodied going into the 2nd.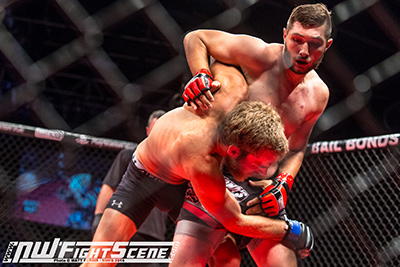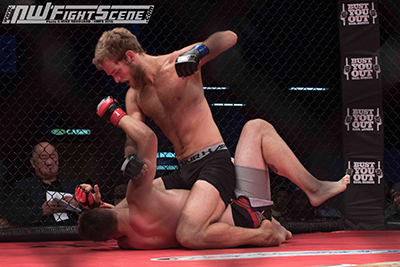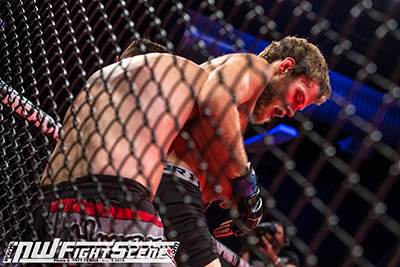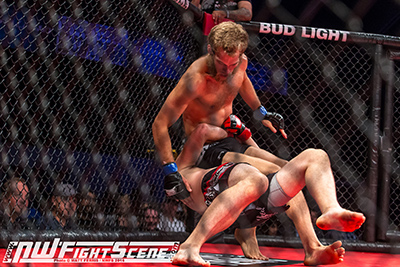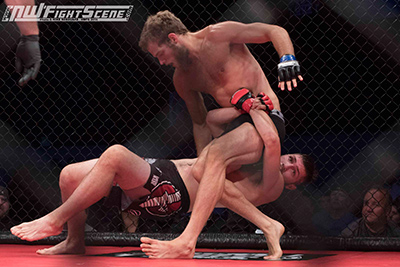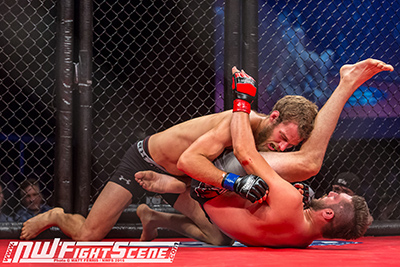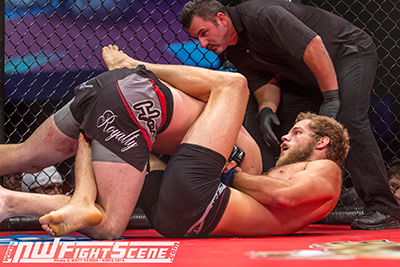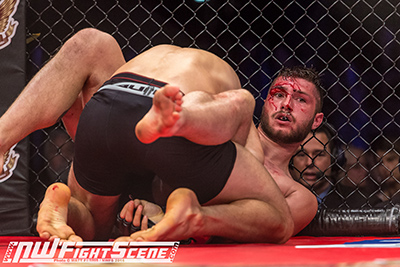 Potter came out aggressive with leg kicks which Hoeper countered by firing big knees to the body. Potter answered with a flurry of punches, most of which found their mark, and so Hoeper immediately took him down, ending up in Potter's full guard. Potter was active on the bottom, firing up elbows and punches. But Hoeper passed to side control and from there ratcheted up the pressure, giving Potter no opportunity to escape and punishing him with numerous unanswered ground strikes that wore down Potter and which eventually resulted in a TKO ref stop at 4:27 of the 2nd.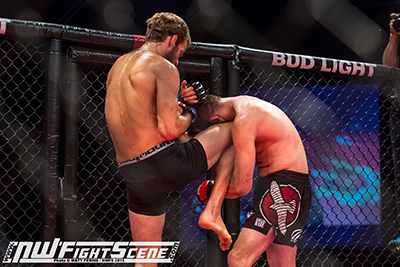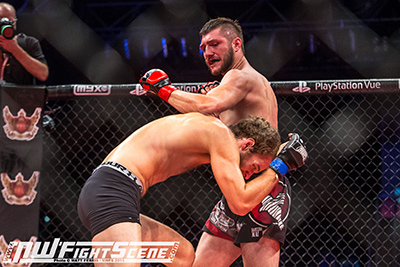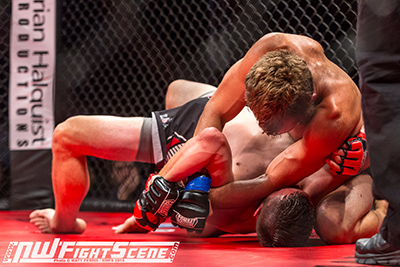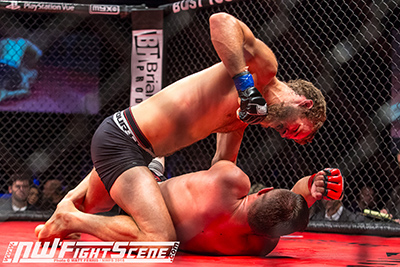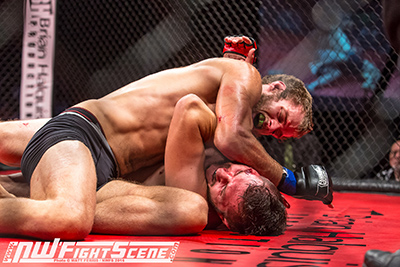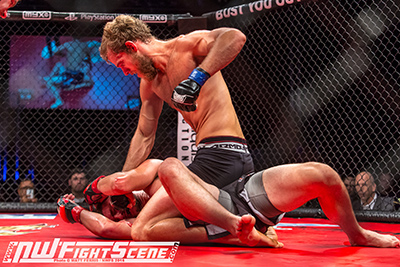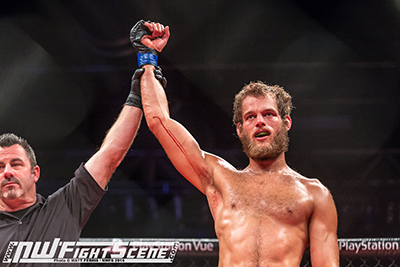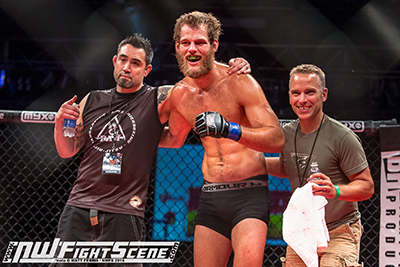 An intriguing Team Challenge bout was in the Women's Flyweight division and featured two NW veterans of the sport. Team LA's Sarah D'Alelio started her career training out of Olympia WA and made her pro debut in 2009 at the EQC at Cagesport IX. Now fighting out of Dublin CA's CSA Gym and amassing a record of 9-6 by fighting a who's who of women's MMA, D'Alelio has appeared numerous times on the Invicta FC stage and was making her homecoming on a two fight win streak, most recently finishing Andrea Lee with a late 3rd round RNC at Invicta FC 16. Meanwhile, Team Seattle's Jenny Liou, based in Clarkston WA and a pro since 2014, has fought for Super Fight League, Invicta FC, and King of the Cage among others, entering the bout with three straight wins, all by armbar.

Opening the fight, it was D'Alelio closing space early and dumping Liou to the canvas against the cage. Liou tied up D'Alelio from the bottom with her legs, limiting damage and then going for a dangerous-looking heel hook submission. D'Alelio though wasn't fazed and quickly reasserted herself on top, dropping down some heavy elbows and punches. In the 2nd, the fighters had some vicious exchanges in the center of the cage, Liou landing with a spinning back fist, D'Alelio returning the favor with with a big overhand right. Liou went for a leg trip but wound up the bottom, actively defending and going for an armbar which D'Alelio slammed her way out of, to get back to top position. More punishment from D'Alelio who landed some hard punches before the round ended with another Liou armbar and another big slam by D'Alelio.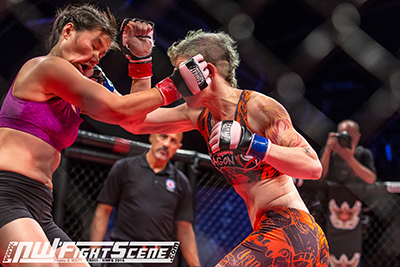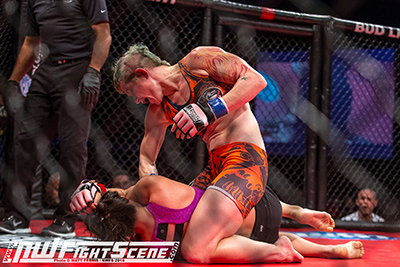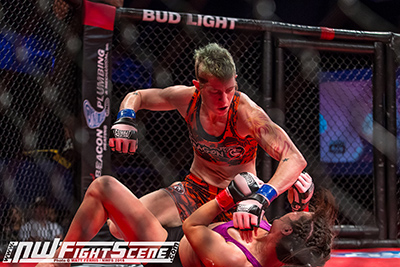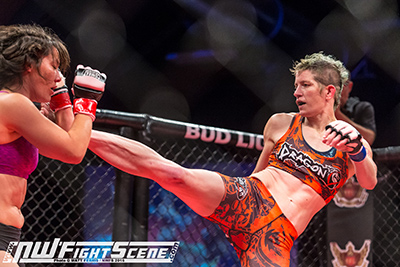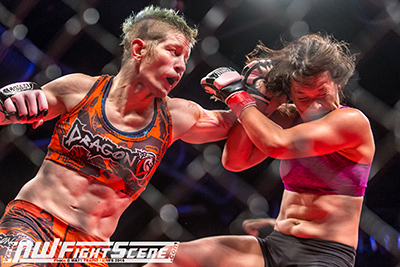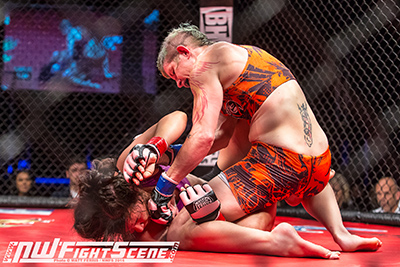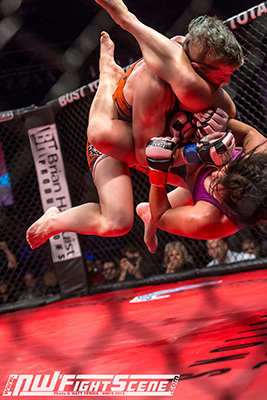 The final round saw more solid standup before Liou utilized a spinning back fist to transition into a guillotine choke, taking D'Alelio to the mat. D'Alelio though had little trouble popping her head free and then went to work, punishing Liou to round's end with more big elbows and strikes. After 15 minutes of action, the scorecards read 30-27, 30-26 x 2, all for D'Alelio, giving Team Los Angeles another three points.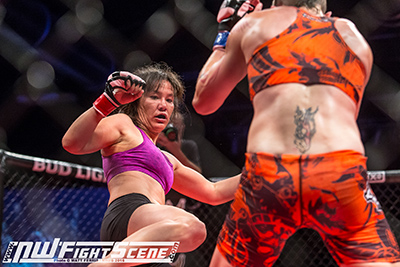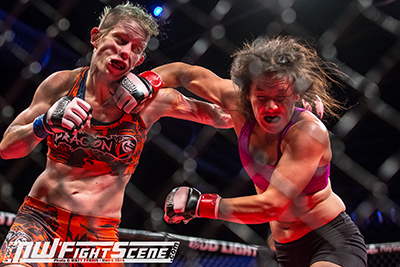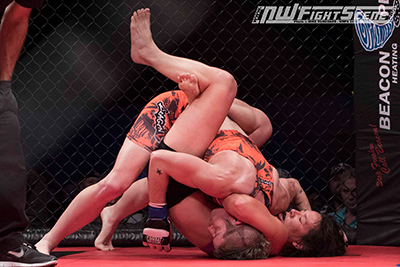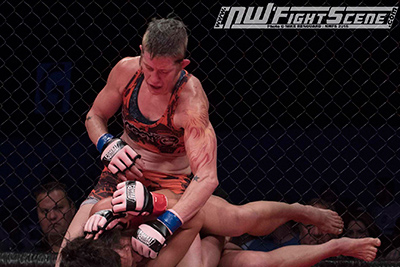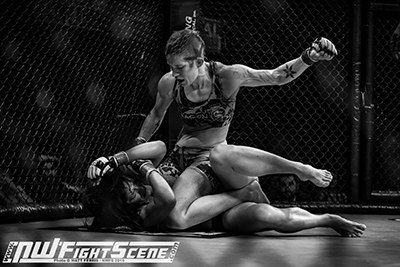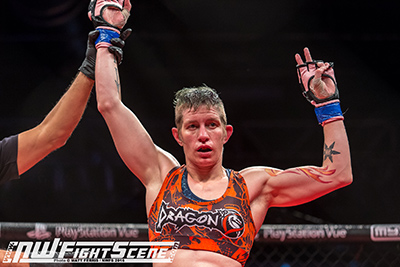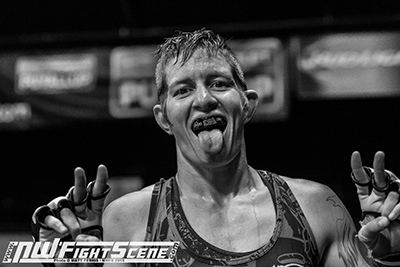 An impressive win for Team LA came from Shohei Yamamoto, training under Josh Barnett at CSW in Fullerton CA, stopping UTC's Bobby McIntyre of Team Seattle early in the 2nd round via TKO to punches in a thrilling lightweight contest . The first round started out with high-paced exchanges from the two warriors with the fight ranging all over the cage and both men attacking the other with an impressive mix of kicks and punches. A minute in, a big left hand scored from Yamamoto off a combo that saw McIntyre want to take it to the mat. Yamamoto wound up in top position though and scored repeatedly with big punches as McIntyre worked to extricate himself. With a minute or so left in the round, McIntyre was able to get up against the cage and then immediately take Yamamoto down where he first went for an arm triangle, then transitioned to Yamamoto's back where he nearly sunk a rear naked choke. Yamamoto got out but ate a few elbow smashes before the bell. Fantastic action!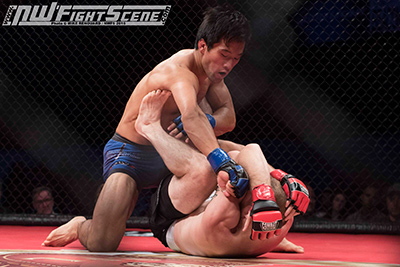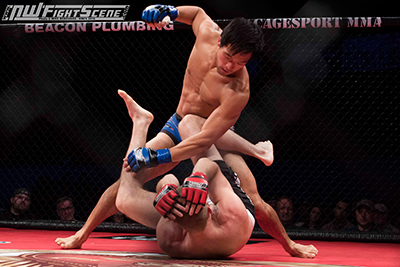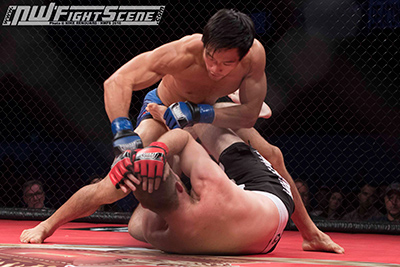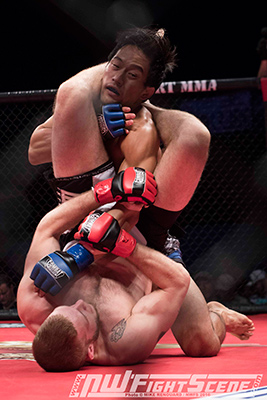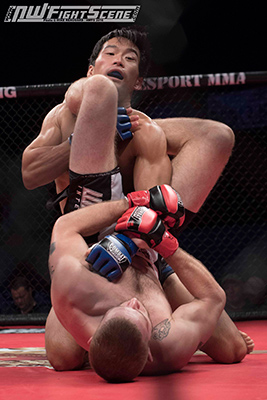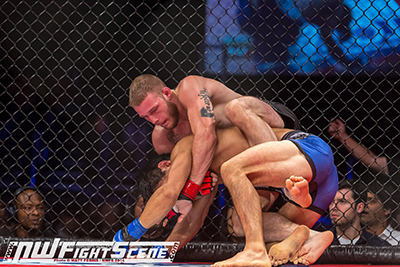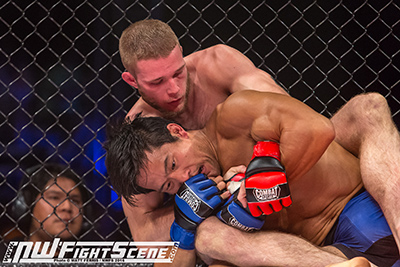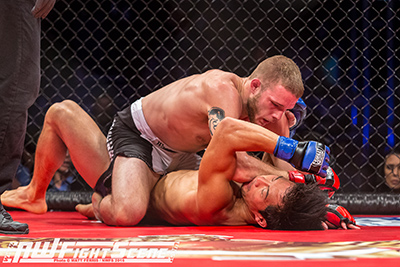 In the 2nd round, Yamamoto landed a couple leg kicks followed by straight right that seemed to stun McIntyre. The pair clinched up and Yamamoto moved McIntyre against the cage where he created space and unleashed a barrage of deadly accurate punches that forced a referee stoppage at 46 seconds in.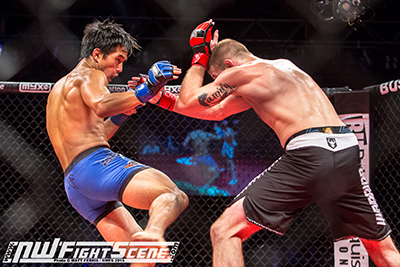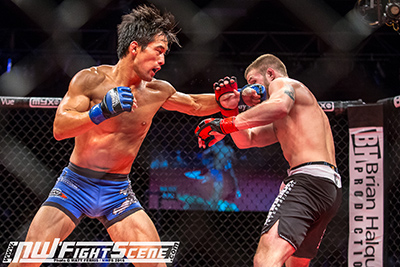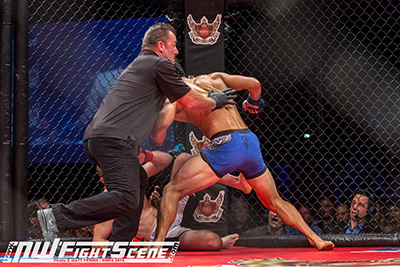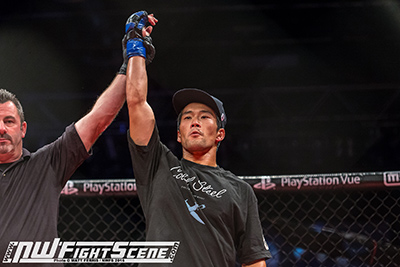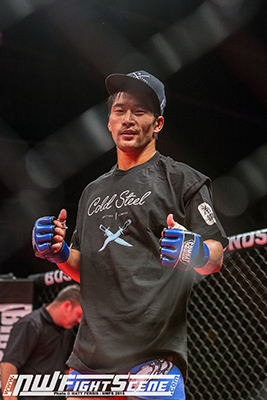 A.J. Bryant, training under Josh Barnett at CSW, took home a 1st round submission win for Team LA over Battleground MMA's Armando Best, repping Team Seattle in a 145 lb contest. Best came out firing some big body kicks and then clinched up with Bryant against the cage. It was Bryant though who turned Best against the cage and then scored a nice leg trip takedown. Best worked from the bottom for submission attempts but Bryant avoided these and managed to sneak in a couple elbow strikes. Best created space and then went to stand up, but Bryant was ready and landed a big right hand square on Best's chin that dropped him like a ton of bricks. Referee Tom Supnet immediately jumped in and stopped the contest for a TKO at 2:14 of the first, giving Bryant his first professional win and Team Los Angeles 4 points.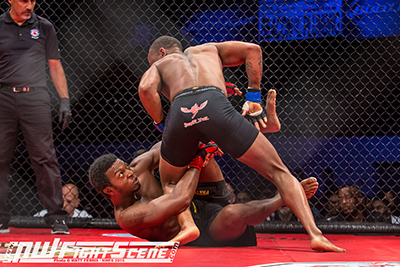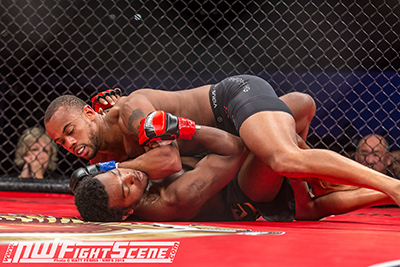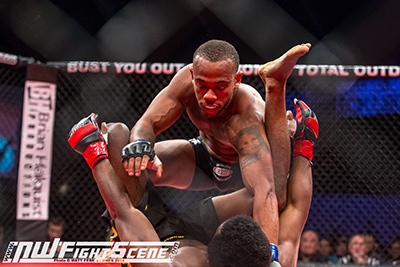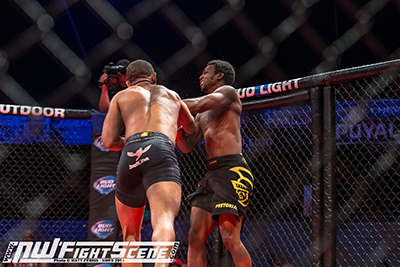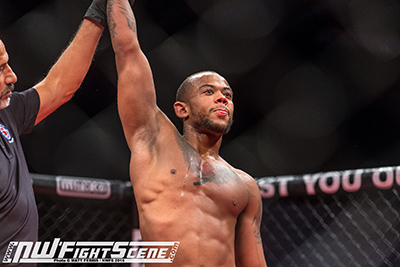 In the opening bout of the Team Challenge, Team Seattle's Anthony Zender - fighting out of the Academy of Brian Johnson in Olympia WA - took home a split decision win over Team LA's Brandon Frunk in a high-paced standup affair. The first round saw Zender coming out and landing some stiff jabs mixed in with some low outside leg kicks. Frunk answered in kind with some hard jabs of his own which he would consistently land throughout the fight. A takedown attempt by Frunk was quickly stuffed by Zender and later in the round Zender nailed a takedown off a Frunk high kick, but Frunk was immediately back to his feet.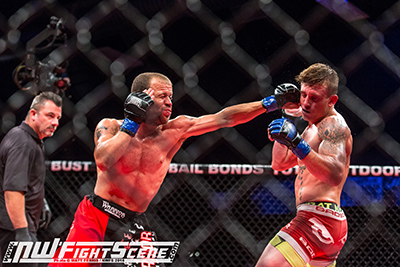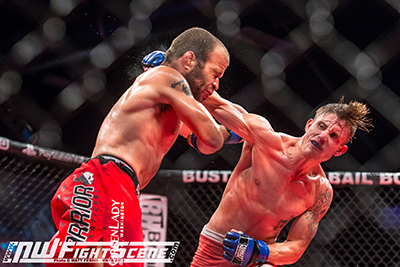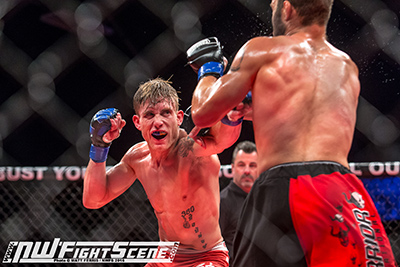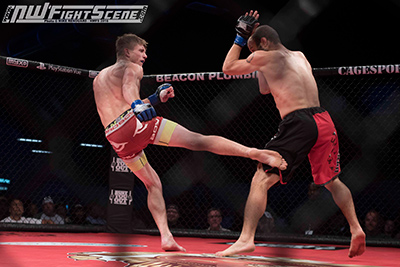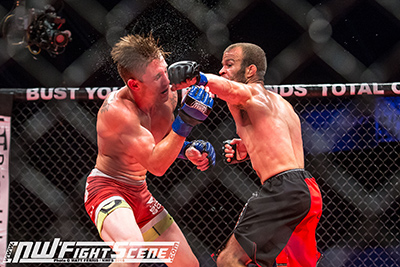 The 2nd frame had both fighters trading in the center of the cage, adding additional punches to their jabs, and at times trading in some wild exchanges. At the end of the 2nd, both men's faces were showing the effects of the other's shots. The final frame saw Zender shoot in on a single leg takedown but Frunk made him pay for the attempt. Back in the center of the cage, Zender got in a nice rhythm, connecting numerous times with his combinations. Frunk hands continued to find their way through Zender's defenses, and the Team LA fighter finished the round with a nice takedown. A close, competitive fight in every round was reflected by the judges scorecard, two of whom saw it 29-28 for Zender, while the third had it 30-27 for Frunk. A solid victory for Zender who has won 6 straight to improve his pro record to 6-8.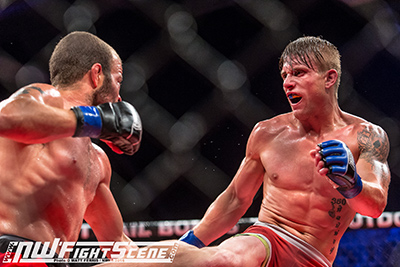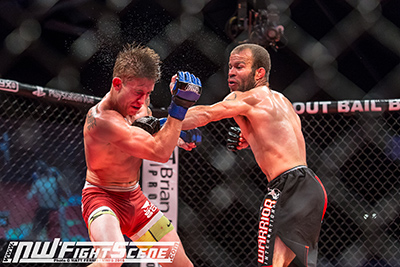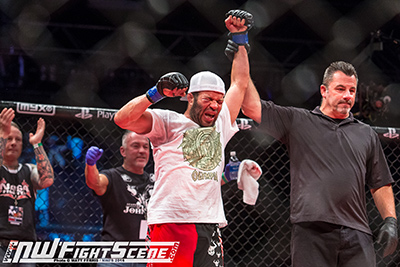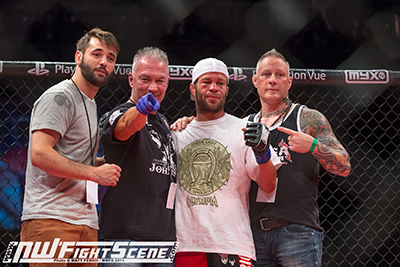 Two preliminary bouts opened the evening and both had big finishes after lots of action. Base Fitmass MMA's Ryan Schecterson, fighting out of North Bend WA, and United Training Center' s Austin Anderson, a recent transplant from Oklahoma, threw down in a middleweight contest. Lots of action in a back-and-forth first round, both fighters landing with big bombs. In the 2nd, Schecterson got an early takedown and scored with some ground and pound, but Anderson used his legs to push himself off the cage to reverse position. From there, it was all Anderson, punishing Schecterson with elbows and punches, before locking on a triangle choke and finishing at 4:33 of the 2nd.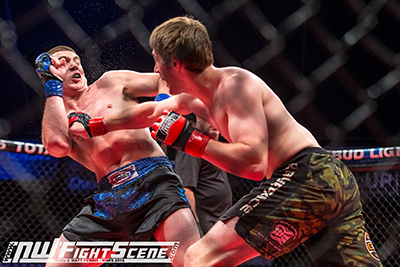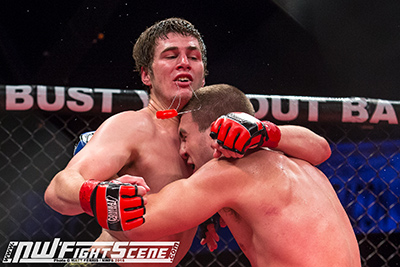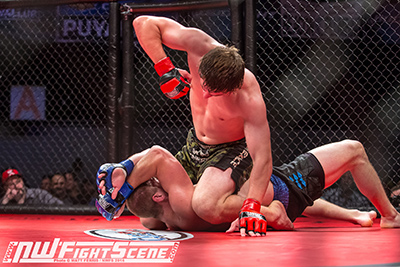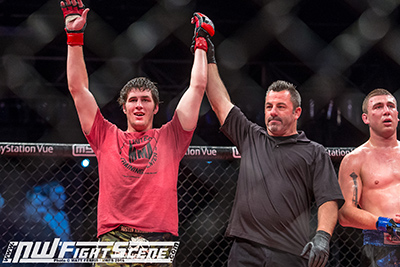 In the 2nd prelim bout, two talented fighters in Bad Company MMA's Nathan Stolen of Aberdeen WA and Team Wise's Jeremie Montgomery out of Seattle, went to battle at 145 lbs. Montgomery landed some stiff jabs early but it was Stolen's heavy hands that moments later dropped Montgomery to the canvas. Montgomery went on the defensive as he moved back to his feet, throwing big bombs to keep Stolen at distance. Stolen though would not be denied this night and again dropped Montgomery with a huge punch that finished the fight, handing the undefeated Stolen his 2nd Pro win by knockout at 1:34 of the first.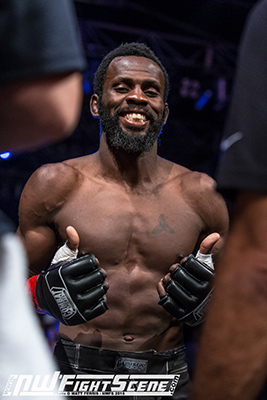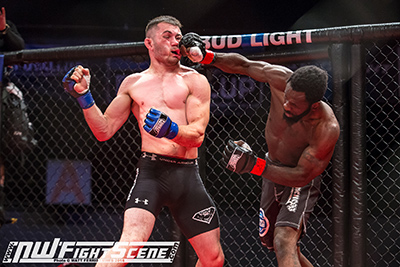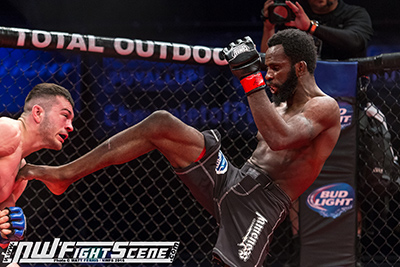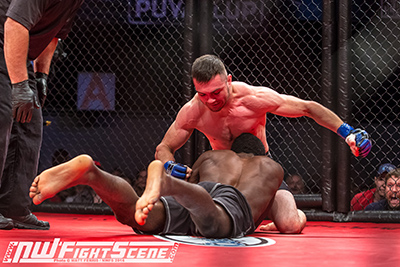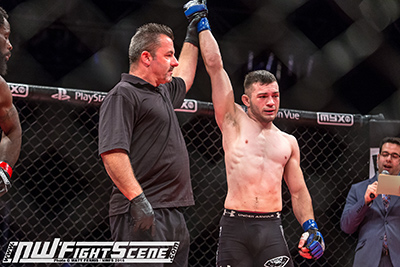 The next SFL America event at the Emerald Queen Casino is set for October 22nd. Halquist Productions will present their next all-pro boxing Battle at the Boat show at the casino on September 10th. More information at www.halquistproductions.com and www.superfightleague.com.