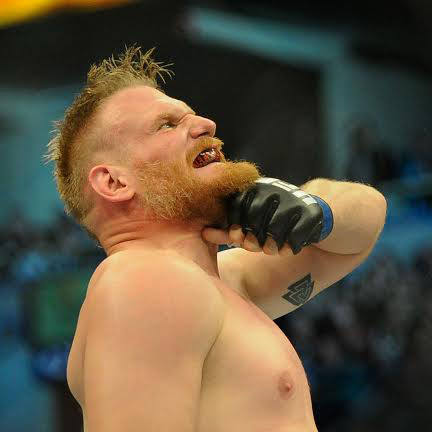 Seattle native and former UFC Heavyweight champion to appear at MMA event

TACOMA, Wash. – Team Los Angeles will have a familiar face on its side when they take on Team Seattle at SFL America: Team Challenge on July 23 at the Emerald Queen Casino in Tacoma as Josh Barnett will be in the corner of the visiting squad.

Barnett, a former UFC heavyweight champion, hails from Seattle, but now fights out of Fullerton, California, and while he will be opposing his hometown team at the event, "The Warmaster" knows firsthand the MMA talent that is being produced in the Pacific Northwest.

Barnett is one of several fighters from Washington who have captured UFC gold, joining Seattle's Maurice Smith, Everett's Randy Couture, Maple Valley's Jens Pulver, Tacoma's Benson Henderson, and Parkland's Demetrious Johnson and Miesha Tate in accomplishing the feat.

"It's great to have Josh back in his hometown and also cornering L.A. fighters on our show," said promoter, Brian Halquist. "The northwest is the jewel for MMA fighters internationally. The UFC champs from the northwest are second to none worldwide and Josh is one of those elite guys and is great to work with. Couldn't be happier to have him here at SFL 50."

The 8-bout card will feature two preliminary and six Seattle vs. Los Angeles bouts, including one female flyweight bout.

Fighters will earn 6 points for a KO, 5 points for a submission victory, 4 points for a TKO, 3 points for a decision and 1 point for a draw with the winning team collecting the most combined points.

"I think the strong wrestling programs have played a part in it," Barnett said when asked why the region has been so successful in producing gifted MMA fighters, "but I'm going to take the Olympia Beer position - It's in the water."

Talking about the team concept of the event, Barnett stated – "It's great and hopefully will encourage people to personalize their participation in watching the fights if even through the cities the teams represent. We expect to have a well-balanced, hard-hitting crew."

"This is the second time that we are testing waters with the team concept in SFL America after a super successful event between Seattle and Portland on May 7. We aim to create something unique globally for MMA fans," said Bill Dosanjh, CEO & Founder, Super Fight League.

SFL America: Team Challenge – Seattle vs. LA is brought to you by Brian Halquist Productions and Super Fight League. For more information, please visit www.superfightleague.com and www.halquistproductions.com

Tickets are available through the EQC box office and all Ticketmaster outlets. Preliminary bouts start at 7 p.m. Doors open at 6 p.m.

SFL America Team Challenge: Seattle vs. Los Angeles
Saturday, July 23, 2016 – Emerald Queen Casino

SFL 50 America Undercard
145 Featherweight - Jeremy Montgomery (2-1) vs. Nathan Stolen (1-0)
185 Middleweight - Ryan Scheterson (2-1) vs. Austin Anderson (2-2)

SFL 50 Team Challenge (America) Seattle vs. Los Angeles
125 Female Flyweight - Jenny Liou (6-3) vs. Sarah D'Alelio (8-6)
135 Bantamweight - Anthony Zender (4-8) vs. Brandon Frunk (2-1)
145 Featherweight - Armando Best (0-1) vs. AJ Bryant (0-1)
155 Lightweight - Bobby McIntyre (4-2) vs. Shohei Yamamoto (2-1)
195 Light Heavyweight - Brent Knopp(6-1) vs. Adam Dehart (6-5)
205 Light Heavyweight - Dylan Potter (4-0) vs. Thomas Hoeper (4-2)

ABOUT SUPER FIGHT LEAGUE
Super Fight League (SFL), a platform to promote one of the world's most favourite combat sport - Mixed Martial Art, was founded by British Business magnate, Mr. Bill Dosanjh and British Pro Boxer Amir Khan. The event was first launched in India in 2012 and then travelled to America. Official Website: www.superfightleague.com
In the past four years, SFL has been arranging fight nights for select audiences through invitation-based events in India, USA, Canada and UAE. The matches are also broadcasted on their official YouTube channel www.youtube.com/sfl.

ABOUT BRIAN HALQUIST
Brian Halquist Productions is the Northwest premiere fight promotion company creator of the famed "Battle at the Boat" boxing series promoting more than 19 years and over 100 fights at the Emerald Queen Casino. BHP has also built the largest professional MMA series on the USA's west coast with "Cage Sport MMA" nearing more than 50 fights. Brian Halquist Productions has promoted events for ESPN, ShowTime and HBO and featured on Showtime's historic boxing event in St Lucia, West Indies. Brian Halquist Productions has been promoting fights and concerts for over 30 years in the Pacific Northwest.