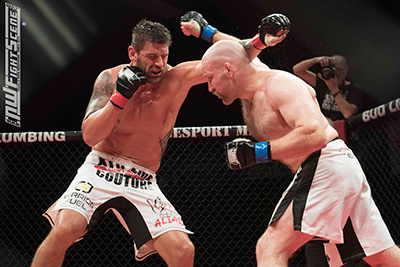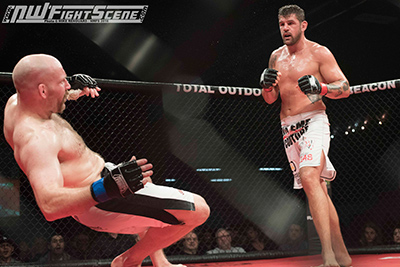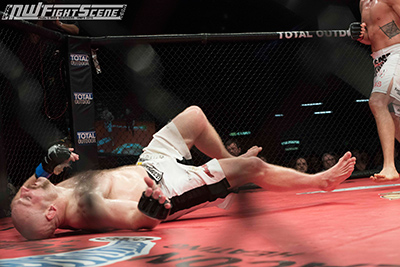 A stellar night of fights took place on October 22nd at the Emerald Queen Casino for for the 3rd SFL America Team Challenge event in Tacoma WA, pitting the Seattle Warriors against the Central Valley Heat. The Seattle squad started out strong, winning the first three bouts, but Team Central Valley stormed back to win the last three. This included TUF Alum Josh "Hillbilly Hearthrob" Clark knocking out Team Seattle's Brent "Mankill" Knopp in the main event, to give Central Valley the SFL America Team Challenge victory 15-12 over Team Seattle.

In the main event, Josh Clark scored with a big right hand before Knopp moved in for a takedown attempt. Knopp got Clark to the canvas but spent much of the round trying to pull Clark off the cage and get in position to utilize his ground and pound game. Clark though defended well and eventually got back to standing. Knopp fired off a high head kick as Clark broke free, but Clark answered with some hard punches, landing flush. Knopp connects with a right hand, but Clark finishes with a big body kick followed by a straight right. In the 2nd round, Knopp came out with some urgency, landing a few hard blows before moving in and again taking Clark down against the cage. Clark eventually gets back to standing, but eats a couple knees from Knopp. Clark defends against another Knopp takedown attempt, turning Knopp against the cage. Near the end of the round as they break apart from the clinch, Clark staggers Knopp with a big right, and then seconds later, drops him with another big bomb. A couple more strikes from Clark on a prone Knopp gives Clark the KO win at 4:37 of the 2nd, and secures the Team Challenge victory for Team Central Valley with 6 points for the KO.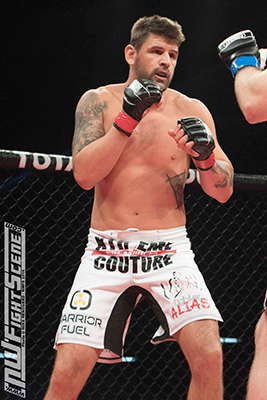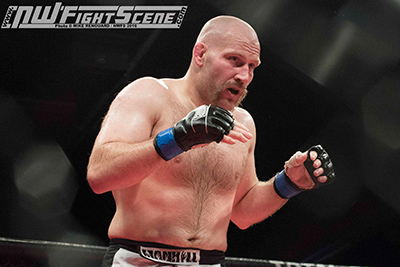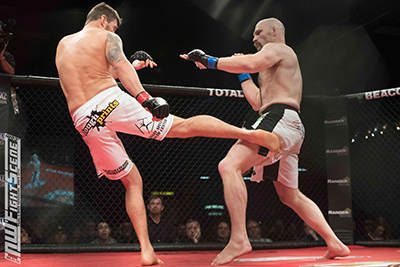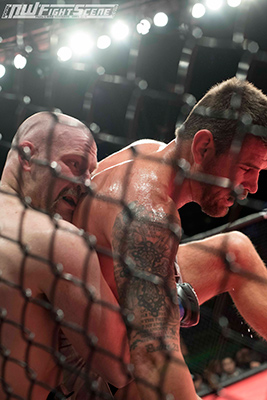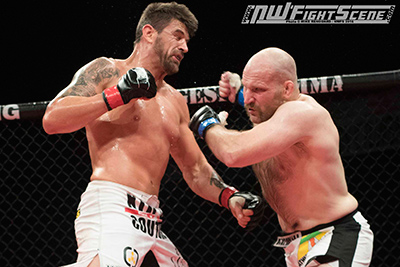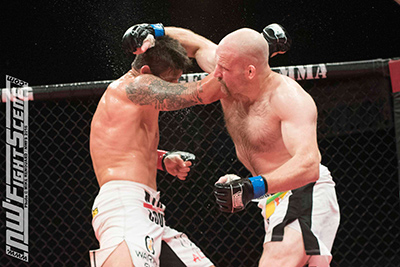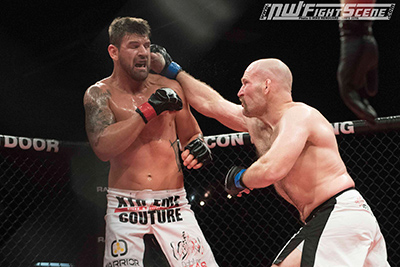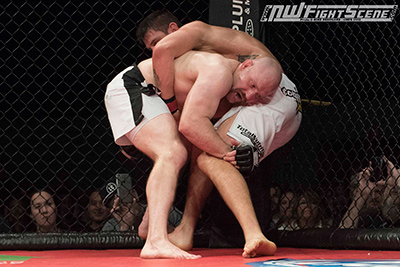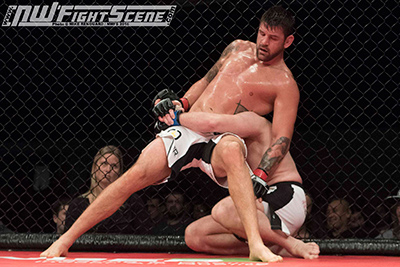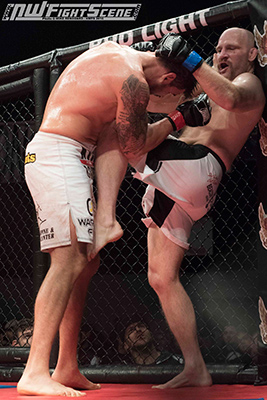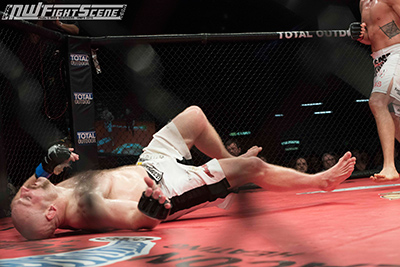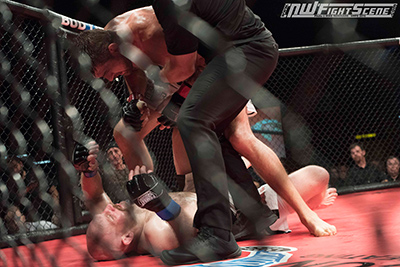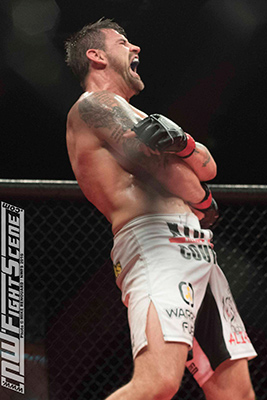 The 6-fight Team Challenge kicked off in the men's 145 lb weight class with Team Seattle's Nathan Stolen, fighting out of Hoquiam WA, matched up against Team Central Valley's AJ Bryant of Highland CA. Bryant utilized a variety of leg kicks to keep Stolen at distance and then scored with some nice knees from the clinch. Stolen though continuously moved forward and once he got Bryant against the cage, unleashed a series of big bombs with his heavy hands that had the Team Central Valley fighter in trouble. Bryant tried to clinch up, but Stolen simply outmuscled Bryant and took him to the ground. There, he calmly and methodically took Bryant's back and sunk a rear naked choke to force a tap at 2:26 of the round to give Team Seattle 5 points. Stolen moves to 3-0 with the win.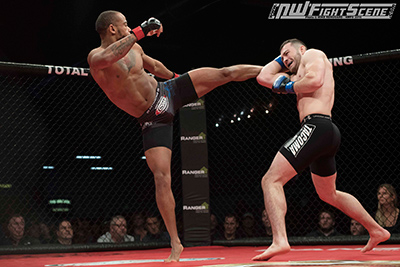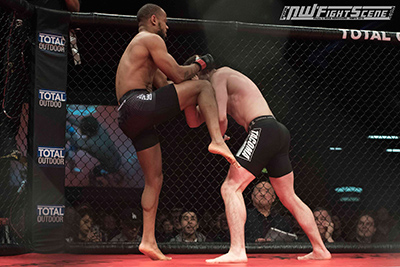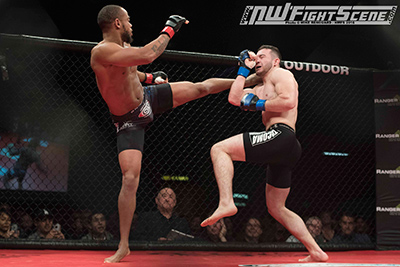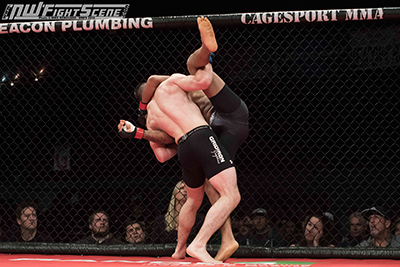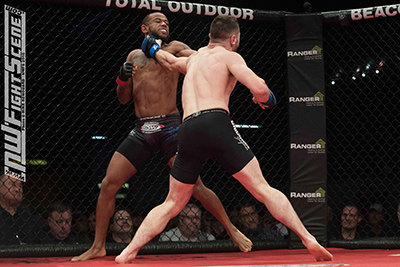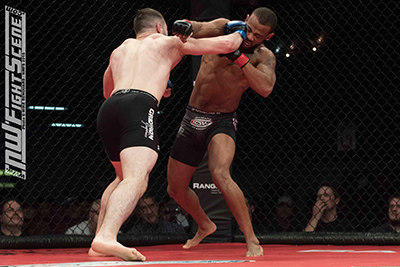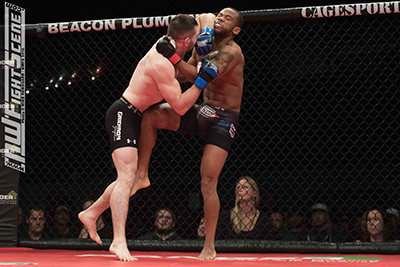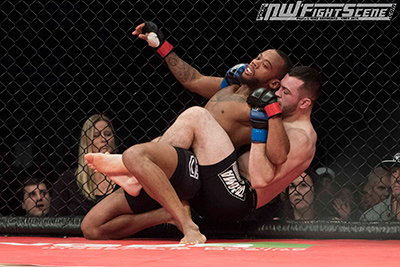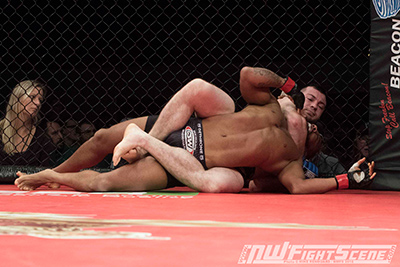 The 2nd Team Challenge bout of the night at 170 lbs featured Team Seattle's Joey Pierotti of Enumclaw WA scoring a 3rd Rd TKO win over Team CV's Richard Brooks of Las Vegas. In the first round, Pierotti moved in on Brooks for a takedown attempt, but Brooks turned Pierotti against the cage and landed numerous knees in the clinch before getting his own takedown and landing some nasty elbows. Pierotti got back to standing and fired off a few hard punches, but Brooks got another takedown to end the round.

In the 2nd, Pierotti came out on fire, finding a home again and again with his heavy hands. Brooks though absorbed the punishment and kept searching for a takedown, eventually getting one late in the round, though he wasn't able to do much damage on the ground. The doctor checked Brooks between rounds, but let the fight continue. In the final frame, Pierotti was the fresher fighter and was deadly accurate in his striking on the feet. Brooks though refused to go down and the fight went nearly the distance before an end was finally called at the 4:52 mark, giving Pierotti the win and moving his record to 4-0 as a pro.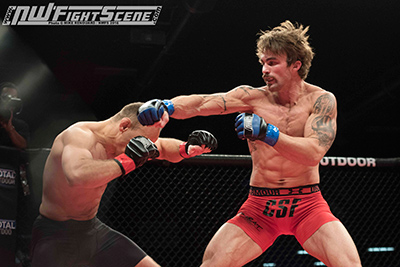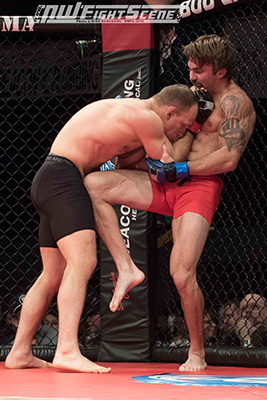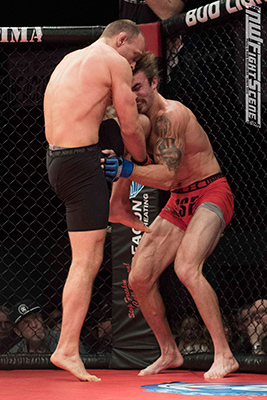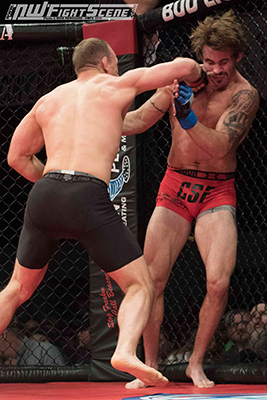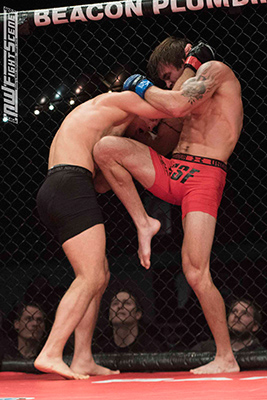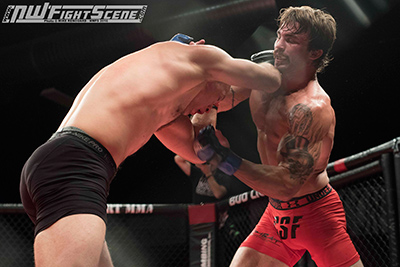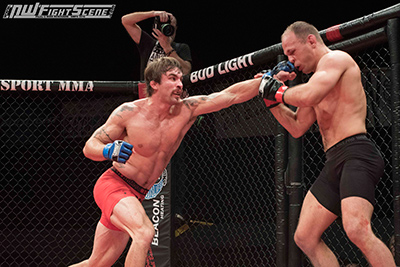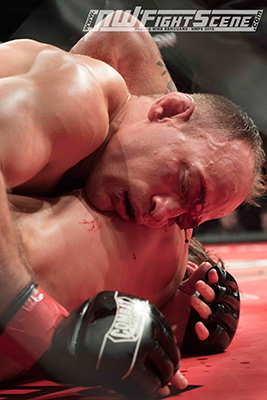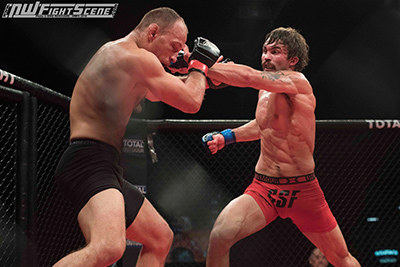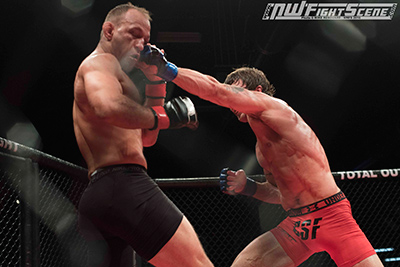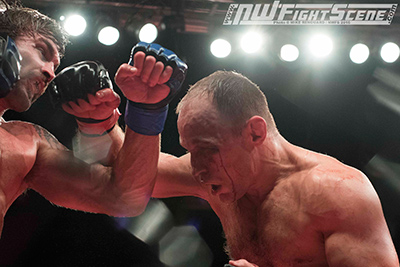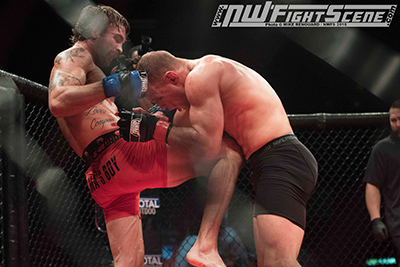 In the 3rd Team Challenge matchup, Team Seattle's Elizabeth Tracy of Vancouver WA won a split decision over Team CV's Christine Stanley of San Diego in a great fight from start to finish. Stanley cut Tracy early with a hard right but Tracy secures a takedown against the cage. Stanley was able to pop back up and deliver a couple more strikes on Tracy, but the Team Seattle fighter dropped down and secured another takedown against the cage. Tracy looked to take Stanley's back, but again Stanley showed good defense in getting back to the feet. Tracy continuously moved forward, getting Stanley in a clinch and then picking her up and dumping her emphatically to the mat.

In the 2nd round, Tracy began to score with her right hand and then got another takedown. She was to do a bit more damage on the ground, landing some hard elbow strikes before isolating an arm and going for a submission. Stanley though is able to stack Tracy against the cage and break free. Both fighters trade hard shots to end the round. In the 3rd, Stanley held the center of the cage while Tracy circled around her, finding her range to deliver strikes. Two minutes in, Tracy nails a takedown and transitions to Stanley's back, getting her hooks in and delivering solid ground and pound. Late in the round, Stanley is finally able to get back up and both ladies go toe-to-toe to end the fight. It goes to the scorecards which read 30-27, 30-27, 28-29 for Team Seattle's Elizabeth Tracy.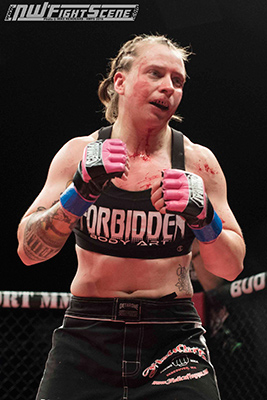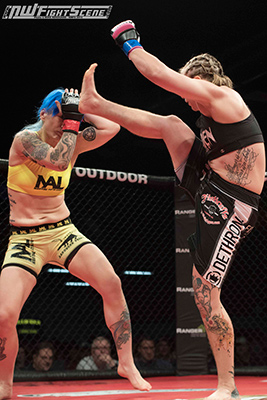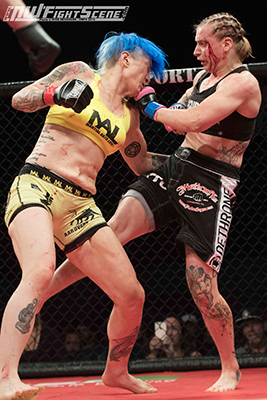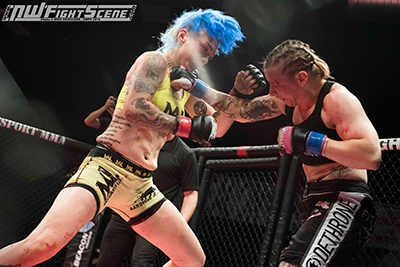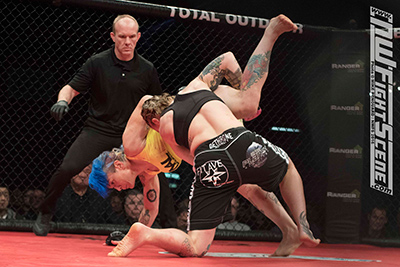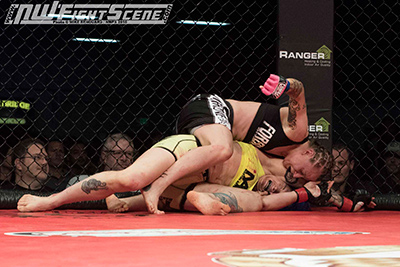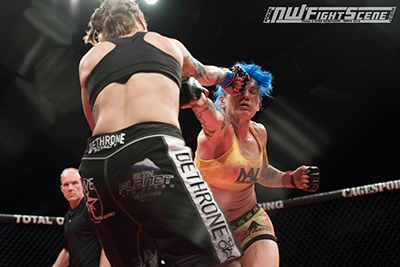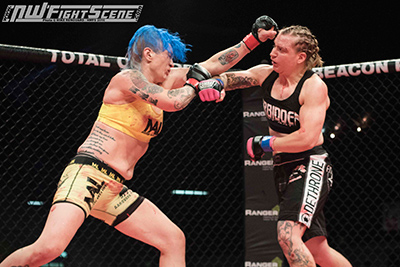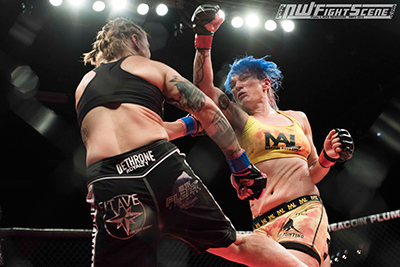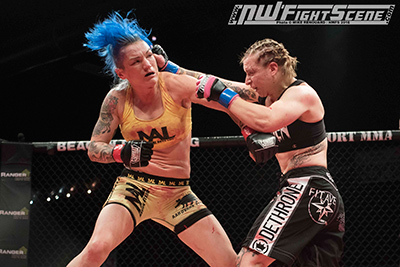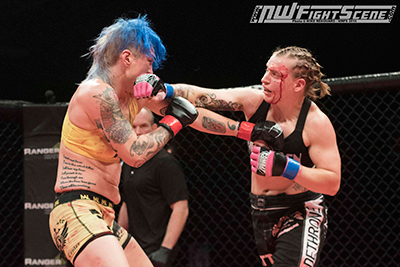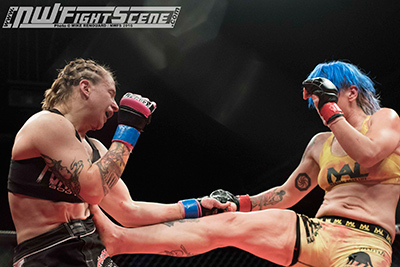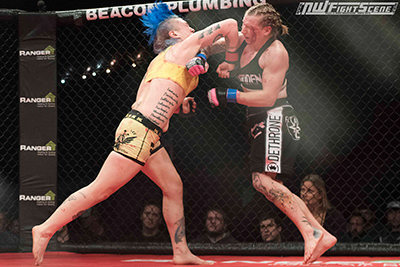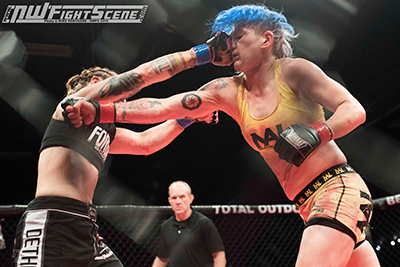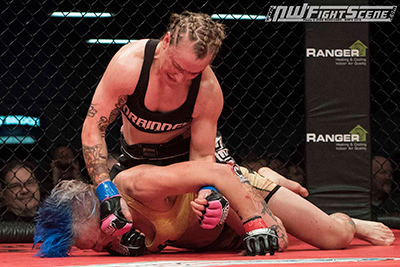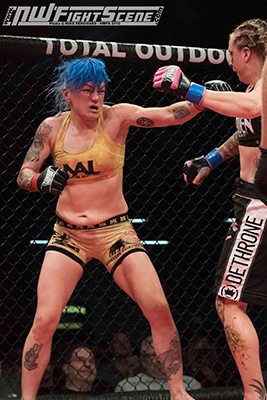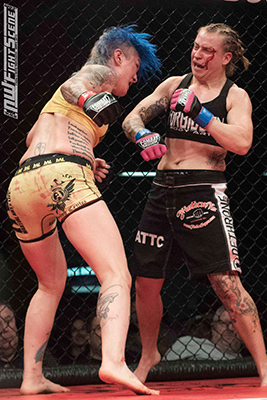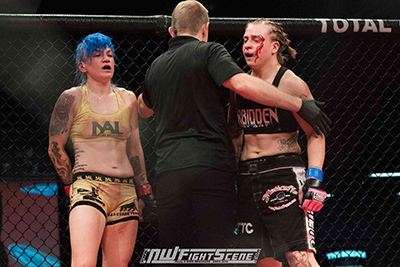 The tide changed in the 4th Team Challenge bout when Team Central Valley's Mike Persons of Manteca CA won via 3rd round TKO over Team Seattle's Dylan Potter of Olympia in their 195 lb contest. After initially clinching up, Persons was able to takedown Potter and then maintained top pressure for most of the first round, punishing Potter with elbows and punches. In the 2nd, the pair traded kicks before Persons moved in on a clinch and took Potter down with a double leg against the cage. Again Person displayed some fine grappling skills as he kept top position and dropped in hard shots, despite Potter's efforts to escape out from under him. In the final round, it was much of the same, Person getting the takedown off a flying knee attempt from Potter, and then going to work, dishing out more pain for Potter until the ref had seen enough and stopped it at 3:19 of the round. Team Central Valley gets on the board with 4 points for the TKO win.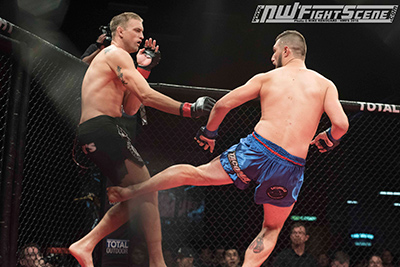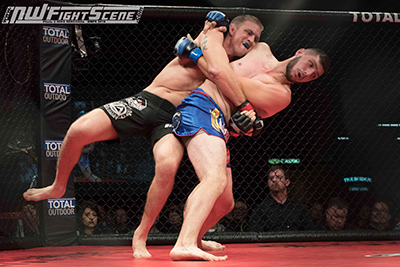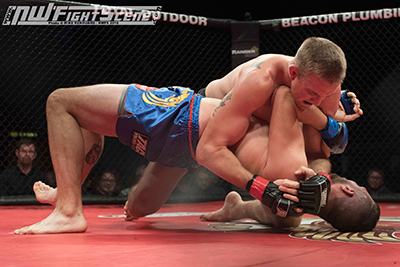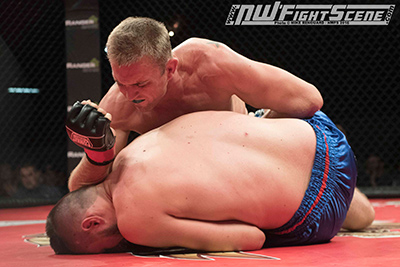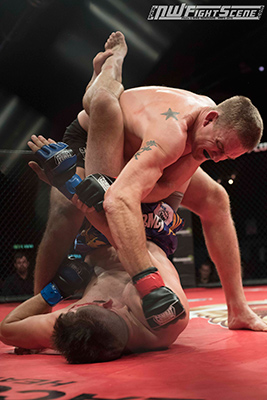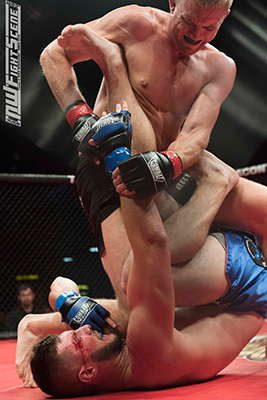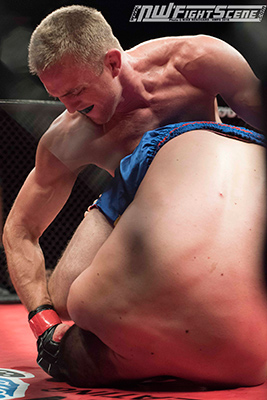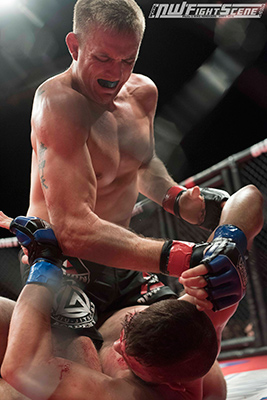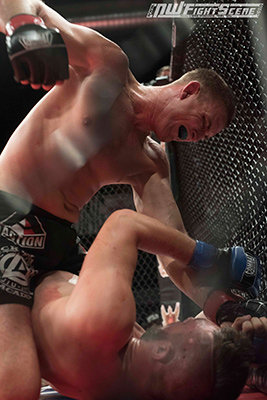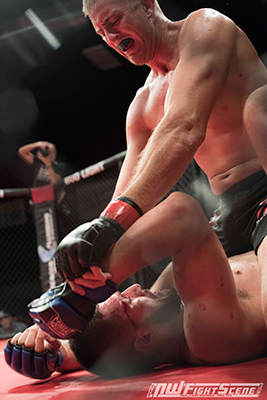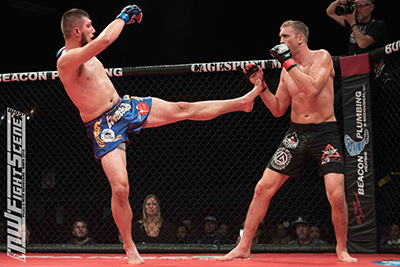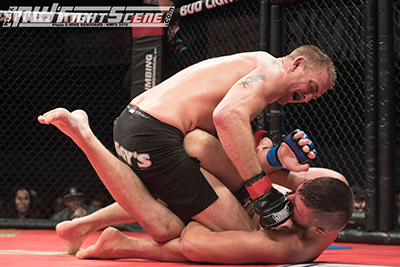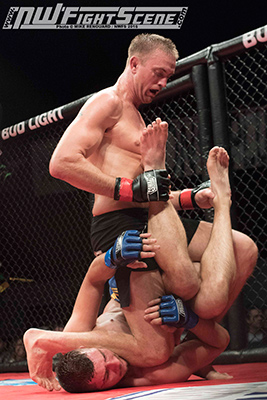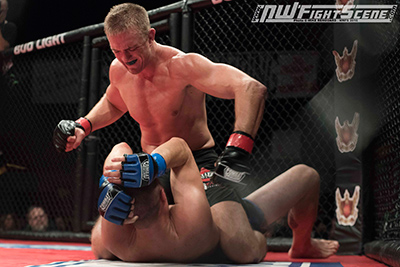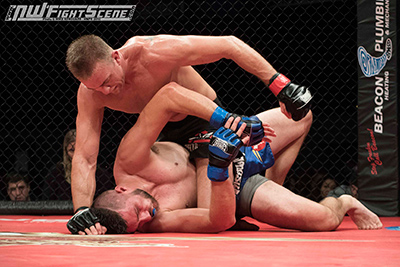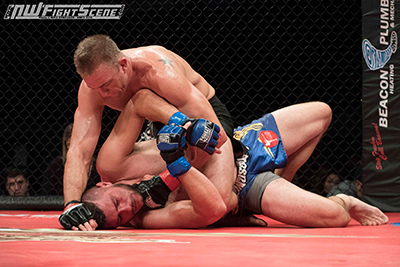 Team Central Valley needed a big win in the 5th Team Challenge bout, and they got it from Sacramento's Jordan Powell who submitted Post Falls ID's Jordan Currie in their heavyweight fight. In the first round, the pair clinched up early, with Powell landing solid knees from the clinch. The veteran Currie though executed a beautiful takedown against the cage, got mount and dropped in some heavy shots, before transitioning to a head/arm choke. Powell did a good job of escaping, using his legs to reverse. Powell on top goes for a guillotine against the cage, but Currie sweeps and the pair scramble back up, before another takedown from Currie. Powell though again gets back up and the pair trade hard leg kicks before the end of the round. In the 2nd frame, Powell comes out with a flying knee that elicits oohs from the crowd, but Currie takes him right down. Powell is able to scramble to top position and lands some short elbows and hammerfists. Currie sweeps to get top position, but Powell attacks his arm and is able to get the kimura for a tap from Currie at 3:22 of the round. Impressive finish from Powell and it sets up Team Central Valley's comeback with 5 points for the submission win.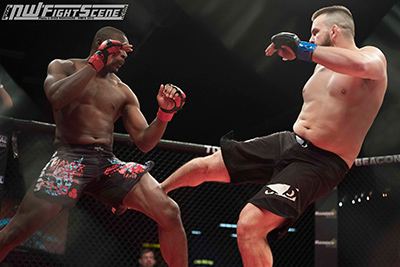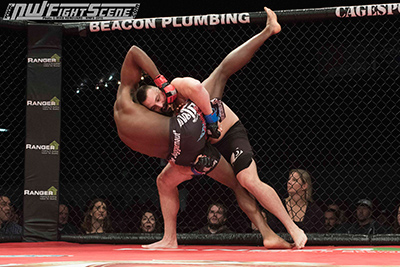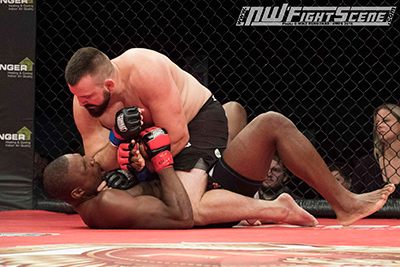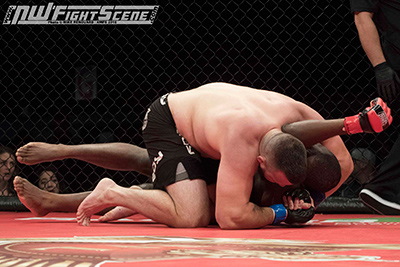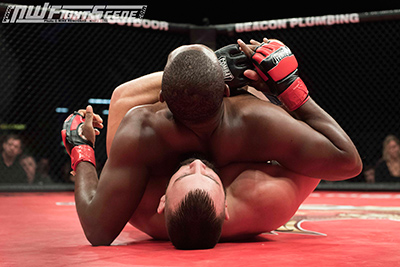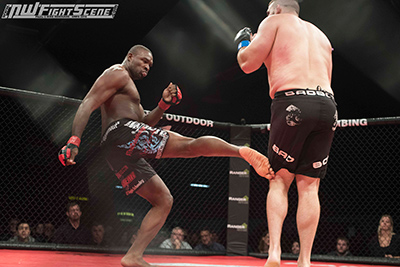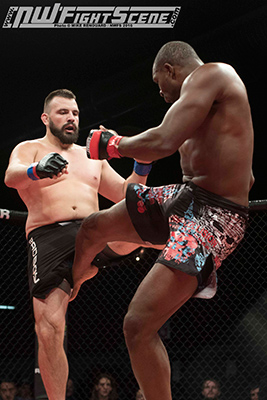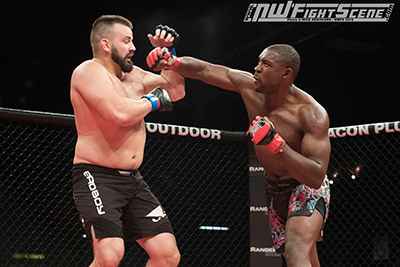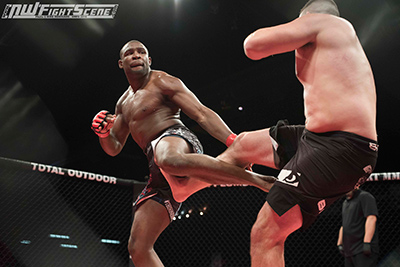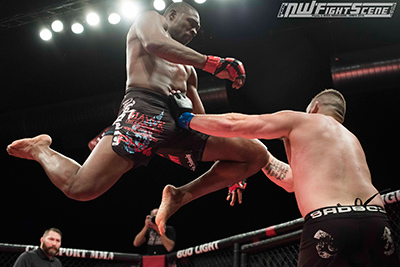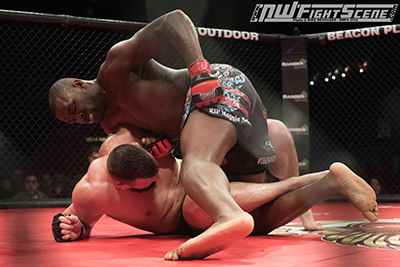 In an entertaining swing bout contested at 142 lbs, Tenino WA's Anthony Zender of the Academy of Brian Johnson beat Oroville WA's Nathan Thompson by unanimous decision. Thompson was aggressive from the get-go throwing some high kicks and nailing takedowns, but Zender always had an answer for Thompson's offense, and was able to counter with plenty of offense on his own. In the third round, a big takedown from Zender followed by solid ground and pound sealed the deal, all three judges seeing it 30-27 in his favor. With the win, Zender has won 7 straight pro bouts, after dropping his first 8!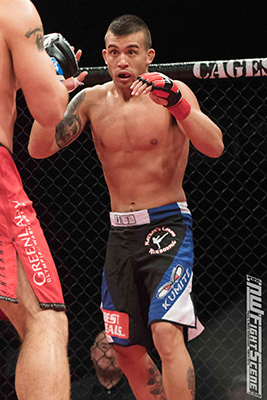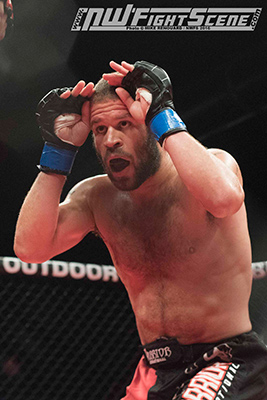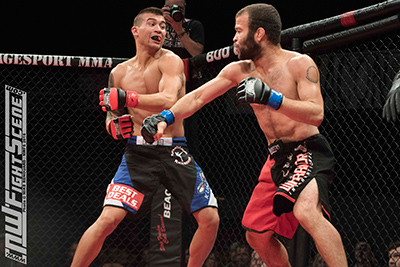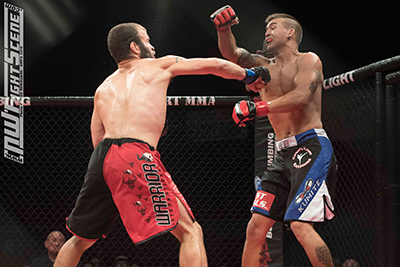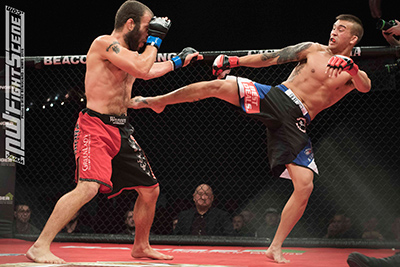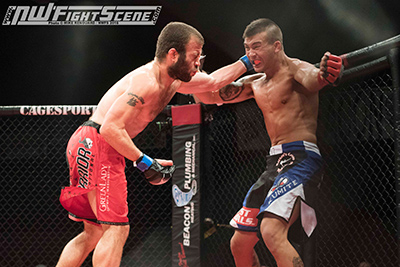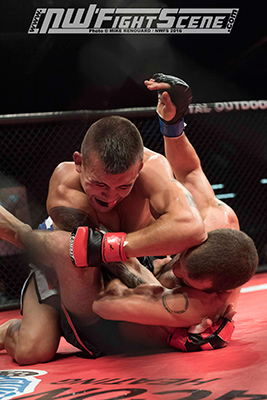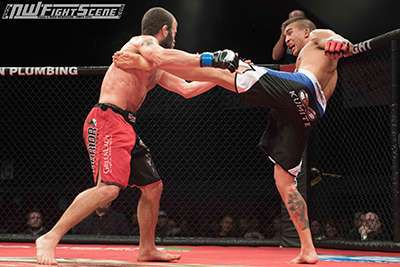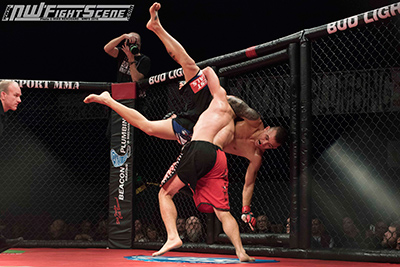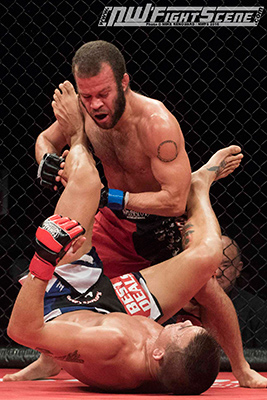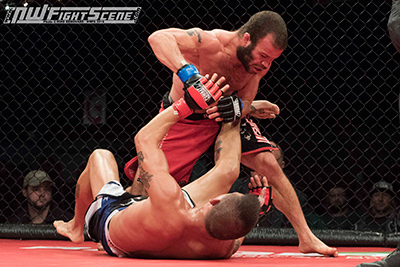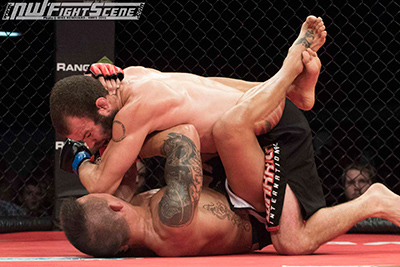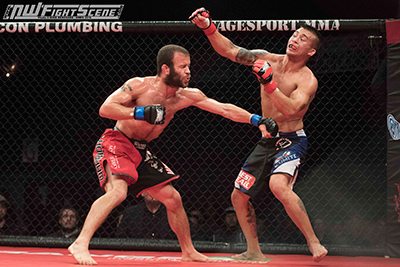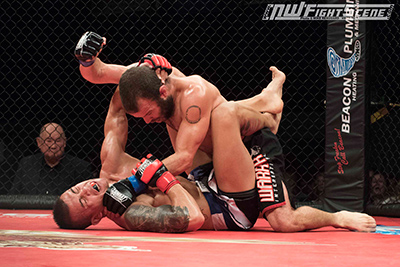 In an early preliminary contest at 145 lbs, Seattle's Jorge Gaitan with Ivan Salaverry MMA beat Tacoma's Armando Best via unanimous decision. The first two rounds belonged to Gaitan with takedowns and ground control. Best turned up the heat in the final frame, outstriking Gaitan on the feet. After 15 minutes, all three judges saw it 29-28 for Gaitan who wins his pro debut.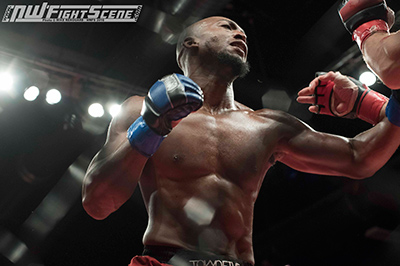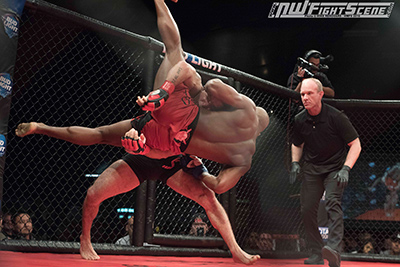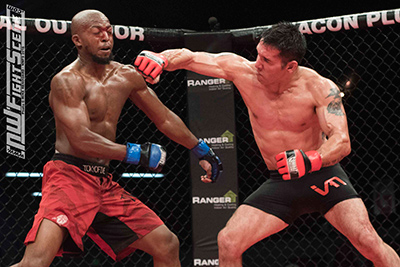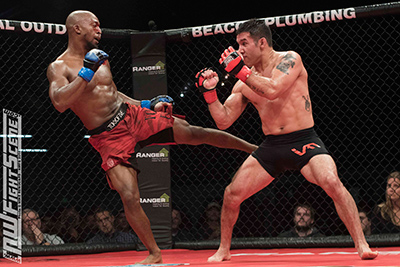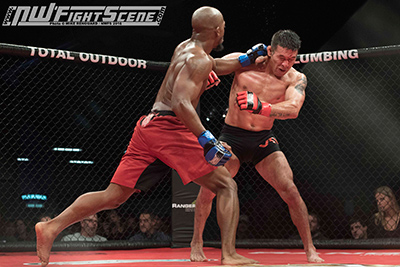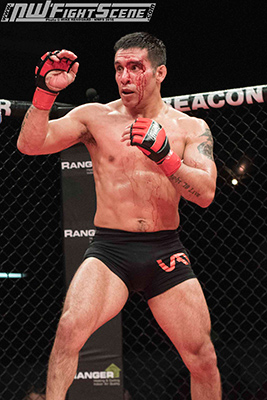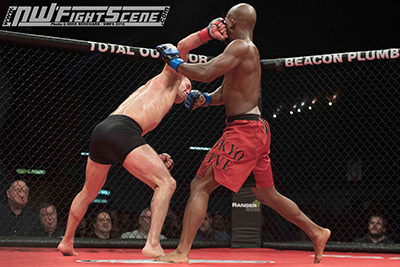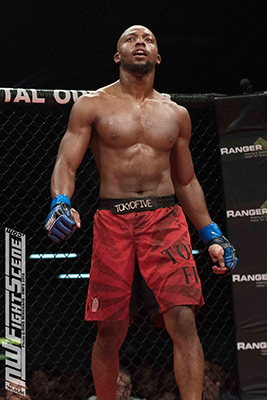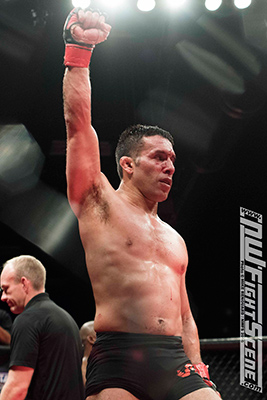 The next SFL America at the Emerald Queen Casino is scheduled for December 17th. More info at www.superfightleague.com and www.halquistproductions.com.
---
SFL America Team Challenge: Seattle vs Central Valley Results

Preliminary Bout - 145 lbs
Jorge Gaitan (Debut -Seattle) def Armando Best (0-2 - Tacoma)
by Unanimous Decision (All judges 29-28)

Preliminary Bout - 142 lbs
Anthony Zender (6-8 - Tenino WA) def Nathan Thompson (5-3 - Oroville WA)
by Unanimous Decision (All judges 30-27)

SFL America Team Challenge: Seattle vs Central Valley
Team Challenge Bout 1 - 145 lbs
Nathan Stolen (2-0 - Hoquiam WA) def AJ Bryant (1-1 - Highland CA)
by Rear Naked Choke @ 2:26 Rd 1
Team Seattle earns 5 points for the Submission win

Team Challenge Bout 2 - 170 lbs
Joey Pierotti (3-0 - Enumclaw WA) def Richard Brooks (4-0 - Las Vegas)
by TKO (Ref Stoppage - Strikes) @ 4:52 Rd 3
Team Seattle earns 4 Points for the TKO win

Team Challenge Bout 3 - 126 lbs
Elizabeth Tracy (2-1 - Vancouver WA) def Christine Stanley (5-2 - San Diego CA)
by Split Decision (30-27, 30-27, 28-29)
Team Seattle earns 3 points for the Decision win

Team Challenge Bout 4 - 195 lbs
Mike Persons (7-3 - Manteca CA) def Dylan Potter (4-1 - Olympia WA)
by TKO (Ref Stoppage - Strikes) @ 3:19 Rd 3
Team Central Valley earns 4 points for the TKO win

Team Challenge Bout 5 - 223 lbs
Jordan Powell (6-6 - Sacramento CA) def Jordan Currie (7-5 - Post Falls ID)
by Kimura @ 3:22 Rd 2
Team Central Valley earns 5 points for the Submission win

Team Challenge Bout 6 - 192 lbs
Joshua Clark (9-3 - Las Vegas) def Brent Knopp (7-1 - Burien WA)
by KO @ 4:37 Rd 2
Team Central Valley earns 6 points for the KO win

FINAL SCORE
Central Valley 15, Seattle 12.