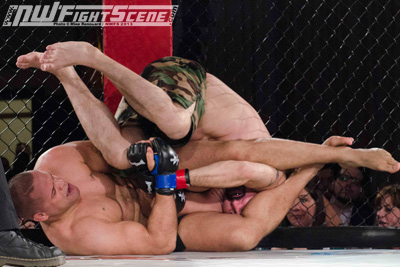 Pro Heavyweight Anthony Hamilton secures an armbar of Will Courchaine in the main event
On March 16th. the Snoqualmie Casino was invaded by fighters and fans for COGA Grand Prix's 'Rumble on the Ridge XXVII'. It was a great night of MMA with the 4 pro and 8 amateur bouts showcasing some of the best talent that Washington has to offer in front of another sell-out crowd. UFC fighter Sam "The Seal Sicilia was in the house providing commentary for later rebroadcast of the event on Fightflixx.com, while the ring girl's for the night were members of the Seattle Mist Lingerie Football team.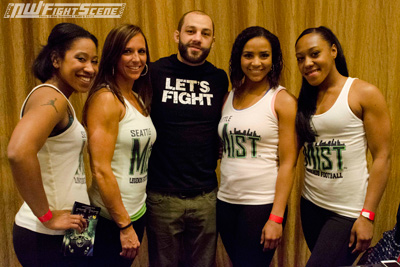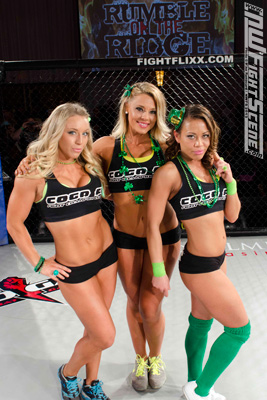 Anthony "Freight Train" Hamilton training at Jackson's MMA and Will Courchaine of SOBMMA were matched up at heavyweight in the main event. Hamilton came in calm as always, with a quick takedown and patient ground game that allowed him to transition Courchaine into an armbar at 1:37 into the fight and get the tap.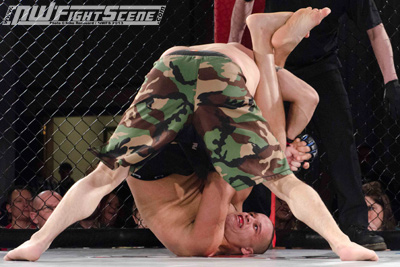 The co-main event went just as smoothly for Justin "Ruckus" Harrington (Combat Sport & Fitness (CSF)) when he battled Gary "Cinderella Man" Winslow (Amercian Combat Academy (ACA)) to the ground early in the first round in their 155 lb pro fight. Harrington took Winslow's back and methodically worked through Winslow's hand fighting to eventually lock in the rear naked choke and secure the win at 0:57 Rd 1.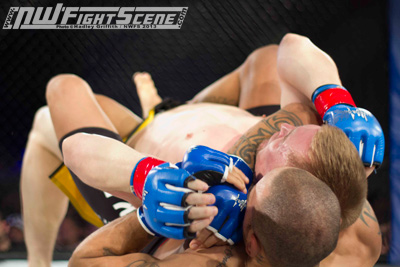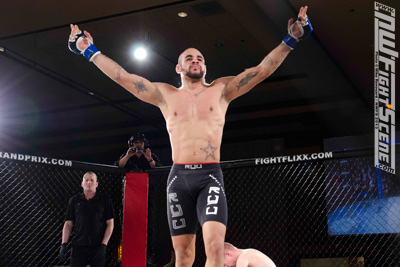 Josh Gow (Sikjitsu) and Jon Maryanski (West Coast Fight Team (WCFT)) met in a 135 lb pro fight that showcased Maryanski's wrestling; but showed the crowd what a good striker can do. Gow landed some good shots with his heavy hands, and one very sharp knee to Maryanski's head before going to the ground. Once there, Gow never stopped attacking with submission attempts while Maryanski transitioned and defended well, escaping both a triangle and armbar in short order. But Gow was working for his opportunity and found it with a kimura, forcing Maryanski to tap at 3:26 of round one.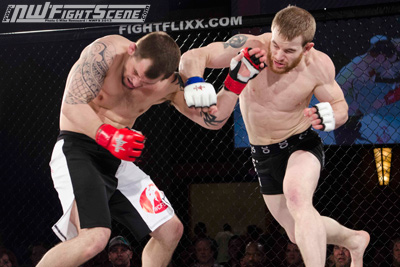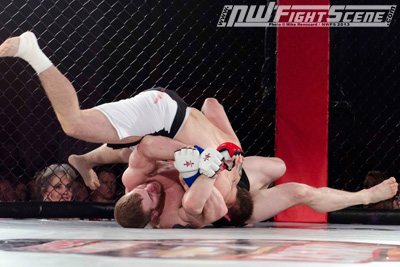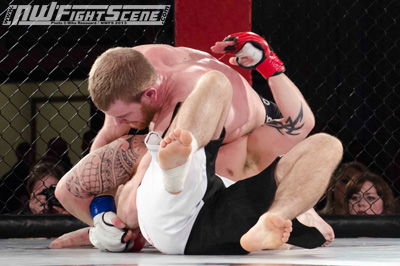 Ivan Salaverry MMA's Gina "Danger" Mazany faced off against NW Elite's Priscilla "Gorilla" White in a 145 lb pro fight that lasted all three rounds. Neither fighter traded much on the open canvas, but each landed some nice punches and elbows over the top while clinched up. Most of round one had Mazany clinching White against the cage wall and looking for knees to the body. Round two Mazany got the takedown and had the dominant position for a while before losing it when she went to take White's back and White reversed into top position. Mazany immediately broke White down and blocked all of White's punches until they were stood up by the ref. Round three was all clinch knees and short strikes as each took their turn backing the other against the cage. They never quit, both working to try to finish the fight right up to the bell. In the end, the judges unanimously declared Mazany the winner.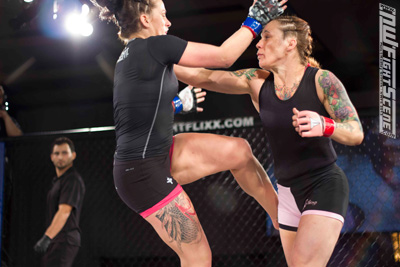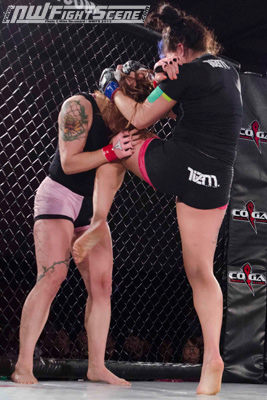 Fight of the night was a knock-down, drag-out battle between two 155 lb amateur fighters in Shaine Collins of Base Fitmass MMA and Patrick Heald out of COGA MMA. The first round was close with Heald edging ahead with his more accurate strikes and aggression. Heald unleashed a few nice combos when he would walk Collins back against the cage. Collins kept his footwork moving and worked his angles. The second round Collins got aggressive and walked Heald down, eating straight punches in order to land some stinging blows. At the end of the round, Heald captured a takedown but had no time to do anything with it. In the third, both fighters knew they had to win the round to win the fight. Heald pushed hard at Collins but when he couldn't get the takedown, slung heavy leather that looked like it would stop Collins. But Collins wouldn't be stopped. He absorbed the heavy combo and stalked Heald across the cage. Heald clinched and tripped Collins down, landing in half guard. Collins tried to keep Heald broken down as Heald continued to throw strikes to the body. In the end, the crowd was on it's feet and the judges handed the victory to Patrick Heald.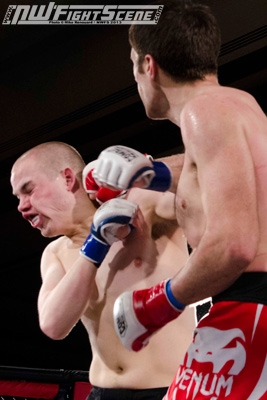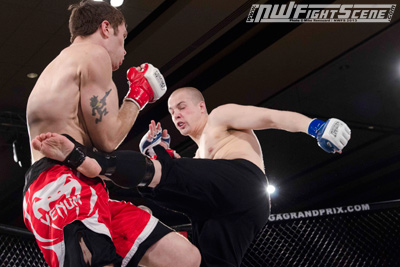 Submission of the night came from NW Elite Tacoma's Larry Perreira in his 185 lb ammy bout against Sikjitsu's Austin Barnes. The two talented fighters looked like they were going to feel each other out, but Perreira engaged after the first two jab feints and clinched, throwing knees. Barnes reversed and returned knees of his own. Perreira twisted to free himself and ended up with Barnes wrapping him up from behind and just falling over backwards to the canvas. Perreira stayed calm, defended the choke and turned into Barnes. Perreira then reversed Barnes and took side control for a long second before Barnes popped back to his feet. With Perreira still on the ground on his back, Barnes circled around looking for kicks and openings, eventually jumping and landing in Perreira's guard. Just as the 10 second warning bell sounded, Perreira slipped on a triangle but couldn't finish it in time. Round two quickly returned to the ground with Perreira all over Barnes' arm and shoulder. In the perfect position for a kimura, Perreira just needed to work his body to the correct side so he could roll Barnes up and manipulate the arm behind the back. Barnes fought hard, but Perreira was able to crawl out of half guard to the far side. He had to repeatedly roll Barnes up to try to move the arm backwards, finally managing it at 1:01 of round two.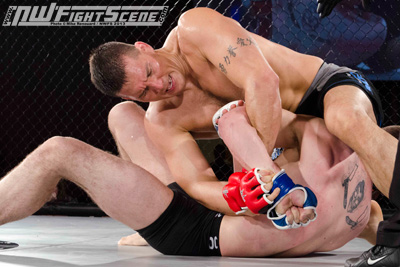 CSF's Tyson Cunningham retained his COGA amateur 170 lb title but had to overcome a tough test in ACA's Zach Conn. Cunningham nailed his takedowns and once on the ground, worked hard in punishing Conn from top position while avoiding submissions from his lanky opponent. The fight went deep into the 4th round before Cunningham finally got the TKO finish with some hard strikes from mount.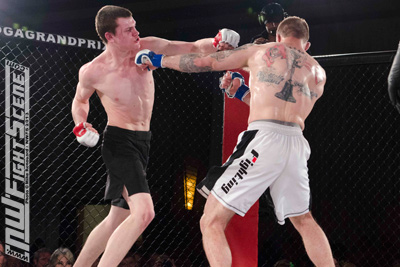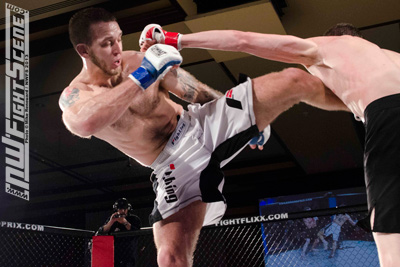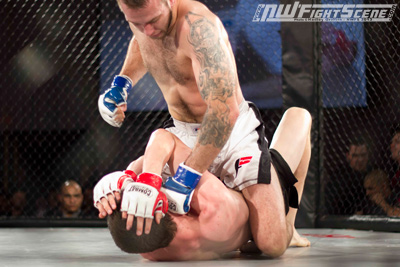 In other amateur action, COGA MMA's Tom Wilson put in a solid three round performance getting the decision over Sikjitsu's Mike Jared 30-24, 30-27 x 2.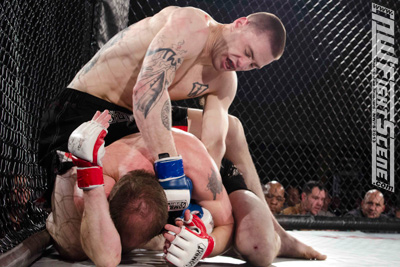 Steve Southern, representing Gladiator MMA, executed a nice slam on WCFT's Tim Lewis that led to him locking on a slick fight-ending armbar at 2:44 of the 1st.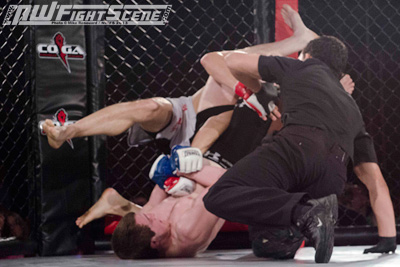 CSF's Paul DeVeglio fought through a brief guillotine choke attempt from ACA's Alex Eastman, then quickly took his back on the ground and locked in the choke for the tap at 1:57 of Rd 1.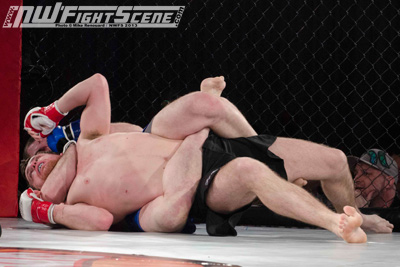 Ivan Salaverry's MMA Beau Maples dominated in 190 lb catchweight with short-notice replacement Marcus Hanson out of CageworX MMA, getting the TKO finish at 1:48 of Rd 3.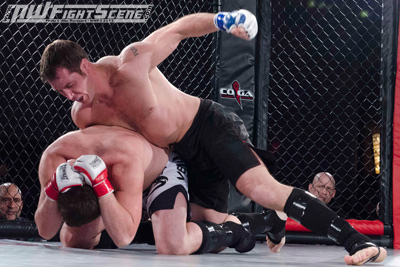 Finally, in a heavyweight matchup, WCFT's David Green and Livewire MMA's Randy Zarza traded punches and kicks before Green finished his opponent at 1:13 Rd 2.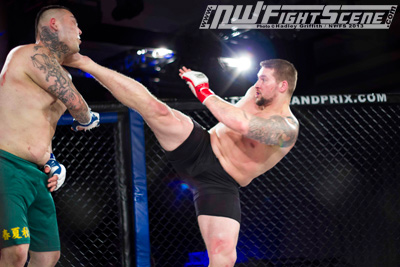 The next COGA Grand Prix event will be at the Swinomish Casino in Anacortes WA on March 30th with Battle @ the Bay III. More info at CogaGrandPrix.com.