Rumble on the Ridge XXII - February 18th, 2012
Snoqualmie Casino - Snoqualmie, Washington
Photos and Post interviews by Mike Renouard
---
COGA MMA presented yet another incredible night of PRO/AM MMA action at the Snoqualmie Casino with Rumble on the Ridge XXII this past February 18th. Top notch production backed by a loud sold-out crowd seems to bring out the best of the fighters at every Rumble on the Ridge event and this evening was no different. 13 fights in total were on the card with 5 professional contests and the rest amateur, including two title bouts.
The main event featured local favorite Josh Calvo, representing Foster BJJ and Combat Sport & Fitness, taking on Frank Ramsey out of the tough Missoula MT Dog Pound Fight Team. The first round saw Ramsey come out throwing leather and rocking Calvo in an early exchange. The fight went to the ground and Ramsey looked to do damage from the top while Calvo defended well. Calvo ate a knee in getting to his feet and Ramsey followed up with punches that had Calvo in serious trouble before the end of the round. Calvo did well though in recovering and survived to the bell. The 2nd and 3rd rounds played out similar with Ramsey getting the fight to the ground and controlling from the top while Calvo was never really able to sustain any offensive momentum. He stayed busy in trying to throw up submissions but Ramsey had little trouble in getting out of them. Calvo's best chance came in the third as he got Ramsey's back as Ramsey squatted on the canavas, but Calvo went high in trying to sink in his hooks and Ramsey reversed and came out in top position. In the end, Ramsey got the well-deserved unanimous decision with all 3 judges scoring it 30-27 in an entertaining pro battle.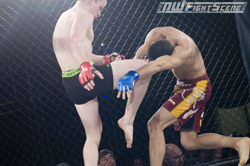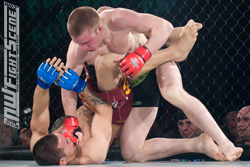 The co-main event was a grudge match with Charon Spain repping Dub-City fighting Ivan Salaverry MMA's Jacob Boysen in a pro 145 lb bout. Spain at 8-4 was not too happy having to face the 1-0 Boysen, feeling he deserved a more experienced fighter, and making lots of noise on the social networks leading up to the fight. Spain entered the cage and got straight into Boysen's face with the fight almost commencing at that point. When the official bell sounded and the two actually got to it, it was Boysen who did well controlling Spain against the cage before sweeping out his legs and getting the takedown. Spain threw down elbows as Boysen had him trapped against the cage in a seated position, but Boysen worked the control game and likely won the round. Round two had Boysen again get it to the ground and controlling the first half before Spain reversed and worked a little GnP of his own from top position. It was stood up towards the end of the 2nd and Boysen shot and got the takedown, finshing the round out throwing puches from top. In the third, it was again Boysen getting an immediate double leg takedown and working the ground position game with Spain. This round was all Boysen and in the end a smart fight from Boysen and a frustrating one for Spain as two of the judges gave it to Boysen. Boysen moves to 2-0 with the win.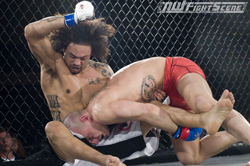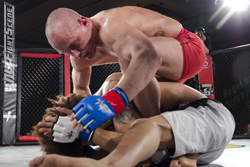 In a 170 lb Pro bout, Combat Sport & Fitness' Ian "The Mule" Williams took out West Coast Fight Team's Taurean Washington with a perfectly timed Head Kick, knocking out Washington cold with his shin at 3:05 of the first round. A highlight reel KO will definately put Williams in contention for the NW Fightscene 2012 Knockout of the Year! Williams moves to 4-0 with the win, while Washington drops his first pro fight.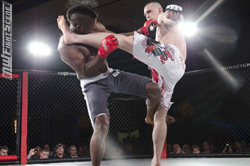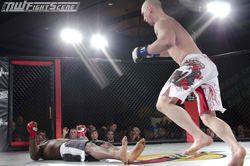 One of the nights most anticipated fights was the pro debut of Ludus FC's Drew Brokenshire who faced Twisted Genetiks Chuck Fordyce in a 145 lb matchup. Brokenshire was one of the most experienced fighters on the NW amateur scene winning numerous belts around the region before finally making the jump to the pro ranks. Fordyce, who took the fight on only two days notice, entered the bout at 0-1 but representing the tough Boise Idaho Twisted Genetiks fight team. This was an excellant fight, very technical, with Brokenshire looking for numerous submissions throughout when it went to the ground. A first round armbar attempt looked good but Fordyce had little problem escaping. Brokenshire controlled from top position for much of the round, landing a couple nice elbows, and he worked Fordyce into a tight armbar that looked to finish it save for the bell. The 2nd round had Fordyce push Brokenshire into the cage for the eventual takedown with Fordyce looking to do damage. Brokenshire did well from the bottom though, throwing up submission attempts, first a triangle with some elbows to Fordyce's head mixed in, and then an armbar attempt. Fordyce finished the round with elbows of his own. The third opened up with a clench battle against the cage with Brokenshire quickly taking control of a fatigued Fordyce. Fordyce went to the ground with an awkward one arm throw by Brokenshire and immediately Brokenshire took Fordyce's back. From there Brokenshire softened up Fordyce with a couple punches before sinking the Rear Naked Choke at 2:06 of the third round for his debut win.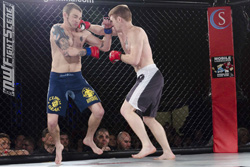 Justin "Ruckus" Harrington of Combat Sport & Fitness, and White Buffalo Warrior's Johnny Reonal both made their pro debuts in a 160 lb catch weight bout. Both fighters had sucessful amateur careers on the NW circuit and this bout was a rematch as Reonal beat Harrington in Harrington's first amateur bout and Harrington was looking for revenge. He got just that as both fighters came out swinging and it was Harrington catching Reonal early and getting the quick knockout at 25 seconds into the fight to move to 1-0 as a pro.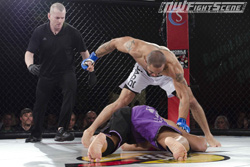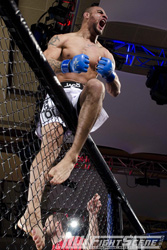 Harrington's Combat Sports & Fitness teammate, Tyson Cunningham, faced the COGA 170 lb Amateuer Champion Corey Watson of the United Fight Team in a Title Bout. Both fighters entered undefeated, Cunningham at 2-0 while Watson came in at 7-0 with the bulk of his victories coming via quick first round submissions. As the fight got underway, it looked as if Watson may do it again as he came out steering Cunningham into the cage and looking for the takedown. Cunningham had none of it though and fired back and clipped Watson right on the mouth, tearing open his lip. Watson was able to take Cunningham down twice in the round but Cunningham both times quickly got it back to the feet with the round ending in a flying guillotine attempt by Cunningham after he threw a flurry of punches that made it through Watson's defense. The second came out with both fighters throwing leather and landing knees, but it was Cunningham getting the takedown and getting top position. There he controlled and worked Watson with some ground and pound before finally finishing with the RNC at 2:33 of Round 2. With the win, Cunningham gets the 170 lb belt and moves to 3-0.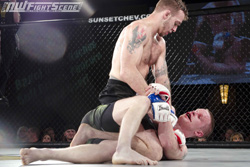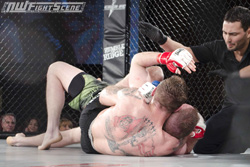 Ethnic Fight Team fighter Paul Njoku ate a quick kick to the chest from Taylor Parker out of Shayne Simpson's MMA before charging in and scooping up Parker for the slam. Njoku then wasted no time getting Parkers back and worked his way to locking a tight Rear Naked Choke for the win and the COGA 145 lb Amateur Title at 1:02 of the first round.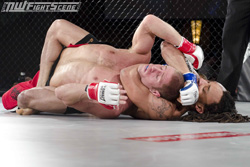 In other amateur action, Sikjitsu's Elizabeth Phillips and Combat Sport & Fitness' Melissa Deer threw down for 3 rounds in a highly entertaining 145 lb contest that went to Phillips via decision. White Buffalo Warrior's Shane Grenko KO'd Tyler Johnson of CTET in the third round of their 170 lb fight. Cory Hendricks secured his win over BJJ Spokane's Mike Peterson by way of straight ankle lock at 2:22 of their heavyweight fight. Base Fitmass' Mitchel Pierce stopped Spokane's Steve Jenkins in the first via strikes from mount. And in the night's opening bout, Shayne Simpson MMA's Huy Vu wasted little time in securing a Guillotine Choke of Jesse Boyer at 56 seconds into their 185 lb bout.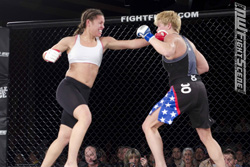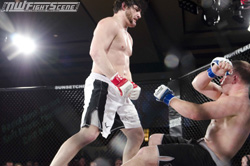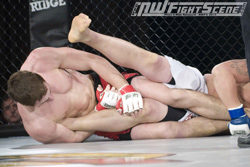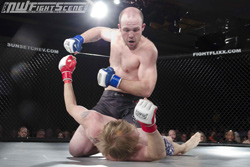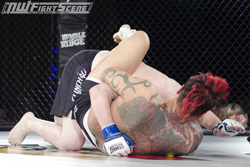 Rumble on the Ridge XXIII is set for Saturday, April 14th back at the Snoqualmie Casino. Get your tickets early as the Rumble on the Ridge ALWAYS sells out.
More info at CogaFC.com. Rumble on the Ridge is on Facebook HERE.
---
Bout 1 - 185 lb A-Class MMA
Huy Vu (Shayne Simpson's MMA) def Jesse Boyer (Ind)
by Guillotine Choke @ 0:56 Rd 1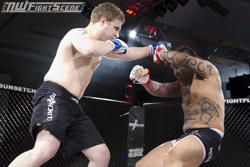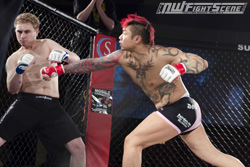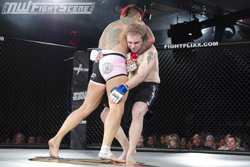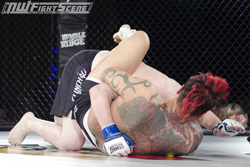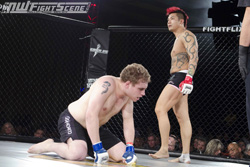 Bout 2 - 155 lb A-Class MMA
Mitchel Pierce (Base Fitmass) def Steve Jenkins (Spokane)
by TKO (Ref Stop - Strikes) @ 1:45 Rd 1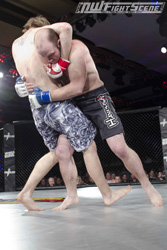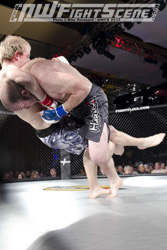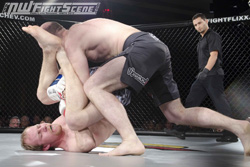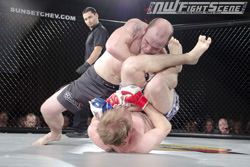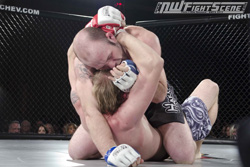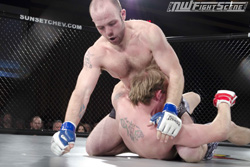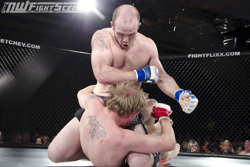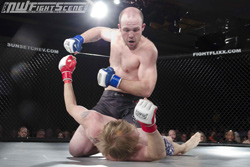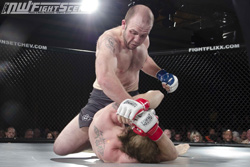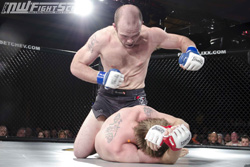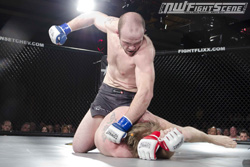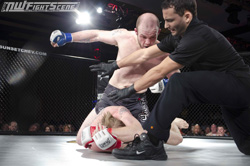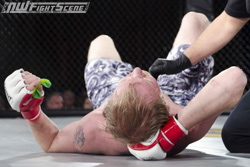 Bout 3 - Heavyweight
Cory Hendricks (Shayne Simpson's MMA) def Mike Peterson (BJJ Spokane)
by Ankle Lock @ 2:22 Rd 1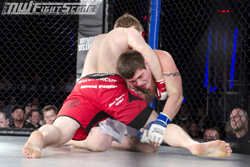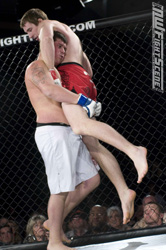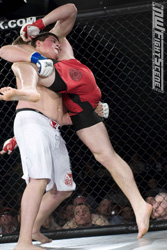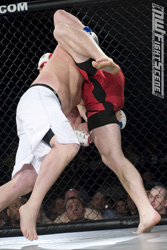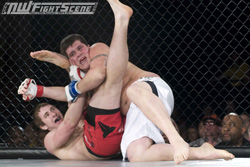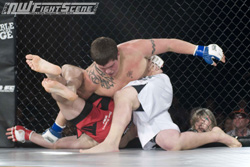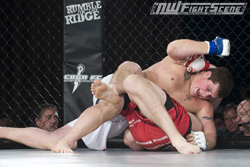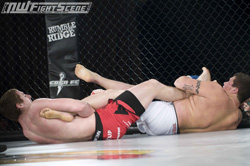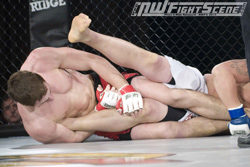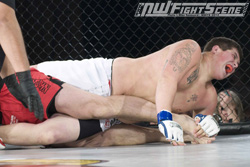 Bout 4 - 145 lb A-Class MMA
Elizabeth Phillips (Sikjitsu) def Melissa Deer (Combat Sport & Fitness)
by Unanimous Decision (All judges 30-27)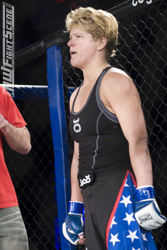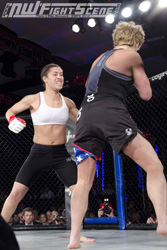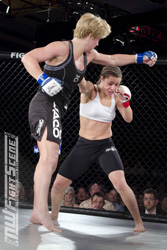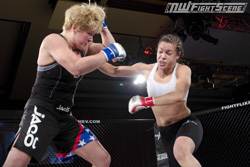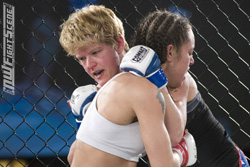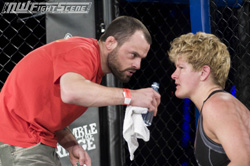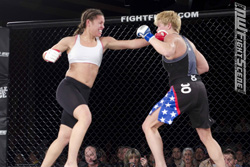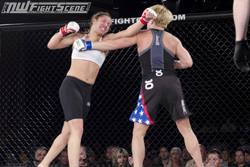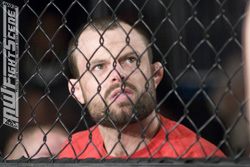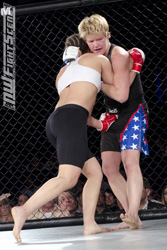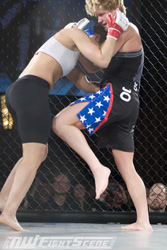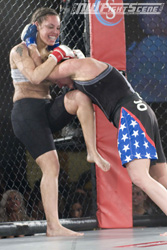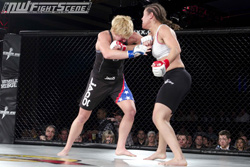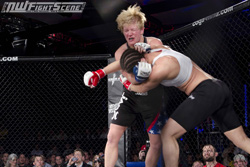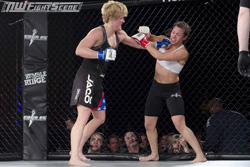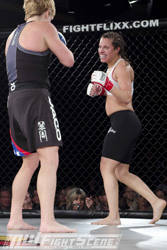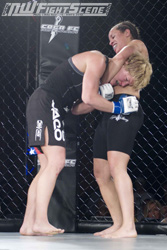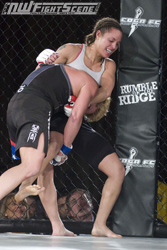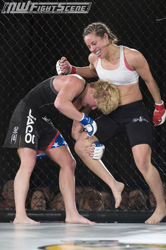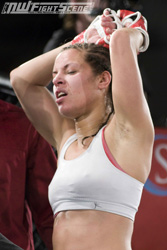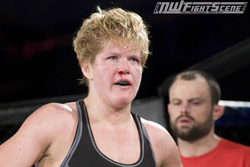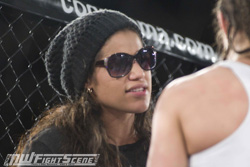 Bout 5 - 170 lb A-Class MMA
Shane Grenko (White Buffalo Warriors) def Tyler Johnson (CTET)
by KO @ 1:21 Rd 3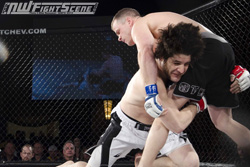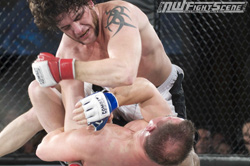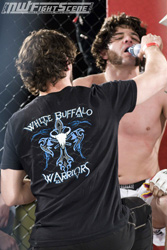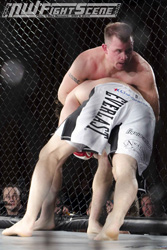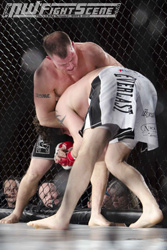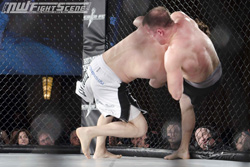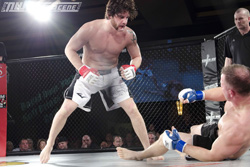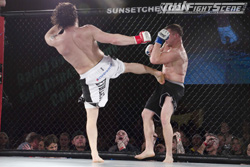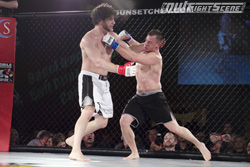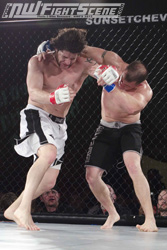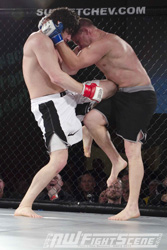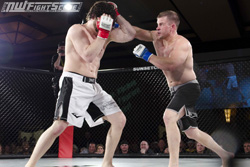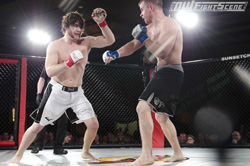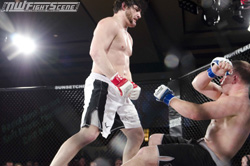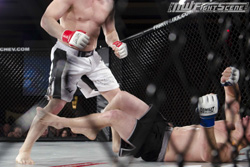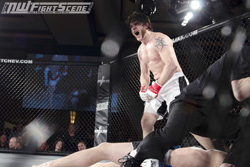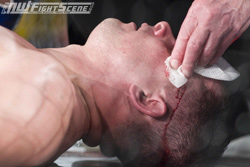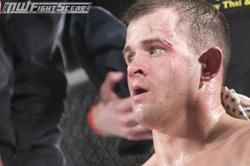 Bout 6 - 145 lb A-Class MMA Amateur Title
Paul Njoku (Ethnic Fight Club) def Taylor Parker (Shayne Simpson's MMA)
by Rear Naked Choke @ 1:02 Rd 1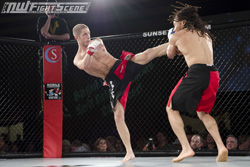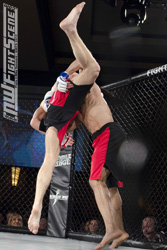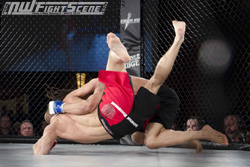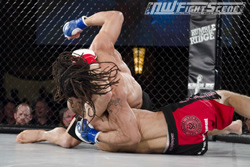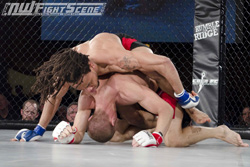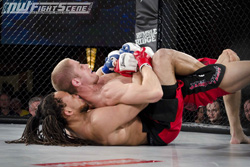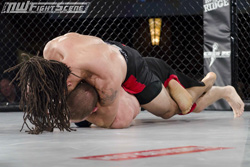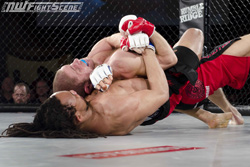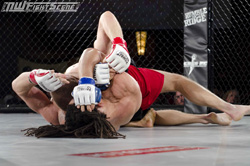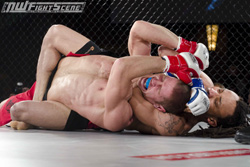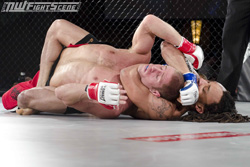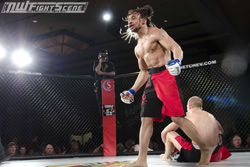 Bout 7 - 170 lb A-Class MMA Amateur Title
Tyson Cunningham (Combat Sport & Fitness) def
Corey Watson (United Training Center) by Rear Naked Choke @ 2:33 Rd 2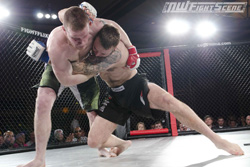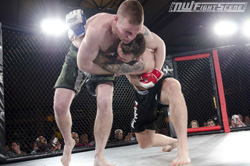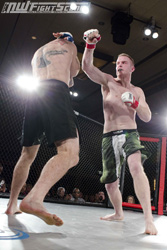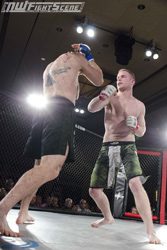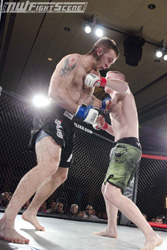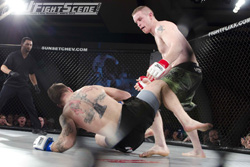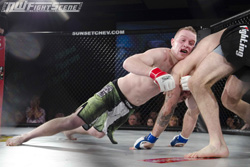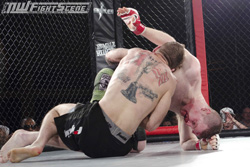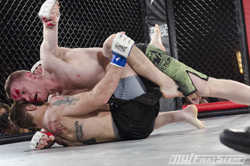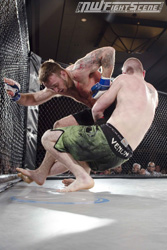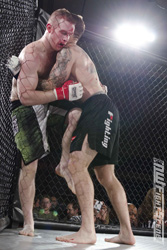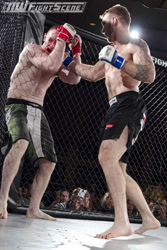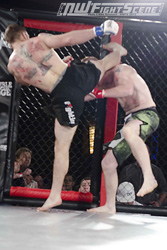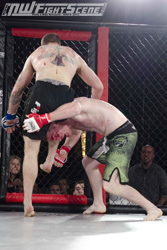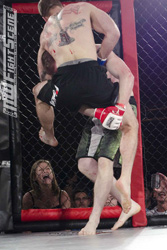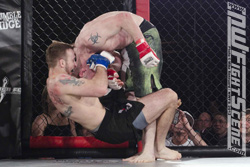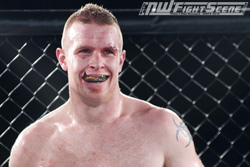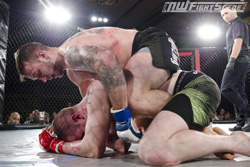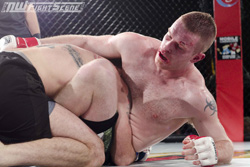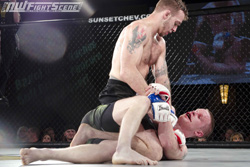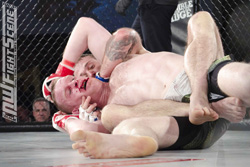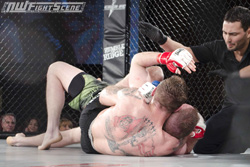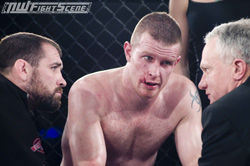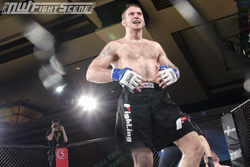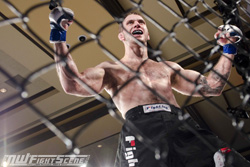 Bout 8 - 160 lb Professional MMA
Justin Harrington (Combat Sport & Fitness) def
Johnny Reonal (White Buffalo Warriors) by KO @ 0:25 Rd 1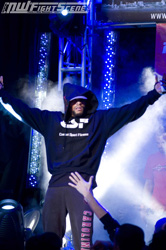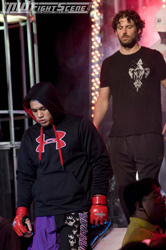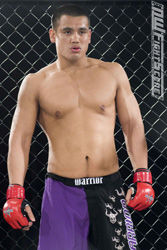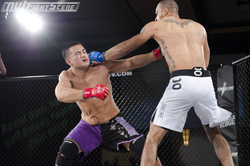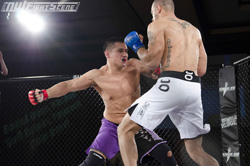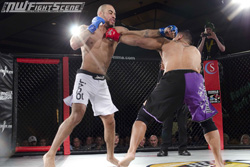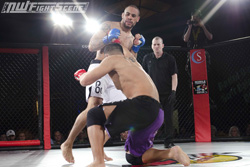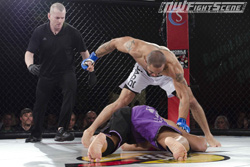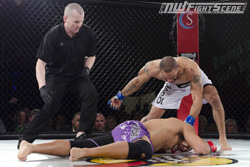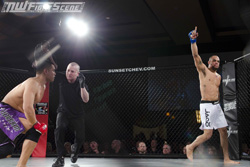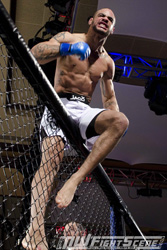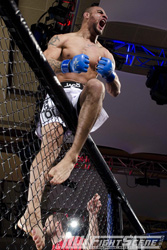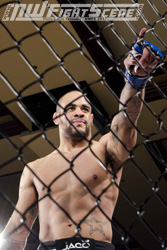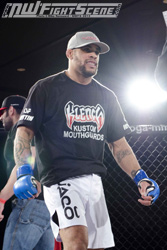 Bout 9 - 145 lb Professional MMA
Drew Brokenshire (Ludus FC) def Chuck Fordyce (Twisted Genetiks)
by Rear Naked Choke @ 2:06 Rd 3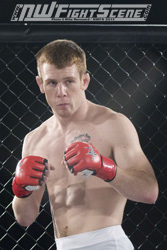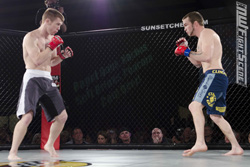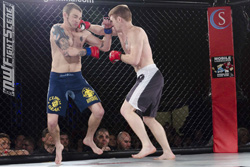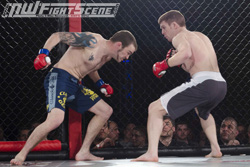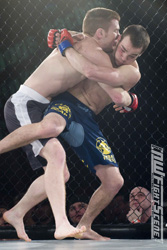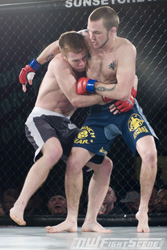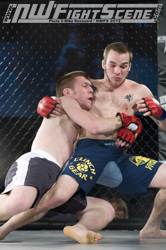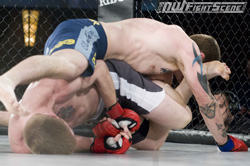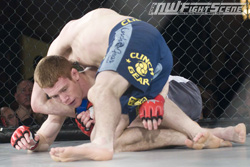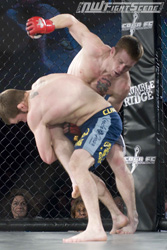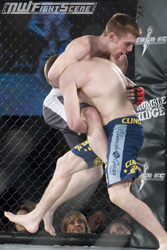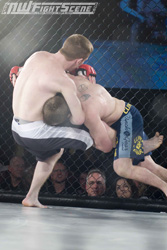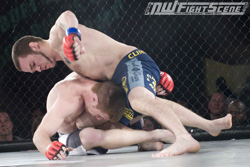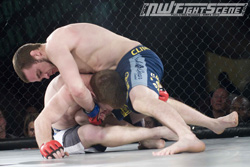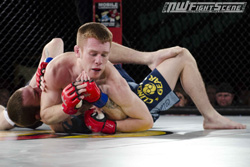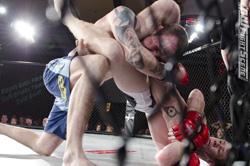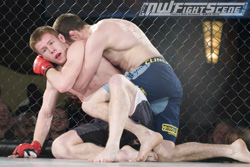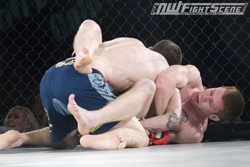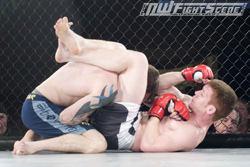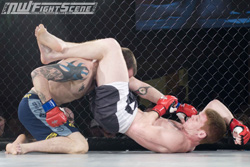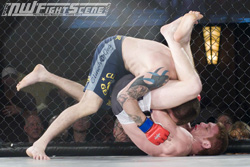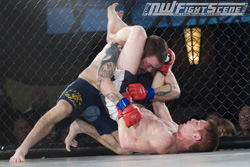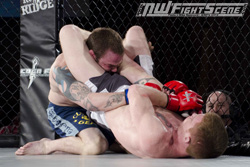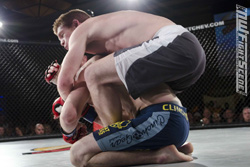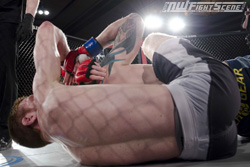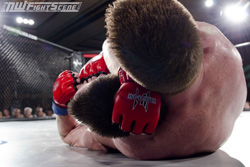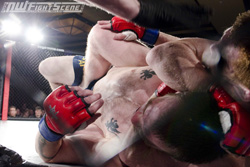 Bout 10 - 170 lb Professional MMA
Ian Williams (Combat Sport & Fitness) def Taurean Washington (West Coast
Fight Team) by KO (Head Kick) @ 3:05 Rd 1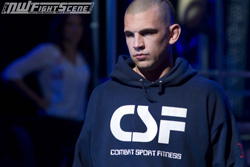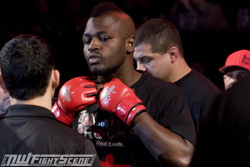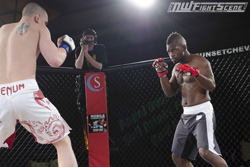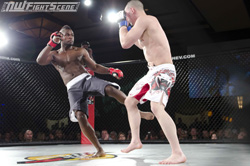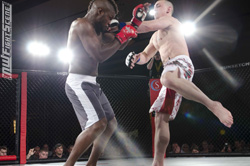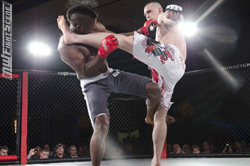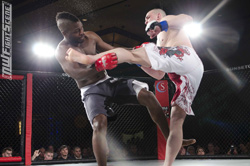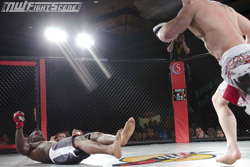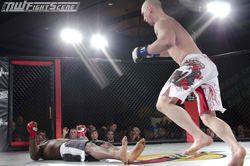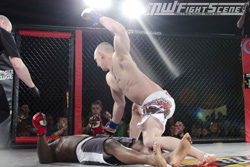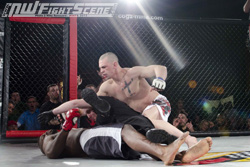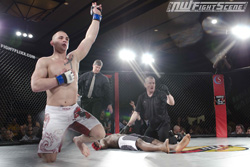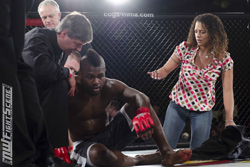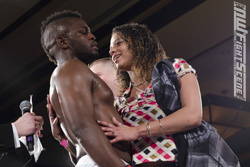 Bout 11 - 145 lb Professional MMA
Jacob Boysen (Ivan Salaverry MMA) def Charon Spain (Dub-City)
by Split Decision (29-28, 27-30, 29-28)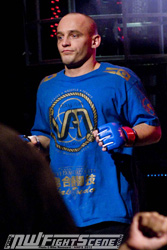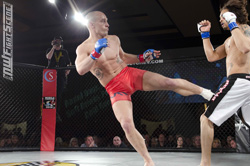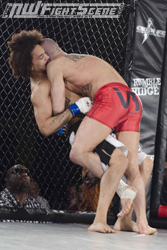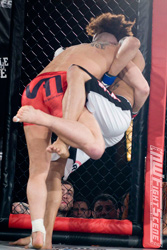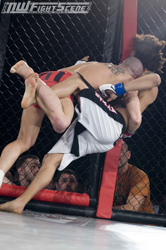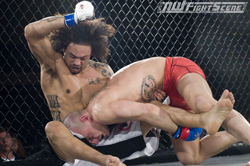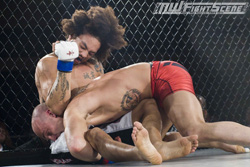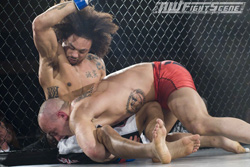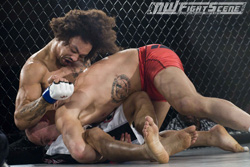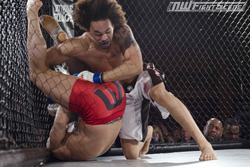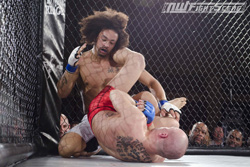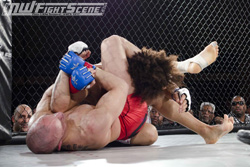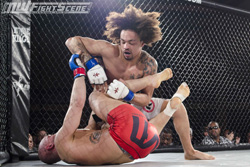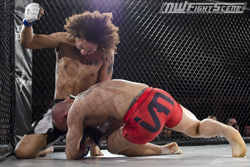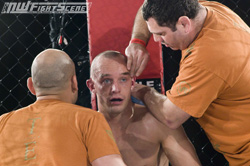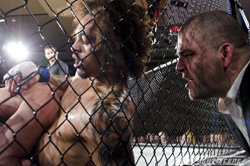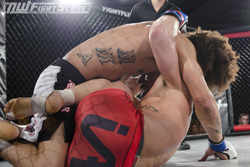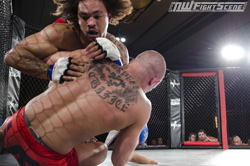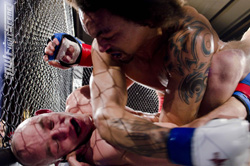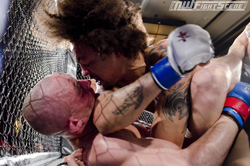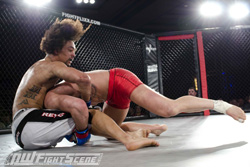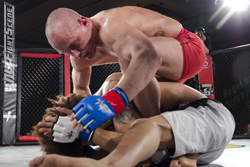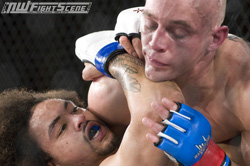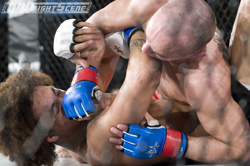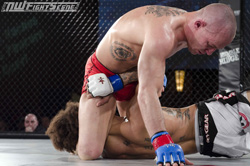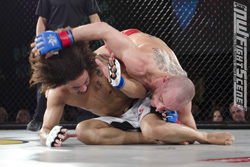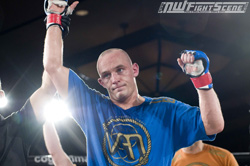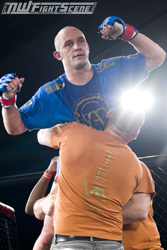 Main Event - 155 lb Professional MMA
Frank Ramsey (Dog Pound Fight Team) def Josh Calvo (Foster BJJ / Combat Sport
& Fitness) by Unanimous Decision (All judges 30-27)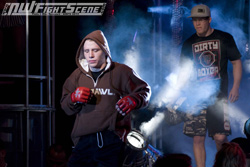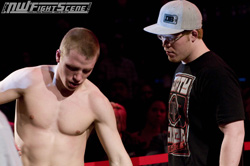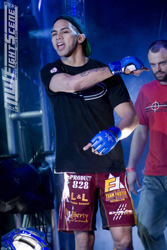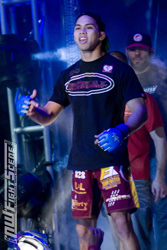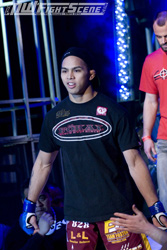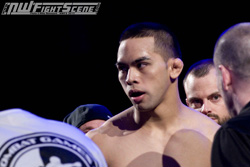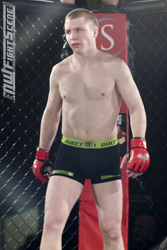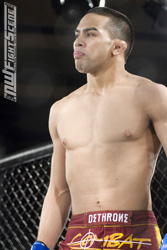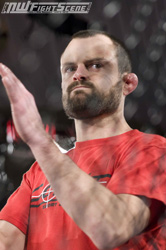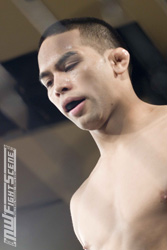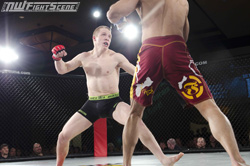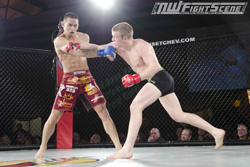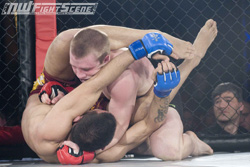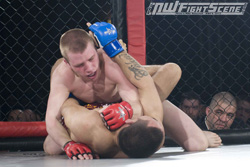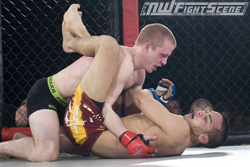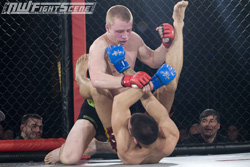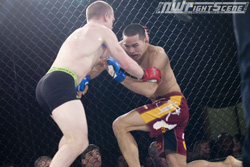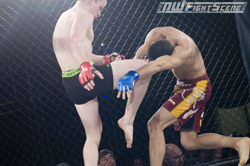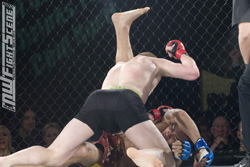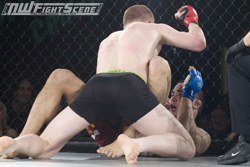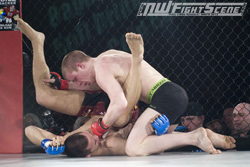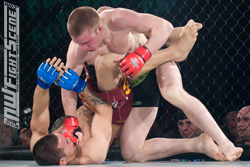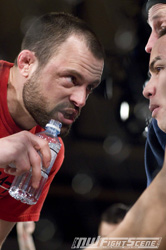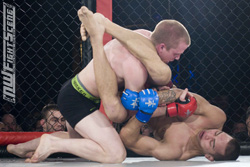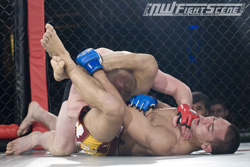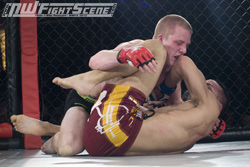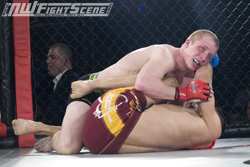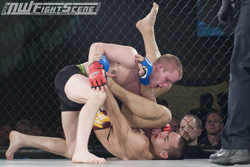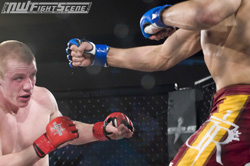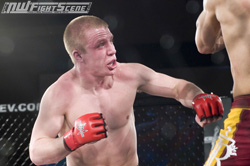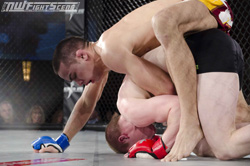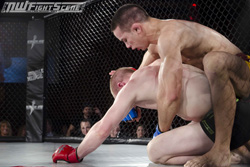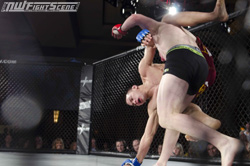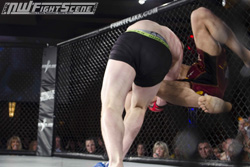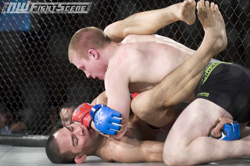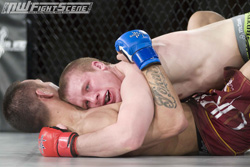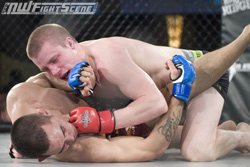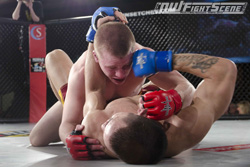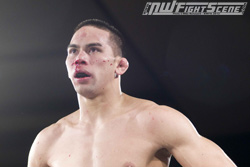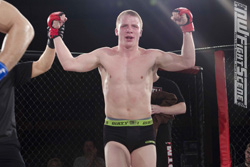 ---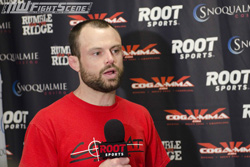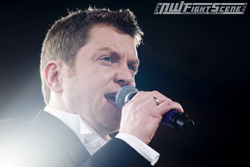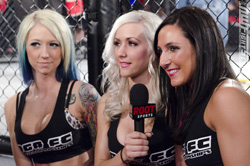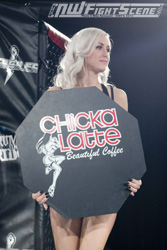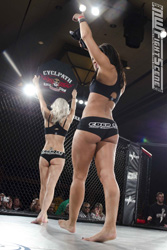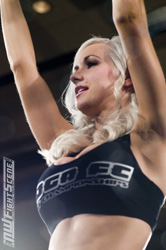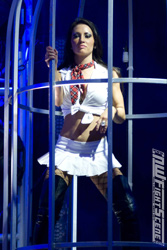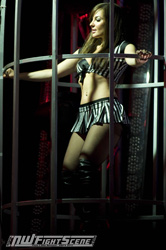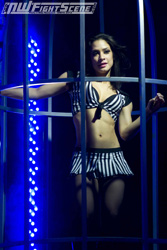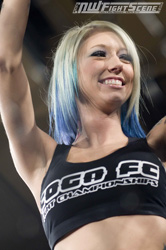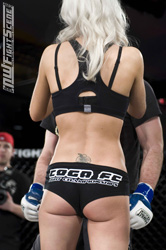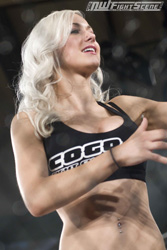 ---