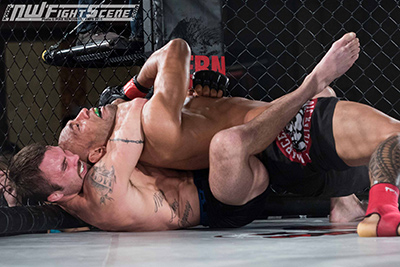 Joey Pierotti beats Taki Uluilakepa by Rd 2 RNC in the Rumble on the Ridge 34 main event

Combat Games MMA returned to the Snoqualmie Casino on May 28th, presenting an action-packed Rumble on the Ridge 34 which featured a stacked card of 5 professional and 6 amateur fights. Seattle Seahawks running back Thomas Rawls and fullback Brandon Cottom happened to catch the fights cageside, and after the show concluded, both entered the cage and led the 12's on hand in a rousing Seahawks chant.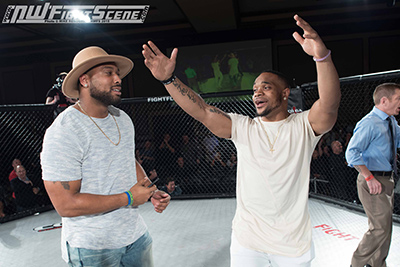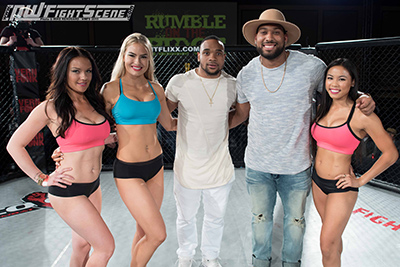 The mustaches were out in force for the main event as undefeated Joey "Mama's Boy" Pierotti matched up with tough NW welterweight Taki Uluilakepa. Pierotti wasted little time in getting Uluilakepa to the canvas, working from side control and then passing into Uluilakepa's guard. Uluilakepa was unable to get out from under Pierotti and although he limited damage, Pierotti was able to sneak in a number of hard elbow shots and punches as the round progressed. In the 2nd frame, a minute or so of standup saw some good exchanges before Pierotti again took Uluilakepa down. This time, Pierotti took Uluilakepa's back and sunk a fight ending rear naked choke at 3:30 of the 2nd. An impressive win against a tough opponent for Pierotti who moves to 3 and 0 as a pro.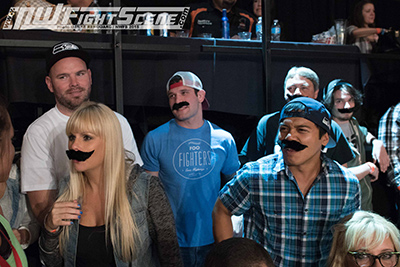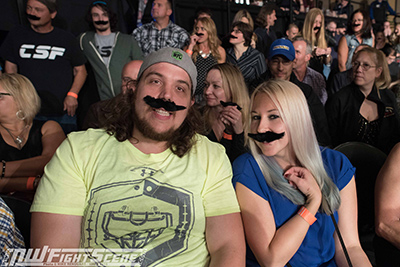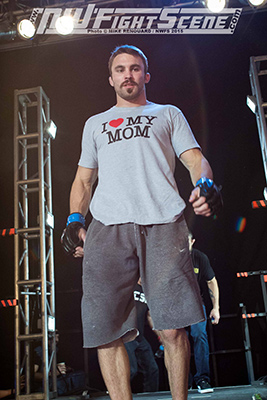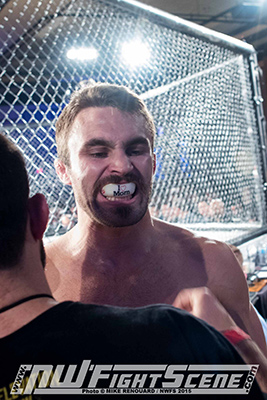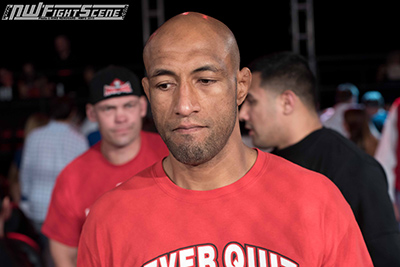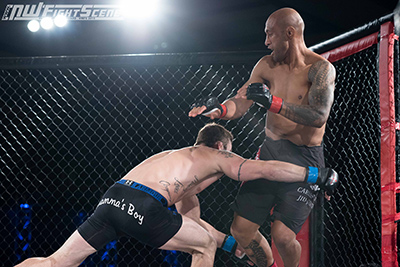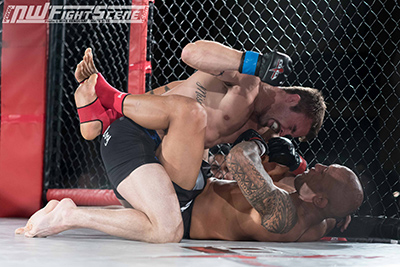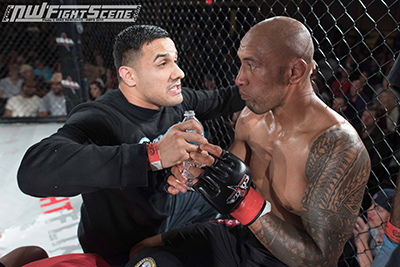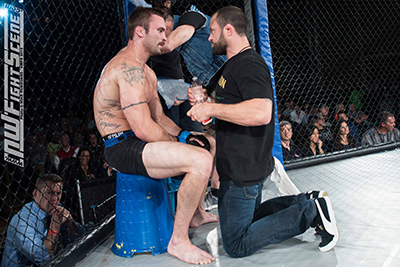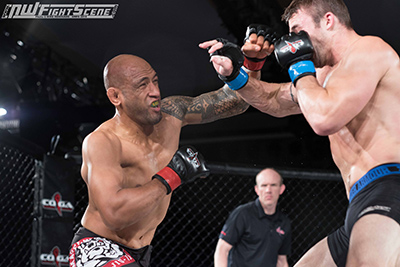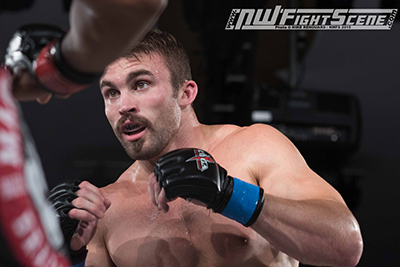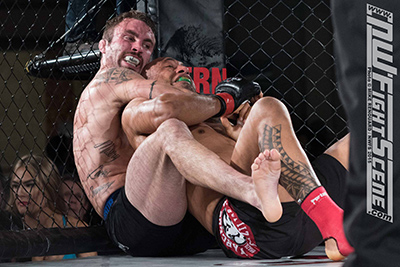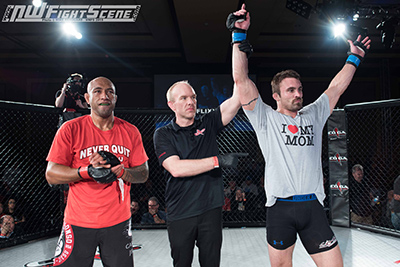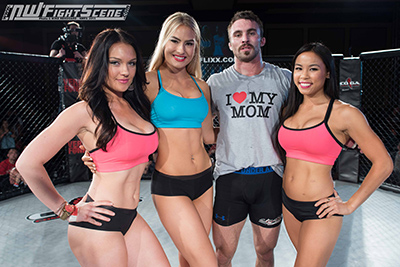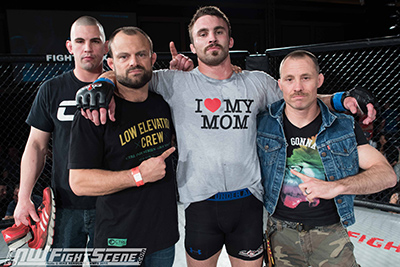 In the co-main event, Team Hard Knox fighter Rob "Iron Man" Cann went up against Independent fighter Matt Goff in a pro 155 lb matchup. Goff came out aggressive, landing a big kick to the body, following with some hard punches, and then going for a front choke. Cann took him down and dropped in some vicious elbow strikes before attempting an armbar near the end of the round. Goff escaped and made Cann eat a couple of punches as the round ended. And then it was all over as Goff was totally spent after the five minutes and did not answer the bell for round two, giving Cann the TKO victory.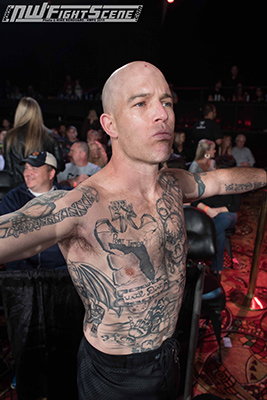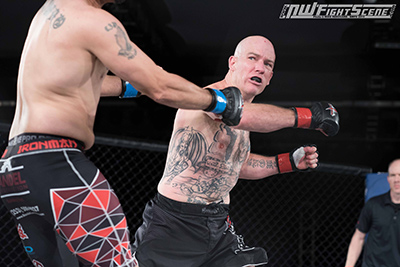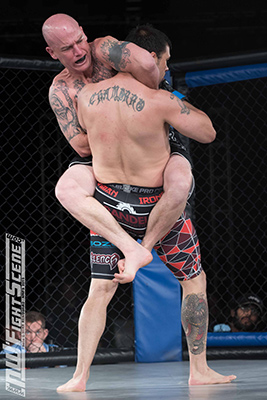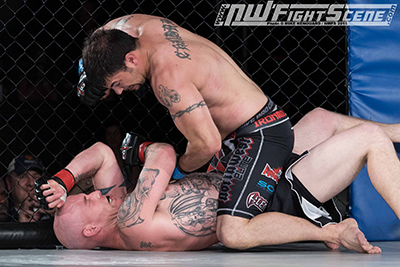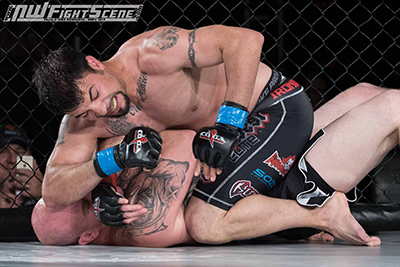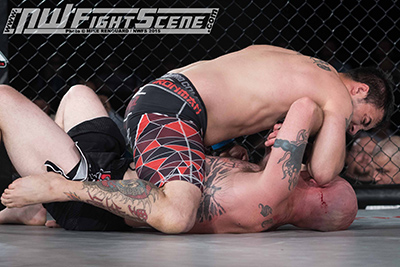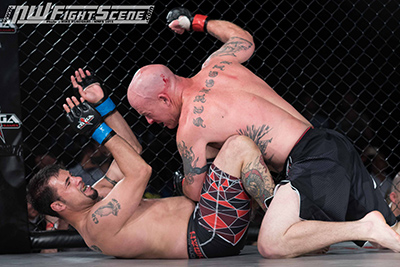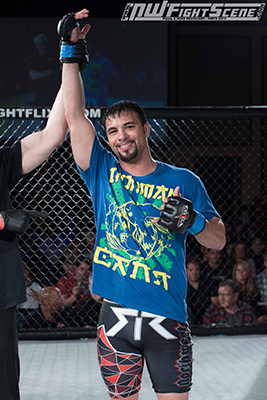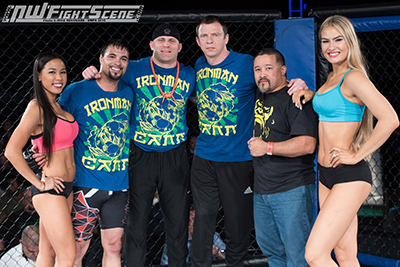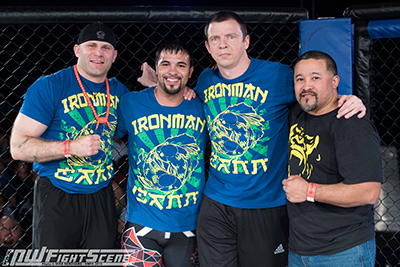 The 145 lb fight between Nathan Thompson and Dex Montenegro went all 15 minutes in an extremely entertaining battle that ended with lots of blood left in the cage. The first round saw the fighters circle each other, trading leg kicks. Thompson clipped Montenegro with a big right hand that sent Montenegro to the canvas, and followed him down, first working in punches from back control, then switching to a rear naked choke attempt, before firing off knees to the body. One such knee appeared to hit Montenegro illegally in the head and as he was downed, so a timeout was issued to allow him to recover. On the restart, Montenegro shot in but Thompson sprawled and turned Montenegro against the cage where he let loose a series of punches. Montenegro started firing back and the round ended with a terrific flurry from both fighters to the delight of the audience.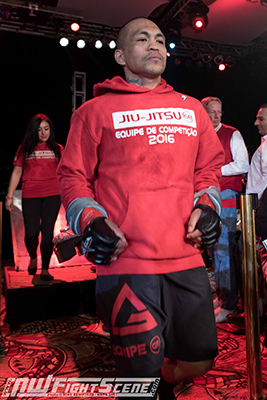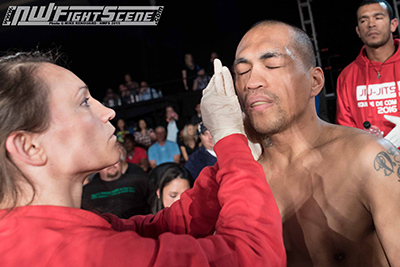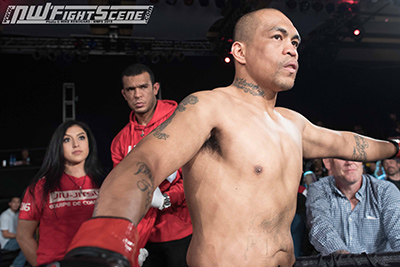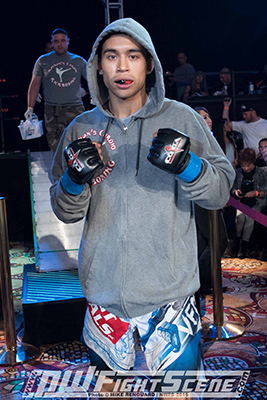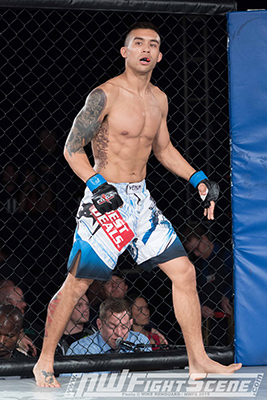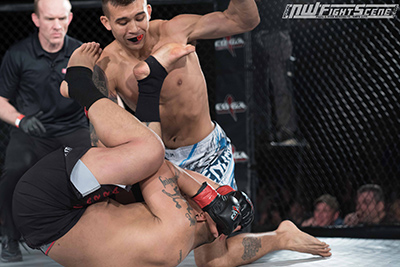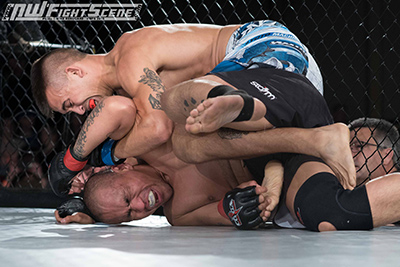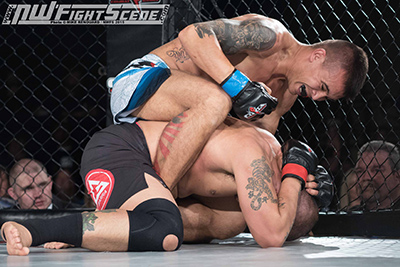 In the 2nd round, Montenegro had more success with his standup, finding his range for his kicks and punches. Thompson though continued to score with his standup game, walking Montenegro down against the cage and punishing him with big knees and swarming punches, before nailing a takedown. The final round saw Thompson shoot and Montenegro sprawl, getting hold of Thompson's neck and stalling out the fight in an advantageous position before making an attempt to take Thompson's back. Thompson though scrambled and put Montenegro in a bad position, landing a series of nasty elbows that opened up a gusher on Montenegro's forehead. As the blood flowed, Thompson continued to pepper in strikes to the head before executing a huge slam before the round's end. Fantastic fight from both fighters! Thompson was declared the winner unanimously, moving his pro record to 5-3. After the fight, Montenegro took the mic and announced his retirement from pro MMA competition, finishing with a record a 6-3. Many thanks for the memories from NW Fightscene to Dex, a fierce fighter who always brought the action!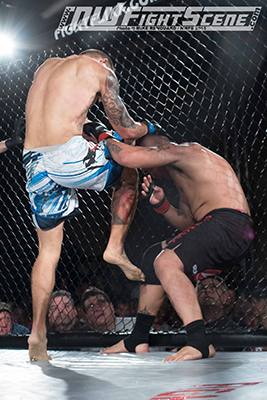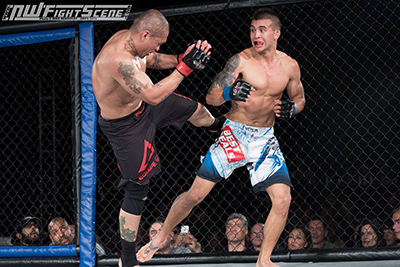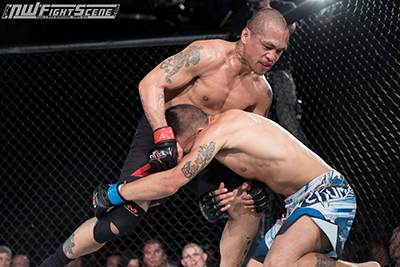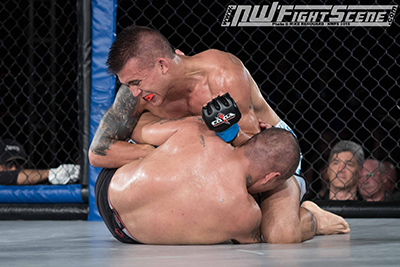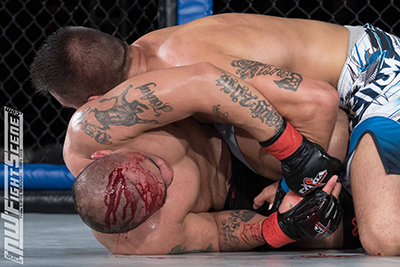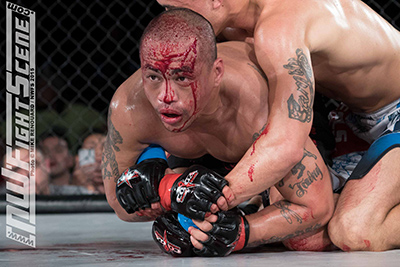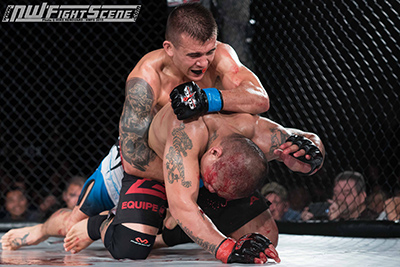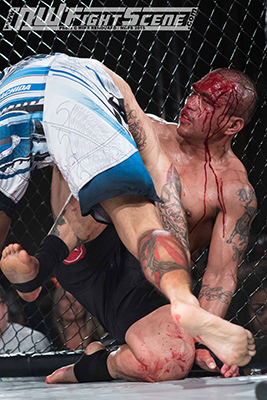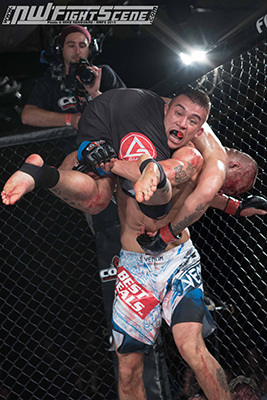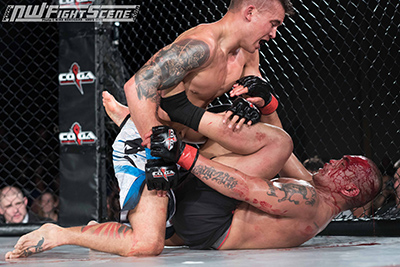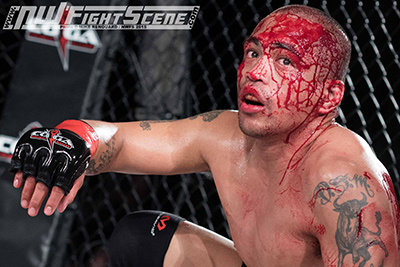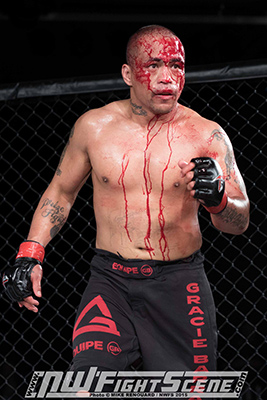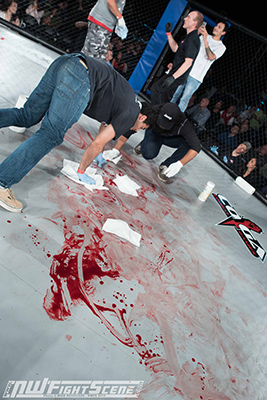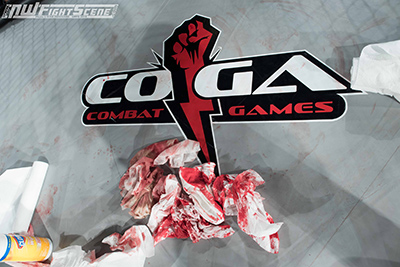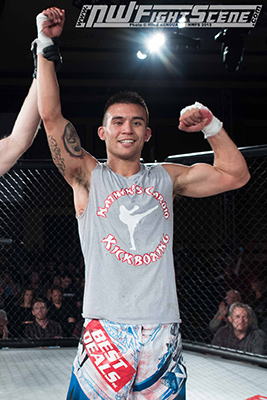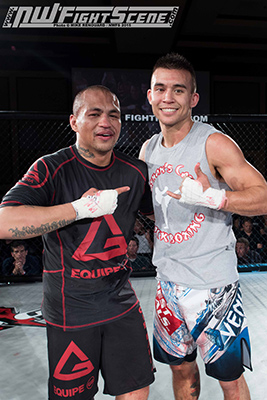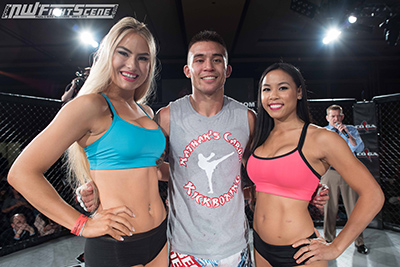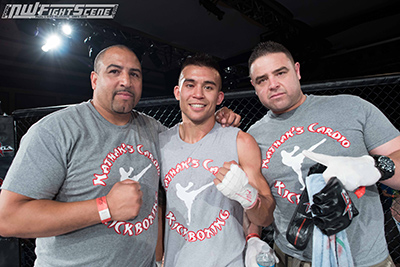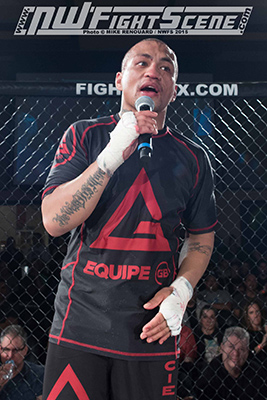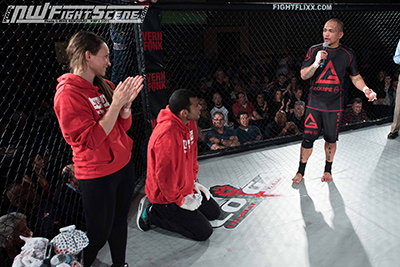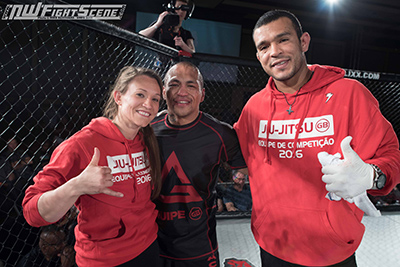 Team Wise's Jeremie Montgomery picked up his 3rd straight win in the pro 145 lb ranks, submitting CSF's James Martin in the 2nd round. The first round was spent almost all on the feet, with the fighters circling each other and trading kicks or punches. Montgomery just missed on a high kick and moments later timed a nasty kick to the midsection. Martin clinched up toward the end of the round and scored with a nice takedown against the cage. In the 2nd frame, Montgomery turned up the heat, landing some big power punches. Martin dropped down for a takedown but Montgomery was ready, grabbed his neck, rolled and finished with a slick d'arce choke at 2:04 of the 2nd.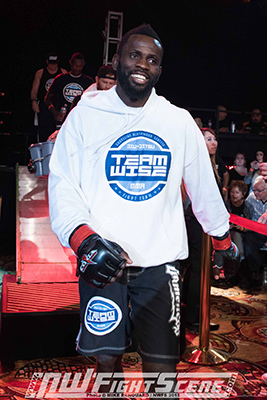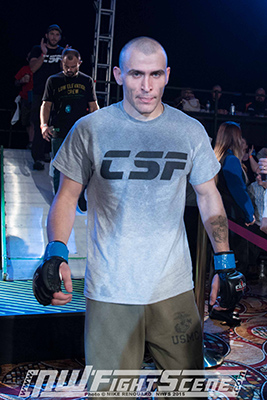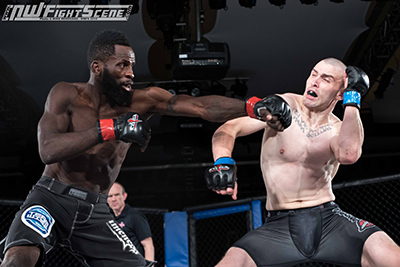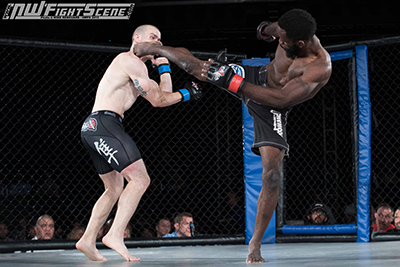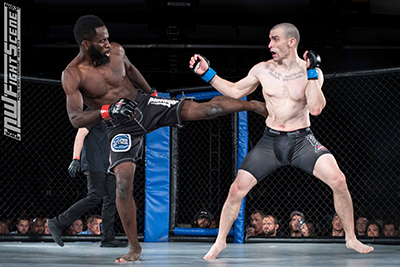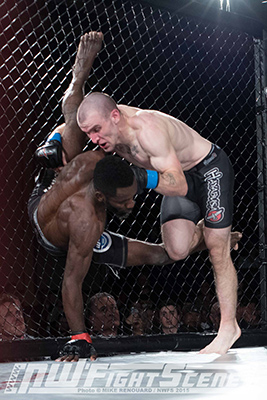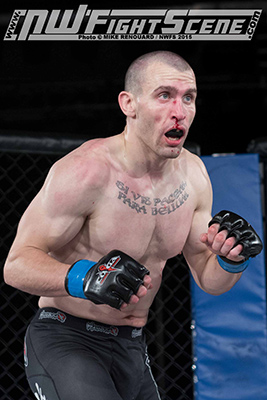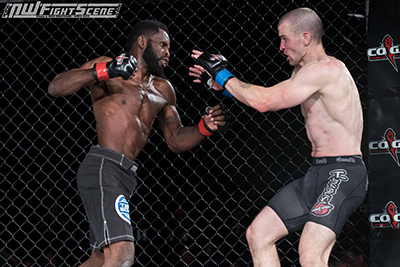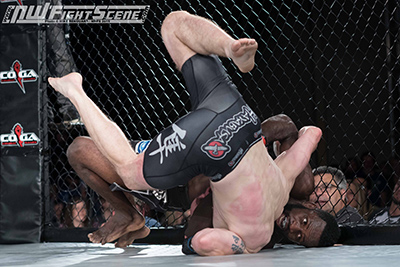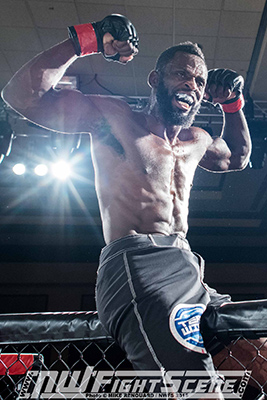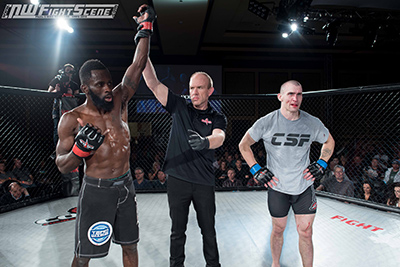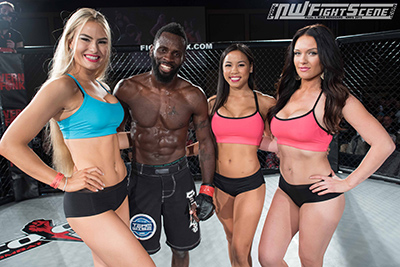 Pro featherweight Jordan Mackin got back on the winning track with an impressive finish of previously undefeated Jose Hernandez. Mackin closed distance early and got a takedown, looking to take Hernandez' back on the ground. Hernandez scrambled to his feet and on the break, Mackin connected with a couple big punches that dropped Hernandez. Mackin moved in quickly, took the back again, and sunk a deep choke for a tap from Hernandez at 1:08 of the first.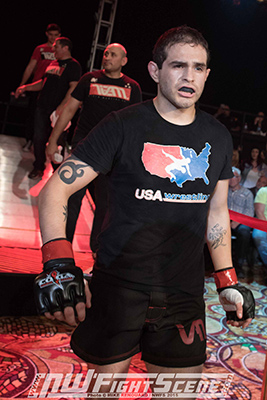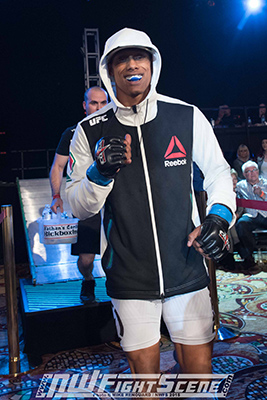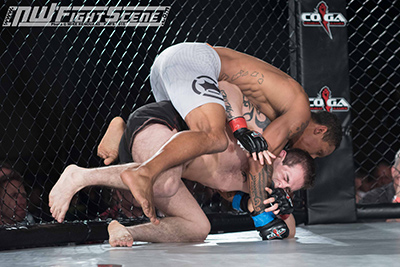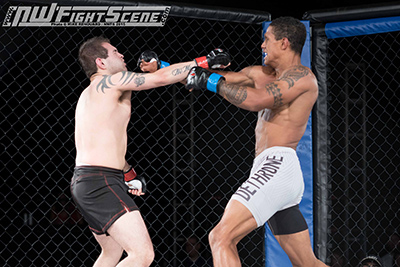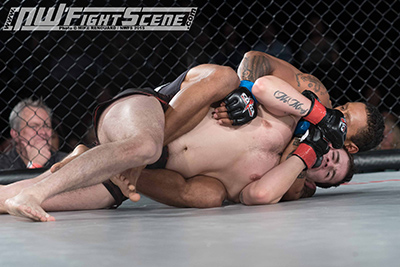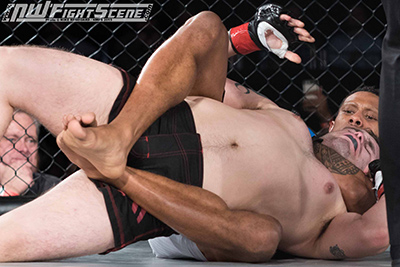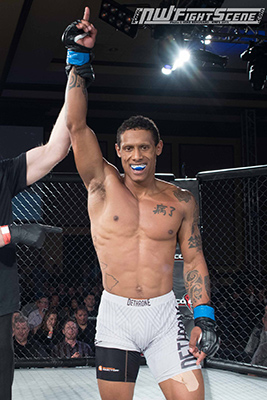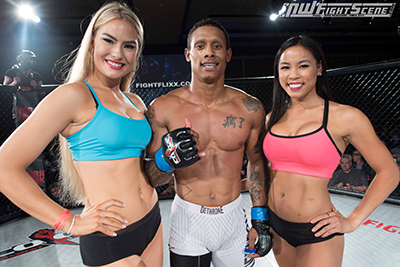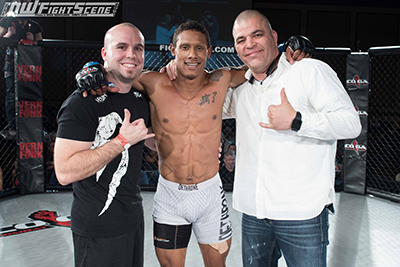 C3's Jake Furney displayed his killer ground skills in submitting ACA's Brock Eastman in the first round of their amateur 145lb fight. At the opening bell, the pair came out firing, with Eastman landing a body kick, Furney an overhand right. They stood toe-to-toe for a moment, big punches landed by both men, before clinching up and the fight going to the ground. From the bottom, Furney went to work, locking on a tight triangle choke and getting a tap from Eastman at the 2:22 mark.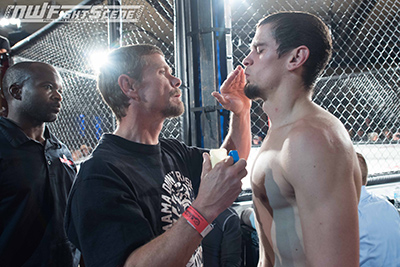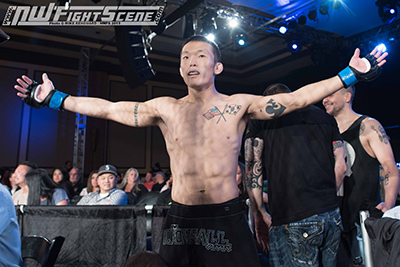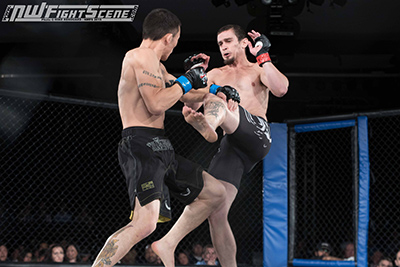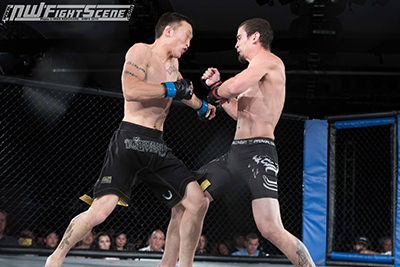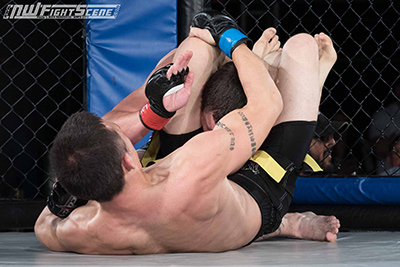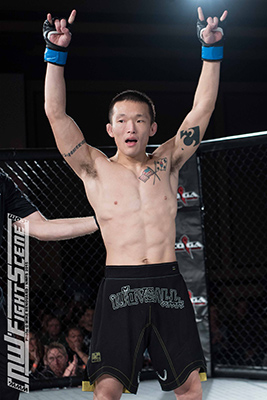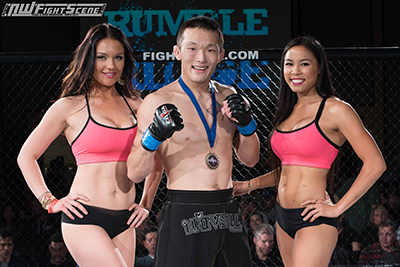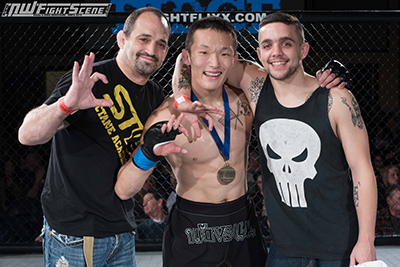 The amateur 145 lb fight between Small Town MMA's Jorge Juarez and Ivan Salaverry MMA's Jorge Gaitan went the distance in a competitive back-and-forth, three-round battle. After nine minutes of action, Juarez had his hand raised, winner by split decision.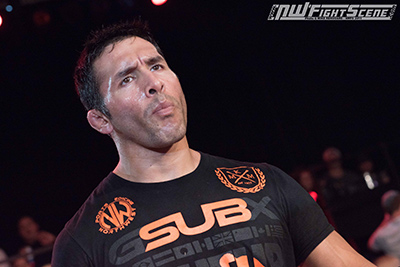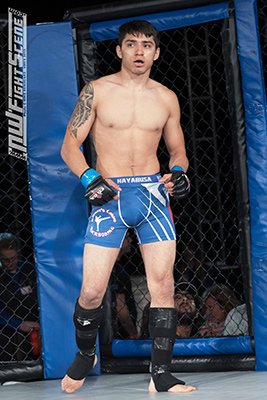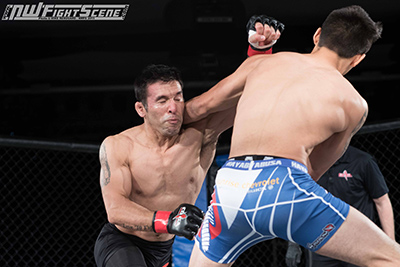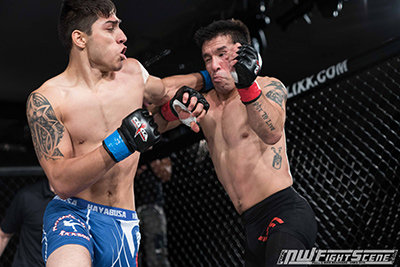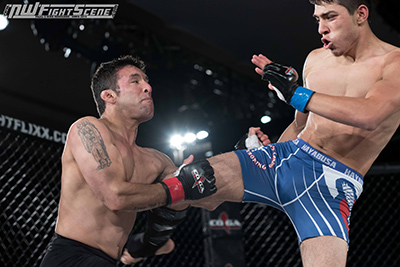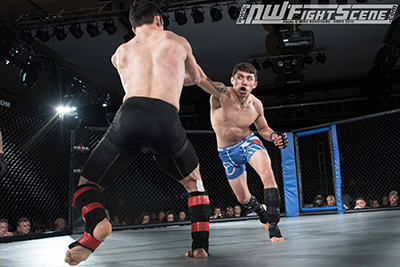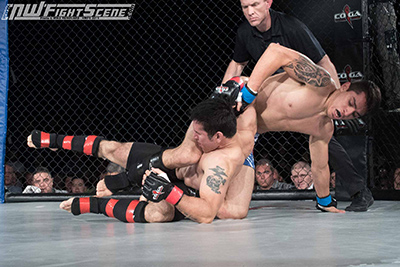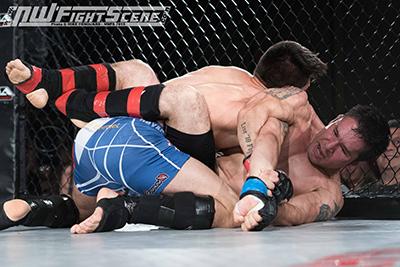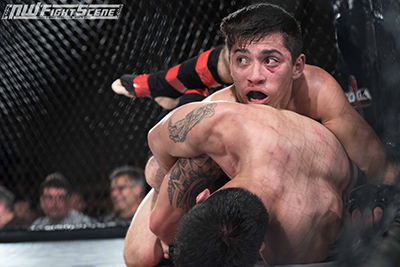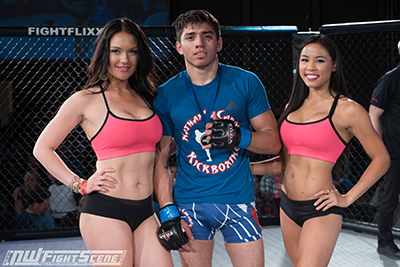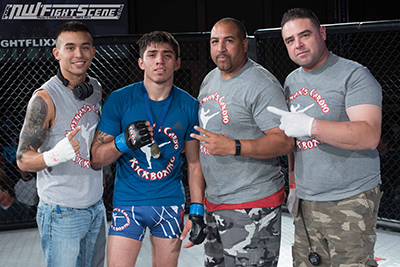 The action ranged all over the cage in a back-and forth battle between amateur middleweights Quinten Roppel and Aaron Ibanez. In the first, Roppel damaged Ibanez with heavy-handed bombs against the cage, Ibanez answering later in the round with a huge takedown and serious ground and pound. In the 2nd frame, Roppel again went to work with his ground attack, but Ibanez reversed and landed a few more shots on a grounded Roppel. A bit more standup in the 3rd with Roppel mixing in some high kicks, Ibanez some knees. The fight went to the mat and Roppel rained down strikes, but Ibanez caught Roppel in an armbar from the bottom that Roppel slammed his way out of. Great work from both athletes. After 3 rounds of action, Roppel took home the win via judges decision.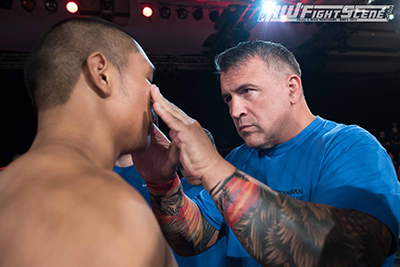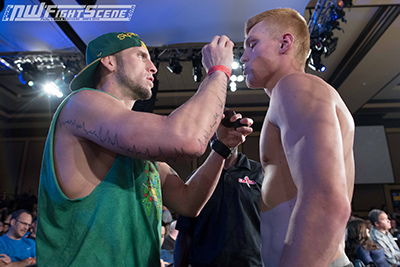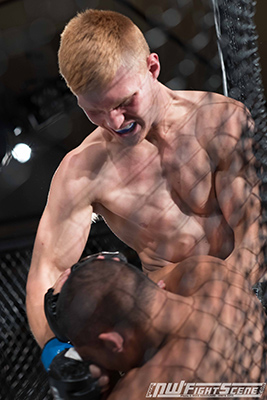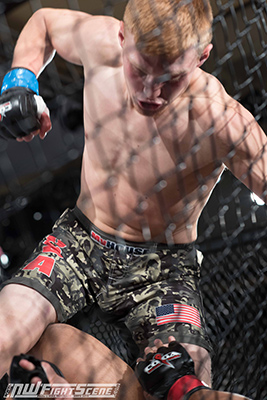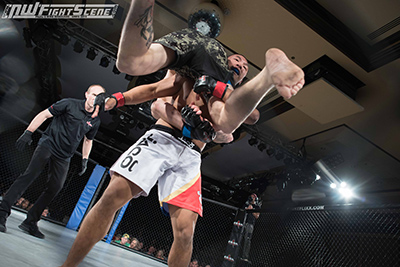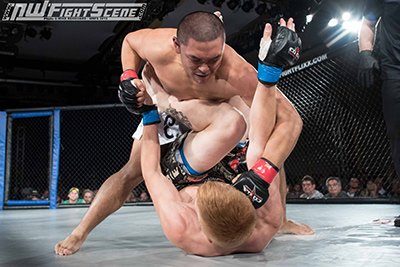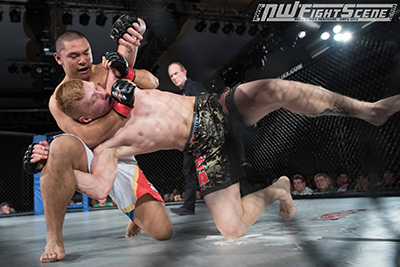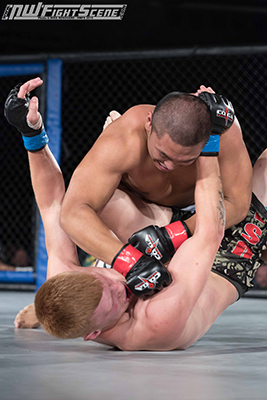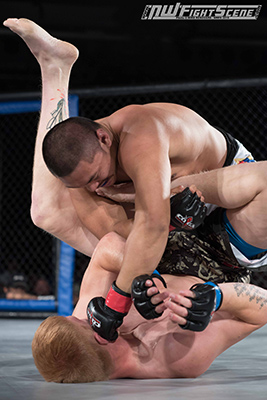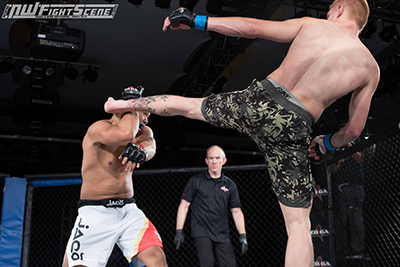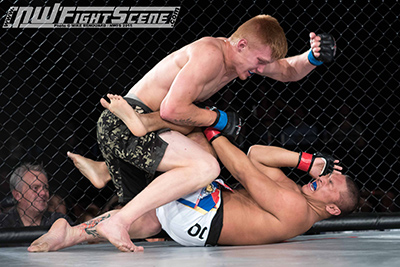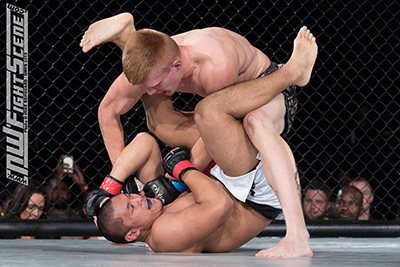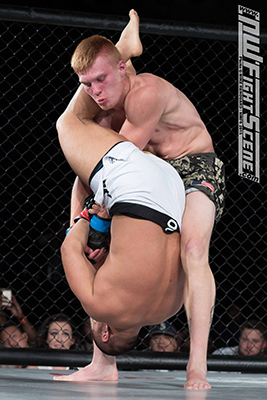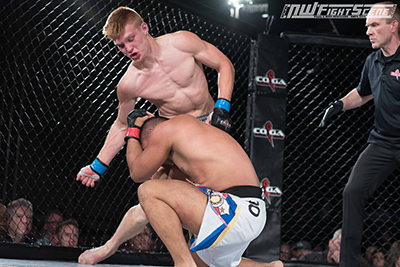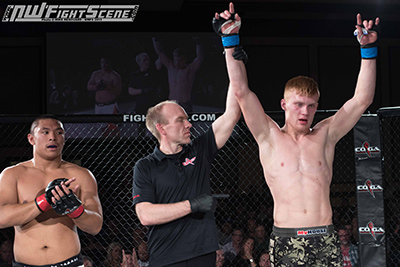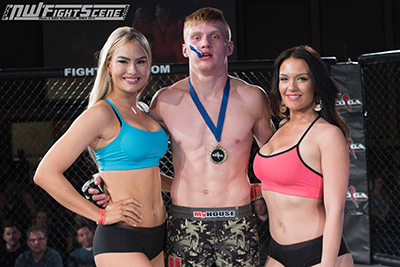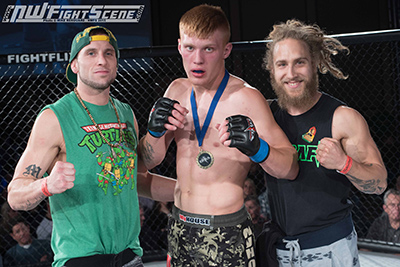 Bellingham MMA's Garret Moser and Livewire MMA's Andrew Park went to war in a amateur lightweight matchup. Early on, Moser punished Park with heavy strikes from mount, and displayed excellent ground skills in going for the finish, either through his fists or via submission. Park rebounded, delivering some heavy shots of his own, and showing resiliency in escaping precarious positions. Moser's hands proved too heavy though, with Park unable to continue after round two, giving Moser the TKO win.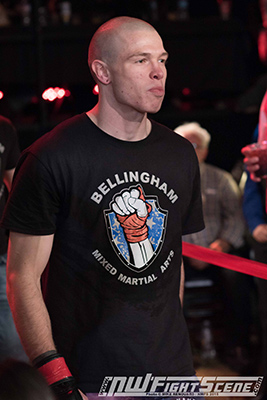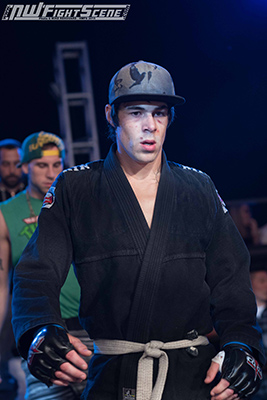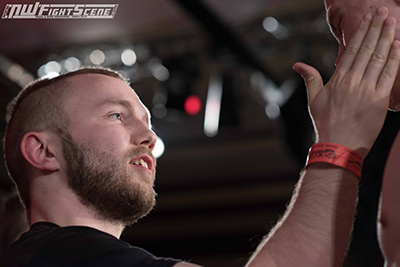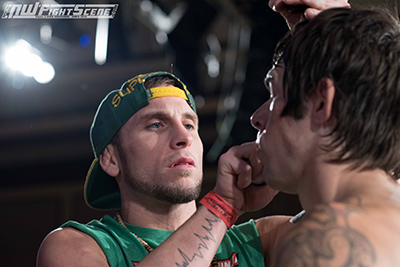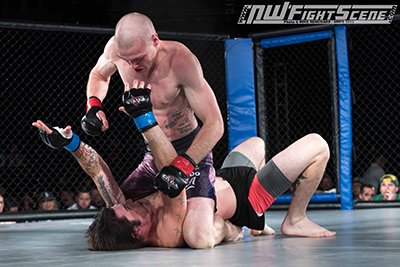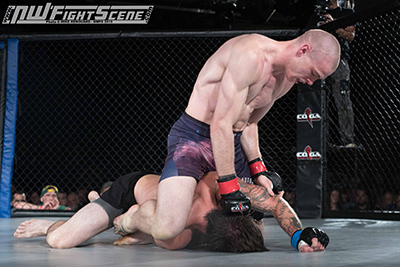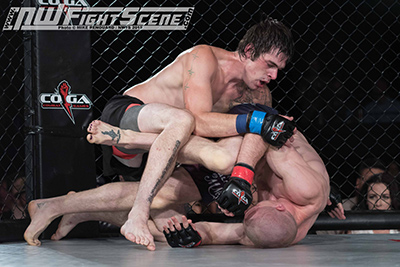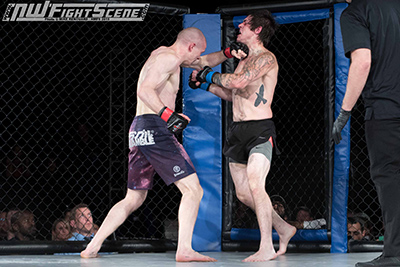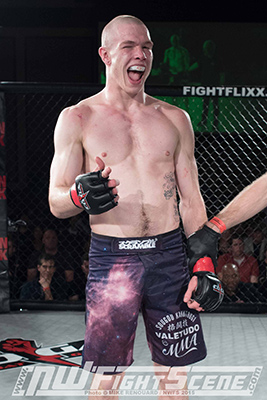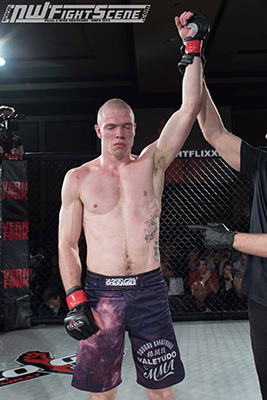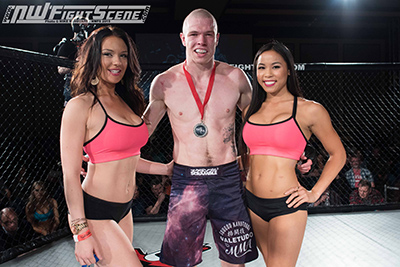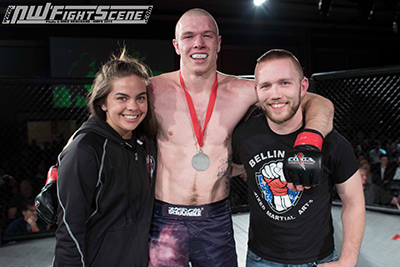 One kickboxing bout was featured on the Rumble on the Ridge 34 fight card and featured two tough women who went toe-to-toe from the opening bell to the closing moments of their 135 lb contest. After 3 rounds of fighting, Bainbridge Boxing Club's Anisa Ashabi was awarded the decision over Alex Lind from Combat Sport & Fitness.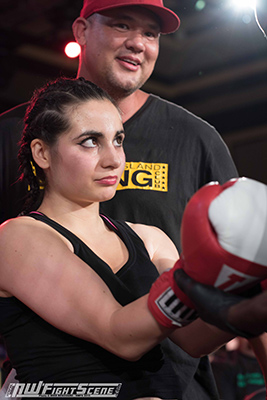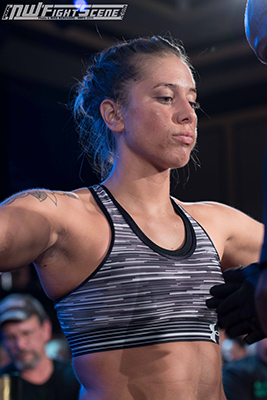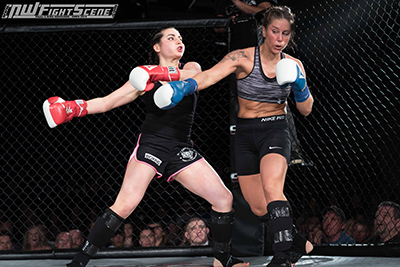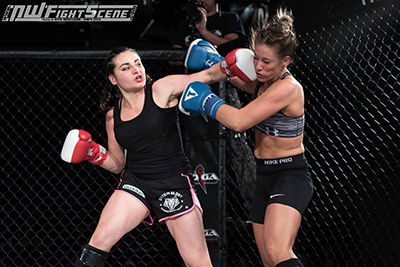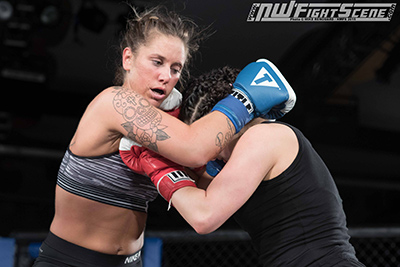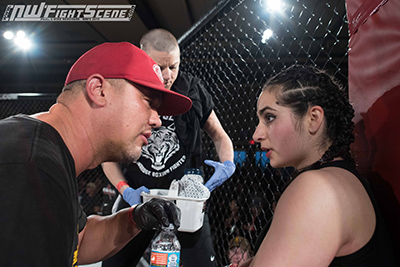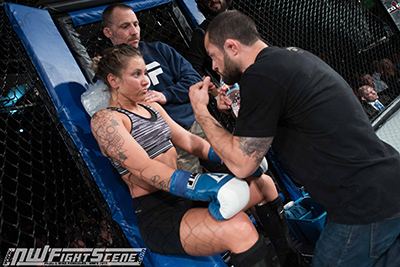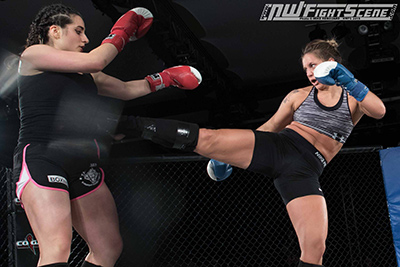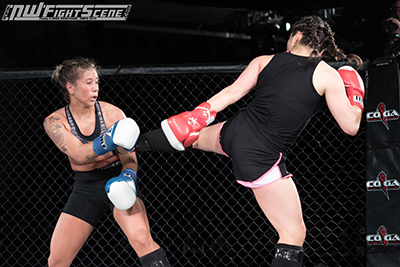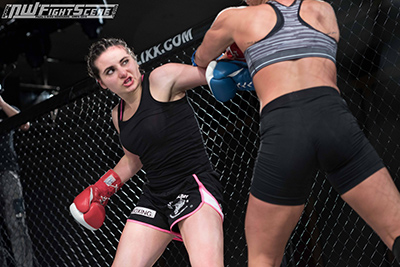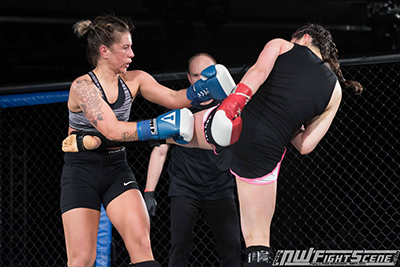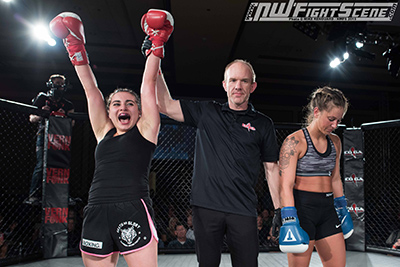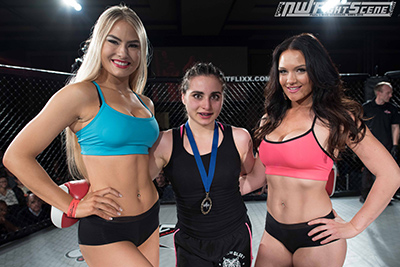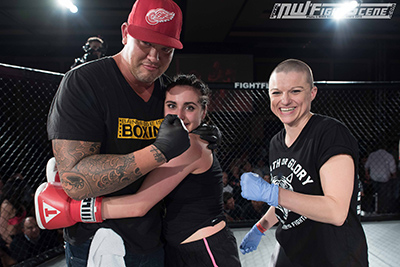 Austin Daffron, with UFC Heavyweight Anthony Hamilton in his corner, went to 3-0 as an amateur, submitting United Fight Centerís Chase Colasurdo in the 2nd round of a 130 lb catchweight bout. Good scrap from both young athletes.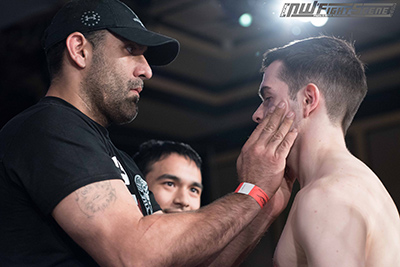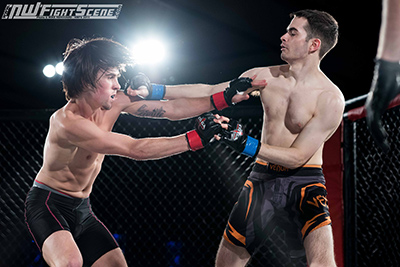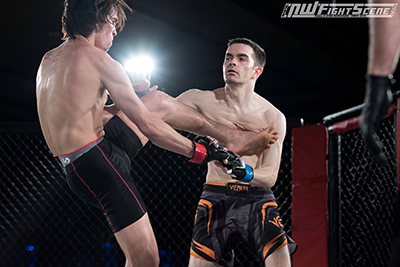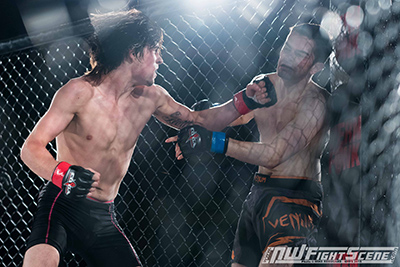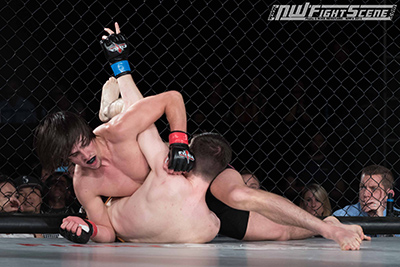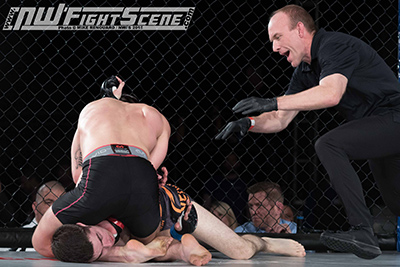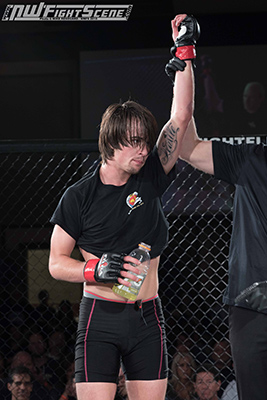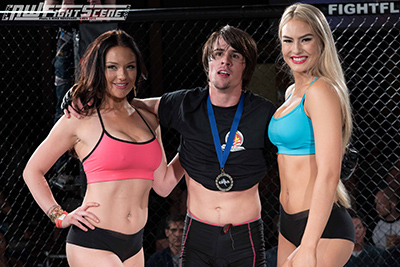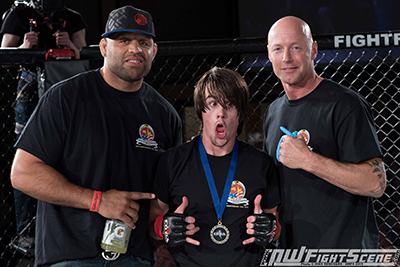 COGA MMA will hold their next event on Saturday June 25th, presenting "Breaking Point" at The Point Casino in Kingston WA. More info at combatgamesmma.com.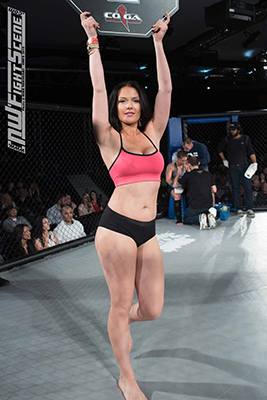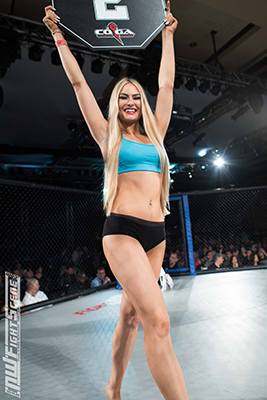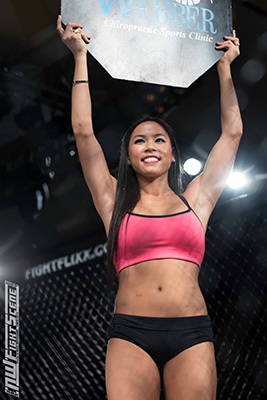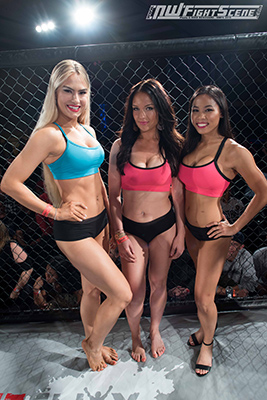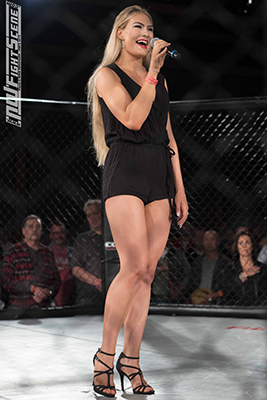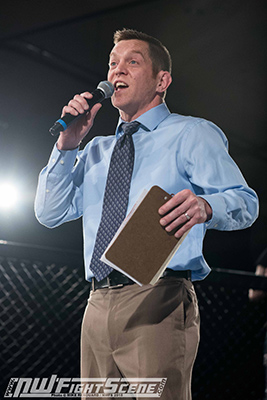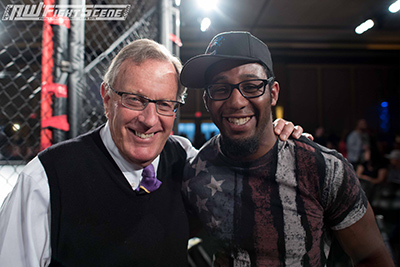 ---
RUMBLE ON THE RIDGE 34 Results

Bout 1 - Amateur 130 lbs
Austin Daffron (2-0 - Lee's Martial Arts) def Chase Colasurdo (0-1 - United Fight Center) by Submission @ 1:20 Rd 2

Bout 2 - Amateur 135 lb Kickboxing
Anisa Ashabi (2-0 - Bainbridge Boxing Club) def Alex Lind (3-2 - Combat Sport & Fitness) by Decision

Bout 3 - Amateur 155 lbs
Garret Moser (Debut - Bellingham MMA) def Andrew Park (Livewire MMA) by TKO (Fighter did not answer bell for Rd 3)

Bout 4 - Amateur 185 lbs
Quinten Roppel (Livewire MMA) def Aaron Ibanez (1-1 - White Buffalo Warriors) by Decision

Bout 5 - Amateur 145 lbs
Jorge Gaitan (6-3 - Ivan Salaverry MMA) def Jorge Juarez (4-1 - Small Town MMA) by Split Decision

Bout 6 - Amateur 145 lbs
Jake Furney (7-5 - Charlie's Combat Club) def Brock Eastman (3-7 - American Combat Academy) by Triangle Choke @ 2:22 Rd 1

Bout 7 - Pro 145 lbs
Jordan Mackin (1-5 - Sikjitsu) def Jose Hernandez (1-0 - Ivan Salaverry MMA) by Rear Naked Choke @ 1:08 Rd 1

Bout 8 - Pro 145 lbs
Jeremie Montgomery (2-1 - Team Wise) def James Martin (1-3 - Combat Sport & Fitness) by d'Arce Choke @ 2:04 Rd 2

Bout 9 - Pro 145 lbs
Nathan Thompson (4-3, 1 NC - Small Town MMA) def Dex Montenegro (6-2 - White Buffalo Warriors) by Unanimous Decision

Co-main Event - Pro 155 lbs
Rob Cann (6-5 - Team Hard Knox) def Matt Goff (2-11 - Independent) by TKO (Fighter did not answer bell for Rd 2)

Main Event - Pro 170 lbs
Joey Pierotti (2-0 - Combat Sport & Fitness) def Taki Uluilakepa (6-3-1 - White Buffalo Warriors / MABJJ / Srisuk MT) by Rear Naked Choke @ 3:30 Rd 2