White Delight Promotions presented their 5th Rogue Valley Rumble on Sepetember 24th with a big crowd on hand for the 6 professional boxing contests. In the main event, local favorite Mike WIlson earned his 15th straight victory with a lopsided unanimous decision over opponent Armando Ancona, all judges seeing it 80-71.
WhiteDelight Promotions will hold their next event in January.
More info at facebook.com/Whitedelightpromotions.
---
Rogue Valley Rumble V Results

Main Event - 195 lbs (8 Rounds)
Mike Wilson (15-0, 9 KOs - Central Point OR) def Armando Ancona (8-5-2, 5 KOs - Columbus OH) by Unanimous Decision (All judges 80-71)

Semi-main Event - 144 lbs (6 Rounds)
Gabriel Pineda (5-2-2, 1 KO - Hillsboro OR) def Marcelino Pineda (5-3, 5 KOs - Toppenish WA) by Unanimous Decsion

126 lbs (4 Rounds)
Victor Morales Jr. (2-0, 1 KO - Vancouver WA) def Felipe Medina (0-1 - Albany OR)
by KO in Rd 2

168 lbs (4 Rounds)
Rafael Valencia (3-4-1, 2 KOs - Medford) vs Enrique Gallegos (6-5-1, 1 KO - Medford)
results in a Majority Draw

129 lbs (4 Rounds)
Rafael Busuioe (4-1, 1 KO - Sacramento) def Jose Cabrera Jr. (1-4, 1 KO - Central Point OR) by Unanimous Decision

195 lbs (4 Rounds)
Alberto Rivas (1-0 - Bend OR) def Randy Rogers (3-3, 2 KOs - Central Point OR)
by Unanimous Decision
---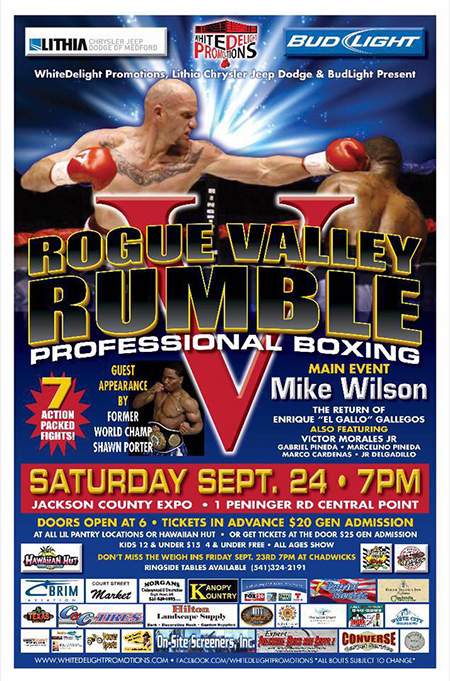 ---