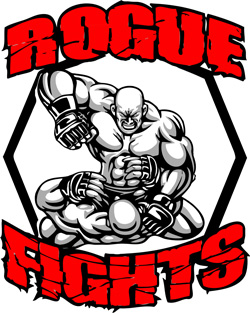 Bill Widler and Hector Sandoval take home victories at
Rogue Fights' Ultimate River Throwdown.
Event took place in front of a packed house at Win-River Casino
in Redding, CA on Saturday, April 13.
(Redding, CA) Hector Sandoval (5-1), fighting for Urijah Faber's Team Alpha Male in Sacramento, CA, won a unanimous decision over Robby Schepps of Team Quest in Redding, CA. Sandoval broke his right hand early in round one, but that didn't stop him from dominating Schepps in strikes. The flyweights both had numerous submissions attempts, but neither could finish, so the judges decided.
Bill Widler (6-4), fighting for Redding Submissions, won a unanimous decision over Marcus Gaines from No Limit Fighting in Fairfield, CA. Widler used his superior wrestling ability to control Gaines on the ground for most of the fight. Gaines was close on a knee bar in Round Two, but other than that it was all Bill Widler from bell to bell.

The undercard provided exciting amateur fights, and both Knock Out of the Night and Fight of the Night honors went to amateur fighters.
The KO of the night was Karma. Dan Lewis (2-1), an Independent fighter from Redding, CA, was knocked out 30 seconds into Round One by Josh Coleman of 21 Grams Fight Gym in McKinleyville, CA. Coleman was confidently showboating, trying to get in Lewis's head. The fighters exchanged strikes, and Lewis put his chin out, daring Coleman to strike him. Coleman immediately obliged him with a powerful right hand, resulting in a spectacular knockout.
The Fight of the Night was awarded to the bout for the Rogue Fights' Amateur lightweight belt. Chad Brewer, from Iron Horse Fight Team in Susanville, CA, battled Antoine Gibson, from Team Asylum in Vallejo, CA. Both men fought hard all three rounds. Both fighters had the other in trouble from strikes and various submission attempts, but they went the distance. All three judges scored it 29 to 28 in favor of Brewer. Although this fight could have gone either way, Brewer was the aggressor and earned the victory.

The exciting night of fights from Rogue Fights' Ultimate River Throwdown was brought to you by Rogue Fights (www.roguefights.com) CEO Mike Brown and the Win-River Casino (www.winrivercasino.com).
---
Bout 1 - Amateur 155 lbs
Nick Snow (Valor Elite - Medford OR) def
Bryan Walters (5 Rings Boxing/Ludus MMA - Bandon OR)
by Unanimous Decision (All judges 29-28)
Bout 2 - Amateur 155 lbs
Chris Logan (Fabian's MMA - White City OR) def
Matt Sutton (Mercenary Tactics - North Bend OR)
by TKO @ 2:49 Rd 1
Bout 3 - Amateur 170 lbs
AJ Sewell (Team Ronin - Grants Pass OR) def
Ignacio Medel (Redding Submissions - Redding CA)
by Anaconda Choke @ 1:39 Rd 1
Bout 4 - Amateur 145 lbs
Cass Bell (21 Grams Gym - Arcata CA) def
Kevin Boehm (One-MMA - Tualatin OR)
by Rear Naked Choke @ 1:56 Rd 2
Bout 5 - Amateur 125 lbs
Justin Parsons (Team Strike Hold - Cottonwood CA) def
Dennis Scott (Team 209 - Waterford CA)
by Triangle Choke @ 1:59 Rd 1
Bout 6 - Amateur 230 lbs
Idris Wasi (Maranobles - Sacramento CA) def
Kittrell Wyrick (Team Quest - Redding CA)
by Triangle Choke @ 2:44 Rd 2
Bout 7 - Amateur 185 lb Title
Chad Brewer (Iron Horse Fight Team - Susanville CA) def
Antoine Gibson (Team Asylum - Vallejo CA)
by Unanimous Decision (All judges 29-28)
Bout 8 - Amateur 225 lbs
Josh Coleman (21 Grams Gym - McKinleyville CA) def
Dan Lewis (Independent - Redding CA)
by KO @ 0:30 Rd 1
Bout 9 - Amateur 155 lb Title
Woo Johnson (Team Evolution - Tacoma WA) def
Chris Hibbitts (Team Asylum - Vallejo CA)
by Unanimous Decision
Bout 10 - Pro 125 lbs
Alex Sandoval (Team Alpha Male - Sacramento CA) def
Robby Schepps (Team Quest - Redding CA)
by Unanimous Decision (All judges 30-27)
Bout 11 - Pro 205 lbs
Bill Widler (Redding Submissions - Redding CA) def
Marcus Gaines (No Limit Fighting - Fairfield CA)
by Unanimous Decision (All judges 30-27)