Reign FC - June 10th 2017
Clearwater Casino & Resort - Suquamish, Washington
Photos and recap by Hadley Griffith
---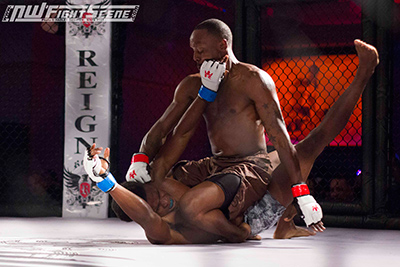 Joseph Brooks throws down at Reign FC at the Clearwater Casino June 10th

Bristol Marunde's Reign FC returned to the Clearwater Casino Resort on June 10th with a pro/am fight card stacked with local talent. In the main event, Dustin Winter submitted Dustin Praxedes in the first round via rear naked choke. Winter came out of his corner with a vengeance in this pro lightweight matchup. Winter landed some solid shots before taking Praxedes down and capturing his back. Winter then sunk in the rear naked choke to end it 1:09 into the fight.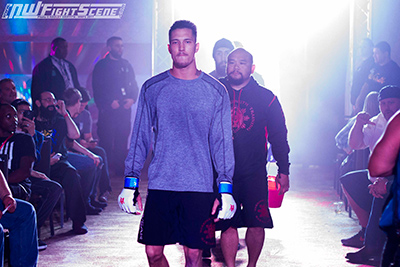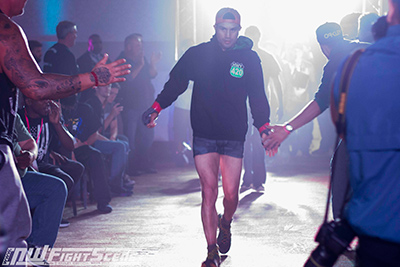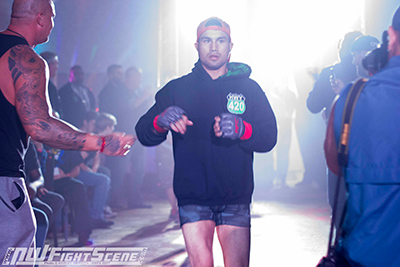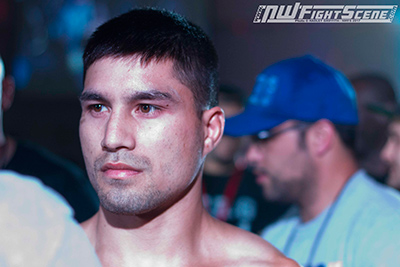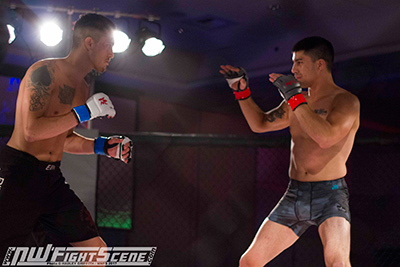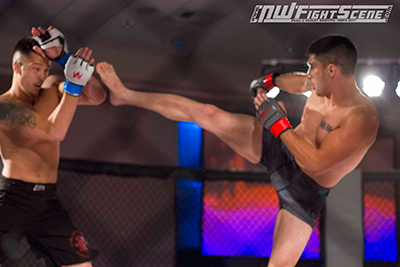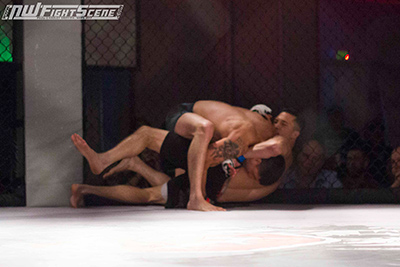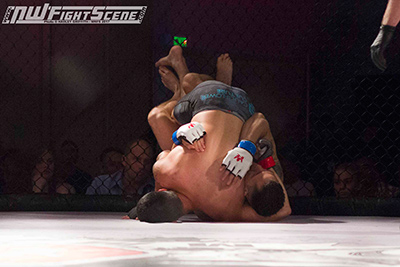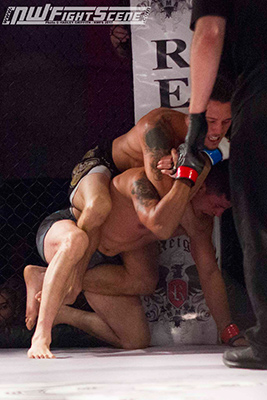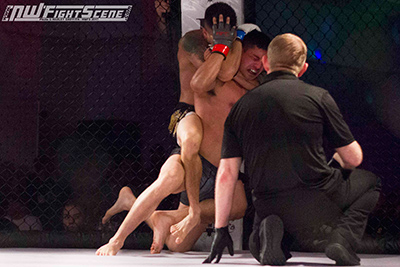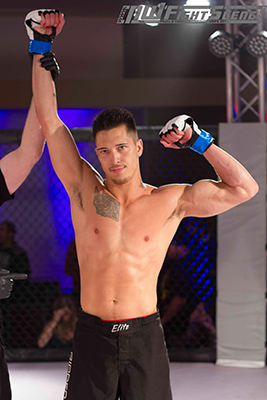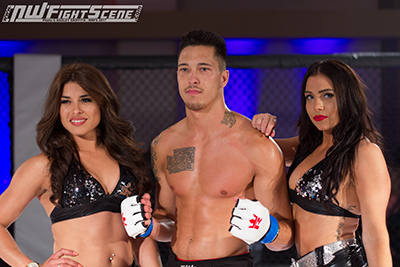 The co-main event saw AJ Fuentes in trouble early in his middleweight fight against Taylor Roberts, backed up against the cage wall and eating a lot of shots. Fuentes was able to weather the storm and circled free. Fuentes then turned the tide and started unloading his own slew of punches, prompting the referee to jump in with just seven seconds left in the first round. Fuentes begins his pro career with a win.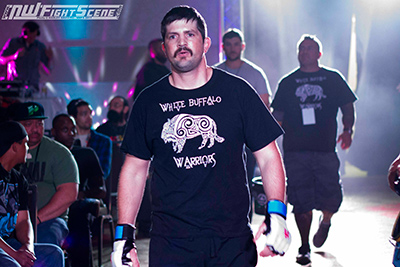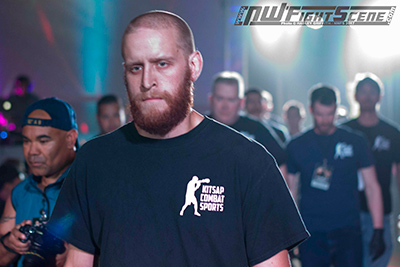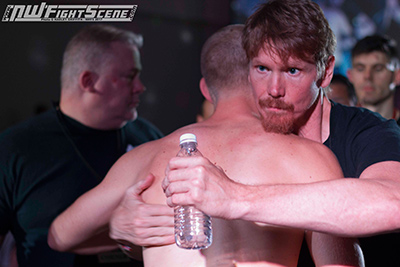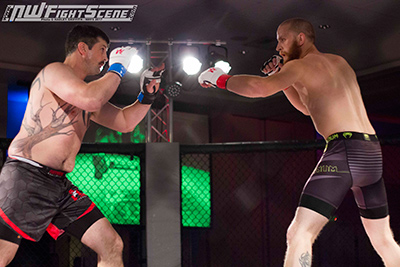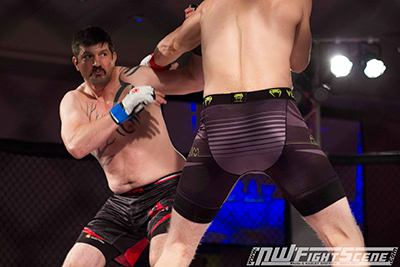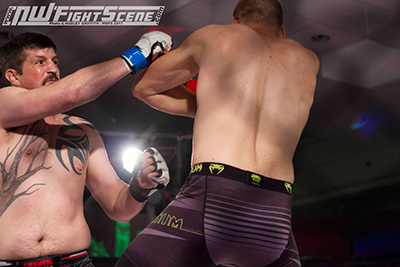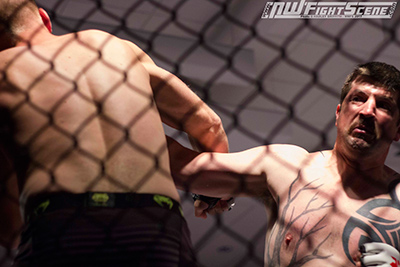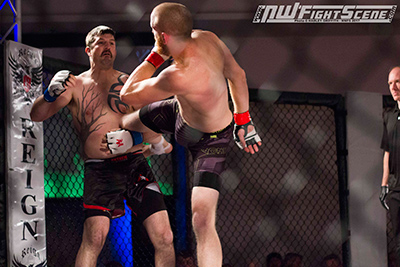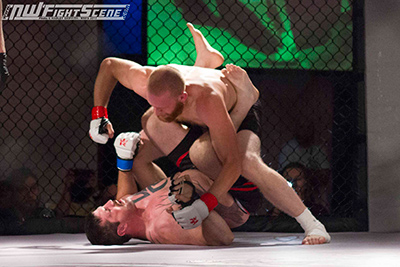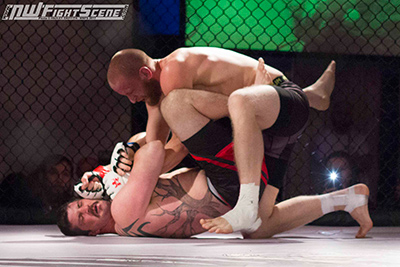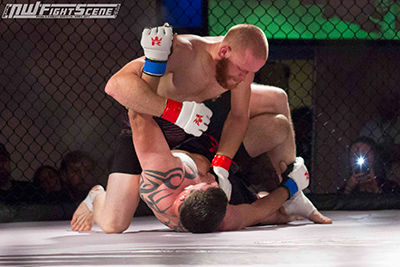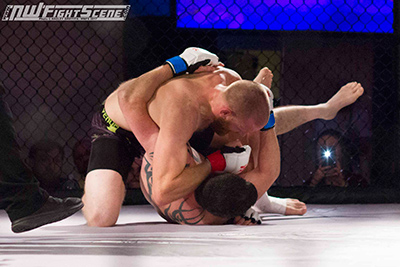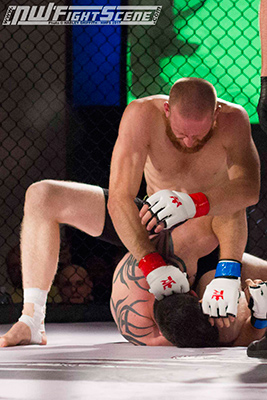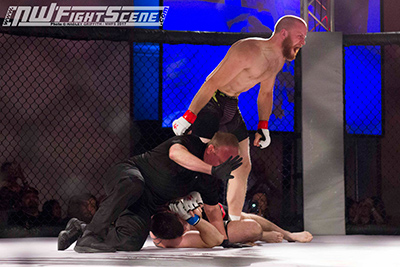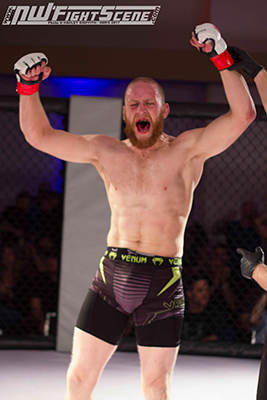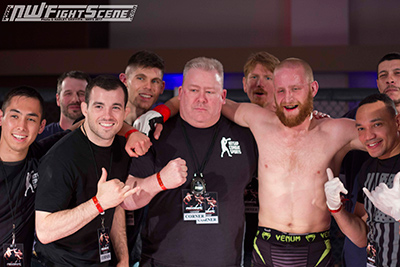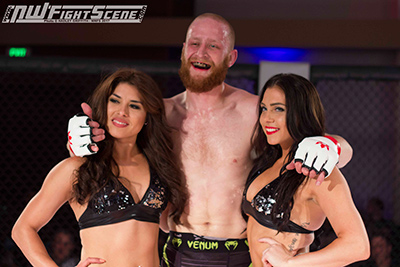 In the first pro fight of the night, both 135'ers made use of their elbows, but it was Brandon Monteith that landed more while Jon Marc Cortez was throwing up submission attempts. With Monteith on top and staying active with the strikes, the judges awarded Monteith the fight in this well-matched battle.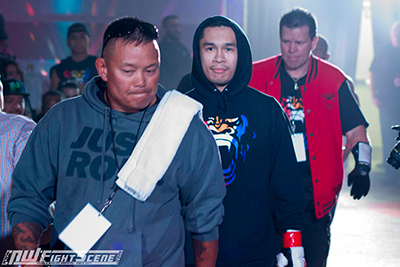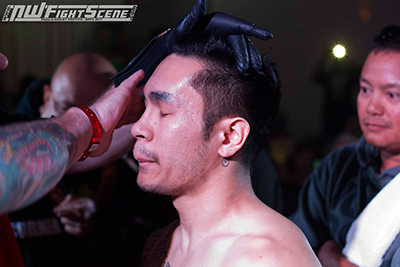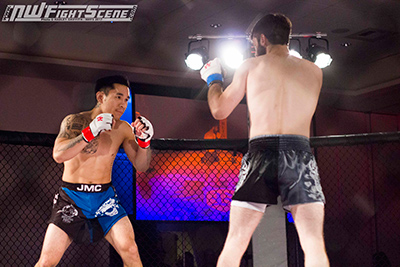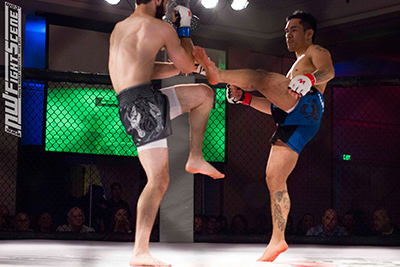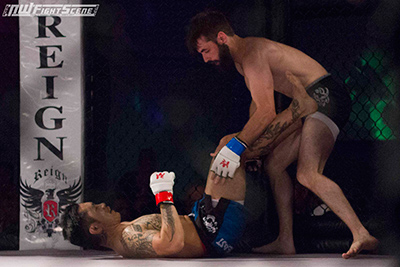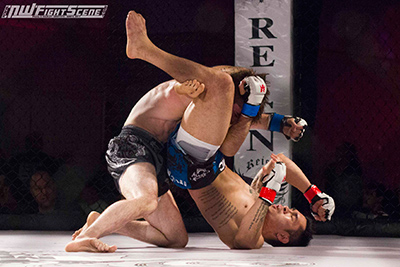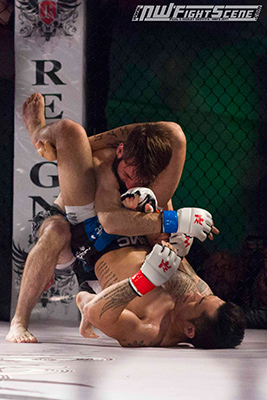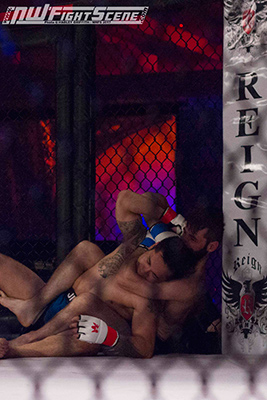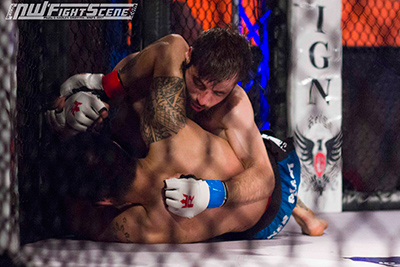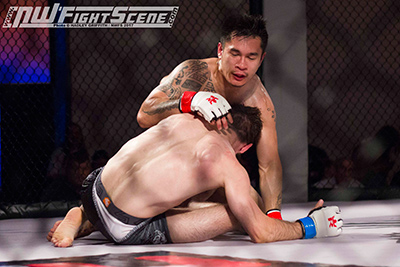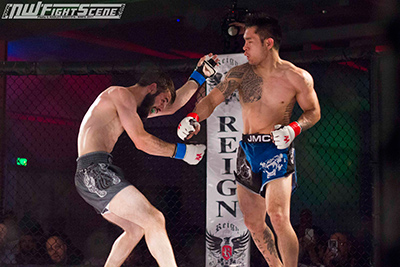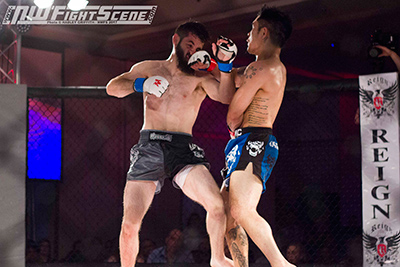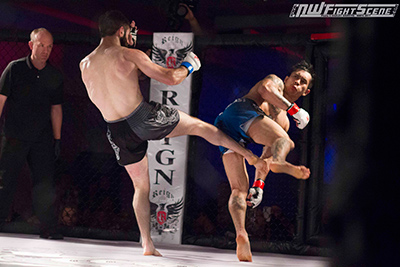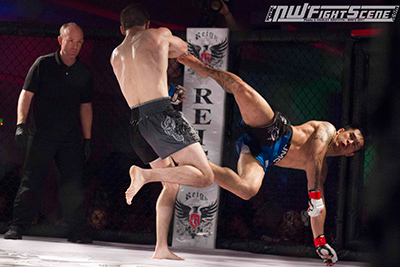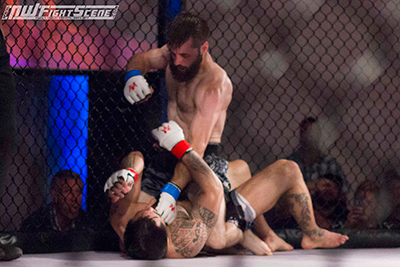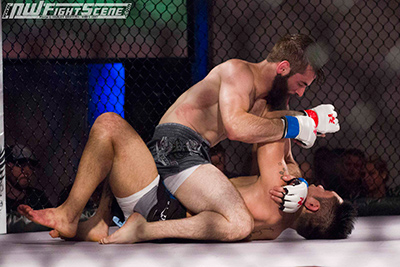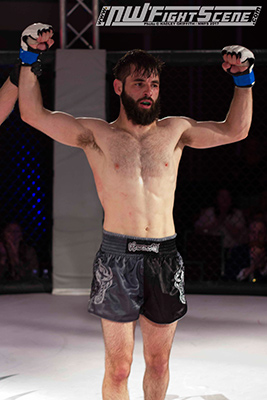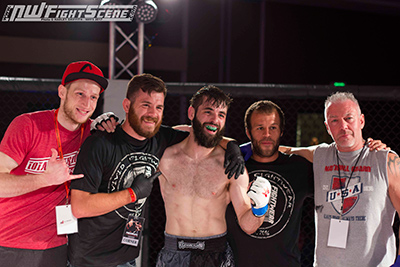 Amatuer welterweight Eric Godfrey was able to get some nice takedowns on opponent Bob Gacki, but Gacki was able to use his length to sweep once on the ground. These two scrapped back and forth, but with the takedowns and the time spent in top position, Godfrey walked away with the decision victory.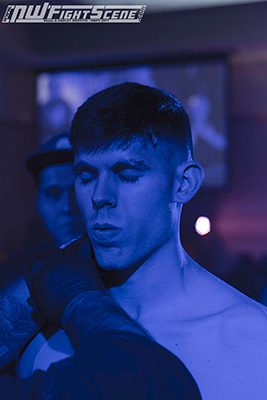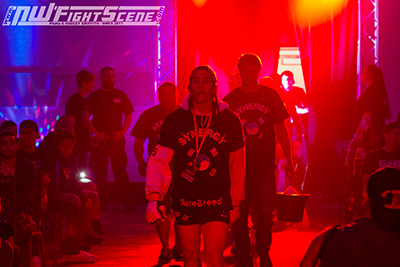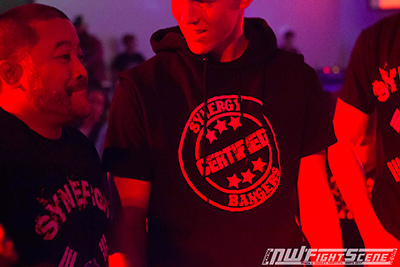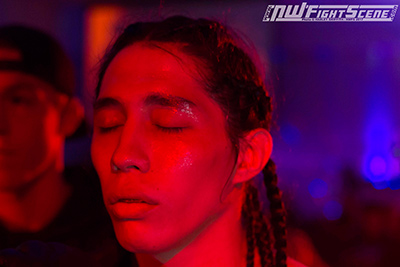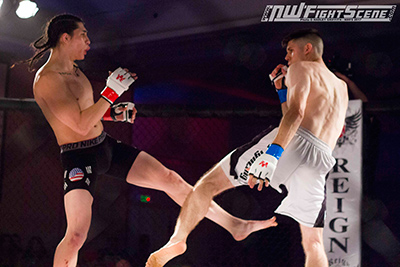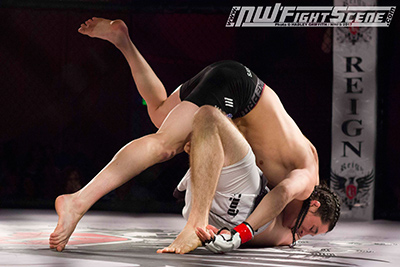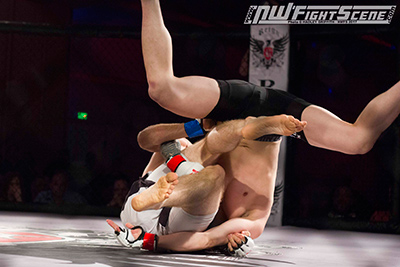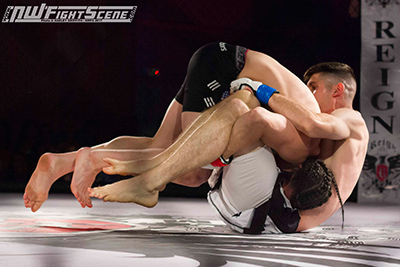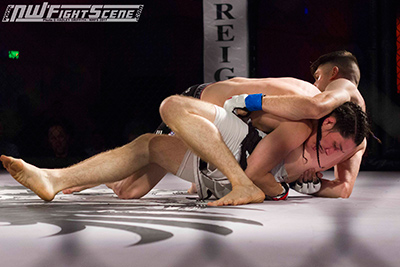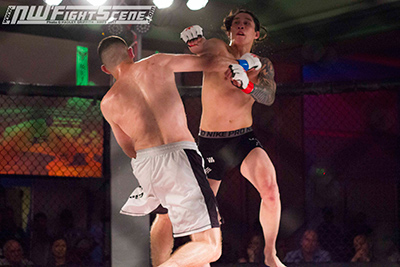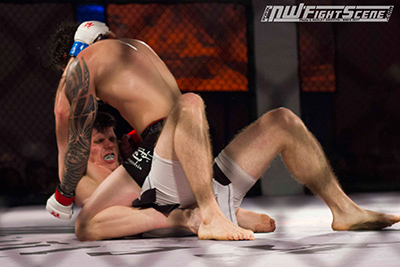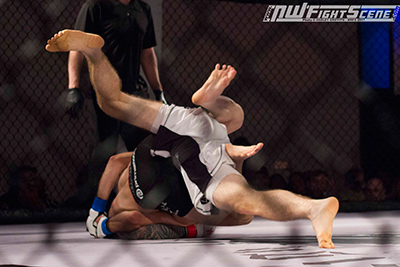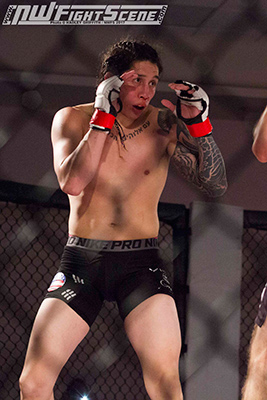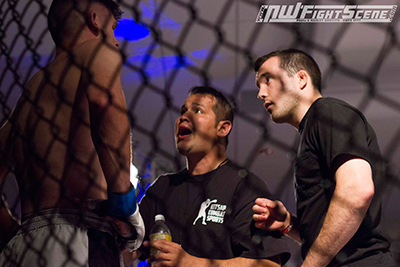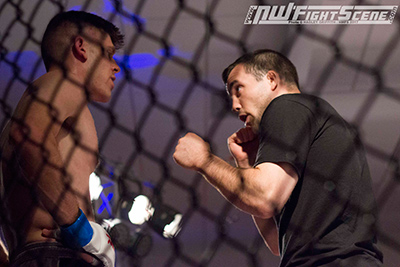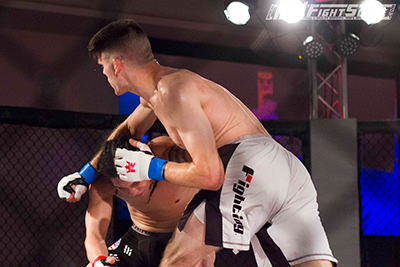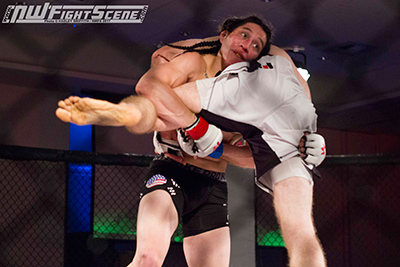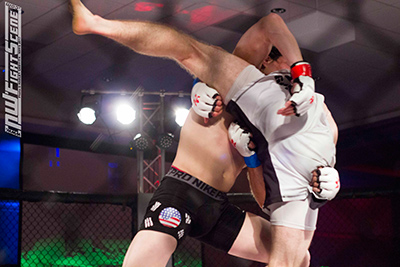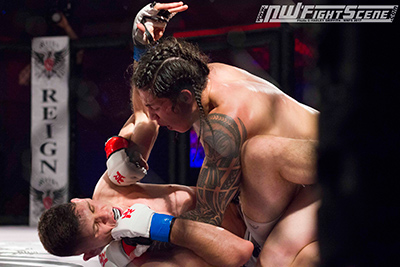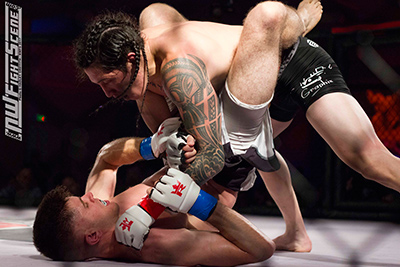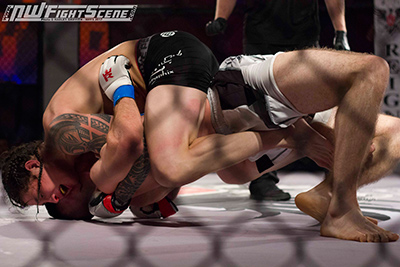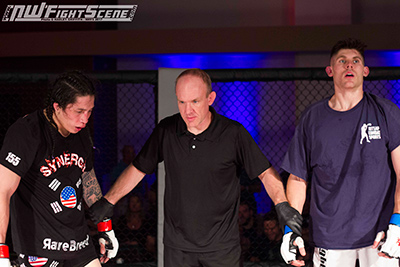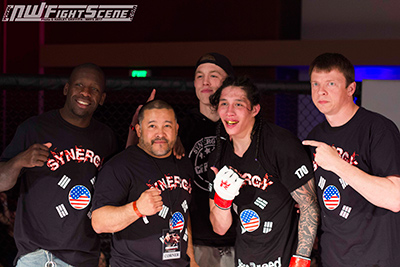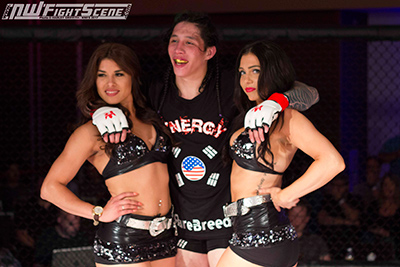 (T)KO of the night goes to Morgan Engelhardt in the amateur 130 lb catchweight bout against Randine Eckholm. Engelhardt was the aggressor in the fight, using great head movement and accurate strikes to force Eckholm on her heels. Engelhardt landed a vicious body punch to the liver, dropping Eckholm to the canvas. Engelhardt swarmed and was pulled off by the referee at 1:23 of the first round.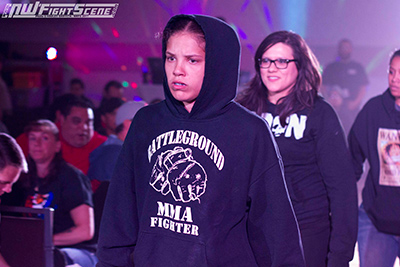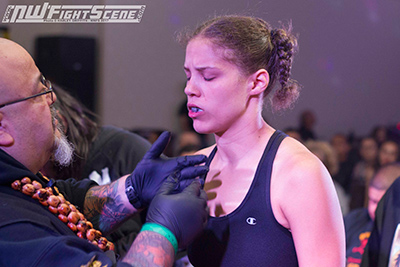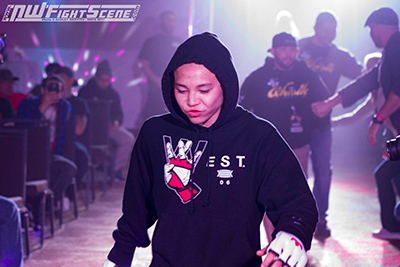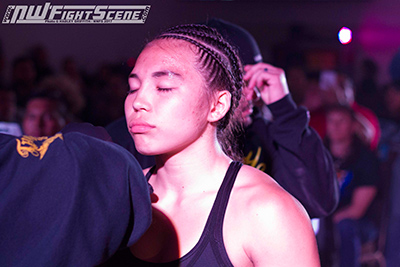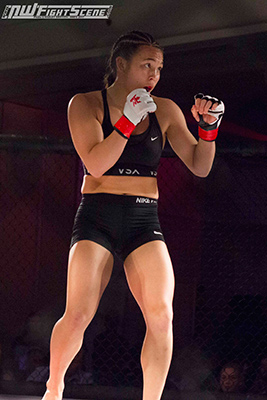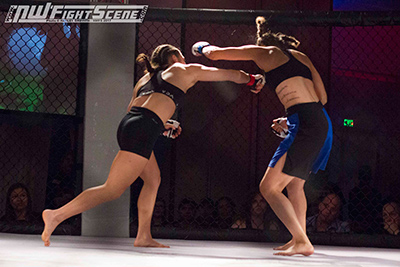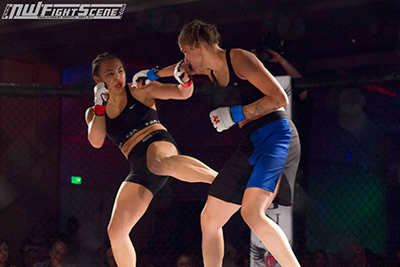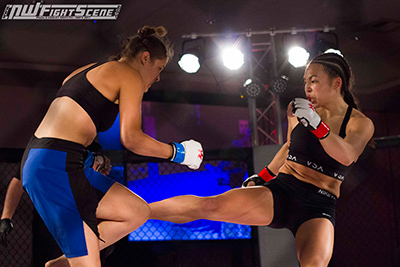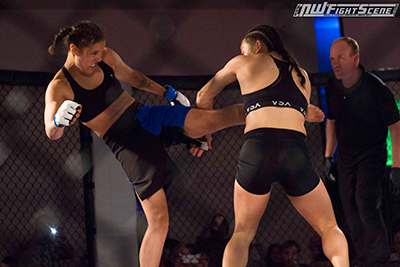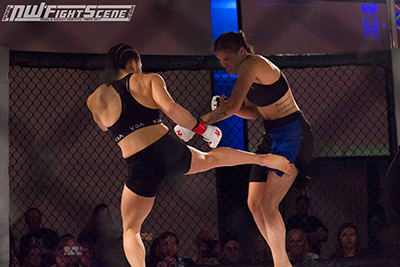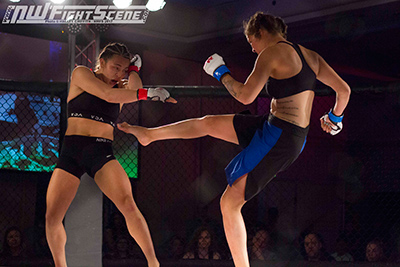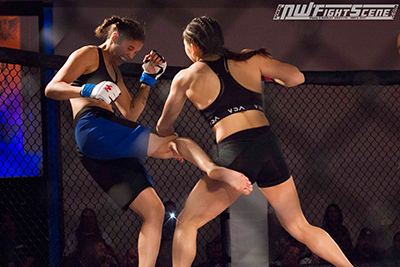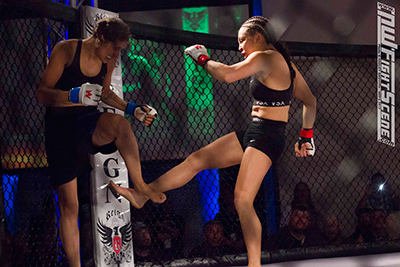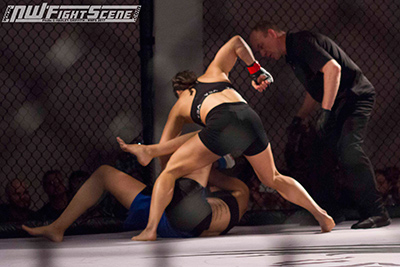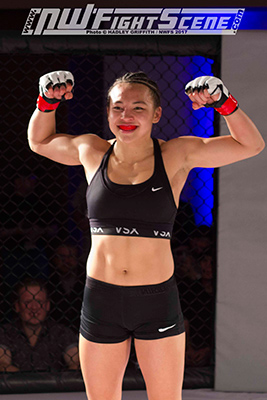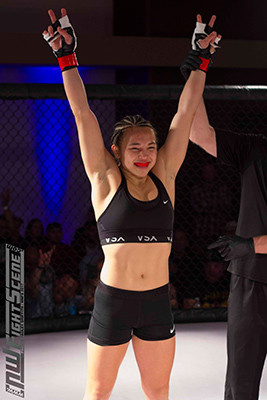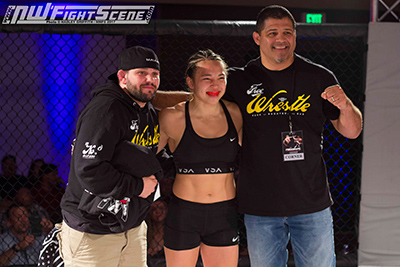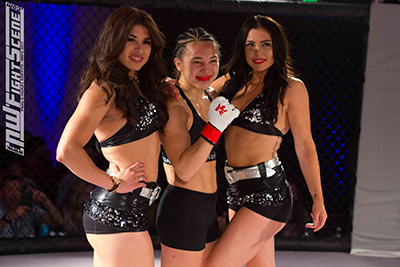 Brent Eidson Sanchez worked hard to finish a rear naked choke against Nic Merritt in their amateur 155 lb matchup, but somehow Merritt stayed in it - bridging hard and finally spinning in Sanchez's guard. Merritt unleashed a fury of punches, bloodying Sanchez and caused the ref to jump between the two, ending the fight at 1:30 of the first.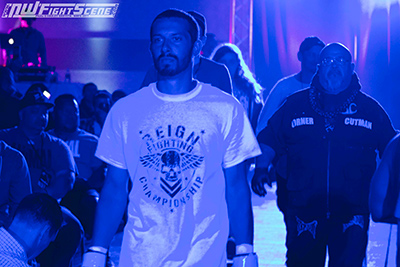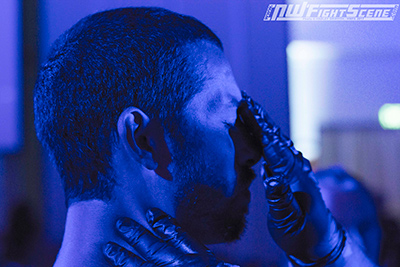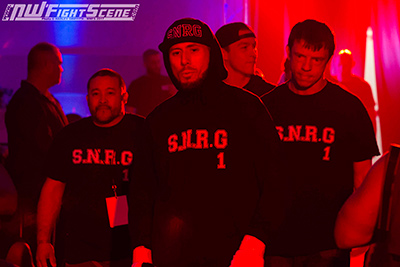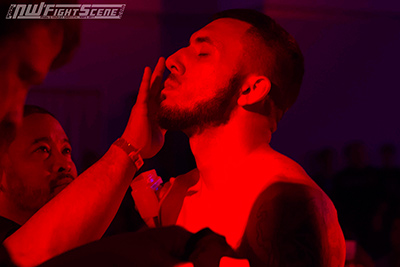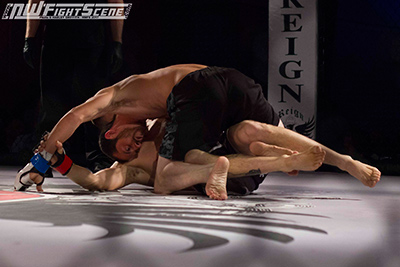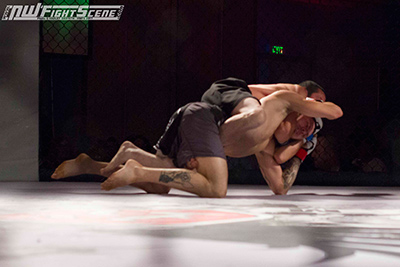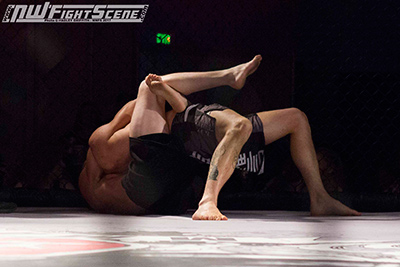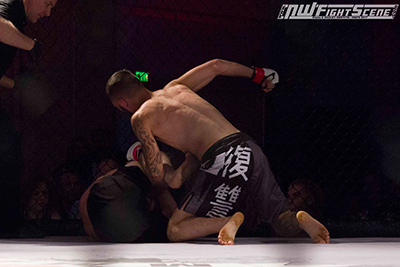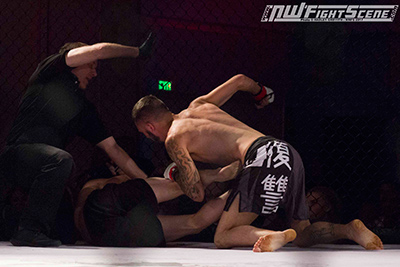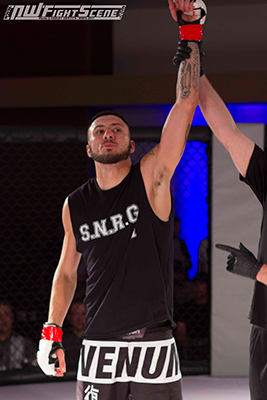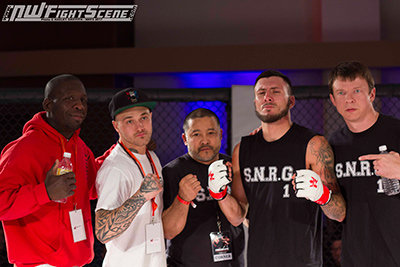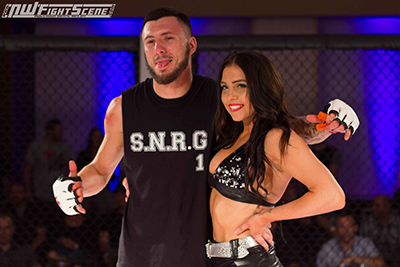 Nick Mills and Skyler Castillo made the decision for the judges a tough one to call in their amateur light heavyweight battle. They traded punches and kicks through all three rounds; neither man gassing, nor rocking the other despite some accurate strikes. In the end, the judges were split on the winner, with the fight going to Nick Mills.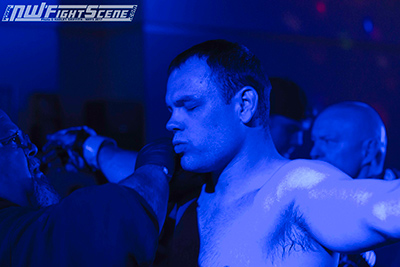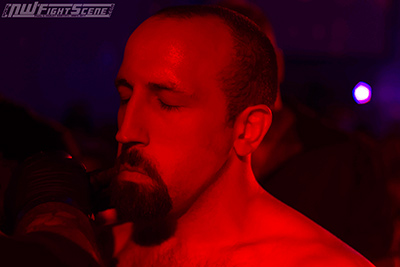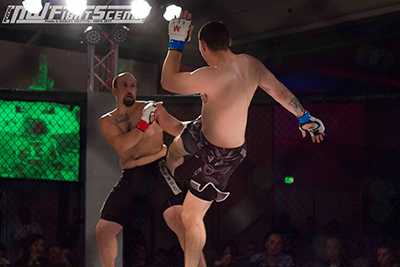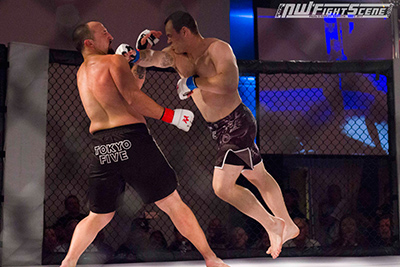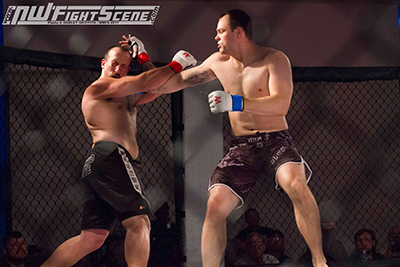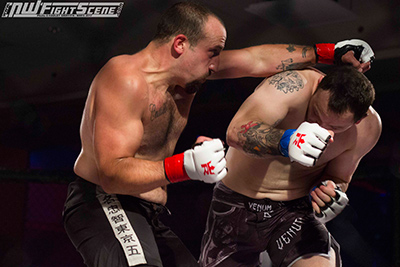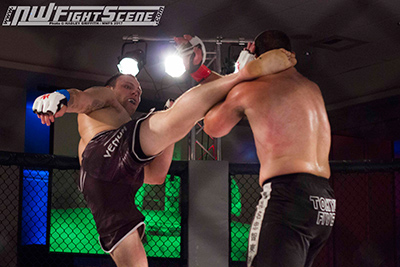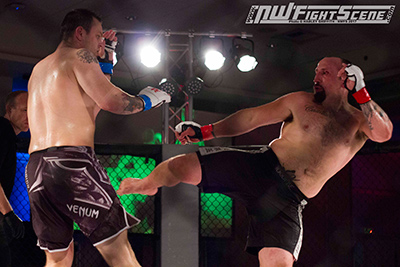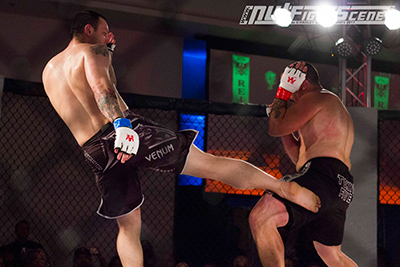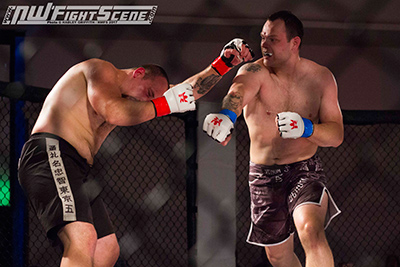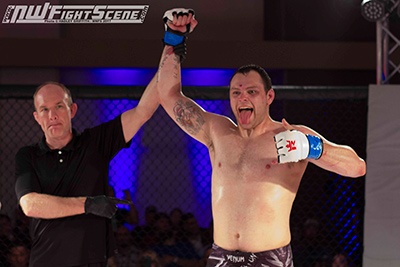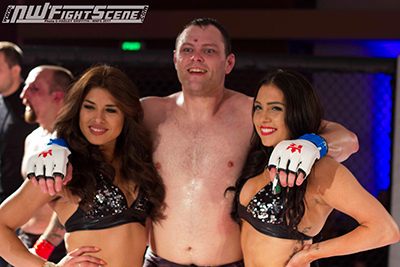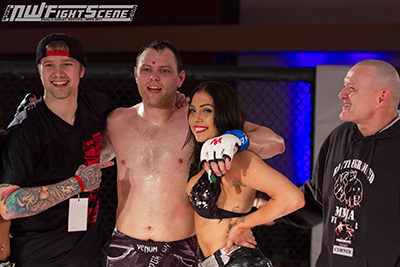 Andrei Cretu got the Submission of the Night with a neck crank in his amateur welterweight fight against Malik Slack. Cretu is an incredibly skilled and athletic grappler, and in his MMA debut showed that he has devastating hands as well in his arsenal. Cretu went after Slack quickly, swinging hard on his way inside and took him down. Once on the ground, Cretu took Slack's back and softened him up with heavy punches until he was able to get his arm across his jaw. Slack defended, but Cretu used his arm strength and good body position to crank Slack's neck and get the tap at 1:32 of the first round.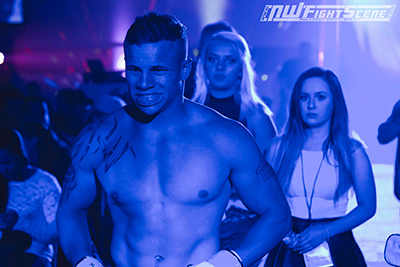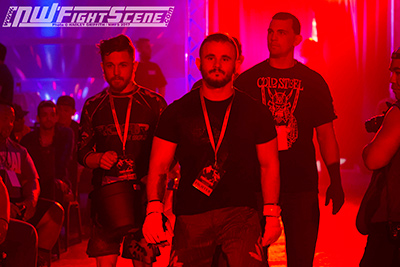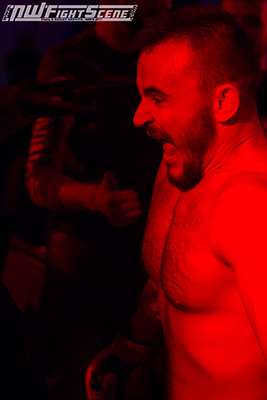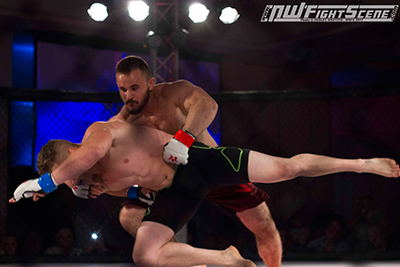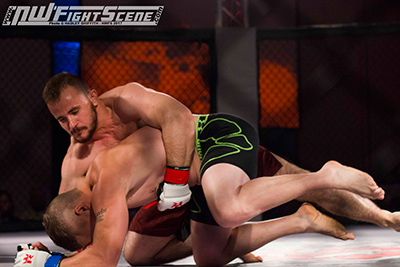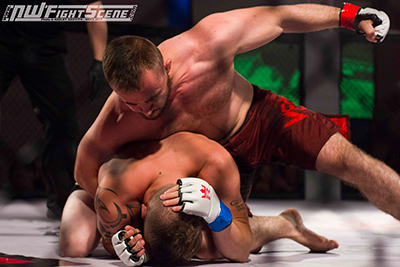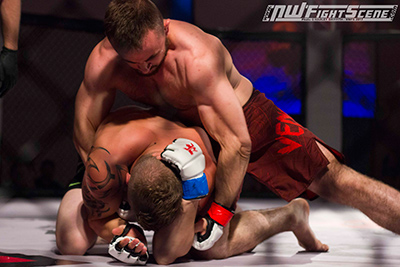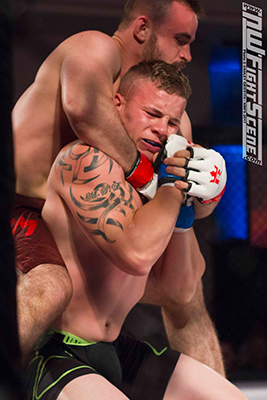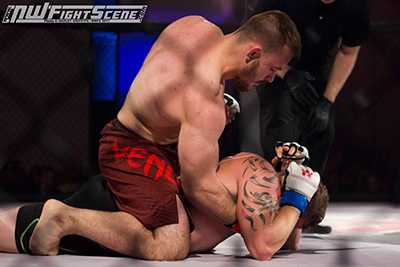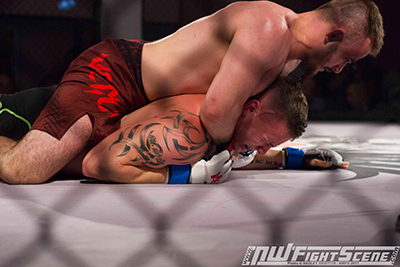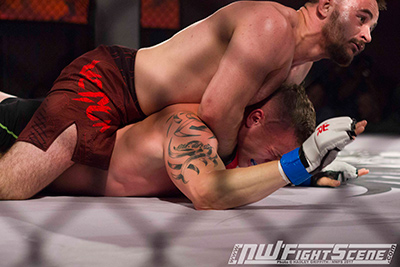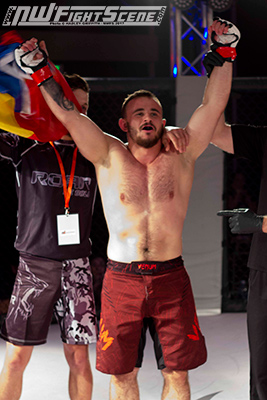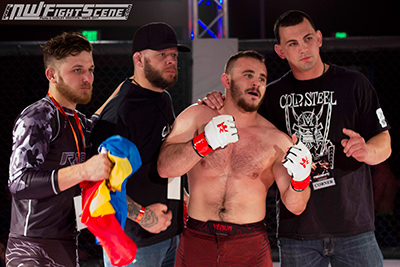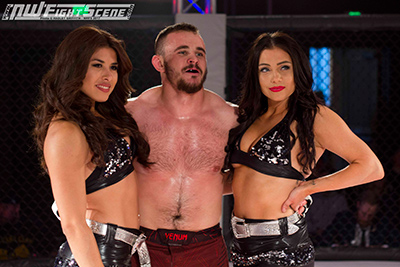 Steven Pederson showed off his dominant ground skills in his amateur 150 lb catch weight bout with Donald Hollum. Pederson stayed active and aggressive on the mat, controlling every position and attacking relentlessly. Hollum defended armbars and chokes while trying to regain his feet. Pederson stayed on Hollum and secured a deep rear naked choke just 2:07 into the first round.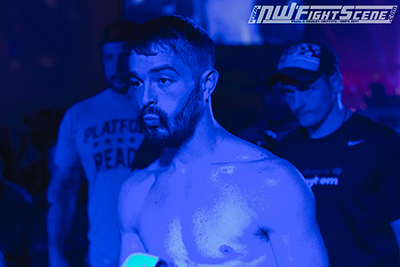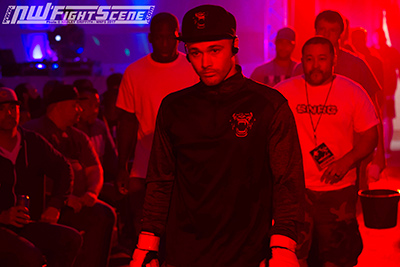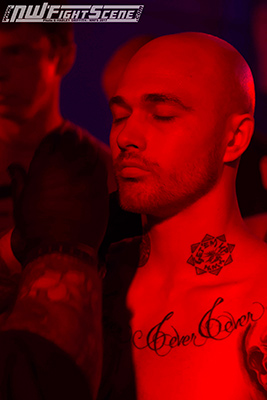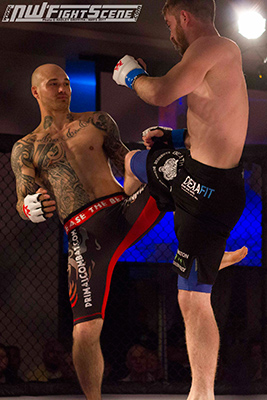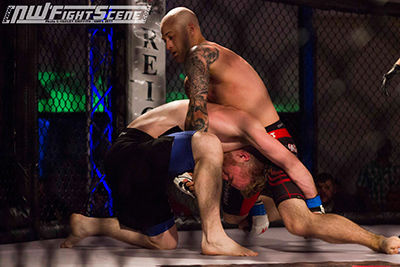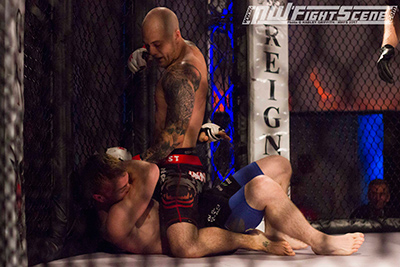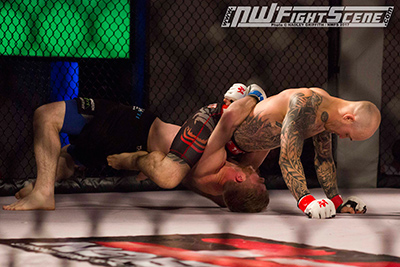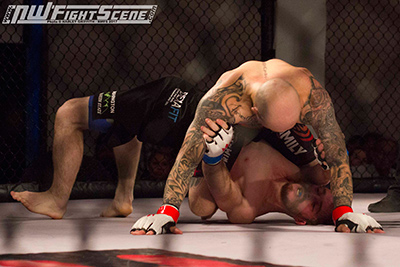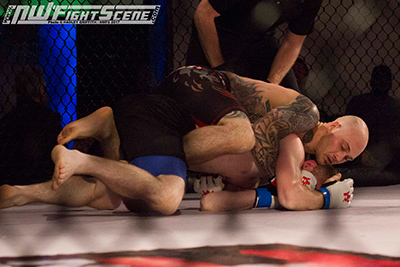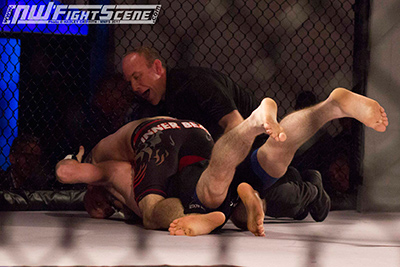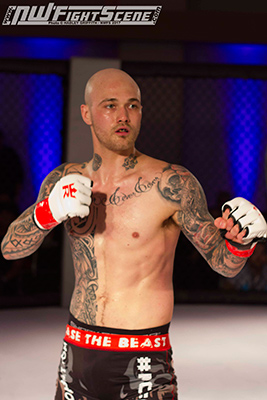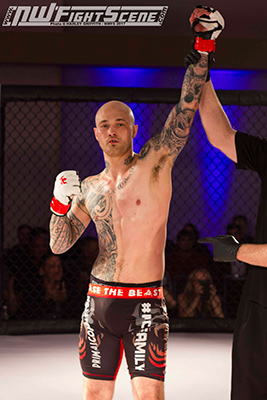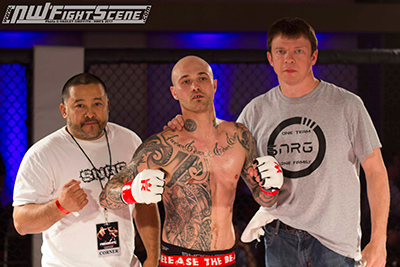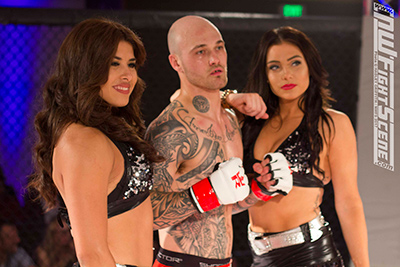 In their amateur 150 lb fight, Ty Orion and James Pollard unleashed a volley of nasty kicks, leaving welts on each other. In the 2nd round, Orion was able to catch one of the kicks and use it to get the takedown. On the ground, Orion stayed patient and defended Pollard's submission attempts before sinking in his own choke for the win.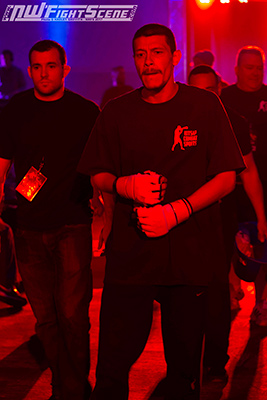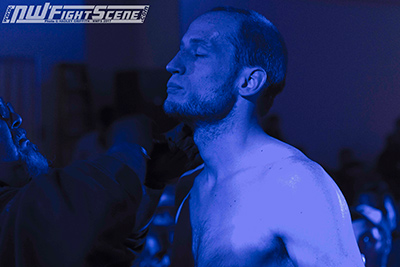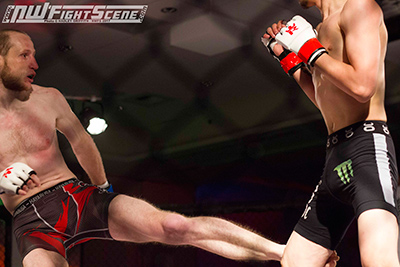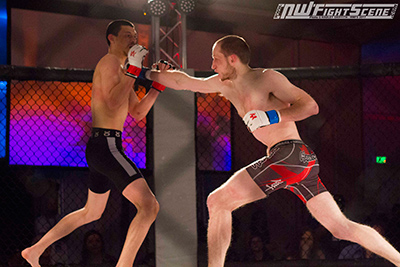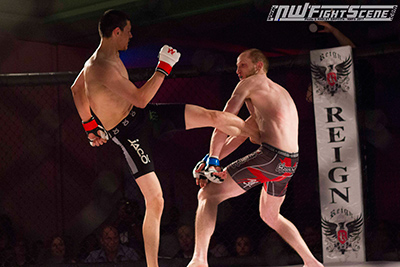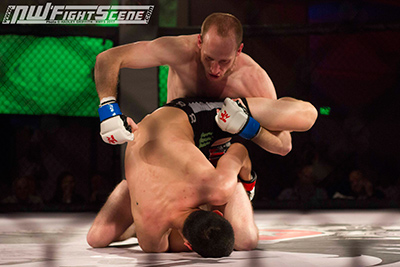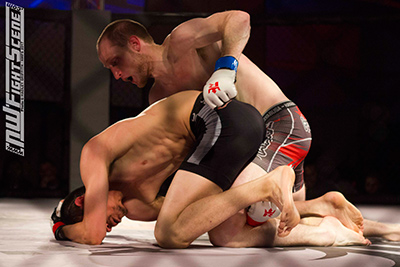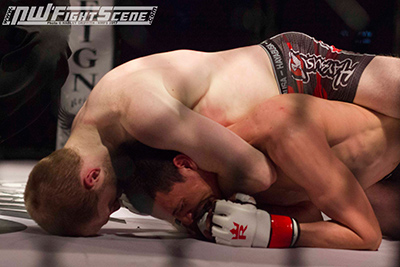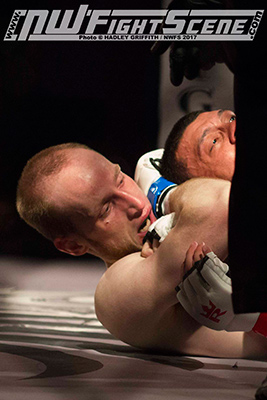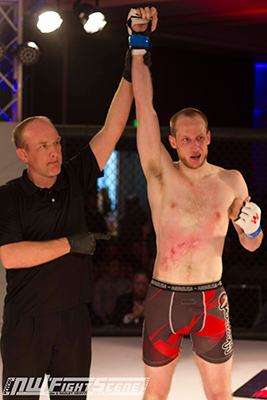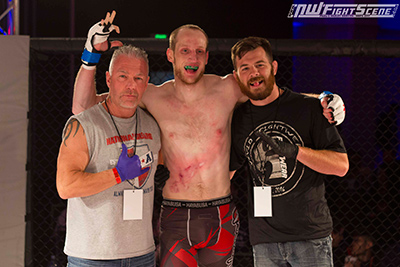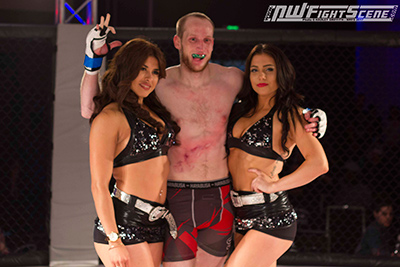 Fight of the Night goes to Eugeniu Holodcov and Noah Williams who both showed fight intelligence and skill in their amateur 145 lb match up. Williams had the range, but Holodcov answered every single strike with a kick. When Williams closed the distance a bit to take away the kicks, Holodcov used his hands or footwork. When Williams moved in close enough to clinch, Holodcov got the takedown. Holodcov had some smooth submission attempts, but Williams impressively fought out of them. The judges had a close fight to make a decision on, with all 3 seeing it for Holodcov.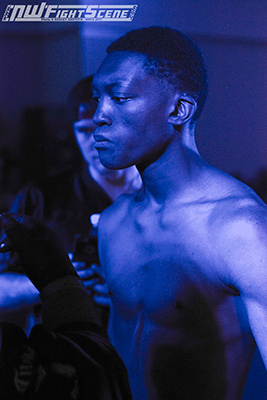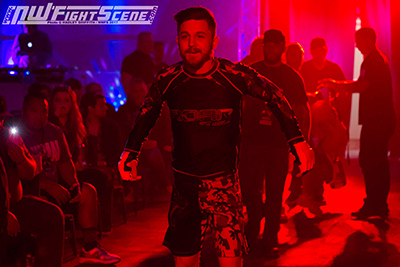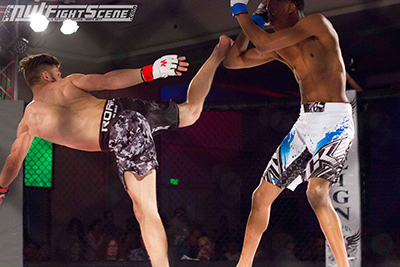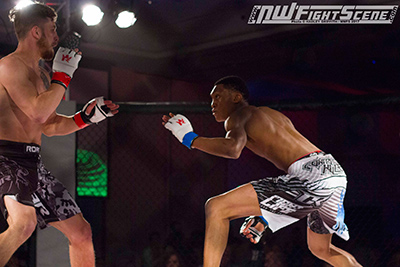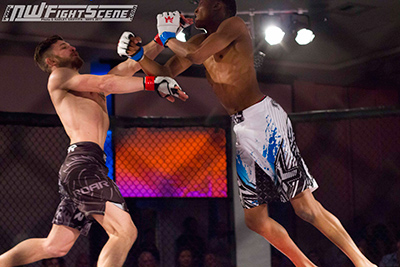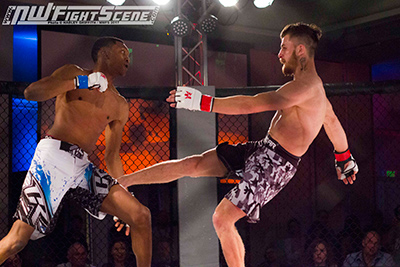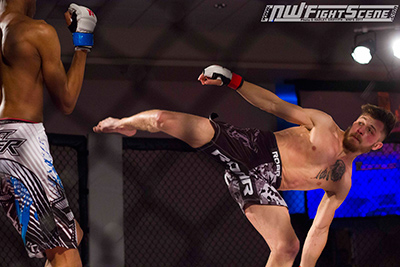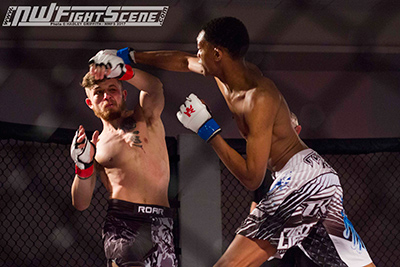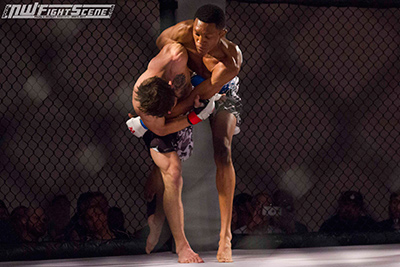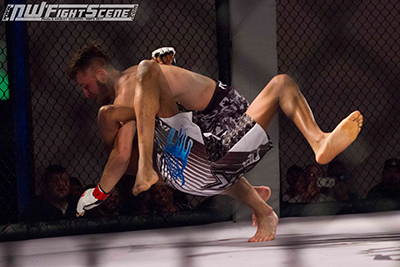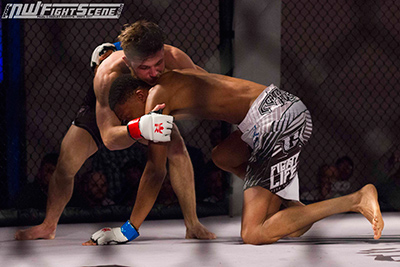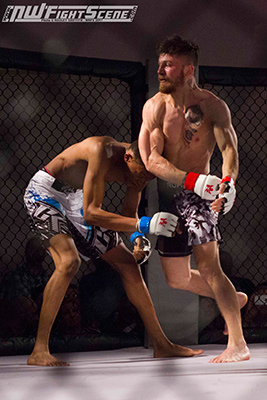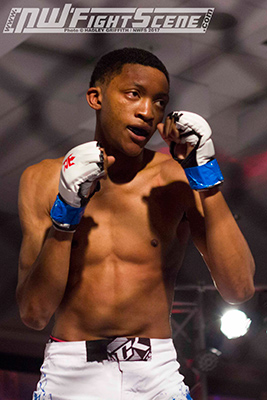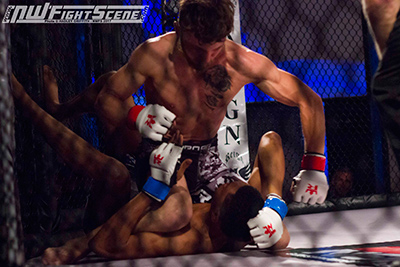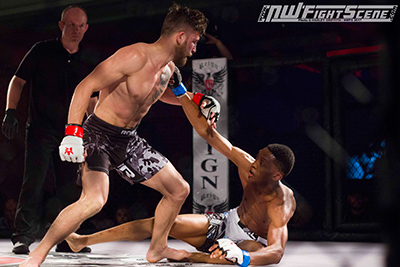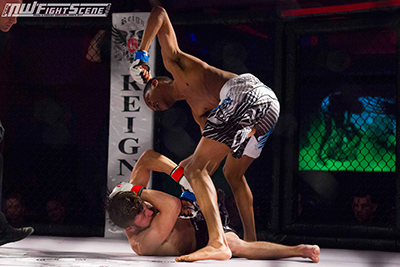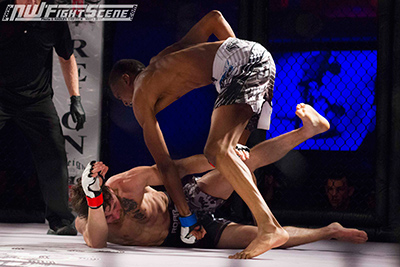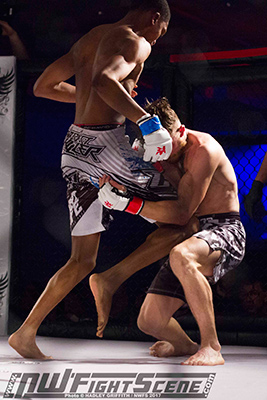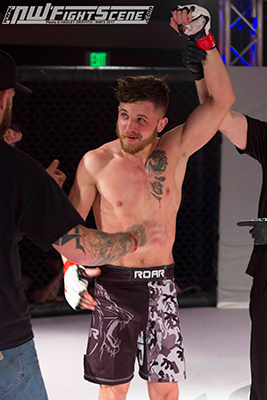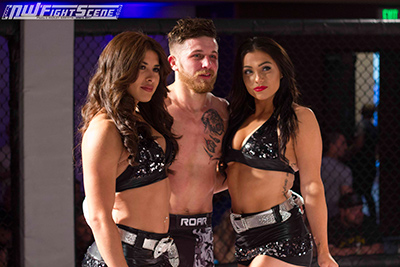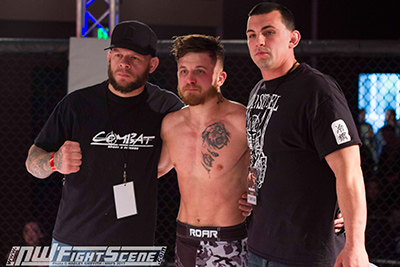 Joseph Brooks and Shykein Chavis traded some impressive kicks to open up the fight card, but when Brooks' punches began to land, Chavis went for the takedown. Brooks managed to land on top and quickly took Chavis' back, looking for the choke and striking to set it up. Chavis defended extremely well- holding out till the bell and making it into the second round. When the fight went back to the mat, Brooks set up for the choke, but grabbed Chavis' arm instead and got the tap from the armbar.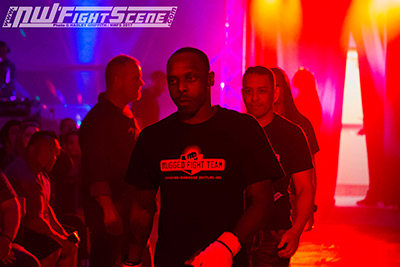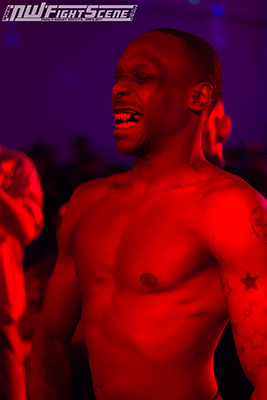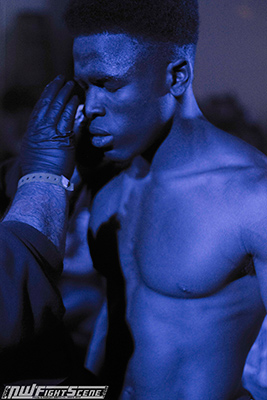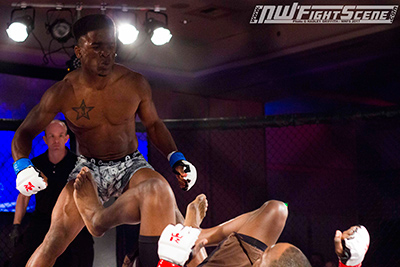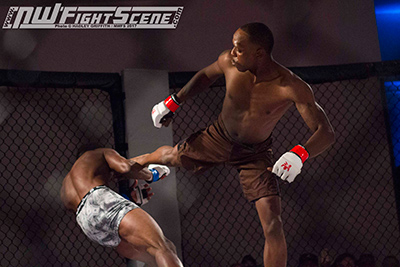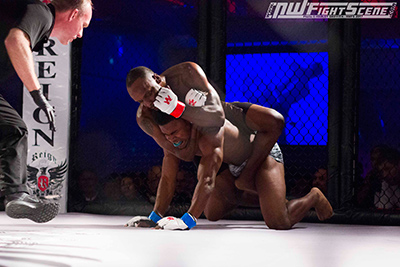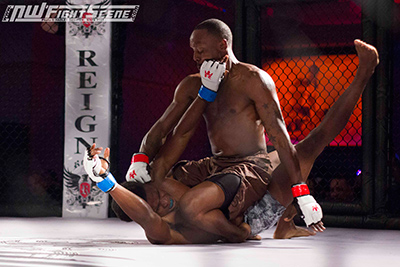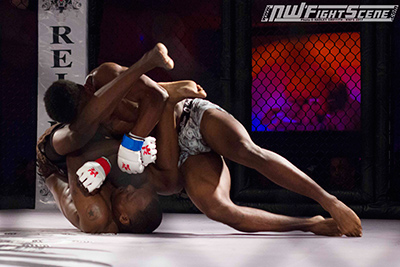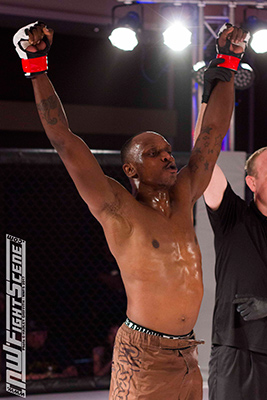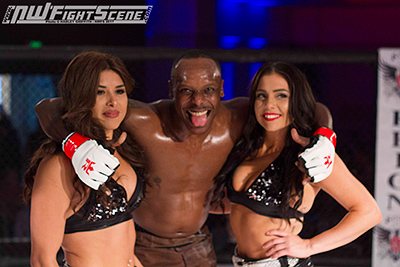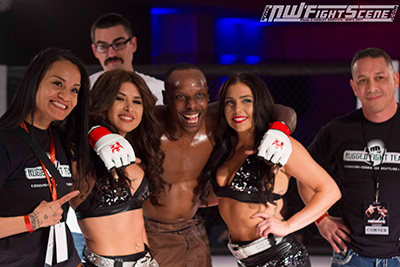 More information about Reign FC at facebook.com/reignpromotions.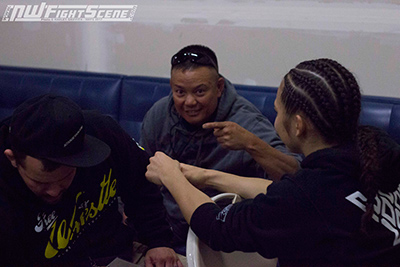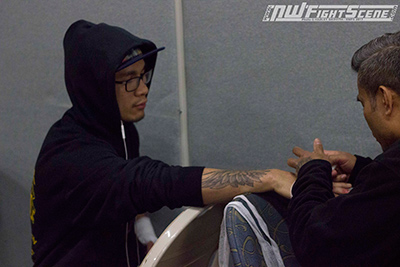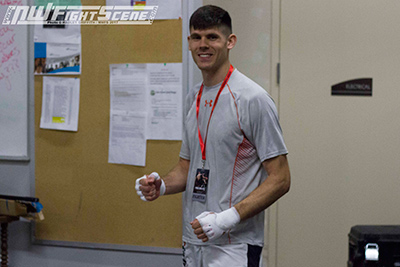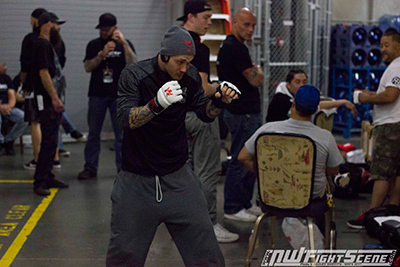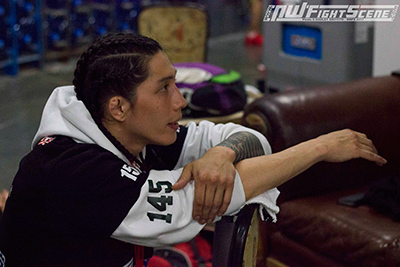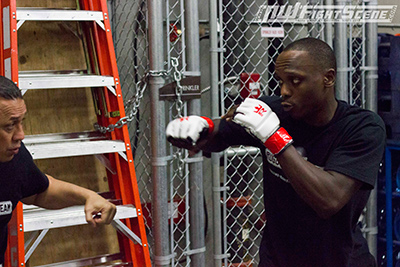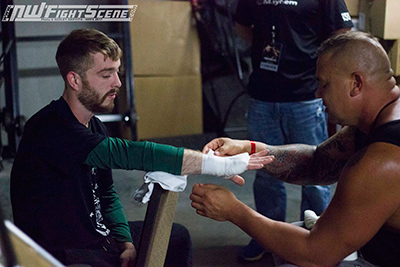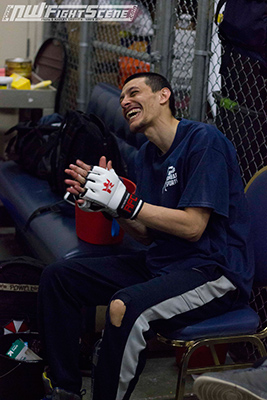 ---
REIGN FC - June 10th 2017 RESULTS
Bout 1 - Amateur 170 lbs
Joseph Brooks (Rugged Fight Team) def Shykein Chavis (Independent)
by Armbar @ 1:40 Rd 2

Bout 2 - Amateur 145 lbs
Eugeniu Holodcov (Combat Sport and Fitness) def Noah Williams (Battleground MMA)
by Unanimous Decision (29-28, 29-28, 30-27)

Bout 3 - Amateur 150 lbs
Ty Orion (Academy of Brian Johnson) def James Pollard (Kitsap Combat Sports)
by Rear Naked Choke @ 2:02 Rd 2

Bout 4 - Amateur 150 lbs
Steven Pederson (SNRG) def Donald Hollum (Bainbridge Boxing Club)
by Rear Naked Choke @ 2:07 Rd 1

Bout 5 - Amateur 170 lbs
Andrei Cretu (Combat Sport and Fitness) def Malik Slack (Independent)
by Neck Crank @ 1:32 Rd 1

Bout 6 - Amateur 205 lbs
Nick Mills (Battleground MMA) def Skyler Castillo (Kitsap Combat Sports)
by Split Decision (29-28, 30-27, 28-29)

Bout 7 - Amateur 155 lbs
Nic Merritt (SNRG) def Brent Eidson Sanchez (Team Blackout)
by TKO @ 1:30 Rd 1

Bout 8 - Amateur 130 lbs
Morgan Engelhardt (WCFT) def Randine Eckholm (Battleground MMA)
by TKO @ 1:23 Rd 1

Bout 9 - Amateur 170 lbs
Eric Godfrey (SNRG) def Bob Gacki (Kitsap Combat Sports)
by Unanimous Decision (29-28, 29-28, 30-27)

Bout 10 - Pro 135 lbs
Brandon Monteith (Academy of Brian Johnson) def Jon Marc Cortez (Singha MA)
by Unanimous Decision (30-27, 30-27, 30-27)

Bout 11 – Pro 185 lbs
AJ Fuentes (Kitsap Combat Sports) def Taylor Roberts (White Buffalo Warriors)
by TKO @ 4:53 Rd 1

Main Event – Pro 155 lbs
Dustin Winter (Warrior Strength MA/ Elite BJJ) def Dustin Praxedes (SNRG)
by Rear Naked Choke @ 1:09 Rd 1
---




All Photos, Design, and Content © 2006-2017 NW Fightscene™, unless otherwise noted.
Any usage of content on this site is strictly prohibited without the express written consent of NW FightScene™.
Report any errors to webmaster@nwfightscene.com