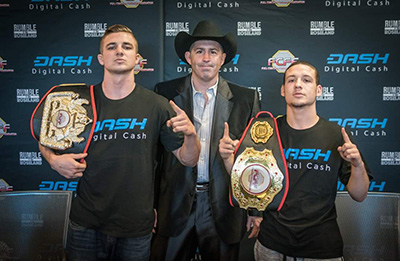 Rumble 97 Main Event fighters Sage Farnworth & Keaneo Moyer with FCFF head Kevin Keeney

On Saturday, April 14th the FCFF will host the top mma athletes in the Pacific Northwest at Rumble @ The Roseland 97. There are three FCFF titles fights in the 135lb, 155lb and 170lb divisions, plus a 145lb Superfight. Keaneo Moyer, the FCFF's 125-pound Champion is bumping up in weight to face Sage Farnworth, the current 135-pound Champion. If Moyer prevails, he will join the ranks of an elite few that have held two FCFF division titles simultaneously. The undercard features two former FCFF Champions (Abdul Kamara and David Converse), plus two female fights. Doors open on fight night at 6pm, fights start at 7pm at the Roseland Theater. Tickets at Cascade Tickets, or in person (with no processing fee) at Bridge City Fight Shop.

The Main Event on Saturday, April 14th could be one for the FCFF's record books. The FCFF's Flyweight Champion, Keaneo Moyer looks to extend his dominance in the FCFF by taking on his biggest challenge yet. He will face the Bantamweight division Champion, Sage Farnworth. Moyer is not only bumping up in weight, but he's facing his strongest and most technical fighter so far. Moyer, a "mouthy" Champion has entered each FCFF fight as the supposed underdog, taking on every challenge and coming out on top. "This is what Champions do. They find a way to win. They look at challenges like the opportunities that they are," explained Kevin Keeney, the FCFF's co-owner and matchmaker.

Moyer first competed in the FCFF at Rumble 92 after several other fights fell through. His FCFF debut was a round one choke over Cody Westphal. Moyer took a massive leap at this point in his career; he verbally challenged the FCFF's current Flyweight Champion, Dominick Abalos and he accepted. Moyer entered the slammer at Rumble 94 as the extreme underdog against Abalos. Abalos had more years of training, more fights, and overall experience, but the Champ yielded to Moyer in only 23 seconds of round one. This was a turning point for Moyer, who faced criticism for his unproven confidence up to this point.

Moyer returned to the Slammer at Rumble 95, in a rush to silence any critics that claimed he was "lucky" in his defeat over Abalos. Moyer, again had many disadvantages on paper against his next opponent, Sean Kalinoski. Kalinoski had a sustainable reach over Moyer, and eight career wins over Moyer's three. It took only 25 seconds for Moyer to end his first Flyweight Title defense over Kalinoski via a round one armbar. Then, Moyer challenged himself again by stepping outside FCFF competition in February of 2018. He was successful and beat Jordan Chartier at Rogue Arena Wars.

The next man in Moyer's path isn't new to him. Five years ago, Farnworth and Moyer fought each other twice (long ago) at two Fisticuff events. Moyer and Farnworth were both brand new to mma. In dramatic fashion, and just as you'd hope, they are one-in-one. Farnworth won in their first meeting via judges decision. Moyer won in their rematch via TKO in round two. Nearly half a decade has passed and they are different fighters, not newbies to the scene, but FCFF division Champions, ready to put everything on the line at Rumble 97.

The FCFF's Co-Main Event features the return of Alex Aguilar, the FCFF's 170-pound Welterweight Champion out of Portland Thai Boxing. Aguilar is the people's Champion. FCFF fight fans have watched his journey since Rumble 74 in 2013. He has three wins at Rumble 74, 76, and 77. He took a small break from competition and return for his first title shot at Rumble 87 in 2016. There, he faced Saul Gallegos-Ruiz and lost via a nail-biting round three submission. This was Aguilar's only mma loss. Aguilar's next moves took him outside the FCFF. In 2017 he beat Sean Clemons at Midtown Throwdown 10, and then Angel Espino and Aaron Bowles in back-to-back King of the Cage events. Then, in September, he returned to the FCFF at Rumble 94 to face a former US Marine (Stefan Habib) for the Title. After a five round war, he came out on top to earn the FCFF's Welterweight Title belt.

Aguilar will return to the Slammer on Saturday, April 14th as the Welterweight Champion and will face Raymond Hill from Art of War. Hill has seven mma wins including the FCFF's Superfight belt from Rumble 88, where he beat Saul Gallegos-Ruiz (the same man that defeated Aguilar in his first title shot). "This match-up is very intriguing. Raymond Hill defeated Saul in an FCFF Superfight. This is the very man that Alex did not defeat in his first Title shot. This could be a mental game," said Keeney. Since earning the FCFF's Superfight belt, Hill has had three additional wins including an impressive round one TKO win at Rumble 96 over Johnny James.

Saturday, April 14th is truly a night of Champions. Chance Marsteiner, the FCFF's 155-pound Lightweight Champion is returning to face Angel Espino of Animals MMA in the third FCFF Title fight of the night. Marsteiner is on an impressive two-year run, since debuting into the sport in April of 2016 against Gage Boyce. Now, he's a division Champion in the FCFF, the most respected mma organization in the State. Marsteiner became the FCFF Champion at Rumble 95 after defeating DJ Nuttall, a highly skilled competitor and much respected fighter from Impact JJ. This will be Espino's first FCFF Title Shot. So far, Espino has won every FCFF fight he's had: Rumble 78 (Submission over Thomas LaRocque), Rumble 91 (Decision over DJ Nuttall), and Rumble 93 (TKO over Matthew Miranda). "I think the Slammer is Angel Espino's happy place," said Keeney, "We'll see if Angel's FCFF streak is still intact after facing Chance for the Title at Rumble 97."

The final belt fight on the Rumble @ The Roseland 97 fight card is the 145-pound Featherweight Superfight between Braydon Akeo of Team Quest and Max Garrison of Straight Blast Gym. Garrison has two wins from Rumble 94 and 96. He first defeated Micah Mitchell via a round three rear naked choke, then he earned his next win via the judges decision over Khelsey Lyday. Akeo returns to FCFF competition to face (what he feels) is a worthy opponent. Akeo stated, at the Rumble 97 press conference, that he wasn't impressed with the first fighter he faced at Rumble 93. He defeated Richard Meadows easily via a round one submission and is looking to make bigger strides in the sport and face tougher competition. His request has been answered, Max Garrison is the FCFF's 2018-Fighter-to-Watch, a designation he earned on the FCFF's "Best of 2017" list.

In addition to four belt fights, fight fans should keep their eyes on the 145-pound undercard match up between Abdul Kamara and David Converse. Kamara formerly held the FCFF's Championship Title at Rumble 91 and he's looking for the right time to turn pro. Kamara will step back into the slammer to face a legend: David Converse. Converse has 17 wins on his mma resume including two FCFF belts from Rumbles 75 (49 second armbar over BJ Sannicolas) and Rumble 76 (decision victory over Sean Gee). "This fight is Main Event worthy and it's just on our undercard, this is how amazing the Rumble 97 event will be," explained Keeney. Notably, there are two female fights on the card. First, Hannah Summers and Patty Elliott will battle at 150-pounds, and second, Alicia Gomness and Loren Sims will battle at 200-pounds. More info and updated fight cards can be found at www.thefcff.com.

About the FCFF:
The FCFF is Oregon's oldest and most respected mixed martial arts promotion company. It's signature event Rumble @ The Roseland was established in 2001 at Roseland theater in downtown Portland. The FCFF has grown across the state, hosting events from Pendleton, Oregon to the Coast. The FCFF hosted two events on the Oregon Coast: the Battle at the Mountain series in partnership with Spirit Mountain Casino and the Caged on the Coast series with Chinook Winds Casino. The FCFF has been featured countless times across the MMA media landscape including being called the 'golden gloves of MMA' by Inside MMA, a nationally broadcast commentary sports program. In 2014 the FCFF begun hosting professional MMA fights in addition to matching up the region's top amateurs in tooth-in-nail battles for belts.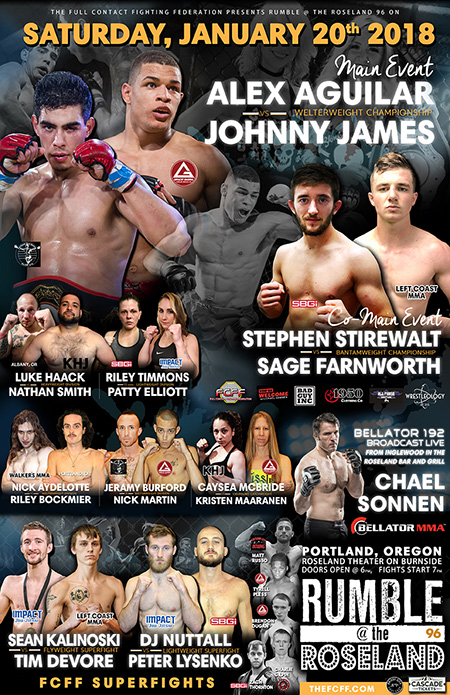 ---