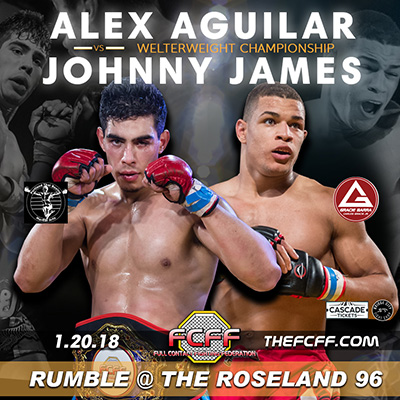 Portland, OR - On Saturday, January 20th the FCFF will kick off 2018 with Rumble @ The Roseland 96. The Main Event brings back Alex Aguilar, the FCFF's 170-pound Welterweight Champion to battle pro-bound Johnny James. James earned two spots on the FCFF's Best of 2017 list and is looking to make dramatic strides in his mma career in 2018. The 135-pound Bantamweight division will have two warriors face off to determine a new champion, as the former champ relinquished his belt. Two FCFF Superfights are scheduled in the 125-pound and 155-pound divisions and the Rumble 96 undercard features Jeramy Burford, who earned the FCFF's Superfight belt at Rumble 92 and Charlie Gilpin, a hopeful out of 503 WCJJ that had a 36 second round one TKO at Rumble 95. Tickets start at $29 at Cascade Tickets online, or in person (without the processing fee) at Bridge City Fight shop. Doors open on fight night at 6pm at the Roseland Theater. Ringcard girls available for photos until the first fight at 7pm. Follow the FCFF's FB feed for the most up-to-the-minute alerts and announcements.

The FCFF's Main Event at Rumble @ The Roseland 96 is a Champion vs. Champion match-up. Alex Aguilar of Portland Thai Boxing is the FCFF's current 170-pound Welterweight Champion. Johnny James is the FCFF's 175-pound Superfight Champion. Both these fighters have earned spots on the FCFF's Best of 2017 list. Johnny James earned the Best knockout of 2017 and the title of Most Improved. At Rumble 93 in July, he faced Saul Gallegos Ruiz and quickly stunned him with a near knockout kick in the first seconds of the fight. Gallegos-Ruiz regained his composure only to be knocked out in round two. Aguilar, the current Champ, earned the FCFF's division title in spectacular fashion. At Rumble 94, he battled in a five round war against the former marine Stefan Habib. This fight was so intense it earned the title of Bout of the Year in the FCFF's Best of 2017 list. "This main event fight cannot be overstated, people on social media have called this the battle of the gods and anything can happen," explains FCFF co-owner and matchmaker, Kevin Keeney.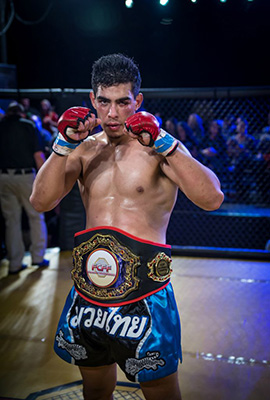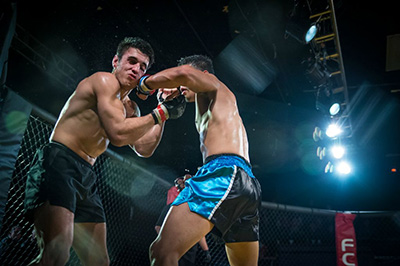 Alex Aguilar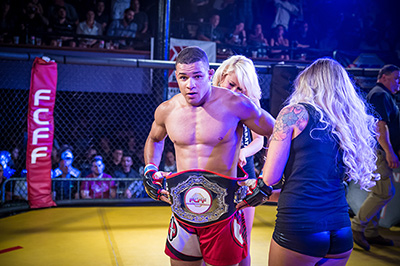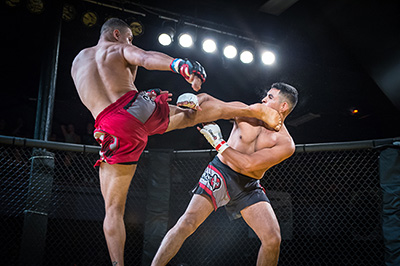 Johnny James
---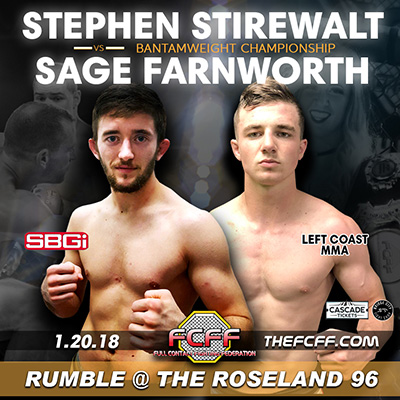 The FCFF will welcome Stephen Stirewalt from Idaho to the slammer for the vacant 135-pound Bantamweight Championship belt against Sage Farnworth. Farnworth has five wins on his MMA resume dating back to 2013. Most recently, he has one win over Mathew Anderson via a round one submission victory at the Reign Fighting Champions event in 2016 and a win over Daniel McElhaney at Budofights 16 in April of 2017 via a round two triangle choke. The Budofights victory came with that organization's belt. Stephen Stirewalt from the Straight Blast Gym franchise, will enter the slammer with six mma wins on his record. Since August of 2016 he's won against Dominic Pierson-Granados (Front Street Fights 9), Jose Martinex (Front Street Fights 13), and Alberto Romo (King of the Cage 39). This will be Stirewalt's first title shot. "It's pretty rare to take two fighters with almost all of their experience outside the FCFF to meet for a division title in the Slammer. Returning FCFF fight fans are in for a treat to see two new FCFF fighters with a considerable amount of experience enter our venue for the first time," said Keeney.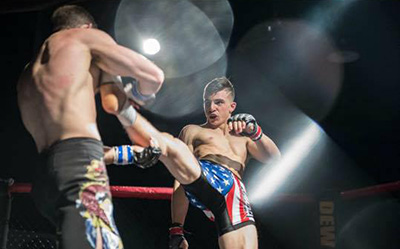 Sage Farnworth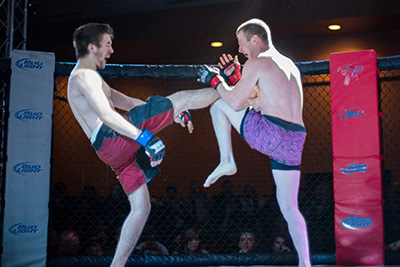 Stephen Stirewalt
---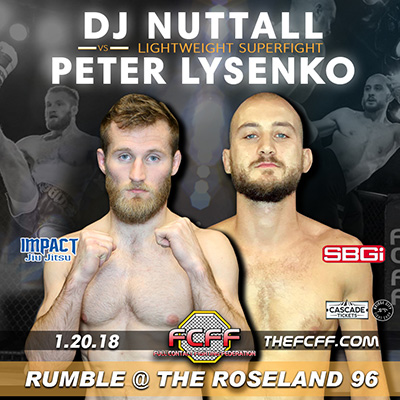 The FCFF's 155-pound Superfight features two very different fighters. Peter Lysenko is on his way up, gaining experience with each fight. He's only 2-0 and he'll face DJ Nuttall, a much more experienced fighter at Rumble 96. If Lysenko wins, it will provide a big boost to his trajectory - to a possible title shot. So far, Lysenko has beat Riley Bockmier (Rumble 94, via decision), and Stephen Lough (Rumble 95, round one TKO). On Saturday, January 20th he'll face an intense increase in competition by facing Nuttall. Nuttall has nine fights under his belt, including holding the Midtown Throwdown belt from a battle in August. There, he won via a round one rear naked choke submission victory over Taylor Rogers. In December, Nuttall faced Chance Marsteiner at Rumble 95, but came up short via the judges decision for the FCFF's Lightweight Championship. Nuttall is hungry for another shot at the FCFF's Title and he needs to go through Lysenko to do it.



Peter Lysenko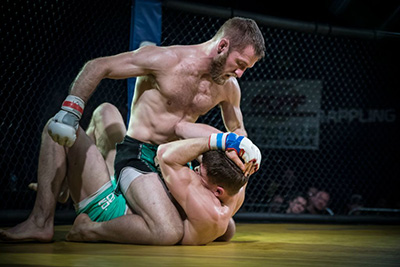 DJ Nuttall
---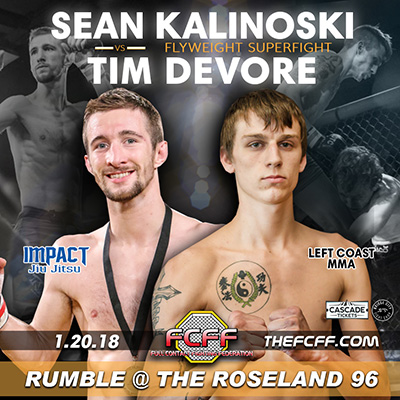 The second Superfight scheduled for Rumble @ The Roseland 96 on Saturday, January 20th will be between Tim DeVore (Left Coast MMA) and Sean Kalinoski (Impact JJ) in the 125-pound Flyweight division. Kalinoski is coming off a heartbreaking loss to Keaneo Moyer for the FCFF's 125-pound Title at Rumble 95 in December. He knows that it's not how many times you get knocked down, but how many times you get back up. He's determined to get right back inside the slammer and reach his goals: the FCFF division Championship. Kalinoski will battle Tim DeVore, who is no slouch. He's had three wins in a row since 2016. He took down Zach Martin at King of the Cage via a round one TKO. Then, he faced Nicholas Hoyez at Budofights 15 and finished the bout via a round two guillotine choke. Finally, in December, at Rumble 95 he faced Brendon Dugan and ended the fight via a submission due to strikes. He's looking strong and ready for the next step - the FCFF Superfight belt.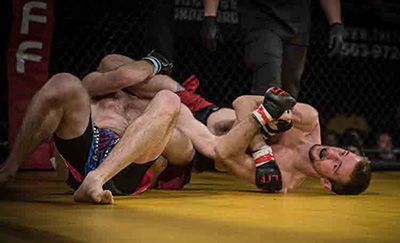 Sean Kalinoski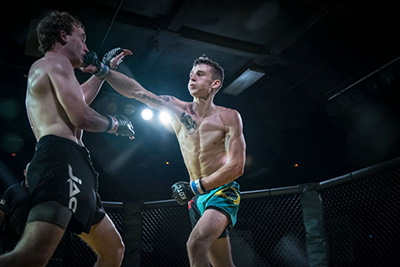 Tim DeVore
---
About the FCFF:
The FCFF is Oregon's oldest and most respected mixed martial arts promotion company. It's signature event Rumble @ The Roseland was established in 2001 at Roseland theater in downtown Portland. The FCFF has grown across the state, hosting events from Pendleton, Oregon to the Coast. The FCFF hosted two events on the Oregon Coast: the Battle at the Mountain series in partnership with Spirit Mountain Casino and the Caged on the Coast series with Chinook Winds Casino. The FCFF has been featured countless times across the MMA media landscape including being called the 'golden gloves of MMA' by Inside MMA, a nationally broadcast commentary sports program. In 2014 the FCFF begun hosting professional MMA fights in addition to matching up the region's top amateurs in tooth-in-nail battles for belts.

More information at www.thefcff.com.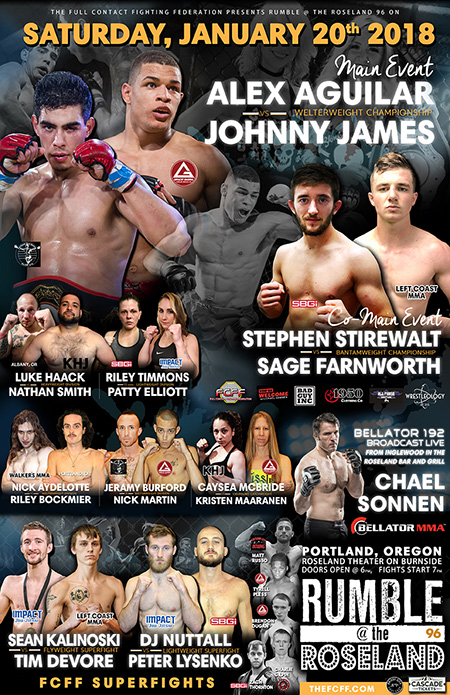 ---