The Region's Top Two Featherweight Pro Fighters Collide on July 22nd at Rumble 93

On Saturday, July 22nd the FCFF will blow-the-lid off the Roseland Theater in what could be the best line-up of mixed martial arts (MMA) fights in Portland in 2017. Rumble @ The Roseland 93 will feature a Featherweight Pro Fight, with the region's top two 145-lbers: Cris "Sunshine" Williams and Dylan "The Bull" Atkinson. In addition, two FCFF champions will return to the 25-foot steel cage, known to fight fans as "The Slammer," in the 125-pound and 135-pound divisions. Plus, two FCFF Superfights will take place at 145-pounds and 170-pounds. The undercard is brimming with talent and new arrivals on the MMA scene - including a female fight. General admission tickets begin at $29, with no processing fee when you purchase at the locally owned MMA store: Bridge City Fight Shop. Online tickets available at Cascade Tickets.

The FCFF's "Main Event" at Rumble @ The Roseland 93 is a match-up of epic proportions. Cris "Sunshine" Williams has an undefeated record, yet to be eclipsed, in both his seven amateur fights and two pro fights. While previously fighting in the slammer, he earned the FCFF's "2016 Fighter to Watch" award and lived up to that designation. In 2016, he scorched his way to two FCFF Championship Titles in the lightweight and featherweight divisions, simultaniously. "Cris is incredibly fast and versatile. He's earned FCFF victories due to armbars, chokes, and TKOs due to strikes. He's a difficult fighter to train for," explained FCFF Co-Owner Kevin Keeney. Williams earned the FCFF's "Fighter of the Year" award in 2016 and moved up to a pro career in February of 2017. His first pro win was against Wyatt Gonzalez at CageSport 44. Then in May, he fought and won against Elijah Ross at King of the Cage: Future Kings via a solid round-one (rear naked choke) submission. Williams has had his hand raised in victory in every fight he's started thus far.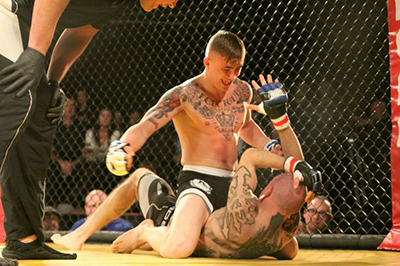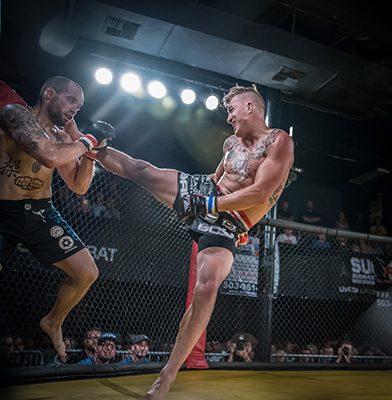 Cris Williams

Williams is definitely blazing a path for himself, however, Dylan Atkinson will be his toughest competition to-date. Williams is undefeated at 9-0, but Atkinson had nine wins before he left the amateur ranks. He's defeated pro names like: Journey Newson and Justin Mark. Atkinson has faced some ups-and-downs as the competition levels rise in the pro arena. He's had four pro wins against: Brent Alvarez (Prime Fighting 1), Trevor Sojot (CageSport XXVIII), Kurt Weinrich (King of the Cage), and Daniel Elliott (CageSport 43). All four of Atkinson's pro wins have come from a variety of submissions: rear naked choke, triangle choke, and verbal submission. "There is no doubt about it. Dylan is going to put on a jujitsu clinic on July 22nd. A lot of people do not know, that in his nine amateur wins, he's only had one fight that he didn't finish and the judges unanimously awarded him the win - that is remarkable. He's highly skilled and the mma community is anticipating this fight," explained Keeney.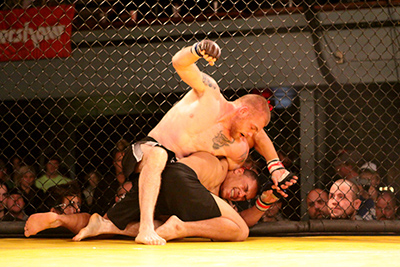 Dylan Atkinson

The FCFF's newly minted 135-pound Bantamweight Champion, Abdul Kamara is returning to the slammer to make his first title defense attempt against Ericson Abalos at Rumble @ The Roseland 93. This fights brings two of the best Bantamweights in the region together - this fight card is truly spectacular. Kamara is the FCFF's Champion, and the former Champion of two other organizations: Prime Fighting and Battle in the Burg. Abalos is the FCFF's division Superfight Champ and suffered the loss during a title shot at Rumble at the Roseland 89 in December. There, he faced Tristian Lindi for the big prize and suffered from an unfortunate injury that did not allow him to continue the fight.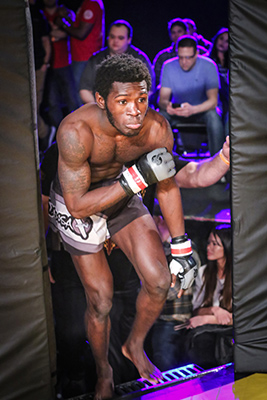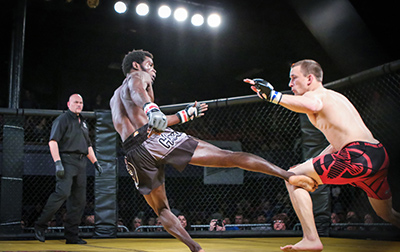 Abdul Kamara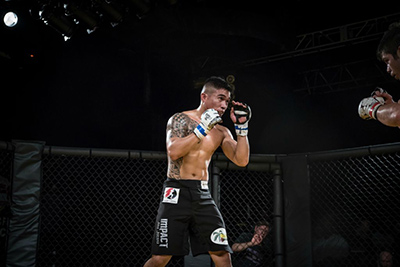 Ericson Abalos

Emotions are running high as Abalos is on the Rumble 93 fight card with his brother Dominick, who will be fighting the FCFF's current 125-pound Flyweight Champion: Isiaah Garza. Garza became the FCFF's Flyweight Champ earlier this year at Rumble @ The Roseland 90 in January. There, he faced Justin Hubbard and earned the belt via an impressive round-one submission victory. While Dominick Abalos is bringing a long history of mma competition (since 2012) to the slammer in the Flyweight Championship fight, this will be his first fight in the FCFF. The Abalos brothers are looking to make this a family-affair and bring two belts home on Saturday, July 22nd. "Ericson and Dominick are facing extremely tough and talented fighters, who have already proven themselves as champions. They aren't leaving a thing on the table and the brothers are coming in determined," said Keeney.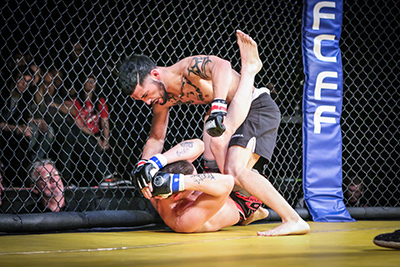 Isiaah Garza

The two FCFF Superfights are at 170-pounds (Welterweight) and 145-pounds (Featherweight). The Welterweight Superfight is very significant, as it brings a former FCFF Champion back to competition. Saul Gallegos-Ruiz was the FCFF's Champion at Rumble at the Roseland 87, last year. In May of 2016 he battled Alex Aguilar in an exciting fight and overtook him in round three (tapout). Gallegos-Ruiz returned in the very next event to defend his newly earned belt - it did not go his way. He lost his belt to Raymond Hill almost exactly one year ago at Rumble 88. This welterweight Superfight is Gallegos-Ruiz's first step to reclaiming what was once his, the FCFF Championship Title. Gallegos-Ruiz will go up against Johnny James from arguably one of the best gyms in the Pacific Northwest: Gracie Barra. James is coming off a TKO win over Denis McCarthy at Prime Fighting in March and is hungry to prove himself.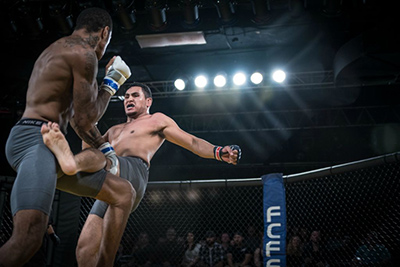 Saul Gallegos-Ruiz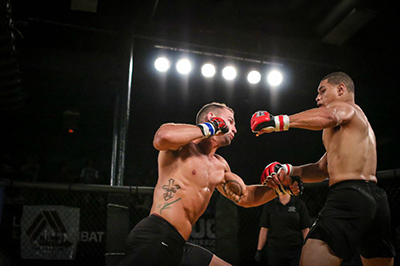 Johnny James

The FCFF's 145-pound Superfight features Dylan Grell of Bend, OR and Gunnar Metzger of Vancouver, WA. Grell has only debuted in August of 2016 and he's had three impressive wins thus far. Grell's debut fight was a seven second knockout over Dylan Holcomb at Midtown Throwdown 9. He gained momentum and won again at Budofights 15 via a TKO over Kody Flores. Most recently, at Rumble 91 in March, he fought in the slammer against Steven Chang and earned a unanimous win via the judges decision. Grell could be on a path to the Title with a win on July 22nd at Rumble @ The Roseland 93.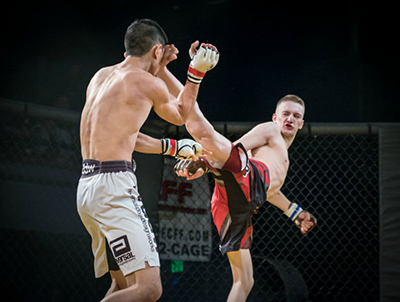 Dylan Grell

Doors open at the Roseland theater (8 NW 6th Ave, Portland, OR 97209) at 6pm for Rumble @ The Roseland 93, presented by the FCFF. Tickets available without a processing fee at Bridge City Fight Shop (7614 SW Nyberg St, Tualatin, OR 97062) and start at $29 for general admission entry. Tickets available online at www.CascadeTickets.com. The FCFF's events are family friendly on the main floor and 21+ in the balcony. MMA fights begin at 7pm sharp. Tickets will be available at the door for purchase onsite. More information, photo galleries, articles, past results and more visit: www.thefcff.com.

About the FCFF:
The FCFF is Oregon's oldest and most respected mixed martial arts promotions company. It's signature event "Rumble @ The Roseland" was established in 2001 at Roseland theater in downtown Portland. The FCFF has grown across the state, hosting events from Pendleton, Oregon to the Coast. The FCFF hosted two events on the Oregon Coast: the Battle at the Mountain" series in partnership with Spirit Mountain Casino and the "Caged on the Coast" series with Chinook Winds Casino. The FCFF has been featured countless times across the MMA media landscape including being called the 'golden gloves of MMA' by Inside MMA, a nationally broadcast commentary sports program. In 2014 the FCFF begun hosting professional MMA fights in addition to matching up the region's top amateurs in tooth-in-nail battles for belts.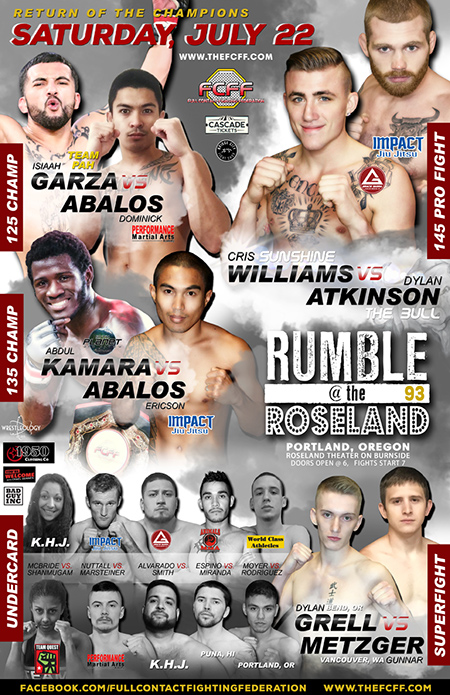 ---