Rumble at the Roseland 89 - Dec 10, 2016
Roseland Theater - Portland, Oregon
Results courtesy of Johnny Fights
---
Rumble at the Roseland 89 - the Full Contact Fighting Federation's final 2016 MMA event - went down Dec 10th in Portland with 12 amateur fights taking place inside the promotion's legendary "SLAMMER". Fight fans on hand inside the Roseland Theater and those watching live on the FloCombat.com stream got a treat when the weigh-ins for Dec 11th's Submission Underground II were held at intermission. Stepping onto the scales inside the cage were MMA Superstars and SUG 2 headliners Dan Henderson and Jon Jones, former UFC Bantamweight Champ Miesha Tate, and Portland native and Combate Americas star Kyra Batara.

The main event was for the FCFF Amateur 135 lb Championship belt and featured a great back and forth battle between Rogue Combat Academy's Tristan Lindi and Impact Jiu-jitsu's Ericson Abalos that ended in an odd and unfortunate fashion in the third round. The fight stalled out on the ground so referee Dave Hagen stood the two fighters up. Abalos was in Lindi's guard, and when he stood up and moved away to his right, Lindi swung his legs in the same direction, Abalos stepping on one and turning his knee. Abalos immediately went down in pain and referee Hagen called and end to the fight, with the fight officially going down as a win for Lindi due to verbal submission to injury. Lindi remains the FCFF Bantamweight Champion.

The Co-main Event drew the biggest crowd reaction when Impact Jiu-jitsu's Michael Collazo got Rogue Combat's Derek Rottenberg to tap to a guillotine choke early in the third round to win the vacant FCFF Middleweight Title. In the first two rounds, it was Rottenberg who was applying the pressure, and who nearly finished the fight in the first by dropping Collazo with a big right hand and then going in for the kill on the ground, with Collazo saved by the bell. In the third round, Rottenberg charged hard for a takedown, Collazo was ready and took Rottenberg's neck, dropped to the canvas and finished the choke at the 26 second mark. The very pro-Collazo crowd went absolutely nuts!

The FCFF 145 lb Superfight belt went to Vancouver Elite's Brandon Cromartie over Sharks MMA's Roberto Saenz. The first two rounds were competitive but the edge belonged to Cromartie. In the third, Saenz went for broke, nearly finishing via submission and controlling the entire round. It went to the judges scorecard which read 29-27, 29-28, 28-28 for Cromartie by majority decision.

The FCFF's next show is Rumble at the Roseland 90 scheduled for January 28th, followed by Submission Underground 3 on January 29th, both happening at the Roseland Theater in downtown Portland.

More info at thefcff.com.
---
RUMBLE AT THE ROSELAND 89 Results
Bout 1 - 155 lbs
Matt Miranda (0-3 - Puna HI) def Lawrence Phanomsack (0-1 - Gracie Barra PDX)
by Split Decision (29-28, 29-28, 28-29)

Bout 2 - 170 lbs
Cutter Pember (1-0 - Vancouver Elite MA) def James Rosenweig (Debut - Valhalla KB)
by Arm Triangle @ 1:58 Rd 1

Bout 3 - 160 lbs
Yan Ogly (Debut - Portland) def Josh Manfredi (Debut - Enso Jiu-jitsu)
by Unanimous Decision (All judges 29-28)

Bout 4 - 175 lbs
Kaiwi Amina (1-0 - PDX Thai Boxing) def Abdullah Saleem (Debut - Gracie Barra PDX)
by TKO (Ref Stop - Strikes) @ 1:39 Rd 2

Bout 5 - 135 lbs
Sean Kalinoski (4-4 - Sharks MMA) def Samuel Crawford (2-3 - Art of War)
by Armbar @ 0:40 Rd 1

Bout 6 - 220 lbs
Fernando Alvarado (0-1 - Gracie Barra PDX) def Kyle Weese (Debut - Longview WA)
by TKO (Ref Stop - Strikes) @ 0:10 Rd 1

Bout 7 - 165 lbs
Phelan Carron (4-2 - Impact JJ) def Jordan Van Barriger (2-0 - Portland)
by TKO (Ref Stop - Strikes) @ 2:38 Rd 1

Bout 8 - 170 lbs
Justin Wharton (Debut - Battleground WA) def Alex Shumate (Debut - Longview WA)
by TKO (Ref Stop - Strikes) @1:53 Rd 1

Bout 9 - 170 lbs
Scott Baker (5-10 - World Class Athletics) def Justin Weese (6-3 - Molalla OR)
by Guillotine Choke @ 1:26 Rd 1

Bout 10 - FCFF 145 lb Superfight
Brandon Cromartie (4-4 - Vancouver Elite MA) def Roberto Saenz (3-2 - Sharks MMA)
by Majority Decision (29-27, 29-28, 28-28)

Co-main Event - FCFF 185 lb Title
Michael Collazo (5-4 - Impact JJ) def Derek Rottenberg (2-1 - Rogue Combat Academy)
by Guillotine Choke @ 0:26 Rd 3

Main Event - FCFF 135 lb Title
Tristan Lindi (5-0 - Rogue Combat Academy) def Ericson Abalos (5-5 - Impact JJ)
by Verbal Submission (Injury) @ 1:59 Rd 3
---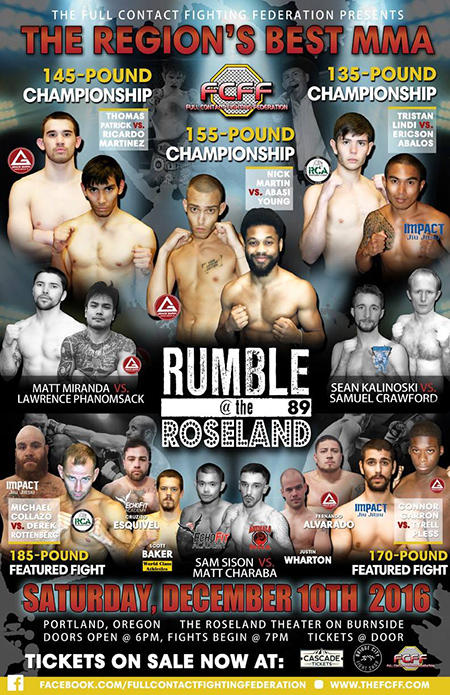 ---




All Photos, Design, and Content © 2006-2017 NW Fightscene™, unless otherwise noted.
Any usage of content on this site is strictly prohibited without the express written consent of NW FightScene™.
Report any errors to webmaster@nwfightscene.com