World famous professional fighters: Jon Jones, Dan Henderson and Miesha Tate will weigh in at Rumble 89 for next day Submission Underground 2 event

On Saturday, December 10th the FCFF will take over the Roseland Theater in downtown Portland for the 89th installment of the "Rumble @ The Roseland" event series. This is the premier venue for rising mixed martial artists, dozens of our Championship Title holders have risen to the international stage. The Rumble @ The Roseland 89 Fight Card features four Championship Title fights in the 135, 145, 155, and 185 pound divisions, as well as a 145-pound featherweight Superfight. Rumble 89 ticketholders will get to see international superstars: Jon Jones, Dan Henderson and Miesha Tate weigh in for the next day's Submission Underground 2 event. Tickets available at Bridge City Fight Shop and online at Cascade Tickets. Doors open at 6pm, fights begin at 7pm in the 25-foot steel cage, known to fight fans as "The Slammer." Updated fight cards available at www.thefcff.com.

Ericson Abalos, the FCFF's current 135-pound Superfight belt holder will have his first Title attempt on Saturday, December 10th. He's looking to upgrade from the Superfight Champ to the division Champion. He will face the FCFF's current Bantamweight Champ, Tristan Lindi. Lindi earned the FCFF's Championship title at Rumble @ The Roseland 87 in May. He battled five hard-fought rounds against Ryen Betzhold, with the lead bouncing back-and-forth between them. In the final 90 seconds of the fight, Lindi secured the rear naked choke victory. This will be Lindi's first Title defense attempt against a hungry Abalos, who is ready for his title shot. Abalos' last win was in August at the "Midtown Throwdown 9" event. There he took on Asa Carlile and won via a round one rear naked choke submission. He competed in the FCFF's previous Rumble @ The Roseland event on July 16th and beat Sean Kalinoski to take home the FCFF's Superfight belt.

The FCFF's vacant 185-pound Middleweight Championship fight will be a battle. Derek Rottenberg is looking to extend his undefeated run against Michael Collazo who has everything to prove to validate his mixed record, that includes five wins since 2014. Collazo's last win was at the "Arena Wars" event against a former FCFF Champion, Scot Davenport. He earned the nail biting submission win over Davenport in the final 17 seconds of the final round. His last appearance in the FCFF's slammer was at Rumble @ The Roseland 84 where he beat Shalamar Washington. This fight also ended in round three via TKO from referee stoppage due to strikes. Rottenberg debuted into the fight scene in 2016 and hasn't looked back. At Rumble @ The Roseland 89 he earned the win over Johnny James by a TKO victory due to strikes. In April, he beat Eric McConico at the "Arena Wars" event by judge's decision. "This fight could steal fight of the night honors. They are both finishers and can stand up and fight as well as secure submission victories. Anything can happen," said Heather Standing the FCFF's matchmaker.

The FCFF's 155-pound Lightweight Championship Title is also vacant and two warriors will face off: Abasi Young vs. Nick Martin. Martin, fighting out of the Gracie Barra gym in Portland has dabbled in fighting since 2011, he's back and more dedicated than ever. His last two fights were with the FCFF at Rumble 87 and Rumble 80. At Rumble 80 he faced Jeremy Brill and won via the judge's decision. At Rumble 87 he faced Erik Kirkpatrick and in 1:38 seconds of round number one, sealed the submission victory. Martin will face Abasi Young, a relative newbie to the FCFF. Young competed at Rumble @ The Roseland 87 and fought on the same fight card as Martin against a different fighter, Adan Suarez. Young secured a round two TKO victory over Suarez and is looking to make a bigger leap on December 10th with a Title shot.

The FCFF's 145-pound division is loaded with talent. Two belt fights will take place. First, the Championship Title. This is Thomas Patrick's chance at redemption. At Rumble @ The Roseland 83 in August of 2015 he faced Justin Zabroski and lost his opportunity to be Champion. Since then, he's had four wins and one loss, working extremely hard to get back into title contention. Three of Patrick's 2016 wins have been submission victories: Ivo Wallace at Rumble 86, Steven Kelley at "AX Fighting Championships," and finally, Quinten Wyland at Rumble 87. He honored the request to have an immediate rematch with Wyland at Rumble 88 and lost. He is a fighter with an immense amount of honor to grant an immediate rematch. He moves forward and now fights for the FCFF Championship once more against Richard Martinez at Rumble @ The Roseland 89. Martinez will be stiff competition. His last win was also a submission victory against Christopher Logan at Rumble 86. Prior to this, he was in the Slammer at Rumble 82 and submitted Sean Kalinoski in round one.

The 145-pound division will also feature a Superfight match-up on December 10th at Rumble @ The Roseland 89. The FCFF hosts a Superfight when both fighters are high enough caliber to be the next eligible contenders to face the division Champion. Roberto Saenz of Sharks MMA will face Brandon Cromartie of Vancouver Elite in the FCFF's 145-pound Superfight. The FCFF's complete fight card for Rumble @ The Roseland 89 can be found online at www.thefcff.com

About the FCFF:
The FCFF is Oregon's oldest and most respected mixed martial arts promotions company. It's signature event "Rumble @ The Roseland" was established in 2001 at Roseland theater in downtown Portland. The FCFF has grown across the state, hosting events from Pendleton, Oregon to the Coast. Most recently, the FCFF has established the "Battle at the Mountain" series in partnership with Spirit Mountain Casino. The FCFF has been featured countless times across the MMA media landscape including being called the 'golden gloves of MMA' by Inside MMA, a nationally broadcast commentary sports program. In 2014 the FCFF begun hosting professional mma fights in addition to matching up the region's top amateurs in tooth-in-nail battles for the belt.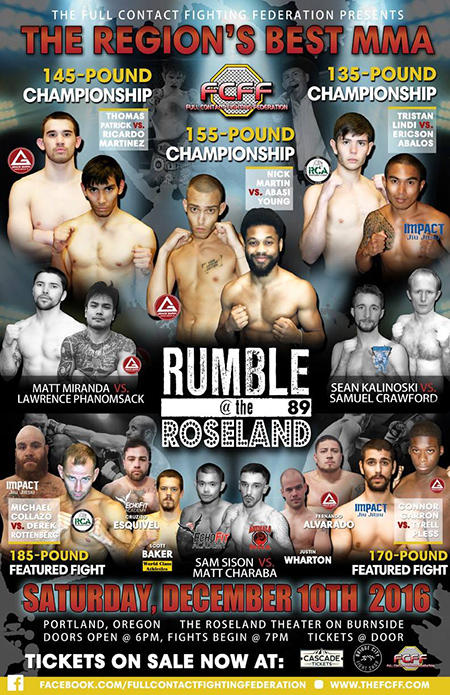 ---