Rumble at the Roseland 88 - July 16, 2016
Roseland Theater - Portland, Oregon
Results courtesy of Johnny Fights
---
The latest Full Contact Fighting Federation show went down last night at the Roseland Theater in downtown Portland, with 12 amateur MMA contests taking place inside 'The Slammer'. In the main event, Gracie Barra's Tyree Fortune finished Impact Jiu-jitsu's Clayton York in the 2nd with ground strikes for the TKO win. As Fortune did not make weight, the FCFF 205 lb belt remains vacant.

In other action, Gracie Barra's Cris Williams won the FCFF 155lb belt via a 2nd round armbar sumbission of Impact JJ's Joey Dursse. NW Elite's Jacob Romero retained his 125 lb Title with a 54 second guillotine choke of Richard Carranza. Art of War's Raymond Hill became the new 170 lb Champ by way of 2nd round TKO of Saul Gallegos-Ruiz.

Alive MMA's Quinten Wyland won the 155lb Superfight belt by knocking out Thomas Patrick in the first, while Impact JJ's Ericson Abalos took home the 135 lb Superfight belt with a first round RNC submission of Sean Kalinoski.

The FCFF's next show is Rumble at the Roseland 89 scheduled for October 1st.
More info at thefcff.com.
---
RUMBLE AT THE ROSELAND 88 Results
Main Event - 205 lbs
Tyree Fortune (Gracie Barra PDX) def Clayton York (Impact JJ)
by TKO (Strikes) in Rd 2

Co-main Event - 155 lb Title
Cris Williams (Gracie Barra PDX) def Joey Dursse (Impact JJ)
by Armbar in Rd 2

170 lb Title
Raymond Hill (Art of War) def Saul Gallegos-Ruiz (Impact JJ)
by TKO (Strikes) in Rd 2

125 lb Title
Jacob Romero (NW Elite) def Richard Carranza (Rogue Combat Academy)
by Guillotine Choke @ 0:54 Rd 1

155 lb Superfight
Quinten Wyland (Alive MMA) def Thomas Patrick (Gracie Barra PDX)
by Knockout @ 1:18 Rd 1

135 lb Superfight
Ericson Abalos (Impact JJ) def Sean Kalinoski (Sharks MMA)
by Rear Naked Choke @ 1:02 Rd 1

160 lbs
Stefan Habib (Art of War) def Roberto Saenz (Sharks MMA)
by Unanimous Decision

170 lbs
Mario Shonkwiler (Straight Blast Gym) def Connor Carron (Impact JJ)
by Guillotine Choke in Rd 1

170 lbs
Phelan Carron (Impact JJ) def Jon Brown (Milwaukie OR)
by TKO (Strikes) in Rd 1

135 lbs
Samuel Crawford (Performance MA) def Emmett Earlywine (Vancouver Elite)
by Armbar @ 0:54 Rd 1

185 lbs
Derek Rottenberg (Rogue Combat) def Johnny James (Gracie Barra PDX)
by TKO in Rd 2

155 lbs
Eduardo Torres (SBGi) def Exie Benitez (Gracie Barra PDX)
by Rear Naked Choke @ 2:59 Rd 1
---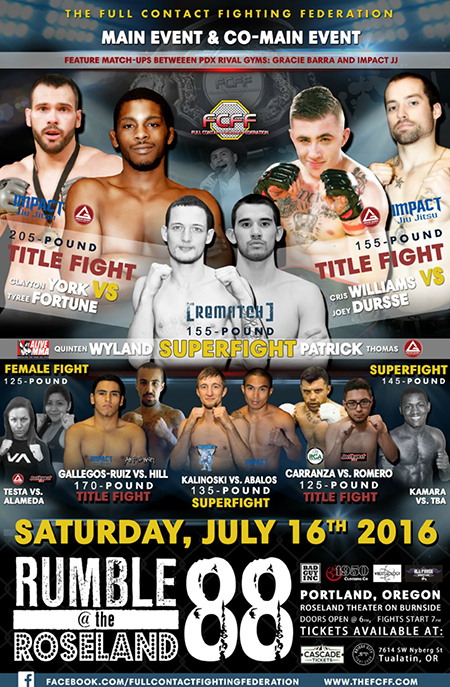 ---




All Photos, Design, and Content © 2006-2017 NW Fightscene™, unless otherwise noted.
Any usage of content on this site is strictly prohibited without the express written consent of NW FightScene™.
Report any errors to webmaster@nwfightscene.com