Portland, OR - On Saturday, May 19th the Full Contact Fighting Federation (FCFF) is bringing the top MMA talent to the Roseland Theater for an epic event: Rumble @ The Roseland 63. This Fight Card features a larger-than-life rematch for the 155-pound Title that is two-years in the making, a Heavyweight Championship face-off featuring "young-blood, verses age-and-skill" and a sure-to-be battle for the 205-pound belt. The Rumble 63 fight card also features Portland wrestling legend Tarrence Williams, who could go all-the-way to the UFC within two years. Plus, a women's 125-pound division fight and a number of match-ups that will determine the #1 contender in their respective divisions.
ABOUT THE TITLE FIGHTS: The current FCFF Lightweight Champion, William Hill of Sports Lab is coming off four straight wins in a row, which includes the attainment of the FCFF 155-pound Championship Belt at Rumble @ The Roseland 60 on December 3rd 2011. There he defeated the mega-tough Ryan Truitt via tapout due to choke at 1:27 of round number two.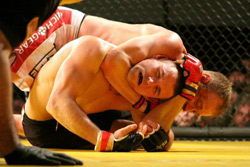 Previous to that he aggressively finished each of his last three fights via tapout due to strikes, tapout due to armbar and a first round TKO. The FCFF Lightweight Fight will bring William Hill an opportunity to "prove" himself as this is an emotional rematch, two years in the making. He will face Clint Patterson of Team USA. They first faced off at Rumble @ The Roseland 50 on March 6th 2010. There things went wrong immediately for Hill as Patterson secured a armbar in only one minute and four seconds of round number one.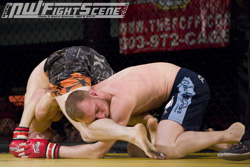 "This could be the fight of the night as both fighters have something personal to prove" says FCFF Co-owner Kevin Keeney.
In the FCFF's Main Event for Rumble @ The Roseland 63 the FCFF Heavyweight Champion, Nick Biron of Washougal will make his first Title defense against Damion Martindale on May 19th. Martindale will be Biron's toughest challenge to date. Martindale is an FCFF veteran and just won a FCFF Heavyweight Superfight Belt on March 10th at Rumble 62. Martindale brings a stellar wrestling career with the credits of beating the now super-famous UFC Fighter Brock Lesnar in 1997, while in a college wrestling tournament. Martindale is an extremely dangerous wrestler; he took down the 6'8'' Darron O'Donnell via arm triangle for the Superfight belt at the last FCFF event. The Current FCFF Champ, Nick Biron first earned the FCFF Heavyweight belt at Rumble at the Roseland 61 on January 21st and looks to extend his record on Saturday, May 19th.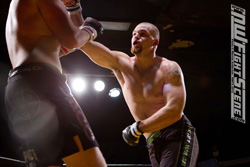 The 205-pound Title fight is something true FCFF are looking forward too. The current Champ, Jordon Hinchman is a character. He often wears hot pink shirts and paints his toe nails, but when that cage door closes he is all business, racking up win after win since his debut in the Summer of 2011. Hinchman became a Champion on January 21st 2012 after being Jason Pittman at Rumble at the Roseland 61. Hinchman was able to submit the mma teacher via a round two tapout due to kimura, which made everyone take notice.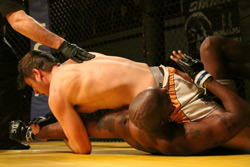 In 2011, at Rumble @ The Roseland 58 Hinchman earned one of the FCFF's top honors of the year: Choke of the Year. He took out Travis Napier via tapout due to choke in only 23 second of round number one. To add to the emotion of Hinchman's first title defense, he will take on a student of Jason Pittman (who he beat for the Title) from the fight club 503 West Coast Jiu-Jitsu: Jeremy Morse.
Tickets available at www.ticketswest.com or at Safeway Tickets West locations.
For more info, visit thefcff.com.
---