Six High-Drama Title Fights on Saturday, Jan 21

Portland, OR - The 10th Anniversary Show, Rumble @ The Roseland 61 is selling out fast. On the Fight Card there are an amazing six Title fights scheduled. At Rumble 61 Liz McCarthy of Team Quest will face-off against Liz Tracy of Team Trident for the 115-pound belt. McCarthy last fought in the FCFF at Rumble @ The Rosleand 50 and won easily via Medical Stoppage. Her competition on January 21st will be Liz Tracy who recently beat fan favorite and Jiu-Jitsu technician Emily Whitmire via a hard-fought majority decision victory at Caged on the Coast 6 on November 5th 2011. Tracy brings over a decade of wrestling experience to the cage as well as gritty determination.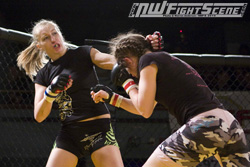 Liz McCarthy at Rumble @ The Roseland 50
The Main Event at Rumble @ The Roseland 61 is the Heavyweight Title Fight with two undefeated heavyweight warriors battling it out for the belt. Washougal's Nick Biron (4-0) will face six-foot-nine Darron "Goliath" O'Donnell (4-0). All of O'Donnell's four wins have come via knockout in the SportFight, Midtown, Rouge Warrior and Alive MMA's fight productions. O'Donnell is clear with his intentions for 2012, "I want to be the best pound-for-pound Heavyweight in Oregon," he said. This will be O'Donnell's first fight in the Full Contact Fighting Federation. The man standing in O'Donnells way is Nick Biron. Biron's undefeated record includes a recent TKO victory over Ernesto Duran in round two on December 3rd 2011 at Rumble @ The Roseland 60. Plus wins at Rumble 58 (via TKO over Corey Miller), and at Rumble 53 (via Majority Decision over Spencer Stambaugh).

The 170-pound Title Fight is about "Second Chances" as Jason Novelli of Team Quests gets his second attempt to claim the FCFF's Welterweight Title Belt. He first won the 170-pound Superfight Belt when he finished Alex Jordan via TKO in round number one at Rumble @ The Roseland 56 and moved into the number one contender position in the FCFF's Welterweight division. He then took on Ben Egli for the FCFF Welterweight belt at Rumble @ The Roseland 57 only to suffer a heartbreaking loss to Egli via tapout due to rear naked choke in the third round. Novelli just won the FCFF's "Most Likeable Fighter" in the FCFF's 2011 Fighter Hall of Fame and at Rumble @ The Roseland 61 this nice-guy gets his second change to make his Title dream come true.

Novelli will face another FCFF Fighter Hall of Fame Winner: Rookie of the Year, Sean Baker for the Welterweight Belt. Baker has been on an amazing run in 2011, in FCFF competition he has won at Rumble @ The Roseland 60, Caged on the Coast 6, Rumble @ The Roseland 59, and Caged on the Coast 5 - all in 2011.
For the 135-pound Championship fight you might see a familiar face, in a new weight division. Justin Mark dropped ten pounds and leaves the 145-pound division, where he was dominating in 2011. Mark first earned the 145-pound belt at Caged on the Coast 4 on March 26th 2011. Then Marked defended that title in spectacular fashion at Caged on the Coast 5 with a triangle choke victory on August 27th 2011. He re-enters the cage leaving the 145-pound belt vacant as a Bantamweight fighter.

Justin Mark drops down to the Bantamweight Division at Rumble @ The Roseland 61. Mark will face experienced wrestler Dylan Atkinson of Alive MMA on January 21st for the belt. Atkinson, along with Jason Novelli face their "second change" for the belt at Rumble @ The Roseland 61. Atkinson first went for the Title at Caged on the Coast 5 in August of 2011. He suffered his first loss to Chris San Jose and has become ever more determined to take home the belt.
The 145-pound Championship, left vacant by Mark's change into the Bantamweight division leaves the belt up for grabs in a hungry FCFF weight class. Washougal native Jess Moore won the 2011 FCFF Fighter Hall of Fame "Best Come-Back" award and will fight for the Title against mega talented wrestler Sean Soliz. Moore hadn't fought in the FCFF since January 10th 2009 when he suffered a loss at Rumble @ The Roseland 41. He came back at Rumble @ The Roseland 60 on December 3rd 2011 stronger than ever with a hard-earned win over Damon Jordon via a tapout choke in round number two. "Sugar" Sean Soliz is no stranger to intense competition. In the FCFF he has taken his last three wins at Rumble @ the Roseland 60, Rumble 56 and at the Ducks Vs. Beavs Cage Fights on Dec. 2nd 2010.

Last, but not least the sixth Championship fight is within the FCFF's Light Heavyweight Division and is a classic young-verses-old scenario. Jason Pittman, gym owner and trainer at 503WCJJ will take on FCFF up-in-coming 19-year-old fighter Jordan Hinchman of Dog Pound MMA. Hinchman, while new to MMA competition in 2011 has made big strides. Hinchman earned the honors of "Best Choke" in the FCFF Fighter Hall of Fame for his victory at Rumble @ The Roseland 60 against Travis Napier via Tapout due to choke at :23 seconds of round number one; and Hinchman also won at Rumble @ the Roseland 58 against Chris Roth via TKO on only 17 seconds of round number two. Hinchman, from the small town of Amity has his own unique style often painting his toe nails.

The 39-year-old Jason Pittman last fought in the FCFF at Caged on the Coast 6 on November 5th and defeated Bobby Rudel in round number two via TKO. His focus is on the belt and "is looking better than ever in his stand up and ground game," said Keeney.
FEATURED FIGHT: The current FCFF Interim 125-pound Flyweight Champ, Adam King will face David Converse the current 125-pound Champ, but within a catch-weight division; due to Converse not being able to make weight on time. This bout has been downgraded from a Championship fight to a featured bout, but the emotion between them in the same. They want to see who is the best 125-fighter in the Northwest. At the FCFF's last event on December 3rd 2011 Adam King took the "Interim Flyweight Championship" by defeating Alex Corrales in an exciting round one knockout victory. David Converse is back and ready to squash any rumors that King reigns supreme.

David Converse first won the FCFF Flyweight Title on July 16th 2011 with an armbar that earned him recognition in the 2011 FCFF Fighter Hall of Fame for "Best Armbar" over Shaun Nance. Converse then defended that belt at Rumble @ The Roseland 59 on September 24th 2011. Converse nicknamed "Man of Steel" is ready to represent Lincoln City and his two previous Flyweight Championship wins and end any perception that he is not the superior fighter..
View full fight card at thefcff.com/events.

Click for tickets Here.


For more info, visit thefcff.com.
---