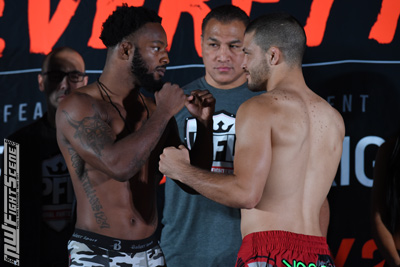 PFL Everett Main Event fighters Andre Harrison & Steven Rodriguez square off

The Professional Fighters League presents PFL Everett on Saturday July 29th at XFINITY Arena in downtown Everett WA, with plenty of big names on the fight card, and also including some local flavor on the undercard. NW Fightscene was on hand Friday evening July 28th for the ceremonial weigh-ins, with all 22 fighters coming on stage for the cameras, after each one had officially made weight earlier in the day.

First on the stage was Everett's Catalyst Fight House fighter Jon Gover (1-1) and Puna Soriano (1-0) of Hawaii - the pair set to clash at 185 lbs in the opening preliminary card bout which starts at approximately 3 PM PT and will stream live at professionalfightersleague.com.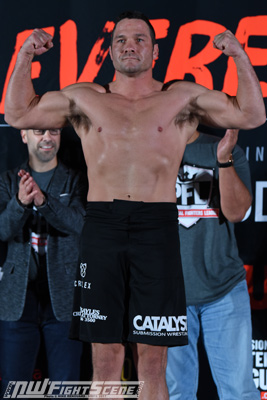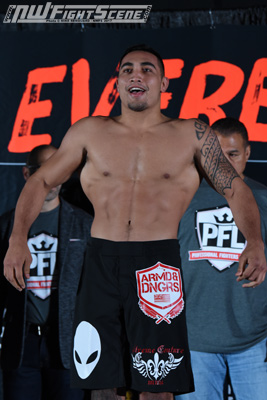 In the 2nd scheduled bout of the prelims, Orcas Island's Andy Nigretto (3-1) and Boise-bred Miles Hunsinger (5-0) go head-to-head at 170 lbs.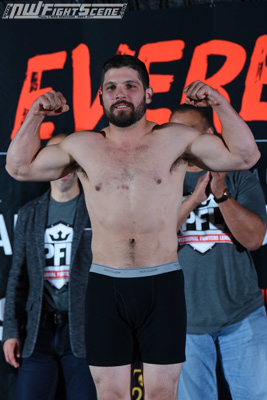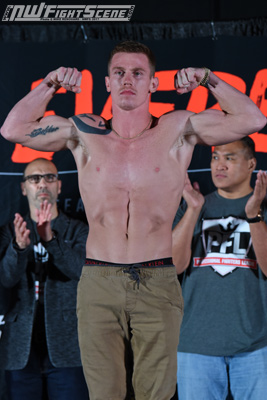 Moses Lake WA's Jared Torgeson (17-16) steps in as a late replacement for an injured Matt Kovacs, to take on Arizona's Dale Sopi (6-3) at heavyweight.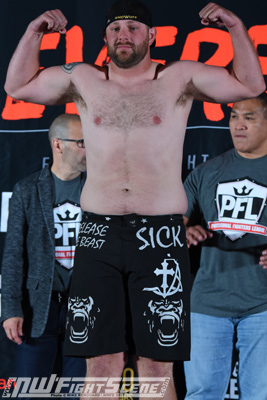 The fourth fight of the afternoon prelims will see Ellensburg WA's Zach Conn (6-6) - also a last moment replacement - moving up in weight to take on Chicago's Louis Taylor (13-4) at 185 lbs.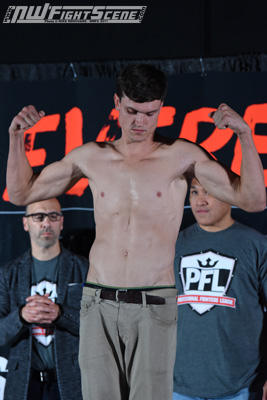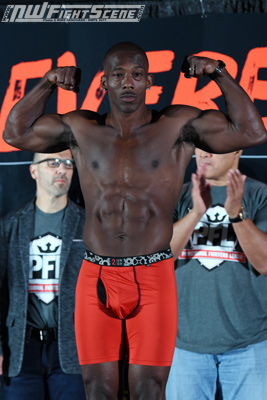 Veteran fighters Eddy Ellis (21-16-1) of Olympia WA and Brazilian Luiz Firmino (19-8) will throw down in a 155 lb prelim matchup.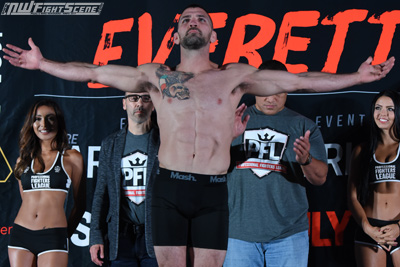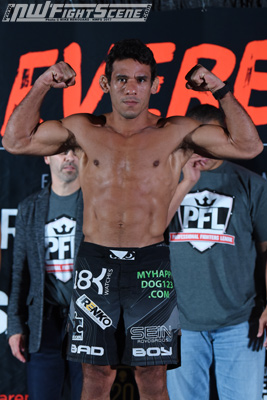 Heavyweights Jared Rosholt (14-4) and Nick Rossborough (26-19-1) are set for battle.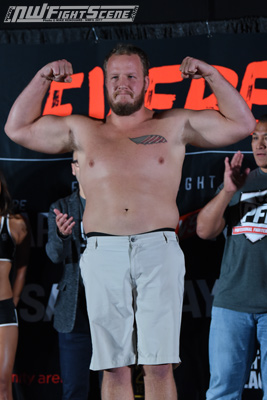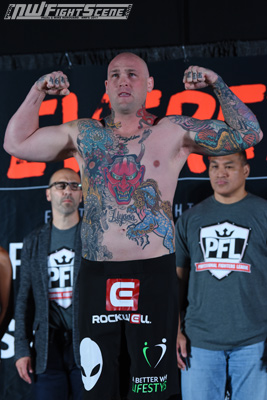 The "Main Event" of the prelims is an excellent heavyweight matchup between Josh Copeland (14-4) and Mike Kyle (22-14-1).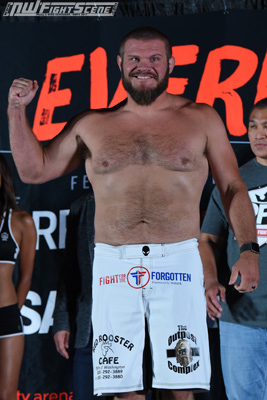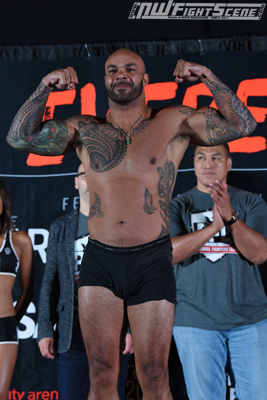 The main card of PFL Everett is set to start at 6 PM PT and will air live on NBC Sports Network (NBCSN). The opening main card bout is at 185 lbs between PA's Rex Harris (10-2) & Brazil's Bruno Santos (15-2).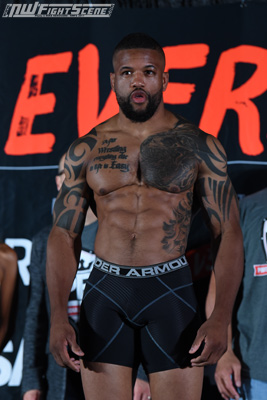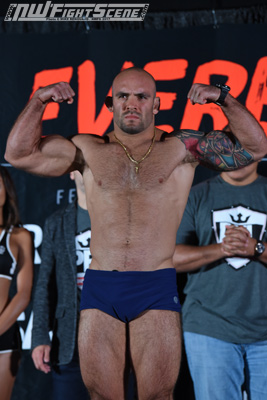 MMA star Jake Shields (31-9-1) will fight Danny Davis (13-11-1) at 170 lbs.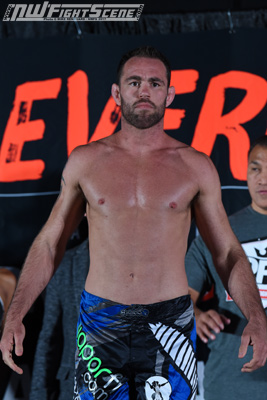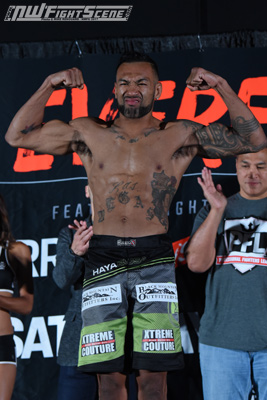 In the co-main event, Japan's Yushin Okami (33-10) will battle Brazilian Andre Lobato (24-6) at 185 lbs.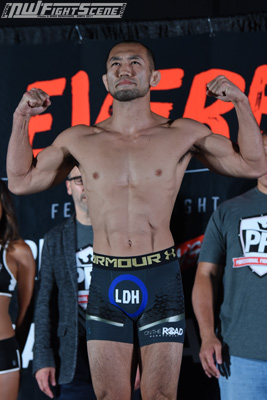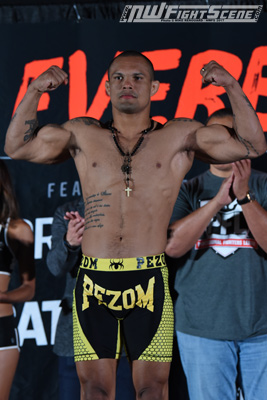 In the main event, Andre Harrison (16-0) will take on Costa Rica's Steven Rodriguez (10-2) in a five-round featherweight contest.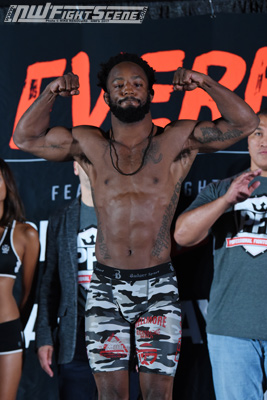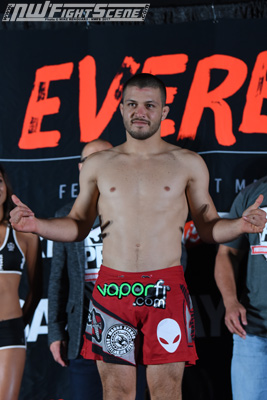 Tickets are avalable at xfinityarenaeverett.com or at the Xfinity Arena box office the day of the fight. Doors open at 2 PM. Prelim fights start at 3 PM PT and will be streamed live at professionalfightersleague.com. The main card starts at 6 PM PT and airs live on NBCSN.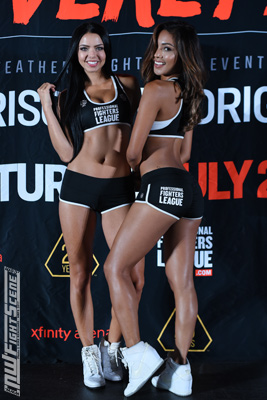 PFL EVERETT WEIGH-IN RESULTS)
Main Card (begins at 6:00 PM PT):
145: Andre Harrison (145.6 - Long Island) vs Steven Rodriguez (145.2- Costa Rica)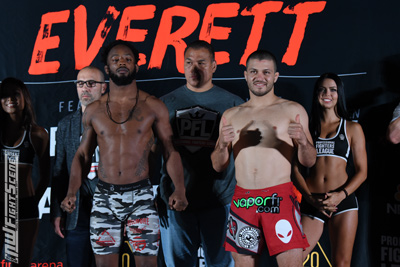 185: Yushin Okami (170.2 - Japan) vs Andre Lobato (170.2 - Brazil)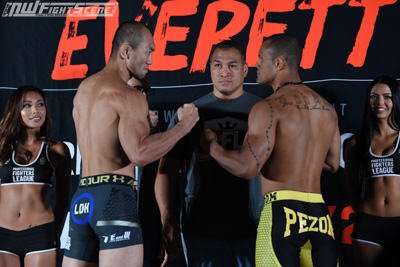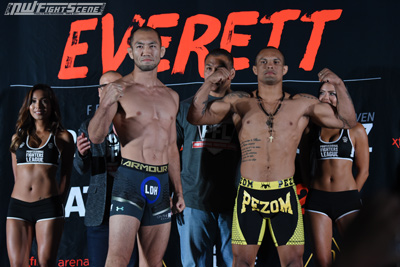 170: Jake Shields (170.4 - San Francisco) vs Danny Davis Jr. (170.4 - Las Vegas)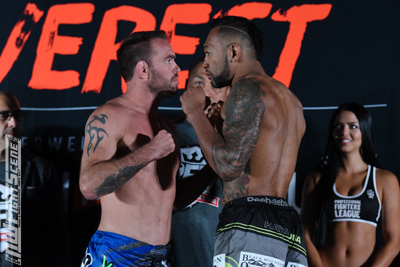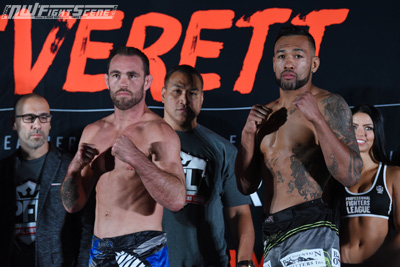 185: Rex Harris (185 - West Pittston PA) vs Bruno Santos (185.2 - Rio de Janeiro)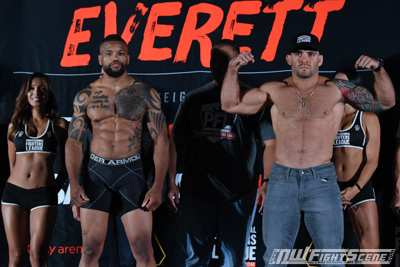 Preliminary Card (begins at 3:00 PM PT)
HVY: Josh Copeland (251.8 - Denver CO) vs Mike Kyle (233.6 - Las Vegas)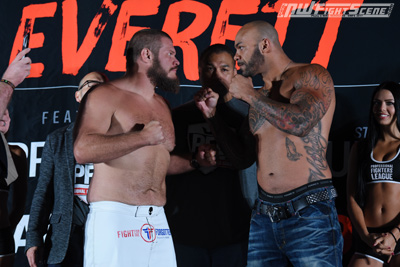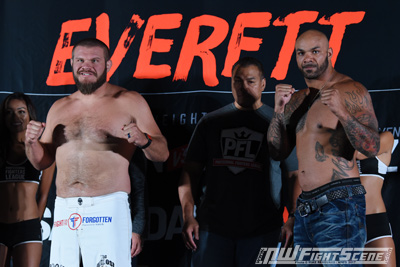 HVY: Jared Rosholt (255.2 - Arlington TX) vs Nick Rossborough (244.8- SaltLakeCity)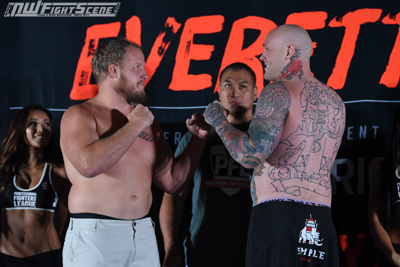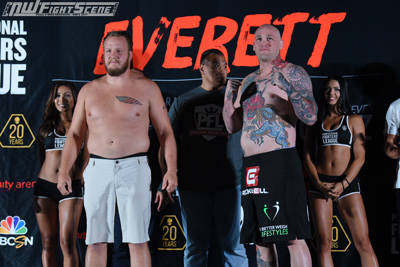 155: Luiz Firmino (154.8 - Miami FL) vs Eddy Ellis (155.6 - Olympia WA)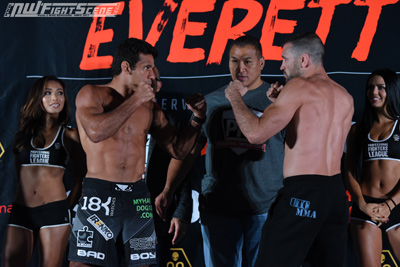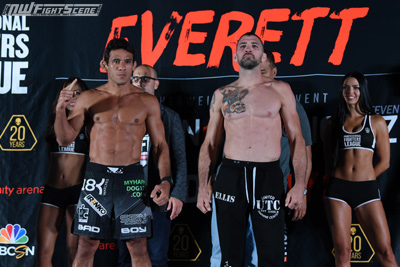 185: Louis Taylor (186 - Chicago IL) vs Zach Conn (177.4 - Ellensburg WA)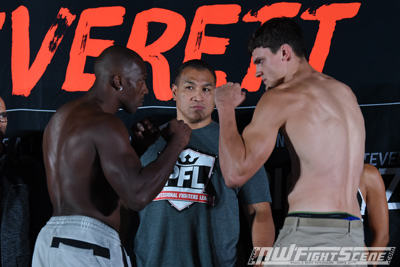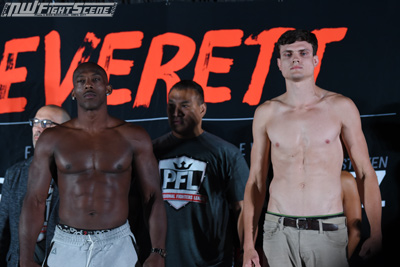 Hvy: Dale Sopi (266 - Maricopa AZ) vs Jared Torgeson (238.4 - Moses Lake WA)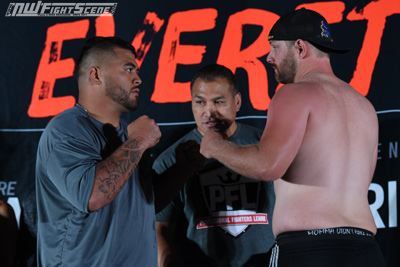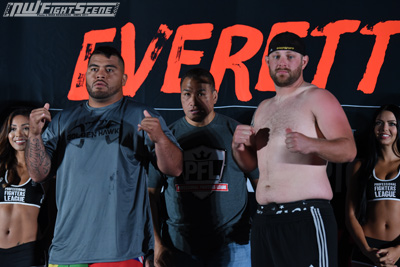 170: Miles Hunsinger (170.6 - Las Vegas) vs Andy Nigretto (170.4 - Orcas Island WA)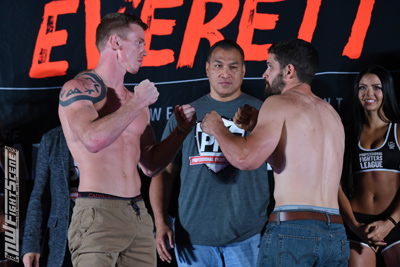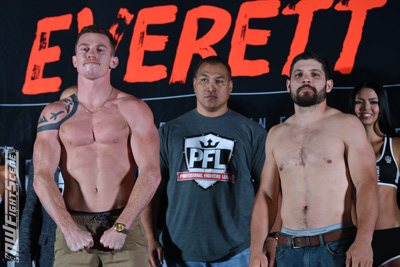 185: Puna Soriano (186 - Honolulu HI) vs Jon Gover (185.4 - Everett WA)