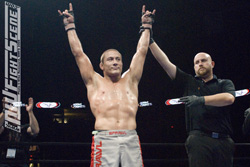 UFC Welterweight Mike Pierce (13-4, 4-2 UFC) will be fighting top-ranked UFC veteran Josh Koscheck (18-5, 14-5 UFC) this Saturday Feb 4th in Las Vegas on the main card of UFC 143. Pierce sat down with NW Fightscene's Spaniard from inside Portland's Sports Lab this week and talked about the upcoming fight and more...
---
Many thanks to Mike for speaking with us. He fights Josh Koscheck in a 170 lb battle on the main card of UFC 143 at the Mandalay Bay in Las Vegas on Sat Feb 4th. The main card starts at 7 PM PT Live on Pay-per-View. More at UFC.com.
Pierce fans can hit Mike up online at facebook.com/mikepierce170.