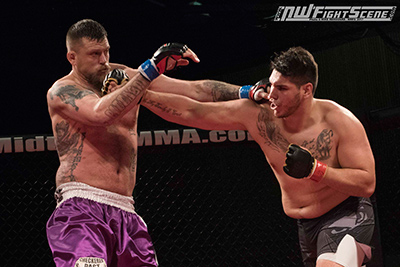 In the main event, Derek Luna and Jimmy Jennett throwdown in a Pro Heavyweight Superfight

Midtown MMA have built up quite the fanbase for their Midtown Throwdown events in Eugene OR, with quality matchmaking, a great production, and a solid list of sponsors providing the stage for local pros and amateurs alike to display their talents and sharpen their skills. Their latest show - Midtown Throwdown 10 - went down January 28th at the Lane Event Center which was filled to capacity for the 10 MMA fights, which included 3 Pro bouts and 2 amateur championships.

In the Main Event, fan favorite Jimmy Jennett took on Derek Luna - who stepped up last minute - in a Heavyweight Superfight. The first round was a wild one with both men throwing heavy leather, Jennett mixing in solid body kicks. At one point, Luna tried to get Jennett to the canvas but Jennett grabbed the fence and referee Steve Newport deducted a point for the infraction. Later in the round, Jennett landed some heavy shots that put Luna on the mat, but in going for the finish, he landed a number of strikes to the back of Luna's heads. Again, referee Newport called a time-out and deducted a 2nd point from Jennett. These deductions though did not matter, as Jennett turned up the heat in the 2nd round, pushing Luna against the cage and letting loose with thunderous bombs, a big knee to the body, and a few more shots for good measure before getting a ref stoppage at the 1:13 mark.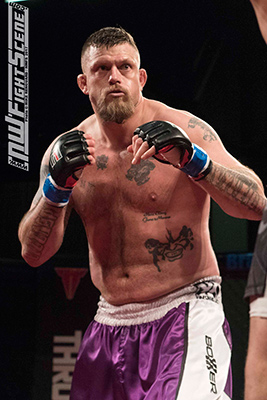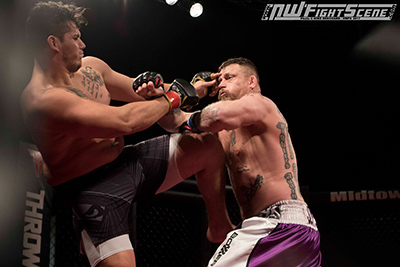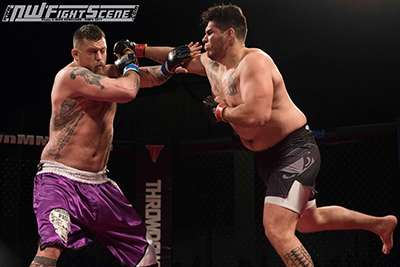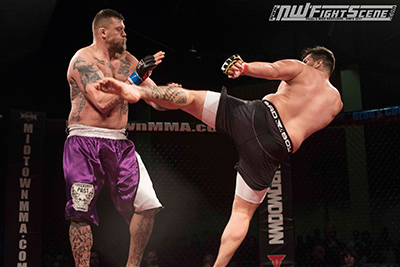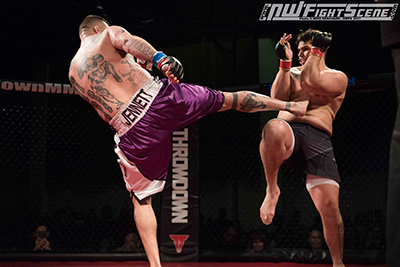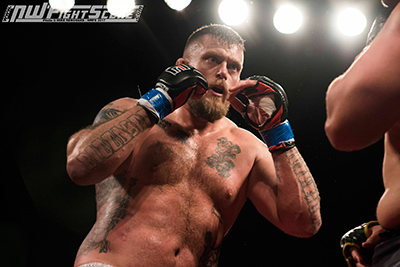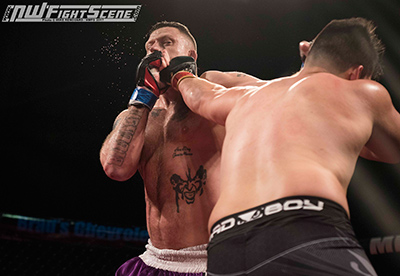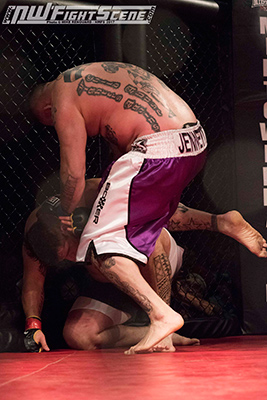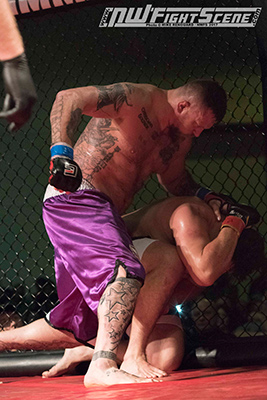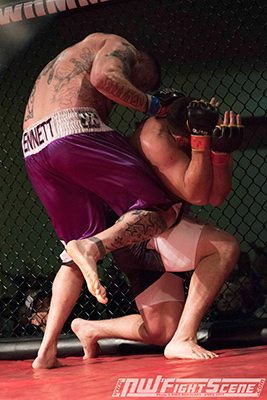 In the Co-main Event, Las Vegas-based Cheyanne "The Warrior Princess" Vlismas and Animal MMA's Aubree "The Silent Assassin" Thompson of Portland met for the vacant women's amateur Strawweight Title. Early on, Thompson landed a leg kick and then went forward with another kick, but Vlismas was ready and grabbed Thompson's arm and dragged her to the mat. Thompson rolled to her feet against the cage and the pair scrambled for position, Vlismas getting a takedown and Thompson briefly attempting an armbar from the bottom. Vlismas threw it off and then moved into top position. Thompson used the cage to reverse, but Vlismas from the bottom isolated Thompson's right arm and moments later had the inverted armbar locked in, getting a tap from Thompson at 1:30 of the first. Impressive finish from The Warrior Princess!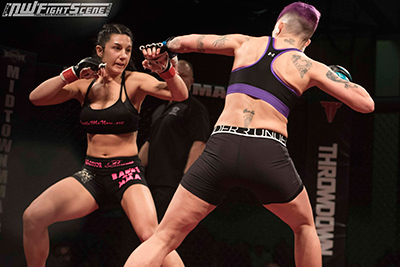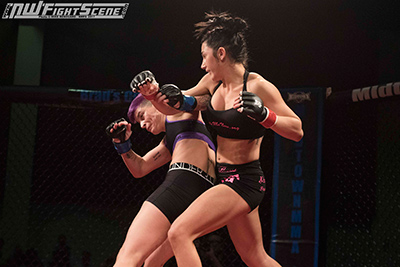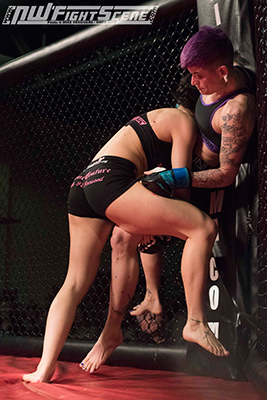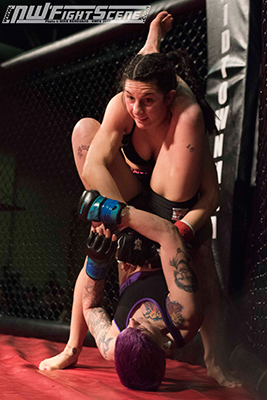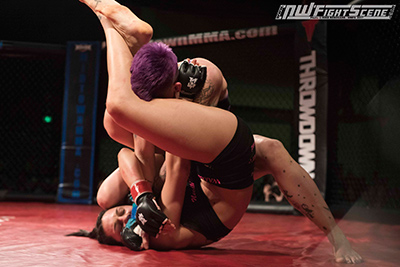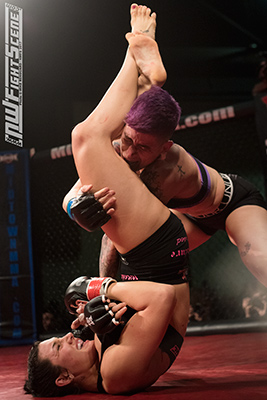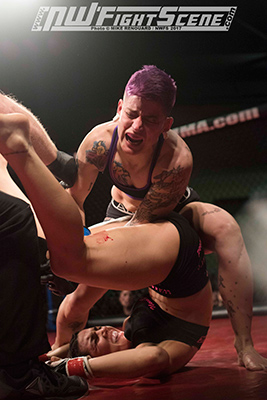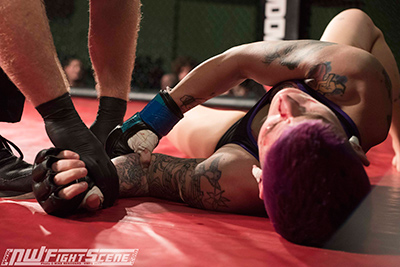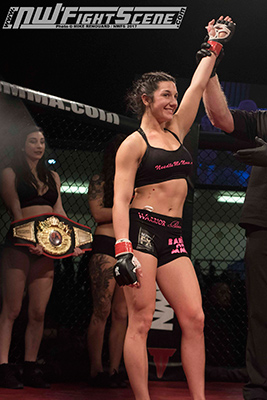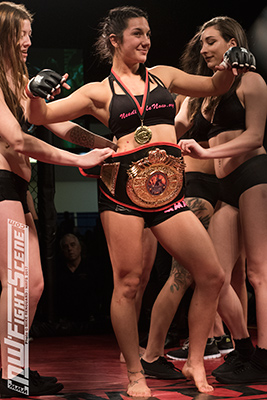 Desert Dogs fighter Colton Howard of Bend OR won his pro debut in a 170 lb matchup with Eugene OR's Jose Rico. Howard executed a huge slam in the first round but had to fight through a triangle choke submission attempt by Rico before delivering some hard ground and pound to end the round. In the 2nd, Howard got the takedown and then secured a rare Twister submission at 53 seconds in.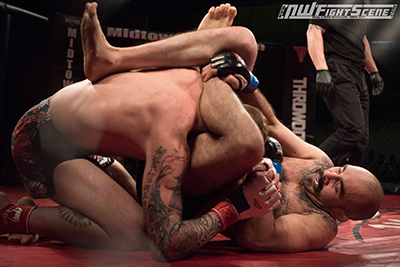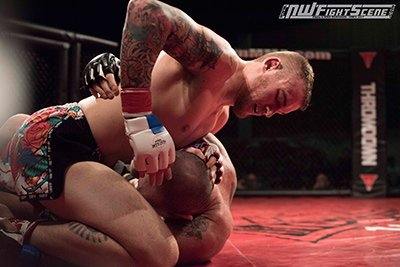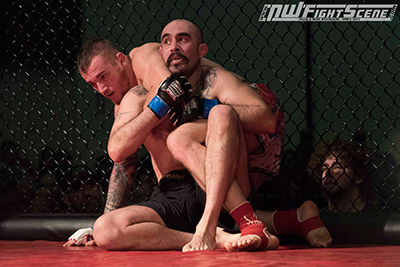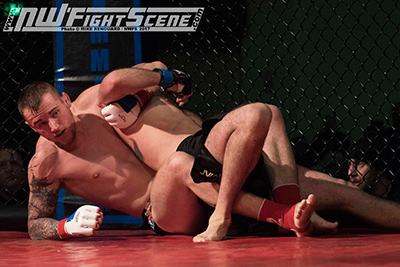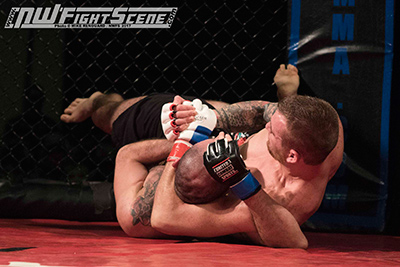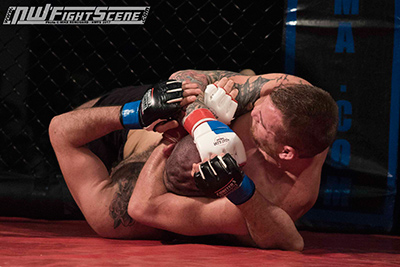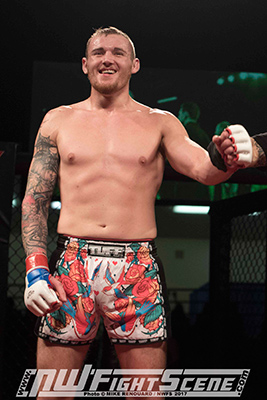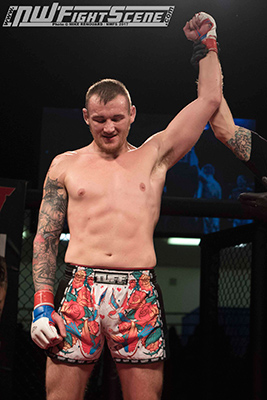 Eugene's Hank Turner and La Grand OR's Chris Evans matched up in a professional 185 lb bout. Turner got an early takedown and maintained top position, not giving Evans much room to escape. Midway through the round, Turner had Evans pinned against the cage and started to drop down strikes, and though they were not incredibly damaging, referee Steve Newport felt Evans was doing nothing to defend himself and called and end to the fight at the 2:44 mark. Evans protested the stoppage but it goes into the books, giving Turner a win in his pro debut.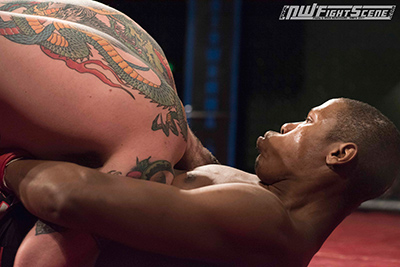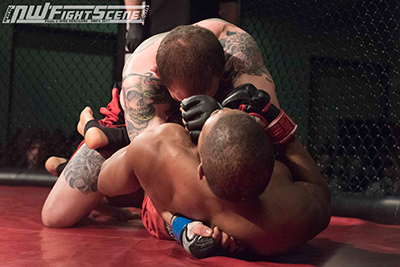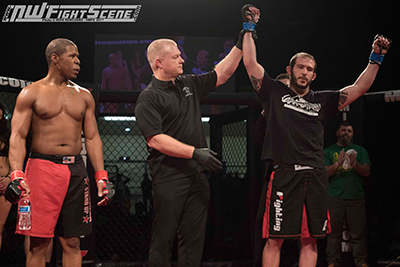 The longest fight of the night was also one of the best in the 5-round war between amateur welterweights Art of War's Raymond Leonard Hill and Ashland OR's Aaron Bowles. Both fighters gave each other everything they had in a close, competitive fight. After 15 minutes of action, Hill was declared the winner by split decision 50-45, 49-46, 47-48. As Hill did not make weight, he did not become the Amateur Welterweight Champion. Nonetheless, still a great performance from both athletes.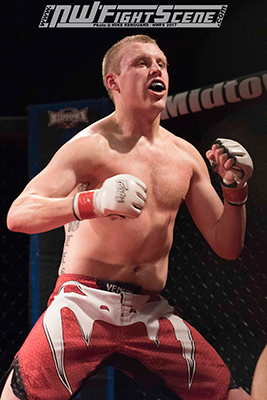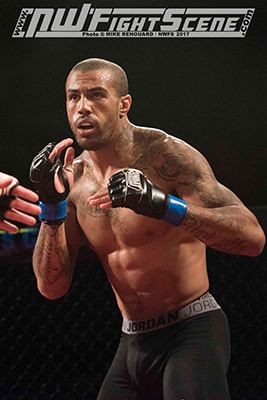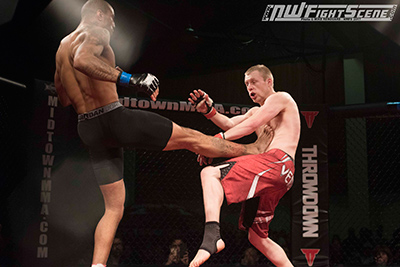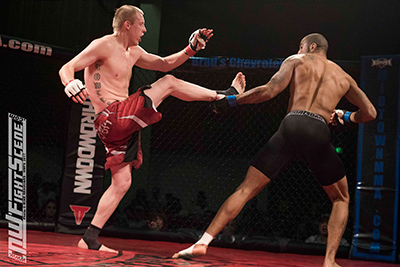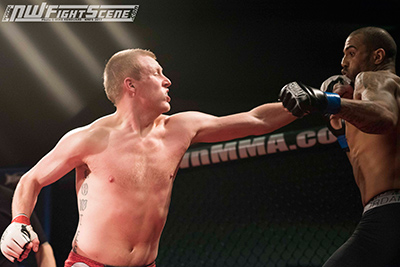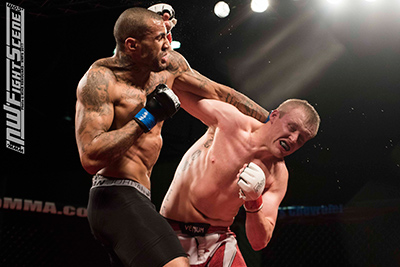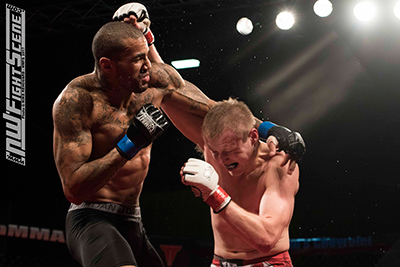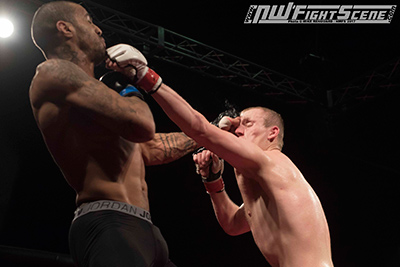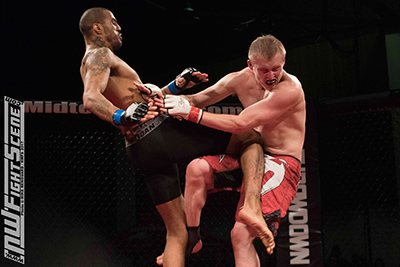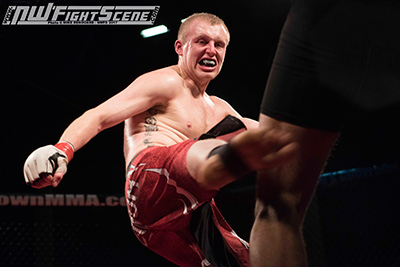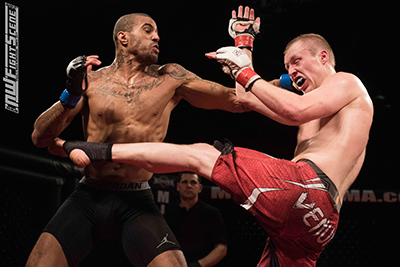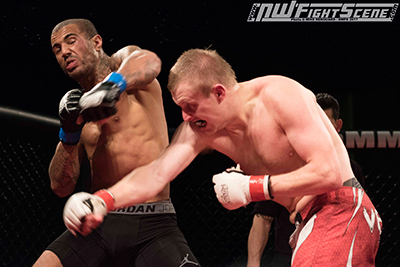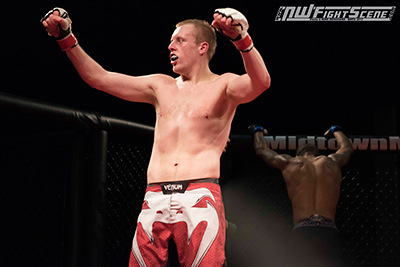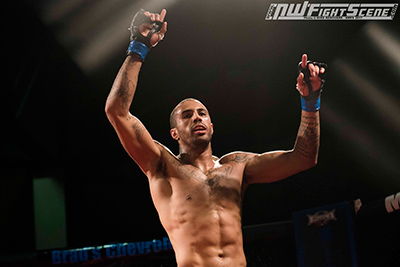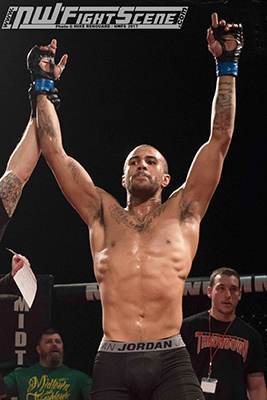 An amateur welterweight bout between two local Eugene talents went the distance with Stefan Habib and Chance Marsteiner engaging in a mostly standup battle. Both fighters had their moments, but it was Habib whose offensive output was the greater of the two and he was awarded the win via unanimous decision 30-27 x3.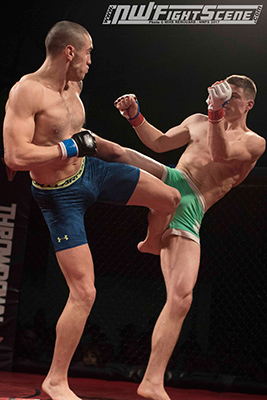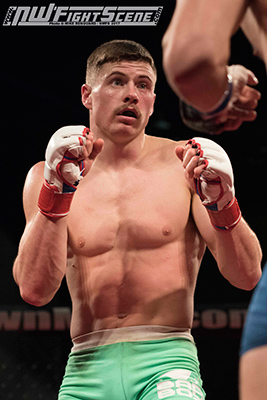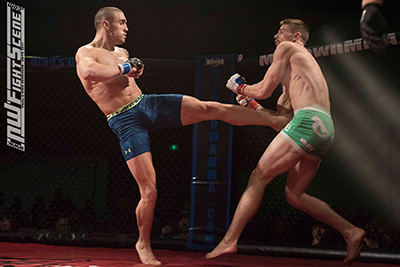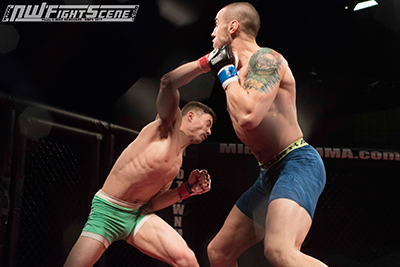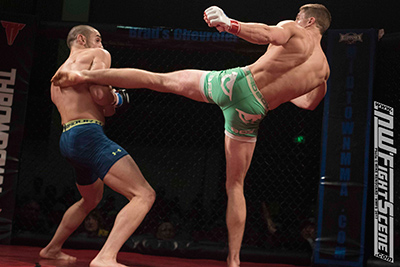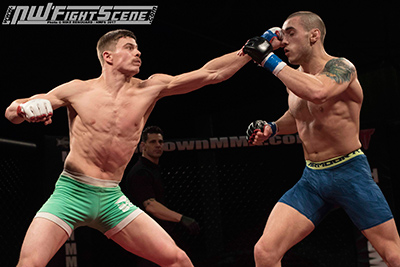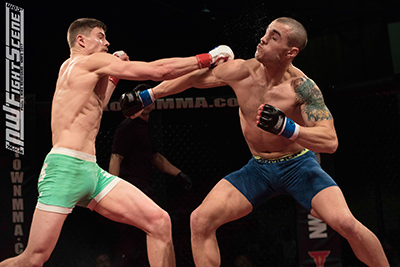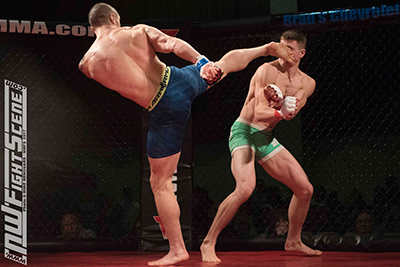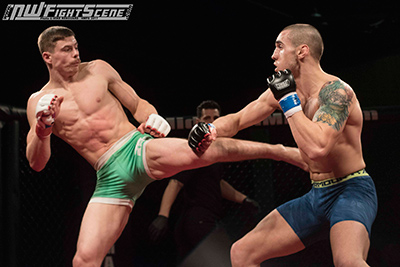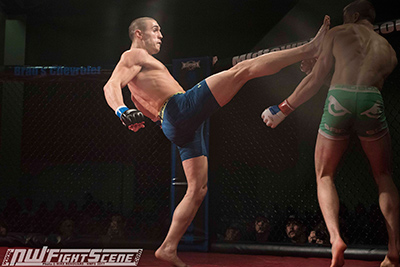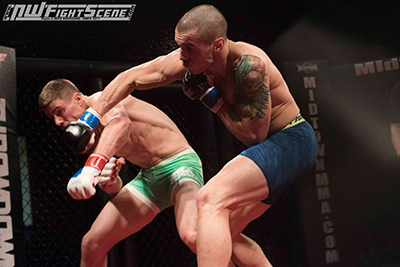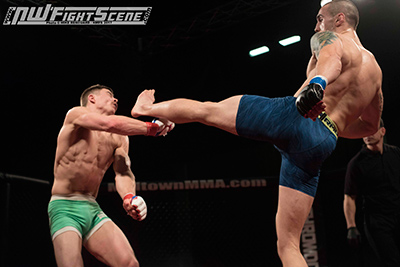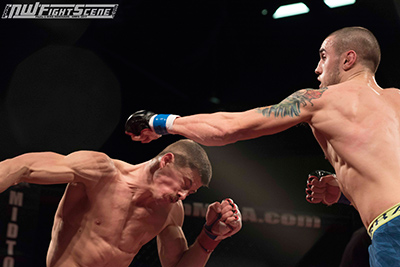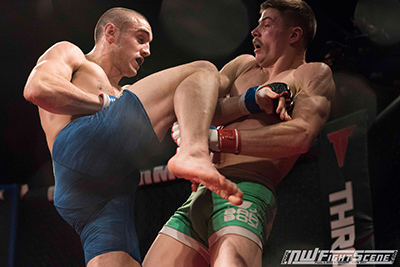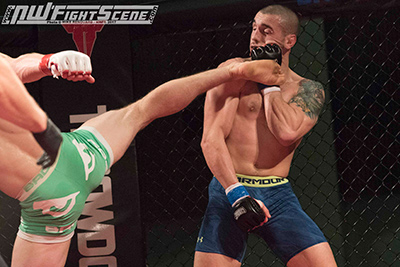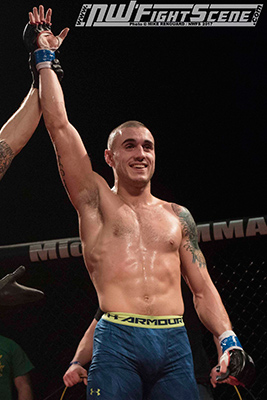 Josh "Ironhead" Connelly - 40+ yr old coach at Oregon's Elite Training Academy in Eugene - took home a unanimous decision victory over 50 year old Team Quest boxing coach Rafael Palma. Showing that age is just a number, both fighters left it all in the cage in entertaining the crowd over 3 rounds of action.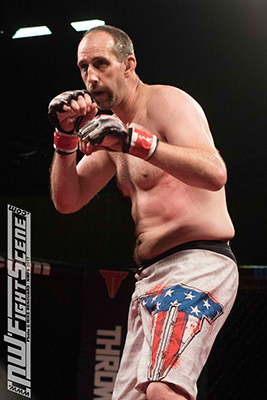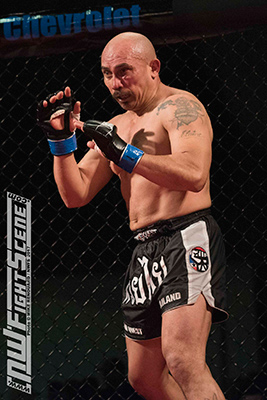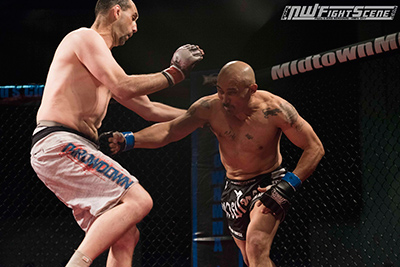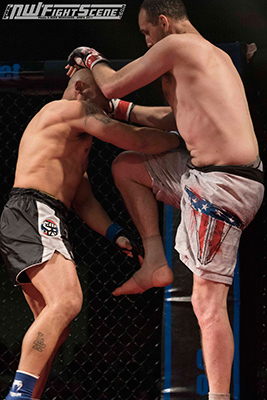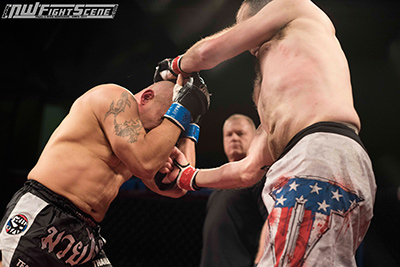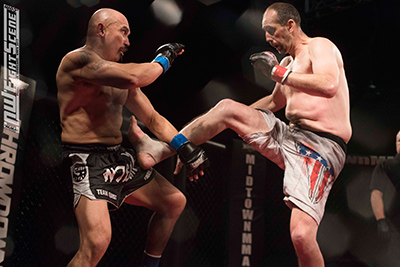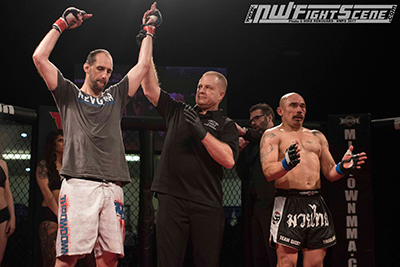 Portland Thai Boxing's Alex Aguilar and Art of War's Sean Clemons both showed off quality fighting skills in their 170 lb amateur matchup that went the distance. Aguilar had the edge in the standup department and that earned him the unanimous decision 30-27, 29-28 x2.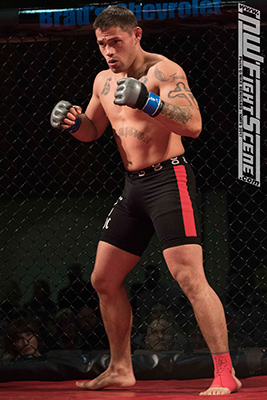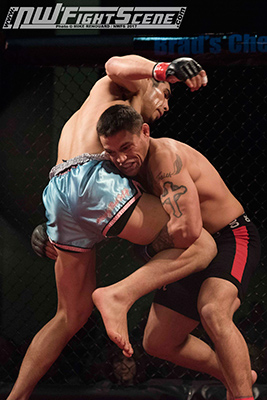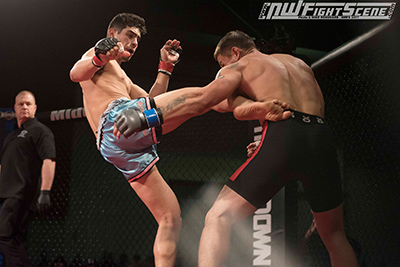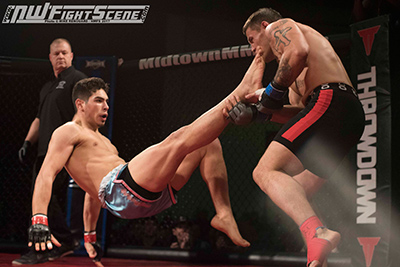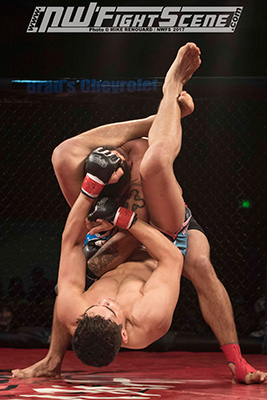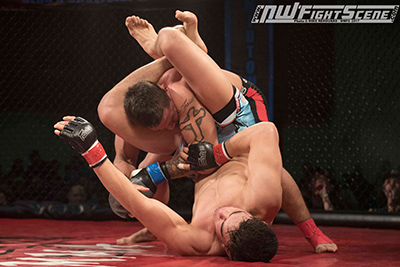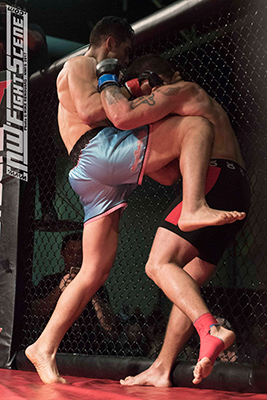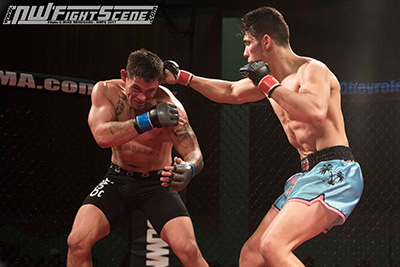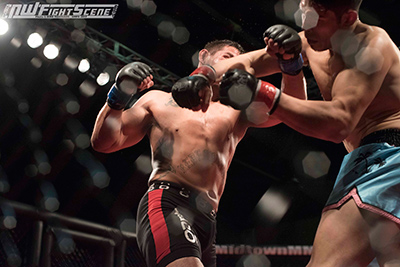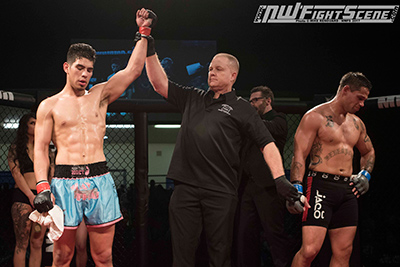 Gracie Barra PDX fighter James Howard won his his MMA debut via rear naked choke of Sean Reay 59 seconds into their amateur middleweight bout.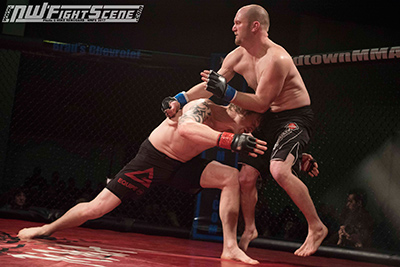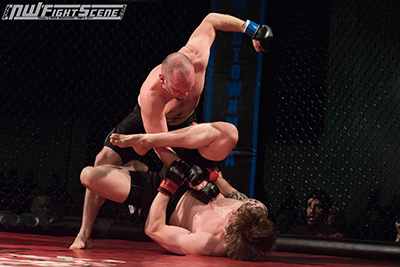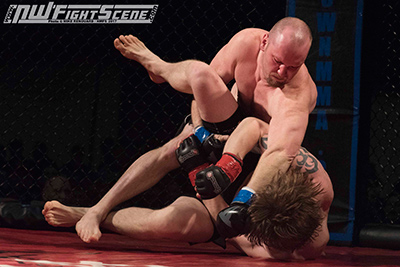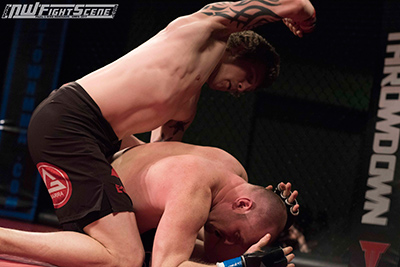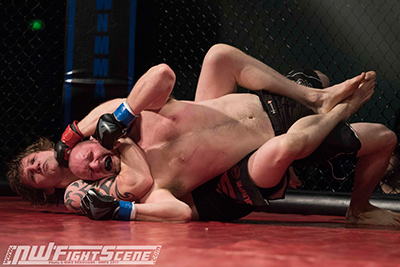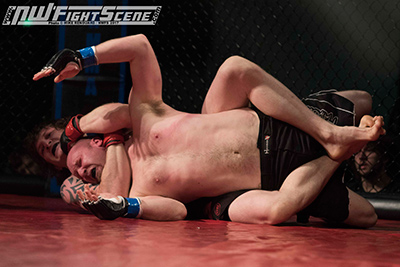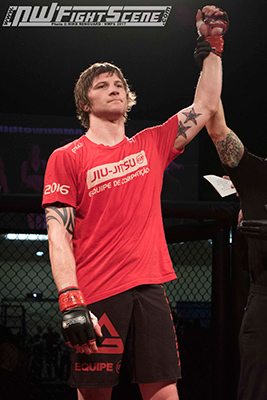 Opening the fights, amateur heavyweight Will Dinwiddie won his MMA debut with a 2nd round keylock submission of Matt Campbell.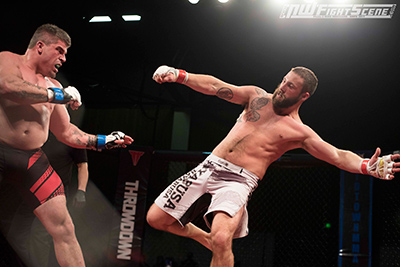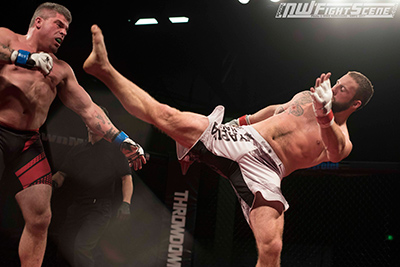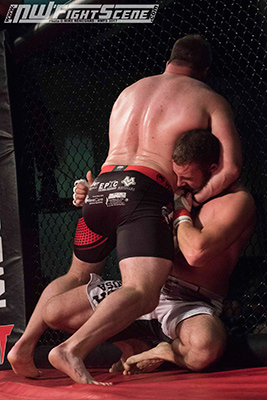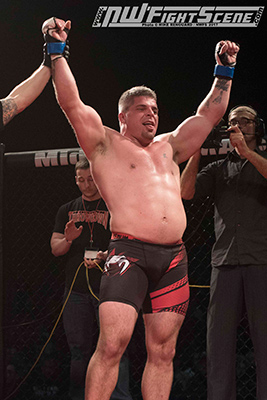 Midtown Throwdown 11 is scheduled for May 20th.
More info at midtownthrowdown.com.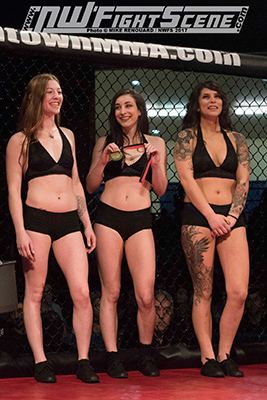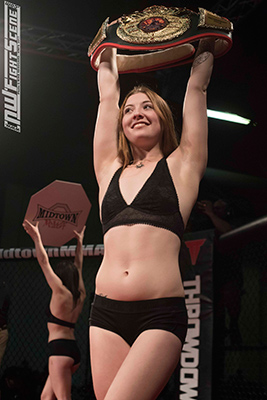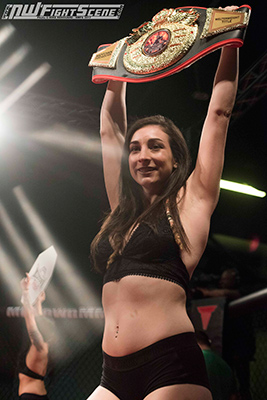 ---
MIDTOWN THROWDOWN 10 RESULTS
Bout 1 - Amateur Heavyweights
Will Dinwiddie def Matt Campbell by Keylock @ 0:55 Rd 2

Bout 2 - Amateur 185 lbs
James Howard def Sean Reay by Rear Naked Choke @ 0:59 Rd 1

Bout 3 - Amateur 170 lbs
Alex Aguilar def Sean Clemons by Unanimous Decision (30-27, 29-28, 29-28)

Bout 4 - Amateur 170 lbs
Josh Connelly def Rafael Palma by Unanimous Decision (All judges 30-27)

Bout 5 - Amateur 170 lbs
Stefan Habib def Chance Marsteiner by Unanimous Decision (All judges 30-27)

Bout 6 - Pro 185 lbs
Hank Turner def Chris Evans by TKO (Ref Stop - Strikes) @ 2:44 Rd 1

Bout 7 - Pro 170 lbs
Colton Howard def Jose Rico by Twister @ 0:53 Rd 2

Bout 8 - Amateur 170 lbs
Raymond Leonard Hill def Aaron Bowles by Split Decision (50-45, 49-46, 47-48)

Co-main Event - Midtown Throwdown Amateur Strawweight Title
Cheyanne Vlismas def Aubree Thompson by Armbar @ 1:30 Rd 1

Main Event - Pro Heavyweight Superfight
Jimmy Jennett def Derek Luna by TKO (Ref Stop - Strikes) @ 1:13 Rd 2