Michele "Diablita" Gutierrez (3-2), fighting out of the Throwdown Traning Center in Las Vegas, takes on Sarah Maloy (2-2) on the undercard of the inaugural all-female Invicta Fighting Championships in Kansas City on April 28th. Gutierrez chats with NW Fightscene and shares her thoughts about her opponent Maloy, fighting on the first Invicta FC, and much more...
---
NW Fightscene: Let's get right into the fight. Talk about your thoughts on Sarah.
Michele Gutierrez: I've wanted this fight for a long time. We were supposed to fight like six months ago and that fell through... I think its really evenly matched. We have similar records. Two totally different backgrounds. I'm more of a striker, and she's more of a wrestler-grappler. She has good striking too, so I think its really evenly matched. I think thats one thing Invicta Fighting Championships has done, they match really really well. They wanted this fight, I wanted this fight, she wanted this fight, so its about to happen.

NWFS: What weight class are you fighting at?
Gutierrez: I'm fighting at 125 this time. After my last fight and all that drama with it, I swore I would never fight at 125 again. Invicta gave me the option of fighting at 115 and I can't make 115. I'm more of a catch-weight, like a 118, 120 kind of girl. 115, I think I would die. So like I was gosh, I'll try again at 125, see how I'll do, and go from there.

NWFS: What do you know about Sarah? Have you seen her fight? Have you met her? Do you know her?
Gutierrez: I've met her. She actually came to my seminar that I was teaching for this girl fighter convention we had out here in Vegas. The G-2. I saw her there. When I saw her, I was like, Oh all right. Should be a good match. She's shorter than me and I'm really good with keeping my distance, throw soft hands. She didn't look like she was She-ra or anything. I'm like OK, this looks good. ... And one thing I didn't want to do this time was... usually before fights I sit in front of the computer and watch everything and obsess and obsess and obsess about it. This time I just gave it to my coaches and I'm like, you do it. I haven't even watched one of her fights. I'm not going to because it makes me crazy and I get wierd. And they've been studying her like crazy. They've had sparring partners come in and try and mimic what she does. I'm training with the best of the best, girl-wise. I have a great camp, so I feel really prepared. I feel way different than I did for my last fight.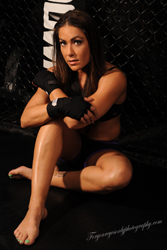 NWFS: So you're still out at Throwdown?
Gutierrez: Yeah, John Wood is my head trainer. He's just so good with me. I have to have it broken down in like retard terms, and he's really good with that. And he's very calm. And I'm the kind of person that I start punching and I get so excited that I'm just like "Ahhhhhhhh!", going for that big knockout punch, and he's learned to talk me down from that crazy state and bring me back to reality. And that's what I need, because when i go for that big punch or that wild looping [one], thats when I either get hit or taken down. He's doing such a good job, he really is. I just trust him. I listen to what he says. I do it. And it works.
NWFS: Talk about some of the training partners you've brought in?
Gutierrez: I have Colleen Schneider, she's a little bit bigger than me and she's really strong. She's a veteran of the sport. She's been fighting a long time. She was one of the first girls to fight for Strikeforce. She's fought like Liz Carmouche and all kinds of awesome names. She's really, really good. I have Amanda Lucas, who's George Lucas' daughter. She trains out of Throwdown as well. I have a girl that I fought in Chicago. Her name is Cassie Rodish. Her and I became really good friends after the fight, and she just flew out from Iowa this past week and stayed with me for a week. And just mimicked what Sarah did. She actually trained with Sarah so I got a little bit of an inside scoop. And then the guys in the gym have been great. We're just smashing it. I've also brought in a new conditioning coach. He actually is Wanderlei Silva's conditioning coach. He's amazing. He's whipped me into shape. I look like a brick shithouse.. and I'm strong, so its good. He's just so awesome. When Wanderlei fought Cung Le, he didn't even have to sit in a sauna. Guys like that, that's rare. They always want to fall off ten pounds or something. He tires us down. I don't even have to cut weight right now. I'm small for 125. He's just amazing. I'm actually training with Wanderlei tonight, he's training us both at the same time, so that'll be kind of cool.
NWFS: The inaugural Invicta Fighting Championships, all-women's MMA. It's been done before, but not like this. I think there's a bigger push behind Invicta. And having Shannon Knapp and Janet Martin leading it. Talk about the promotion and the women in charge.
Gutierrez: I was going to fight for Janet before when she had Black Eye, but then that kind of fell through. I also met her at G-2, and she'd seen me punching and said "I want that girl on our card, her hands are amazing". So I've been kind of talking back and forth with her. I had some management problems and she helped me through that. Just the fact that they asked me to be on the first card is an honor. I'm so excited. They're going above and beyond. They're paying us well. They're taking care of us. It's like.. it's wierd. Because I'm used to going somewhere and getting crap money and being the first fight and just being kind of a sideshow. Now we're the main event... the Girls are the main event. They're having hair braiders there for us. They got us all hooked up. It's just amazing. And I'm praying to God that we all... I know we're all going to put on a show, because that's what we all do. I just hope that it just grows. This will be such a great start for us women. Finally, we have a home.
NWFS: I know there is a contest going among the Invicta fighters with the one getting the most support for Invicta on Twitter will win 1000 bucks from Invicta. Talk about the Social Media apsect of marketing yourself?
Gutierrez: One of the things I've noticed throughout the past year, and this is something I did learn from former manager, is that social media is a huge outlet and it gets you known, and it got me known. I didn't exactly have the greatest year as far as fighting, but I had the greatest year as far as social media. My picture was everywhere. We would do photoshoots and just blast pictures. And then just constantly staying up to date with your twitter page, and I answer everybody. If you send me something, as long as its not disgustingly dirty, there's a really good chance that you're going to get a reply. And people love that. They feel like they know you, they want to get to know you. It builds a relationship and then in turn they'll follow your fight career and support you. It's so important. I've kind of used a little bit of my muscle to win this contest. One of my fans started this Diablita Army on Twitter and I have like 2000 followers in it, so everyday I'm having them tweat out to Invicta in support of it. And hopefully I can win the contest. It's for a thousand bucks. I mean, for tweeting, a thousand dollars. I'll do that all day long!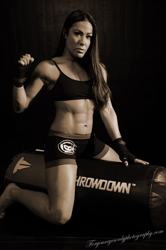 NWFS: With getting paid to fight and with the help of sponsors, are you able to train full-time or do you have to work?
Gutierrez: I still have to work. I bartend 3 or 4 nights a week which kind of sucks because I'm up late and I'm breathing in smoke and dealing with drunks. But I'm a single mom so it's not like I have the luxury of just getting up and going to the gym and being there all day. I do what I can. I'm training like 2, 3, 4, 5 hours a day, 6 hours on my days off. I'm making it work. Now that I'm fighting for Invicta, hopefully if I do well and put on a good show, they'll give me a contract. And then I will be able to fight full time because what they're paying us is enough to cover three or four months of not fighting. We'll see. I have a lot of sponsors. I lost sponsors when I changed management. I've picked up new ones. I'm not really worried about it. I'm in such a better place now than I was, mentally and everything is just way better. I'm really looking forward to fighting, and seeing how I'll do with Sarah. I've been anticipating it for so long, just ready to get it going.
NWFS: So who are your sponsors and who'd you like to thank?
Gutierrez: This time around I have Tri-Costa MMA apparel, VII A.D. Jewelry Art, FightChixx, Fightergirls, Tussle Fightgear. I'd like to thank Stanley for helping me with sponsors. And Huy Vu who's been helping me in management and stuff for me. Things are good. I have a positive crew. John Wood, I want to thank him because he's been putting up with me this past week and its been miserable. That's it. I'm just ready to get out there and do a good job.
---
Many thanks to Michele for taking the time to speak to NW Fightscene. She'll be fighting Sarah Maloy at 125 lbs on the undercard of the Invicta Fighting Championships in Kansas City, Kansas. The event will be streaming live online in HD. More info invictafc.com.
Follow Michele online at facebook.com/Diablita.MMA & twitter.com/mgutierrezlv.