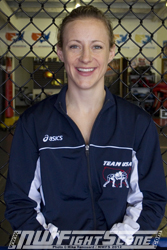 Lisa Ellis-Ward, fighting out of the United Training Center in Olympia WA, will battle Jessica Penne April 28th at 105 lbs in the Co-main event of the inaugural all-women's Invicta Fighting Championships. Lisa sat down with NW Fightscene inside the UTC and talked about the fight with Penne, the cut to 105, her thoughts on the Invicta FC, her training, and about her gym that she owns and runs with her husband, Pro fighter Eddy Ellis.
---
Many thanks to Lisa for speaking to NW Fightscene. She'll be fighting Jessica Penne at 105 lbs on April 28th in the Co-main Event of the Invicta Fighting Championships in Kansas City, Kansas. The event will be streaming live online in HD. More info invictafc.com.
Lisa and husband Eddy own and operate the United Training Center, home of the United Fight Team, located at 7619 Martin Way East in Olympia. Stop in and check them out! The UTC has a facebook page HERE.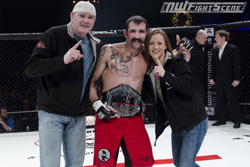 Lisa with husband Eddy Ellis (c) & Marty Robertson (l)