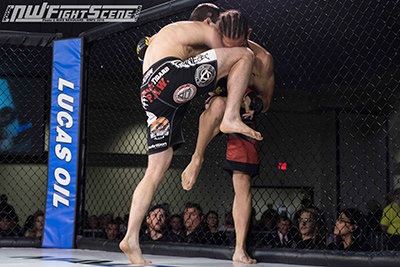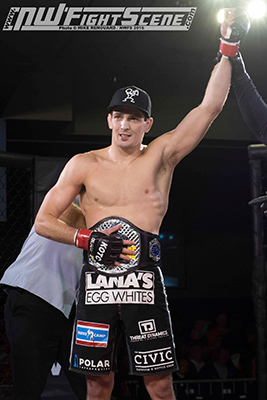 Ben Egli wins the King of the Cage 170 lb belt in the main event

King of the Cage returned to the Chinook Winds Casino in Lincoln City on October 1st with KOTC "High Caliber". In the main event, the vacant King of the Cage Pro World 170 lb Title was up for grabs with Tigard OR's Ben Egli taking on Aaron "Chaka" Hedrick of Oroville CA. Hedrick came out aggressive, moving forward and clinching up with Egli against the cage. Egli though turned Hedrick against the fence and took over, landing a nasty knee from clinch, and then moments later, submitting Hedrick with a standing guillotine choke at the 1:17 mark of the first to become the new King of the Cage 170 lb Champion.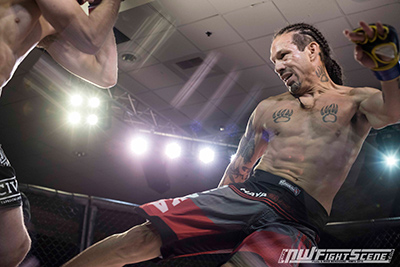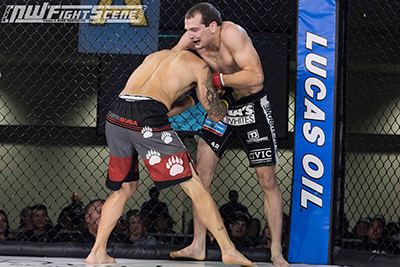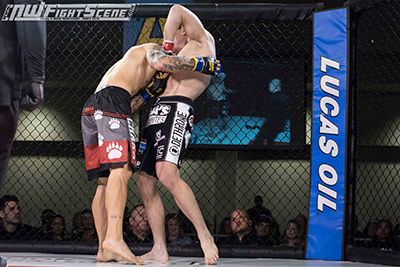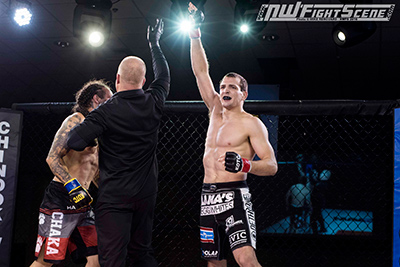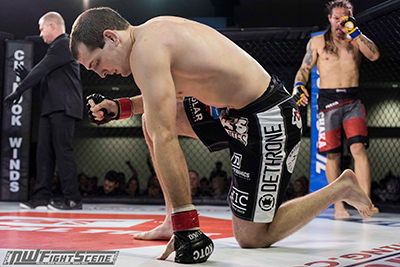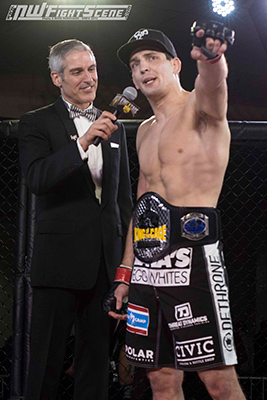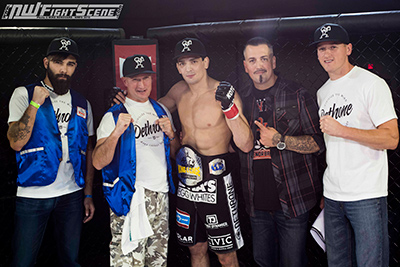 The Co-main Event featured always-dangerous NW MMA veteran Enoch "The Animal" Wilson taking on Gracie Technics' Dominique Gutreece in a 165 lb catchweight contest. After trading shots, Gutreece scored a takedown, but didn't engage very long with Wilson on the mat, chosing to bring it back to standing. Moments later, Wilson executed a thunderous slam of Gutreece from the clinch that got the crowd roaring. On the ground, Wilson locked Gutreece in a crucifix and landed numerous short punches before moving to Gutreece's back and sinking a fight-ending rear naked choke at 3:06 of the first round.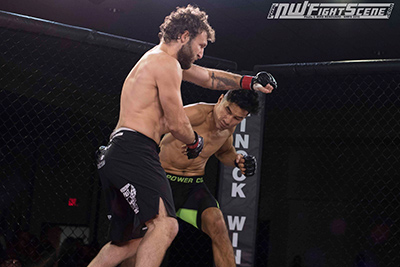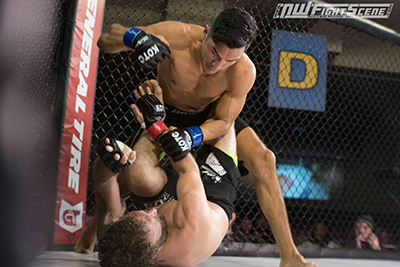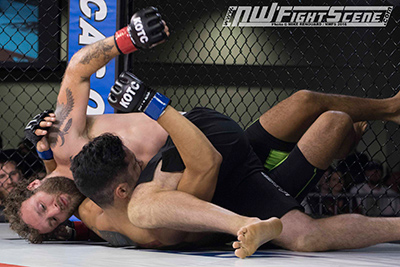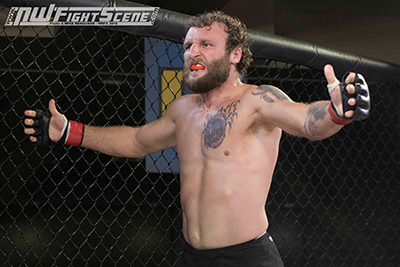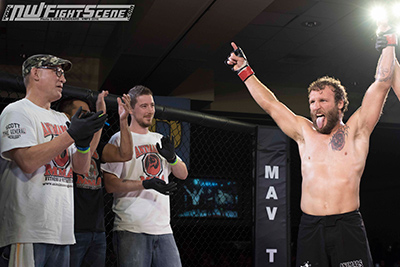 Impact Jiu-jitsu's Bryan Nuro of Beaverton OR took on undefeated Ryan "Prince" Fillingame, representing Team Diamond out of Hesperia CA, in a pro 160 lb bout. A crowd-pleaser from start to finish, this one went all fifteen minutes and needed the judges to decide the winner. Both fighters displayed excellent standup, touching each other with powerful shots throughout. As the fight progressed though, Nuro upped his output on the feet, backing up Fillingame and scoring with big flurries. Fillingame was able to execute a number of slick takedowns in the fight, but just as often as not would immediately stand up to avoid Nuro's ground game. Those times Fillingame stayed on the ground, Nuro would attack with elbows from the bottom or go for submission attempts, nearly finishing with a knee bar at one point. A close fight to score, two judges saw it Nuro who earned the split decision win 29-28, 29-28, 28-29. Nuro moves his professional record to 5-1, while Fillingame falls to 4-1.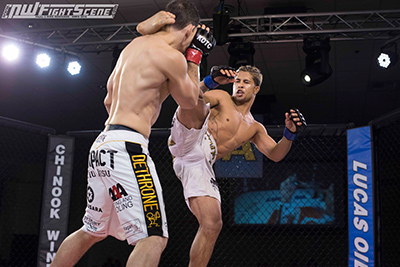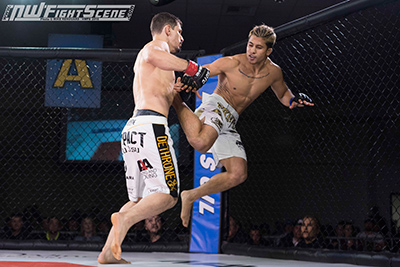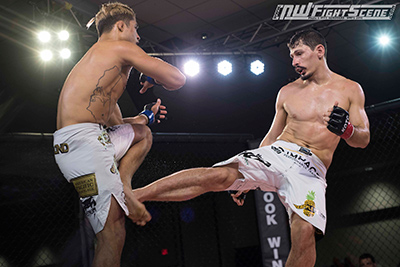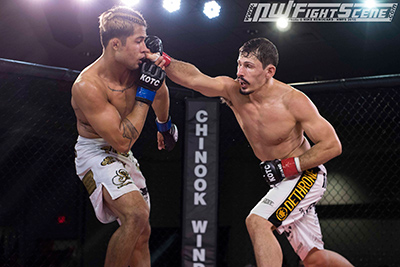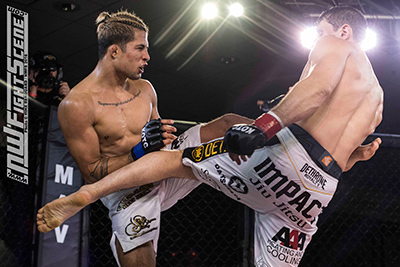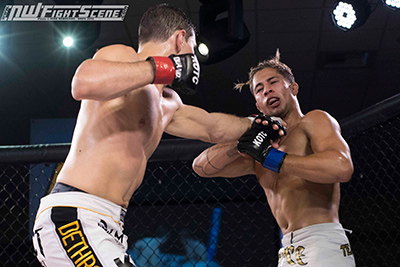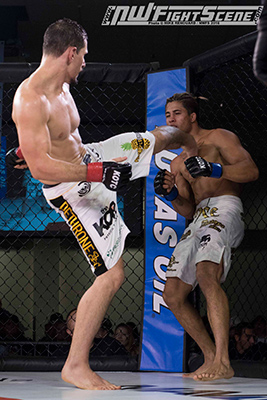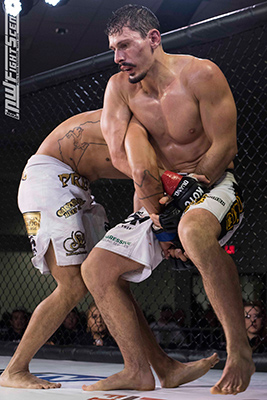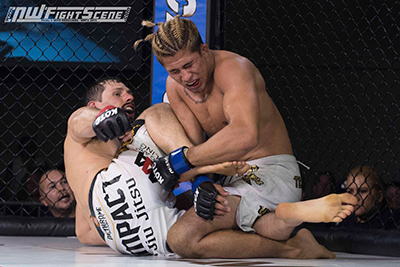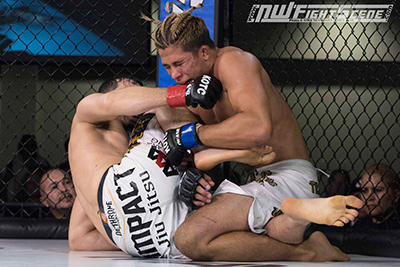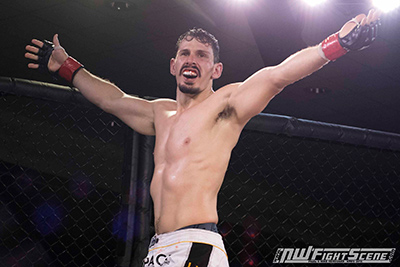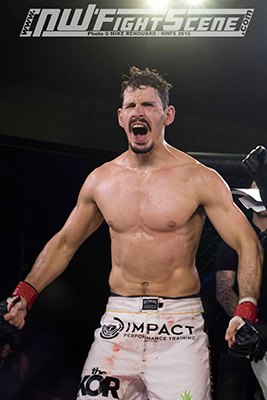 Two big heavyweights made their pro debuts in 6'4" Rudy Schaffroth of Gracie Barra PDX and 6'3" Derek Luna of Checkered Past MMA. This fight was a quick one as Schaffroth dropped Luna in an opening exchange with a big right hand, and then swarmed him on the ground with punches to garner a referee stoppage at just 11 seconds in.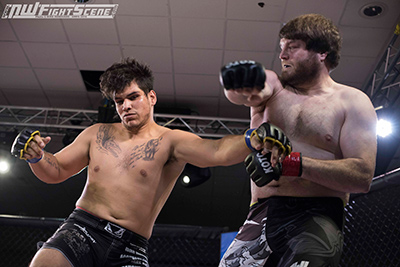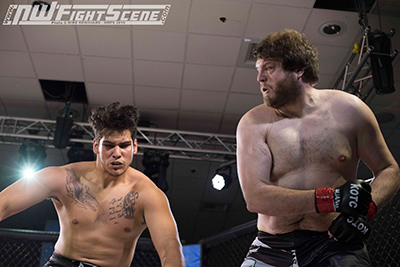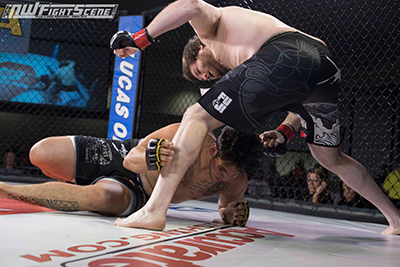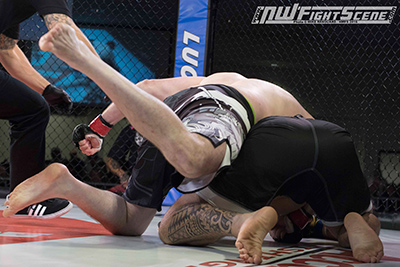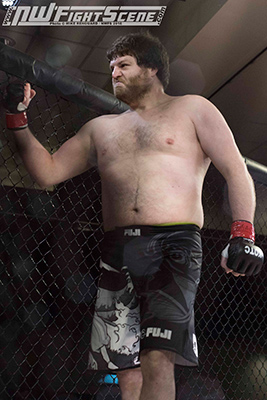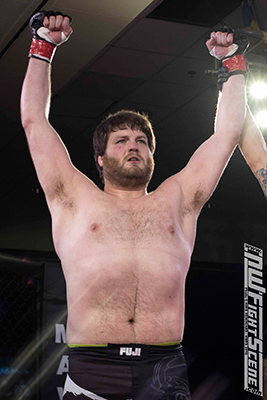 Rise MMA fighter Justin Zabroski of Corvallis OR scored a 2nd round TKO victory over Team Peaceful Fighter's Ryon Harris in a lightweight matchup to move to 2-0 as a pro, - his 2nd straight win over Harris in the past two months. The end came with a big knee to the midsection that dropped Harris, followed by big elbows and punches on the ground that prompted Harris's corner to throw in the towel at 1:23 of the round.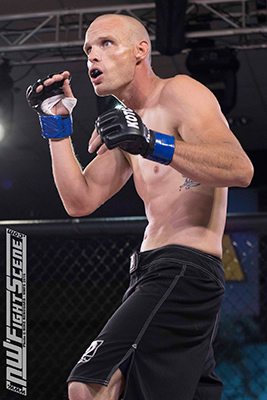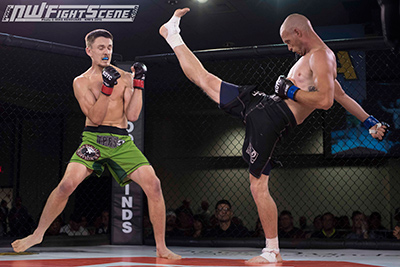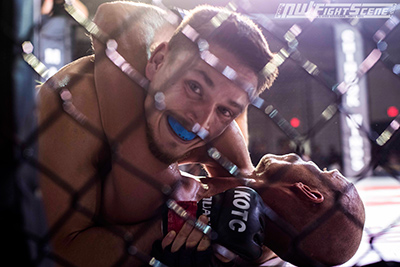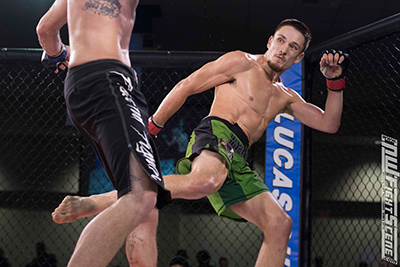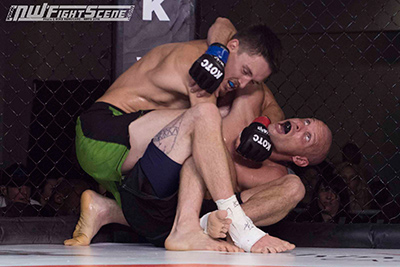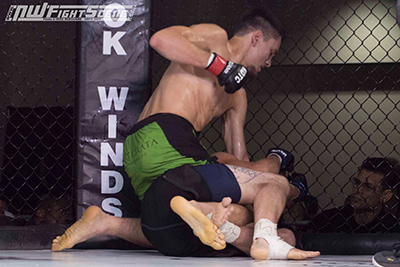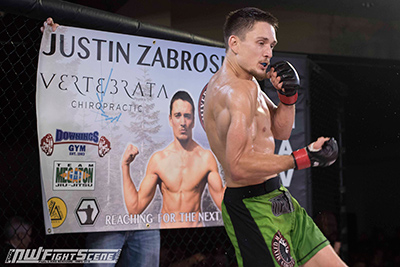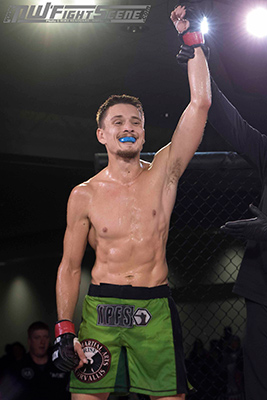 20-year-old Lisa "The Strangler" Spangler of Vancouver WA and 18-year-old Gillian "Valkyrie" Noll of Post Falls ID squared off in a battle for the King of the Cage Amateur 135 lb Women's Title. Despite their relative youth, both fighters already possess a wealth of cage experience and this was on full display with the ladies engaging in a 5-round, full-on war. After 15 minutes of action, it went to the judges who saw it 49-46, 49-46, 48-47 in favor of Spangler, who successfully retains her KOTC 135 lb belt.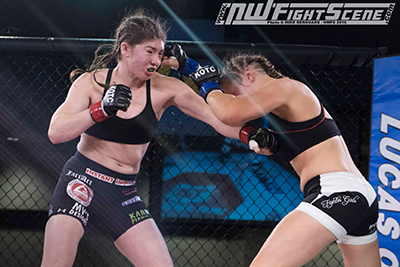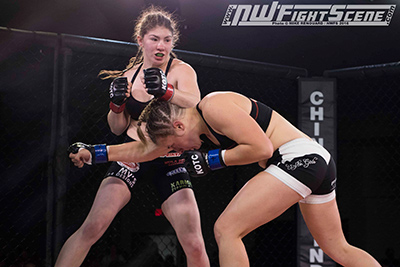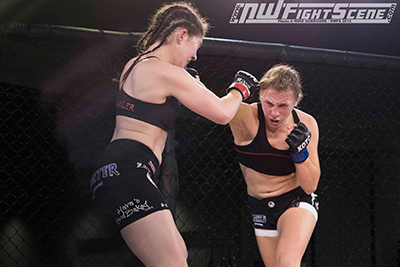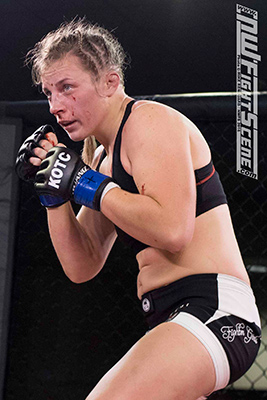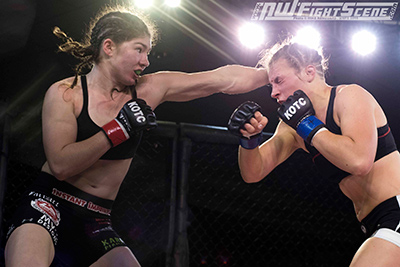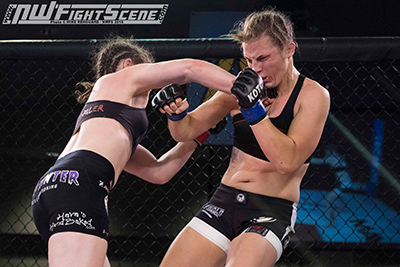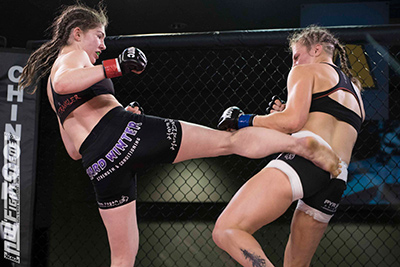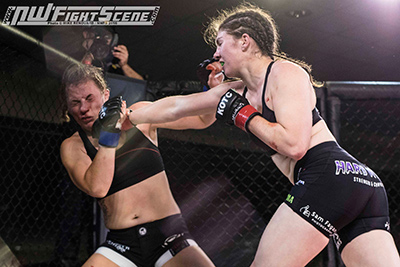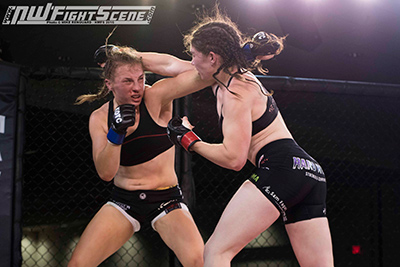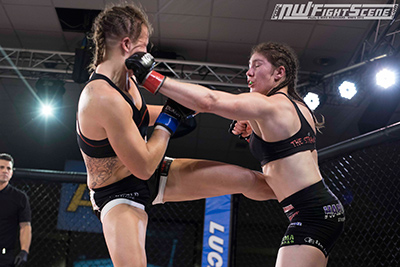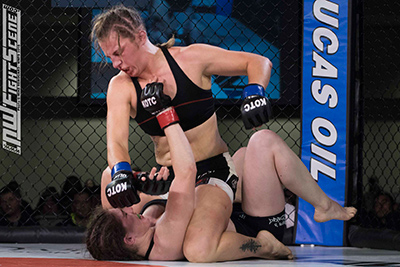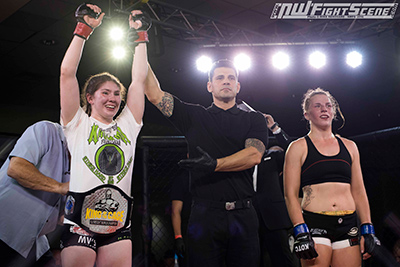 In the evening's opener, Gracie Barra Portland's Cris Williams didn't collect the KOTC Amateur 145 lb belt as he came in a bit overweight, but he did collect another victory to keep his undefeated amateur record intact by submitting Arcata CA's Cass Bell via triangle choke at 1:16 of the third.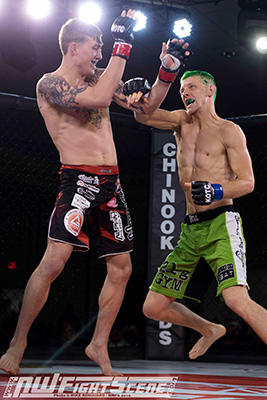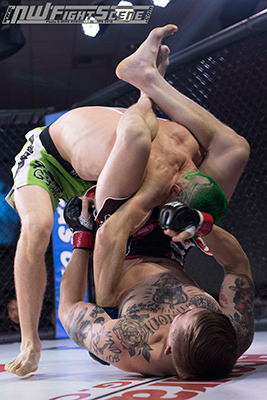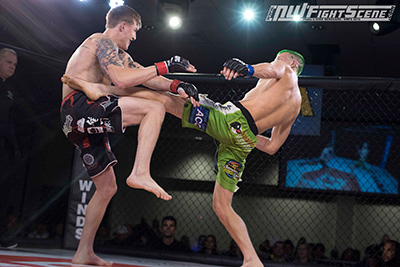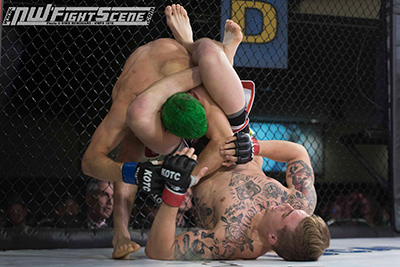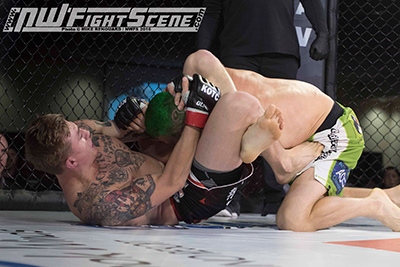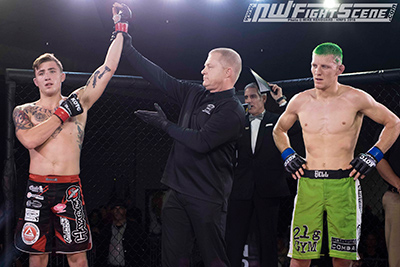 King of the Cage will hold four events in 2017 at the Chinook Winds Casino, starting with a February 4th date that will feature Portland's Fabiano Scherner versus Tony Lopez for the KOTC Heavyweight belt. More info at kingofthecage.com.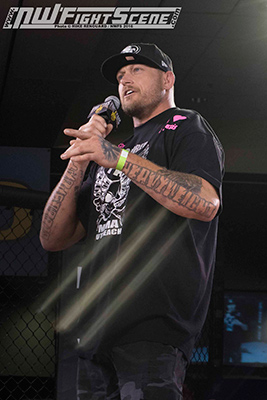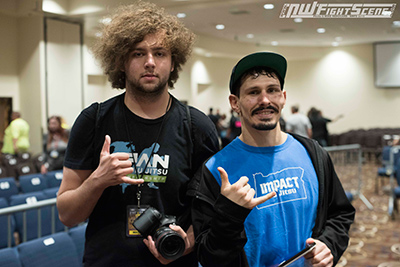 ---
KING OF THE CAGE "HIGH CALIBER" Results
Bout 1 - Amateur 146 lbs
Cris Williams (Portland OR) def Cass Bell (Arcata CA)
by Triangle Choke @ 1:16 Rd 3

Bout 2 - KOTC Amateur Women's 135 lb Championship
Lisa Spangler (Vancouver WA) def Gillian Noll (Post Falls ID)
by Unanimous Decision (49-46, 49-46, 48-47)

Bout 3 - Pro 155 lbs
Justin Zabroski (1-0 - Corvallis OR) def Ryon Harris (0-2 - Eugene OR)
by TKO (Corner threw in towel) @ 1:23 Rd 2

Bout 4 - Pro Heavyweights
Rudy Schaffroth (Debut - Portland) def Derek Luna (Debut - Eugene OR)
by TKO (Ref Stop - Strikes) @ 0:11 Rd 1

Bout 5 - Pro 160 lbs
Bryan Nuro (4-1 - Beaverton OR) def Ryan Fillingame (4-0 - Hesperia CA)
by Split Decision (29-28, 29-28, 28-29)

Co-main Event - Pro 165 lbs
Enoch Wilson (19-11-2 - Woodburn OR) def Dominique Gutreece (7-18 - Portland)
by Rear Naked Choke @ 3:06 Rd 1

Main Event - KOTC Pro 170 lb Championship
Ben Egli (7-1 - Tigard OR) def Aaron Hedrick (9-6 - Oroville CA)
by Standing Guillotine Choke @ 1:17 Rd 1