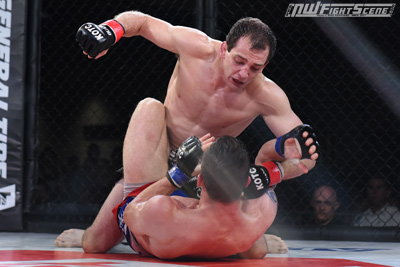 Ben Egli stopped Tyson Jeffries late in the 5th round in the main event

King of the Cage visited the Chinook Winds Casino Resort on August 5th, presenting King of the Cage "Fractured". The main event featured a showdown between Gracie Technics / Burke Muay Thai's Ben Egli and Gracie Barra Portland's Tyson Jeffries. Egli entered the weigh-ins on Friday as the KOTC Welterweight Champ, a title he won last October in Lincoln City, and was to be making his 3rd defense. Unfortunately - and for the first time in his 21 fight pro/am combined MMA career - Egli missed weight, by a mere tenth of a pound, just enough to have his title stripped. His opponent Jeffries, a veteran of 22 pro fights since 2007 with appearances under M-1 and Bellator, made weight and had a shot at the belt if he were to beat Egli in the 5 round main event.

In the first round, Jeffries came out throwing but Egli answered with a takedown. When Jeffries took top position, Egli locked in a triangle choke and slowly cinched it tight. But the experienced Jeffries hung on for nearly a full two minutes before Egli bailed on the submission. In the 2nd, it was all standup, both fighters landing with serious power and mixing in knees and kicks to their attacks.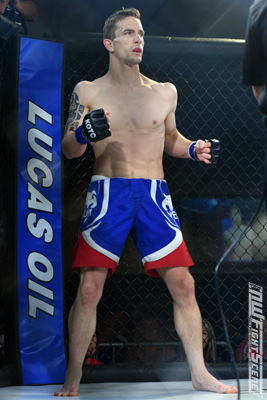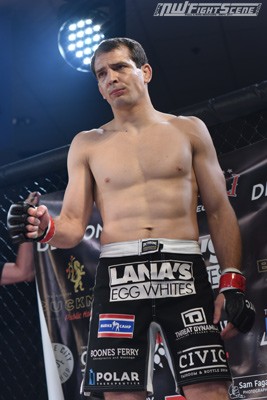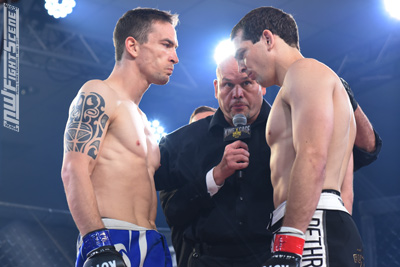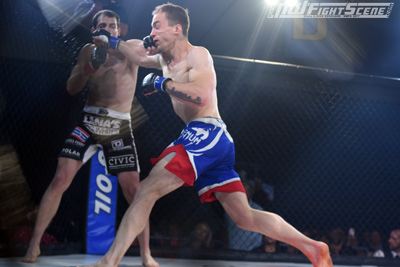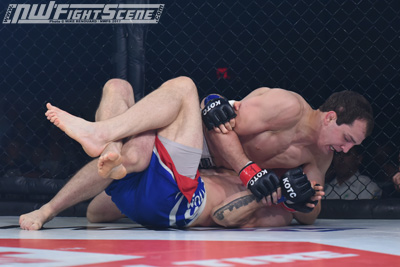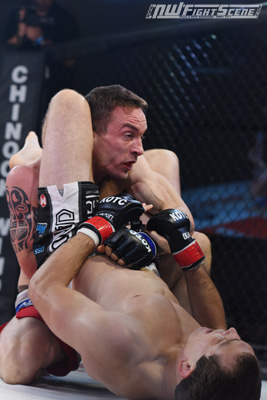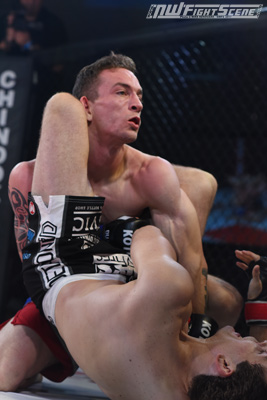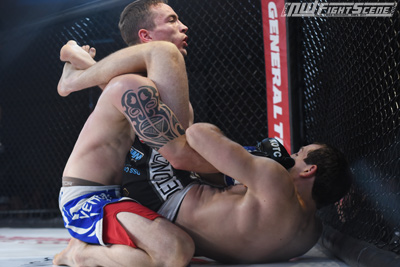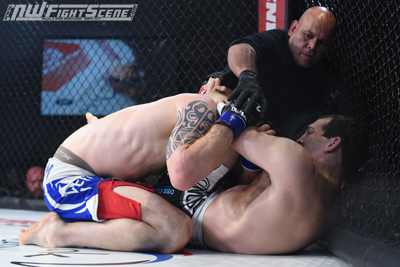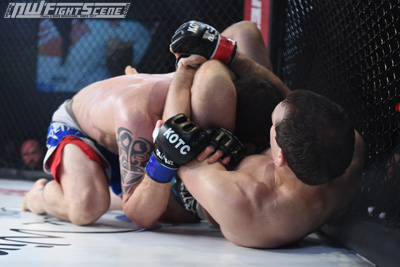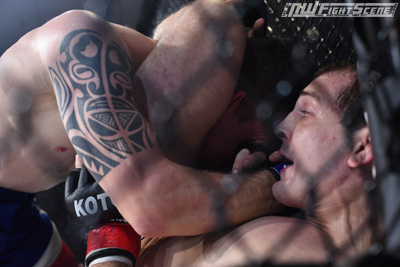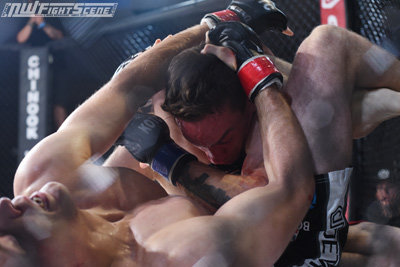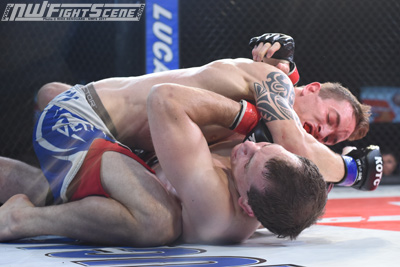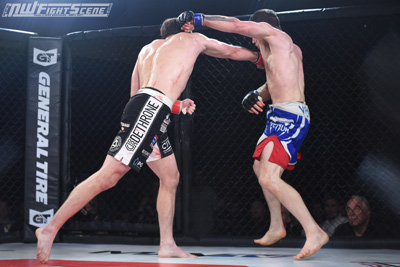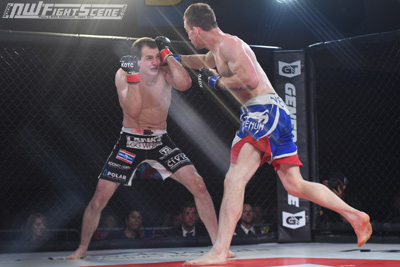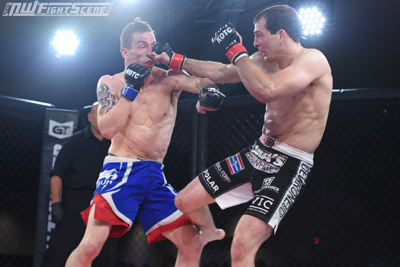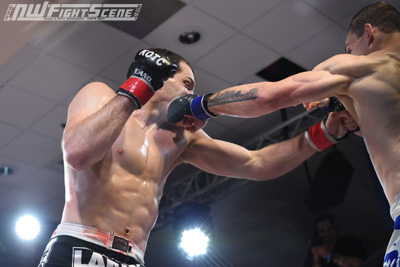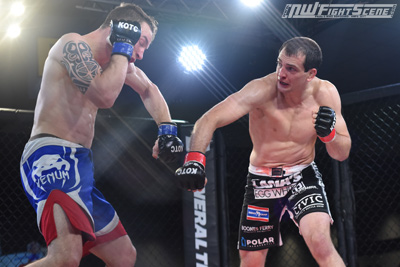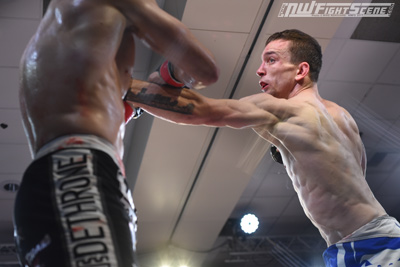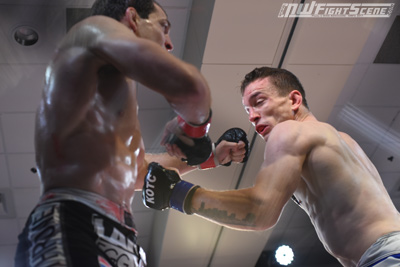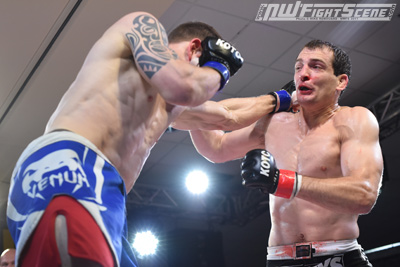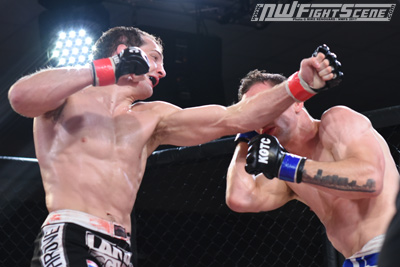 The third frame saw more displays of striking prowess before Egli ducked under a punch and took Jeffries to the mat. Jeffries though maintained top position and was able to drop in some strikes. The fight stalled and on the standup, Jeffries slipped on the mat throwing a high kick, and Egli capitalized, getting control on the ground, working for a choke, then ground and pound. The round ended back on the feet with both fighters swinging.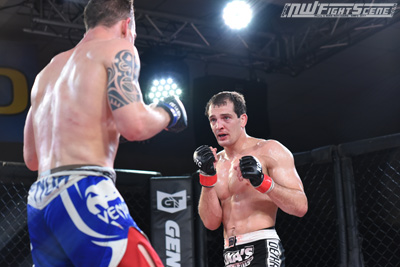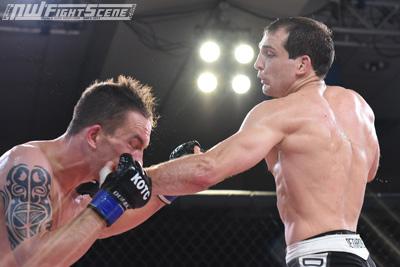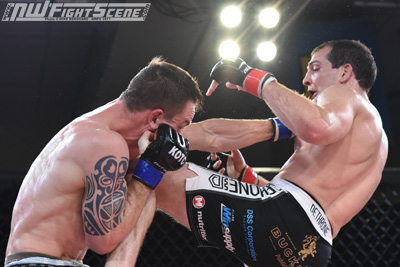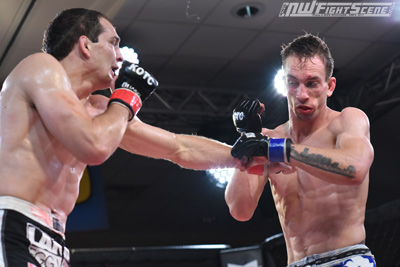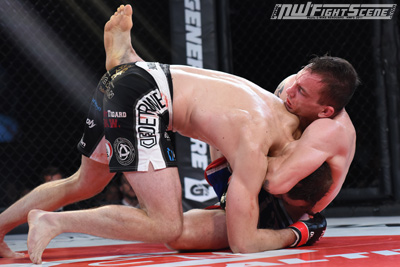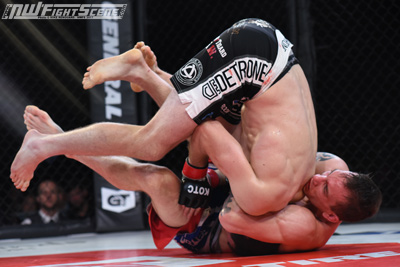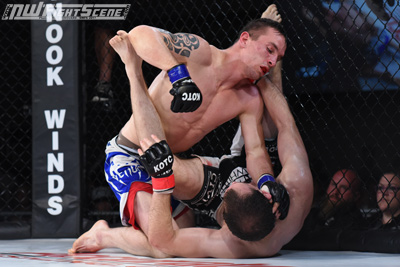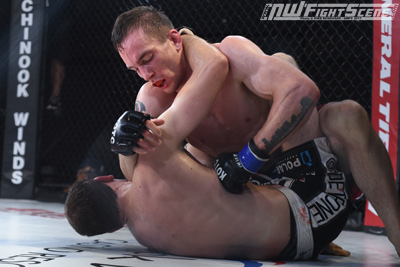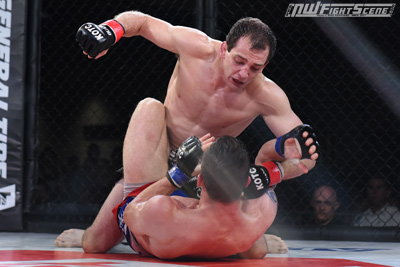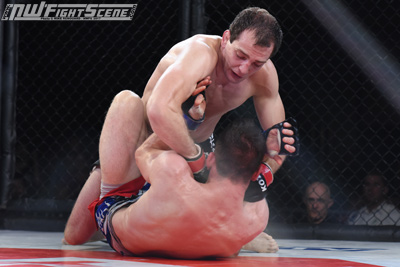 The 4th saw some nasty striking and solid clinch work that gave way to a takedown by Jeffries. Egli got it right back up, but Jeffries took him right back down. Egli though was able to scramble to top position, landing some vicious shots before the bell.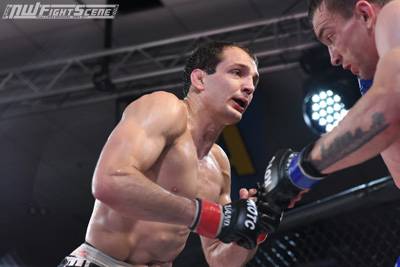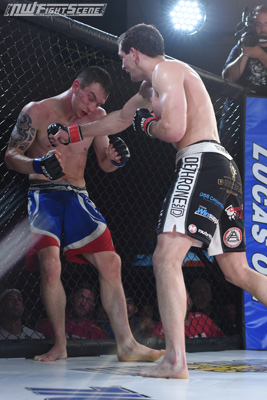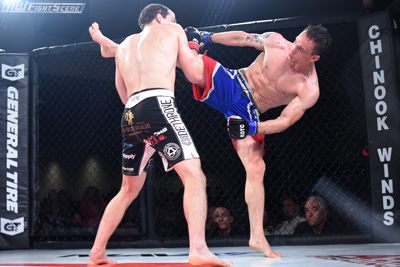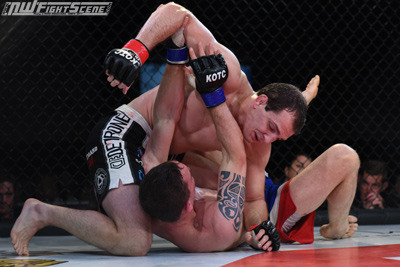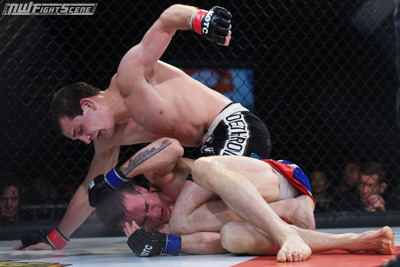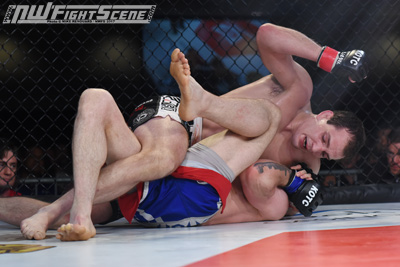 In the 5th and final round, Egli came out with some kicks to the head and body, before Jeffries took it down to the mat, looking to do damage. But Egli was able to sweep, and once on top, he unleashed a furious striking attack. Jeffries absorbed a tremendous amount of punishment in seeking to escape, but Egli was pinpoint accurate forcing referee Dave Hagen to stop the contest at 4:30 of the 5th. What an incredible battle between these two warriors! Egli leaves without his title but improves his record to 10-1 with the victory. Jeffries sees a 4 fight win streak snapped.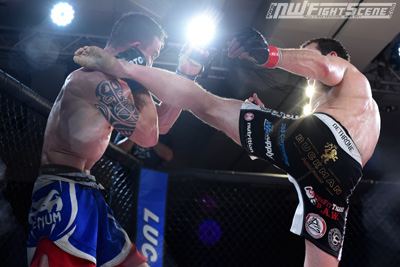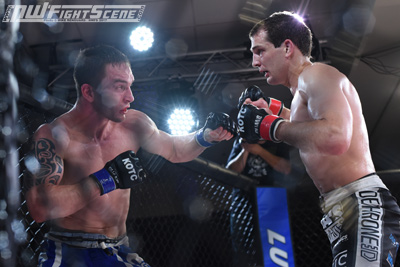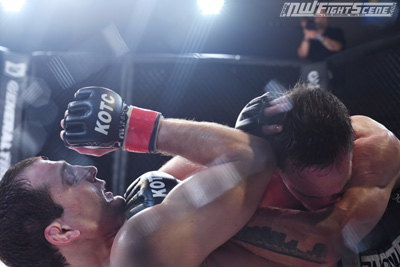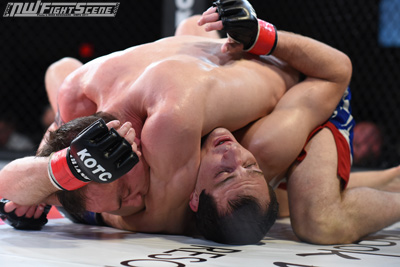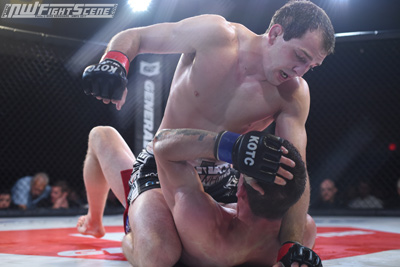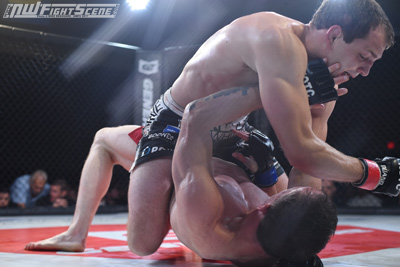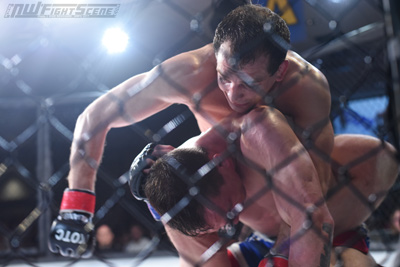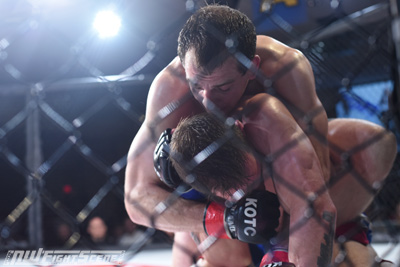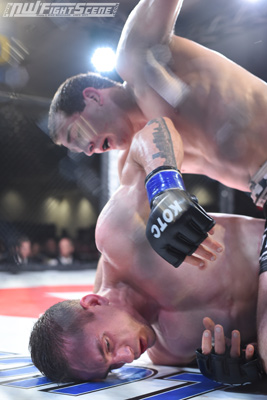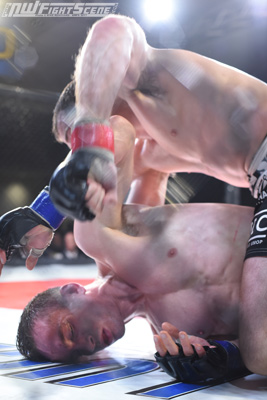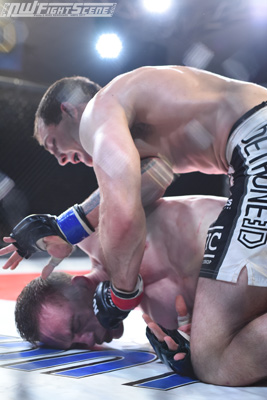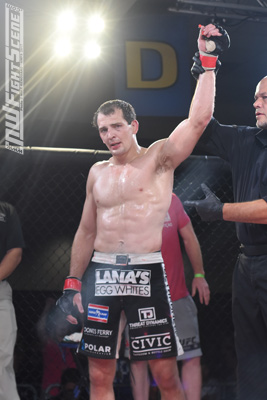 In the co-main event, Glena Avila, fighting out of Vancouver WA's Fisticuffs Gym, defeated G.I.R.L.S Gym's Katie Howard via unanimous decision, 30-27 x3, in a pro 120 lb rematch. The pair had met 3 years previous in a pro strawweight bout in Portland, with Avila winning by split decision. Both fighters were returning to the cage after long absences, Avila last fighting in Dec 2016 on the losing end of an epic 5 round striking battle to Amy Montenegro, where Avila broke both hands early on and kept on throwing. Howard meanwhile, hadn't fought in over 2 years, her last fight a decision loss to the legendary Tara La Rosa.

From the get-go in this rematch, Avila kept moving forward on Howard, countering with solid strikes to Howard's leg kicks or punches. Avila pressed Howard against the cage and landed knees to the body and legs. The fight went to the ground with Avila hammering home some punishment. Howard though pushed her way to the feet with the round ending in a clinch battle. In the 2nd, more aggression from Avila on the feet but Howard was showing some nice form as well. In the final round, Avila scored a big knockdown with a straight right but Howard defended on the ground. Back on the feet, both ladies picked up the pace, and by the round's end, both stood in the pocket slinging hard punches at each other. A nice standing ovation from the crowd before Avila was declared the unanimous winner.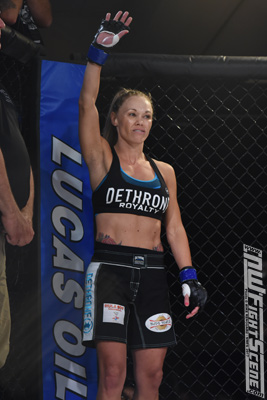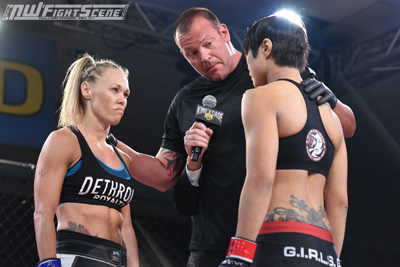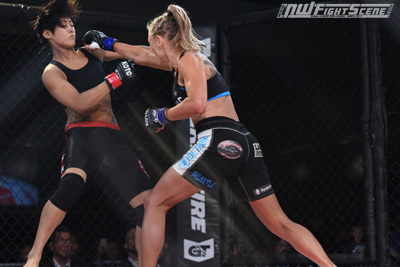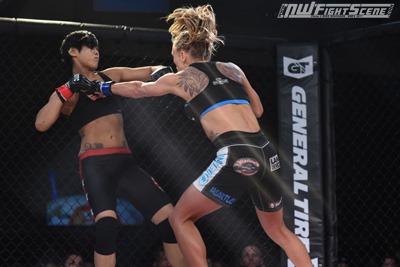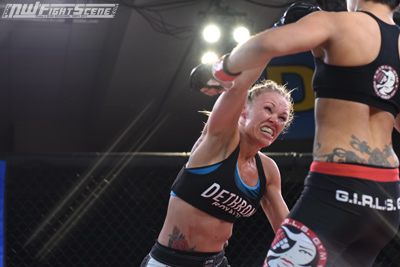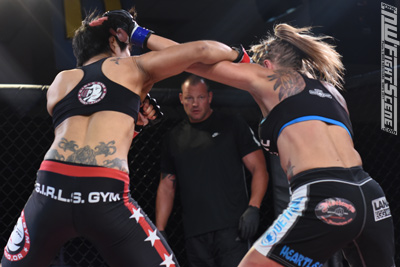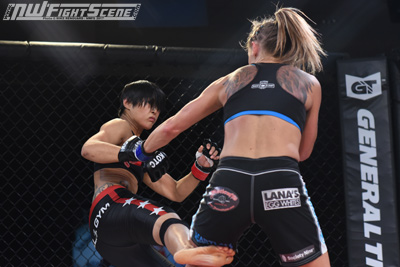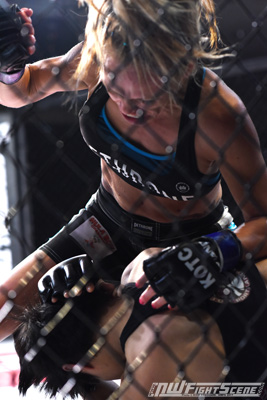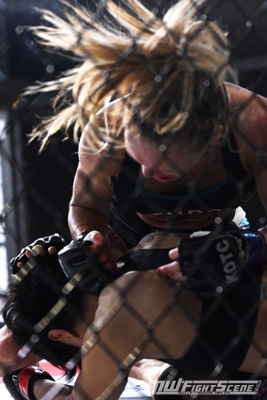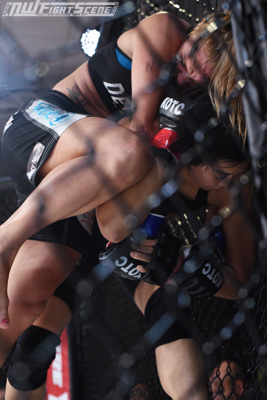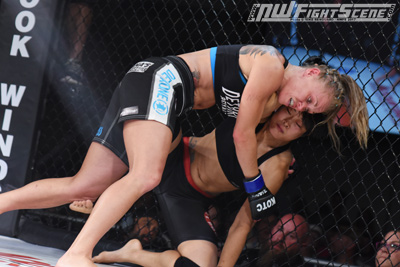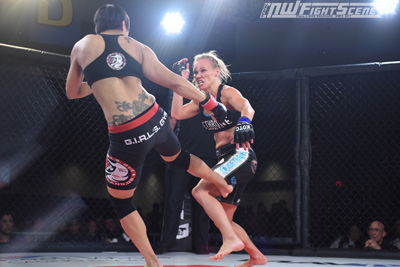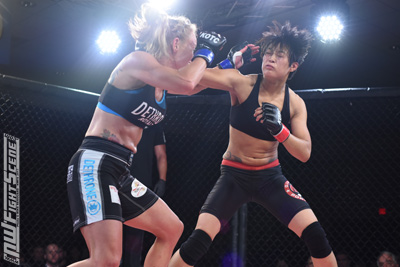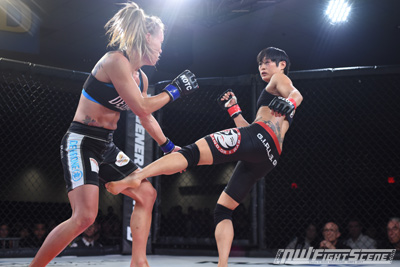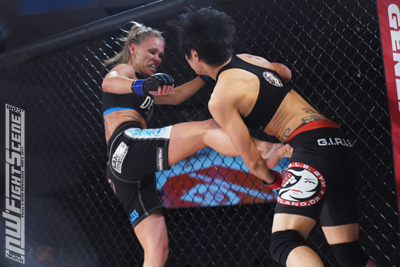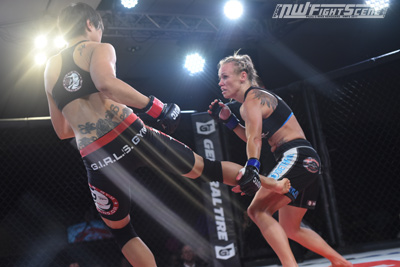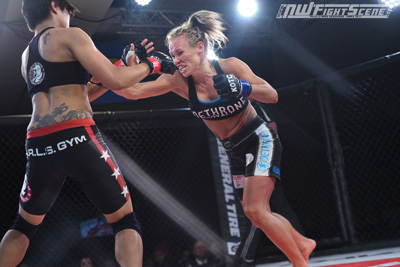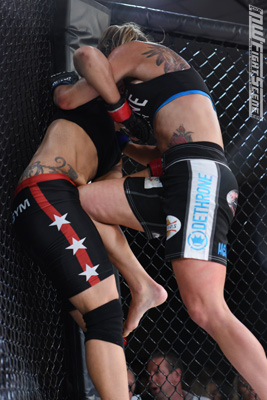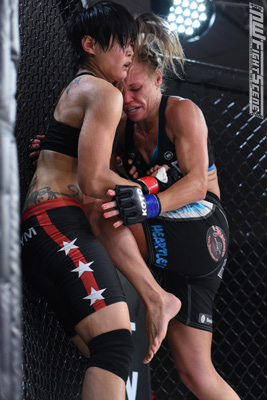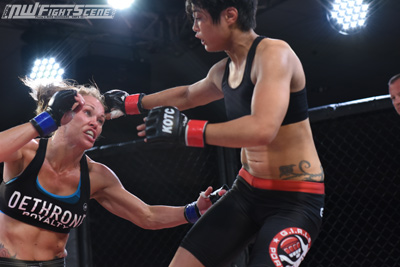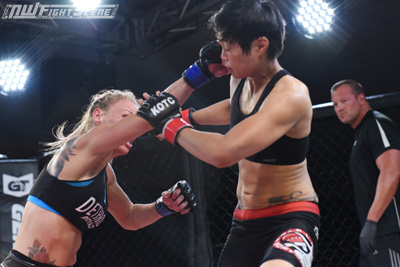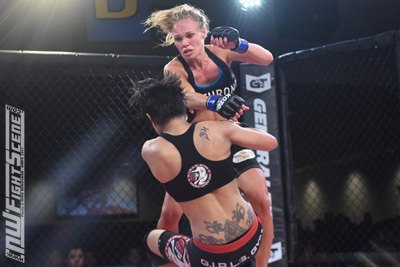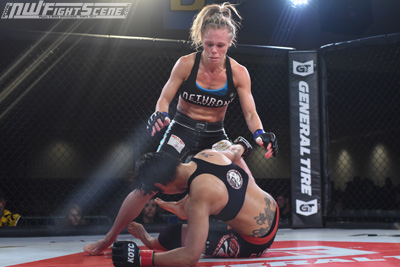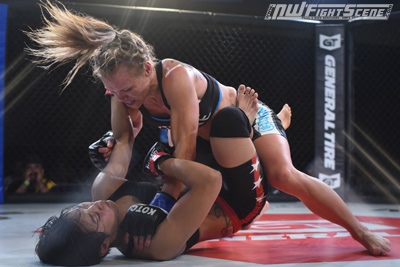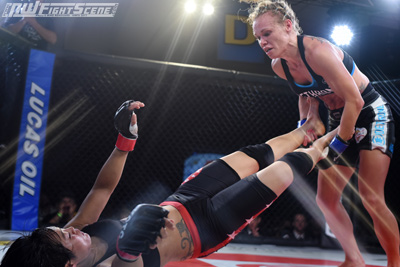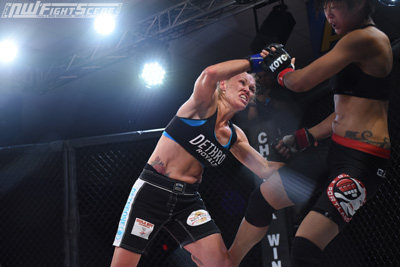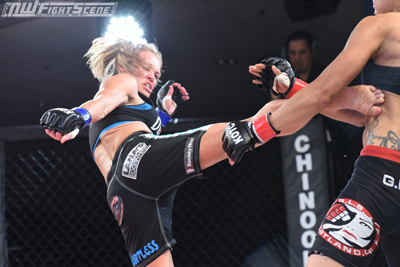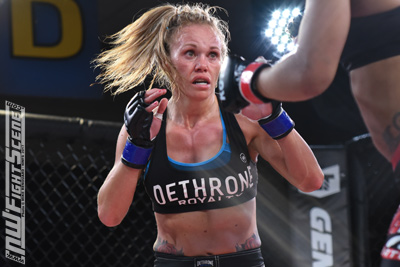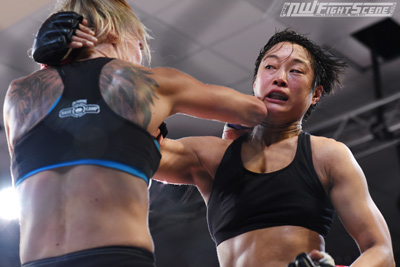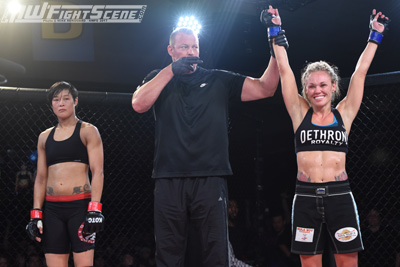 22-fight veteran Ronny Markes, with Gracie Barra PDX, submitted Elevate MMA's Dylan Potter in a pro 205 lb matchup. A native of Brazil, the 29-year-old Markes has been competing professionally since 2007 with a 5 fight run with the UFC, and more recently fights with M-1, the PFL / World Series of Fighting, and King of the Cage, having won the KOTC Super Heavyweight Title over Tony Lopez earlier this year in Lincoln City. Meanwhile, the 22 year-old Potter, at 5-2, seized on the opportunity to test himself against an opponent of Markes' caliber.

The fight started with the pair circling each other briefly before Markes charged forward, firing off a big kick to the body and then moving in to force a takedown against the fence. Potter tried to defend but Markes deftly got himself into position to lock on a arm triangle choke that wound up putting Potter to sleep midway through the first round. Markes is now 18-5, winning 3 out of his last 4 fights.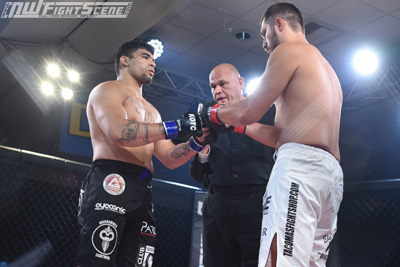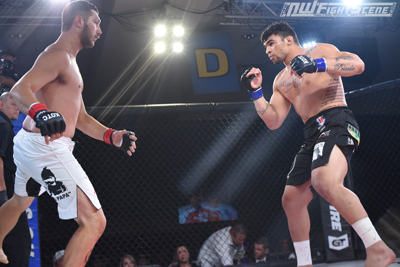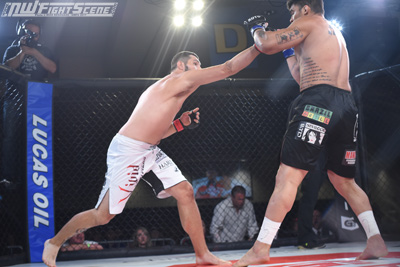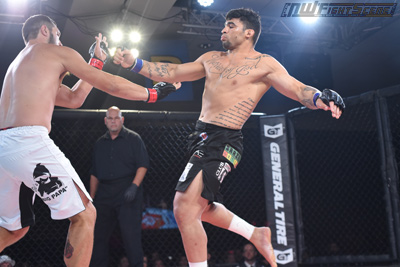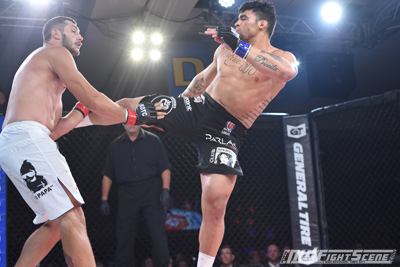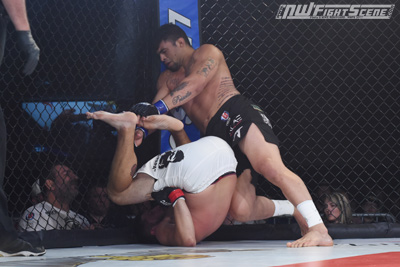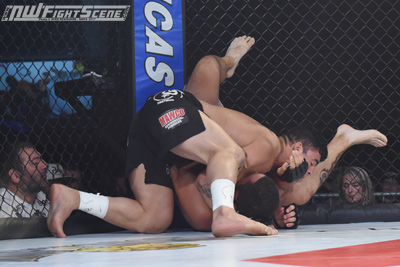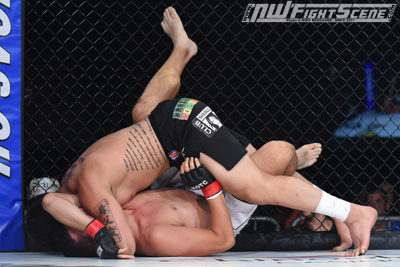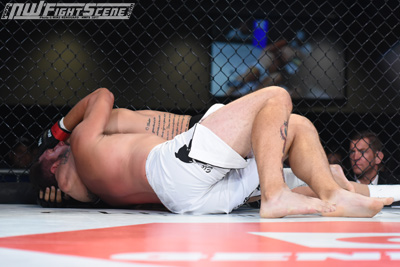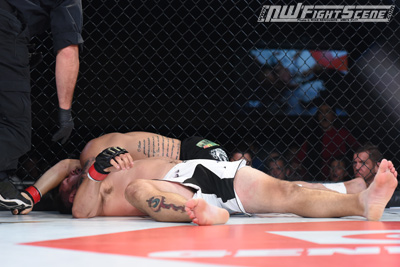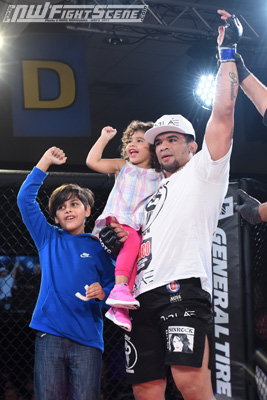 Gracie Barra PDX fighter Ryan Walker displayed good striking and a great ground game over three rounds to take home a unanimous decision win over Hawaii's Scotty Hao with Average Joe's Gym. In the first, Walker landed with leg kicks and then used his fists to set up a takedown. Hao defended with an armlock attempt, but Walker quickly gained the advantage and then started throwing submission attempt after attempt against Hao who did well to defend to round's end.

In the 2nd, more early standup gave way to another Walker takedown, and on the mat attacked Hao's arm for a kimura attempt. Hao eventually got free and briefly had top position before Walker again took over, bloodying Hao's face with elbow strikes and punches against the cage. In the final round, some excellent standup exchanges came early before another Walker takedown. On the mat, Walker mixed in submission attempts and striking to the bell and took home the decision, 30-27 x2, 30-26. Walker moves his professional record to 8-3, while Hao falls to 3-2.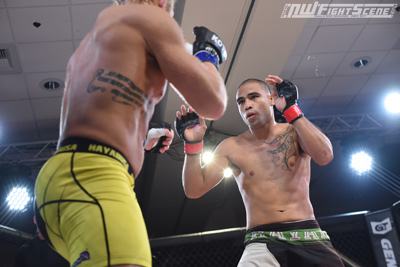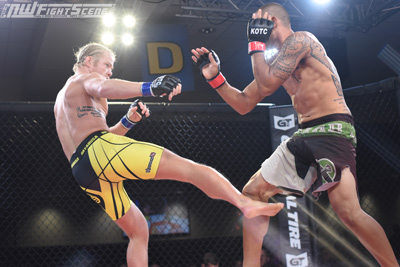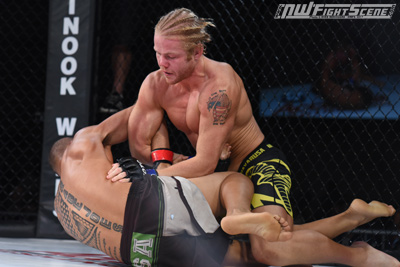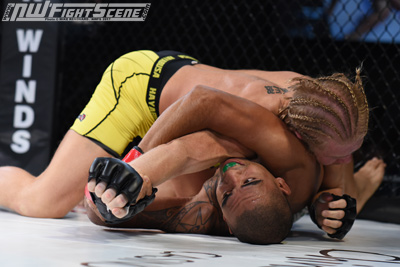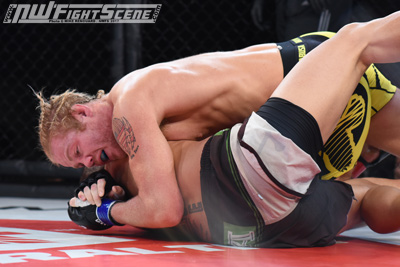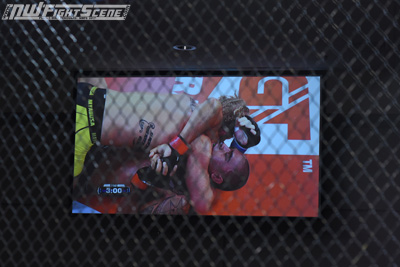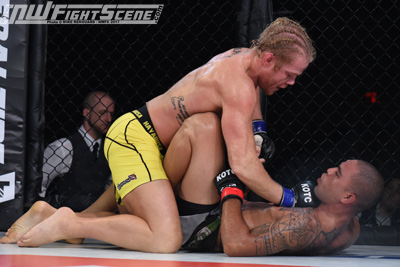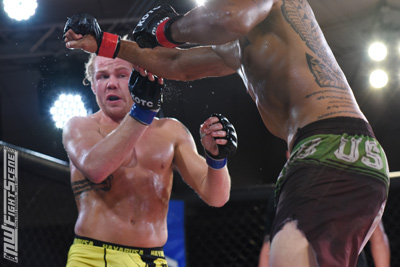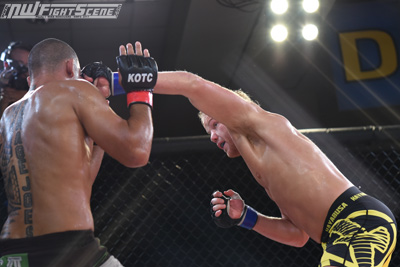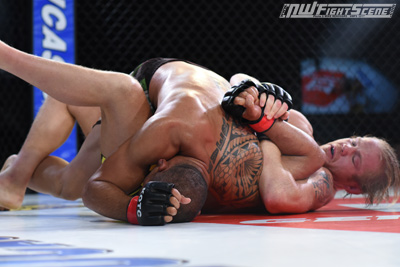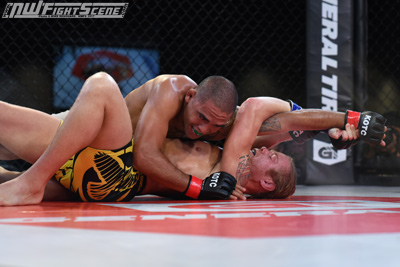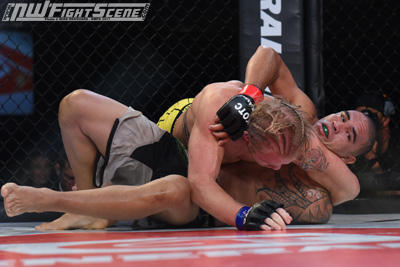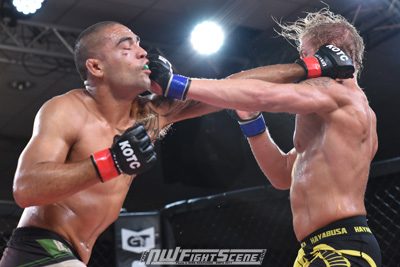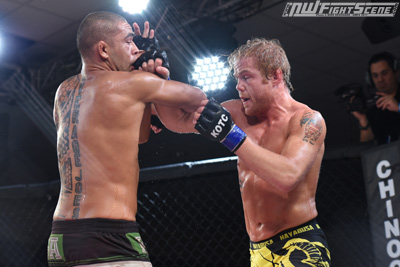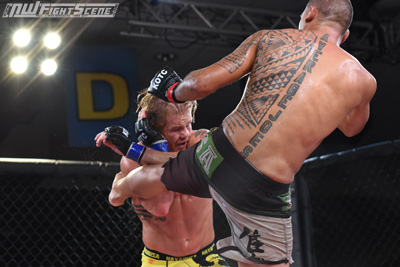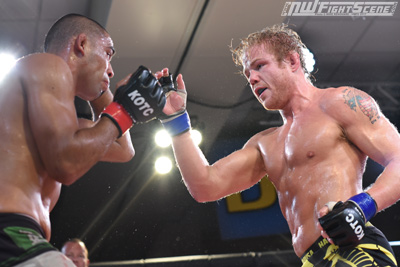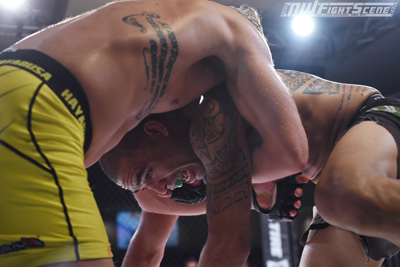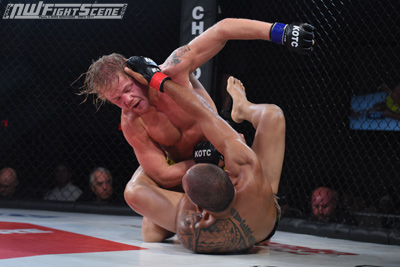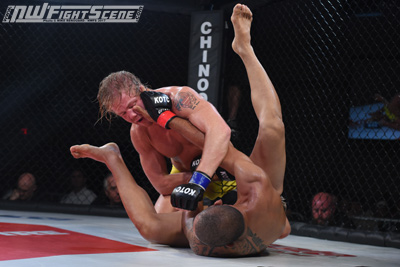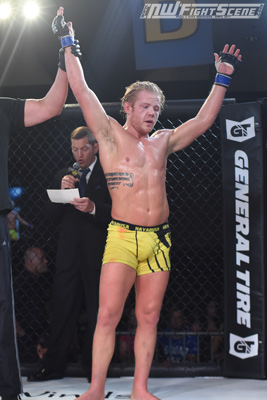 Fisticuffs fighter Chance Gabriel opened his pro career with a solid 1st round TKO victory over fellow debuter Keith Wolf of Team Damage in a 135 lb contest. The end came just after the 3 minute mark with a big knee from Gabriel landing flush putting Wolf on the canvas, and Gabriel moving down and forcing a referee stoppage with ground shots.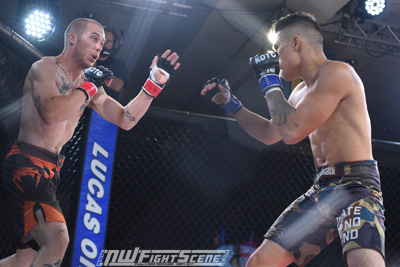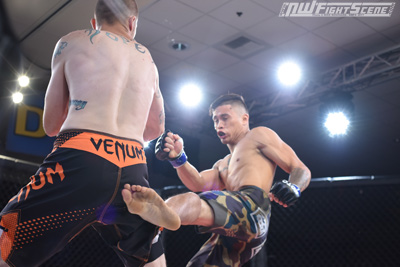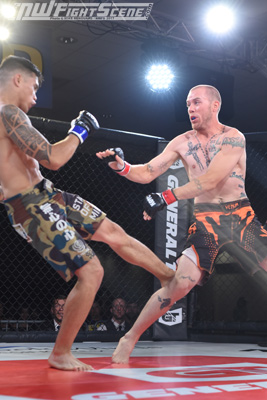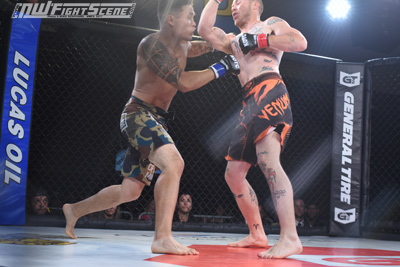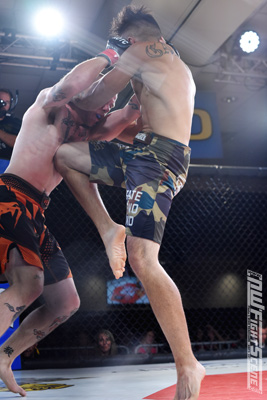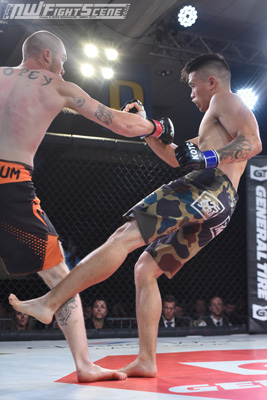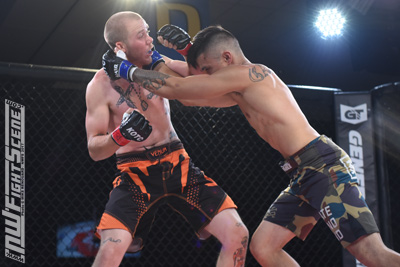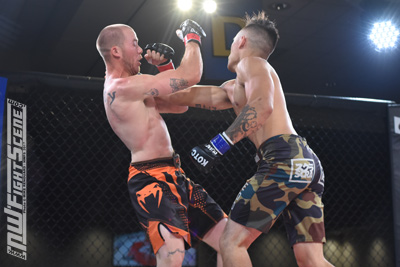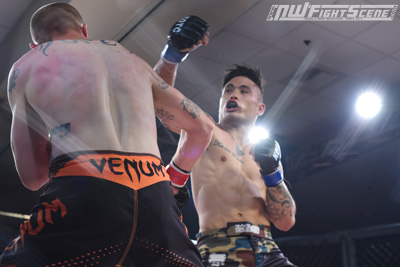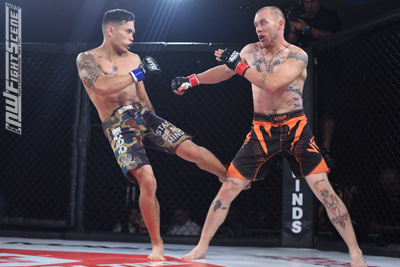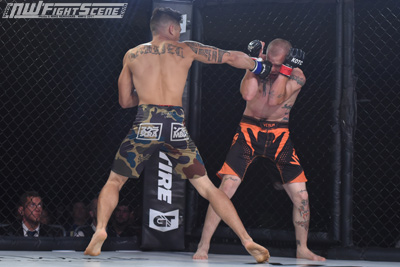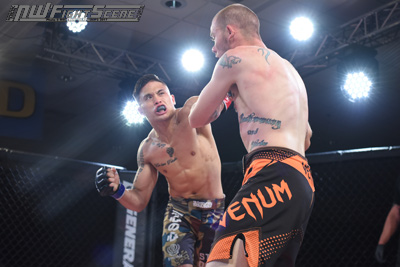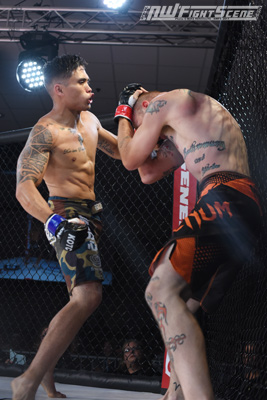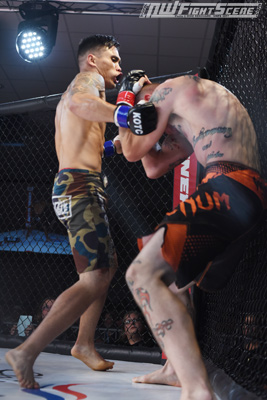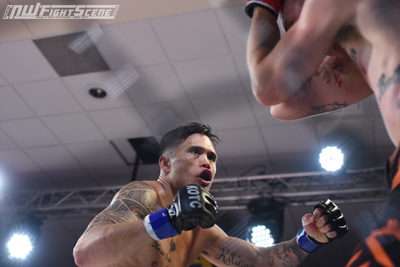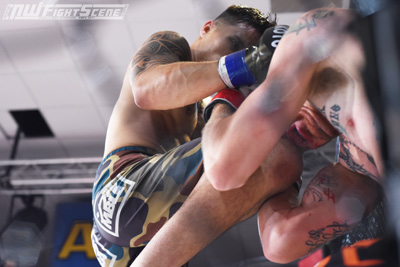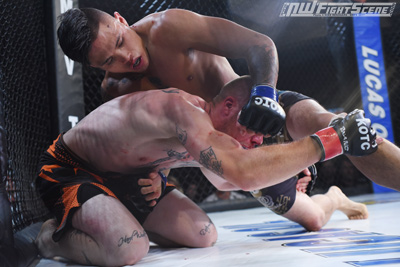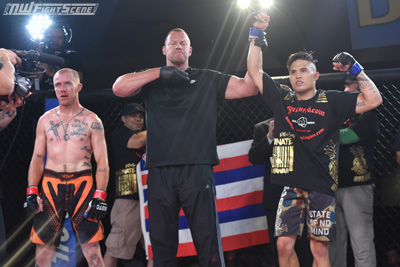 Portland Thai Boxing's Tunde Arigbon KO'd opponent Zach Vanzile in a amateur 160 lb bout. A competitive battle throughout, it was Arigbon dropping Vanzile midway through the 2nd, and as Vanzile turtled on the mat, Arigbon landed a couple hard punches for the finish.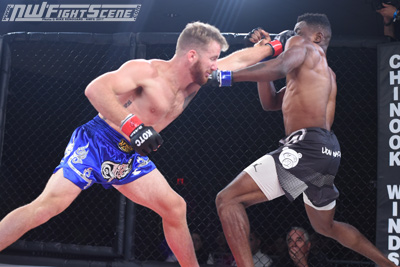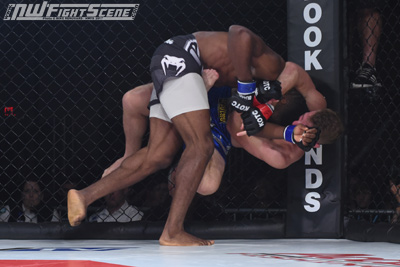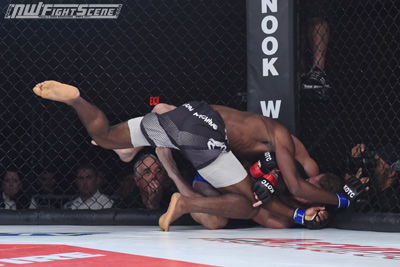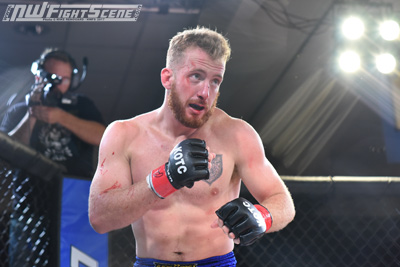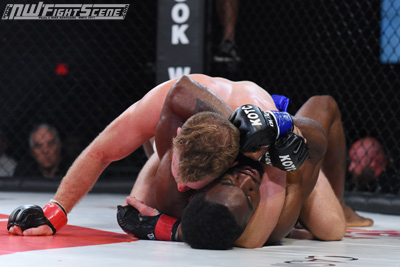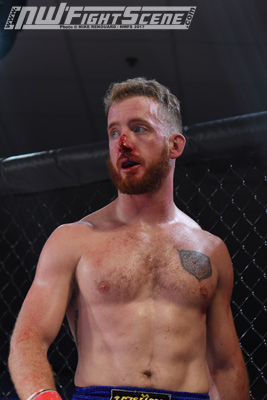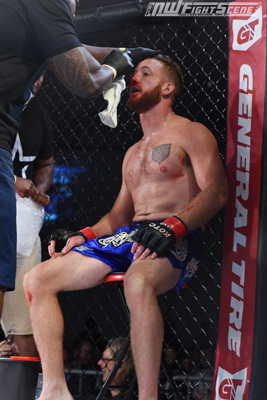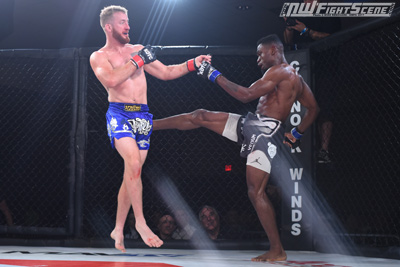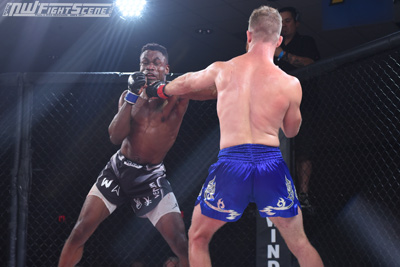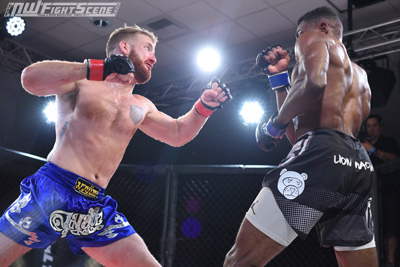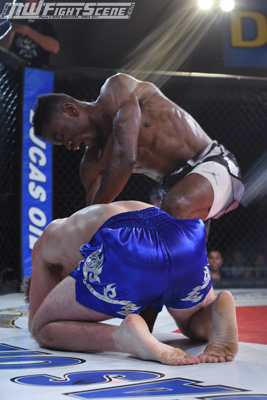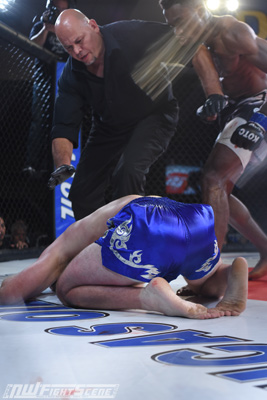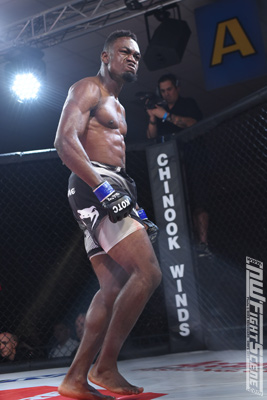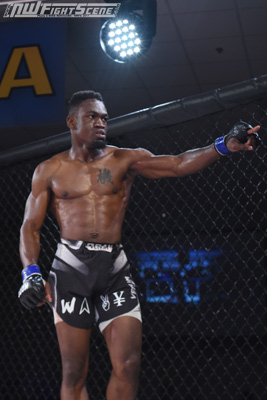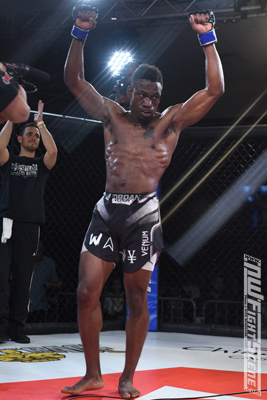 The night's opening contest was in the amateur welterweight division and it was Alex Aguilar, fighting with Portland Thai Boxing, stopping Ashland Jiu-jitsu's Aaron Bowles with strikes in the 2nd for the TKO win.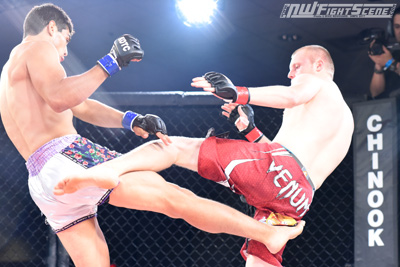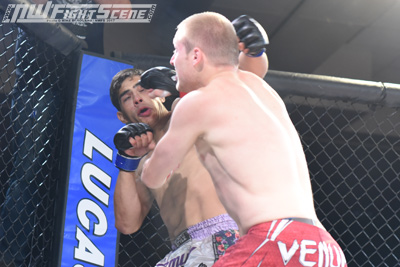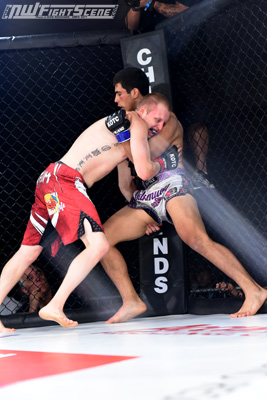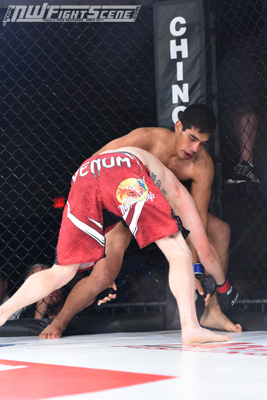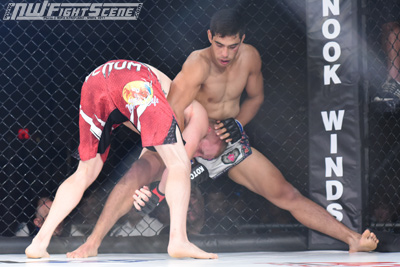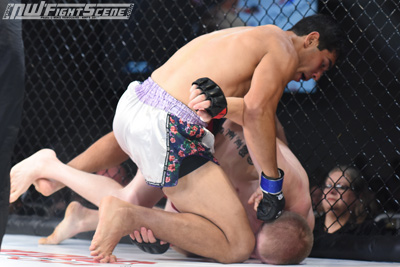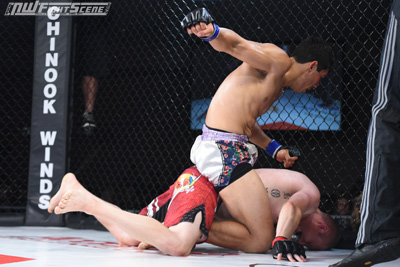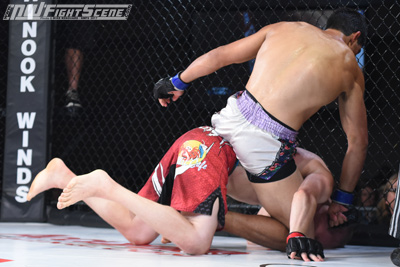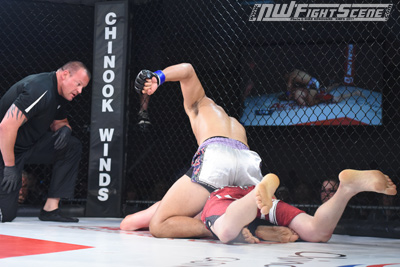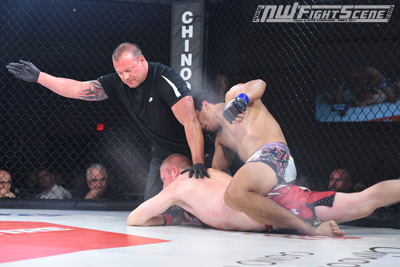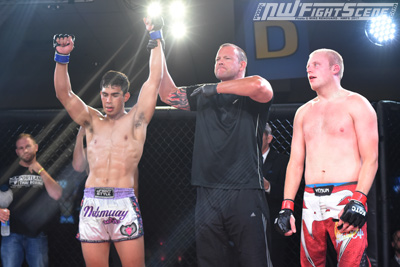 King of the Cage "Fractured" will air on MAV TV in approximately 6 weeks. King of the Cage is back at the Chinook Winds Casino on December 16th. Visit kingofthecage.com for more information.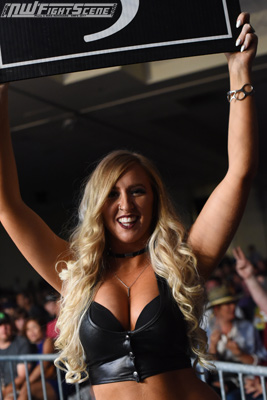 King of the Cage "Fractured" Results
Main Event - Pro 170 lbs (5 Rounds)
Ben Egli (9-1 - Gracie Technics/Burke Muay Thai) def Tyson Jeffries (15-8 - Gracie Barra PDX) by TKO (Ref Stop - Strikes) @ 4:30 Rd 5

Co-main Event - Pro 120 lbs
Glena Avila (5-4 - Fisticuffs/Purebred) def Katie Howard (3-5-1 - G.I.R.L.S. Gym) by Unanimous Decision (All Judges 30-27)

Pro 205 lbs
Ronny Markes (17-5 - Gracie Barra PDX) def Dylan Potter (5-2 - Elevate MMA) by Technical Submission (Arm Triangle) @ 2:29 Rd 1

Pro 160 lbs
Ryan Walker (7-3 - Gracie Barra PDX) def Scotty Hao (3-1 - Average Joe's Gym) by Unanimous Decision (30-27, 30-27, 30-26)

Pro 135 lbs
Chance Gabriel (Debut - Fisticuffs Gym) def Keith Wolf (Debut - Team Damage) by TKO (Ref Stop - Strikes) @ 3:13 Rd 1

Amateur 160 lbs
Tunde Arigbon (Portland Thai Boxing) def Zach Vanzile (3rd Rock) by KO (Ground Strikes) @ 1:44 Rd 2

Amateur 170 lbs
Alex Aguilar (Portland Thai Boxing) def Aaron Bowles (Ashland Jiu-jitsu) by TKO (Ref Stop - Strikes) @ 1:53 Rd 2