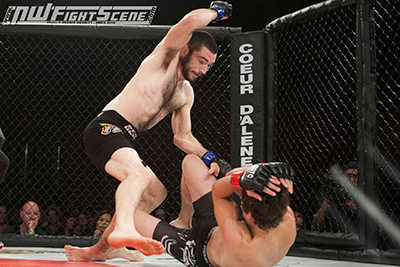 Jesse Hardenbrook finishes his opponent in a pro 145 lb contest

On August 18th 2016, Inland NW MMA fans packed the Coeur d'Alene Casino's event center for King of the Cage: No Remorse. 4 pro and 7 amateur contests took place, including a main event featuring local favorite "Iron" Will Noland taking on Olympia WA's Brent Ockerman, a late replacement for Dylan Potter. Ockerman came out game, firing off a high kick that elicited oohs from the crowd. Ockerman moved forward with punches but Noland started connecting, first with a hard left, then a right that dropped Ockerman, and finally a big shot on the ground to KO his opponent at 45 seconds in.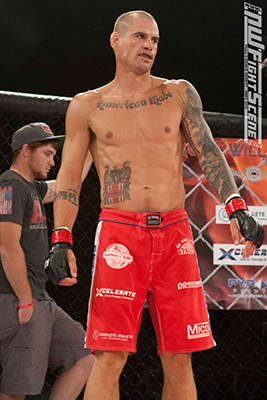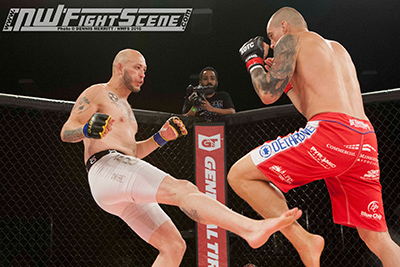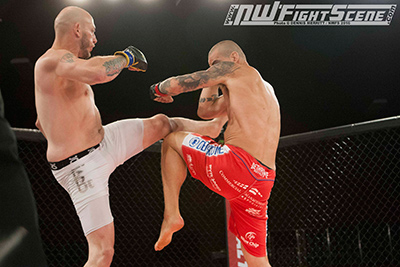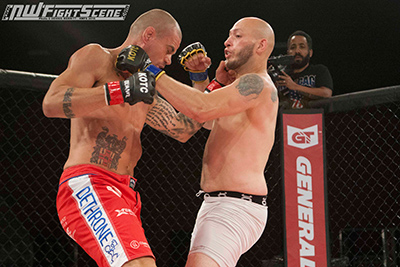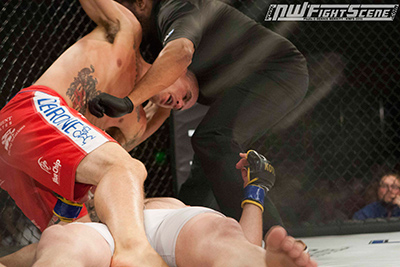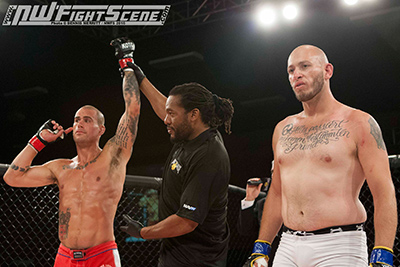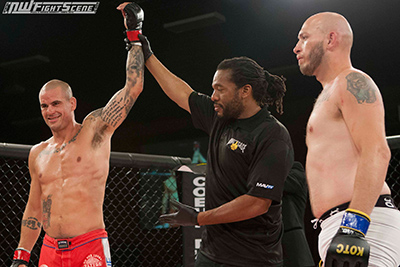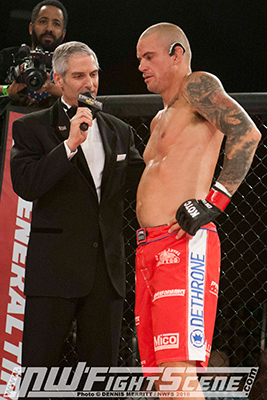 The Co-main Event featured a rematch between Seattle's Ryan Schecterson and CDA's Travis Smith. The pair met at King of the Cage: Battle Zone in May of this year, with an illegal kick from Schecterson to a downed Smith stopping the fight and resulting in a no-contest. For this fight, Smith got Schecterson into a bad position on the ground early and was throwing down strikes, but Schecterson displayed his submission skills, locking on a triangle and getting the tap from Smith at 1:49 of the first. Schecterson moves to 3-3 as a pro with the win, while Smith falls to 2-3.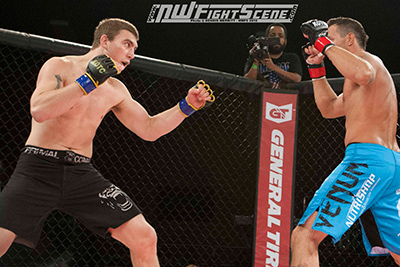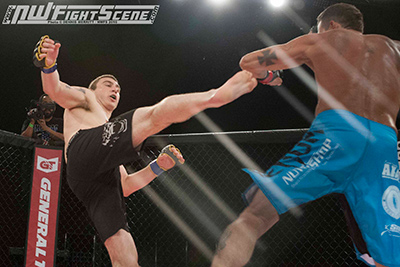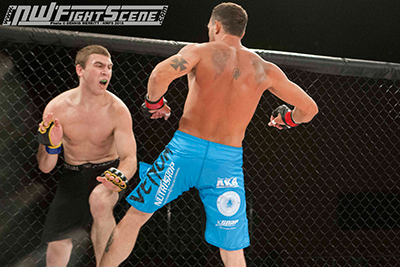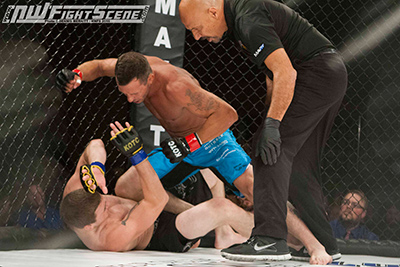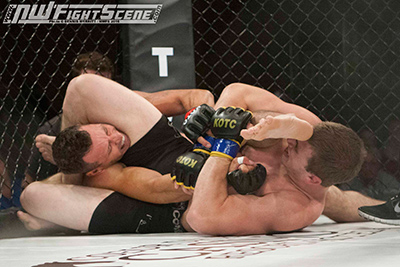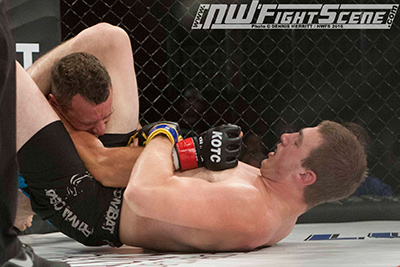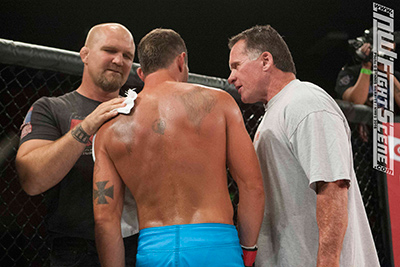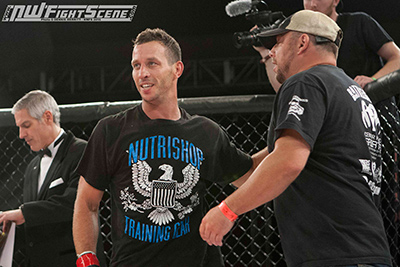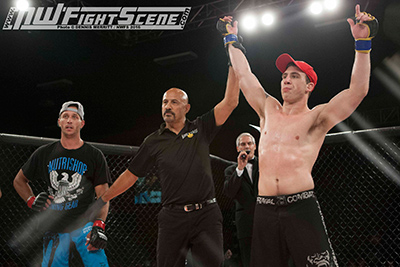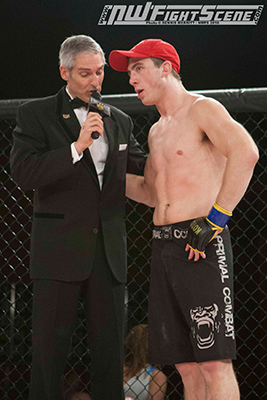 Two NW MMA pro Bantamweights matched up in Tony Sanchez fighting out of the Tri-Cities area returning to the cage for the first time since late 2014, taking on AKA's Zach Lari who was making his 2nd 2016 appearance after also taking a break from competition. The fight went to the canvas where Lari scored with ground strikes from top postion. Sanchez locked on a triangle but Lari fought through the attempt and made Sanchez pay with some hard elbows. Sanchez though attacked Lari's arm and rolled through for a straight armbar finish at 4:04 of the first round.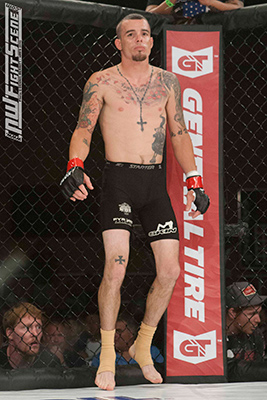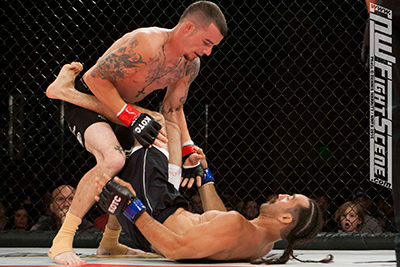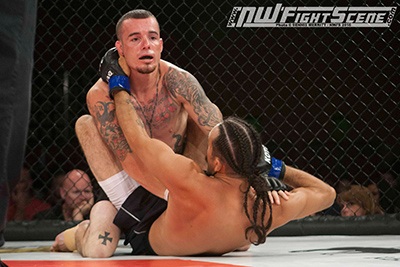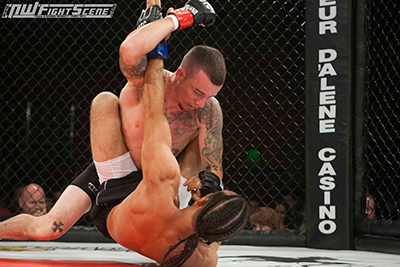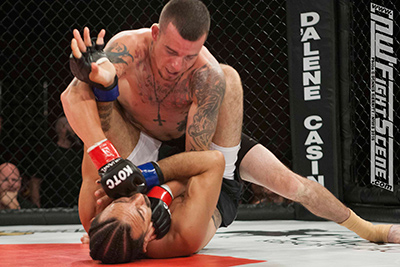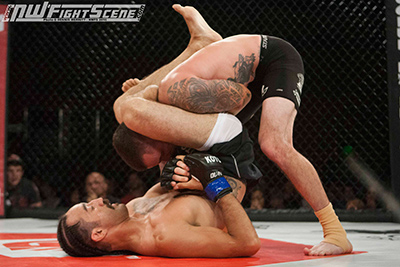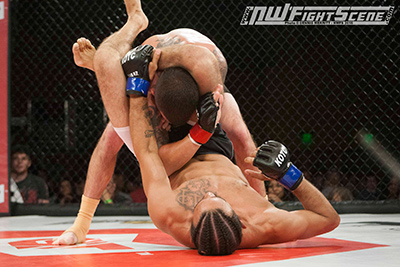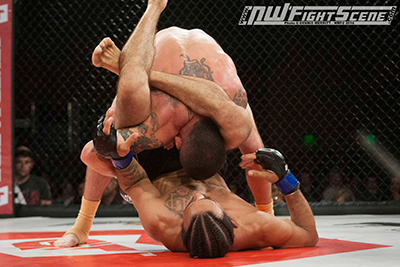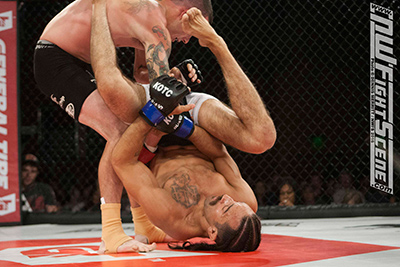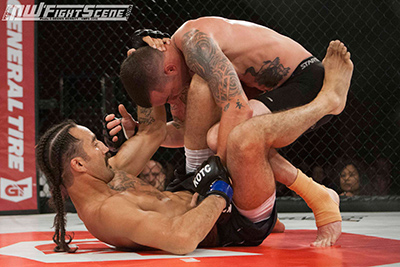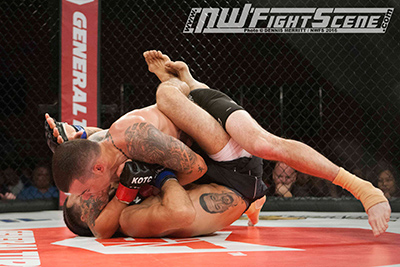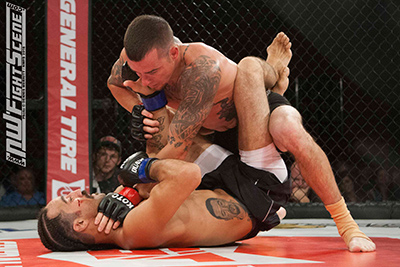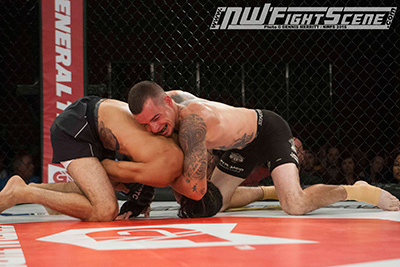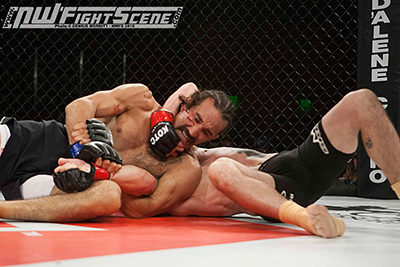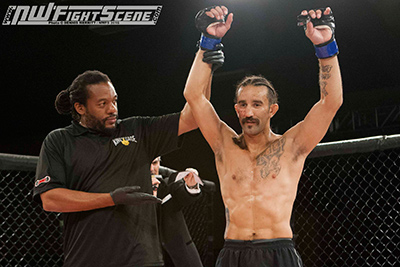 In a pro featherweight bout, Warrior Camp's Jesse Hardenbrook moved his record to 2-2 via a 1st round TKO to strikes of debuting Brock Eastman.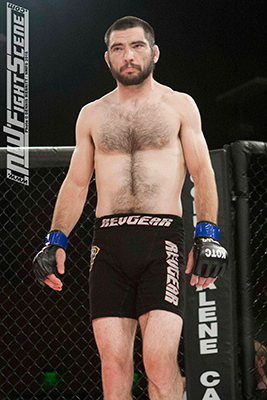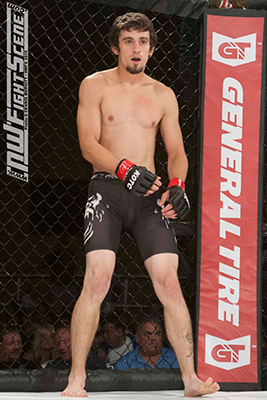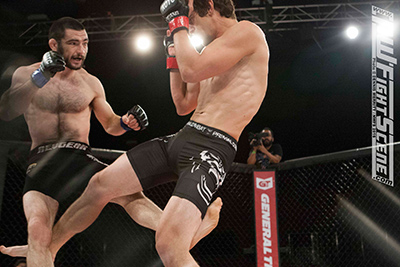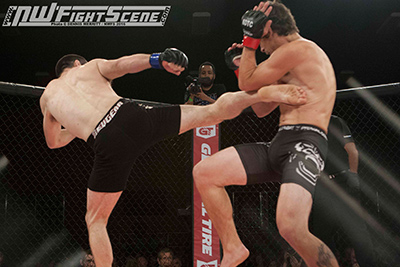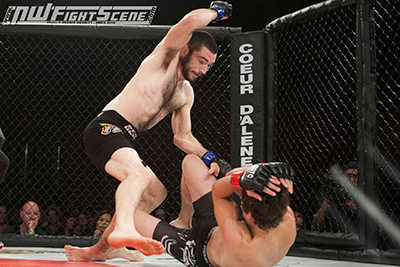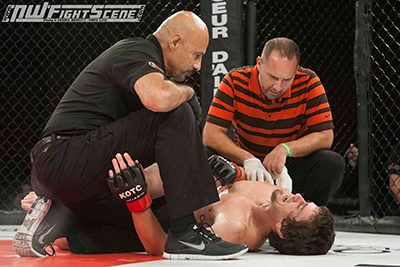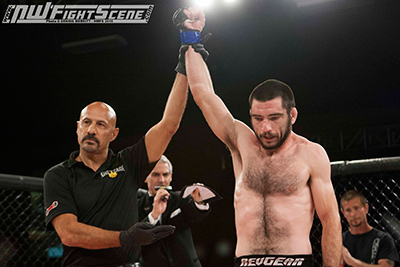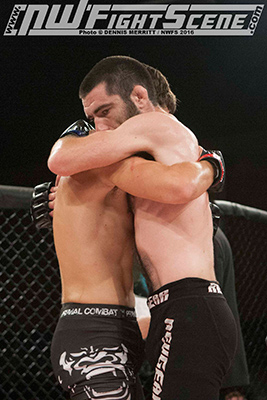 Coeur d'Alene's Gillian Noll and Yakima's Kelly Clayton went the distance in hard-fought 135lb contest between two up-and coming amateurs, Noll getting the split decision win 29-28 x2, 28-29.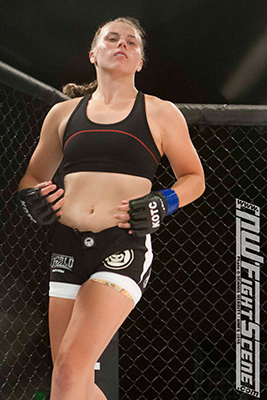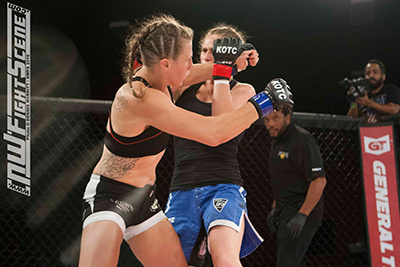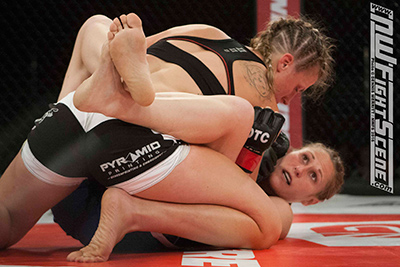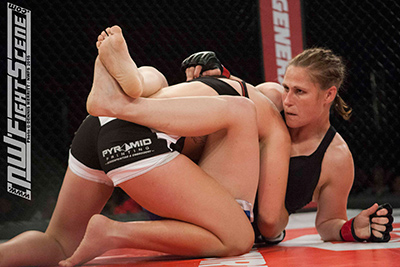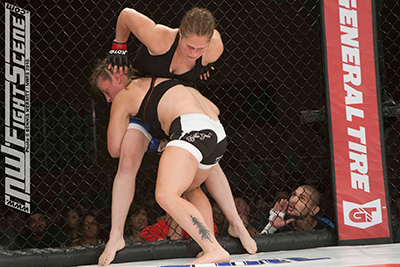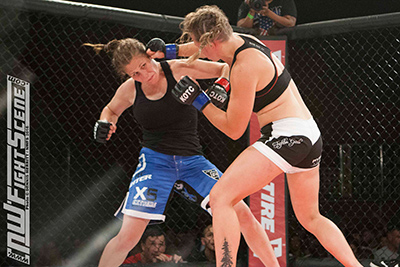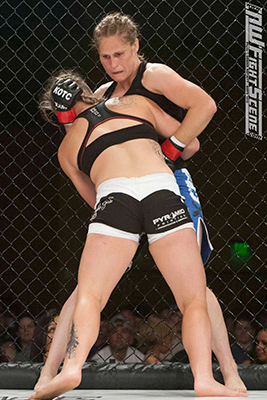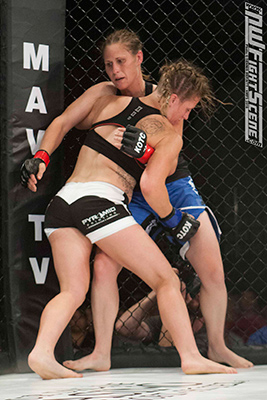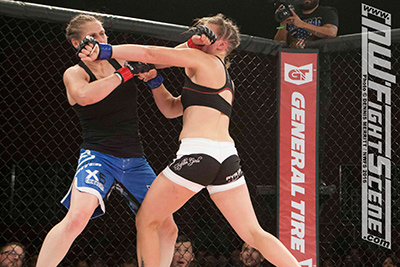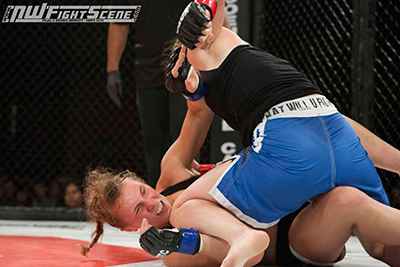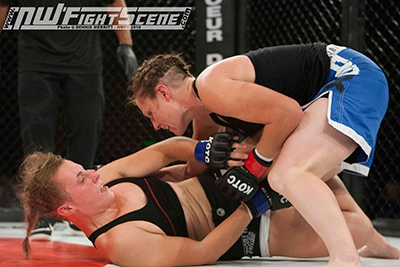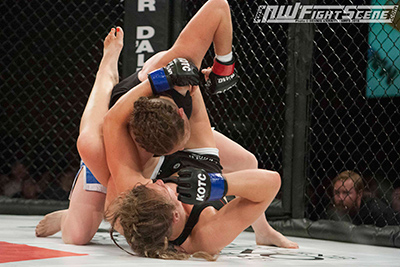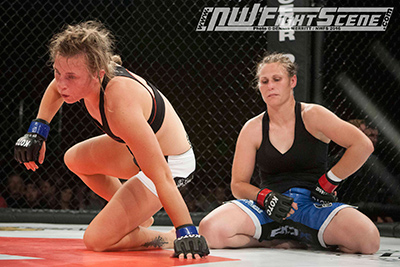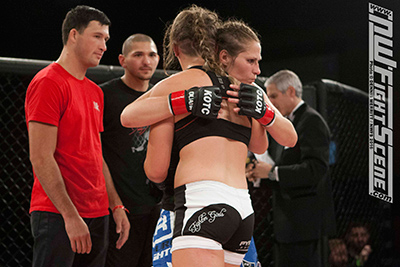 Yakima MMA's Wyatt Gonzalez knocked out Spokane's Elijah Ross at 55 seconds into their ammy lightweight bout.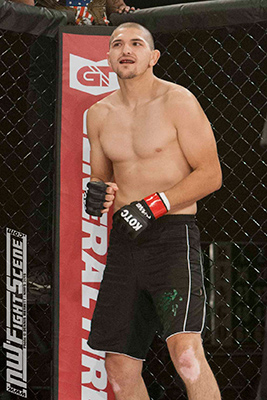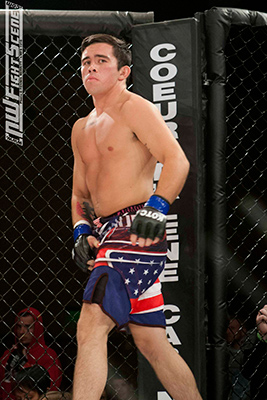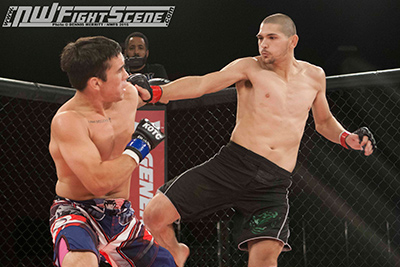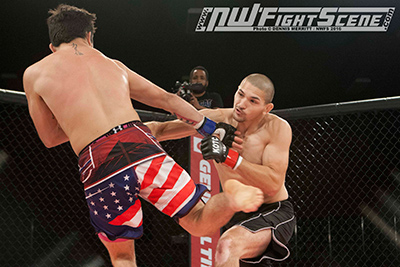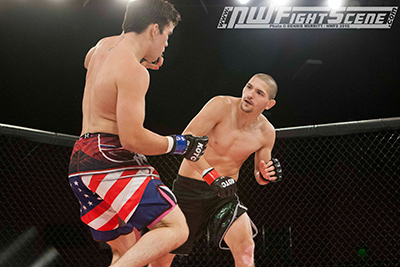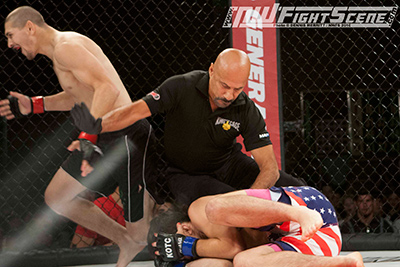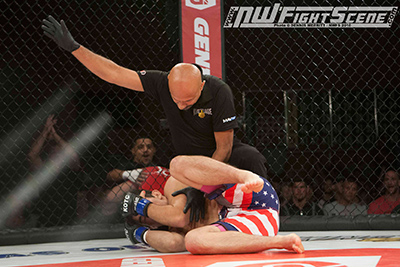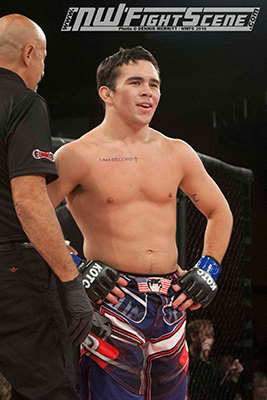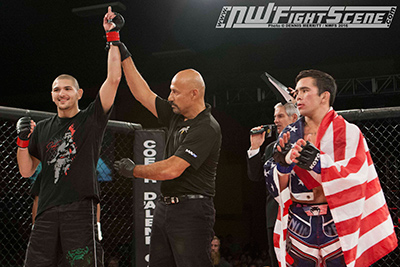 Daniel Gadley and Nick Masonholder left it all in the cage over 3 solid rounds in an amateur heavyweight fight, Gadley taking home the victory via unanimous decision.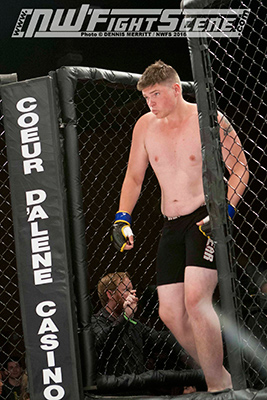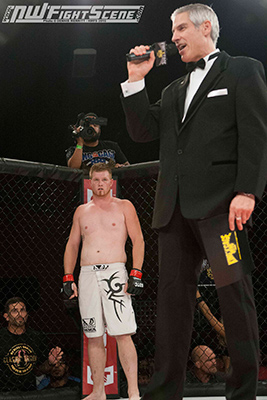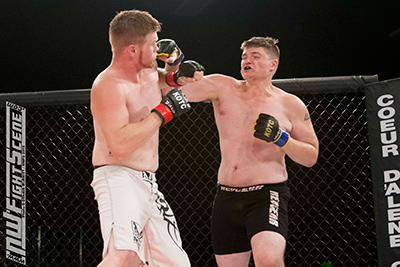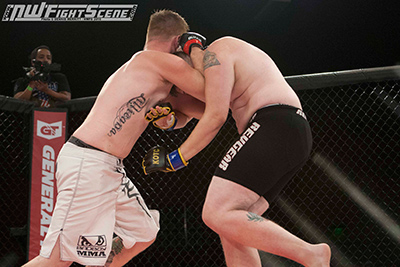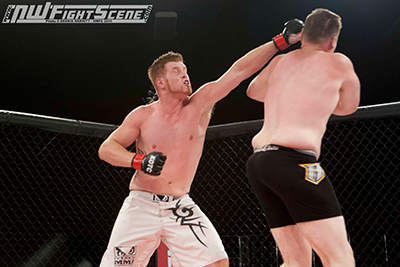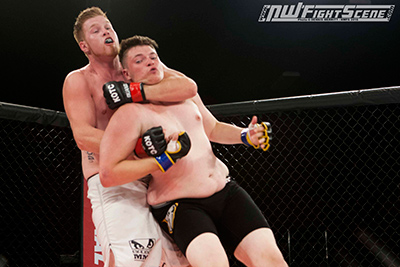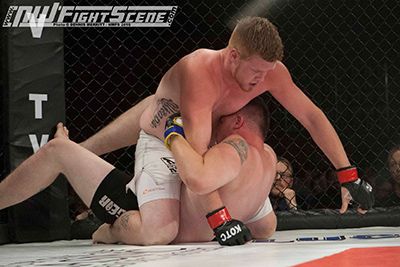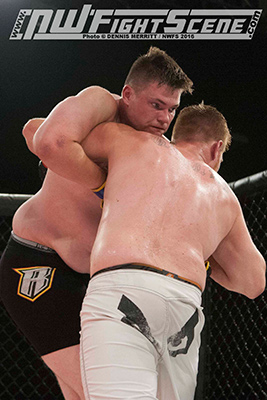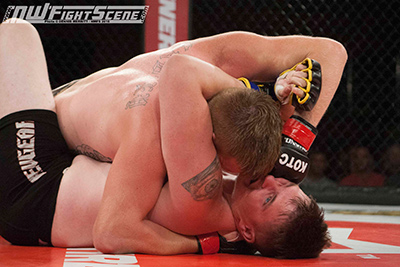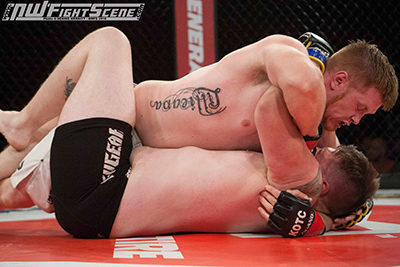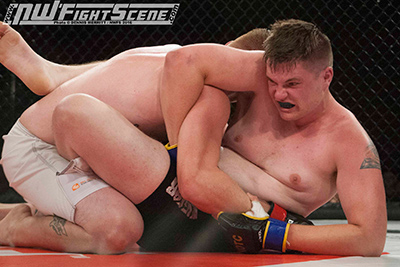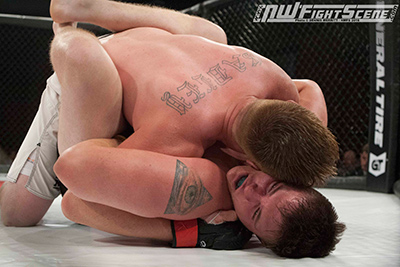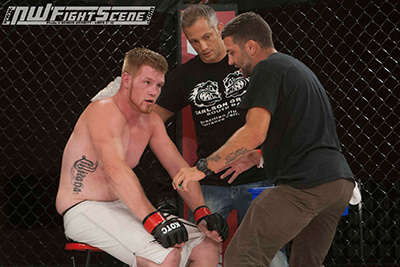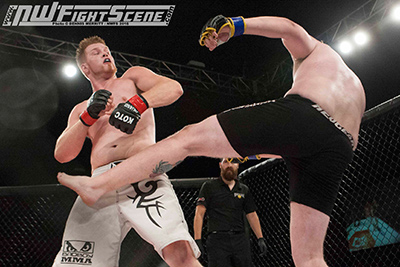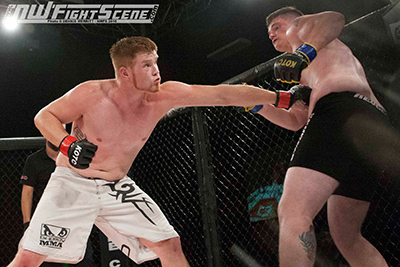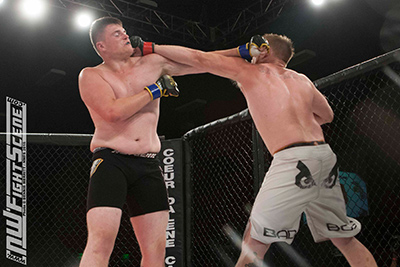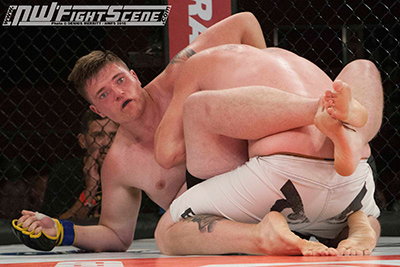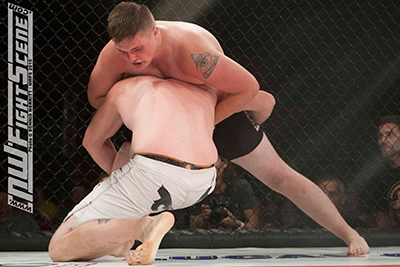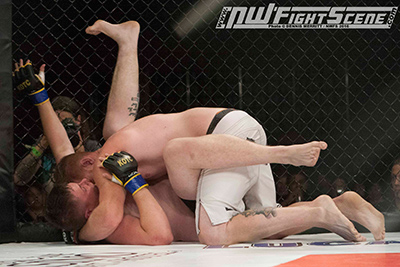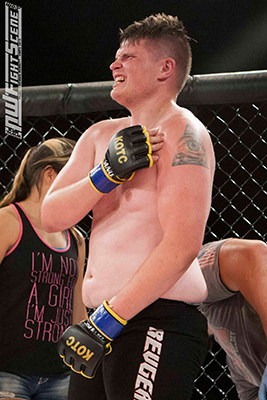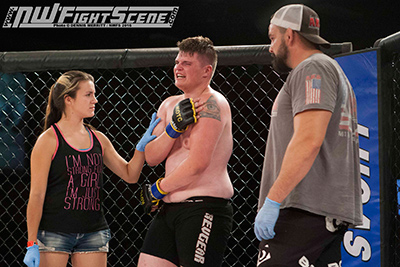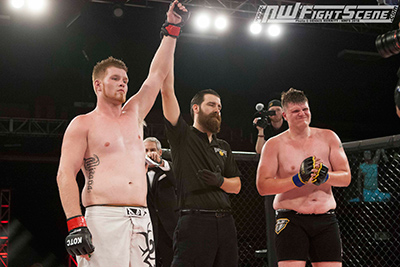 Newborn-Cascao Jiu-Jitsu's Terrance Mckinney won his MMA debut, overwhelming Cadence Ross for the TKO win at 15 seconds into their 150 lb matchup.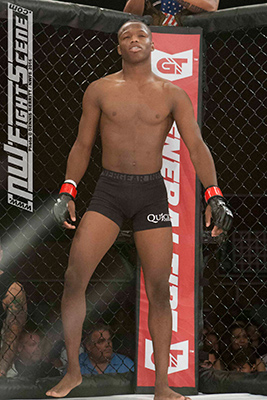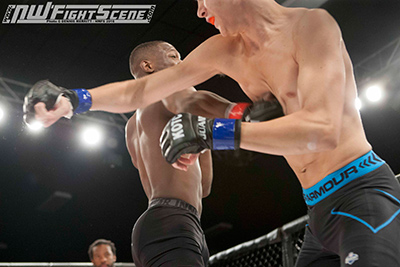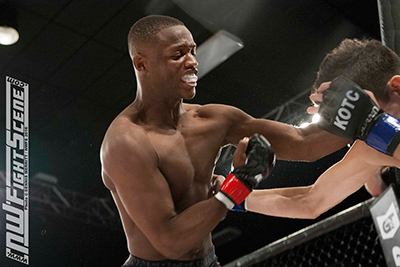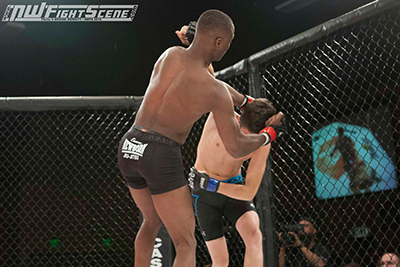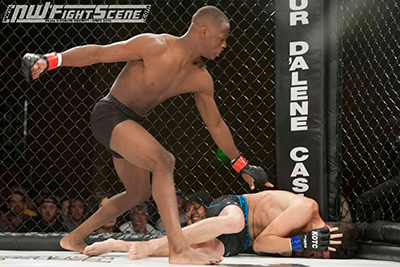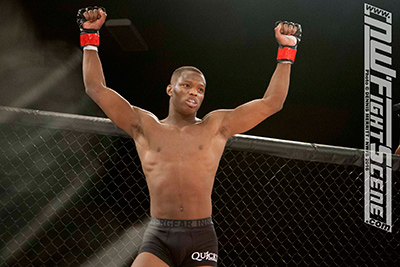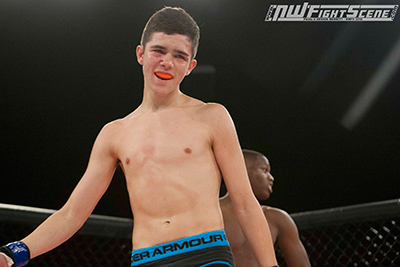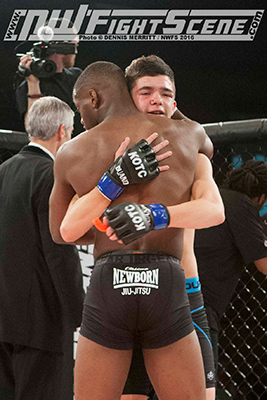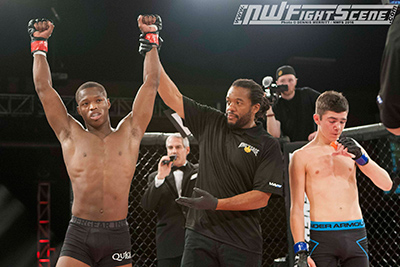 In an amateur lightweight matchup, Cameron Meyers dropped Billy Robertson, then followed with an immediate rear naked choke finish at 20 seconds into the fight.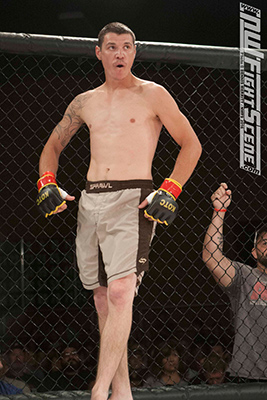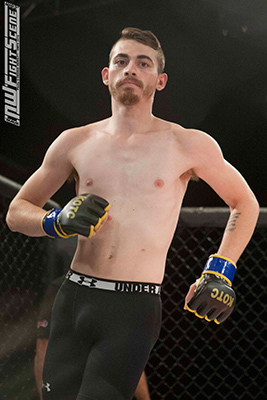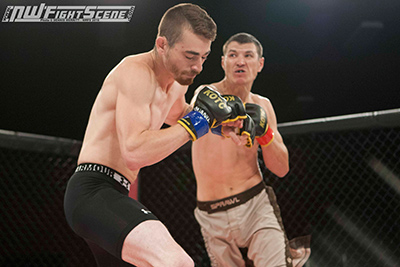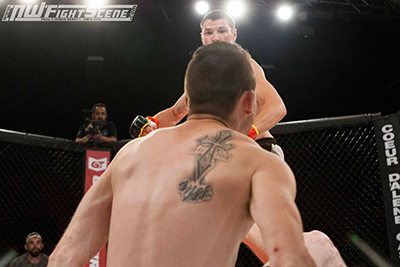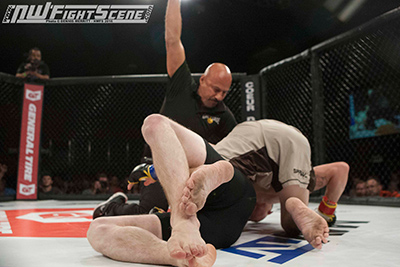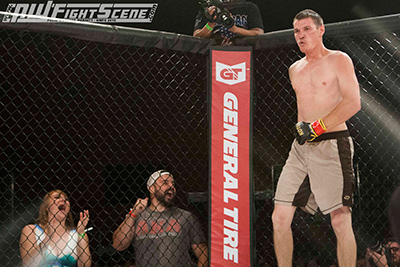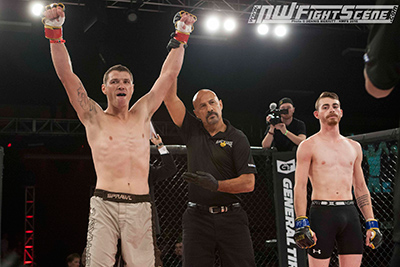 Six Feet Under MMA's Sua Tuani knocked out Montana's Tom Blixt at 48 seconds into their 230 lb catchweight fight.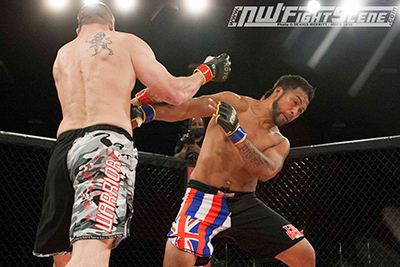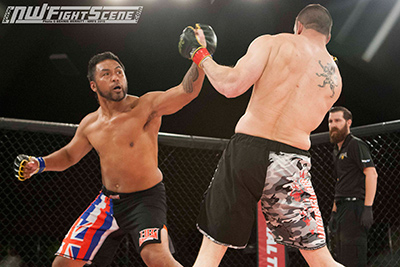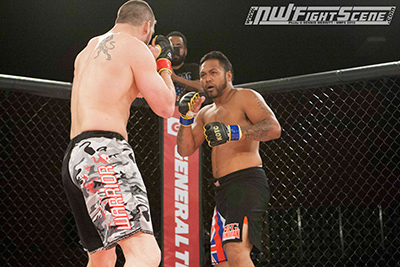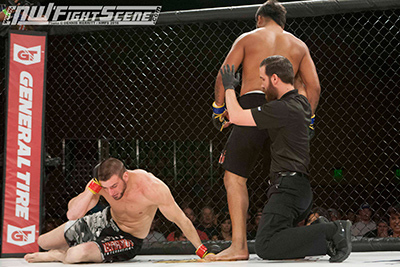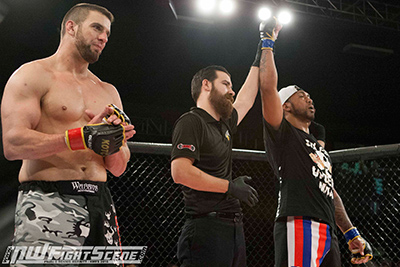 The opening fight of the night was an amateur bantamweight contest that saw Yakima MMA's Roy Cardenas stop Warrior Camp's Nolan Slette via 2nd rd TKO.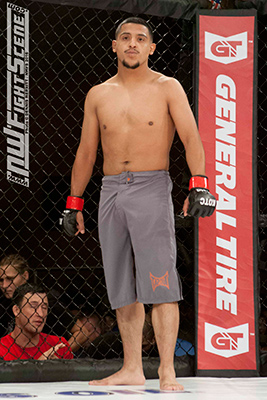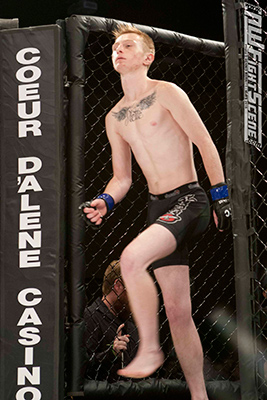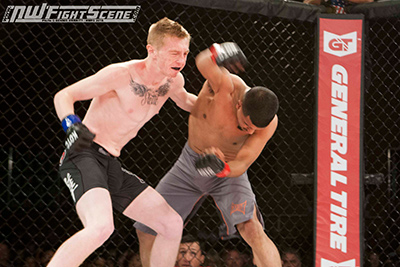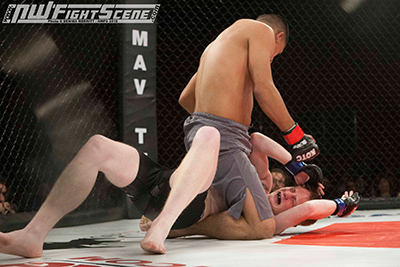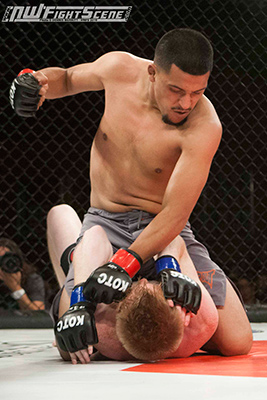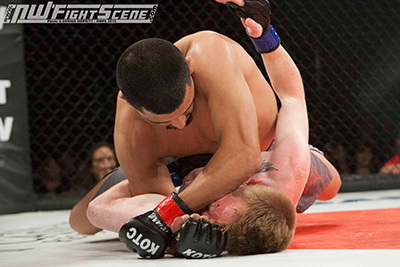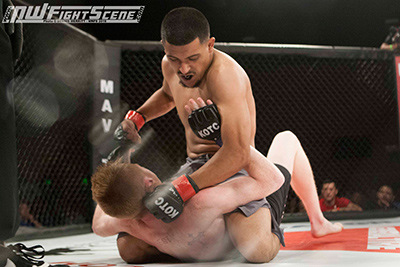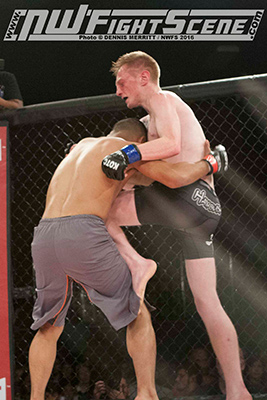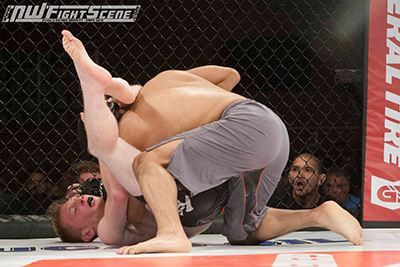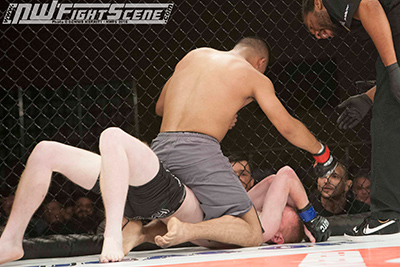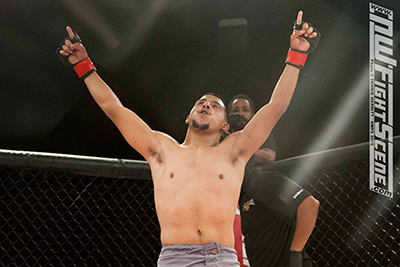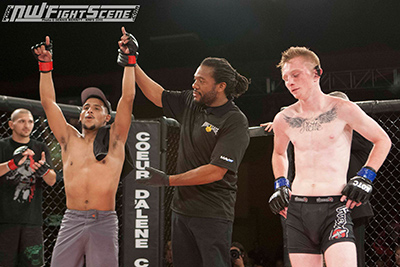 King of the Cage has three more dates in the NW in 2016, starting wtih King of the Cage: High Caliber on Saturday October 1st at the Chinook Winds Casino in Lincoln City OR. The promotion will return to the Coeur d'Alene Casino on Thursday November 19th, and then will travel to Fort Hall Idaho on Sat Nov 21st for a show at the Fort Hall Casino. Learn more at kingofthecage.com.