King of the Cage "New Blood" - February 16th 2017
Coeur d'Alene Casino - Worley, Idaho
Photos by Dennis Merritt / Big Guy Photography
---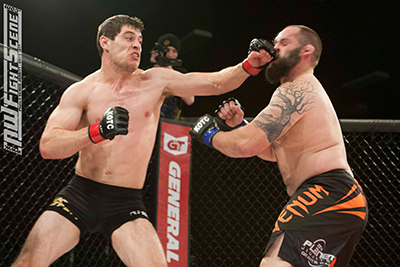 Pro heavyweight Brian Chamberlain lands a punch at King of the Cage "New Blood"

King of the Cage "New Blood" took place at the Coeur d'Alene Casino Resort in Worley Idaho on February 16th with 5 amateur and 6 professional MMA contests going down. Perhaps the biggest news of the event was the withdrawal of undefeated Spokane fighter Daniel Spitz from his main event heavyweight showdown with Oregon's Matt Howell. Between Wednesday night's weigh-ins and Thursday's fights, Spitz was signed to a contract with the UFC, forcing him to exit the card!

Mark Coates and Joaquin Calderon stepped into the main event slot and put on a good show in a 140 lb catchweight bout. In the end, it was Coates catching Calderon in a guillotine choke just under 4 minutes into the first. The 21 year-old Coates moves his pro record to 7-2, a winner of 4 straight.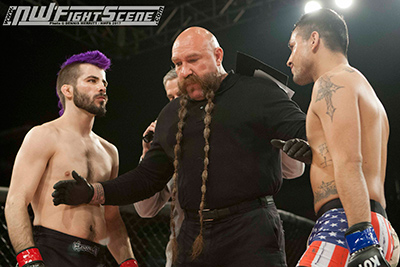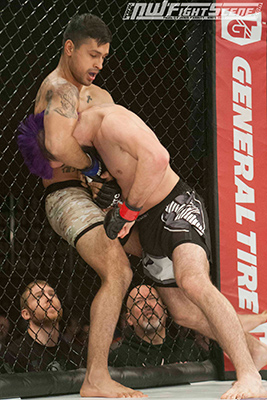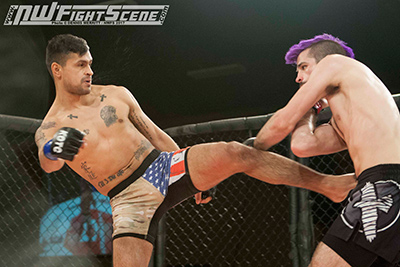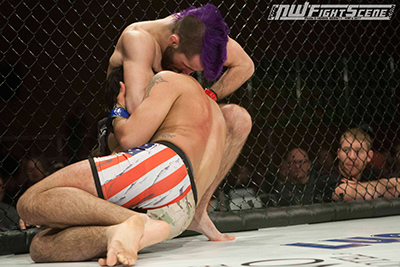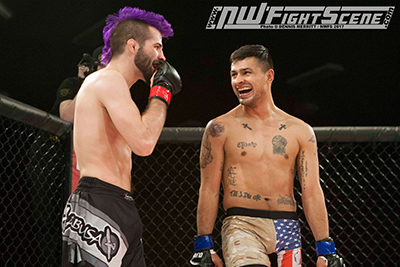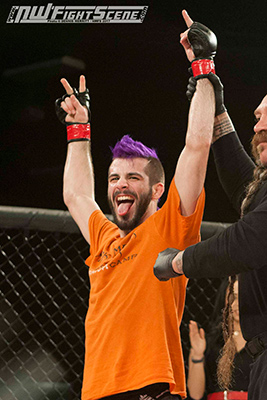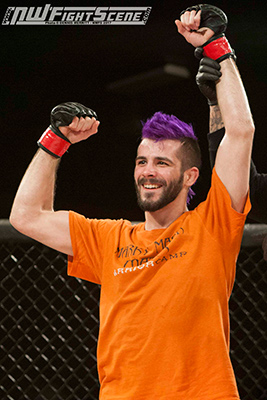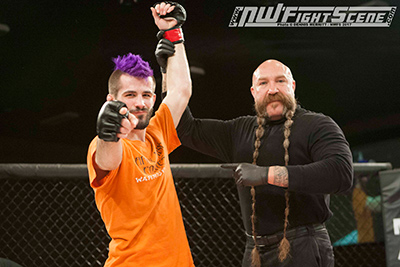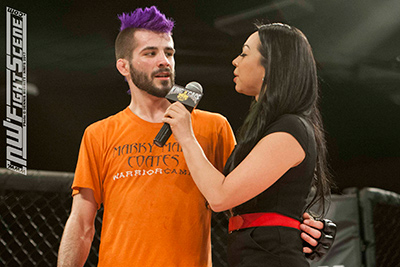 In the co-main event, NW veteran fighter Charon Spain submitted Andrew Kauppila of Wyoming with a rear naked choke late in the first round of their pro lightweight contest.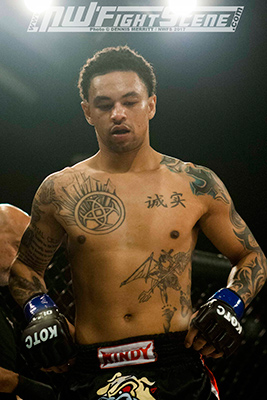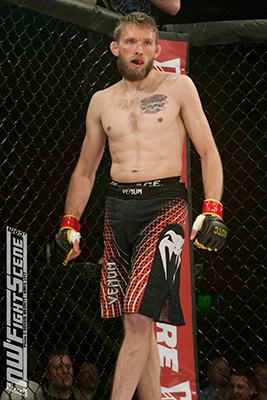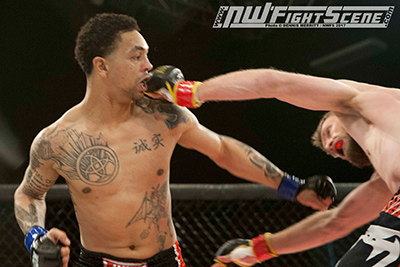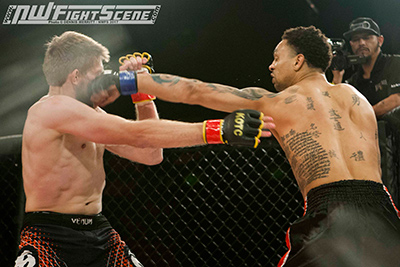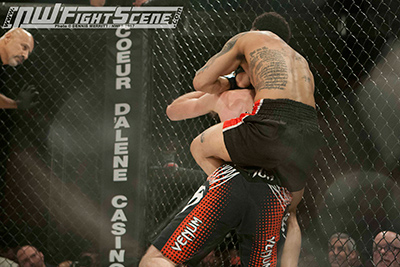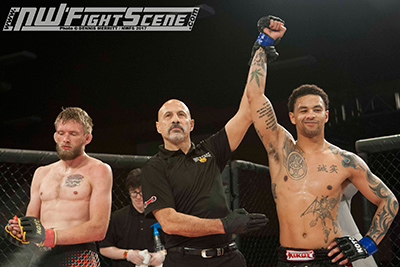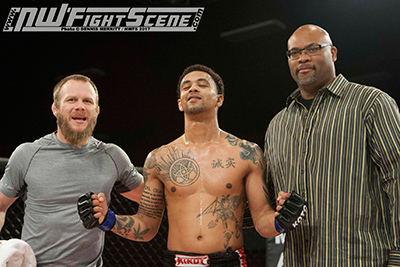 Spokane's Brian Chamberlain, Sikjitsu teammate of Daniel Spitz, stepped up on five hours notice to fight Matt Howell in a heavyweight contest. Chamberlain was definitely up to the challenge in his pro debut, earning himself a unanimous decision victory.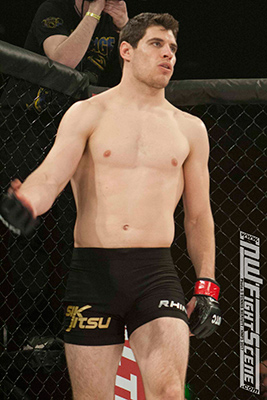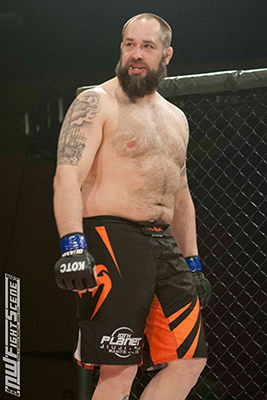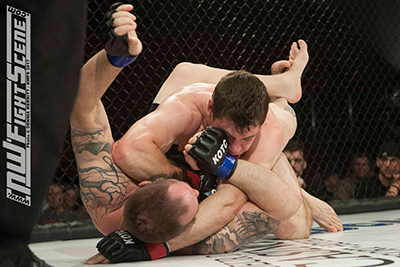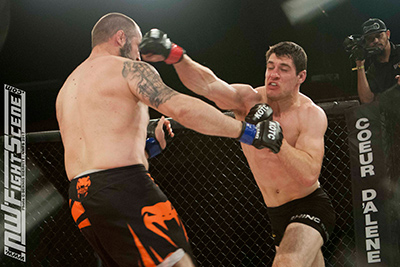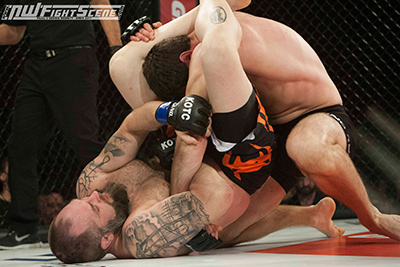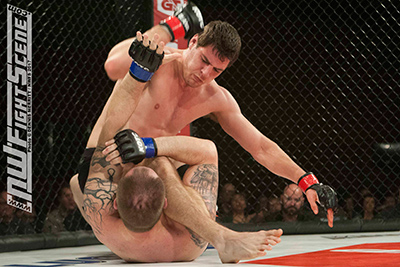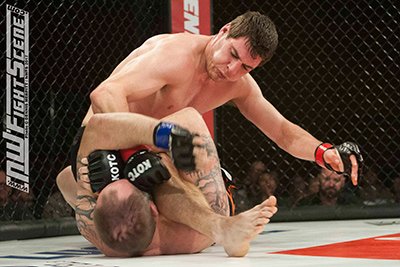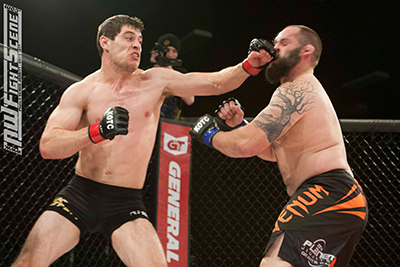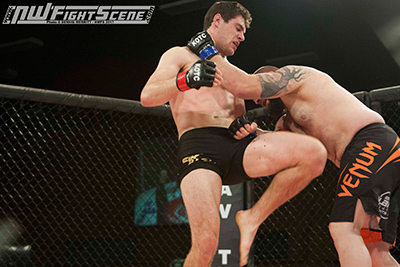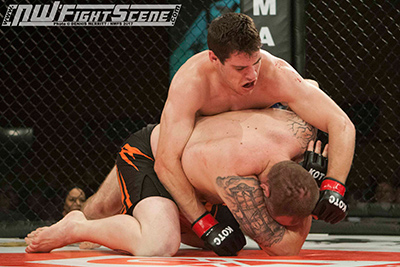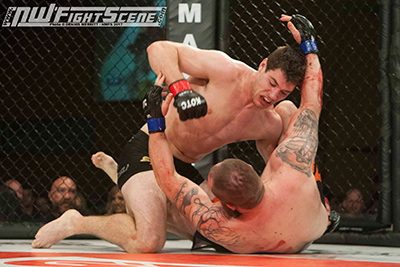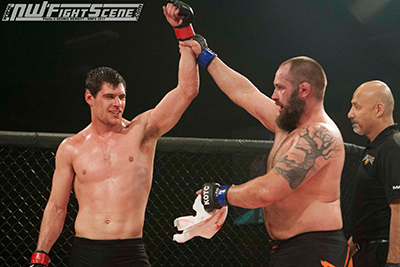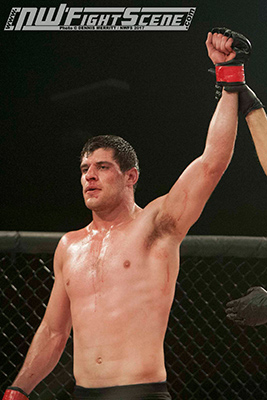 In a bout seen live around the world via a free King of the Cage Facebook broadcast, undefeated Bi Nguyen outmuscled and outpointed Jayme Hinshaw to earn a hard-fought split decision win in a 3-round 105 lb matchup.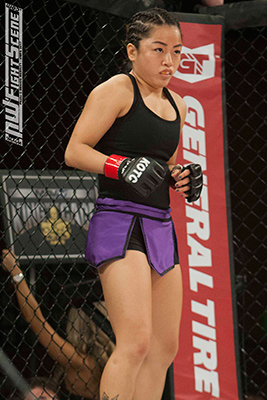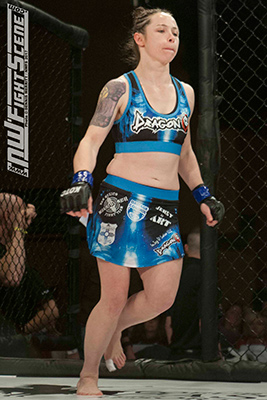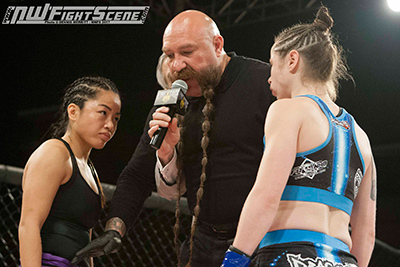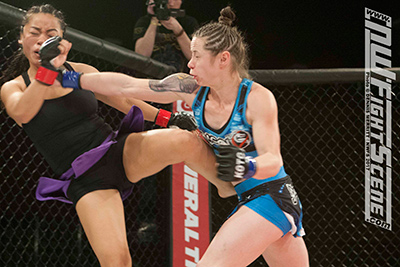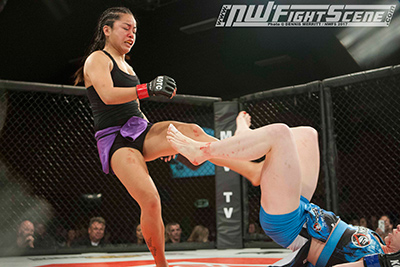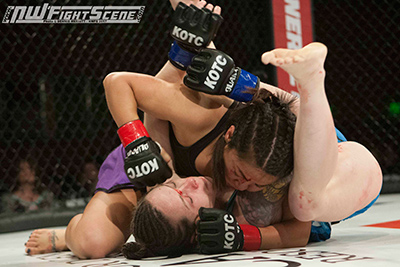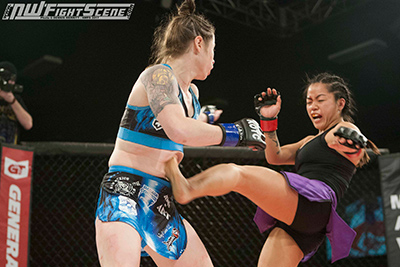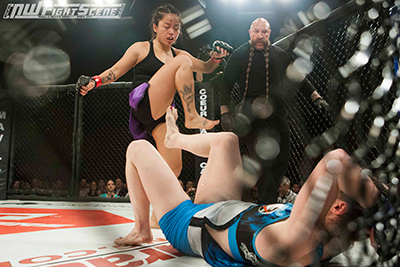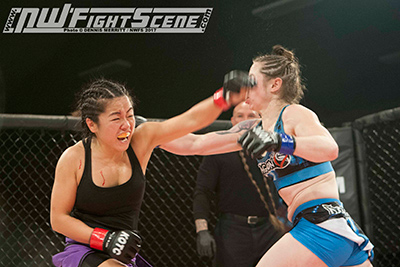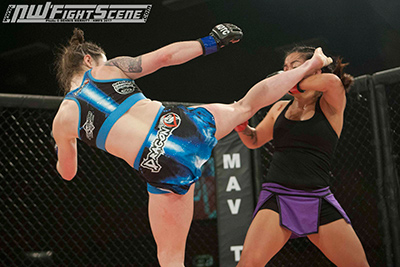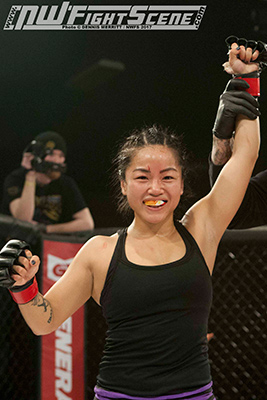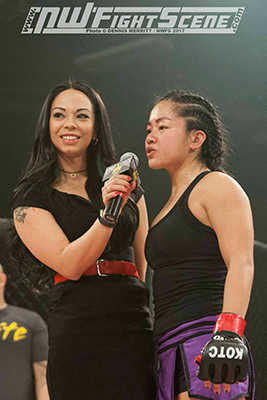 In the pro lightweight division, Josh Bean moves his record to 2-0, eating some hard punches and elbows from Dustin Winter before submitting Winter by omoplata at 4:15 of the first round.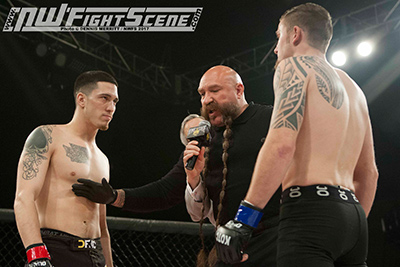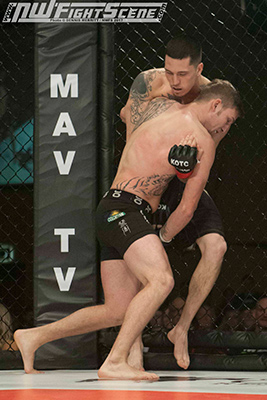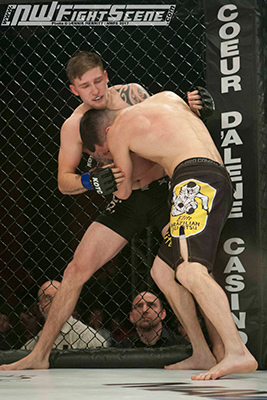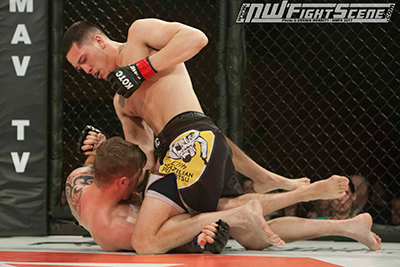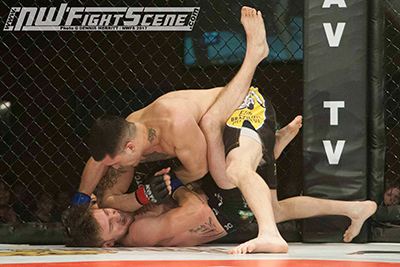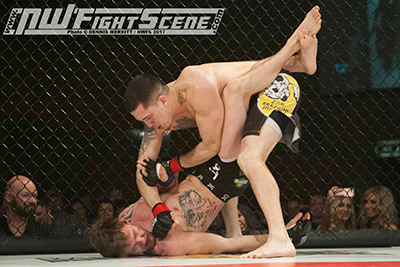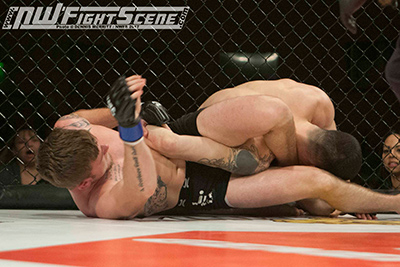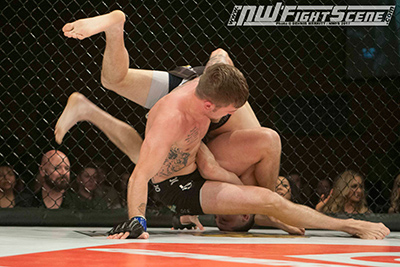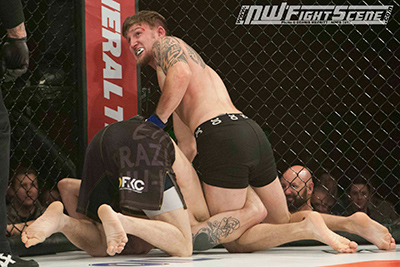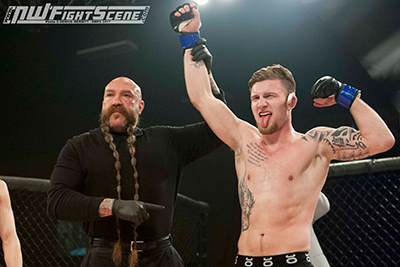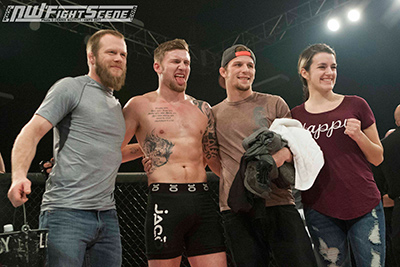 In a pro welterweight battle, Jessee Gengler submits Jake Adams with a rear naked choke at 3:50 of the first round.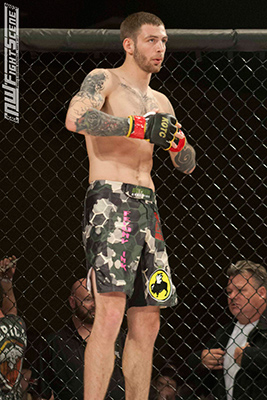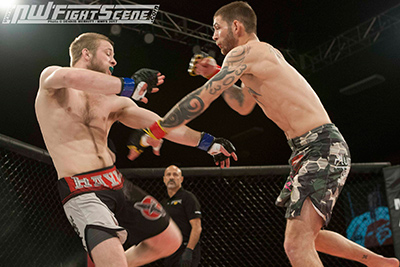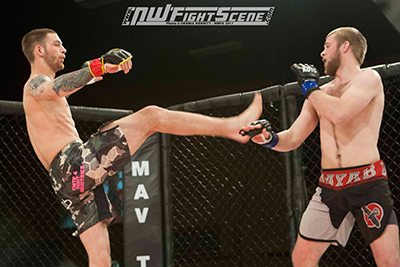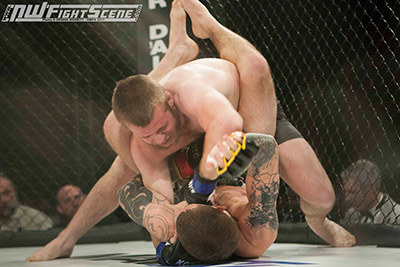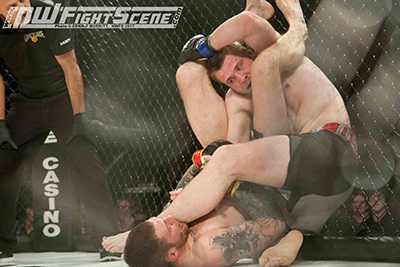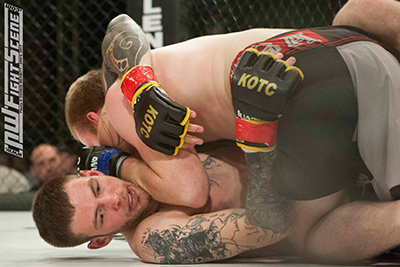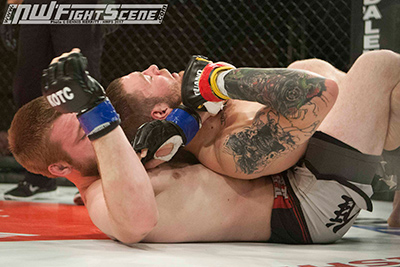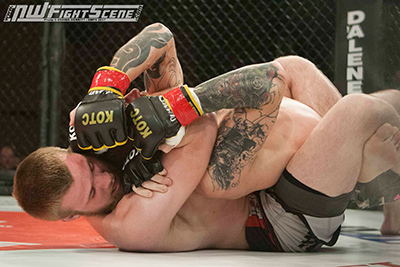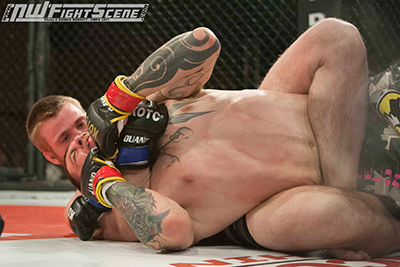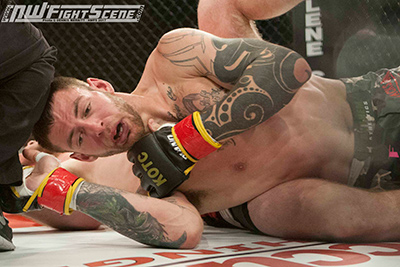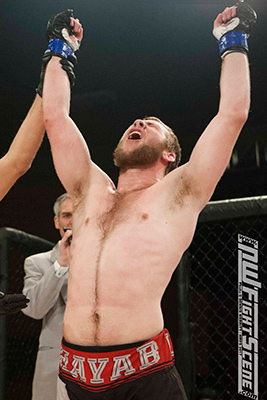 Shane White Eagle knocked out opponent Jimmy Dempsey 48 seconds into their amateur 170 lb bout.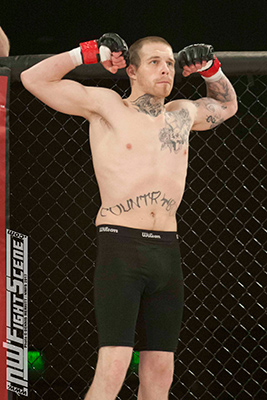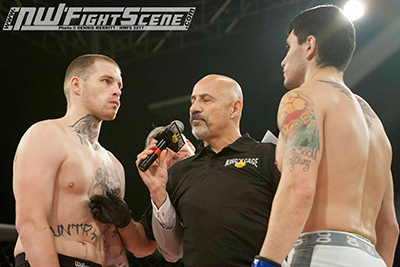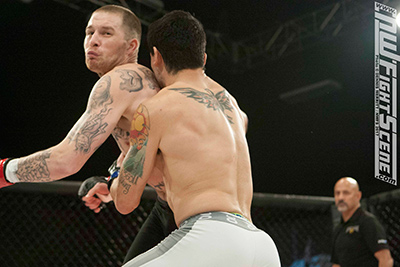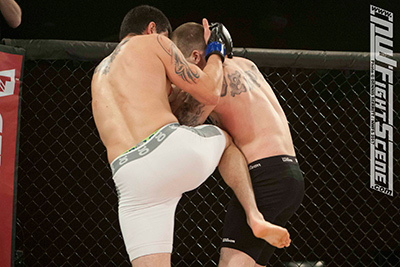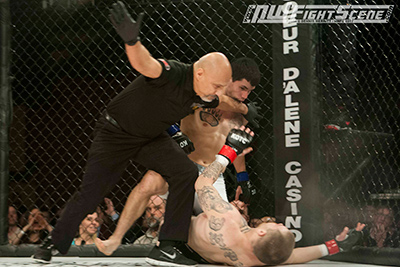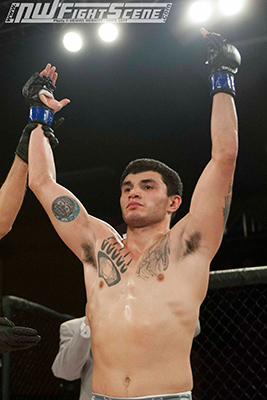 In an amateur lightweight contest, Cory Cook stopped Taylor Rogers via strikes early in the first round.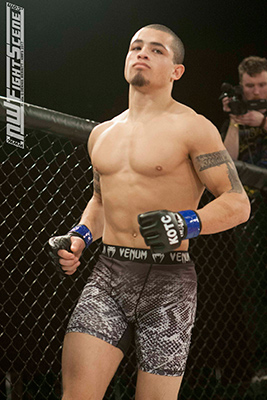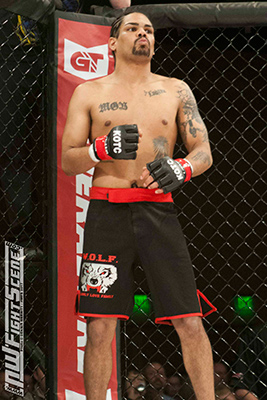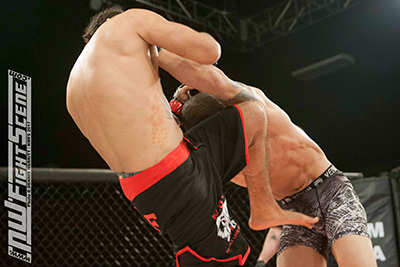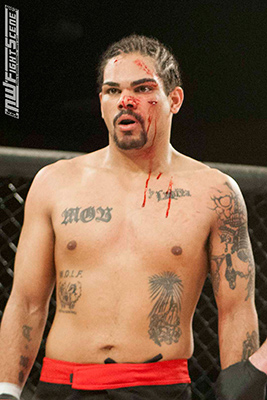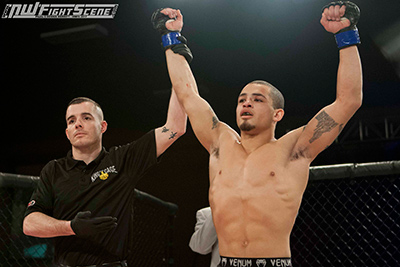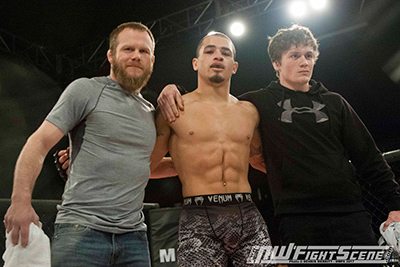 In a amateur female catchweight contest, April Martinich overwhelmed Sonia Sillan for the win via TKO ref stoppage at 32 seconds in.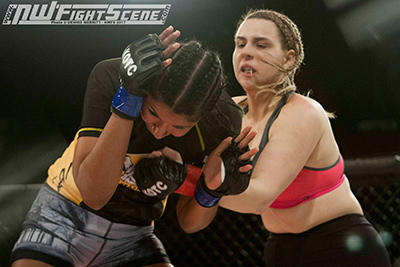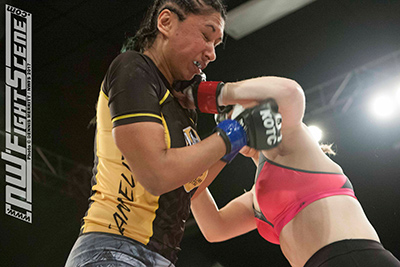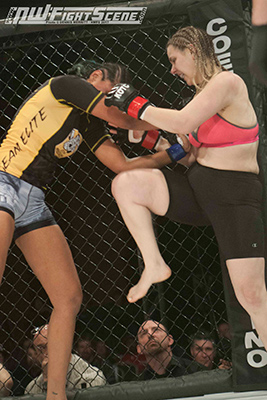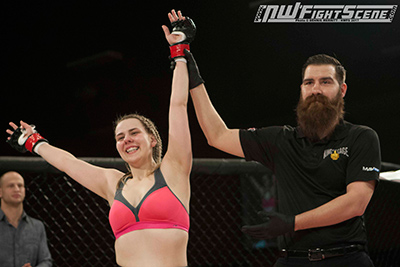 Amateur bantamweight Johnny Valimont got the finish via TKO to strikes at 2:04 of the first over Cadence Ross.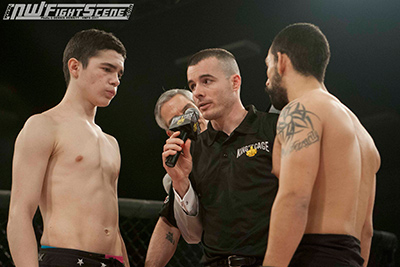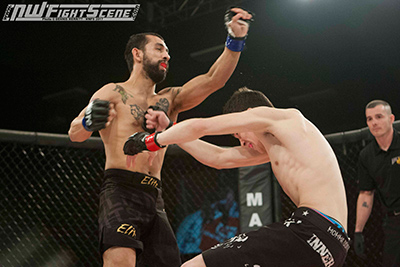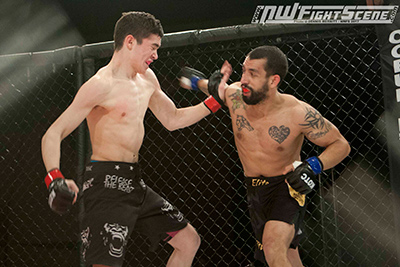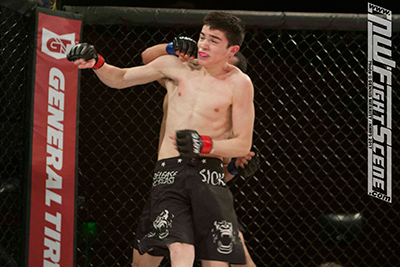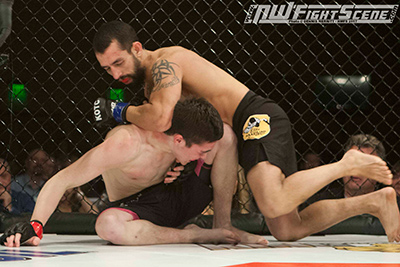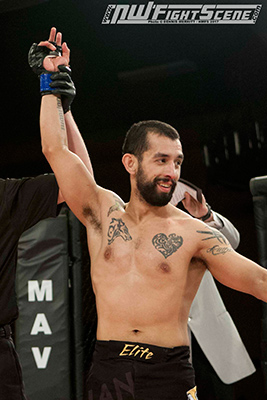 Opening the night of fights, Lane Veo took out Noah Segal with ground strikes at 1:55 of the first round in a amateur 155 lb bout.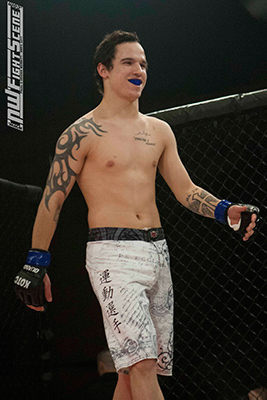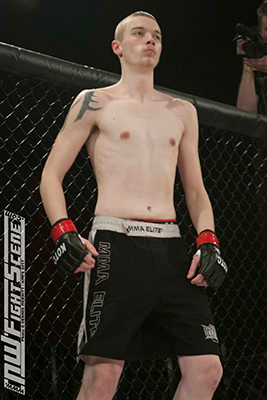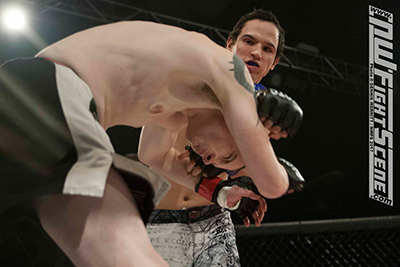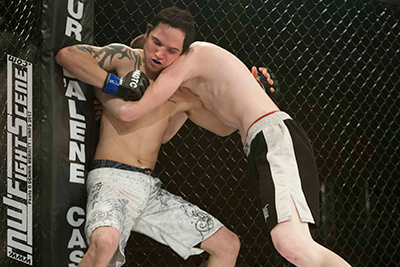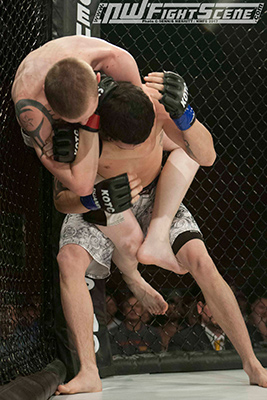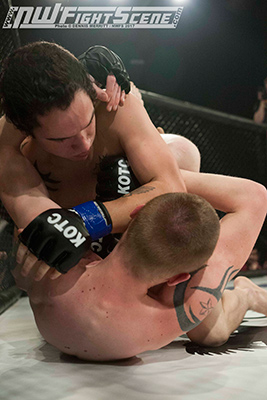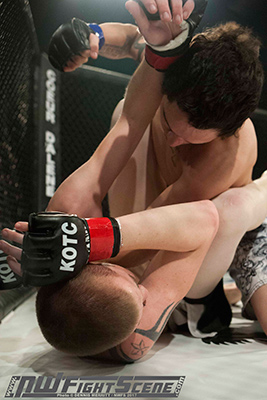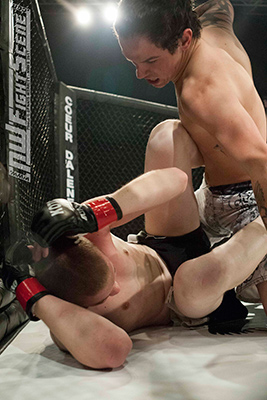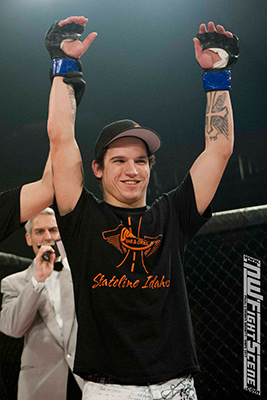 The next King of the Cage at the Coeur d'Alene Casino is May 25th. Learn more about King of the Cage at kingofthecage.com.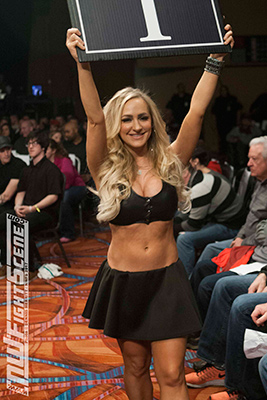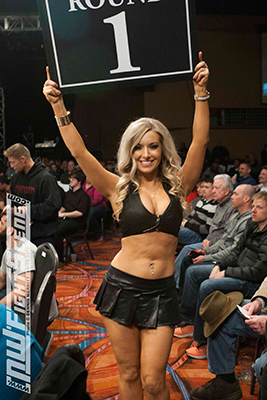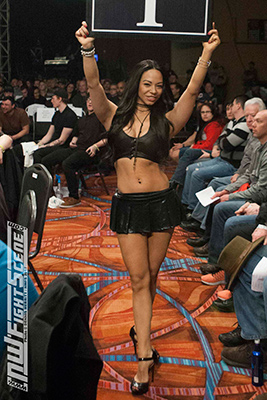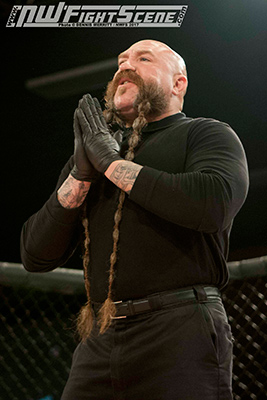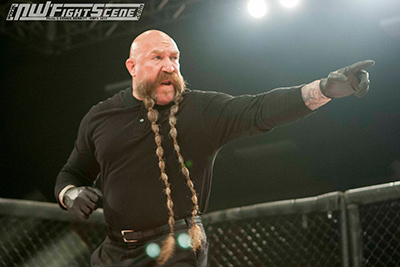 ---
KING OF THE CAGE: NEW BLOOD Results
Bout 1 - Amateur 155 lbs
Lane Veo def Noah Segal by TKO (Strikes) @ 1:55 Rd 1

Bout 2 - Amateur 135 lbs
Johnny Valimont def Cadence Ross by TKO (Strikes) @ 2:04 Rd 1

Bout 3 - Amateur 150 lbs
April Martinich def Sonia Sillan by TKO (Strikes) @ 0:32 Rd 1

Bout 4 - Amateur 155 lbs
Cory Cook def Taylor Rogers by TKO (Strikes) @ 0:33 Rd 1

Bout 5 - Amateur 170 lbs
Shane White Eagle def Jimmy Dempsey by KO @ 0:48 Rd 1

Bout 6 - Pro 170 lbs
Jessee Gengler (1-3) def Jake Adams (Debut)
by Rear Naked Choke @ 3:50 Rd 1

Bout 7 - Pro 145 lbs
Josh Bean (1-0) def Dustin Winter (3-2)
by Omoplata at 4:15 Rd 1

Bout 8 - Pro 105 lbs
Bi Nguyen (2-0) def Jayme Hinshaw (1-1)
by Split Decision (29-28, 29-28, 28-29)

Bout 9 - Pro Heavyweights
Brian Chamberlain (Debut) def Matt Howell (2-6)
by Unanimous Decision (30-27, 30-27, 30-26)

Co-main Event - Pro 145 lbs
Charon Spain (12-19) def Andrew Kauppila (2-1)
by Rear Naked Choke @ 4:52 Rd 1

Main Event - Pro 140 lbs
Mark Coates (6-2) def Joaquin Calderon (4-3)
by Guillotine Choke @ 3:59 Rd 1
---




All Photos, Design, and Content © 2006-2017 NW Fightscene™, unless otherwise noted.
Any usage of content on this site is strictly prohibited without the express written consent of NW FightScene™.
Report any errors to webmaster@nwfightscene.com