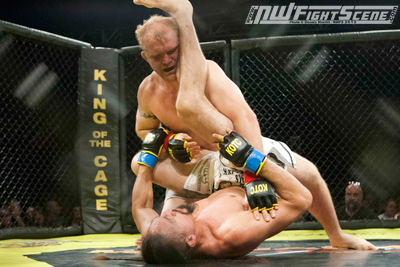 KOTC 205 lb Champ Trevor Prangley enroute to victory over Tony Lopez
On June 13th, King of the Cage returned to the Coeur d'Alene Casino in Worley ID for the 4th time in just over a year and once again the promotion put together a stacked card of talented NW pros & amateurs. With over 1600 fight fans packing the casino's Event Center and the show being filmed for future broadcast on MAV TV, the fighters stepped it up and brought the action.
The Main Event was for the King of the Cage World Light Heavyweight Championship, with CDA's Trevor Prangley looking to defend his title against California fighter Tony Lopez in a grudge rematch. There was lots of bad blood between the two leading up to this fight (thus the "It's Personal" naming of the event) because of their first go-round last December in California that saw a controversial ending, with Lopez throwing an illegal knee to Prangley's jaw in the 4th round that left Prangley uable to continue. The fight then went to the judges who gave Prangley the win via techical majority decision. This time it was on Prangley's home turf and when Lopez did his walkout, the Coeur d'Alene Casion crowd let him know exactly how the felt about him. Of course, when it was Prangley's turn to walk-out, the events center went nuts with everyone screaming and cheering for the hometown hero.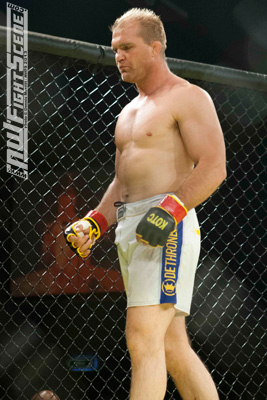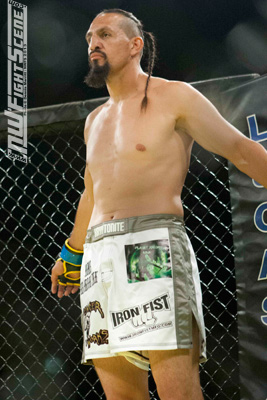 When the fight started, Lopez immediately clinched it up against the cage, while Prangley had to expend his energy looking for seperation to throw some strikes. Eventually the fight went to the ground, where Prangley controlled but was not doing much damage.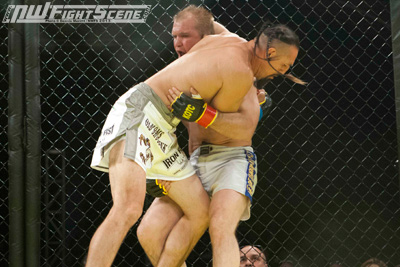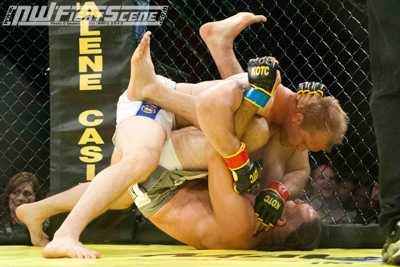 In the 2nd, Lopez fired off a kick that Prangley caught, taking him to the mat. From there, Prangley controlled top position and did damage with strikes, and when Lopez went to escape and left an arm open, Prangley capitalized and locked in the fight finishing armbar at 3:41 of the round.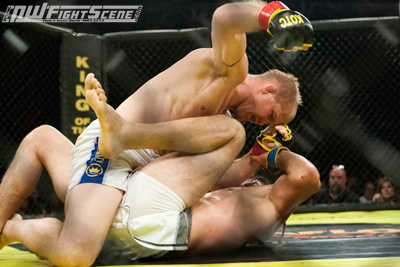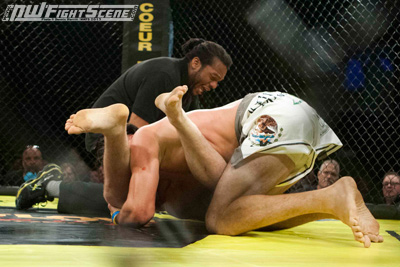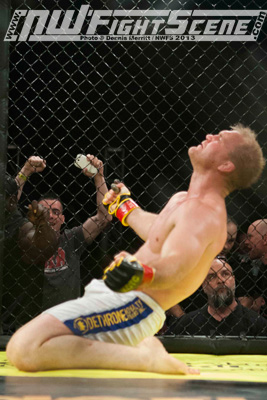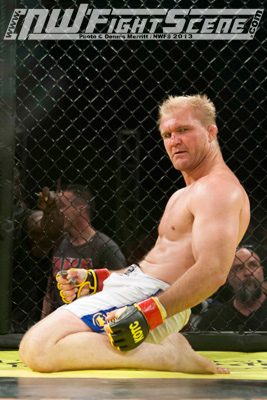 In the Co-main event, two young talented NW pros in BJJ Spokane's Jacob Harkness & Sportslab's Blaine MacIntosh went to battle at 160 lbs. The 1st round was close with MacIntosh landing strikes on the feet and when it went to the ground, getting Harkness in a guillotine choke. Harkness did well to escape the submission and got top position, working some gnp to finish the round. The 2nd was all Harkness who landed a couple standing shots before taking MacIntosh down and maintained top poition through the round, punishing MacIntosh the whole way. In the third, the fight went to the mat again where MacIntosh nearly took Harkness' back but lost position when he was unable to do so. From that point, Harkness repatedly hit him, eventually getting him in a top-side crucifix where he rained down elbows and punches that forced referee Herb Dean to stop it at 2:55 of the 3rd.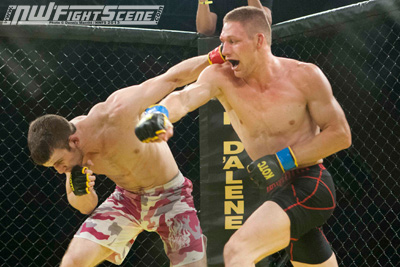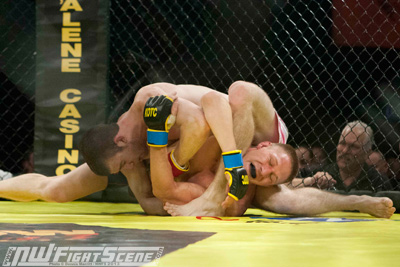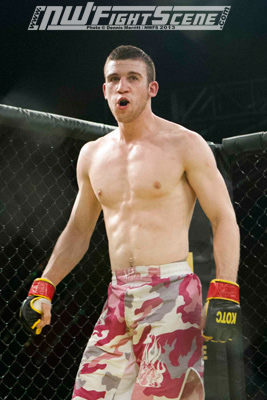 Mike "Hollywood" Hanks, who started his career in Spokane and now trains with Syndicate MMA in Las Vegas, returned to the cage for his first fight in two years, taking on Boise-based Aaron Sutton in a pro 160 lb catchweight matchup. Hanks, perhaps displaying a little ring rust, had his back taken by Sutton in the first round but he stayed composed and was able to eventually reverse position and finished the round strong. In the 2nd, Hanks came out and went after it, getting the fight to the ground and putting Sutton in a triangle choke. Hanks didn't have it locked up at first but he made a couple smooth adjustments and Sutton tapped at 1:09 of the 2nd.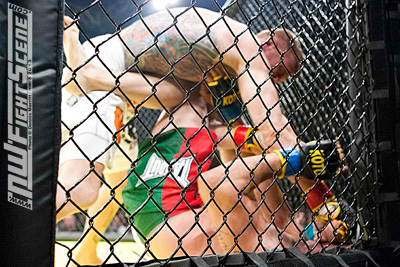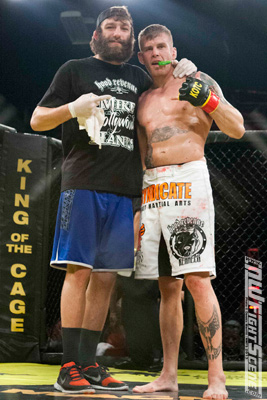 In a pro 190 lb fight, AKA's "Iron" Will Noland went up against literally last-second replacement George Stork. This was a rematch from last August's King of the Cage at the CDA Casino where Noland finished Stork with an early 1st round armbar. Stork wasn't to be finised in this fight though, and the pair traded punches and combos in a relatively slow-paced and deliberate first two rounds. In the third round however, Noland came out super energetic throwing hard bombs and Stork was forced to answer in what can best be described as a toe-to-toe war. The crowd roared in approval as the fighters battered and bloodied each other, trying for the big knockout finish. But it did go the distance and to the judges who all saw it differently, two seeing it for Noland at 30-27 & 29-28, and the third for Stork 29-28. This super-close fight of the night gave the fans exactly what they came for!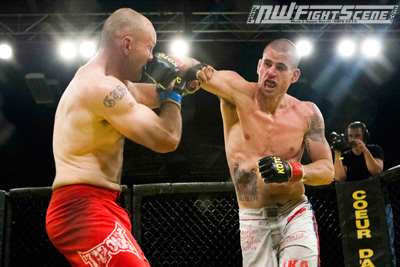 AKA's Josh Queen, fighting for the first time in 2 years, took on Boise fighter Kip Ramos in a much anticipated pro heavyweight matchup. Ramos' gameplan was to avoid the standup at all costs and get the takedowns so he could work his ground and pound game. It was seemingly going well for him, despite Queen landing three solid upkicks that hardly seemed to faze Ramos. However, just like that, Queen locked up a kimura from his back and got Ramos to tap at 3:36 of the first round.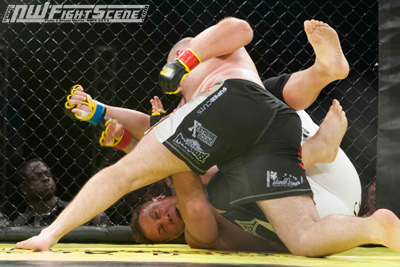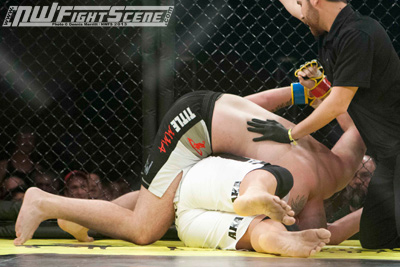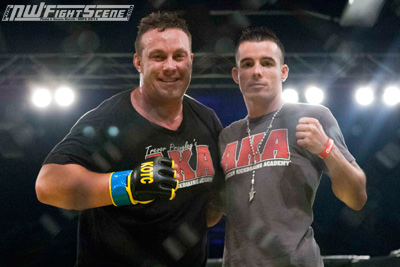 In the sole female bout of the evening, Portland OR's Roma Pawalek took on Spokane's Katie Law in an amateur 135 lb matchup. When the fight started, Law eschewed touching gloves and rushed Pawalek who proceeded to simply toss Law to the mat. From that point, it was all Pawalek who controlled every position on the ground. Law tried valiently to use the fence to get up, but Pawalek was too much for her, eventually scoring a TKO ref stoppage to strikes at 1:20 of the opening frame.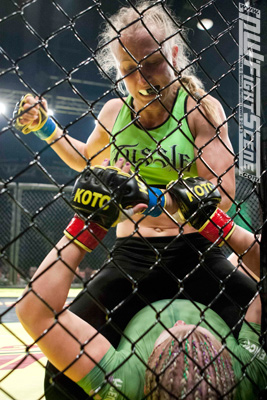 Jamelle Jones, a two-time National Champion in collegiate wrestling, moved to 2-0 in his amateur MMA career making quick work of Chris Hatcher. The fight quickly went to the mat with Jones sinking in a rear naked choke that more or less finished Hatcher. But Jones let go of the choke and started raining down hard strikes to the side of Hatcher's head, knocking him out at 16 seconds into the fight. Look for more of Jones who is training out of Trevor Prangley's AKA.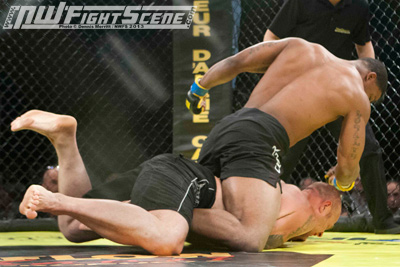 In the event's opening bout, Amateur Bantamweights Nick Wells & Zane Douglass set the tone for the rest of the fighters with a high-energy back and forth slugfest that set the crowd buzzing. Wells, who trains with Legacy MMA, got the win late in the 2nd with a rear naked choke submission of AKA's Douglass.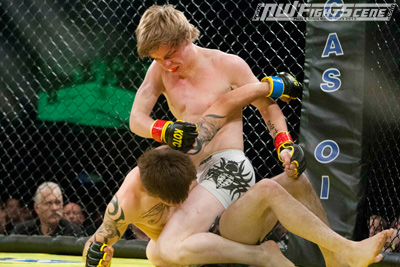 In an amateur 145 lb bout, Brandon Sly and Kody Smith threw down for 3 solid rounds with the judges seeing it 29-28 for Sly.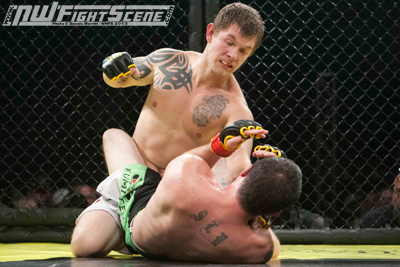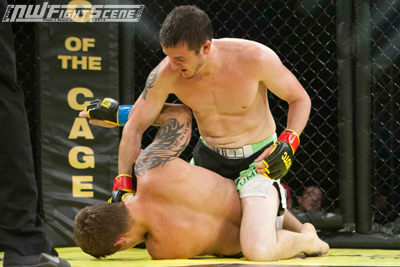 At 215 lbs, Legacy MMA's Gabe Lopez scored a 3rd Rd TKO over AKA's Leo Glover.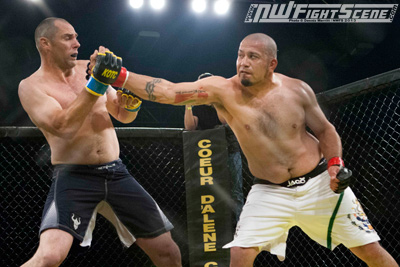 In the KOTC Cruiserweight division (230 lbs), Reid Hazelbaker won a close one over Oscar Garnica via Split Decision (29-28, 29-28, 28-29).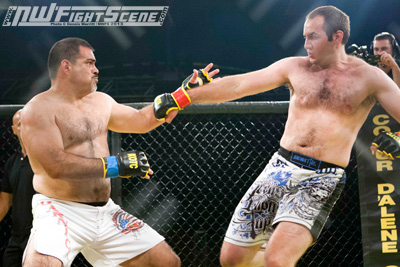 Amateur featherweight John Hale beat Dylan Morgan by Unanimous Decision with all three judges seeing it 29-28.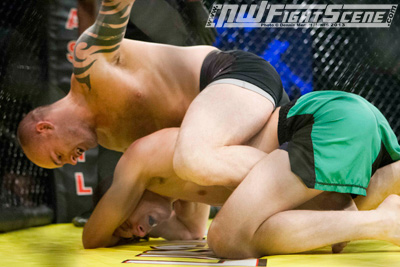 Spokane's own Mike Chiesa was on hand helping corner Mike Hanks. Chiesa will be fighting on the UFC on FOX 8 card in Seattle July 27th against Jorge Masvidal.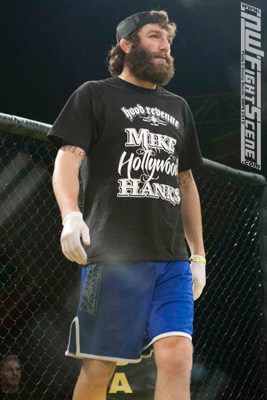 King of the Cage plans to return to the Coeur d'Alene Casino for more high-level MMA action on Thursday October 3rd. More info on King of the Cage at kingofthecage.com.